Air fryers have taken the cooking world by storm in the last few years. In this post, I detail air fryer pros and cons after using air fryers for 10+ years.
I bought my first air fryer, a Philips manual dial air fryer out of curiosity way back when it was newly launched.
Since then, I have got another XL model called Balzano that is very handy to cook large batches of food.
Both of them are used pretty much daily at my home. The Philips one has needed a basket change but still functions very well. 🙂
I have always been health conscious even before I did my Nutrition Certification.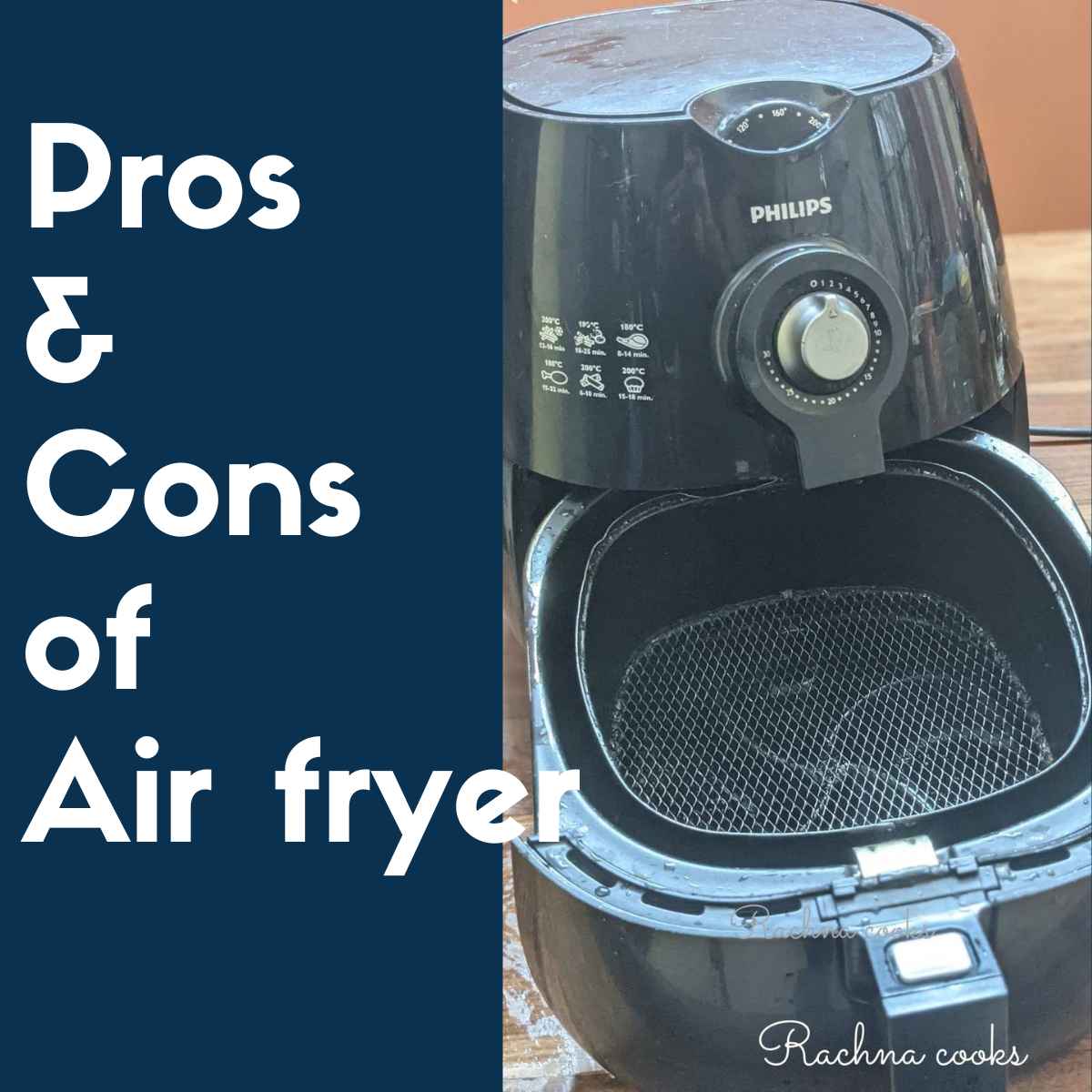 Deep frying foods have been a bane for me, and as years passed I avoided deep frying.
Hence, air fryer with its promise of healthier cooking that needed lower oil really appealed.
After using my air fryers for over 10 years and after creating 150+ recipes, here is my take on the pros and cons of air fryer.
What is an Air Fryer?
The term air fryer can be a bit misleading. There is no frying at all here.
Basically hot air is circulated all around food, cooking it and crisping it up as well.
So, your food is actually being "fried" in hot air instead of hot oil.
Nice, right!
Think of an air fryer as a compact oven, but the results especially of fried foods is better than that of an oven.
Check out When Your Air fryer Won't Turn on
Differences Between an Air Fryer and a Conventional Oven
I have a Facebook group Awesome Air fryer Recipes. Do join in.
A question I have often encountered from friends and readers is that they already have an oven so what's new in air fryer.
Here are the comparisons between the two:
1. Cooking Speed: Air fryers typically cook food faster than an oven.
They not only preheat much faster but because of their compact size the cooking in air fryer is way speedier.
2. Crispiness: While both can produce crispy results, the air fryer definitely gives you better and more even crisping.
This is because air fryer has a basket with vents that ensures that the food is evenly cooked.
Also, many fried foods like wings etc. have their fat render or drip down while cooking which makes the food really crispy.
But in the oven, the fats render in the baking tray. Also baking tray prevents all the food to be exposed to the external heat.
It is because of its design that air fryer helps achieve better crispness.
3. Size: Your regular oven is spacious, perfect for that Thanksgiving turkey.
Air fryers, on the other hand, are more compact and suitable for smaller-sized foods.
These days, you do get larger air fryers but they are still smaller as compared to conventional ovens.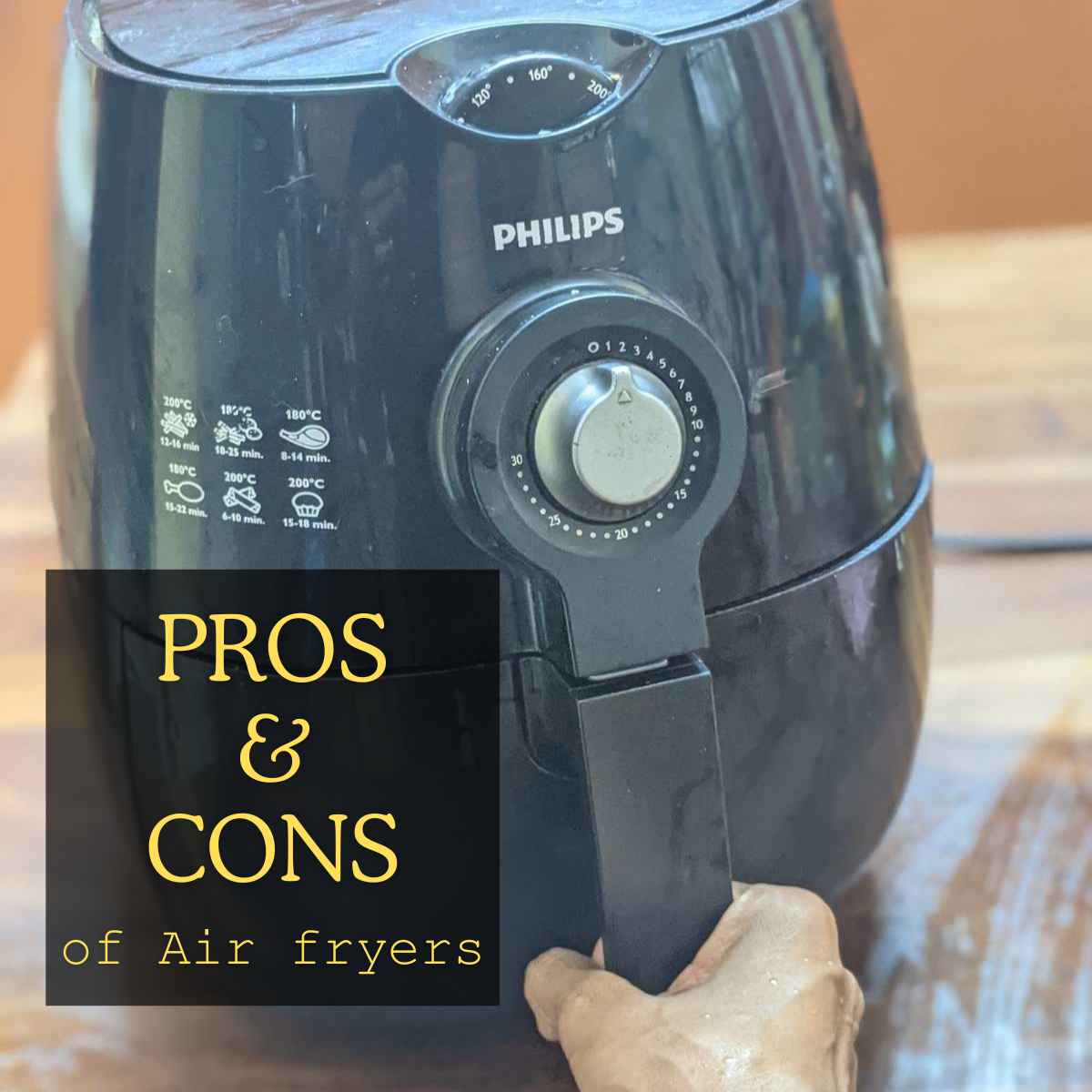 Pros of Using an Air Fryer
Let's dive in and see what all the fuss about the air fryers is all about:
1. Healthier Meals: This is the reason why air fryers generated so much buzz. This is true and not so true at the same time.
Let me explain: Air fryer will make a healthier meal by reducing calories from fat.
As deep frying involves a lot of Calories from fat, the dishes become rich and very Calorie intense.
But air frying helps you achieve a crispy appearance without all those fat Calories, hence cutting down on oil.
Trust me, we all can do with that!
But, if you are making cookies, cakes, reheating fatty foods, or inherently fattening food having lots of oil, butter and processed ingredients then that food will only become marginally healthy by cooking in an air fryer.
Hence grilled food like chicken, fish, meats and veggies with a toss of oil turn out tasty and delicious while staying really healthy.
Breaded foods have loads of breading with its own Calories and hence only get marginally better.
Thus, it depends on what kind of food you are cooking in the air fryer.
Yes, air fryer reduces Calories and yet gives a fantastic fried appearance. That is a definite winner in my book.
Less oil means fewer calories and fat. It's a win-win for those watching their diet but still craving a crunchy treat.
2. Quicker Cooking: If you are used to taking lots of time when cooking in oven, then air fryer will really cut down that time for you.
You can make cuts of chicken, whole chicken, fish, shrimp, even vegetables and vegan dishes in about 50% less time.
This is wonderful. No one likes to slave away at the stove.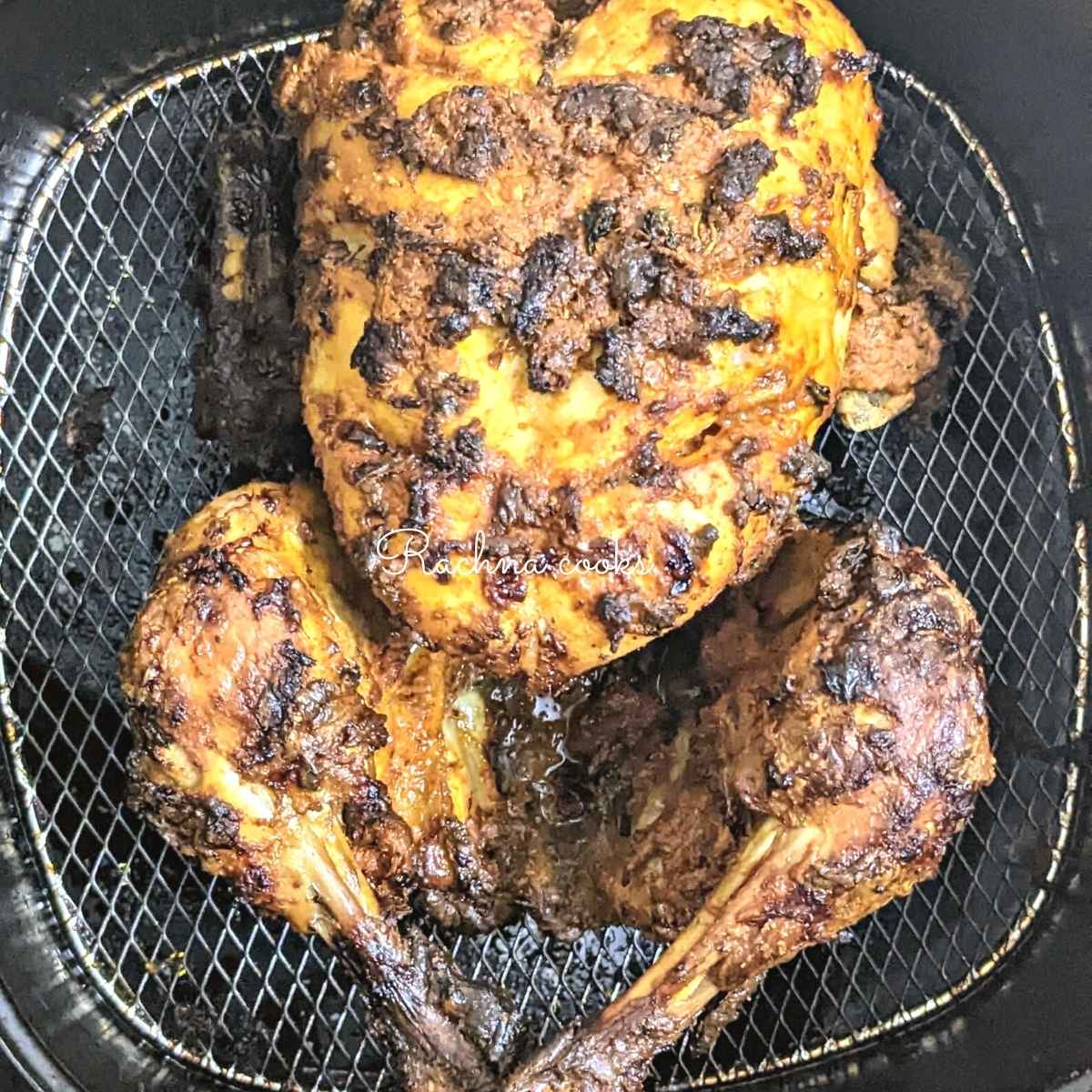 3. Convenience: Air fryer is the perfect convenient gadget for newbies, college students and couples.
You can cook faster than an oven. There are so many beginner friendly recipes that are healthy and can be easily done in air fryer in small portions for these cooks.
Air fryer is also perfect for reheating leftover foods especially fried foods like pizza, breaded foods etc.
Air fryer also cooks frozen foods perfectly without any added oil.
This makes it easier for those who eat these foods occasionally.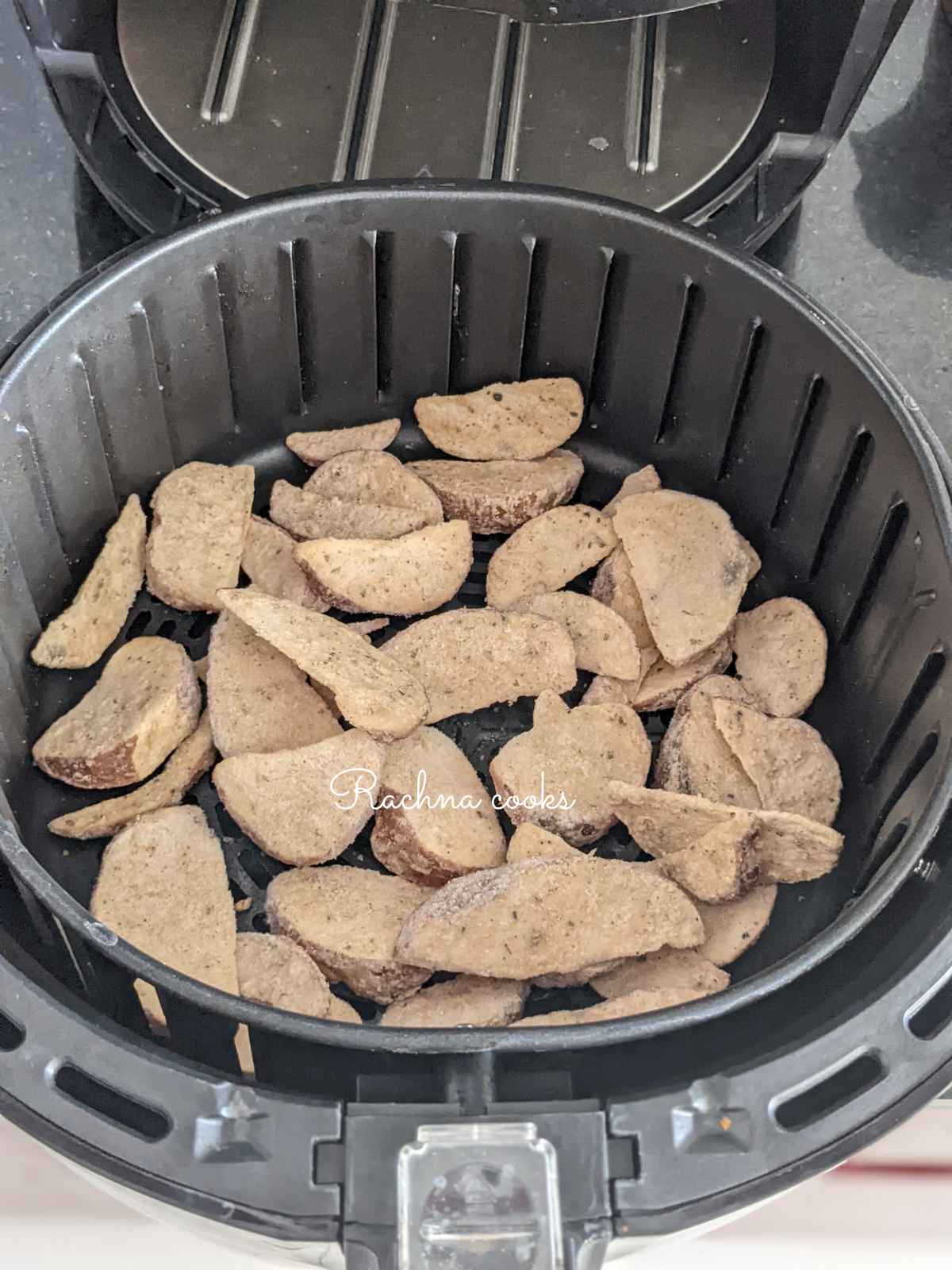 4. Versatility: From doing eggs, to potatoes, fried chicken to shrimp and fish, cookies, cakes and bread to traditional Indian food, air fryer has widened my food horizons.
I would hardly deep fry traditional Indian snacks like vada, pakoda, samosa, aloo Tikki but now can have them in air fryer.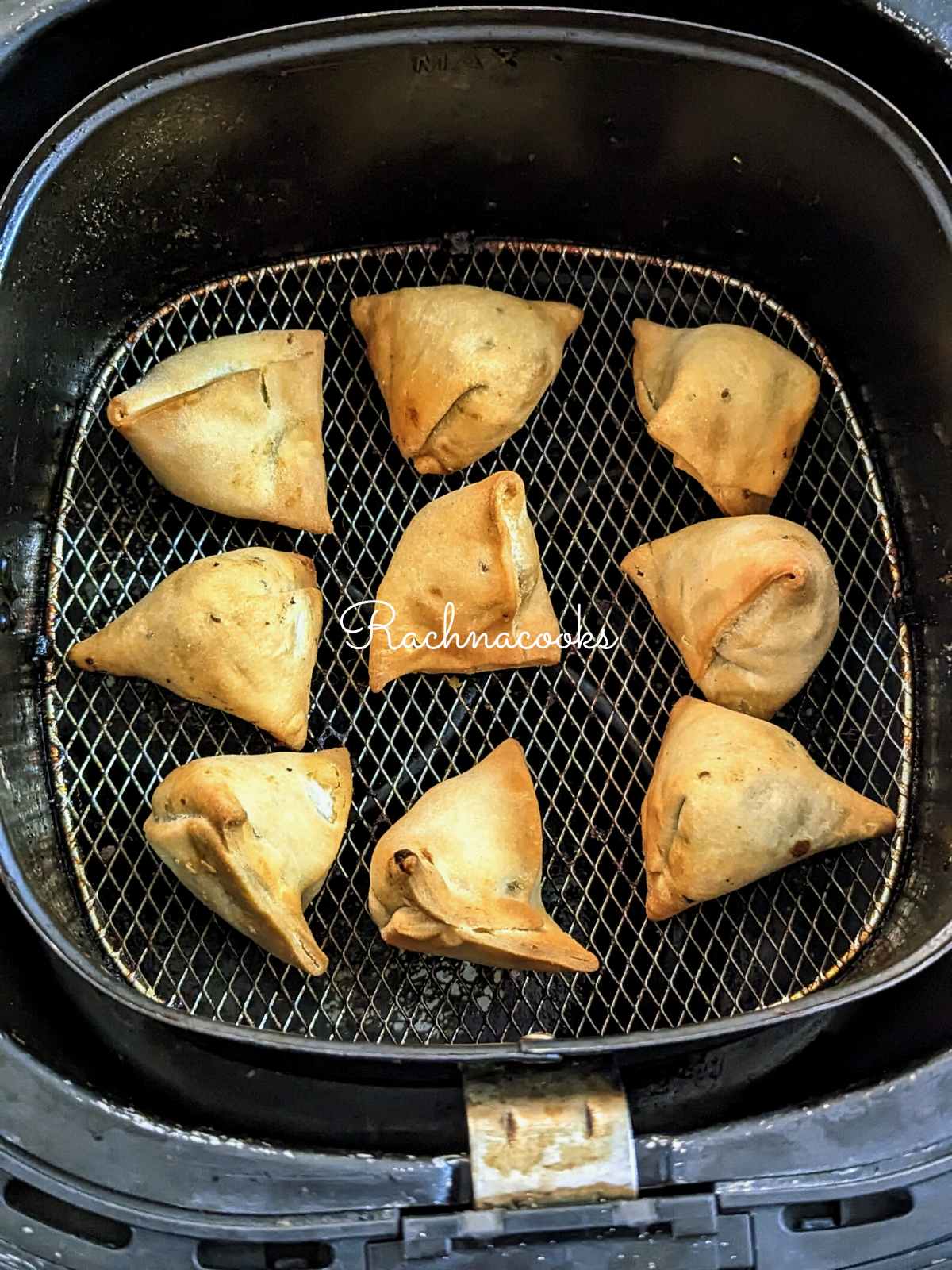 Even traditional Indian curries like this fish curry or aubergine curry needed frying the fish and brinjals respectively.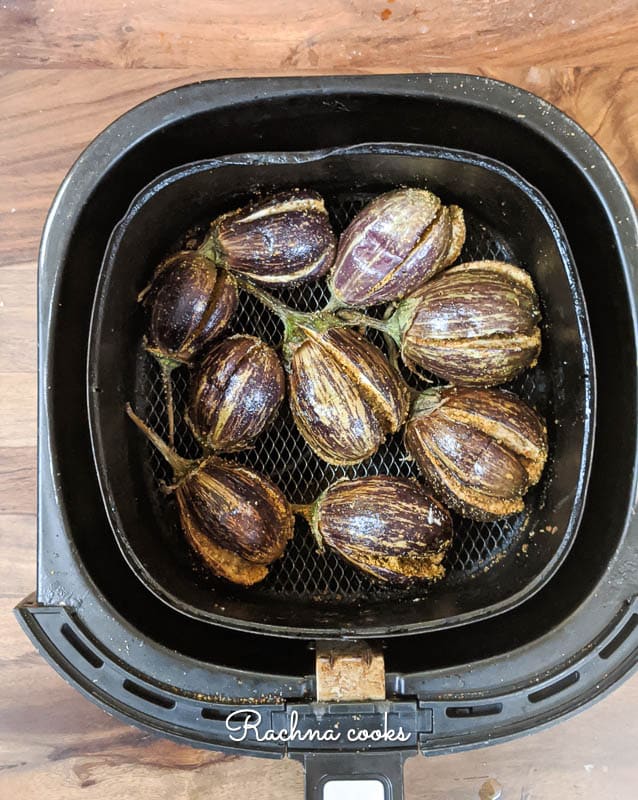 Now all I do is air fry them.
I also like to have small cakes or small batches of cookies which can be perfectly done in the air fryer.
Breaded foods turn out super crispy while using barely any oil.
Chicken cooks like a dream in the air fryer. Try chicken wings, so close to deep fried.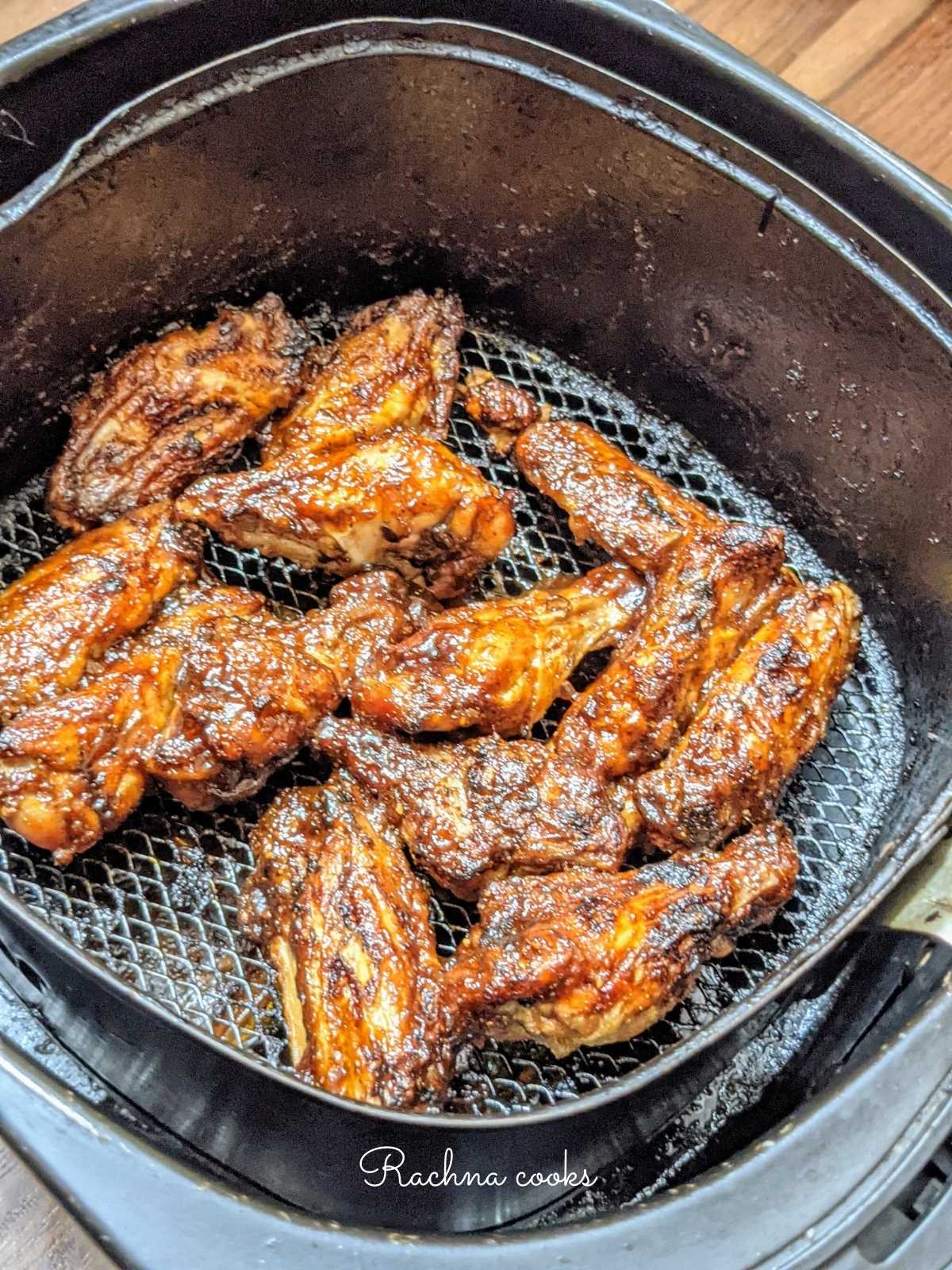 Veggies turn perfectly crispy. From beet chips to potato chips, from French fries to baked potato and sweet potato fries, the possibilities in the air fryer are unending.
You can make healthy snacks like crispy chickpeas, roasted cashews, crispy lentils and so on in air fryer.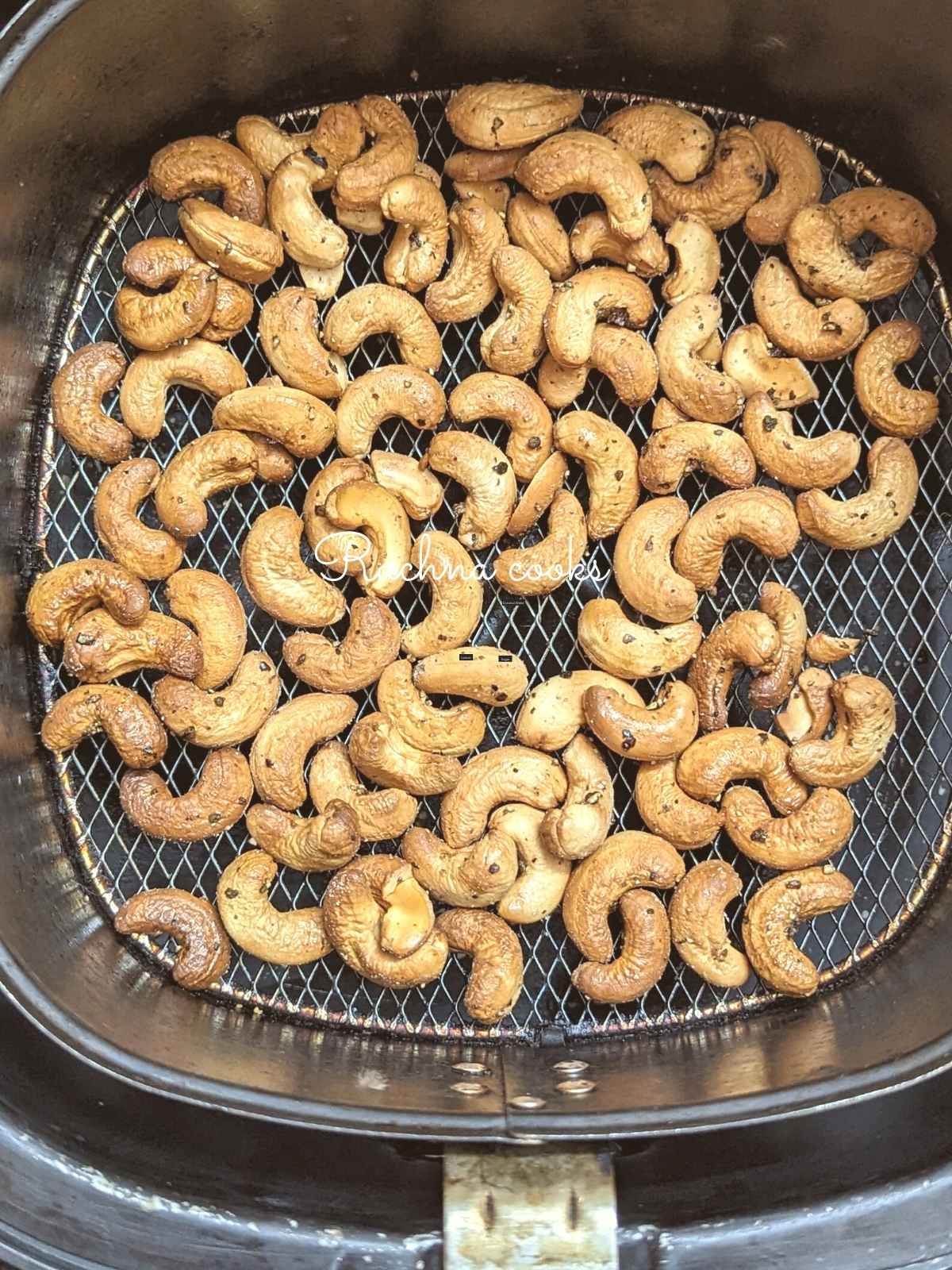 Who knew I could make the perfect omelette, frittata, boiled eggs, egg toast and poached eggs in air fryer!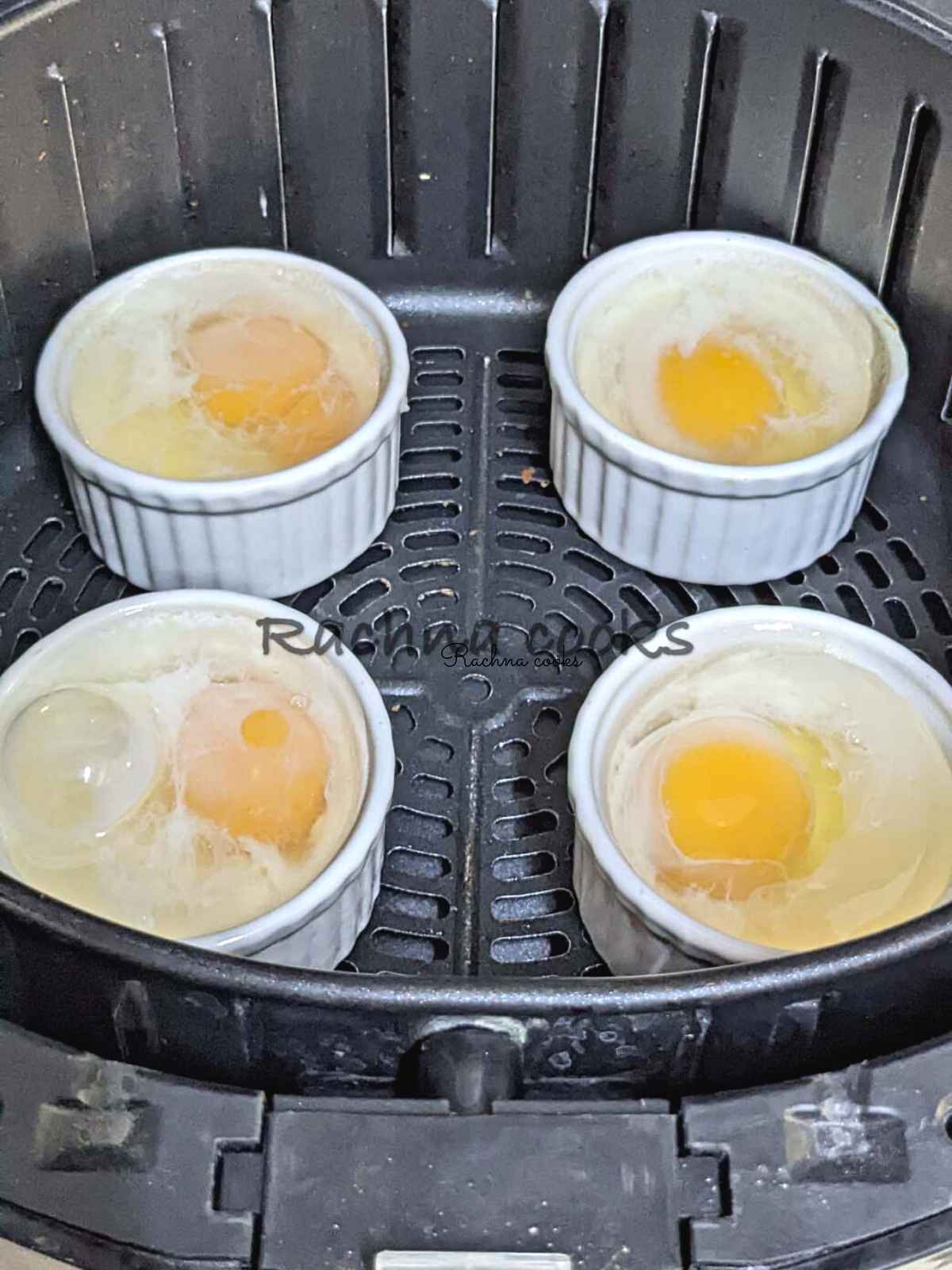 So there you go: you can grill, roast, bake and reheat in the air fryer. Such a nifty gadget.
5. Mess free: My teen can also cook with the air fryer as compared to deep frying.
No mess, no hot oil or dangers of oil spatter. But, air fryer does get really hot.
So one does need to be careful while handling it. But, I am really afraid of leaving my teen around hot oil, so this is so much better.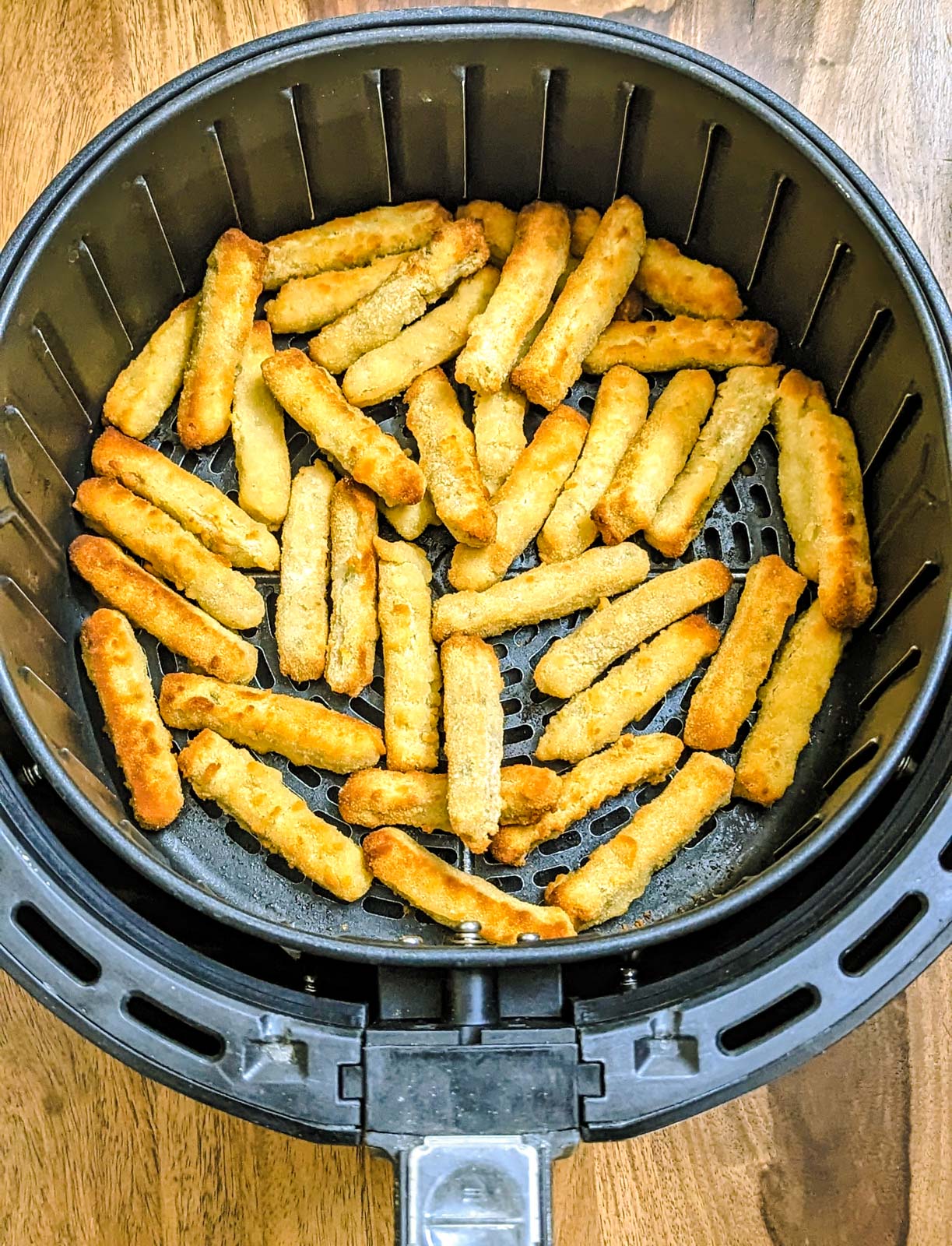 6. Crispy Food: One can mimic the crispness of fried foods in air fryer genuinely.
I have multiple recipes on the blog where foods turn out crunchy and crispy on the outside while being perfectly cooked inside.
Potato fries and wedges turn out so close to deep fried version. So does fried chicken, breaded fish, crunchy shrimp and so on.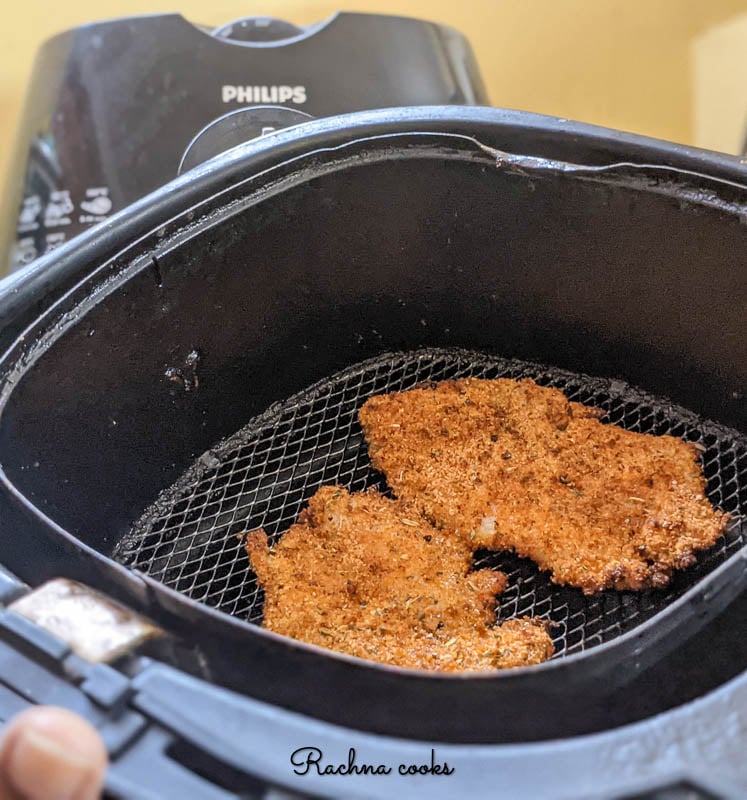 Even the vegetables are roasted to perfection with caramel edges.
I am really floored as to how well so many recipes mimic the fried food appearance.
7. Prevents Wastage: Air fryer is a fantastic gadget that helps in reheating foods to almost their freshly cooked level especially fried foods.
French fries, pizzas, stale pans puris, limp chips all become fantastic when reheated.
Not to mention your favourite fast foods like McDonald's McNuggets, fried pickles, fried chicken and so on.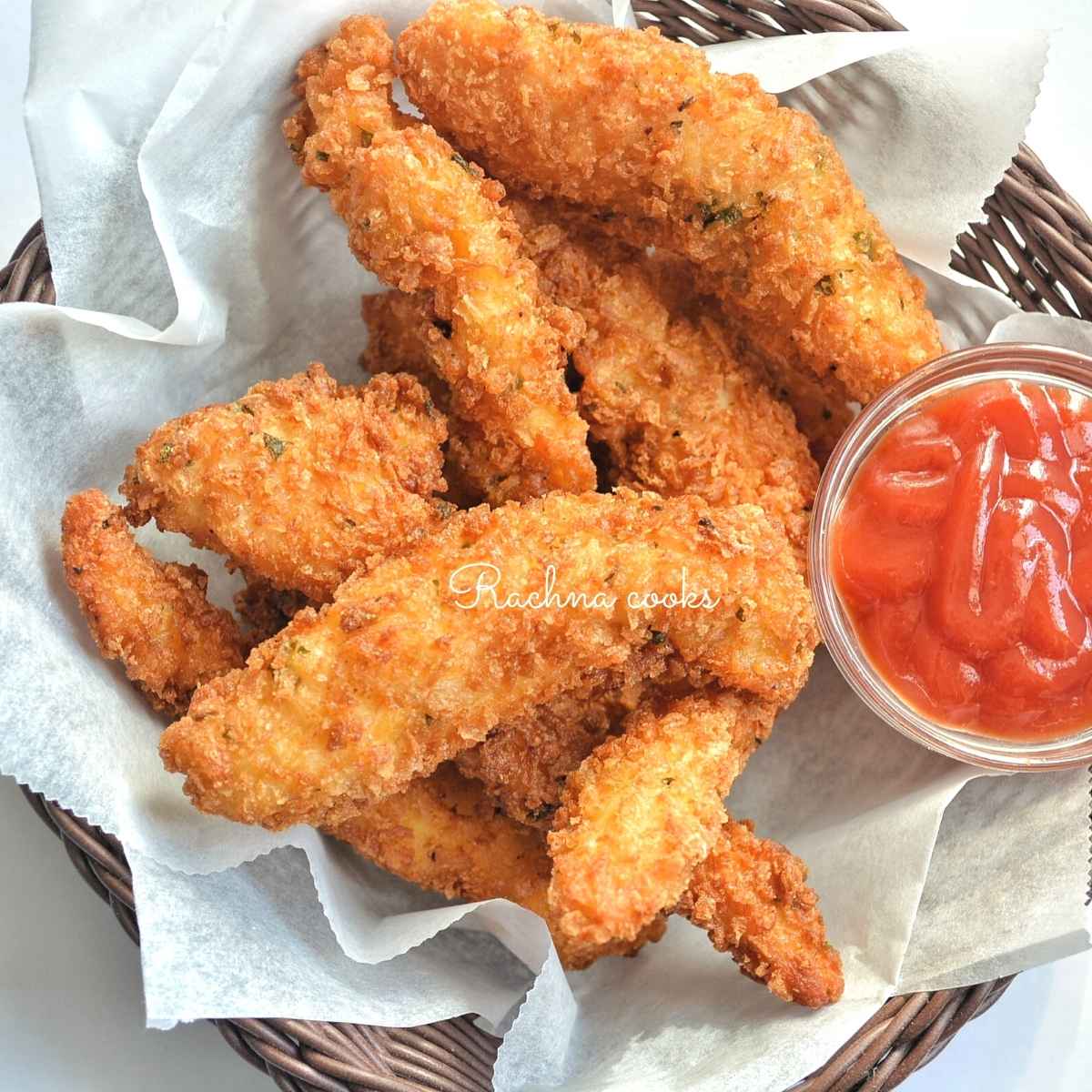 Cons of Using an Air Fryer
Before you run out to purchase an air fryer, let's see what are the disadvantages of cooking in air fryer.
1. Size Constraints: Due to its compact nature, an air fryer may not fit very large foods even in an XL model.
So a large whole chicken or turkey may not work in the air fryer.
Also, one ends up doing food in batches as one can not stack food in the air fryer.
Hence making chips can become tedious.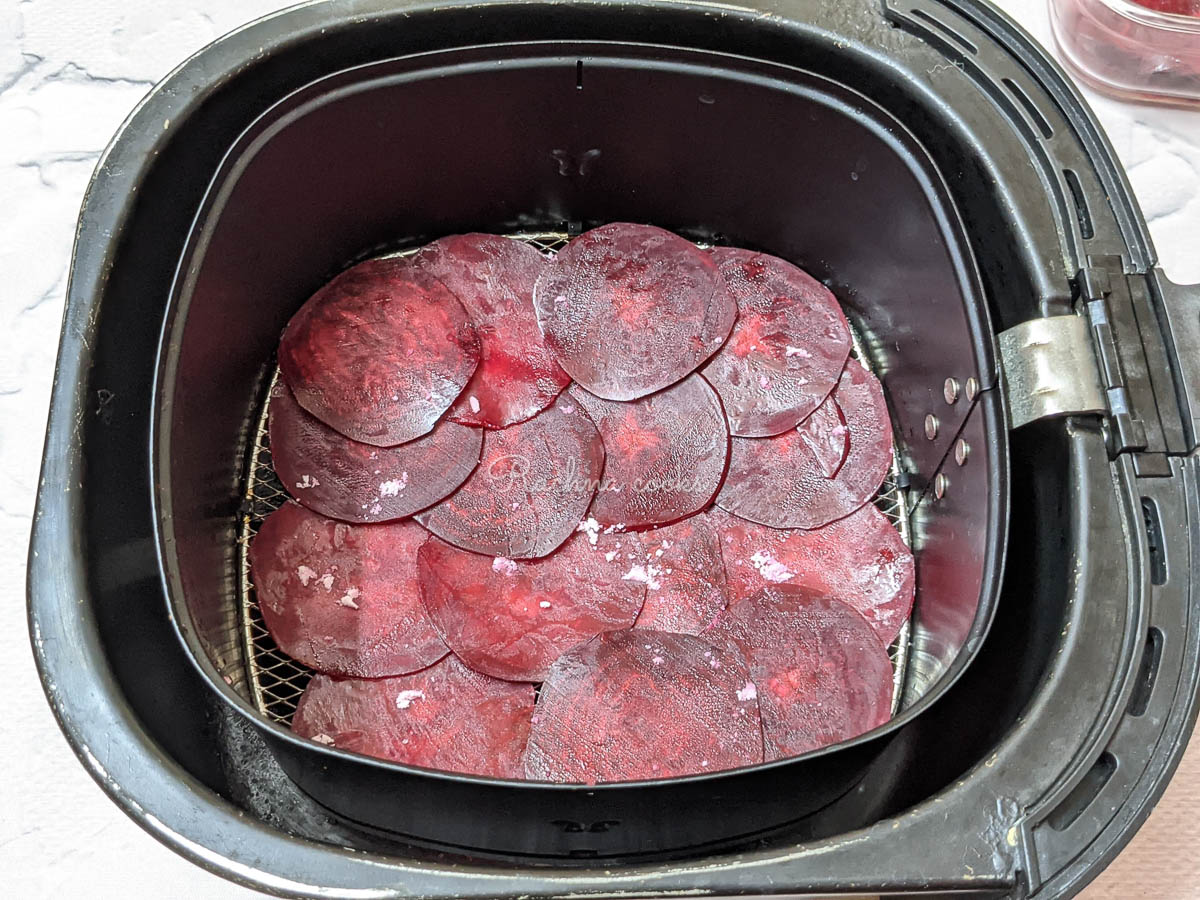 Therefore, air fryer may not be suited if cooking for a big family or entertaining guests. Multiple batches will be needed.
2. Taste Difference: Certain deep fried that can be replicated in the air fryer will not taste as good as deep fried.
Let's be aware of that.
Hence, you can use your air fryer and deep fryer together, cutting down on deep frying to very rare occasions.
3. Learning Curve: Air fryer is a new gadget and the models vary.
Hence one needs to be watchful initially till one gets a hang of their own air fryer and also air frying, in general.
4. Certain Foods Can't Be Cooked: Foods with runny batters or those requiring lots of oil in the recipe may not cook well with air fryers.
Also grains do not cook well and even a few veggies that may dry out.
Also every fried food cannot be replicated well in the air fryer eg. pooris.
5. Storage: Air fryers need countertop space.
They are usually large and cannot be taken in and out of storage space on a regular basis.
Also they need some space at the back for the heat and vapour to release hence they cannot be placed in closed spaces like a microwave.
The larger size you take, the more space they will occupy.
Do Air fryers cause Acrylamide?
Cooking at very high temperatures causes production of acrymalide, that may cause cancer in animals when produced in very large doses.
Acrylamide can be formed by any high temperature cooking like deep frying, baking, roasting or even air frying.
As per this FDA study, If you are not having copious amounts of foods that are cooked at very high temperature causing excessive browning of food, then you do not have to worry.
Also ensure that you eat a balanced diet rich in whole grains, fruits, vegetables and natural proteins.
So here are all the advantages and disadvantages of air fryer. Hope you found this post helpful.
In Conclusion, weighing the pros and cons of air fryer, I feel it still makes sense to buy an air fryer.
Just go for the right model for your needs. It will not only help you eat your favorite "fried" foods more often but veggies and proteins as well.