Bhuna masala curry is the base of a lot of Indian curries. If you enjoy Indian cooking then having bhuna masala at hand can be incredibly useful.
You can create almost all kinds of Indian curries with this starting point.
As you are aware, meal planning is an incredible tool towards eating healthy and wholesome.
This is a basic masala paste made with onion, garlic, ginger, tomatoes, green chillies and some spices.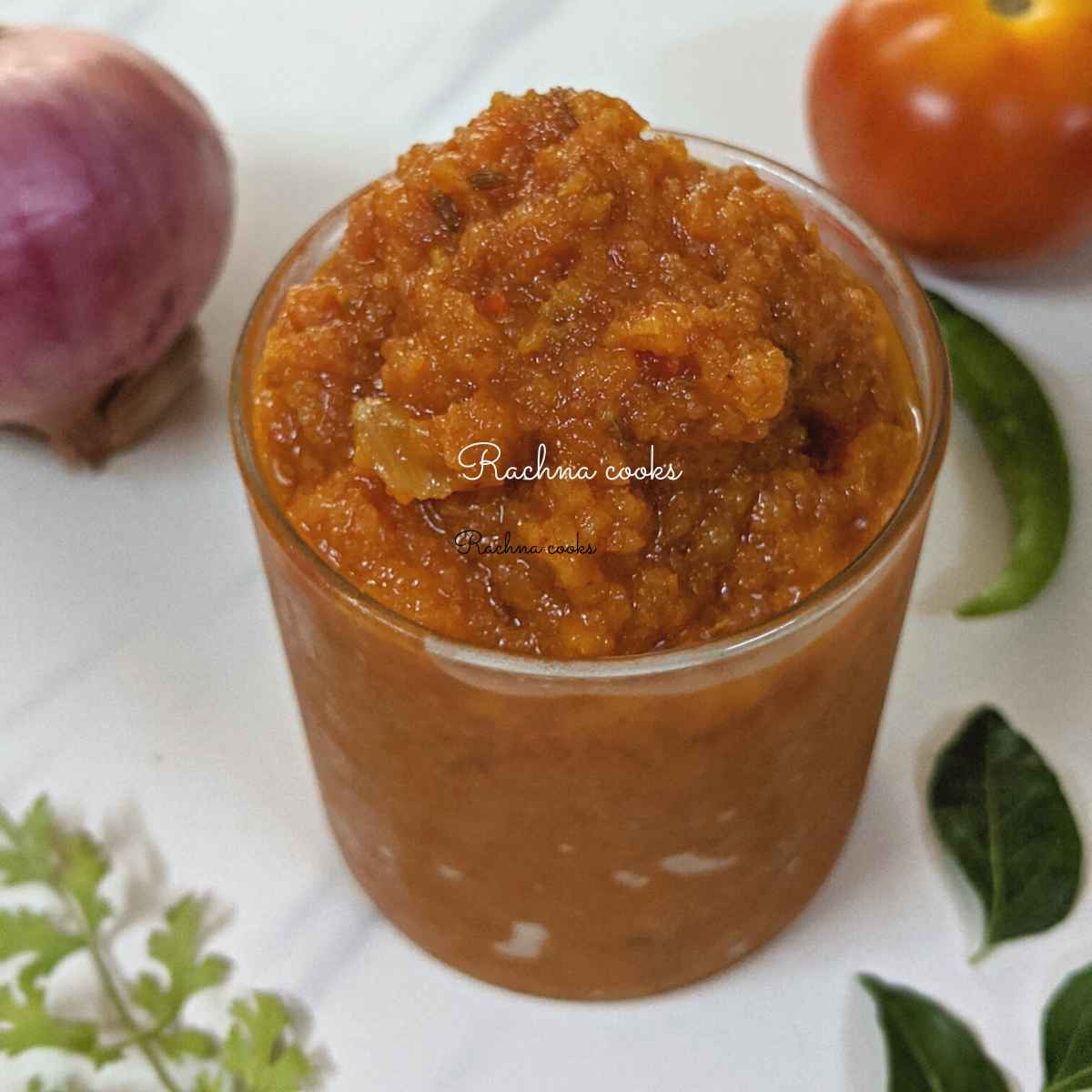 Additional Reading: 7 Reasons why Your Should Start Meal Planning Today
In order to plan for your week ahead, meal planning and grocery shopping according to it is an excellent starting point.
Then comes meal prepping based on what you plan to cook. As I eat a lot of Indian food through the week, I generally make a generous batch of Indian curry paste over the weekend that makes my work of churning delicious curries super easy.
You may also like:
How to Make Tomato Puree at Home, How to make ginger garlic paste, Homemade garam masala powder, How to make coriander powder
Jump to:
What is Bhuna masala?
Bhuna masala is the cooked paste of onion, garlic, ginger, green chillies and tomatoes sautéed in oil till they are well cooked.
We also add spices like turmeric, cayenne or paprika for colour and salt for preservation and taste.
I like to add cumin as well. This thick base is then used to make vegan, vegetarian or non-vegetarian Indian curries.
You May Also Like: Curry Recipes on this blog
Ingredients
Onion: Onion is an essential part of most curries. Though there are curries that skip onion and use tomato as a base.
The onion has to be sauteed well till it bhunaoed or golden brown and caramelized. This fried onion gives a nice sweetish taste to the curry.
Ginger, garlic and green chillies: Ginger and garlic are used extensively in Indian cooking. They provide a gentle heat and zing to the curry.
Sometimes only garlic or only ginger are also used. But mostly ginger garlic paste is a regular condiment in Indian cooking.
Green chillies can be either sauteed in the curry base with the masala or can be skipped. Some people prefer to use cayenne in its place.
Tomatoes: These are the souring ingredient that balance out the heat and zing of ginger garlic paste and the sweetness of onion.
Mostly Indian tomatoes are more sour than sweet and provide a good tang.
Some curries also use amchur powder or raw mango powder, tamarind paste and kokum paste for sourness depending upon the recipe.
Coconut: A lot of South Indian curries use freshly ground coconut. It can be ground and added to the bhuna masala paste when making a curry.
Oil: I normally use cold pressed mustard oil or peanut oil for frying the masala paste. Feel free to use any good vegetable oil for the same.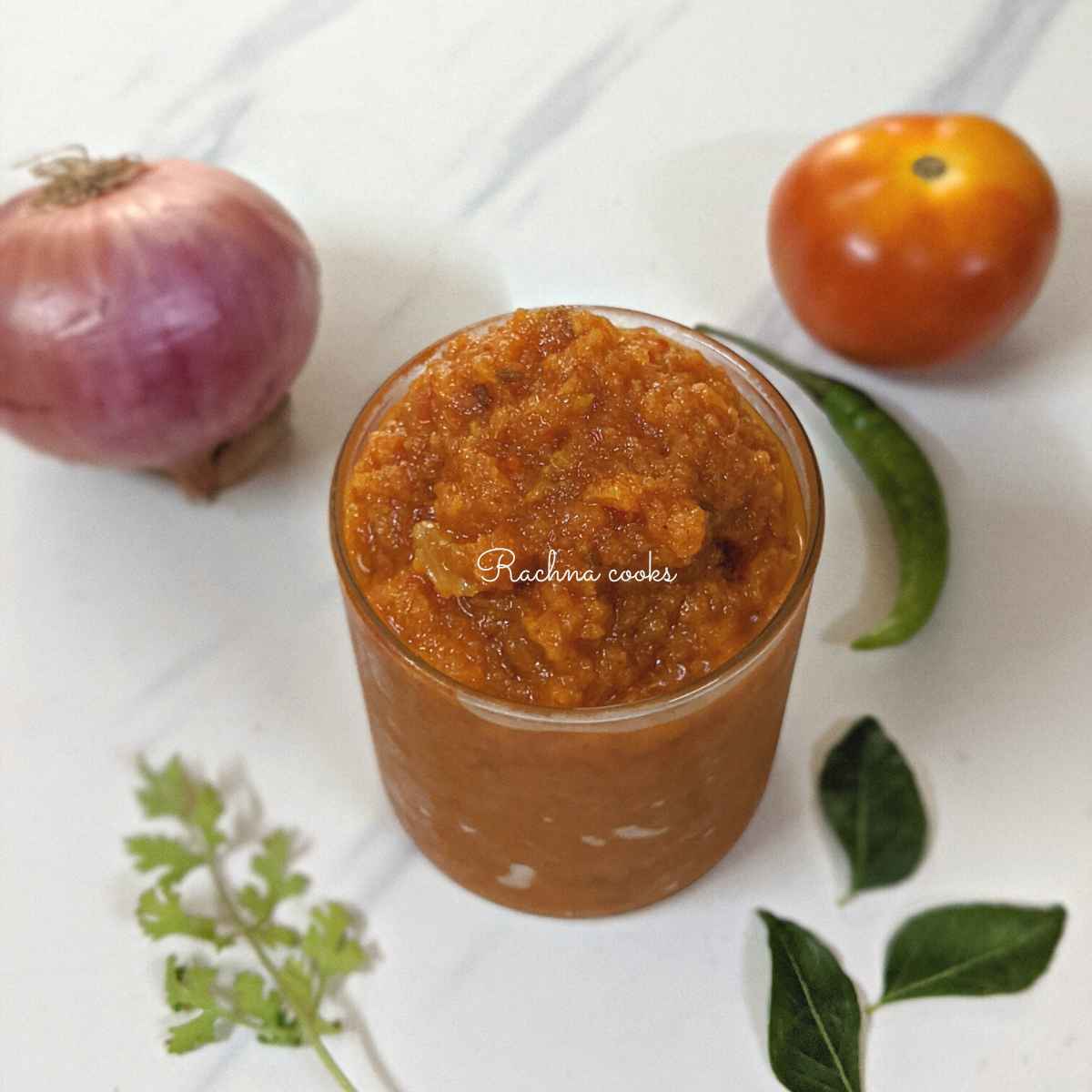 Storage Tips
The Indian curry base can easily stay in the refrigerator for 4-5 days.
Beyond that time, it helps to freeze the bhuna masala paste and then it will stay for 3 months easily. I generally make curry base that lasts me a week or two.
When freezing, I store in 1.5 cup serves because that is the amount of base I use for my family of 4 at a single time.
For single serve, ½ cup curry paste at a time works.
Variations
This is a vegan recipe.
You can use olive oil or coconut oil in place of mustard oil or peanut oil. You can reduce the quantity of oil as per preference. Ghee can also be used
Instead of making a paste of the ingredients, you can roughly chop them and fry till they are cooked.
Then this can be blended and stored as a masala paste.
Here's my easy recipe to make bhuna masala or every day Indian curry base:
Instructions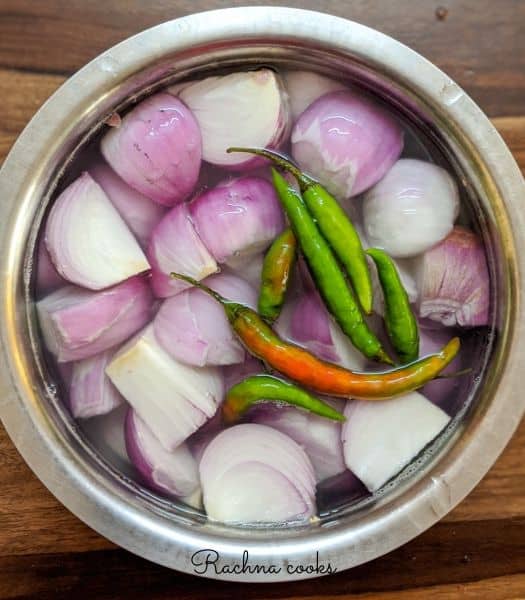 Peel and chop onions roughly. Immerse them in water for 10 minutes.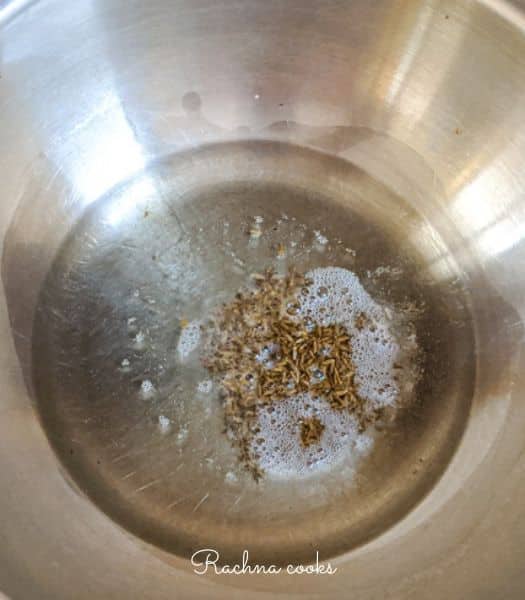 Heat oil in a pan. Add cumin seeds and allow to sputter.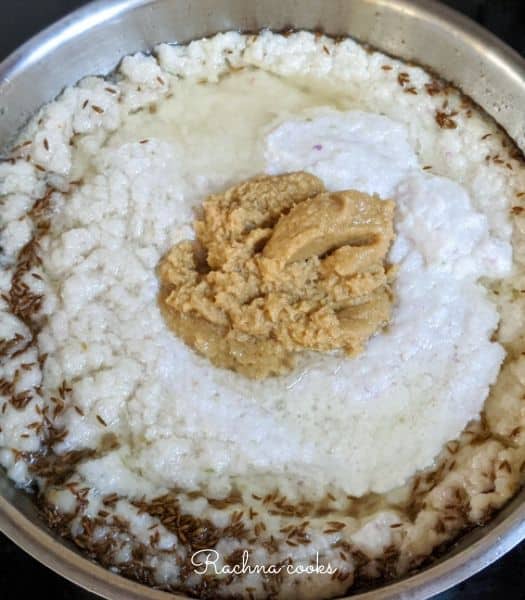 Add blended paste of onion and green chillies along with ginger-garlic paste and mix well.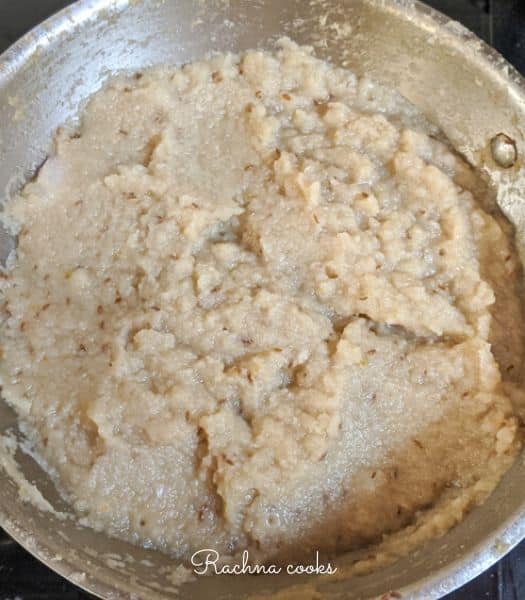 Cook on low to medium flame for 20 minutes till the base is well cooked and brown. You will see that the raw smell goes away.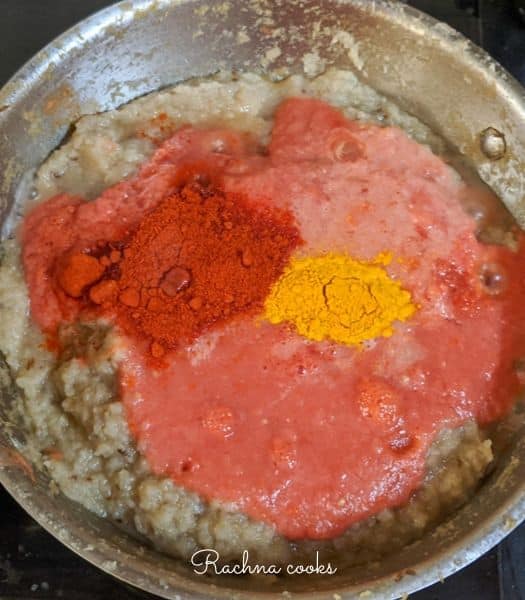 Add tomato puree along with cayenne, turmeric powder and salt. Cook for 20-25 minutes more till the paste is well cooked and most of the water has evaporated.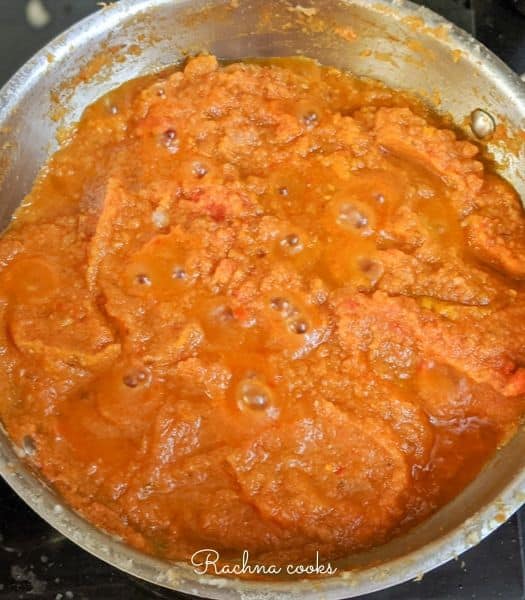 Your curry base is done when oil starts separating from the masala. Cool down the bhuna masala and store in the fridge for later use.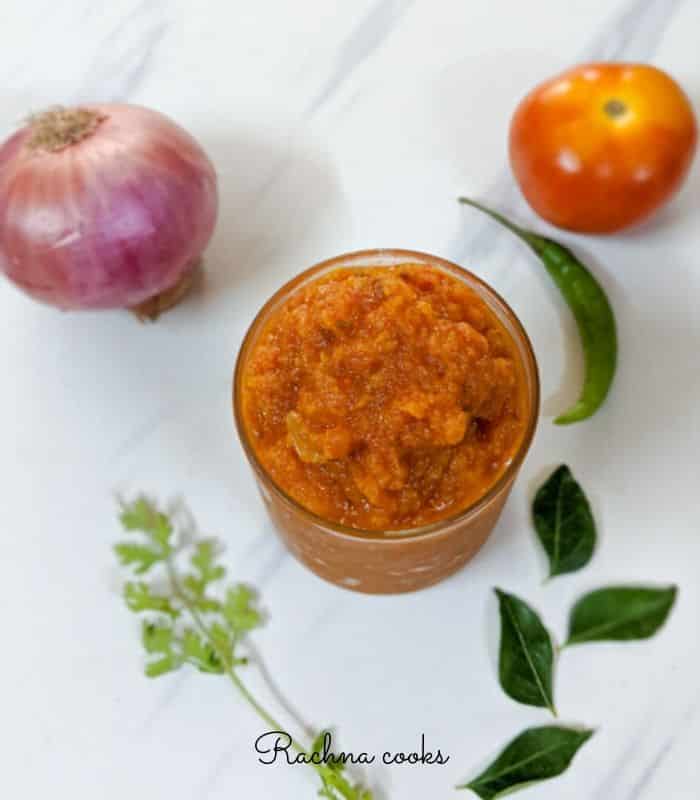 Here's the recipe card:
📖 Recipe Card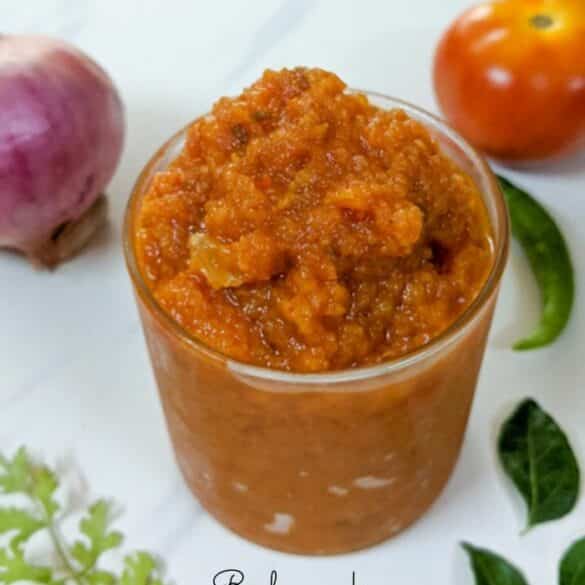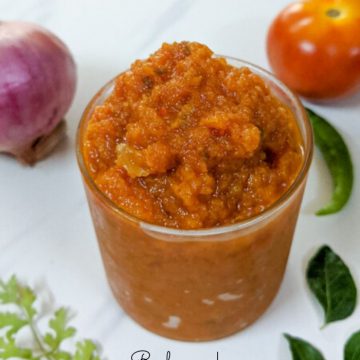 Bhuna Masala Recipe | Indian curry base
This is the recipe of Indian curry base or bhuna masala that will let you make Indian curries in a jiffy. It is perfect while meal prepping.
Instructions
Blend together onions and green chillies into a paste. Blend together ginger and garlic into a paste. And blend together tomatoes to a paste and keep aside. Make sure not to use any water or just minimal water.

Heat oil in a wide pan. Add cumin seeds and allow to sputter. Now add in the onion paste, ginger garlic paste and mix well. It will start sputtering in some time so you can use a cover. Keep stirring and cook for about 20 minutes on low to medium flame making sure that you stir often.

Cook well till the raw smell goes, the mixture looks darker and glossier. You will also see oil coming out from the sides.

Now add tomato paste, turmeric powder, cayenne or paprika and salt. Mix well and cook some more, say 20-25 minutes. Yes, the curry paste really needs to cook out. Keep the flame low or medium low. Stir regularly and keep covered.

Once done, you will have thick curry paste that smells like curry and you can see the oil coming out from the sides.

Your bhuna masala is ready. Cool it down and then store in the fridge or in single serves you can freeze to thaw later and use.
Notes
This bhuna masala is slightly spicy. You can modify the heat as per your taste.
Using chilli powder gives it a vibrant red colour.
Turmeric and salt along with oil help in preserving it well. Store in airtight jars.
I peel onions and immerse them in water for 10 minutes. Then I roughly chop them. That reduces the tear-inducing quality when cooking out.
You can easily halve or double the recipe.
Nutrition
Calories:
175
kcal
Carbohydrates:
11
g
Protein:
2
g
Fat:
15
g
Saturated Fat:
11
g
Sodium:
726
mg
Potassium:
223
mg
Fiber:
2
g
Sugar:
4
g
Vitamin A:
792
IU
Vitamin C:
9
mg
Calcium:
41
mg
Iron:
2
mg
Check out our Food videos
Subscribe to our Food channel for recipe videos
If you liked this recipe, I request you to leave a star * rating. Thanks.