Air fryer chickpeas is a crunchy, healthy snack that is gluten-free, vegan and high protein.
It is really quick and easy to make in the Air fryer with barely any oil.
A perfect any time snack without guilt.
Best of all it stays crispy and fresh when stored in an air-tight container for upto a week.
Also, compared to oven-roasted chickpeas, this is way faster and easier to do.
You can also do so many flavors ranging from savory to sweet.
You can also roast other lentils to make crispy lentils in the air fryer like these air fryer moong dal or yellow lentils. So good!
Or try these crispy peas in air fryer. Perfect snack.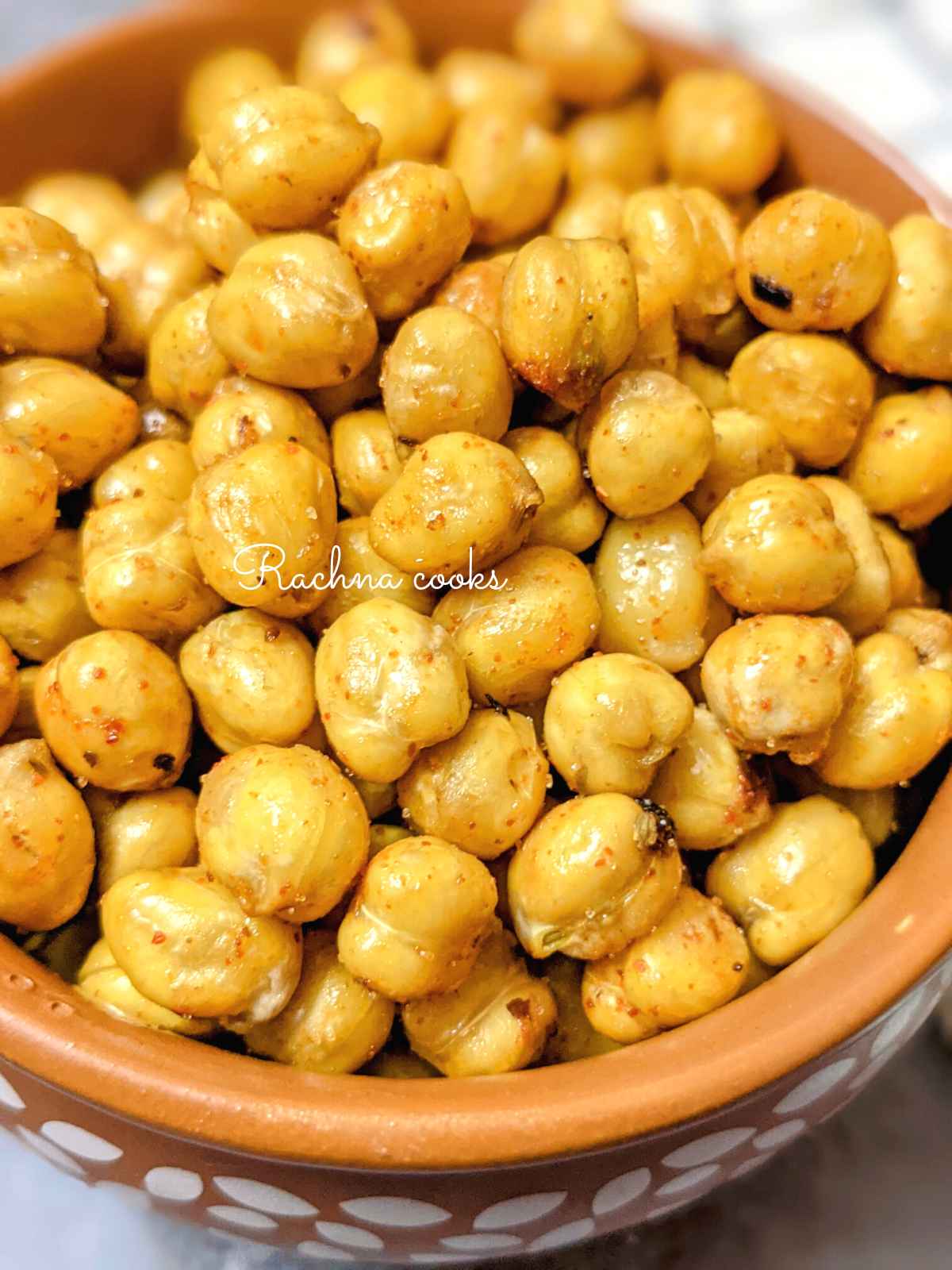 Why You'll Love this Recipe
1. These crispy chickpeas are so flavorful and filling.
Almost like a perfect snack.
2. These are so versatile. You can vary the seasonings as per your like.
So go from spicy to savory and sweet depending upon what you are in the mood for.
3. These are super easy to do if you have canned chickpeas at hand.
These are fastest to make as it takes about 15 minutes only for this perfect crunchy snack.
If not, a little bit of planning by soaking dry chickpeas overnight and then parboiling them takes longer but does the job equally well.
You don't even need to dry them as using the air fryer dehydrates them.
Such a perfect fuss-free recipe.
4. With air fryer, I can quickly do batches and store them in airtight containers for a ready snack.
Super handy for those 4 pm hunger pangs.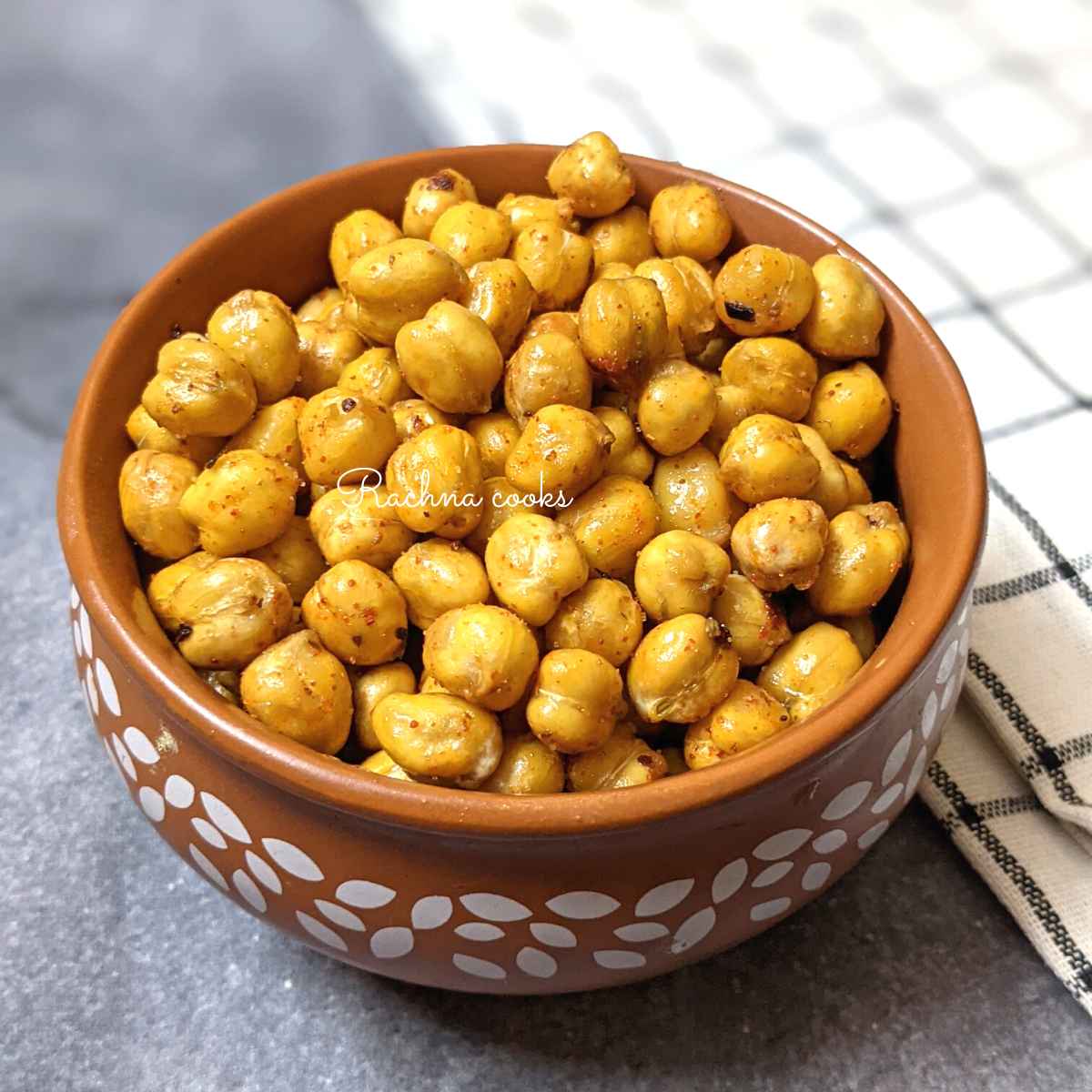 Just like these air fryer makhana or gur makhana.
You may also like: Air fryer falafel, Air fryer Broccoli, Honey roasted almonds and Air fryer baked potatoes.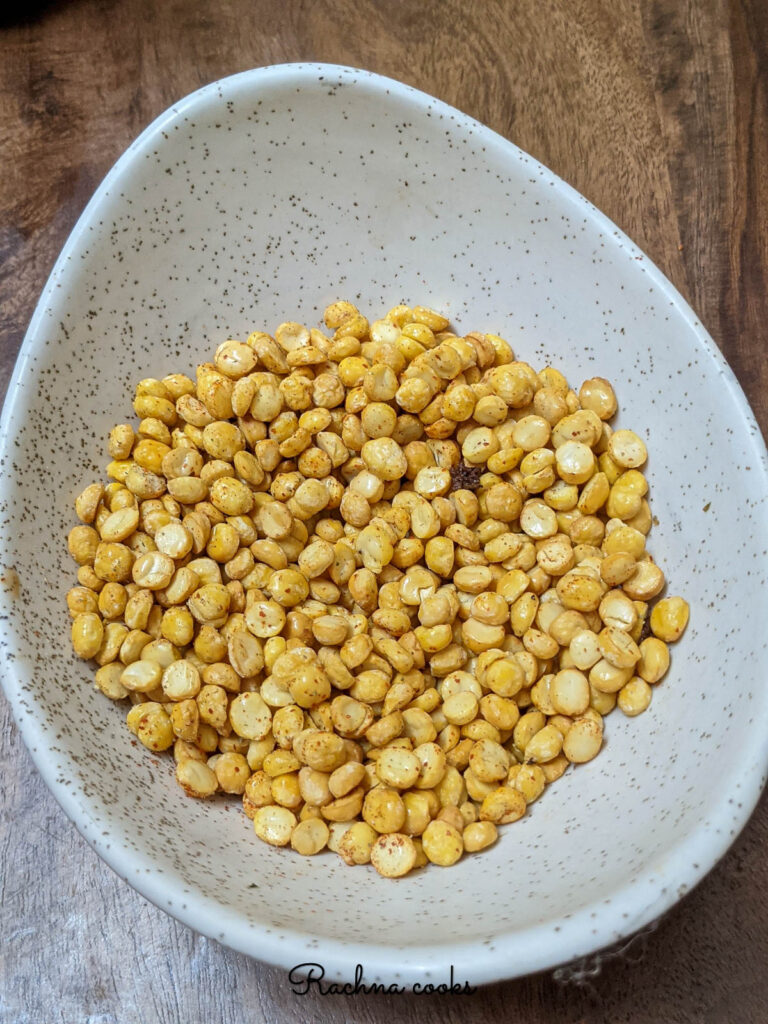 Ingredients
1. Chickpeas: These are the main ingredient. Use canned or dry chickpeas.
2. Oil: I have used olive oil.
You can also use avocado oil.
3. Seasoning: I have used lemon juice salt, pepper and smoked paprika here.
What Should I do if I don't Have Canned Chickpeas?
Soak dry chickpeas overnight and then parboil them with a little salt.
In the instant pot, pressure cook on high for 15 minutes, then manually release the pressure.
If you have soaked the chickpeas then you can cook on high for 12-14 minutes. Remember we don't want them mushy or breaking apart.
Just cooked but holding shape is good.
Make sure the chickpeas are not mushy but ¾th cooked.
I give them 4 whistles in the manual pressure cooker. Drain and use.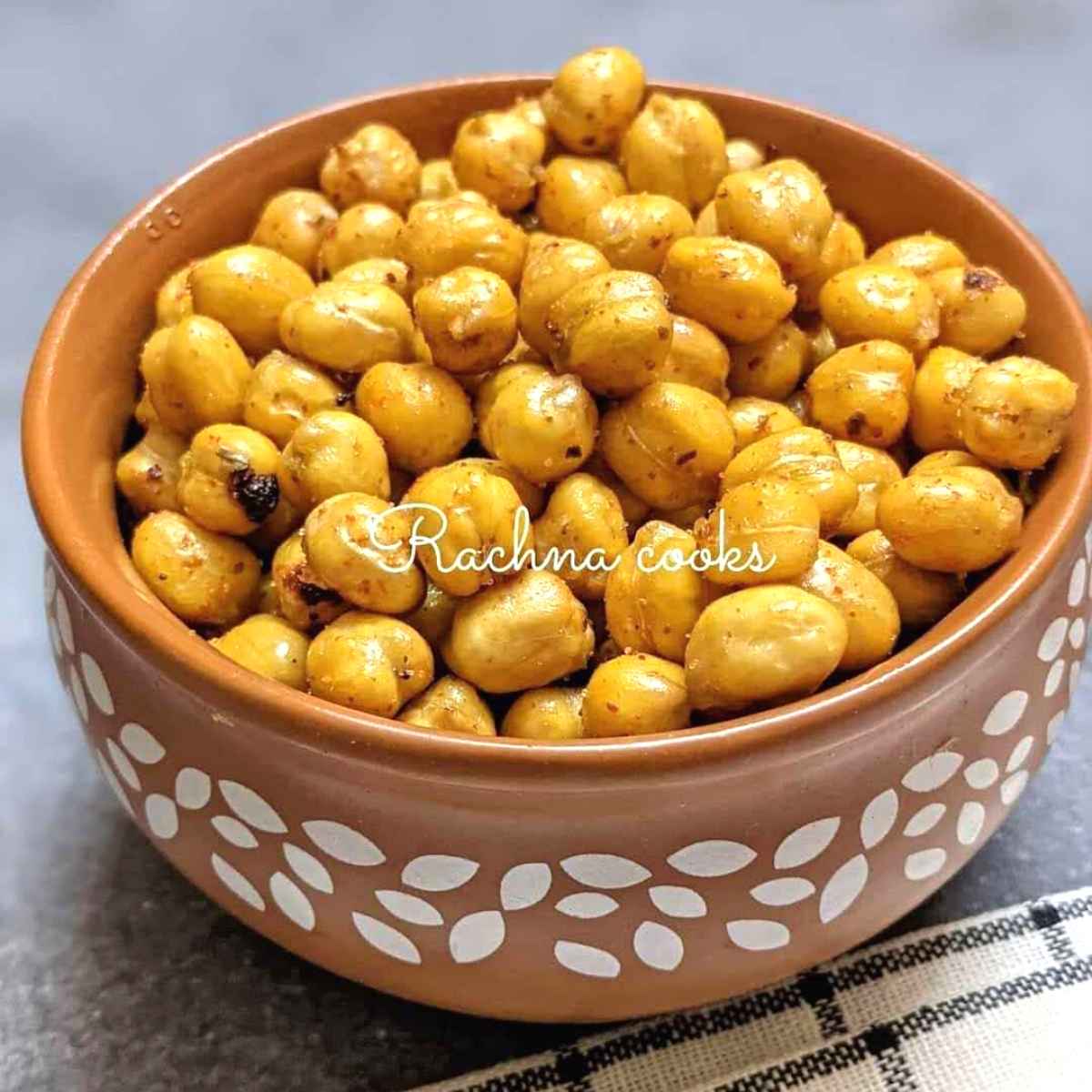 How to Store Crispy Chickpeas
Store them in an air-tight container and they will last for a week easily.
Though, my batches get over in a couple of days tops. 🙂
Which Seasonings Can I use?
1. Lemon chilli seasoning: Mix together 1 tsp. chilli powder or cayenne with 1 tsp. lemon salt.
2. Salt and pepper: Mix together 1 tsp. each of salt and pepper.
3. Barbecue seasoning: Buy premixed seasoning mix.
4. Peri peri seasoning: Use pre-bought peri peri spice mix.
5. Italian seasoning: Mix together 1 tsp. Italian seasoning and salt.
6. Fajita seasoning: Tastes really good!
7. Sweet: Use honey or brown sugar along with smoked paprika, pepper and salt.
Instructions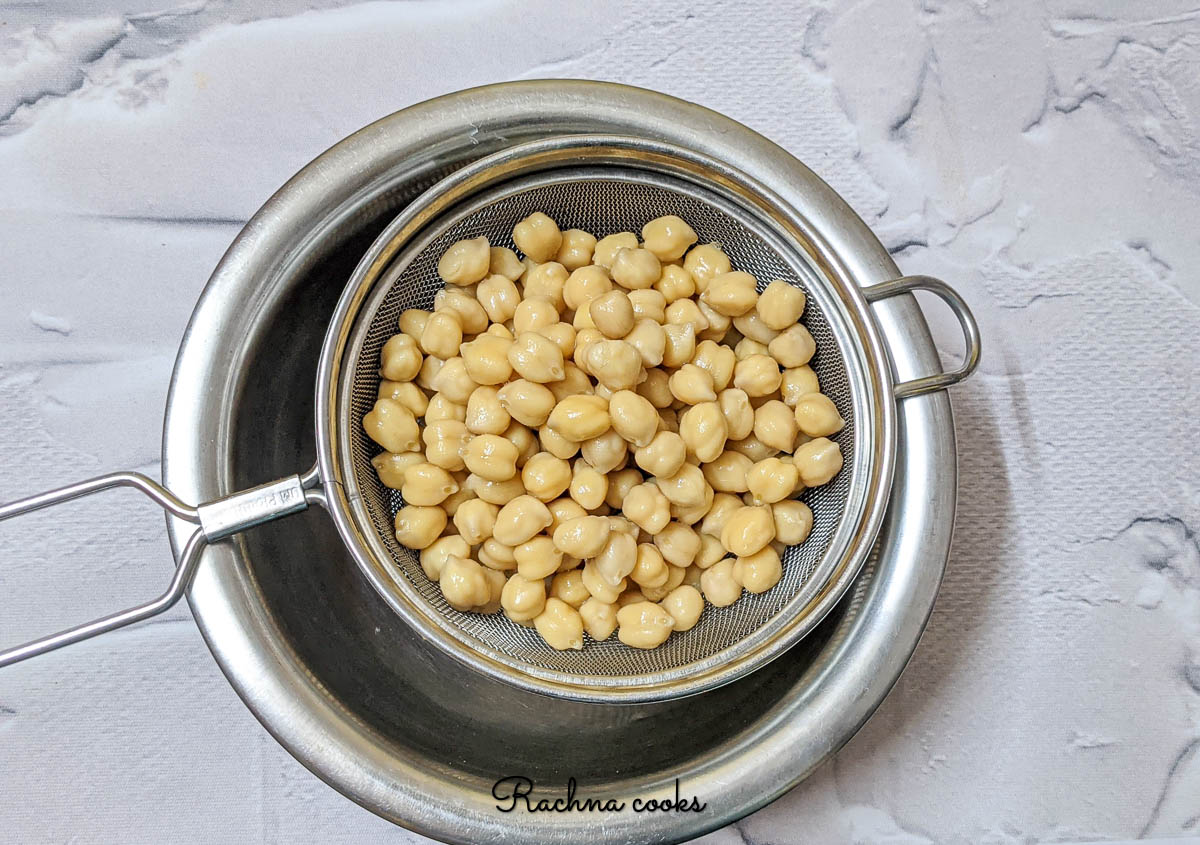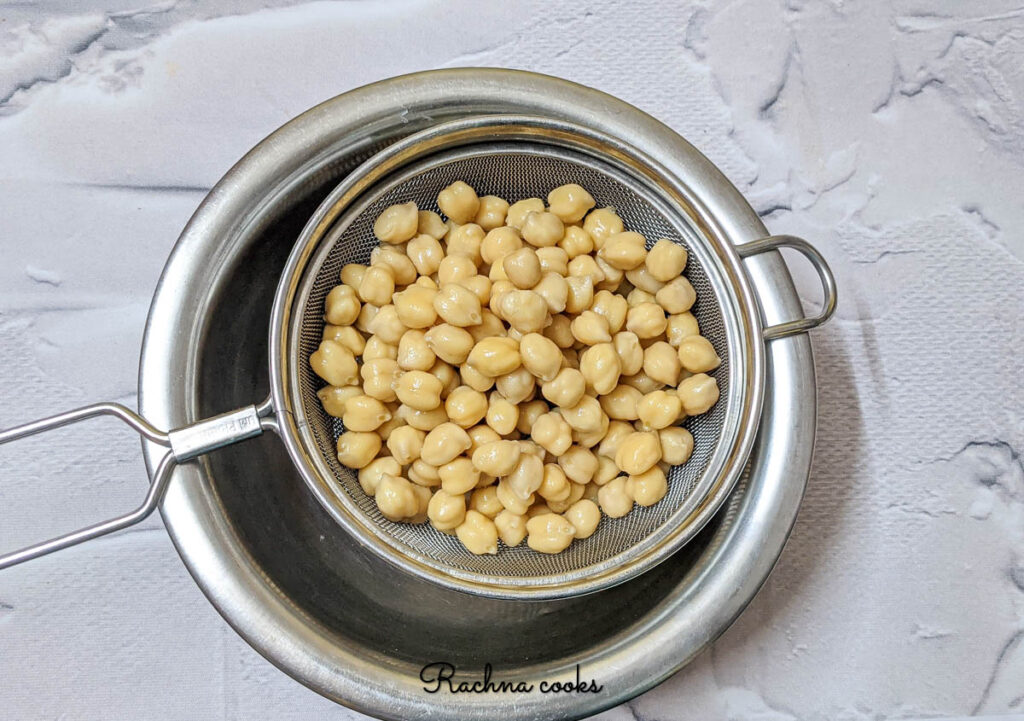 Drain canned or parboiled chickpeas and keep aside.
No need to dry them.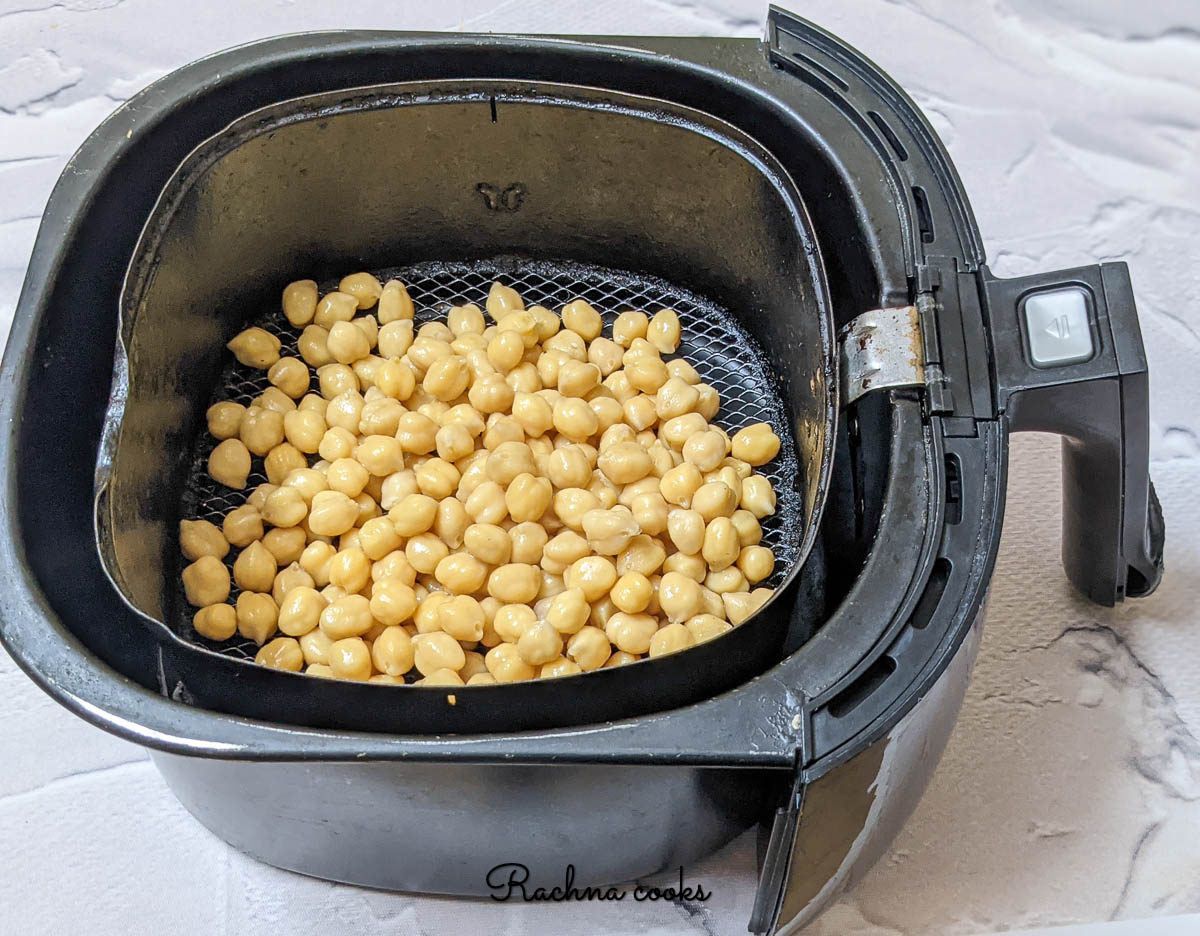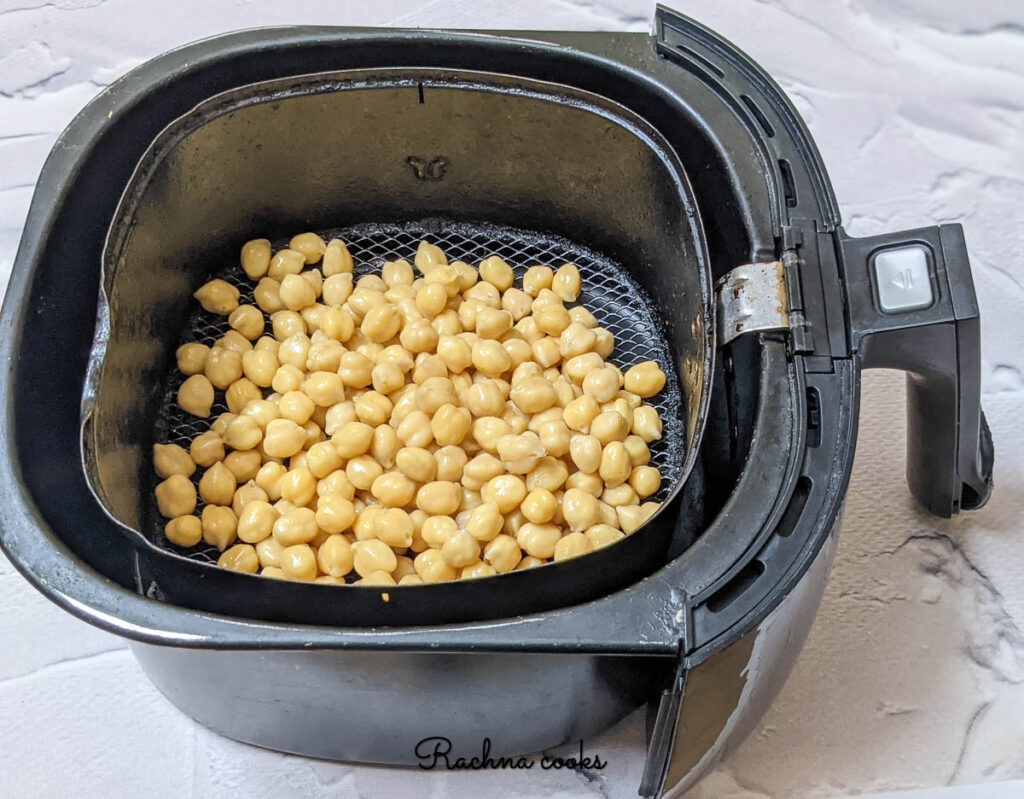 Preheat Air fryer at 200 C or 390 F for 5 minutes.
Spread the chickpeas and air fry for 6 minutes.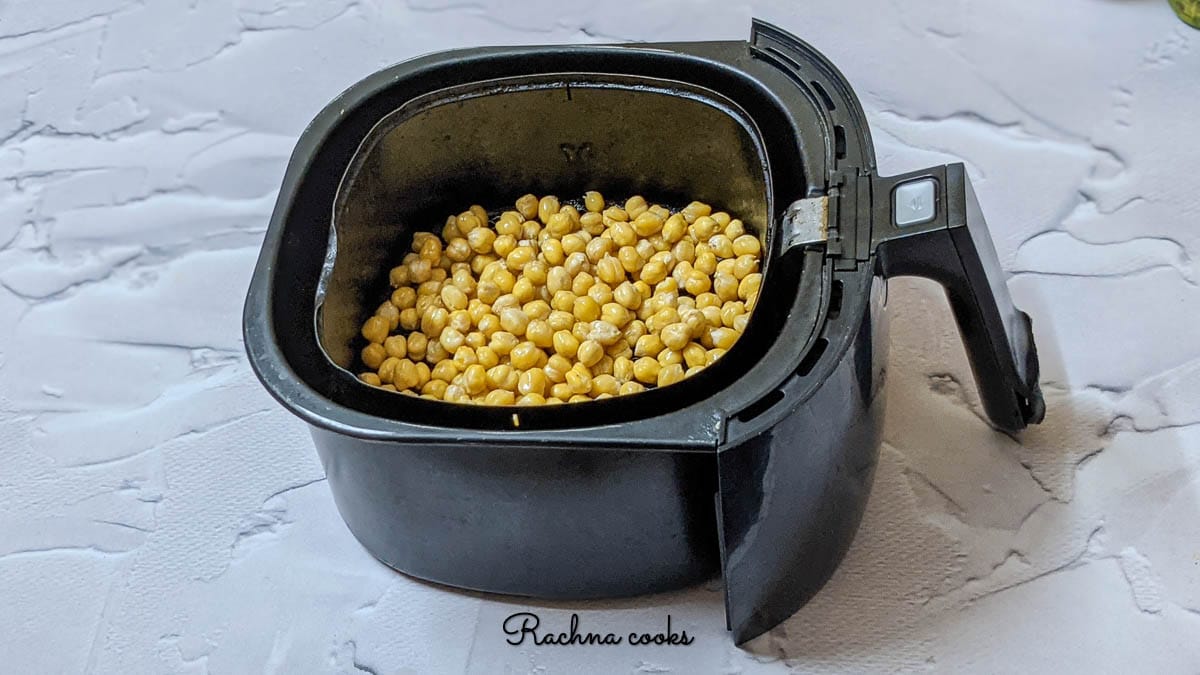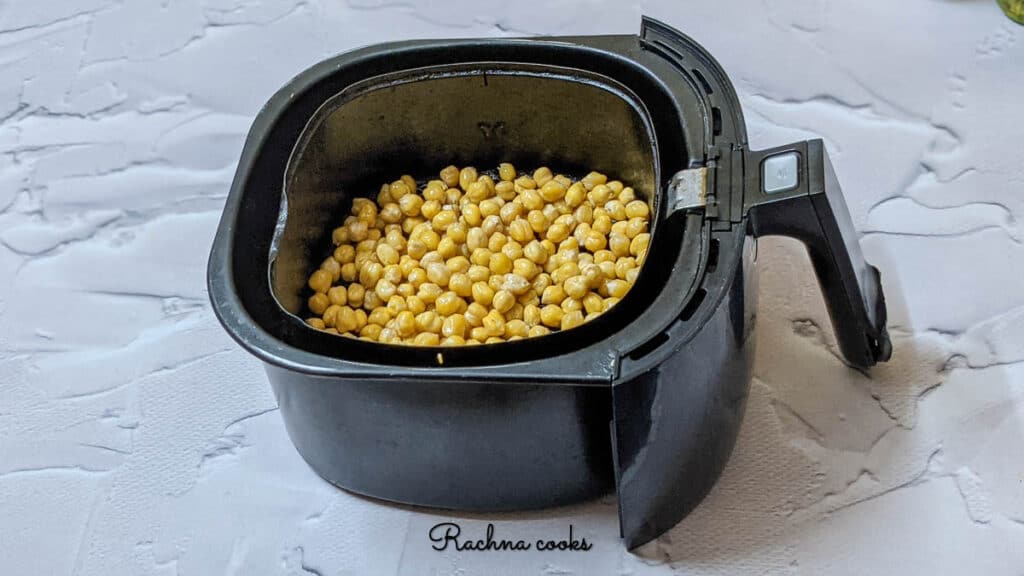 Chickpeas will be dried by now.
Brush with 1 tsp. oil (or aquafaba for oil free).
Air fry at 200 C or 390 F for 8 minutes to crisp them up.
Take out the basket and shake it midway.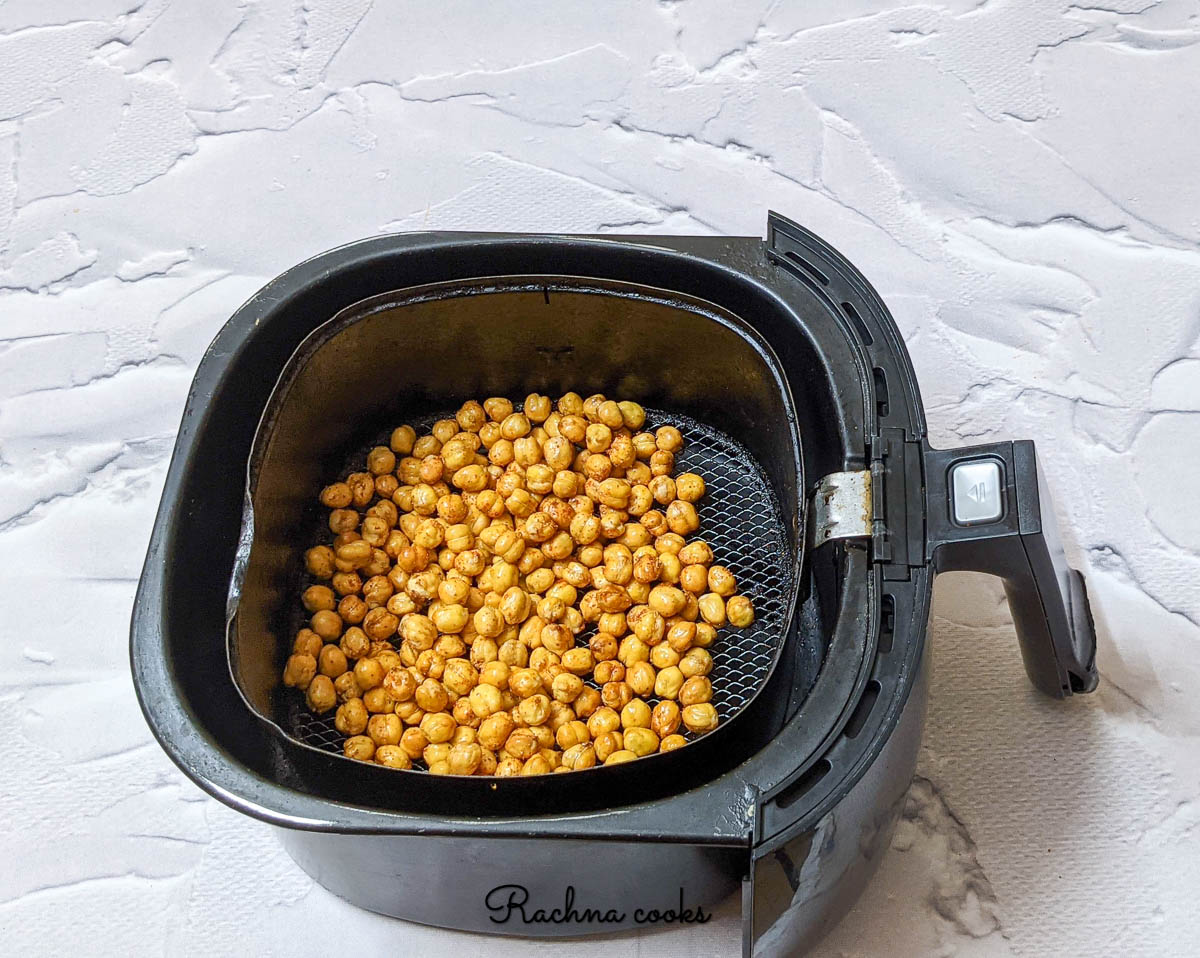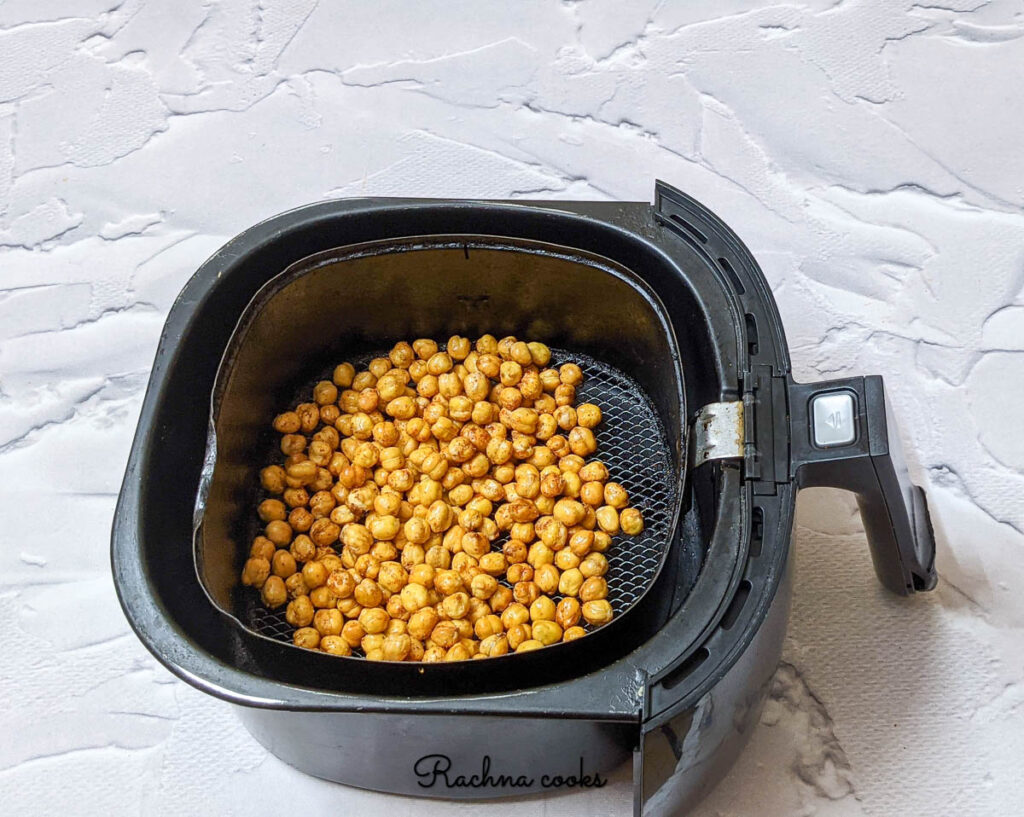 Now add half the spice mix to the chickpeas and Air fry again at 390 F for 2 minutes.
Crispy crunchy air fryer chickpeas are ready to eat.
Add the remaining half of the spice mix that you reserved.
Mix and enjoy! Have this healthy snack whenever hunger strikes.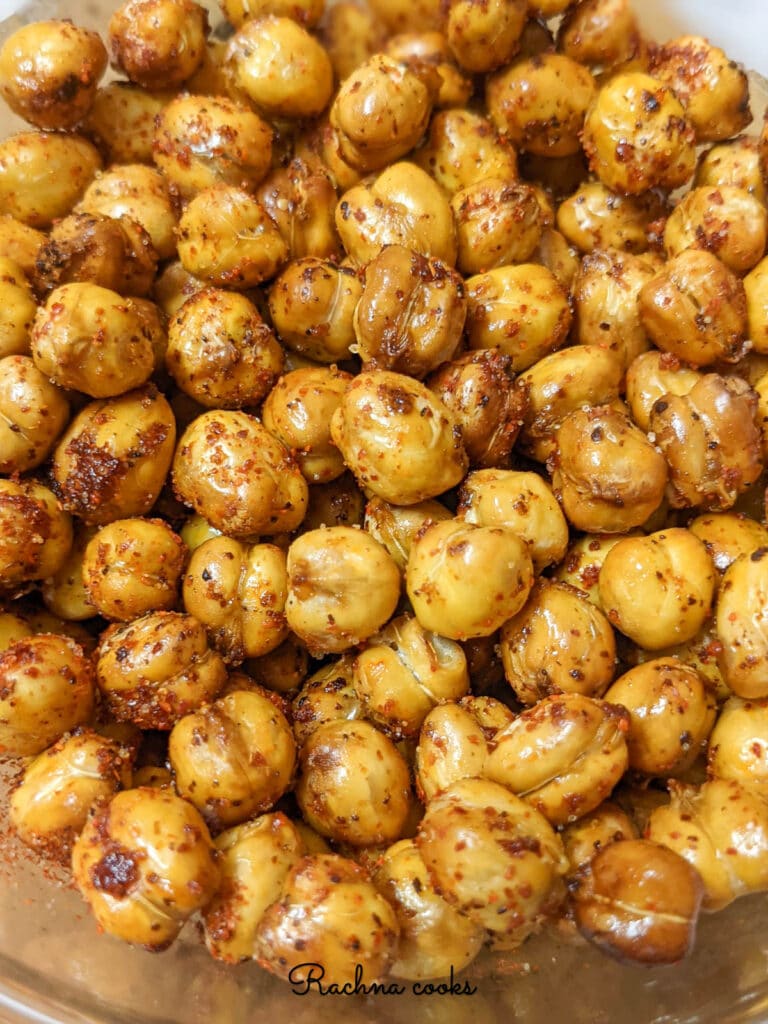 Expert Tips
1. The chickpeas need to be firm and cooked.
Mushy chickpeas do not work well here.
2. Canned chickpeas work very well.
You can also do this from dry chickpeas. Soak them and cook them before air frying.
3. You can use any seasoning you like here.
4. These crispy chickpeas stay well for a week in an air-tight jar.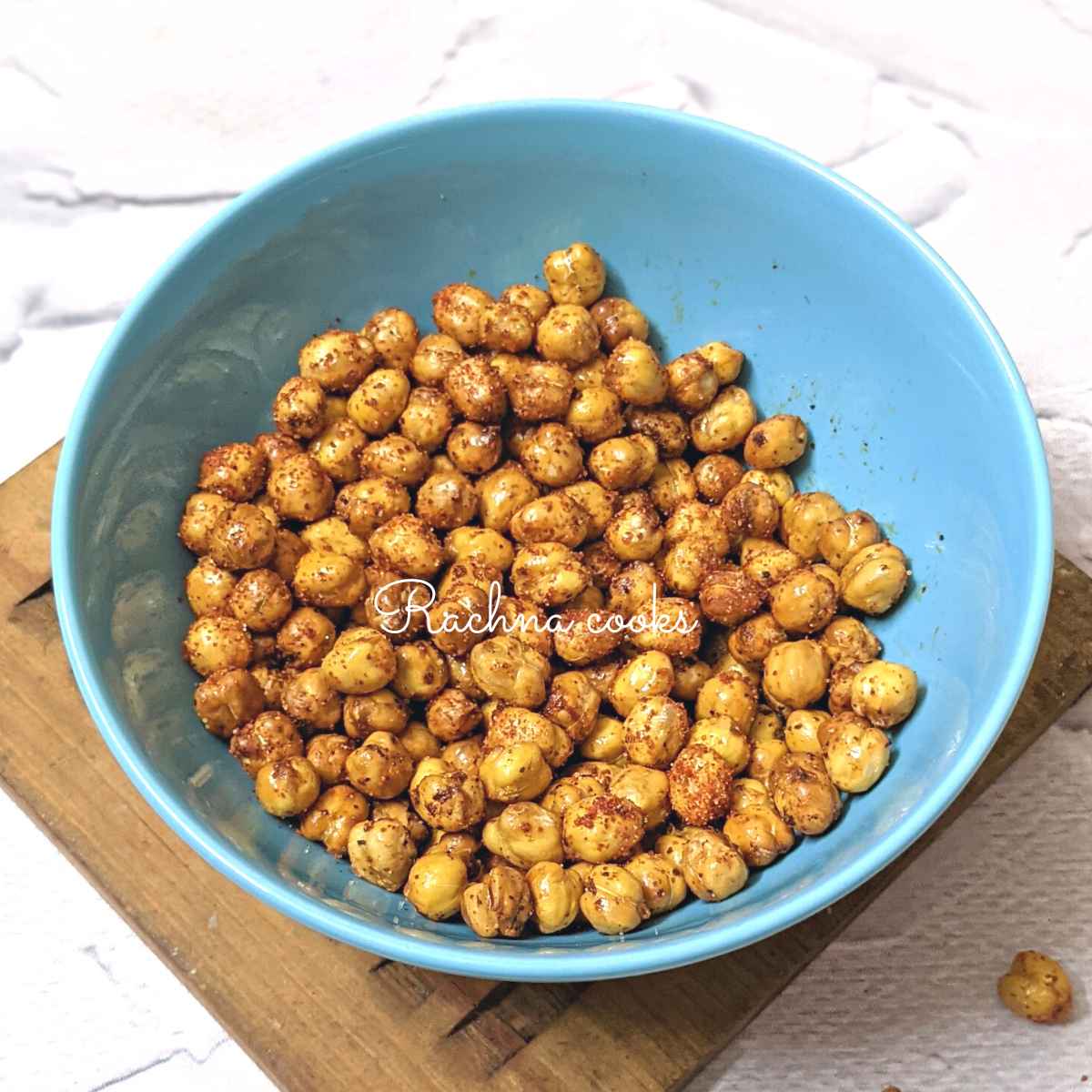 Here's the recipe card:
📖 Recipe Card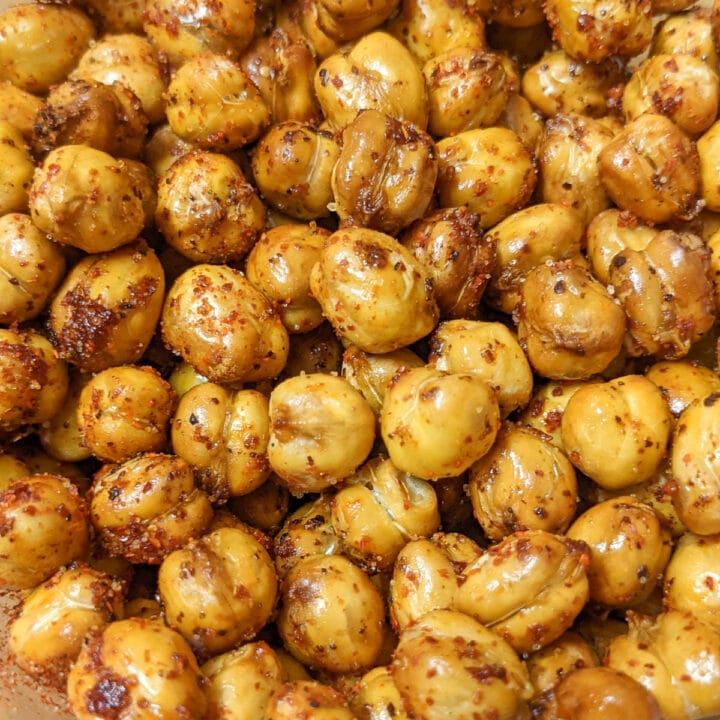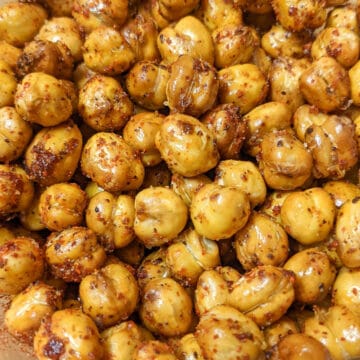 Air fryer Chickpeas
These delightful and healthy chickpeas in air fryer are a nutritious snack. It uses only 1 tsp. oil to make. These are gluten-free and vegan.
Ingredients
15

oz.

chickpeas

or garbanzo beans can or use dry chickpeas see Notes

1

tsp.

extra virgin olive oil

or avocado oil
Instructions
Drain canned chickpeas and keep aside. If using dry chickpeas, see notes.

Preheat Air fryer to 200 C or 390 F for 5 minutes.

Spread the drained chickpeas.

No need to dry them as that happens in the air fryer basket .

Air fry for 6 minutes at 390F or 200C. This helps in drying them out well.

Now brush 1 tsp. oil on the chickpeas so they are coated well and put them back in the air fryer basket for 8 minutes at 390F or 200C.

Shake the basket once in the middle.

Meanwhile, prepare the seasoning by mixing together salt, paprika, pepper and lemon juice.

Add half the prepared seasoning to the air fried chickpeas.

Air fry again for 1-2 minutes at 390F or 200C till done.

Your Air fryer chickpeas are ready. They are super crispy snack.v

Add the remaining spice mix that you have saved. Mix well and enjoy!
Notes
1. You can make them from dry chickpeas too with a bit of prep. Soak 1.5 cups chickpeas overnight in plenty of water. Drain well. You can cook them in instant pot by boiling on high pressure for about 12-14 minutes. Drain them and pressure cook in a manual pressure cooker for 4 whistles in 2 cups water till parboiled. Make sure they are not mushy. Cool and drain them in a colander. Then follow the rest of air frying method.
2. You can try different flavour combinations to mix things up a bit. I love the basic salt and pepper, chilli and lime, barbecue seasoning, Italian seasoning and peri peri seasoning. All work well.
3. I find that adding the seasoning right towards the end of the air frying time works better than adding the seasoning from the start. The spices don't burn and taste best. I use half the seasoning just before the end and the remaining half after they are done.
4. Your air fryer works like a fantastic dehydrator and hence I have never needed to dry the lentils or chickpeas before putting them in Air frying. Just a simple draining works well. The same works for other lentils I mentioned.
5. Canned chickpeas are the fastest and most fuss-free way to make these. Use a 15 oz. can.
6. You can store them for a week in an airtight container.
7. I prefer extra virgin olive oil but any vegetable oil works. You can also avoid oil by brushing with aquafaba or chickpea water in place of oil.
8. You can use the same recipe to make air fryer lentils like chana dal (split gram), moong dal (split moong lentils without skin, sabut moong (whole moong beans), sabut matar (dry peas) etc. In their case, you can just soak them overnight, drain and follow the air frying instructions. No need to precook except dry white peas which are similar to chickpeas. Also the air frying time is between 6-10 minutes for them as they are smaller in size. Try these and you have a variety of munchies at hand.
Nutrition
Calories:
148
kcal
Carbohydrates:
20
g
Protein:
7
g
Fat:
5
g
Saturated Fat:
1
g
Sodium:
420
mg
Potassium:
218
mg
Fiber:
7
g
Vitamin A:
23
IU
Vitamin C:
1
mg
Calcium:
53
mg
Iron:
2
mg
Check out our Food videos
Subscribe to our Food channel for recipe videos
If you liked the recipe, I request you to leave a star * rating. Thanks.
You may also like these healthy air fryer snacks: Air fryer falafel, Air fryer Broccoli, Honey roasted almonds and Air fryer baked potatoes.