Dry roasted peanuts in air fryer are the easiest to make and turn out evenly browned and done. No need to add oil. They are a perfect healthy snack.
I regularly use peanuts both in cooking and to make other treats.
You can make chocolate peanut butter, air fryer peanut butter cookies and this amazing chocolate peanut butter fudge.
I have found that roasting peanuts in air fryer is so much better than in a skillet. I don't need to supervise and constantly stir.
They also turn out perfect and evenly browned. Though you do have to watch them because they can quickly get scorched.
These peanuts taste delicious without any embellishment, not even salt. But if you are looking for something spicier, I have shared a number of ways to make these tastier.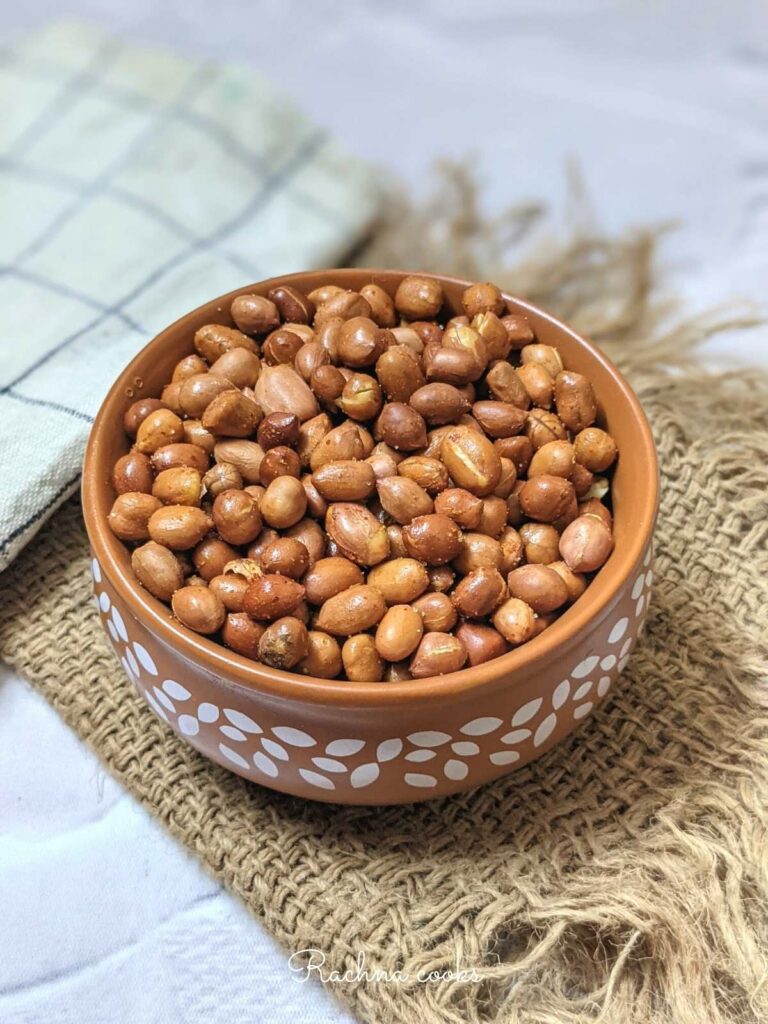 Variations:
1. Spicy Peanuts: You can make many different batches and vary the spices used. My favourites are basic salt and pepper, Honey and chilli flakes, Cajun seasoning and Indian style chaat masala, cayenne and salt with lemon juice.
You will need to mix the spices of your choice in 1 tsp. of oil and toss your roasted air fried peanuts in these.
2. Masala Peanuts: Finely chop 1 onion, 1 tomato and a couple of green chillies. Add these to the roasted peanuts.
Add ½ tsp. cayenne and salt along with juice of 1 lemon. Garnish with cilantro leaves and enjoy this tangy treat.
3. Peanut butter: Homemade peanut butter is delicious. I often make mine using roasted peanuts. It takes barely any time and is really delicious.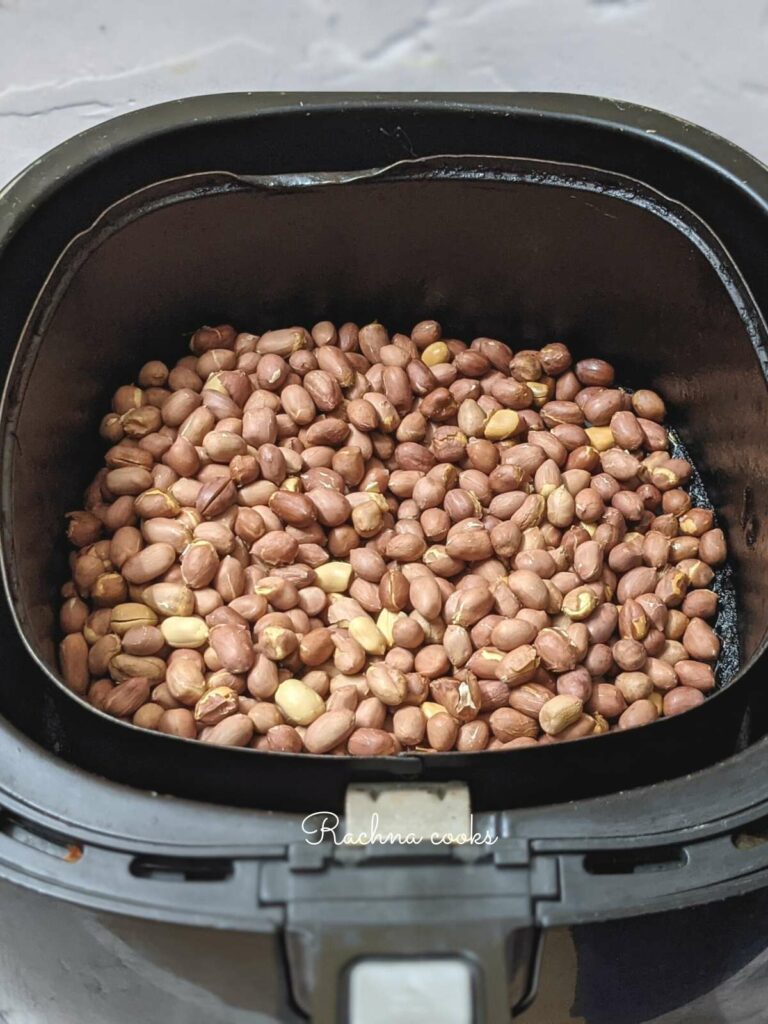 Spice suggestions:
1. Basic: 1 tsp. pepper/cayenne and 1 tsp. salt in 1 tsp. oil.
2. Spicy: 1 tsp. Cajun seasoning/peri peri spice with a little salt and 1 tsp. oil
3. Honey and chilli: 2 tsp. honey, 1 tsp. chilli flakes with a pinch of salt warmed in a skillet and poured over the peanuts.
4. Indian spice mix: 1 tsp. chaat masala, 1 tsp. cayenne and 1 tsp. salt with 1 tsp. oil.
5. Another spicy variation: 1 tsp. cayenne, ½ tsp. pepper, ¼ tsp. lemon crystals and salt for a spicy kick.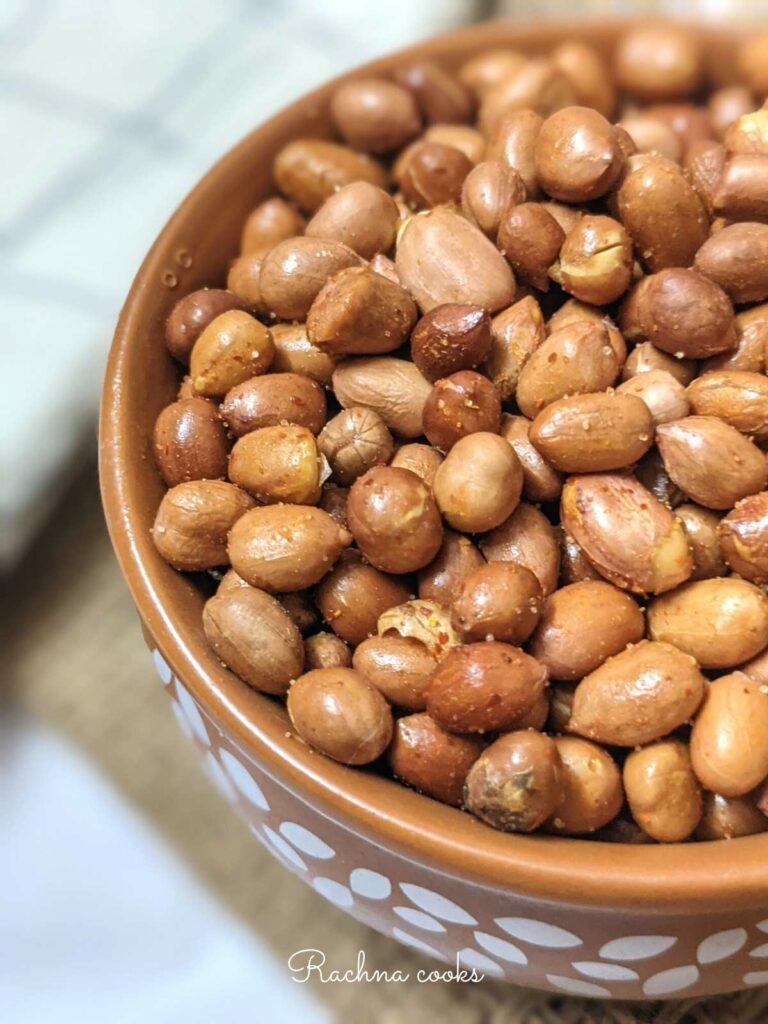 Storage
You can store roasted peanuts in an air tight container for up to 5 days at room temperature. You can also store the spiced versions for as long.
Here's the basic recipe:
📖 Recipe Card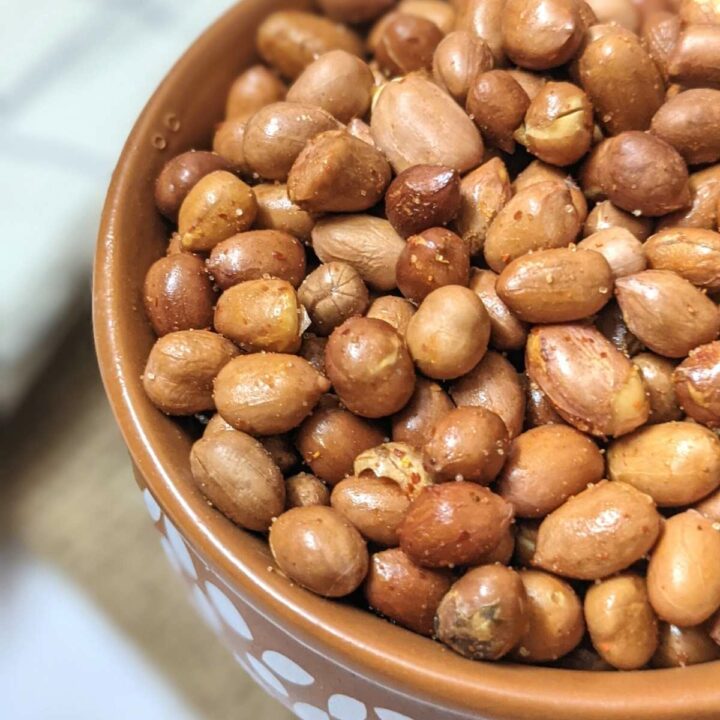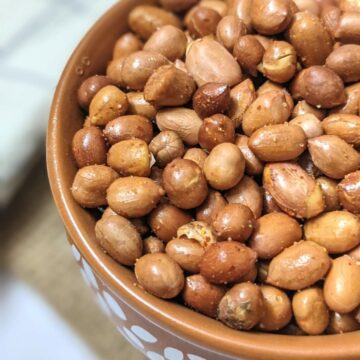 Air fryer Roasted Peanuts
Roasted Peanuts in air fryer are a breeze to make. They make for a perfect snack or accompaniment with drinks. Do try.
Ingredients
2

cups

raw peanuts

300 gm. or 10.5 oz.
Instructions
Preheat air fryer to 390 F or 200 C for 3 minutes. Pour the peanuts in the air fryer basket.

Air fry for about 6-8 minutes till dark. Shake the basket a couple of times during the air frying time.

Pick out one peanut and check for doneness. If needed air fry for a couple of minutes more.

Take them out.

Please keep an eye on the peanuts. They go from just under to scorched within a couple of minutes.

I prefer to apply any seasoning after I am done roasting. This helps in preventing the spices from burning and bring out their flavor better.

You will need to use a bit of oil to help the seasoning stick better to the roasted peanuts. I use about 1 tsp.

You can use more depending upon your preference. You can also just add the spices as it is. But they don't adhere much to the peanuts without oil.

I also use this method to roast peanuts. Then remove the skin and prepare peanut butter with these roasted peanuts. Easy and delicious.
Notes
1. Having roasted peanuts at hand is a convenient munchie to have. You can have them as is or refer to any of the spice combinations that have been shared just above the recipe card.
2. These roasted peanuts stay good for upto 5 days at room temperature in an airtight container.
3. You can use these roasted peanuts as a base for preparing homemade peanut butter or these delicious 3-ingredient peanut butter cookies.
4. Do refer to the video for more clarity.
5. Peanuts need a light brushing of oil for the spice mix to adhere. I add about a tsp. You can skip it if you are looking at an oil-free version and just mix the spices. They will not adhere well though.
6. During air frying do keep shaking the basket once every 3 minutes.
7. The peanuts turn out lovely and sweet after roasting. I really relish having them just the way they are without any seasoning too.
Nutrition
Calories:
222
kcal
Carbohydrates:
8
g
Protein:
9
g
Fat:
19
g
Saturated Fat:
3
g
Sodium:
3
mg
Potassium:
254
mg
Fiber:
3
g
Sugar:
2
g
Vitamin A:
128
IU
Vitamin C:
1
mg
Calcium:
21
mg
Iron:
1
mg
Check out our Food videos
Subscribe to our Food channel for recipe videos
If you liked this recipe, I request you to leave a * star rating for it. Thanks.
Pin This