Reheating stuffed peppers is such a godsend.
I almost always make more stuffed peppers.
I mean once you are doing the stuffing, it makes sense to do a large batch.
But the worst thing is eating stale soggy stuffed peppers. They do taste disgusting.
But not any more!
You can reheat stuffed peppers in air fryer or oven and get them tasting just almost as good as fresh.
Reheating foods in air fryer is a gamechanger. Try it.
See how to reheat potatoes, reheat onion rings, reheat tater tots, reheat chicken wings, reheat fried pickles, reheat sandwich in air fryer, reheat chicken tenders in air fryer and reheat McDonald's McNuggets.
It is so much faster than the oven, and it retains the crispness.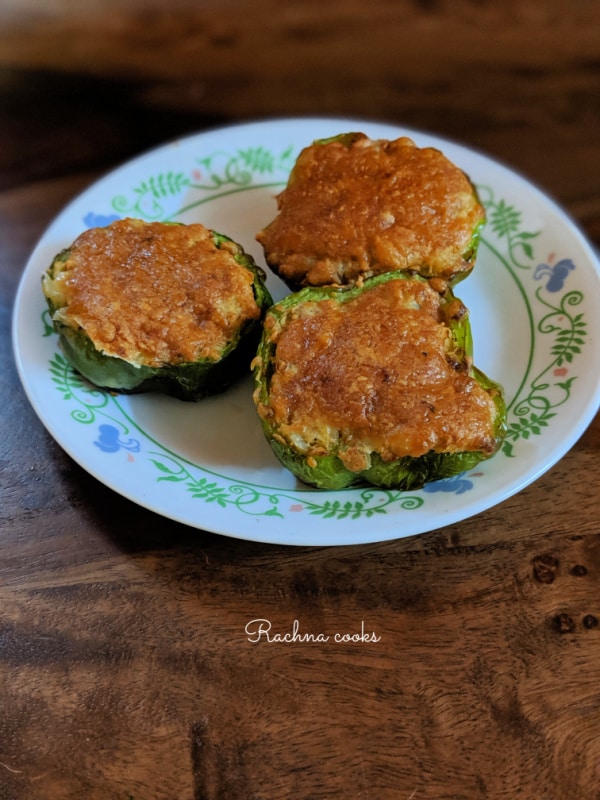 Reheating Stuffed Peppers in Air fryer
Take your leftover stuffed peppers from the fridge.
Ideally store them in an air tight container and consume within 2 days.
If you want to keep them for longer then freezing them is a good idea.
Preheat air fryer at 360F or 180C for 5 minutes.
Spray air fryer basket with oil.
Lay the stuffed peppers in one layer in the air fryer.
Keep enough space between them so that they get reheated evenly.
I can do about 4 stuffed peppers at one go.
Air fry for about 8-10 minutes to heat through.
The time will depend upon the size of your peppers and how dense their fillings are.
Open the air fryer basket and check them. If the filling feels hot then it is done reheating.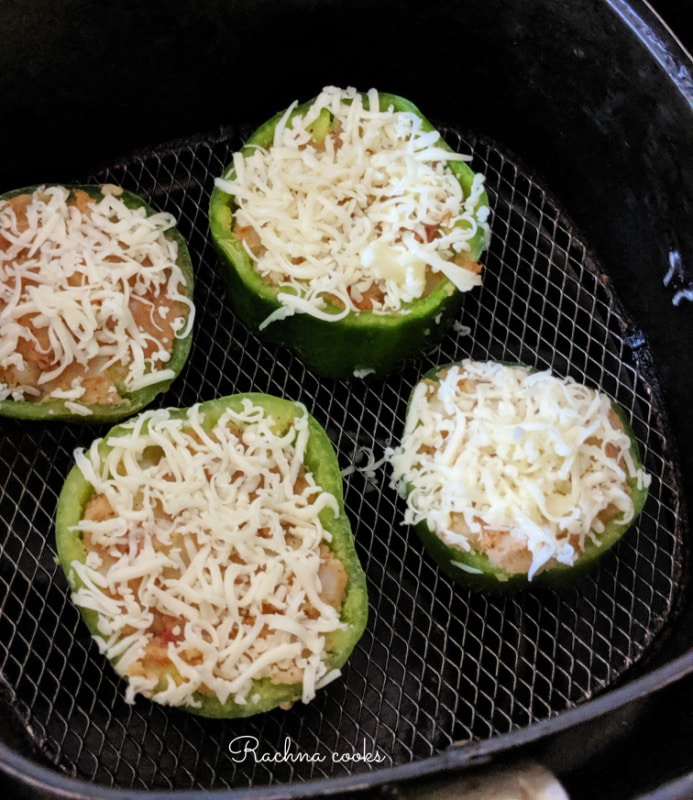 You can also use a food thermometer. The internal temperature must be 165F for it to be heated through.
If still not heated through, air fryer for a 2-5 minutes more.
Your stuffed peppers will be heated through.
If reheating frozen peppers, you will need 5 minutes of air frying time more. Do not refreeze thawed peppers.
Use tongs to take them, as they will be hot.
Serve hot.
If you do not own an air fryer, it's okay, you can reheat the peppers in an oven.
Oven Instructions
Take leftover stuffed peppers from the fridge on to a plate.
Line a baking tray with parchment paper.
Place stuffed peppers on the tray in such a way that they have space between them.
Sprinkle about a tbsp. of water all over the peppers.
Then cover them with foil or a glass lid. This creates a packet and helps in reheating them.
Preheat oven to 360F or 180C for 5 minutes.
Bake for about 20-35 minutes. Flip the peppers midway for even reheating.
Take out the baking tray to check if they are heated through.
If not, bake for a five minutes more.
Take them out and serve them hot.
Stovetop Instructions
This method is the fastest but not always the best.
You may end up with scorched peppers or unevenly reheated peppers.
Take stuffed peppers from the fridge and place on heated skillet on low temperature.
I normally place the skin side up or it gets scorched.
Lightly sprinkle about a tbsp. of water all over the peppers. Cover with a lid and heat for about 5 minutes.
Check to see if the peppers are heated through.
You may put the skin side down now for a light char. Reheat for a couple of minutes again covered.
Your stuffed peppers are now reheated and ready to serve.
In this method, there can be parts of the pepper that are not crispy enough.
Also, this method will not work great for frozen stuffed peppers.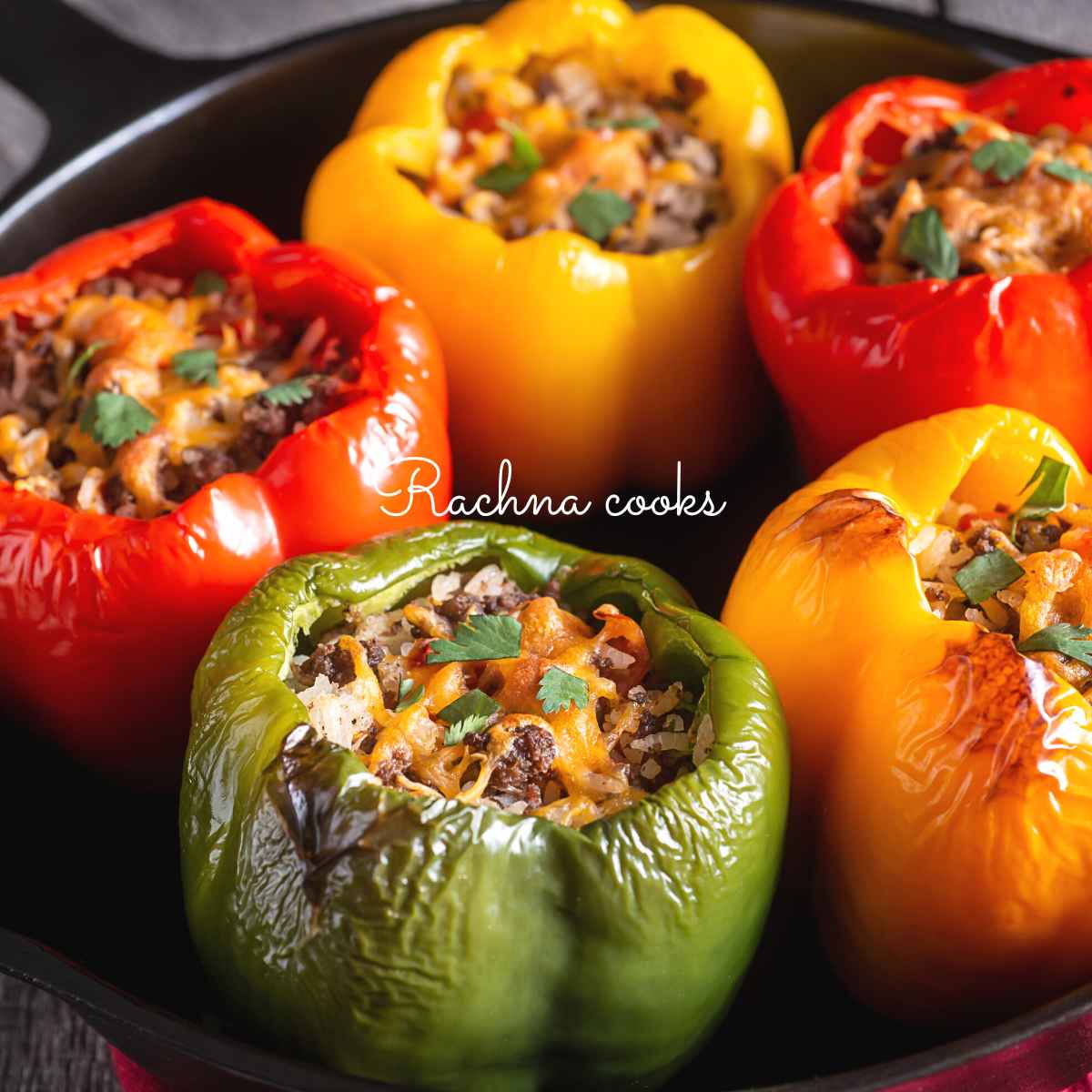 Microwave Instructions
This is the fastest method for reheating stuffed peppers.
It may not give the crispiest results though.
Take stuffed peppers in a microwave safe dish. Lightly sprinkle water on them.
Heat on high for about 2 minutes.
Check to see if heated through. If not, microwave in instalments of 10 seconds till done.
I have seen that there is a risk of the peppers becoming soggy when microwaved.
Expert Tips
1. Ensure that the stuffed peppers have enough room between them to reheat evenly.
2. If you have used cheese then it may not stay crisp on reheating.
Best would be to hold back cheese on those peppers that you are not planning to consume right away.
3. Frozen stuffed peppers stay good for upto 3 months in the freezer.
They can be reheated from frozen in both the air fryer and oven.
4. When reheating in a skillet, be mindful of doing it on low heat and checking for scorching.
5. Unless, you have a very big batch of stuffed peppers to reheat, air fryer is the best method to reheat stuffed peppers.
It gives crispy results quickly.
Reheating Frozen Stuffed Peppers
It is easy to reheat frozen stuffed peppers both in the air fryer and the oven.
Follow the instructions given for reheating stuffed peppers for these methods.
Just increase the reheating time by about 5 minutes in the air fryer and 10 minutes in the oven.