Reheating Chicken Parmesan really makes sad leftover chicken parmesan so much better than edible.
Air fryer has been a game changer when it comes to reheating leftover fried food.
Whether it is reheating chicken tenders in air fryer, reheating McDonald's McNuggets in air fryer, reheating potatoes in air fryer or reheating stuffed peppers, air fryer is really a winner.
Earlier, I would just leave leftover pizza, chicken nuggets, chicken parmesan and even French fries as they would be so limp and tasteless later.
Nowadays, I take a doggy bag and save the leftovers to eat later. They become crispy and almost as good as fresh when heated in the air fryer.
I have also shared oven, stove top and microwave instructions in the post.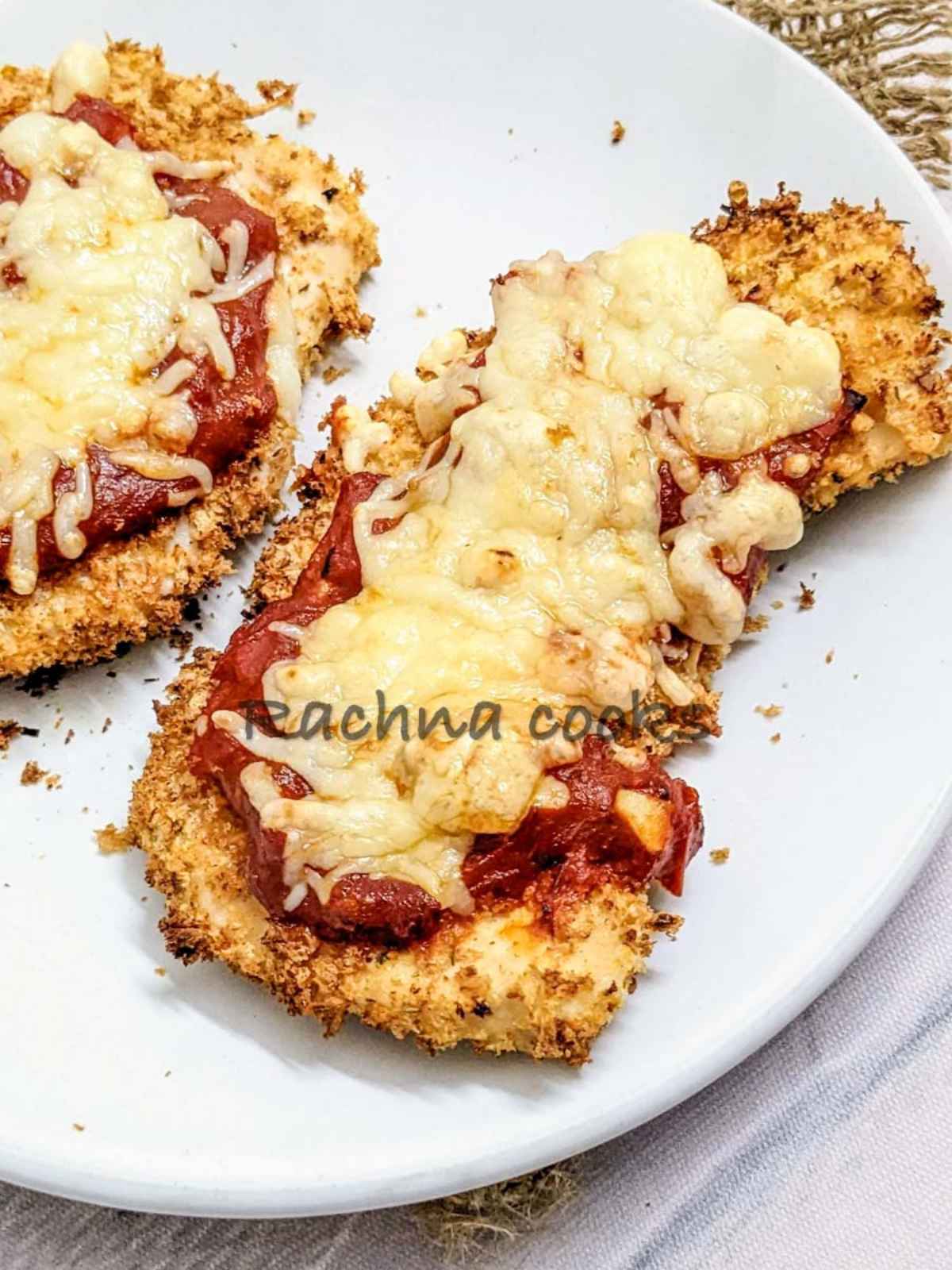 Why You'll Love this
1. Easy and Quick: There is nothing much to reheating chicken parm in air fryer. It is really quick and efficient.
2. Prevents wastage: Many fried food items that otherwise taste terrible as leftovers can be eaten when reheated by air frying.
Ingredients
Leftover Chicken Parmesan: Here's how to make air fryer chicken parmesan. All the leftovers can be reheated using this method.
When I make them from scratch, I don't douse all of them with sauce. That way they stay even crispier after reheating.
Instructions
Air fryer Instructions
Preheat air fryer to 380F or 180C for 5 minutes.
Take out your refrigerated chicken parmesan leftovers. You can fit one or two depending upon the size of your air fryer.
Air fry for 3-4 minutes at 360F or 180C till it is piping hot and the cheese is melty.
You can use a meat thermometer to ensure that the internal temperature is 165F and above.
We don't want to cook it more. Just want to heat it through. If you cook it too much then chicken parmesan may become stringy.
There is no need to flip.
Take out your chicken parmesan and serve hot.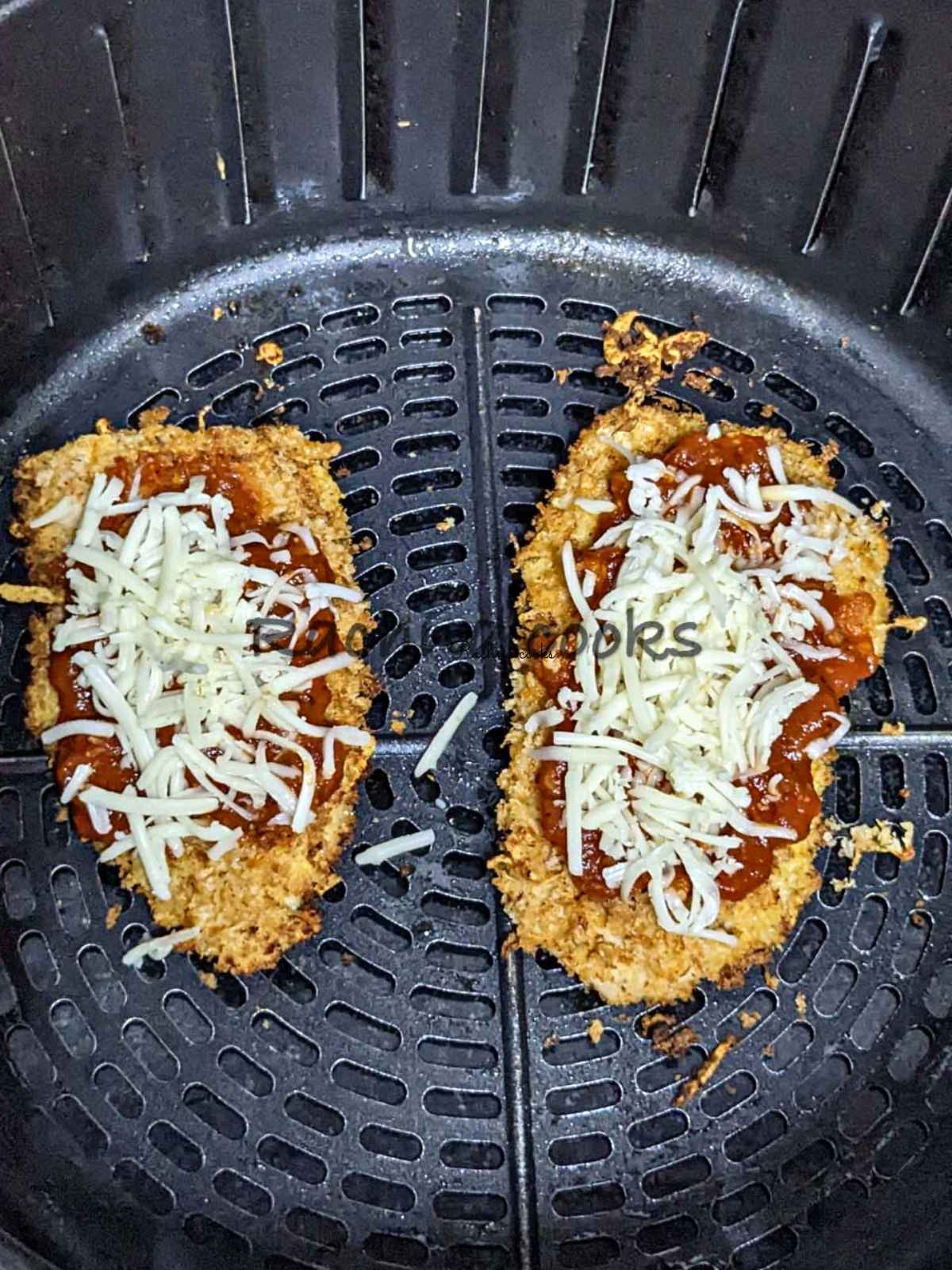 Oven Instructions
Reheating chicken parmesan in oven is easy and yields crispy results.
It takes longer than air fryer and one has to flip chicken parmesan for even reheating.
Preheat oven to 350F or 175C. Take a baking tray and line with parchment paper.
Place chicken parmesan in the tray and seal the top with aluminium foil.
Bake for about 10 minutes. Open the foil and flip chicken parmesan. You can add more cheese on top.
Again seal with foil and bake for another 5-10 minutes till heated through.
Serve it hot.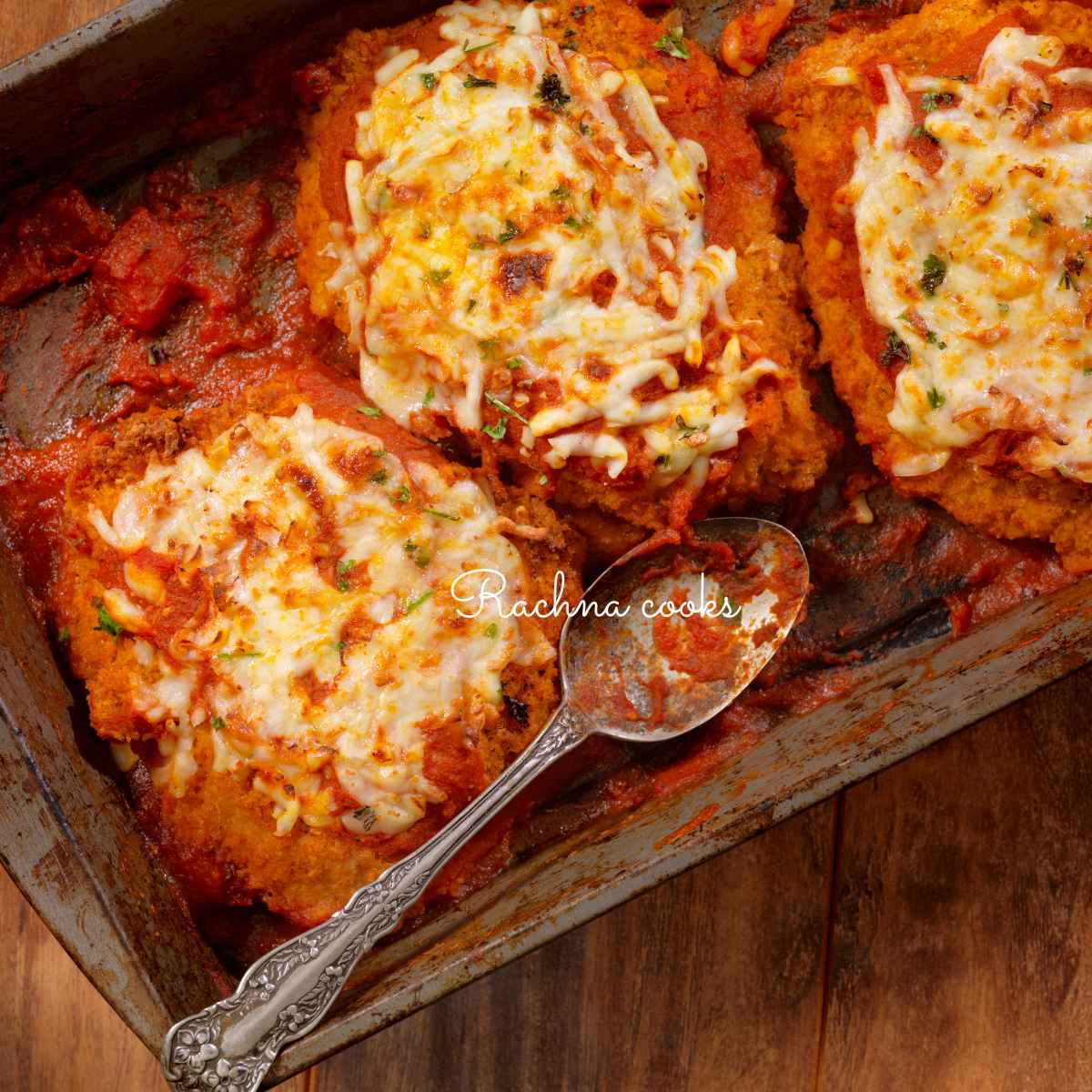 Skillet Instructions
Heat the skillet to medium heat. Spread about 1-2 tbsp. of oil in the skillet. Once it is medium hot, place chicken parmesan and cover.
Heat for a minute or two and then flip.
Don't let it cook too much or it may burn the breading.
Again cook covered till heated through on low to medium heat.
Serve hot.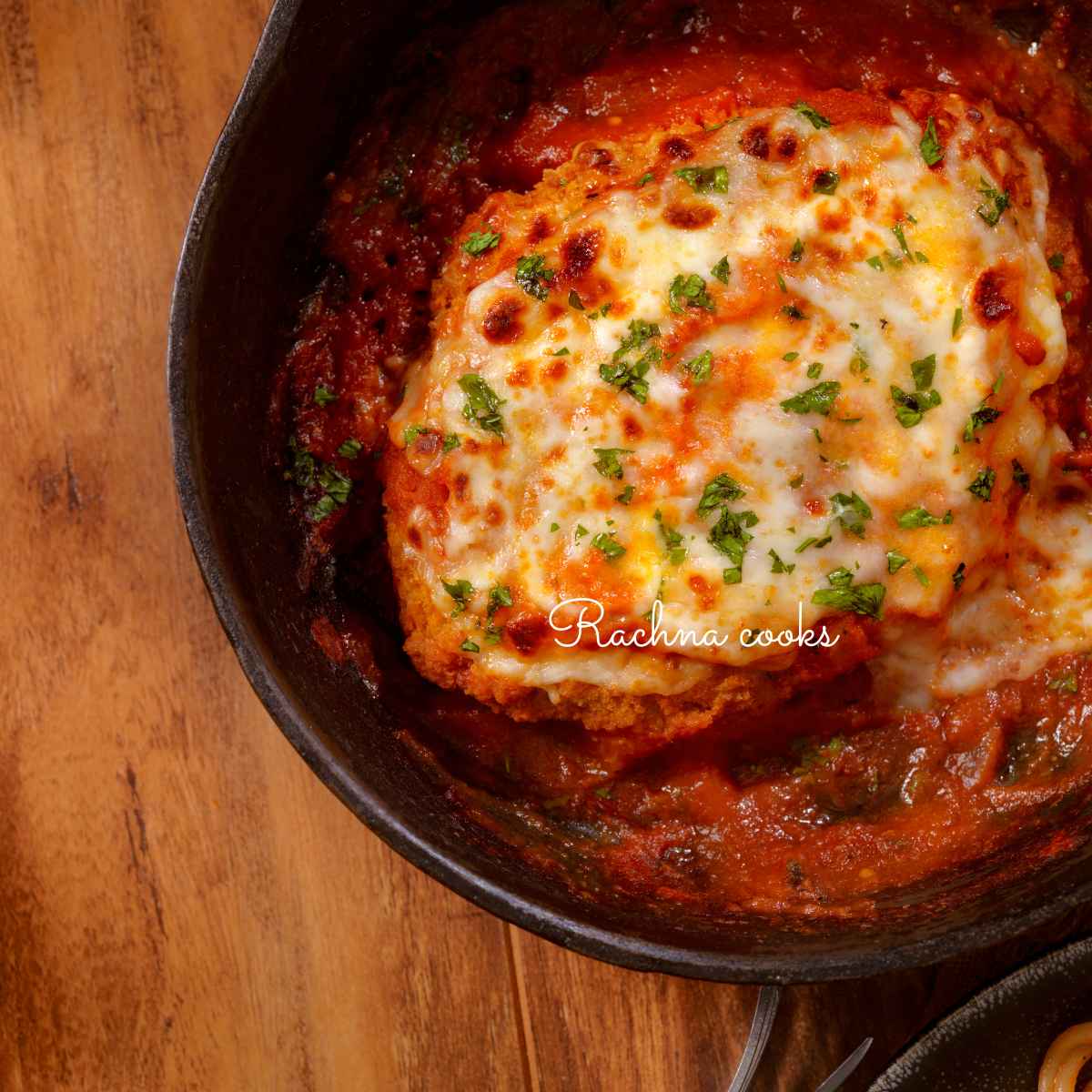 Microwave Instructions
I generally avoid microwaving fried foods. They tend to get soggy and heat unevenly.
But, if you need your food reheated quickly and have no other appliance, then use a microwave safe dish.
Place chicken parmesan inside it and cover the top with its cover. Microwave on high for 1 minute and then in 15 seconds instalments till chicken parmesan is heated through.
Dig in.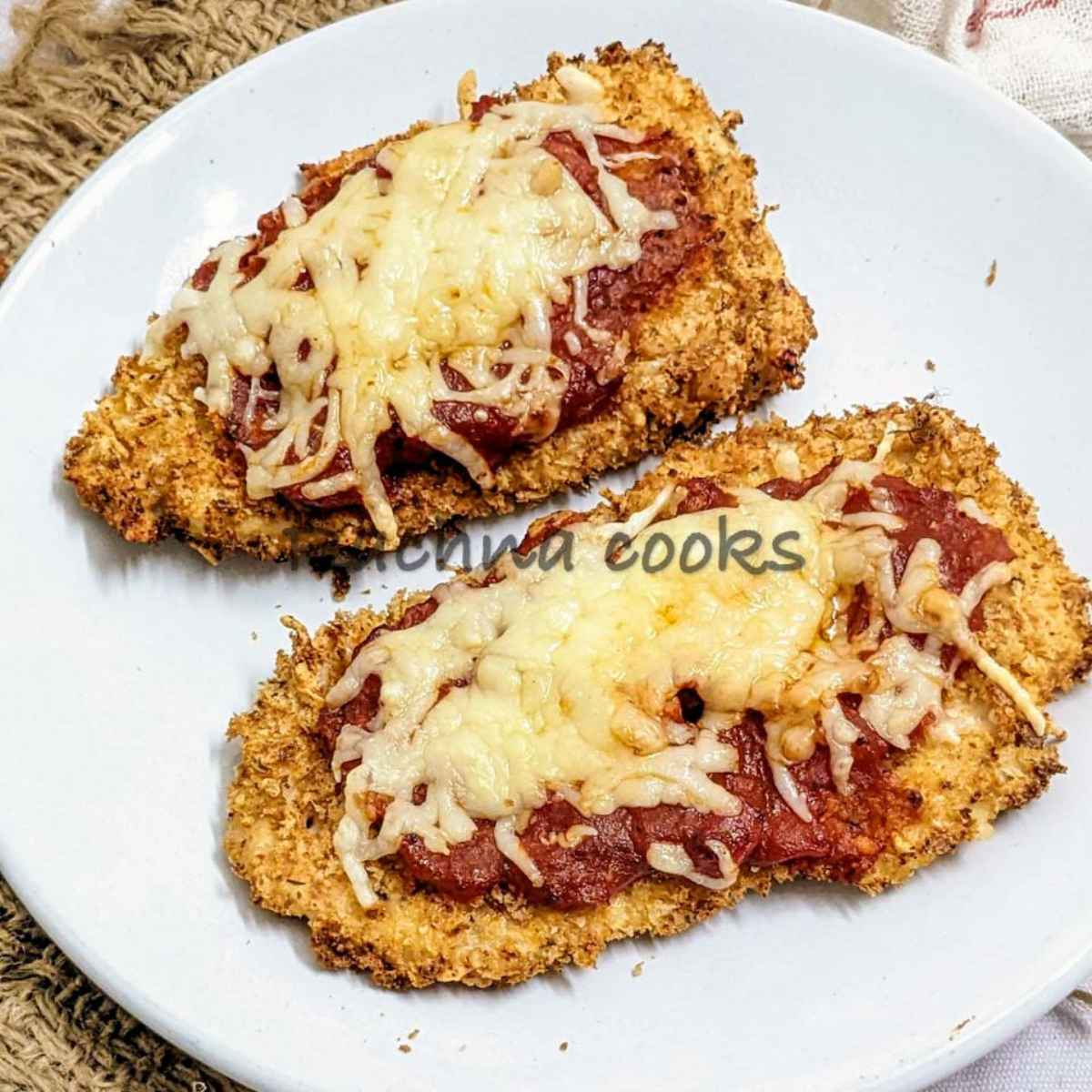 There you have it. Your delicious chicken parm leftovers that can be reheated to crispy goodness for a tasty next day lunch.