Tater tots are an addictive potato appetiser or snack. Invariably, I end up with soggy leftovers. Find out how to reheat tater tots to crunchy goodness.
Tater tots or potato nuggets are a favourite in my home. I make them from scratch and also keep some in the freezer always.
Frozen tater tots in air fryer turn out tremendous. You will be surprised to know how good air fryer is for reheating food.
Check out how to reheat onion rings and how to reheat McDonalds McNuggets my favorite snacks.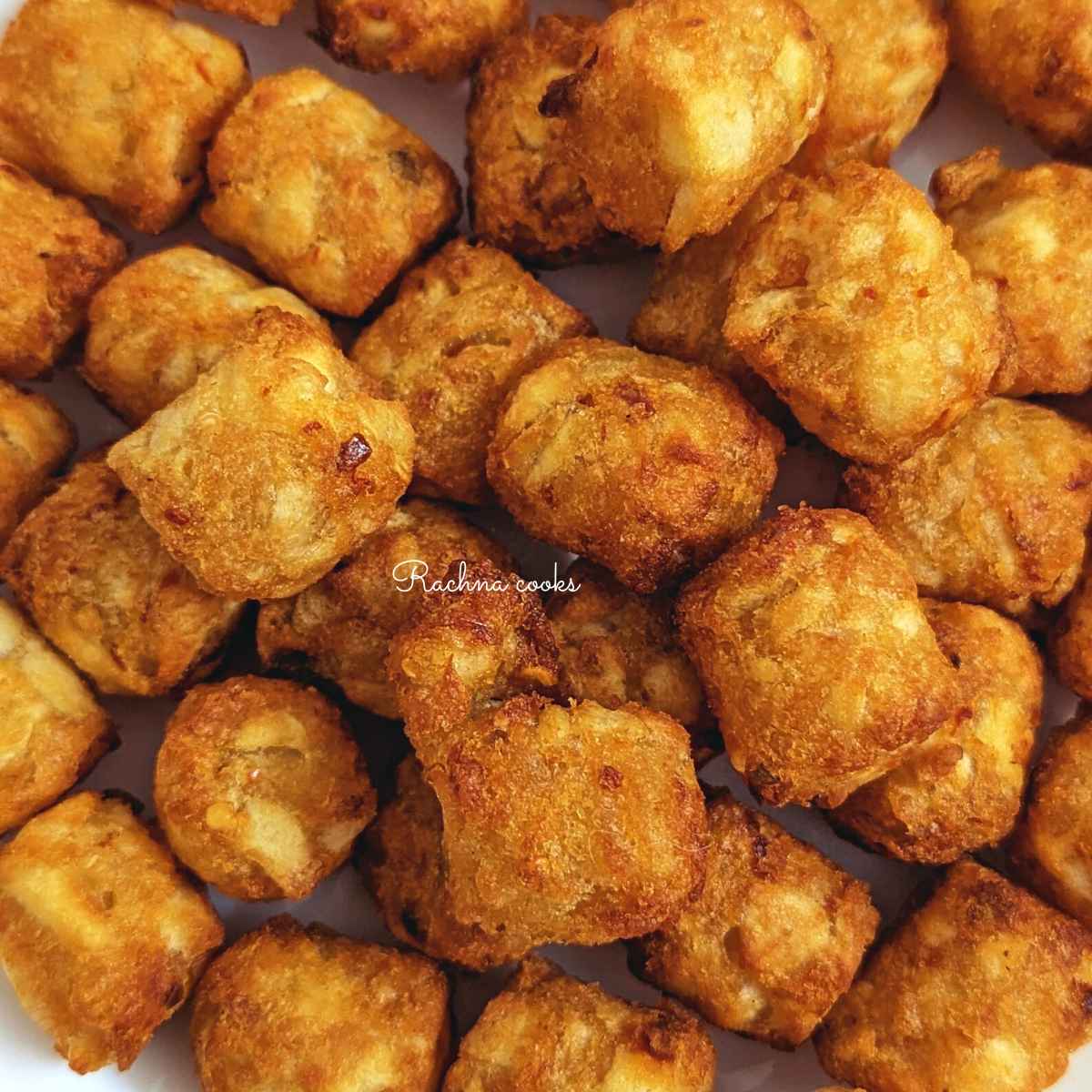 Here I explore all the methods that I have tried to reheat leftover tater tots.
Microwave Method
Microwave is a gadget that most of us have. It would seem like the easiest way to reheat tater tots.
But, it is not. Tater tots get soggy and reheat unevenly with some areas remaining cold in others when they are microwaved.
It is my least favourite method to reheat fried food. Actually, I avoid ever using microwave for reheating tots.
It is really avoidable. They won't be crispy and not very edible too.
Oven Method
Oven is a wonderful method for reheating tater tots. One can do a large quantity at one go. Though, it is not very quick.
To use it for reheating, preheat oven to 360F or 180C.
Take a baking sheet or line a baking tray with parchment paper. Place tater tots ensuring that there is no overlap.
Bake them for about 7 minutes at 360F or 180C till they are hot and crunchy. Now flip the tots for even reheating.
Bake for 7-8 minutes more at 360F or 180C.
Serve hot.
These reheated tater tots taste really good and very close to the original.
Air fryer Method
Reheating tater tots in air fryer in my opinion is a game changer.
Preheat air fryer at 180C or 360F for 5 minutes.
Place cold tater tots on the air fryer basket after spraying/brushing with oil. You may also use perforated parchment paper for the same.
Air fry tater tots for about 5-6 minutes till they are super crispy outside and nice and toasty inside.
This way of reheating tater tots was the best. I found that it not only took the least time but the tater tots were really crunchy and hot.
Very close to fresh tater tots. Definitely recommended.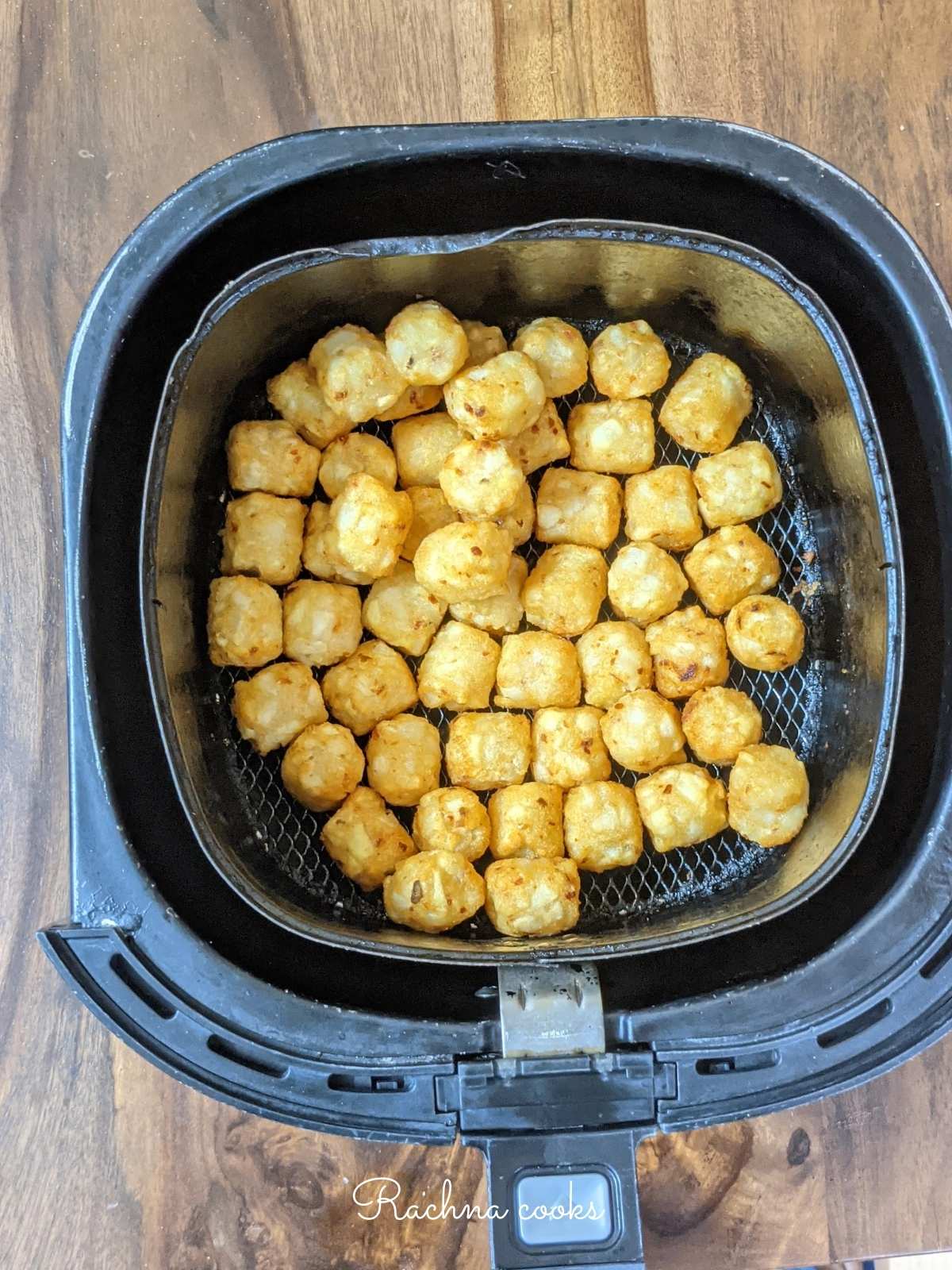 Skillet Method
Heat a thick bottomed skillet. Spray or apply a thin layer of oil on it.
Now place tater tots in one layer on the skillet.
Heat for about 1 minute. They will get crispy. Flip them and heat for another minute till they are crispy and heated on the other side too.
Take them out on a paper towel to remove excess oil. Then serve them hot with ketchup or dip of choice.
After reheating, consume them immediately. I would not suggest storing them again in the fridge or they would get way too stale.
Air fryer for me is the fastest and the best method in term of results for reheating tater tots.
These are the perfect ways for reheating those crunchy golden delights called tater tots.
Now, there is no reason at all to throw away any leftovers.