As a woman, I've gone through multiple phases in life when I had iron deficiency. As a 14 year old when I was too tired to go out and play in the evenings, my concerned mother took me to the doctor. She was surprised to note that I had iron deficiency and had to be on iron supplements for almost 3 months to gain back my stamina and energy. My mum also instantly added more iron rich foods to my diet.
As an adult woman, I am conscious of having more iron in my diet. Hence the inclusion of iron rich foods like green leafy veggies, beetroots, lentils and pulses, chicken, fish, almonds, flax seeds and so on is done on a regular basis. To make the kids eat their greens and yet love the food, I do try out various innovative recipes that are kid approved for flavor and bursting with nutrition. Here is one such recipe from my repertoire: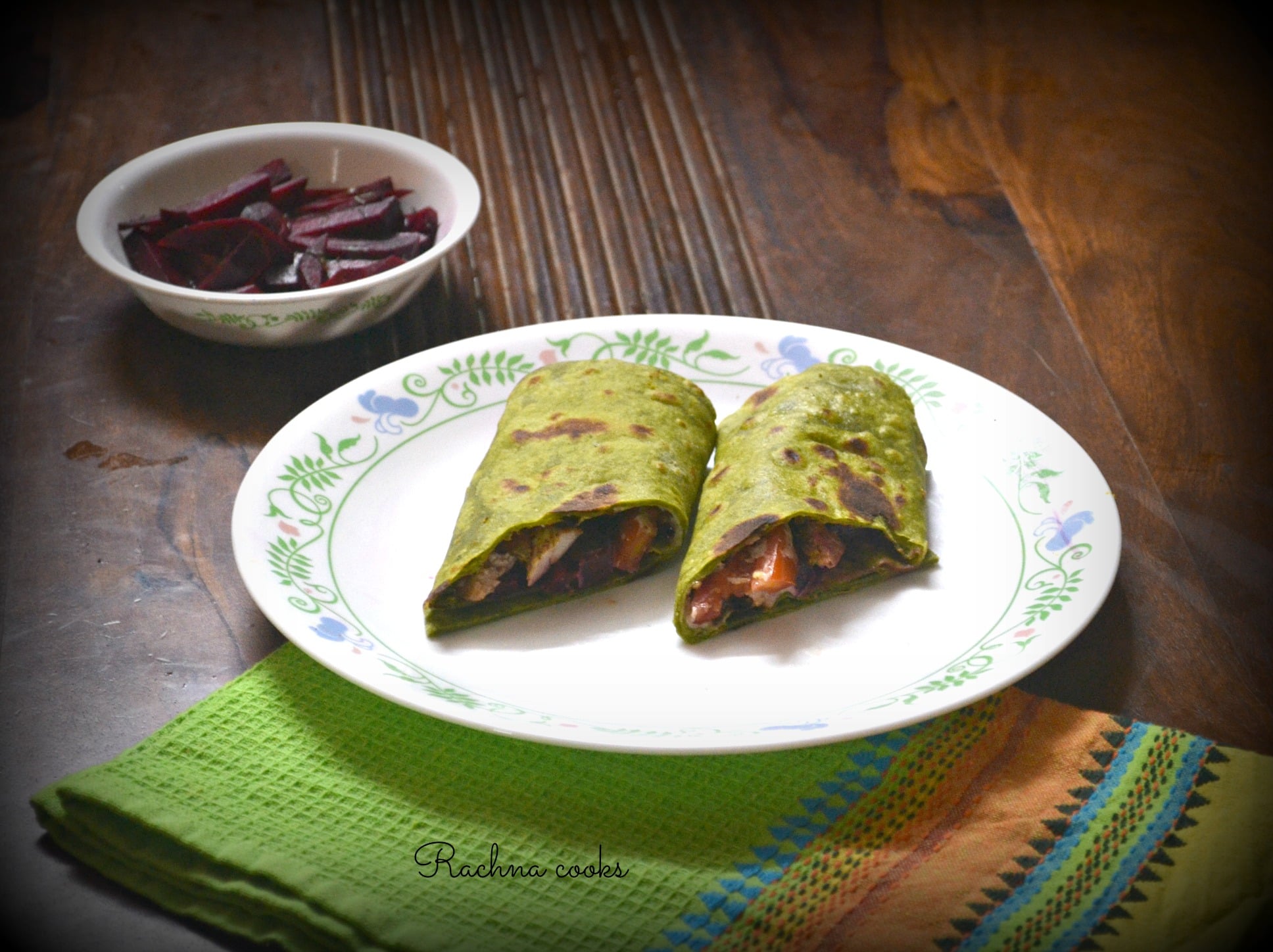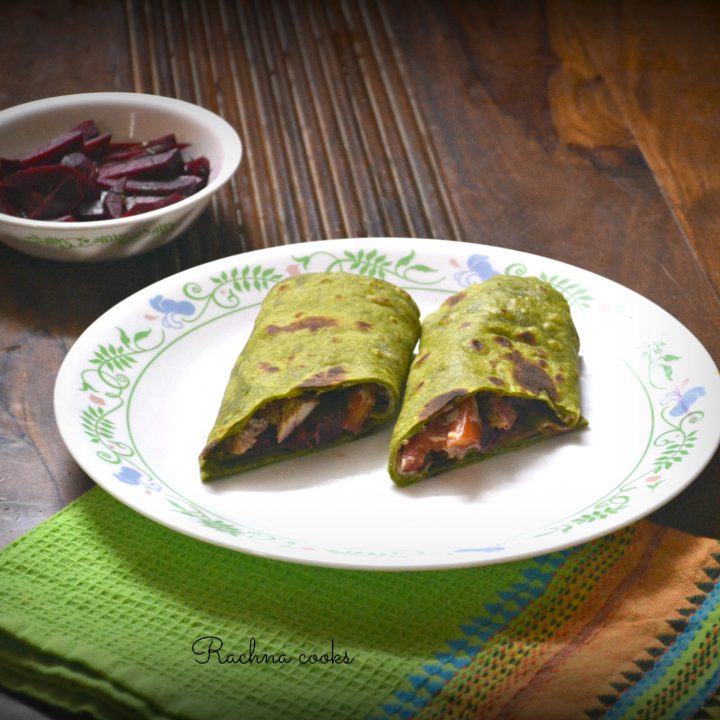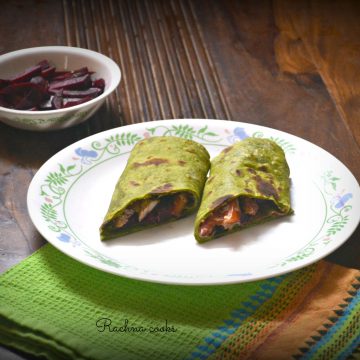 Iron Rich Green Wrap with Chicken and Veggies
This delicious green wrap enriched with spinach and dill leaves is bursting with iron nutrition as it has chicken, beetroots and carrots in the filling. My kids love this wrap.
Ingredients
For the wrap:

3

cups

multigrain atta or whole wheat flour

250

gm. spinach leaves

50

gm. dill leaves

5-6

cloves

garlic

3

green chillies

1

tsp.

garam masala

1

tsp.

cumin seeds

1

tbsp.

ginger-garlic paste

optional

1

tsp.

salt

some oil

water for kneading

For the filling:

2

chicken breasts

2

tbsp.

barbeque sauce

1

tbsp.

worchestershire sauce

1

tsp.

cracked pepper

Other embellishments

Pickled beetroot

Pickled carrot

1

large onion finely sliced

2

Tomatoes cut in thick juliennes

Mayonnaise or Cheese dip

Mustard sauce
Instructions
For the Green Wrap

Wash spinach and dill leaves well and dry them.

Now blend spinach and dill leaves with garlic and green chillies to make a fine paste.

Add it to the flour with salt and other masalas mentioned in the ingredients and make a nice soft dough.

Take a little oil and knead it well and keep aside.

For pickled veggies

Make pickled beetroot by cutting 2 medium beetroots in thin slices and marinating them for about 2 hours in 3 tbsp. vineger, 1 tsp. dill leaves finely chopped, 1 tsp. salt, ½ tsp. sugar and 1 tsp. chilly powder. Add some water to immerse them. Use the same recipe for marinating carrot slices. You can skip the sugar for carrots.

For the chicken

Marinate the chicken with all the ingredients for about 4-6 hours in the fridge.

Now, in a pan, heat some oil and saute the marinated chicken till it is cooked.

To assemble the wrap

To assemble, roll out big parathas from the green dough. Use 1 tsp. of oil to fry them on both sides.

Now apply mayonnaise and mustard generously.

Put in sliced chicken, pickled beetroot and carrot along with sliced onions and tomatoes. Drizzle some more mayonnaise on top.

Close the wrap.
Notes
1. You can use veggies like broccoli, capsicum etc. as per your taste.
2. You can also play around with the sauces. Like I sometimes skip mayo and make a curd dip with mint and green chillies. You can use green chutney too.
3. If you don't eat chicken, substitute it with boiled eggs or paneer or even cooked soya granules.
Check out our Food videos
Subscribe to our Food channel for recipe videos
Your delicious iron rich Green Wrap with Chicken and Veggies is ready to eat. Eat it straight away. It is so tasty that your kids will ask you to make it over and over again.
You will feel happy as you are feeding the goodness of spinach, dill, chicken and beetroots all iron rich foods to your family in one meal.
Some Pictures
Assembly of the roll
Spread out the cooked green paratha. Now apply mayonaisse and mustard sauce on it. Add the filling of shredded cooked chicken along with pickled beetroot, picklet carrot, sliced onion and tomatoes. See the detailed recipes of the spinach dill paratha and pickled beetroot by clicking the links above.
Spread some more mayo on top. Now close the roll.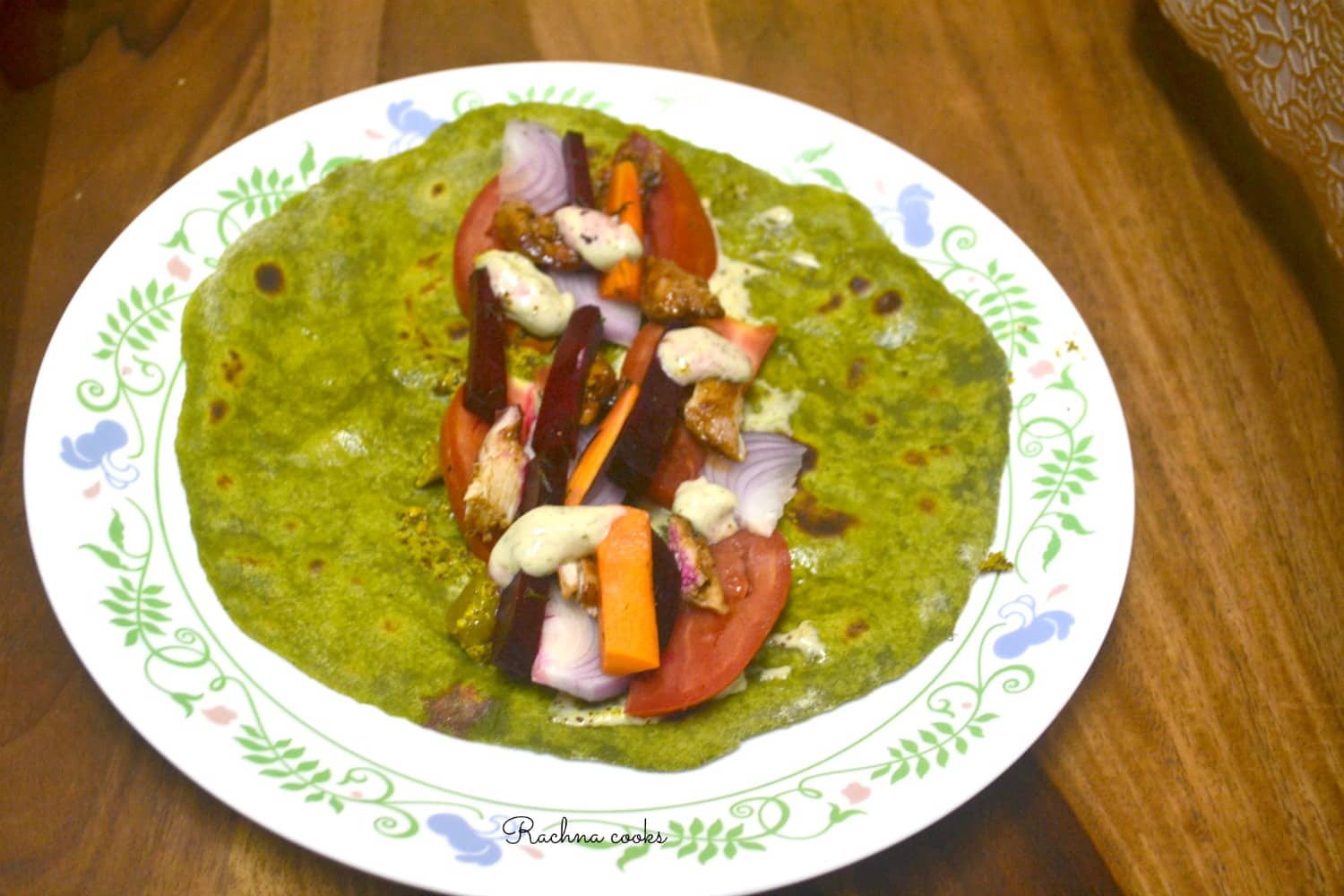 Your Green Wrap with chicken and veggies is ready to serve. Enjoy this iron-rich tasty treat.