Avocados are a fruit that are a huge hit with health-conscious people. It is unlike any other fruit as it is not sweet and is high on good fats instead of carbohydrates. A ripe avocado has a mild buttery taste, a bit similar to tender coconut but not sweet at all. I got to taste this fruit for the first time in the US and was hooked on to it instantly. When we moved back to India, we found a variety of avocados in India that is called butterfruit in Bangalore. I remember that a relative served the mashed pulp with sugar reigniting fond food memories. What do you know! We planted a seed in our backyard. Nine years later (yes, patience pays!), we have a tall avocado tree that bears copious fruits.
I have been experimenting with many avocado recipes since I have a bounty to play with. Though, I do still love to consume it just as it is, this easy guacamole recipe is a favourite in my house. Have it with nachos/chips or spread it on your toasted bread, it is immensely satisfying. You can also use avocado in your salads. My children love the avocado smoothie which is made by blending avocado pulp with some sugar and milk. You could try a variation by using avocado and banana and blending it with milk. Both are tasty and nutritious.
Tips to choose the right avocado and ripen it:
The avocados sold in India are generally sold unripe. Choose the ones that are bright green with white spots all over. These ripen well within 2-3 days. Do not buy ripe ones unless you are immediately consuming them. Store your unripe avocados in a paper cover along with bananas or apples. They help ripen the avocados faster. Once ripe, the Indian avocados look blackish in colour. They are also soft to touch and when pressed yield. That is the right time to cut it open. The flesh is a pale yellow with a green tinge.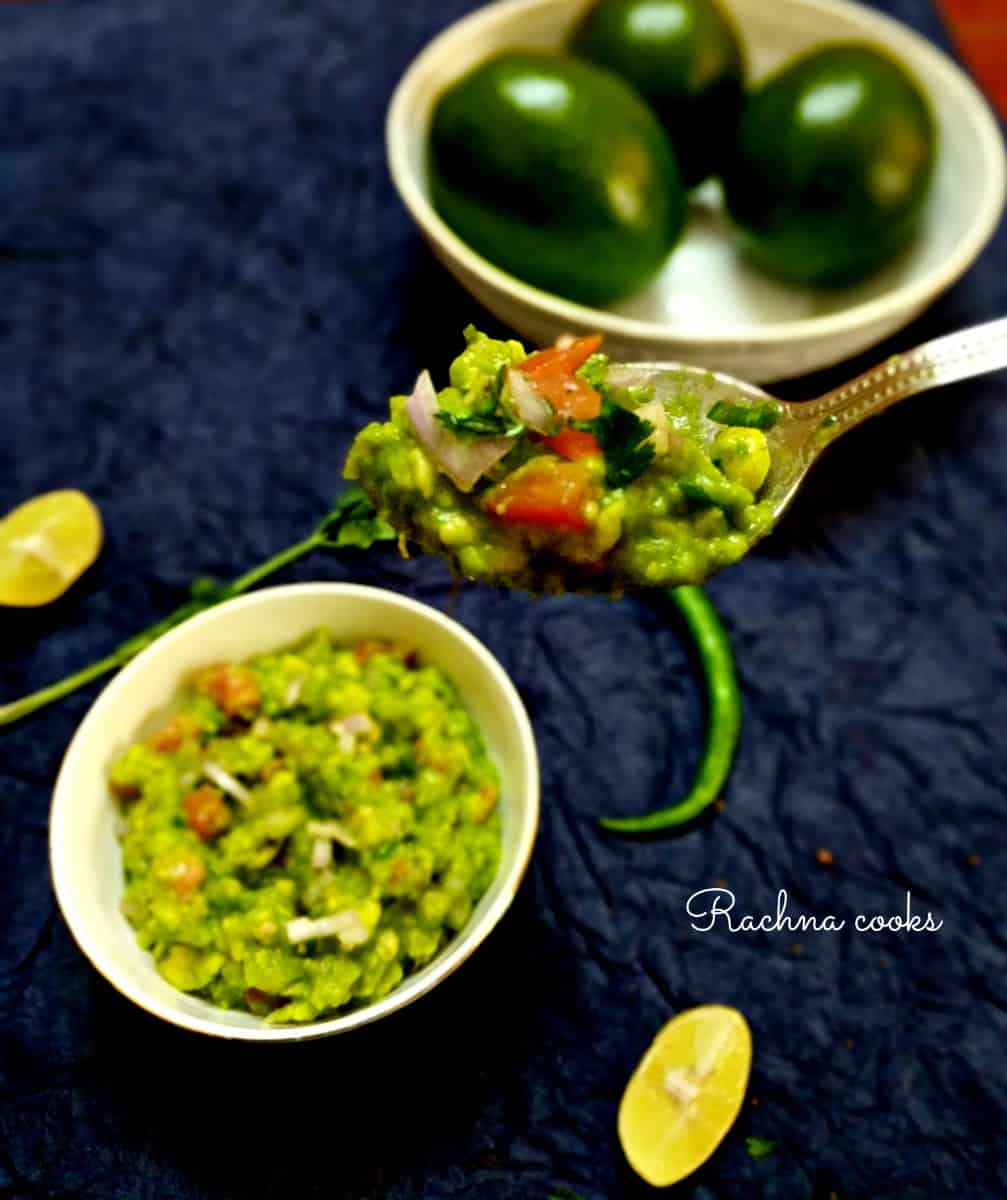 Here are some health benefits of avocados:
It is very high in Vitamin K, Vitamin C, Vitamin E, Folate, Vitamin B5, Vitamin B6 and Potassium. It contains more than 10% of your RDA for each of those in just one fruit of 100 gm. It has more Potassium than bananas which is important to regulate your electrolyte balance, lower blood pressure and avoid muscle cramps.
One fruit typically has 160 Calories having 5 gms. Fiber, 2 gms. Protein, 15 gms. of healthy fats and 2 gms. of carbohydrates.
It contains no cholesterol or sodium.
77% of its calories come from fat. It contains monosaturated oleic acid which is a heart healthy fatty acid that reduces inflammation.
It is high in fiber which is excellent for gut health. It has 7% of its weight in fiber which is very high.
Are you wondering how to make guacamole? Here is the best guacamole recipe that can be stirred up in a jiffy:
📖 Recipe Card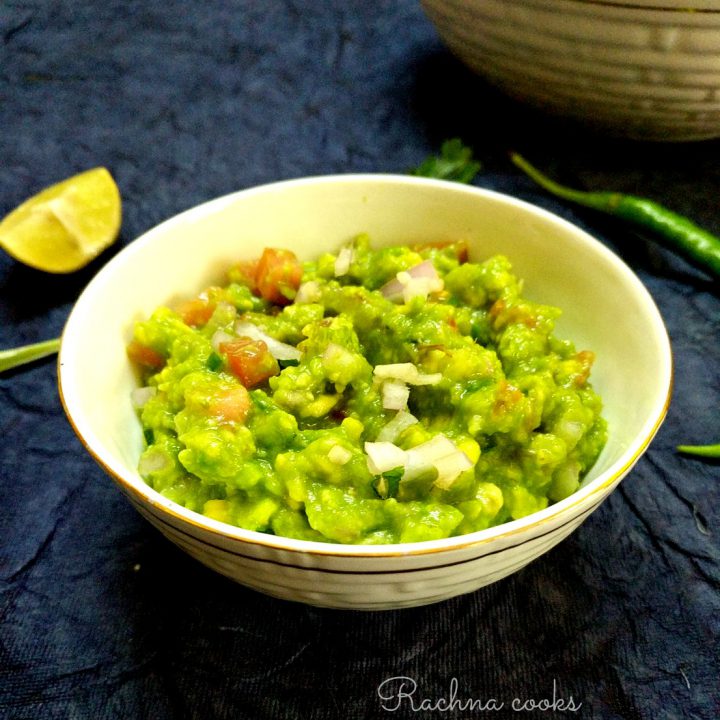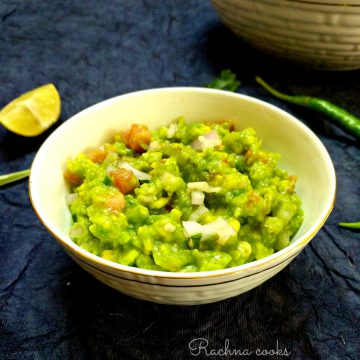 Best Guacamole Recipe / Simple guacamole recipe
This is an extremely easy and best guacamole recipe - a famous Mexican dip. Have it with nachos, chips or khakhra or on toast. Very delicious as well.
Ingredients
1

avocado mashed

1

small onion finely chopped

1

small tomato finely chopped

2-3

cloves

garlic mashed

2-3

green chillies or jalapenos finely chopped

as per taste

1

lemon or lime juice

some chopped cilantro or coriander leaves

salt to taste
Instructions
Take mashed avocados in a bowl.

Add onion, tomatoes, chillies, garlic with coriander leaves.

Add salt and juice of 1 lemon.

Mix well.

Taste and check seasoning. Serve fresh guacamole.
Video
Notes
If you are not consuming it immediately, do not mix the veggies and salt to avocado mash.
You can store avocade mash with lemon juice in the fridge for 1-2 days.
Lemon juice prevents it from turning black.
It tastes best when made fresh and consumed.
Nutrition
Calories:
400
kcal
Carbohydrates:
35
g
Protein:
6
g
Fat:
29
g
Saturated Fat:
4
g
Sodium:
23
mg
Potassium:
1351
mg
Fiber:
16
g
Sugar:
9
g
Vitamin A:
1110
IU
Vitamin C:
83.4
mg
Calcium:
60
mg
Iron:
1.3
mg
Check out our Food videos
Subscribe to our Food channel for recipe videos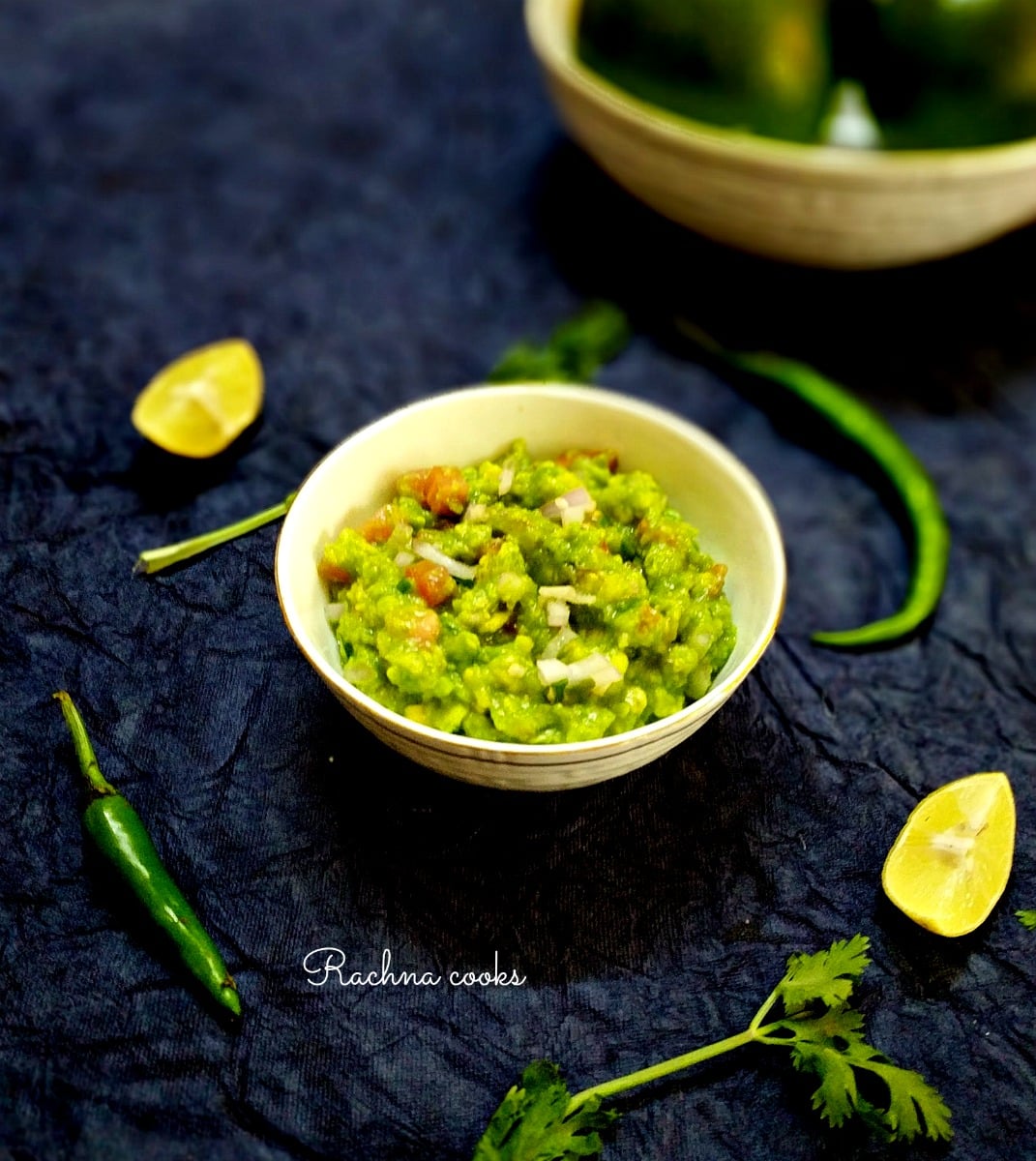 Your tasty and simple guacamole is ready to eat. Have it with nachos or chips. It tastes great on toast as well.
It is yummy and so good for you. What more can you want!
This video helps to understand how to make guacamole:
If you make this easy guacamole recipe, do share with me.
Please share this post with your friends.
Pin this