I remember that as a little child, I absolutely adored the lovely green parathas that mum made. They looked pretty and tasted good. What more could a child want? Chenopodium or bathua leaves paratha was made regularly during winters. Bathua is one of the tasty greens that goes very well with spinach or is tasty on its own. It is also used in preparing the famous Mustard greens. Anyway, I have not yet been able to get hold of it this season. Here is the recipe of a tasty and healthy spinach dill paratha that my kids totally approved of. The dough can be used to make phulkas or rotis as well.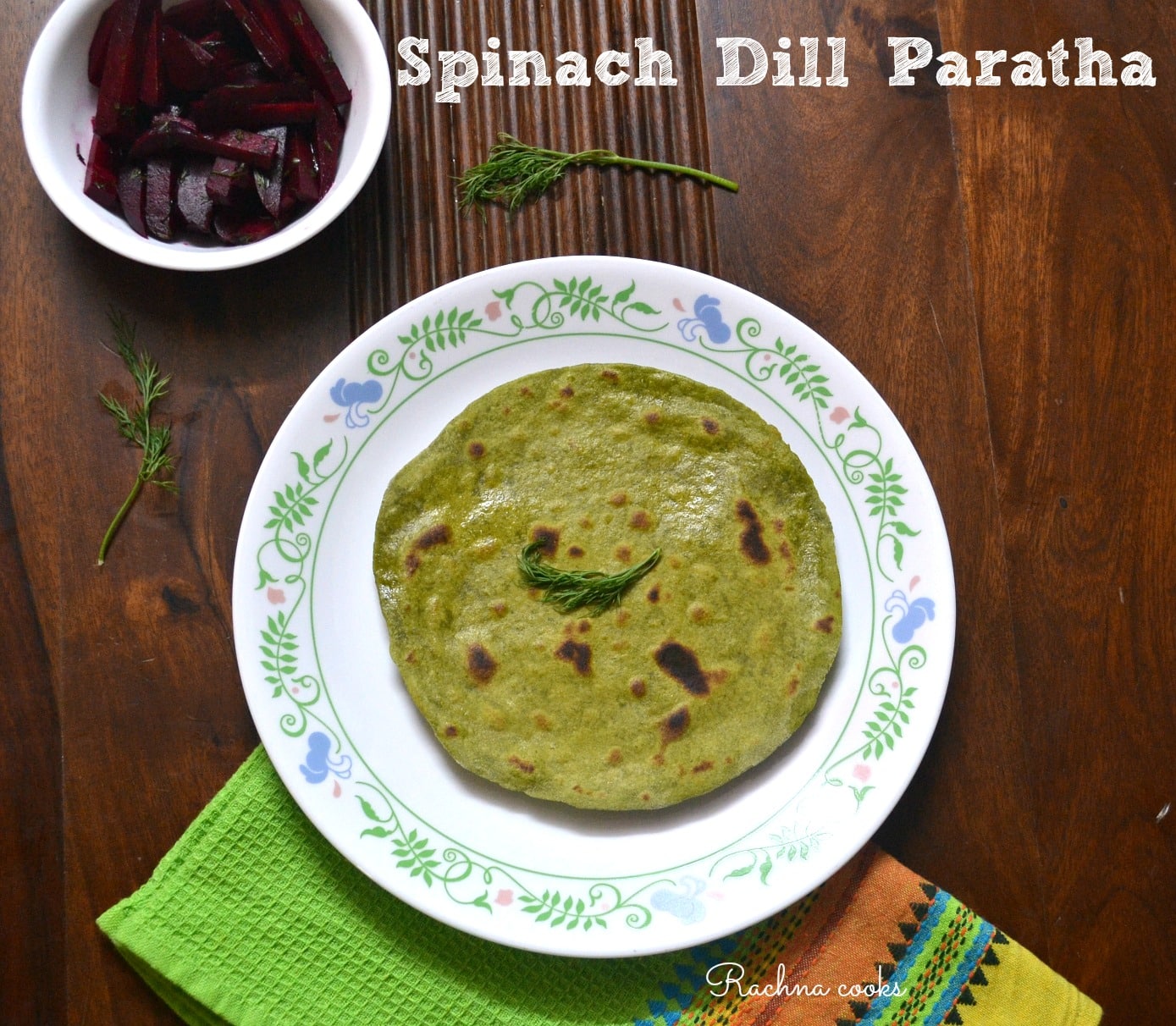 If you have some of this in your fridge, you could pair it with a curry or dal or even curd and pickled beetroots (for the added acidity and iron) and make a full meal of it.
Here is my simple recipe: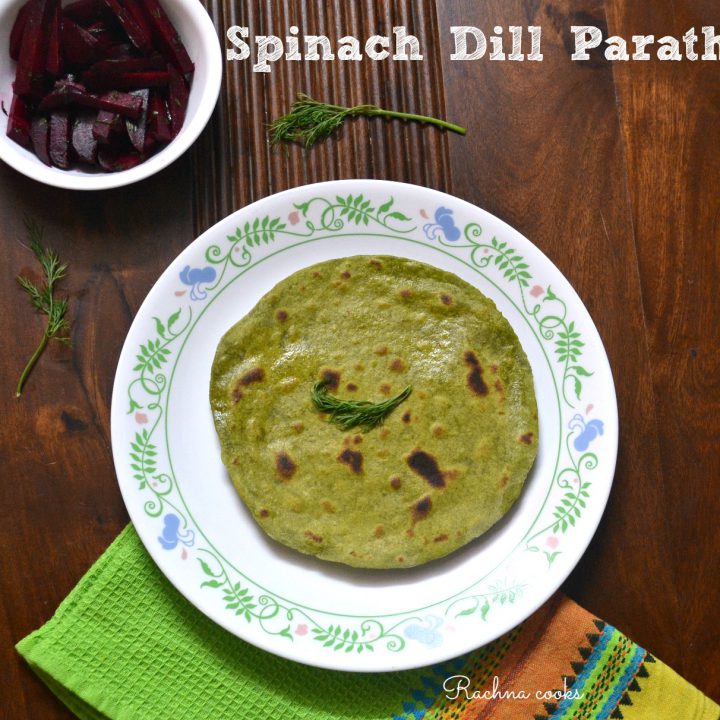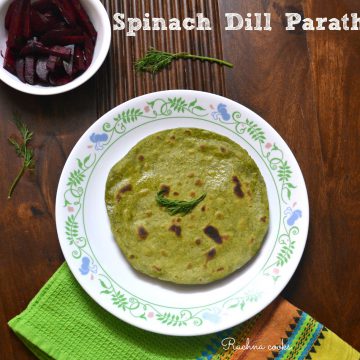 Tasty Spinach Dill Paratha Recipe
This is tasty, nutritious paratha that looks as appealing as it tastes. This is a great way to sneak in greens in your kid's tiffin.
Ingredients
3

cups

whole wheat flour or multigrain atta

1

large bunch spinach

about 250 gms.

A few sprigs of dill leaves

about 50 gm.

3

green chillies

5-6

cloves

garlic

1

tsp.

cumin seeds

1

tsp.

garam masala powder

1

tbsp.

ginger-garlic paste

optional

Salt to taste

Oil to fry
Instructions
Clean the spinach and dill leaves well and drain the water.

Blend together spinach, dill leaves, garlic and chillies to a smooth paste. Don't add water or add about 1-2 tsp.

Take the flour, add the blended spinach dill paste, add in all the other masalas along with salt and knead a soft dough. Put a tsp. oil at the end.

Cover and keep for 15 minutes.

To make the parathas take a small ball of the dough

Roll it out thin to paratha width.

Fry on a hot griddle on both sides using a little oil.

Your spinach dill paratha is ready to serve. Serve hot with chutney, pickle and curry, dal or curd. Enjoy.
Notes
You can use a combination of greens eg. spinach, bathua and dill or methi and dill or a mix of all greens.
Dill gives it a nice flavour so it is good to include it.
Adjust the chillies to your taste. Skip ginger-garlic paste if you wish to cut down spice.
Serve with pickled beetroots to add even more iron to the meal. It tastes good too.
This tastes good even when cold so you can safely pack it in your kids' tiffin boxes. They will love its taste and colour.
Check out our Food videos
Subscribe to our Food channel for recipe videos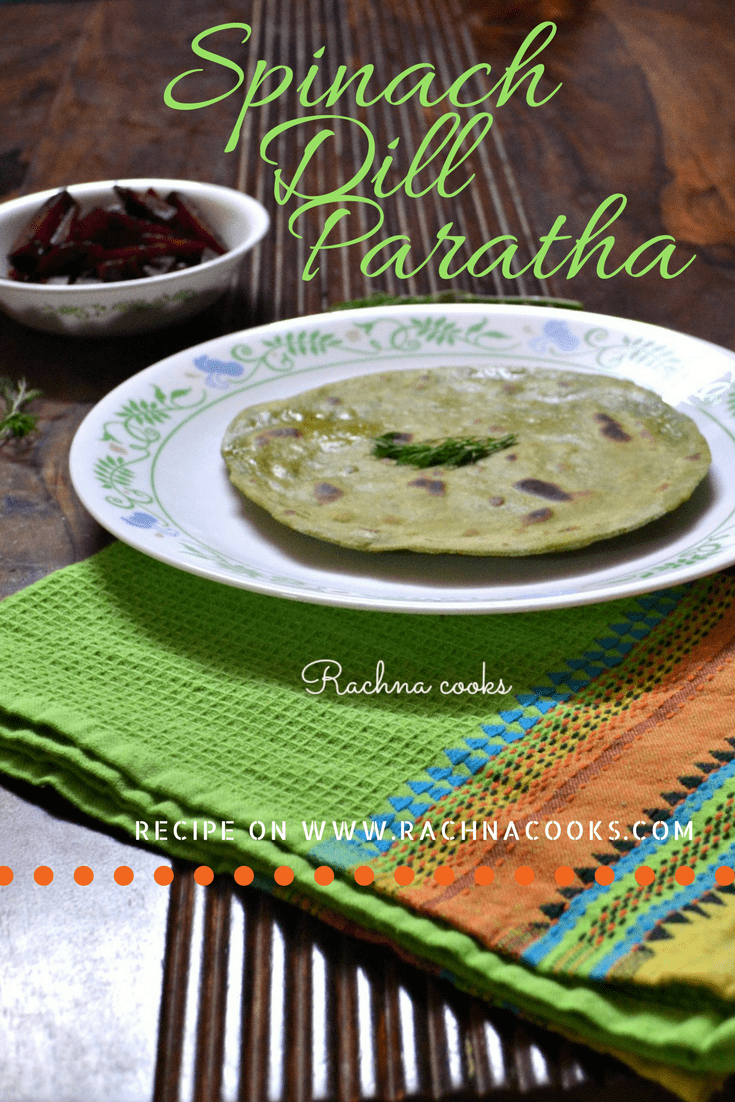 Step-by-step pictures
Add the blended greens mix to the flour and add spices. Look at that rich green colour.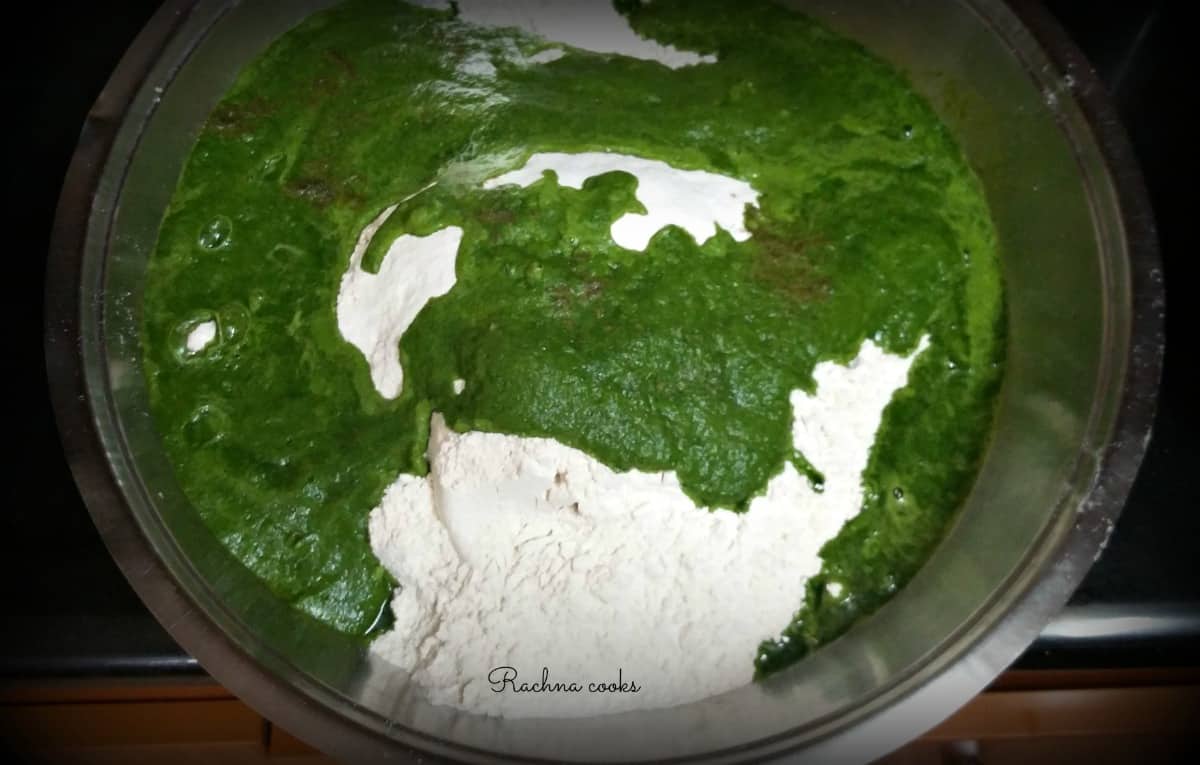 Knead to a soft dough.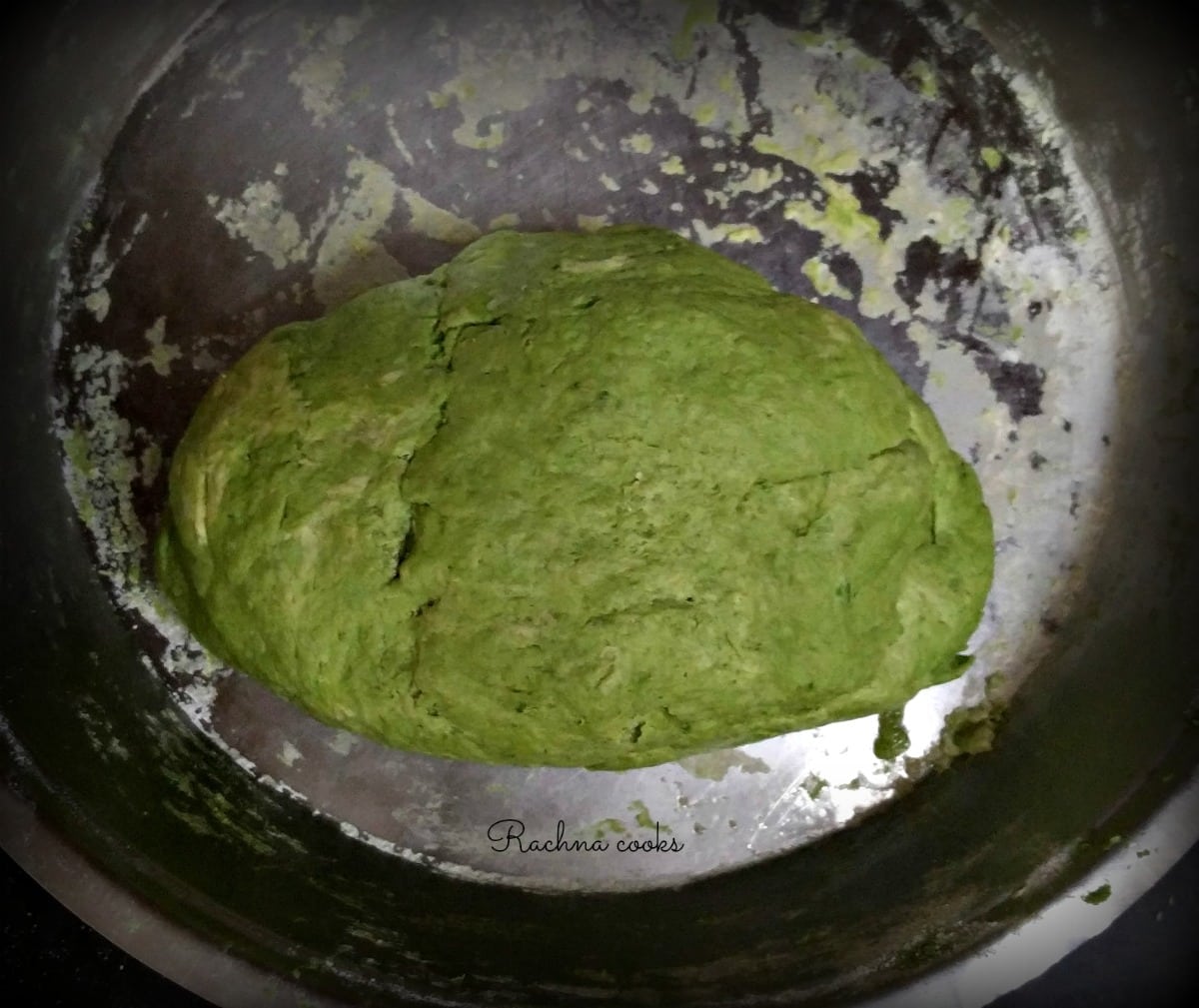 Saute on a hot griddle using oil on both sides.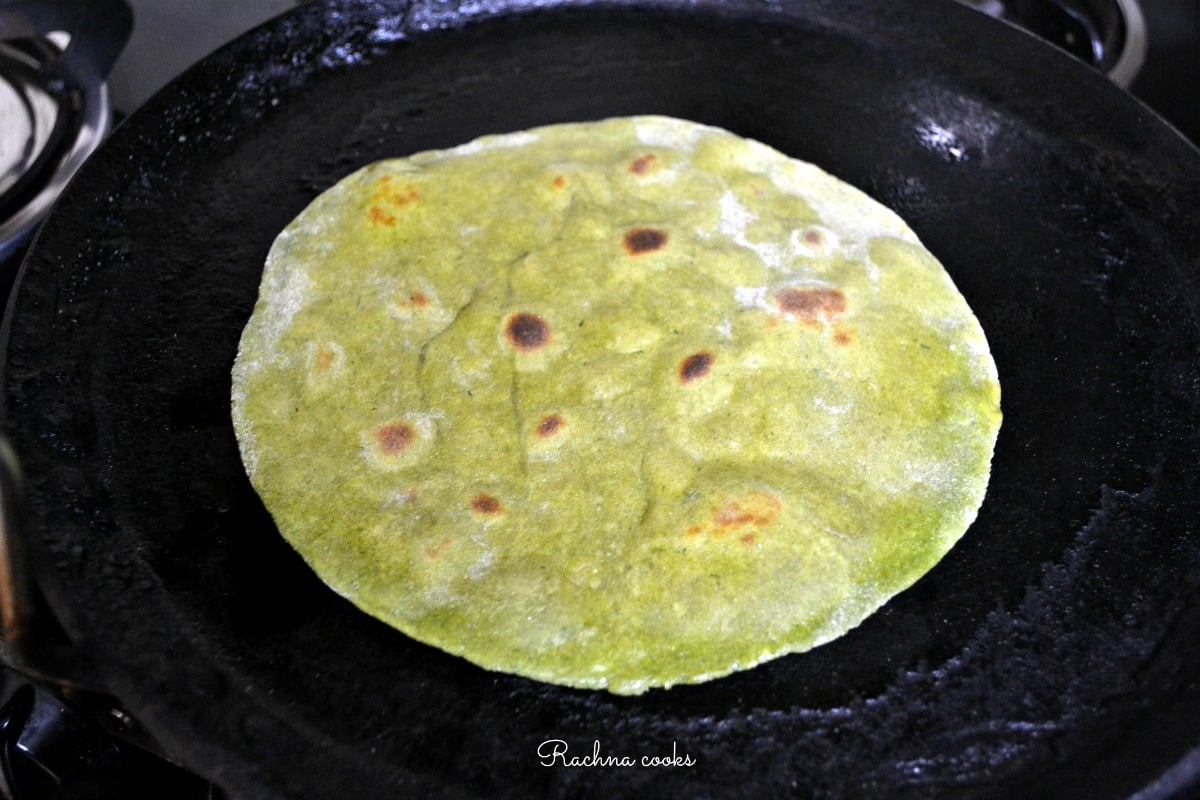 Serve hot with chutney, pickled beetroot and curd.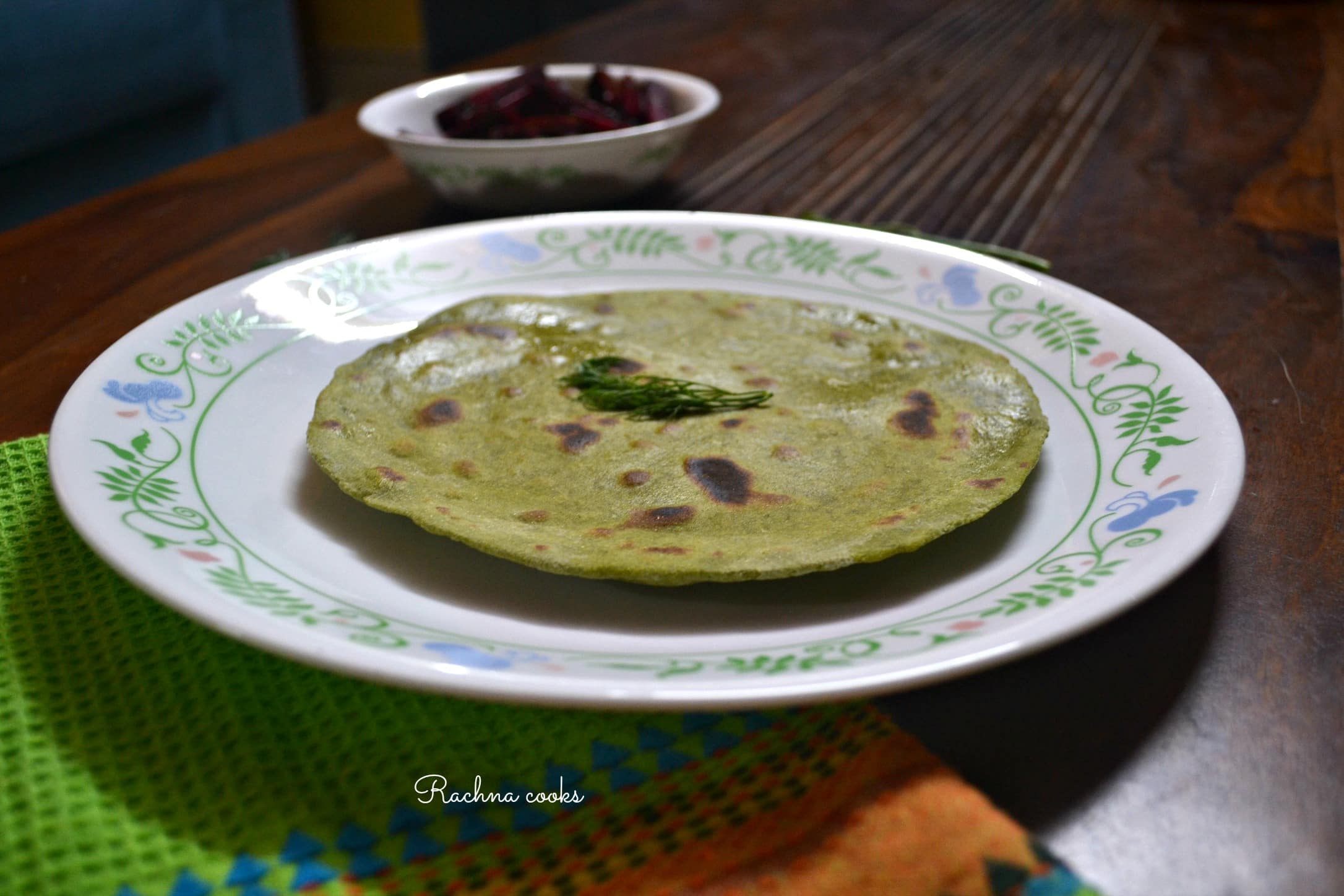 This paratha is also a great source of iron as it is rich in spinach. Many kids don't like the flavour of greens. This is a nice way to incorporate greens in their diet.
If you liked this post, do subscribe to my monthly newsletter: