This cucumber tomato salad is very flavourful and so summery. It is crunchy and flavorful and is a lovely side or a light meal.
Cucumber is among my favourite vegetables. It is super fresh and so very light, the perfect salad vegetable.
While I love making cucumber salad recipes right through summer, I use cucumber even in winter for that summer nostalgia.
Cucumber can be easily paired with onion, tomato, avocado and peppers. You just need a light dressing to make the salad come alive.
It is also a super easy salad to make that needs no cooking. There is no reason not to make it daily.
You may also like: cucumber and tomato salad, Avocado and cucumber salad, cucumber radish Summer salad, sprouted lentil salad.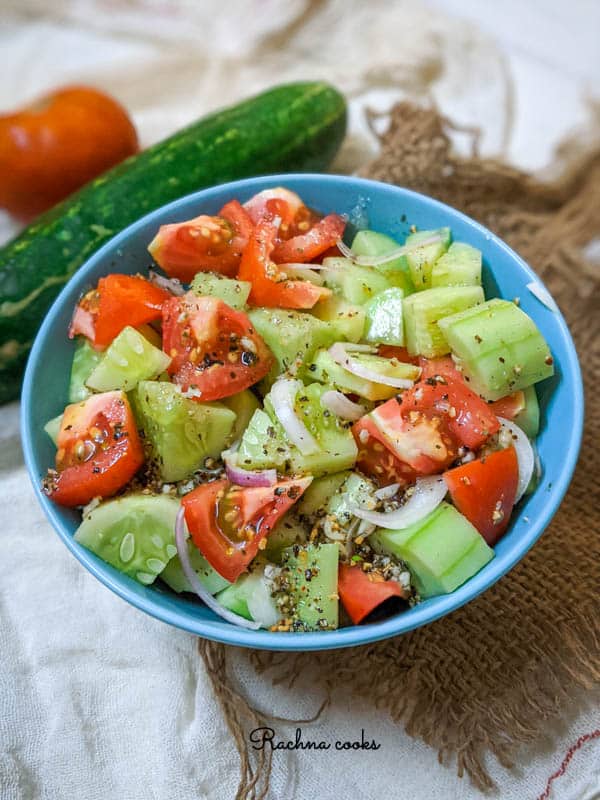 Health Benefits of Cucumber
Cucumber is a vegetable with some really good health benefits:
1. High in Nutrients: Cucumber is high in vitamins and minerals like Potassium, Magnesium, Vitamin K, Vitamin C and Manganese.
2. Perfect for weight management: Cucumber is 95% water and hence it is a perfect vegetable as it keeps you hydrated naturally.
It is also very low calorie at just 45 Calories for an 11-ounce or 300 gm. cucumber.
It fills you up nicely while being low calorie hence it is a weight-watcher's delight.
3. Great for Hydration: Cucumber having such a high water content is great for people who find it difficult to drink adequate water during the day.
It hydrates your body really well especially in summer.
4. High in antioxidants: Cucumber like many other fresh vegetables is high in antioxidants and reduces free radicals in the body.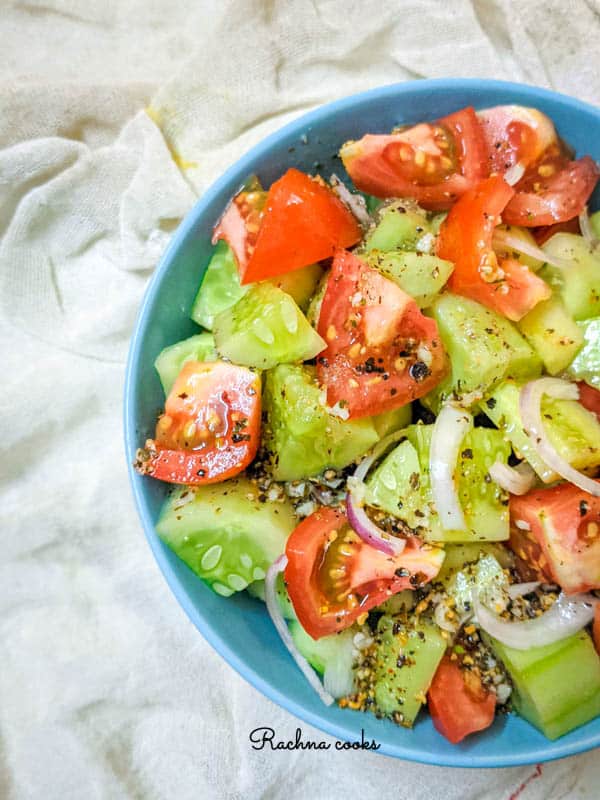 What Goes Into the Salad Dressing
I make the salad dressing for this cucumber and tomato salad in two ways:
1. Oil and vinegar dressing: This is my favourite dressing for many salads. I use extra virgin olive oil and red wine vinegar in a 2:1 proportion.
Add a few spices. Mix well and pour over the cucumber salad. Easy peasy.
2. Lime juice dressing: This is even simpler but really delicious. I use 2 tbsp. of lemon juice and add salt, sugar and spices to it.
Pour it over the salad and you are good to go.
Secrets to Making the Best Cucumber Salad
1. Buy the freshest green cucumber. You may leave the peel in case you have the tender English cucumber at hand.
For the larger cucumber, I take off the peels. Also leave the seeds in if they are tender.
2. Use ripe tomatoes only: Ripe tomatoes are sweet and flavourful. Make sure you use the red, ripe ones only.
You can use cherry tomatoes as well.
3. If using avocados, choose just ripe, creamy ones that are free from blemishes.
4. Use red onions: I love them for their punchy taste and crisp flavours.
5. Marinate: While you can serve this salad right away, it does taste best when marinated for a few hours at room temperature.
That way the salad gets more flavourful.
6. To have this salad as a meal, you can just add a protein like boiled chickpeas or shredded chicken and pair with some bread if you wish.
📖 Recipe Card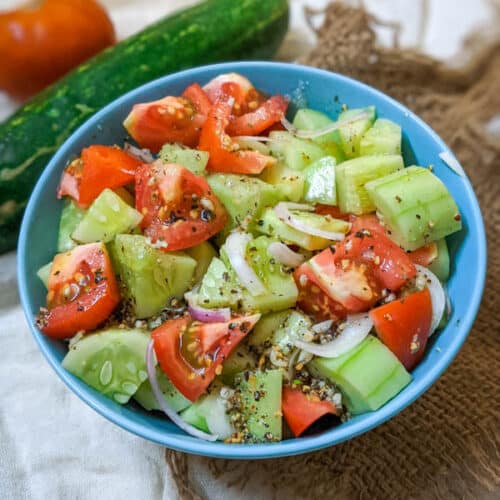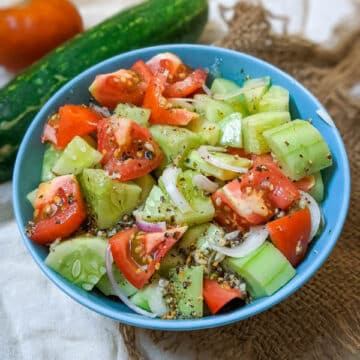 Cucumber and Tomato Salad Recipe
This cucumber tomato salad is a super easy yet really tasty cucumber salad that is perfect for summer. Try it.
Ingredients
2

cucumber

large

3

tomatoes

ripe

1

avocado

optional

1

red onion
For the dressing
4

tbsp.

extra virgin olive oil

2

tbsp.

red wine vinegar

1

tsp.

salt

¾

tsp.

sugar

1

tsp.

black pepper

2

cloves

garlic

minced

1

tsp.

dried herbs
Instructions
Cut cucumbers into thin rounds. Cut tomatoes into one eights and same for avocados (if using). Finely slice the red onion.

Take all the dressing elements into a bowl and mix well. Adjust sugar and salt as per taste.

Pour the dressing over the cut vegetables and mix well.

Marinate for 2 hours covered. Serve chilled.

Your delicious tomato and cucumber salad is ready to serve.
Notes
1. Use only fresh green cucumber and ripe tomatoes.
2. You can use any herbs that you like.
3. Marinating the salad in the dressing makes it very flavourful.
4. Serve the salad chilled.
5. You can store leftovers in the fridge for a day but not too long as it does taste best fresh. 6. You can also use a tsp. of chopped fresh herbs like dill, cilantro or basil. 7. You could use balsamic vinegar or apple cider vinegar in place of red wine vinegar. They taste equally good.
Nutrition
Calories:
172
kcal
Carbohydrates:
9
g
Protein:
2
g
Fat:
15
g
Saturated Fat:
2
g
Sodium:
245
mg
Potassium:
271
mg
Fiber:
2
g
Sugar:
4
g
Vitamin A:
155
IU
Vitamin C:
8
mg
Calcium:
59
mg
Iron:
2
mg
Check out our Food videos
Subscribe to our Food channel for recipe videos
Your healthy cucumber tomato salad is ready to serve.
Have it as a hearty side or as a meal. It is delicious.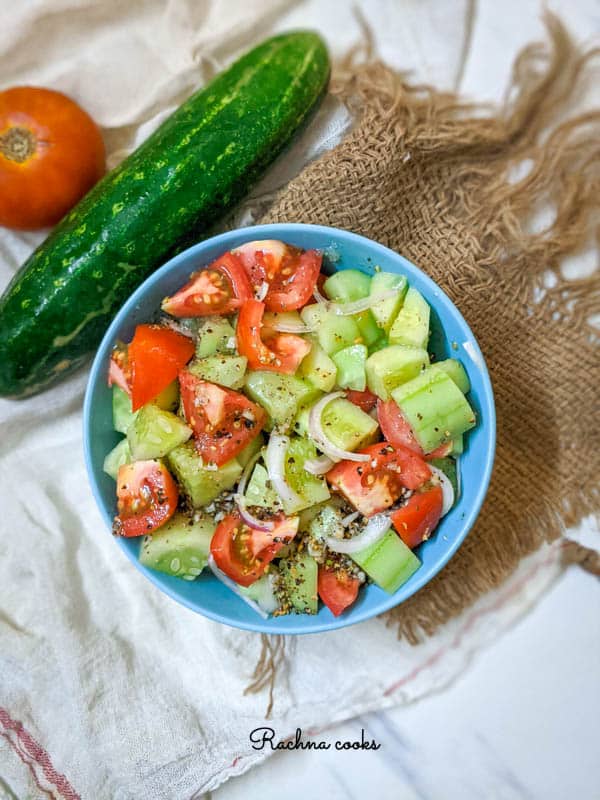 If you liked this recipe, I request you to leave a * rating either on the recipe card or in the comments below. Thanks.
You May Also Like:
Indian lentil and veggie salad
Pin This