Mustard seeds play an integral role in Indian and South East Asian cuisines. In this article, we explore what substitutes to use for black mustard seeds.
These tiny seeds are used as a spice especially in tempering of dals, curries, rice dishes and more.
Typically, it is sputtered in oil before using. That way, its bitterness is significantly reduced.
It is also used in spice blends.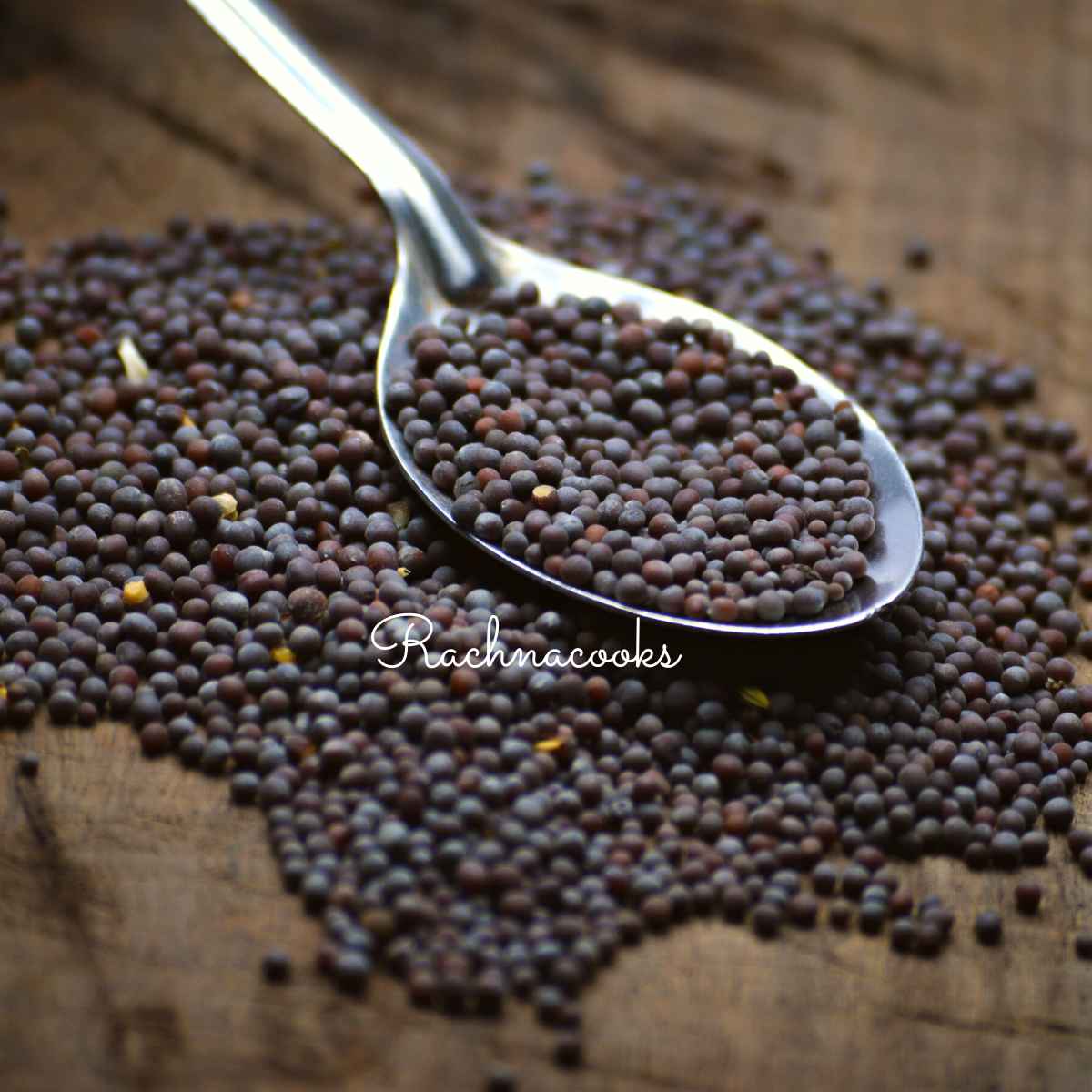 When left to mature in the sun or heated and cooked, mustard seeds give a lovely sour and slightly pungent taste.
Hence, it is very popular in pickling. Indian pickles use mustard seeds for their sharp, sour taste that emerges after the pickle has matured for a few days.
Mustard seeds is almost never used raw or without cooking. It is extremely bitter to taste and not palatable raw.
Mustard oil is extracted from mustard seeds which is widely used for both cooking and massages in India.
What are Black Mustard Seeds?
Black mustard seeds are the seeds of the mustard plant. They are small and round in shape.
They are known for their pungent, sharp flavor and are used in various dishes.
However, what do you do when you run out of them and really need them in a dish.
Don't worry as I explore some alternatives that you can use in place of black mustard seeds.
Best Substitutes for Black Mustard Seeds
1. Brown Mustard Seeds
Brown mustard seeds have a very slightly milder flavor to black mustard seeds. They have the same pungency and nuttiness.
Their texture is the same. To tell you the truth, I use them interchangeably with black mustard seeds in my dishes.
If you're looking for a less pungent taste in your dishes, then brown mustard seeds work well.
They work well in place of black mustard seeds in pickles too.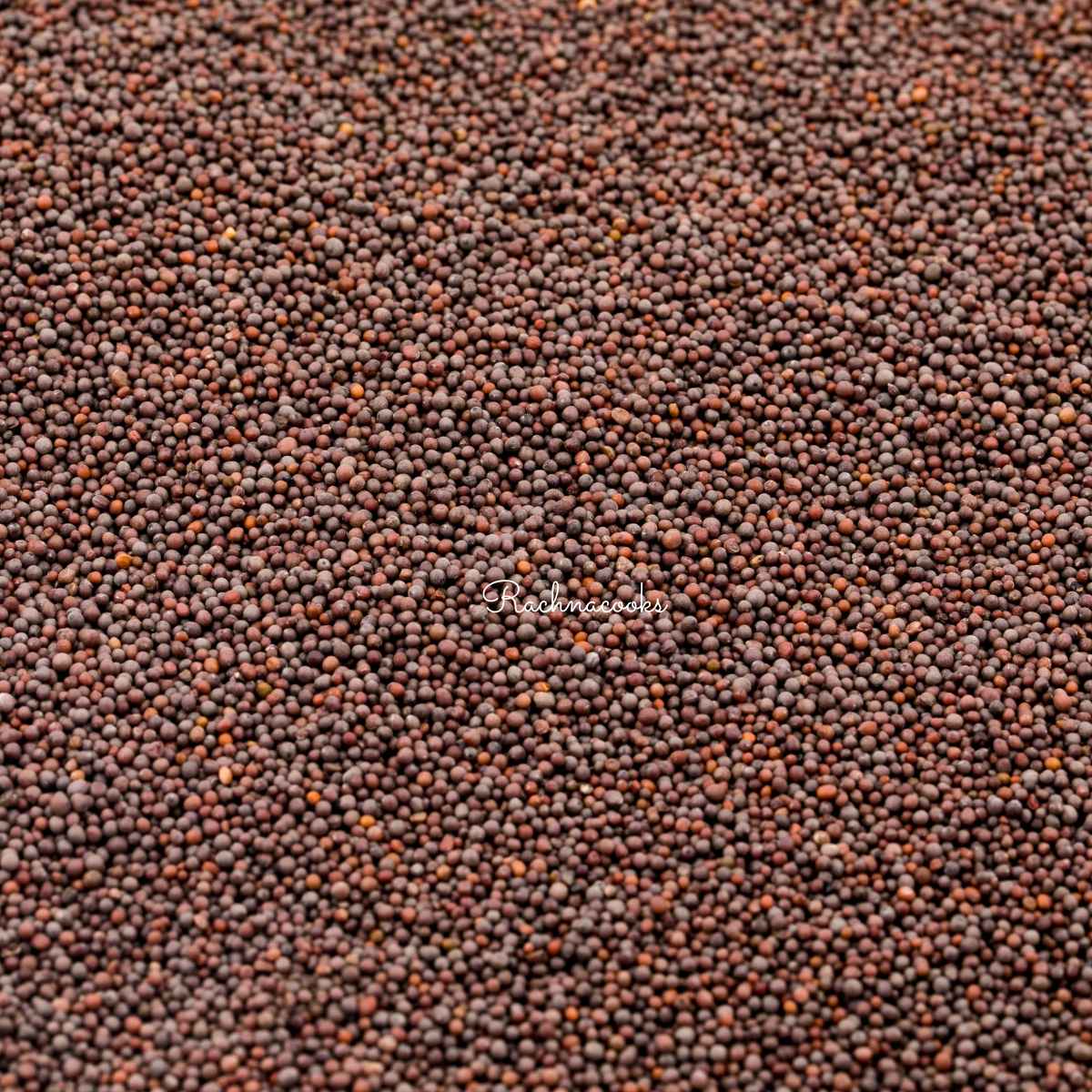 2. Yellow Mustard Seeds
Yellow mustard seeds, also known as white mustard seeds, are relatively milder in taste than black mustard seeds.
While they make for a good substitute, they don't have the same pungency and heat as black mustard seeds.
Additionally, you may need to use more yellow mustard seeds than black ones to achieve a similar taste.
Nevertheless, they can be useful when making dishes that require mild flavoring.
I use yellow mustard seeds for mustard paste when making fish curry.
3. Mustard Powder
Mustard powder has the same flavour profile as mustard seeds with same pungency and heat. It is made by grinding mustard seeds.
Hence, it works as a great substitute for mustard seeds.
It is added to water or vinegar and often used to make sauces, marinades or dressings.
Use half tsp. of mustard powder for every tsp. of black mustard seeds in your recipe.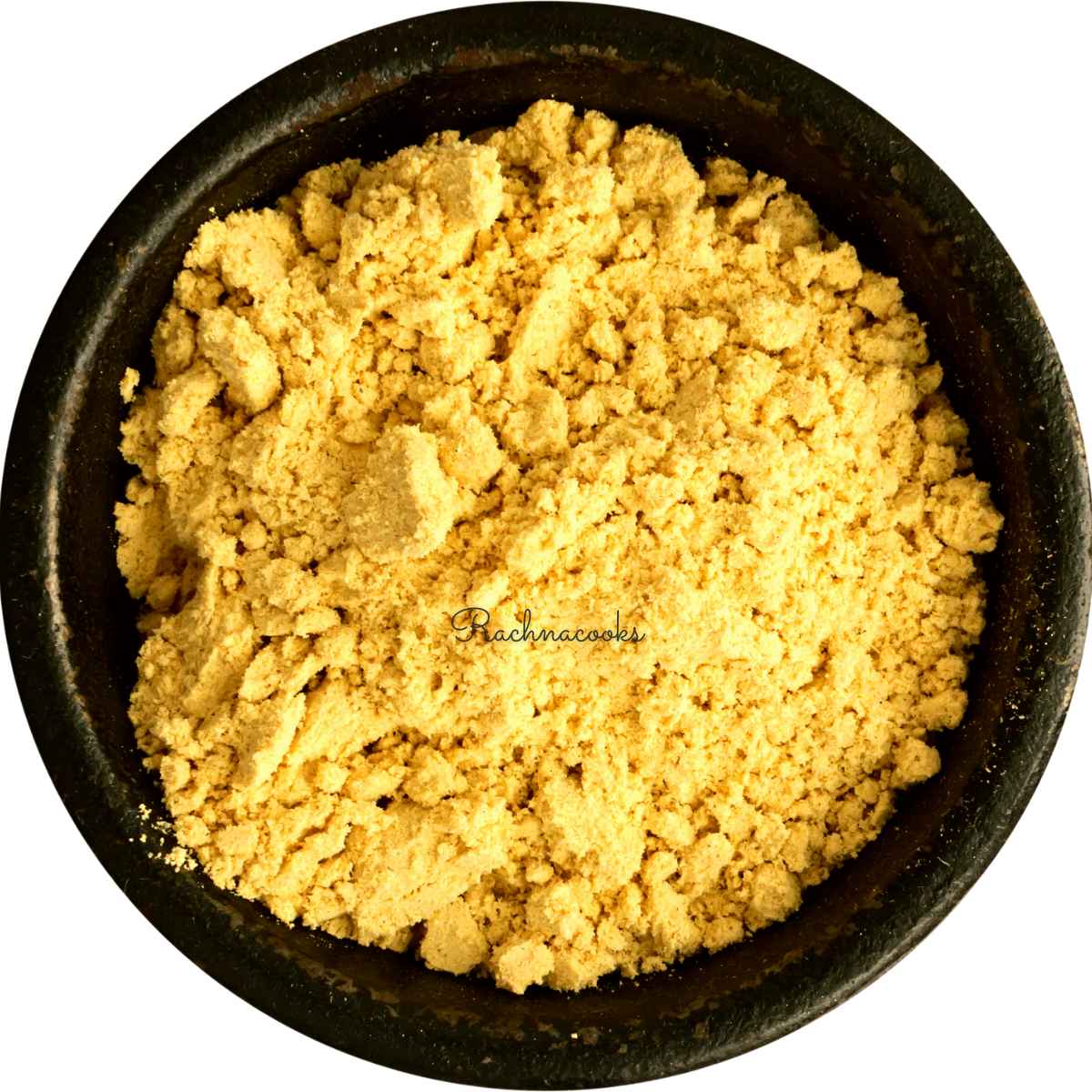 4. Mustard Oil
Cold pressed mustard oil is commonly used in Indian cooking especially in North Indian and East India.
This oil has a sharp, pungent taste with heat and adds that flavour to the food that is cooked in it.
This oil is extracted from mustard seeds, hence it can be seen as a good substitute for the seeds though in a slightly different form.
A small quantity of raw or cooked mustard oil can be used if you desire a sharp, pungent taste.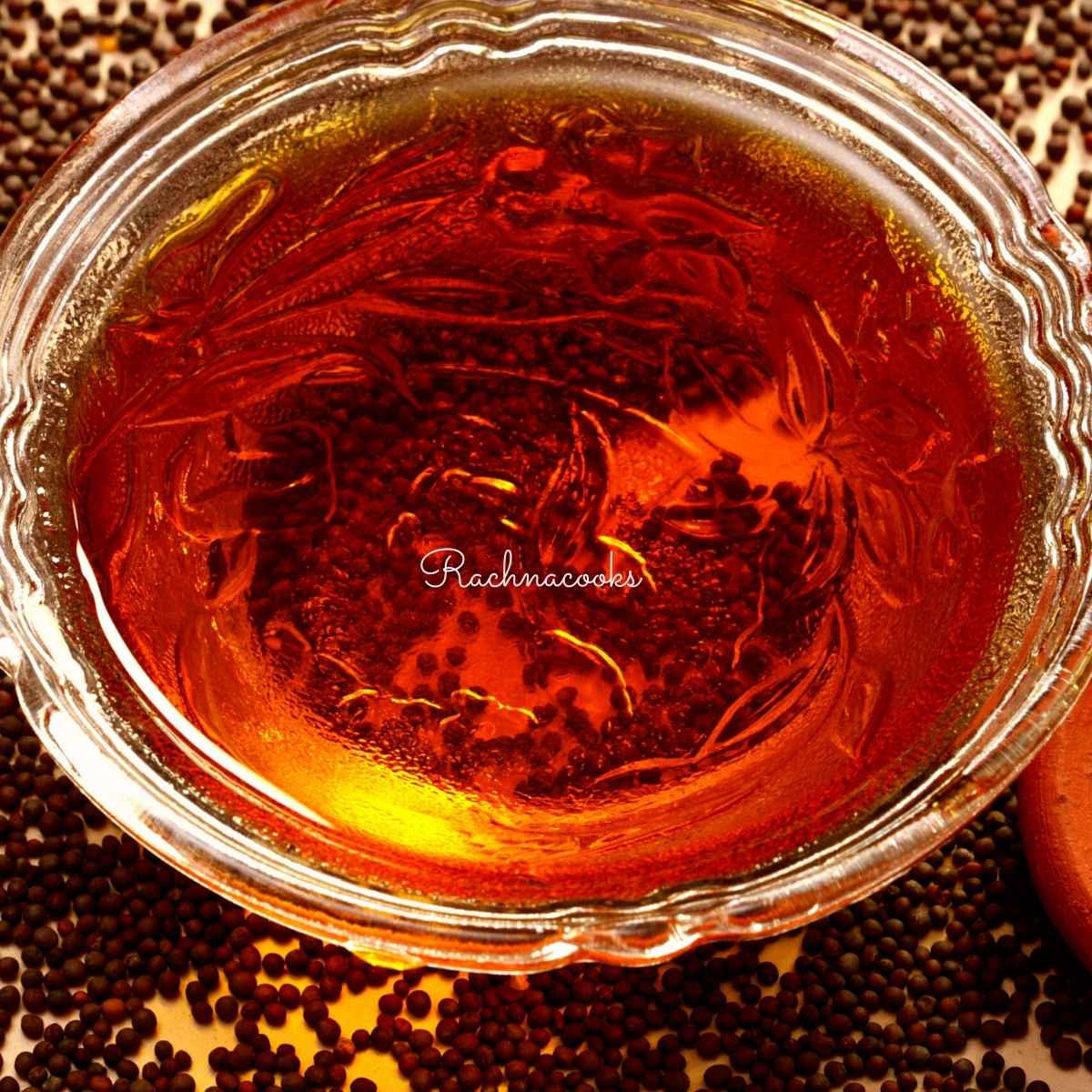 5. Parsnips
While parsnips are not a type of mustard, they can act as a substitute for black mustard seeds, especially in vegan and vegetarian dishes.
Parsnips have a slightly pungent, woody taste and can add depth to the dishes.
For instance, you can replace black mustard seeds with sautéed parsnips in a stir fry, and they will still offer the same level of smokiness and flavor.
Indian white radish also is a good workaround.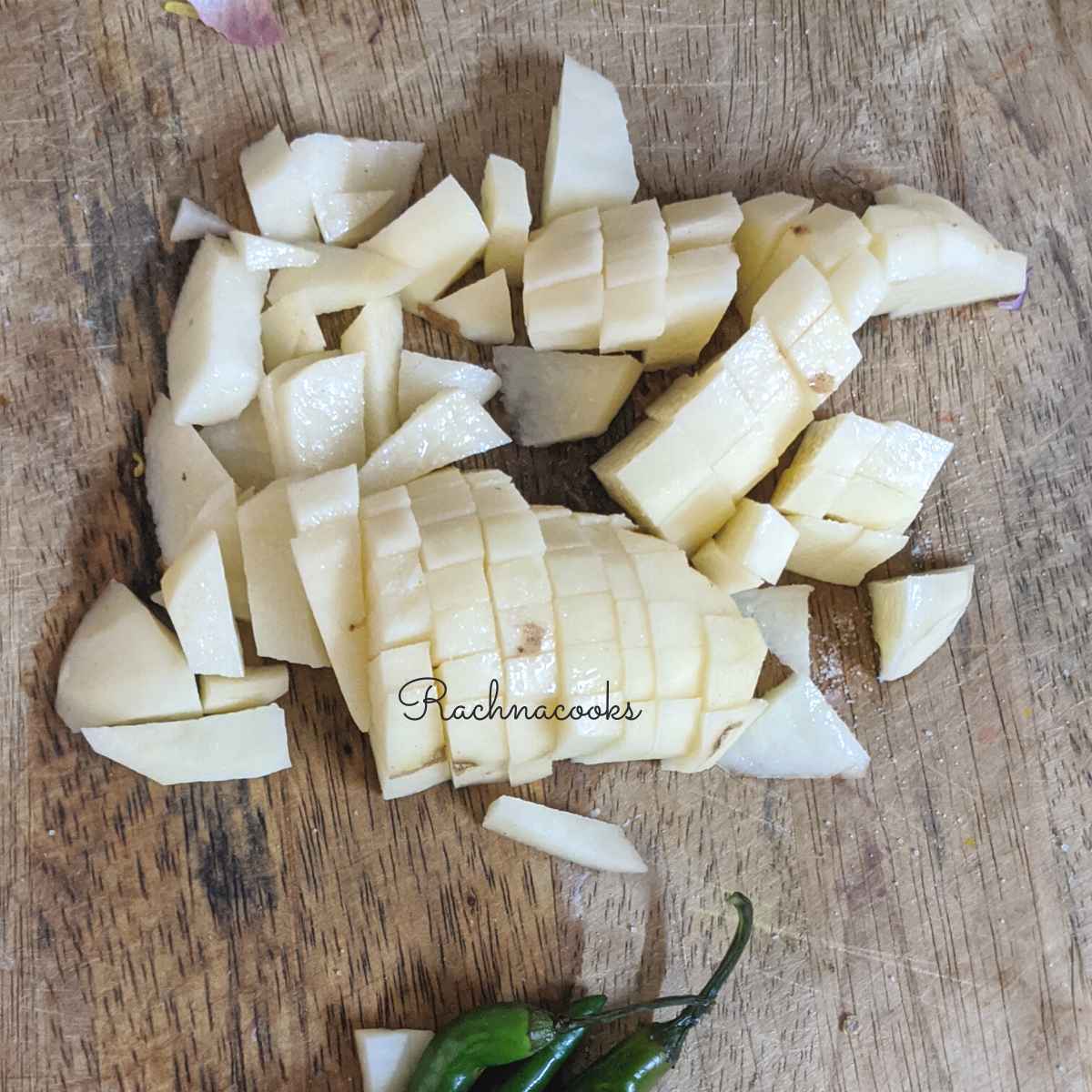 6. Horseradish
Horseradish is a popular condiment that works as a substitute for black mustard seeds.
Like black mustard seeds, horseradish has a sharp, pungent flavor that can be added to marinades, dips, and sauces.
Horseradish is commonly used in sauces such as cocktail sauce and can also be mixed with mayonnaise to make a flavorful spread for sandwiches.
However, it can be challenging to find freshly grated horseradish in grocery stores, and you may have to rely on pre-made horseradish sauce.
Since, it is very strong, use approximately half the amount of horseradish as you would seeds.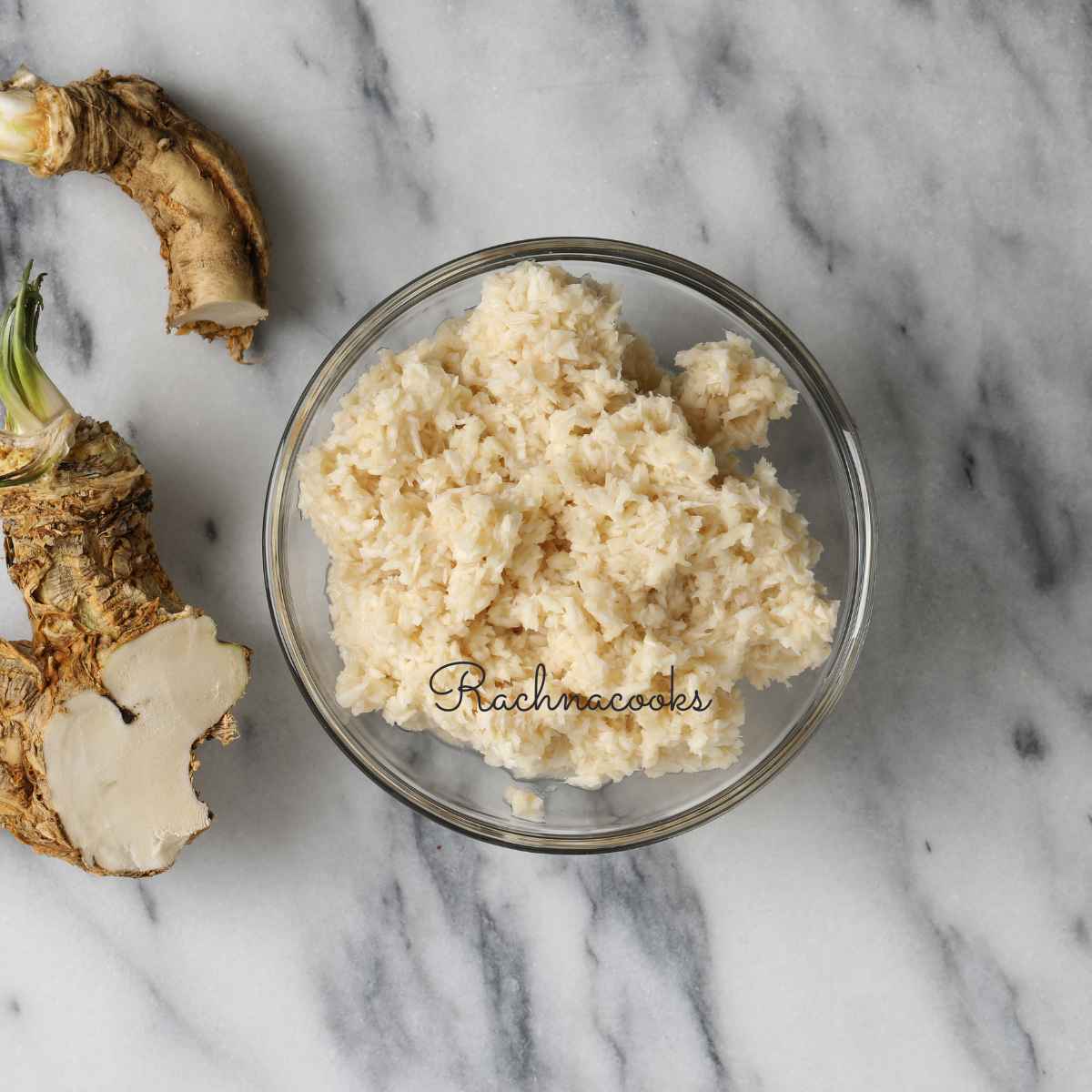 7. Wasabi
Wasabi is a green Japanese paste that has a similar heat intensity as black mustard seeds.
It adds a sharp, pungent flavor to dishes, and like black mustard seeds, it is used in small quantities.
This Japanese condiment is made from grated horseradish root and has a sharp, spicy flavor that can be quite intense.
Wasabi is commonly served with sushi and sashimi but can also be used as a substitute for black mustard seeds in recipes such as dressings and marinades.
However, wasabi can be a trickier to use as compared to other substitutes, and you have to be careful not to overdo it as it can overpower the dish.
Maybe try half to one-third of the quantity as substitute. You clearly can't undo the pungent taste if you have added more.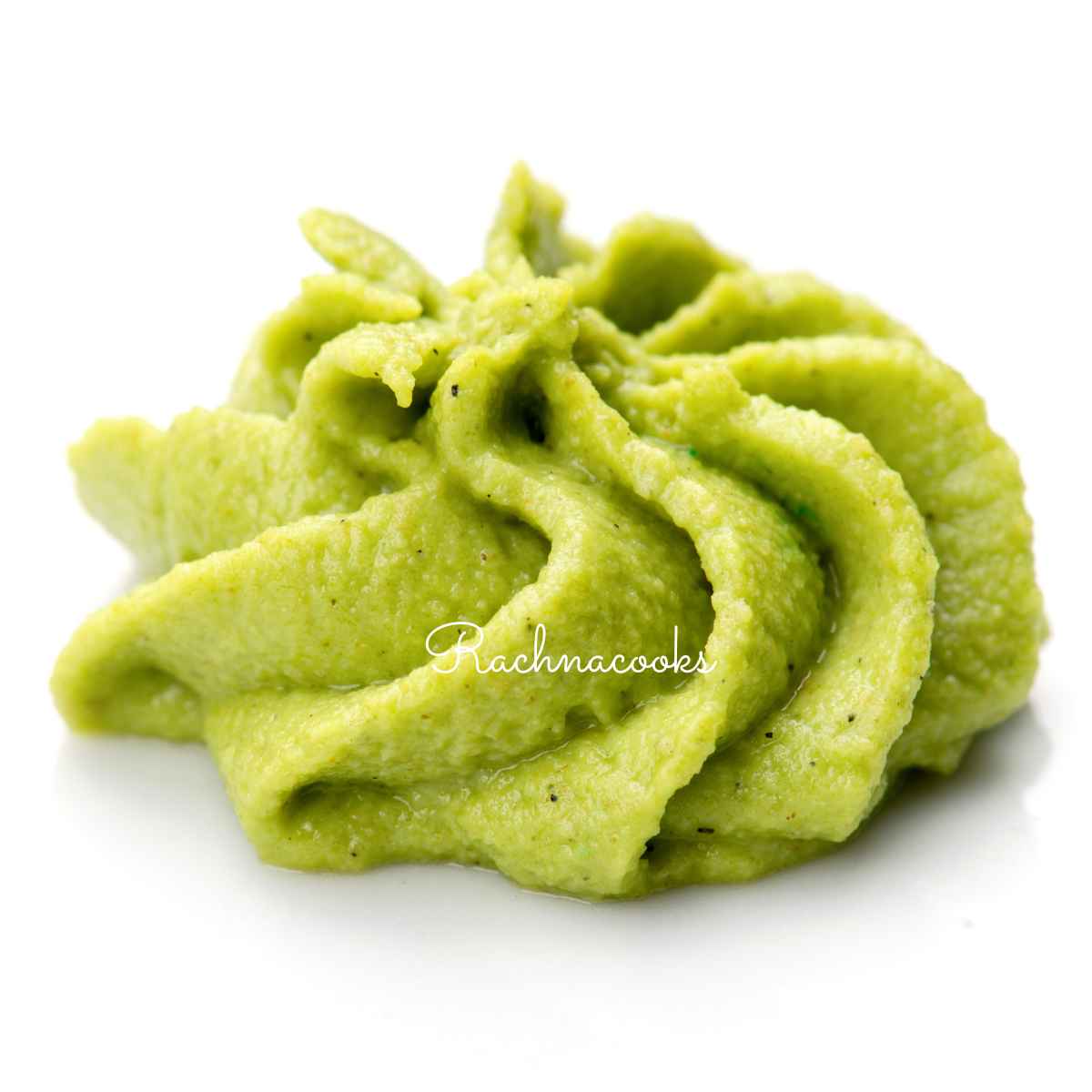 You may also read Best Substitute for Amchur or Green Mango Powder and best chaat masala substitute.
You may find out more about scotch bonnet pepper.
In conclusion, there are several substitutes for black mustard seeds that can work well in a variety of recipes.
Whether you choose to use brown or yellow mustard seeds, mustard powder, mustard oil, wasabi, or horseradish, each of these substitutes can add a unique and flavorful element to your cooking.
Experiment with different substitutes to find the perfect flavor for your dish.