This aam ka achar is a lipsmacking North Indian pickle made in summer when fresh green mangoes are available.
It is made in mustard oil and pickled with delicious spices. This pickle easily stays for up to a year at room temperature.
Tips for making best Indian mango pickle
Always use fresh spices. Dry roasting them before using enhances the flavour.
Using kachi ghani or filtered mustard oil to really enhance the flavour of the pickle giving it a pungent taste.
Use raw mangoes that are fresh, and you do not need to peel the skin. Just remove the seed and the white pith.
Always maintain strict hygiene while making pickles. All jars must be sterilized. Always use a dry spoon to taking out pickle to prevent it from spoiling.
Keeping the pickle in the sun helps it mature well and assimilate the flavours.
I also love making these other mango pickles: avakaya or raw mango pickle Andhra style. Spicy and delicious.
There is an instant mango pickle or heeng wala achaar as well a sweet mango chutney or aam ki launji, both ready in no time.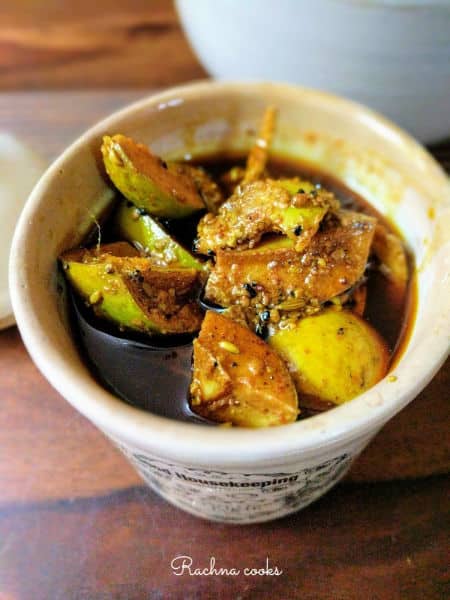 Why is homemade pickle good?
Uses less oil and salt than store-bought pickle
It does not have any preservatives
You can modify the spices used as per taste
You get to use the best quality spices and produce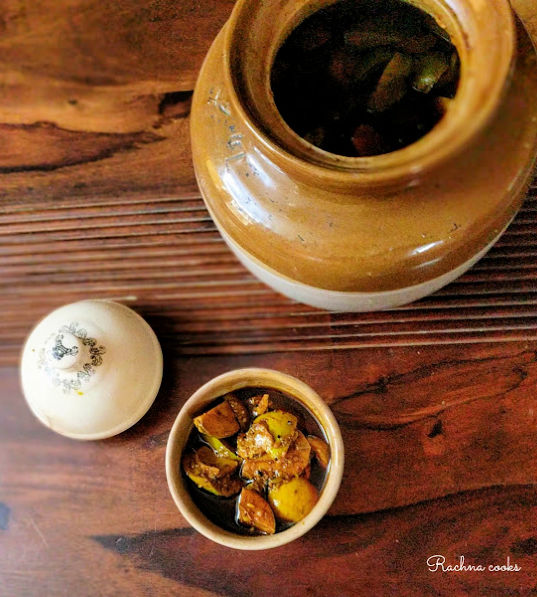 Some step wise Pictures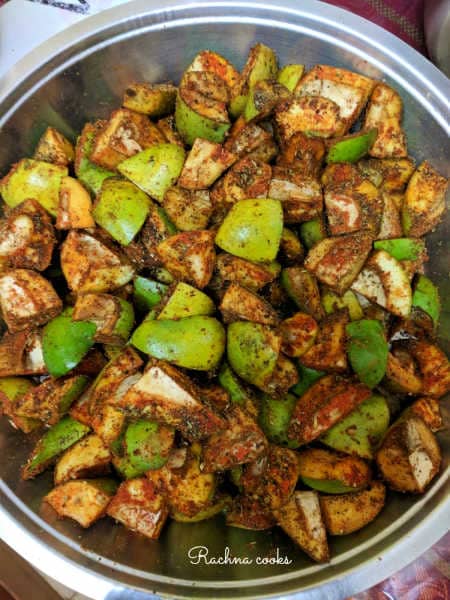 Raw mango pieces coated with the spice mix.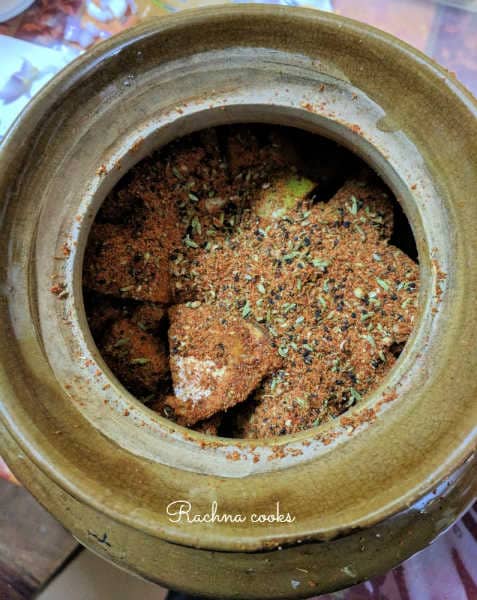 Mango pieces with spice mix in a ceramic jar.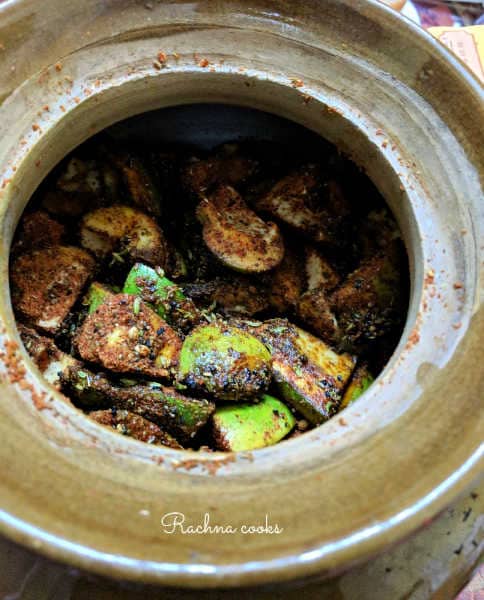 Half of the mustard oil added to the pickle before covering it with muslin cloth to keep in the sun.
Serving suggestions
With parathas and curd
With an Indian meal
With curd rice or khichdi
To enhance the flavour of any Indian meal
FAQs
1. Is this recipe for 1 Kg. mango pickle?
Yes this recipe will give you about 1 Kg. Punjabi mango pickle as the raw mango does lose a bit of weight on maturing.
2. How to make spicy mango pickle?
You can increase the quantity of red chilli powder used in the recipe
3. Can I use any other oil?
Yes, you can use regular sunflower oil in the recipe though mustard oil is the authentic way.
4. Can I reduce the quantity of oil used in the pickle/
I would suggest not to do that. The oil used is to prevent the pickle from spoiling. You do not need to consume it. You can use the flavoured oil from the pickle in your dishes later.
Here's the recipe card:
📖 Recipe Card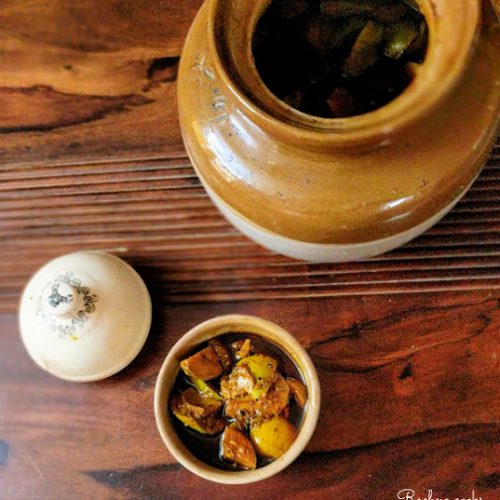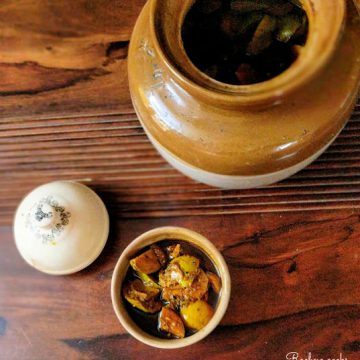 Aam Ka Achar Recipe | Mango Pickle North Indian Style
This delicious aam ka achar or mango pickle North Indian style is mildly spicy and very delicious. Have it with your parathas or every day meal for a lipsmacking taste.
Ingredients
1

kg.

raw mango

or 2.2 lb washed dried and cut into ⅛th pieces

1.5

cup

mustard oil

I use Kachi Ghani

½

cup

salt

or 125 gm.

2

tsp.

turmeric powder

2

tbsp.

red chilli powder

1

tbsp.

heeng

asafoetida

2

tbsp.

saunf

fennel

2

tbsp.

kalonji

onion seeds

3

tbsp.

mustard seeds

1.5

tbsp.

fenugreek seeds
Instructions
Make sure that everything you use is dry and has no moisture.

Sterilize your jars in which you will store the pickle.

After washing, chopping and discarding the seeds, dry the mango pieces well.

Lightly pound saunf, kalonji, mustard seeds and fenugreek seeds. You can dry roast them if you like before using.

Now mix together salt, red chilli powder, heeng along with the coarse spice powders.

Apply this spice mix to the raw mango pieces.

Put in a ceramic or glass jar.

Cover with a muslin cloth or towel and put in the sun daily for about 3-4 days.

Now add mustard oil and mix well. Let the oil completely cover the pickle.

Keep it in the sun again for 4-5 days.

Your aam ka achaar is ready to use.

In case you don't have access to good sunlight, then you can mix all the spices together with mango pieces and oil in the jar. Make sure that you first heat the oil and then cool it before using. Use half the oil. Cover with a muslin cloth and keep in a dry place for 3-4 days. After this time, mix the pickle and add the remaining oil. Your pickle would have reduced in quantity. Cover with a muslin cloth and keep for another 5 days. Then it is ready to consume.
Notes
Since no preservatives are used, salt and oil are the only preserving media. Make sure you use adequate quantities of both.
Always keep the pickle completely immersed in oil.
Use dry spoon and take some pickle out in a small bottle for daily consumption.
The pickle will last you a year and will deepen in taste as time goes.
Enjoy your homemade aam ka achaar North Indian style.
Nutrition
Calories:
163
kcal
Carbohydrates:
9
g
Protein:
1
g
Fat:
14
g
Saturated Fat:
2
g
Sodium:
2267
mg
Potassium:
145
mg
Fiber:
2
g
Sugar:
6
g
Vitamin A:
929
IU
Vitamin C:
16
mg
Calcium:
33
mg
Iron:
1
mg
Check out our Food videos
Subscribe to our Food channel for recipe videos
Request you to leave a star rating * if you try this recipe. Thanks.
You may also like:
Avakaya or raw mango pickle Andhra style
Instant mango pickle or heeng wala achaar
Sweet mango chutney or aam ki launji
Pin This