This gajar ki kanji or probiotic carrot drink is very popular in North India during winters. It is a fermented drink made with carrots and beets. It is a super easy recipe that is also healthy for your gut.
This is a vegan probiotic drink which is made by pickling carrots using mustard seed powder. The recipe uses no oil and minimal spices.
I like it spicy so I use Indian chilli powder. But you can easily skip it. It is tart and spicy and absolutely delicious.
Just like kombucha, this is very easy to make at home.
You may also like: Ragi malt for weight loss, sattu drink, kokum sharbat, aam panna recipe, lemongrass tea.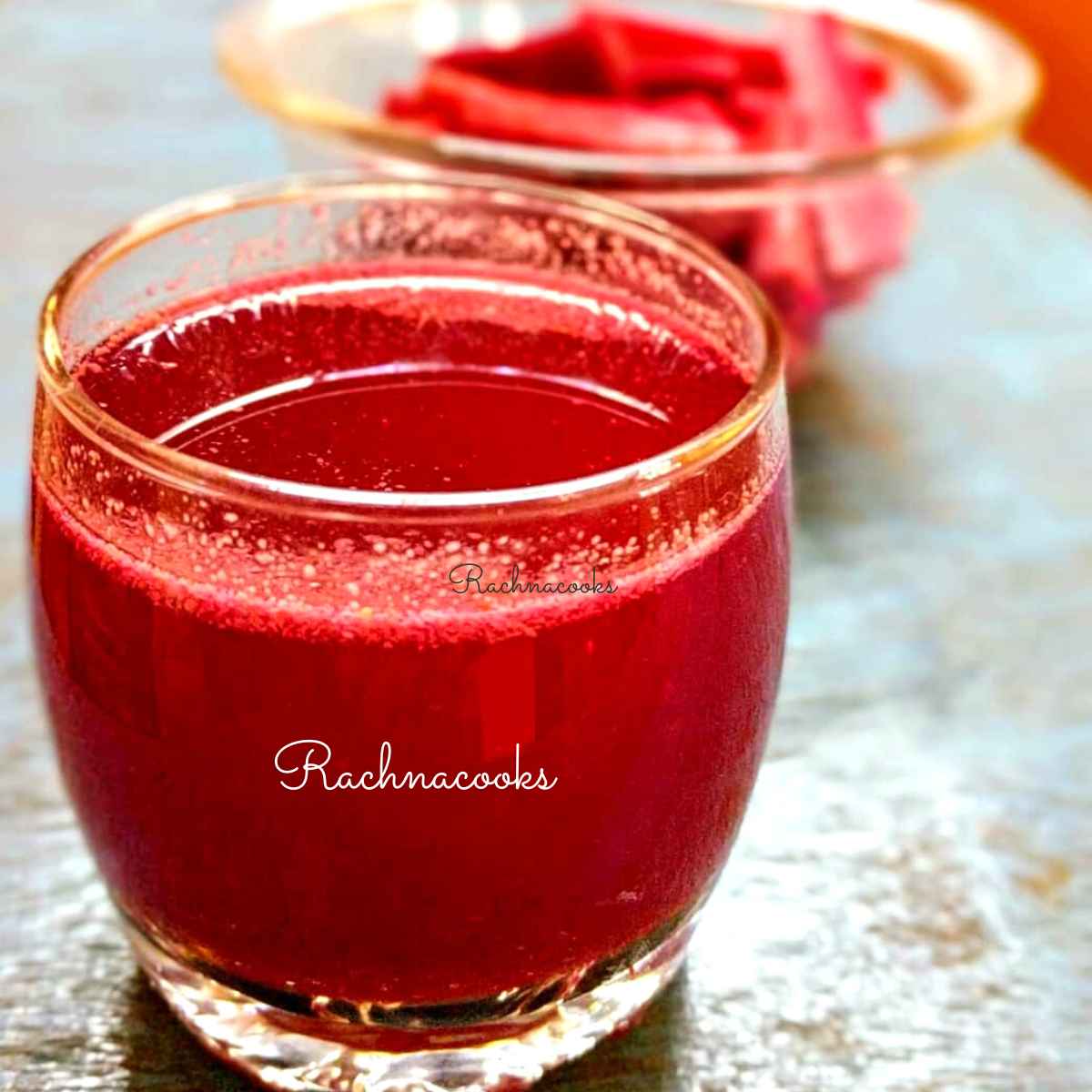 Jump to:
Ingredients
Carrots: Generally, this is made with purple carrots that come in winters in North of India. Since I don't get those easily, I use the regular red carrots. You can use orange carrots too.
Beets: I use beet to provide the rich magenta purple color to the kanji that is its signature colour.
Yellow mustard seeds: These seeds are less pungent than the regular brown mustard seeds and are typically used in this recipe. If using brown mustard seeds, halve the quantity.
Salt and cayenne: I use salt and cayenne to flavour my kanji that is already very tart.
Water: Use filtered or boiled and cooled water here.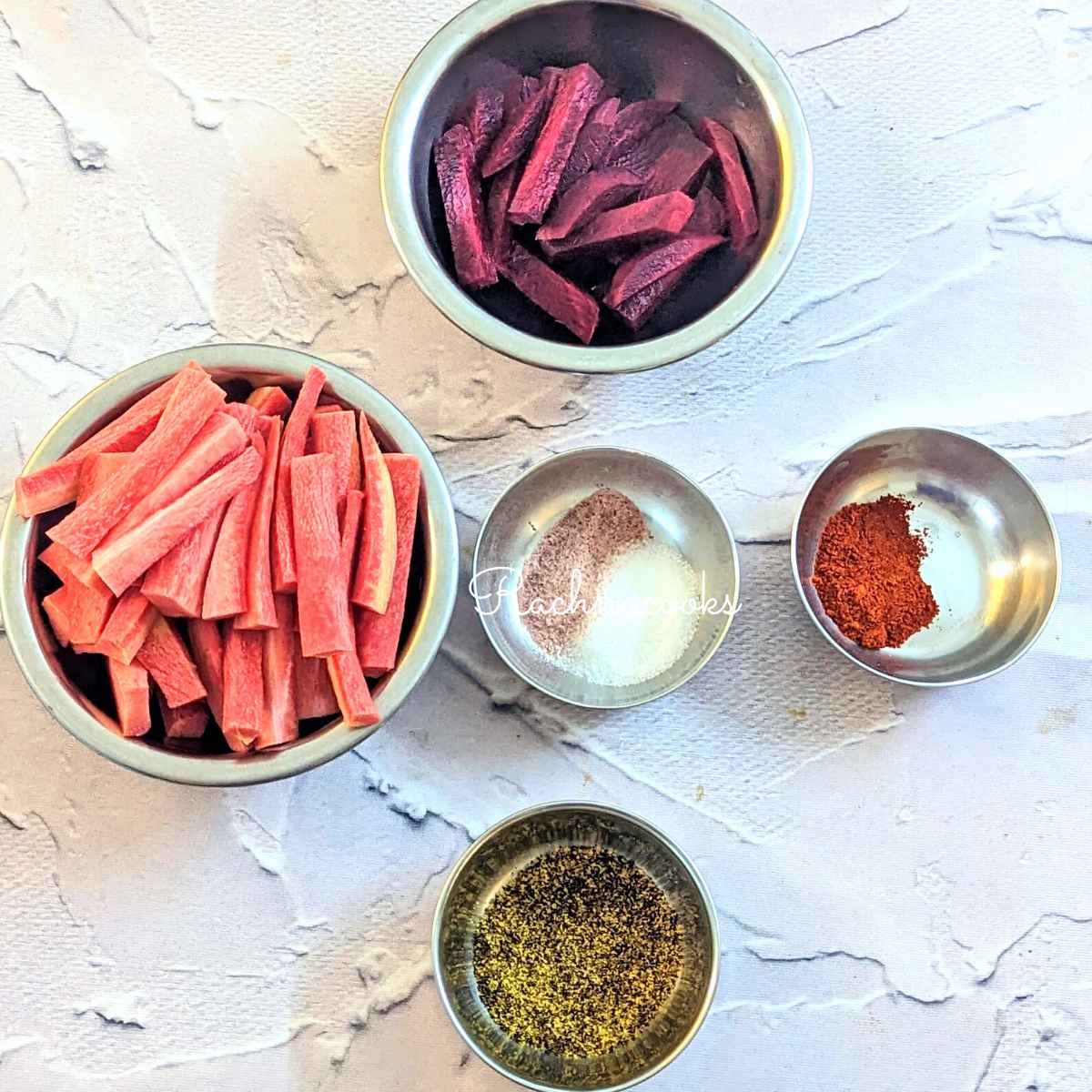 Variations
Like I mentioned, this is a vegan recipe that uses black carrots. In place of those, a combination of red carrots and beet work perfectly.
In case you want to, you can also add turnip batons in the recipe.
You can use pepper in the recipe in place of cayenne.
Serving suggestions
Drink: Kanji is served as a drink. You can have it at room temperature or chilled.
As a dip for vadas: Kanji vadas are very popular. You can make urad dal or lentil fritters and serve them dipped in kanji.
Drinks or cocktails: Kanji has a refreshing tart taste. It can be used as a mixer in cocktails or added to other fruit juices or vegetable juices as a drink.
At festivals: Kanji is served at Indian festival of Holi after playing with colours.
For digestion: Kanji is a probiotic drink that is good for the gut. It is also a digestion aid. Having it after a meal helps it aid digestion.
FAQs
1. How is kanji made?
Gajar ki kanji is made with carrots and beet that are fermented with spices.
2. What does kanji taste like?
It is tart and salty with a fermented taste.
3. Is kanji healthy?
Yes, kanji is very healthy for the gut. It is a probiotic drink and has been had over centuries in India for its digestive benefits.
4. How is kanji stored?
After fermentation keep it in a cool and dark place and consume within 5-7 days. Beyond that it becomes too tart and also loses its flavour. You can keep it in the fridge too.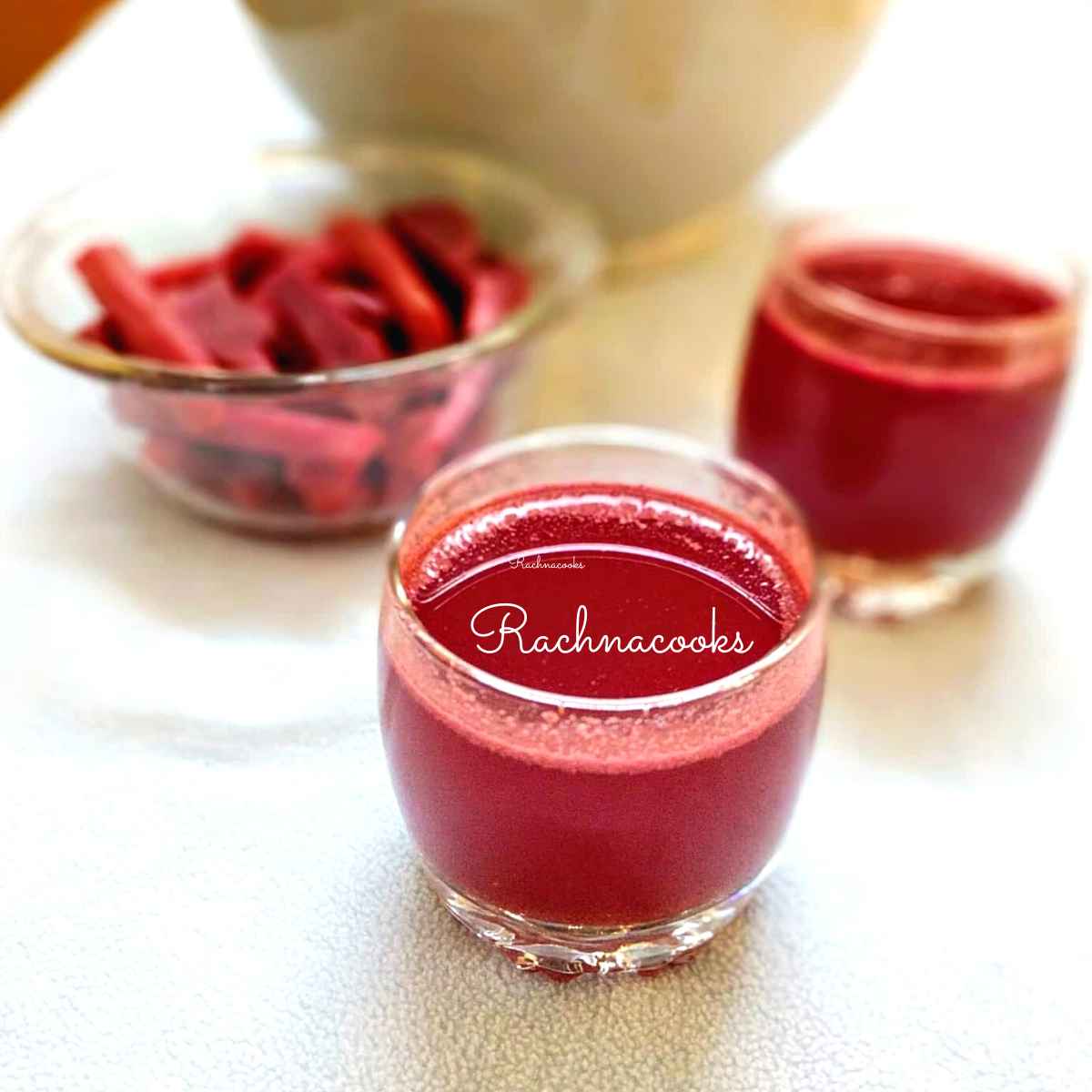 Tips
Since fermentation is involved, it is very important to use sterilised glass jar or ceramic container for this recipe. I typically keep the glass jar in hot sun for a few hours after washing and then use.
Depending upon how hot the sun is in your part of the world, it takes about 2-3 entire days in the sun for the kanji to mature. It starts tasting tart and then you know that it is done.
Once it is mature, you can refrigerate it. Either way, consume it within 5-7 days or it gets too tart.
Another trick is that I add a bit of water to water it down in case it starts tasting too tart.
Don't forget to serve the pickled vegetables as a side. They are delicious.
You can also use some pink salt for an enhanced flavour.
Instructions
Peel and cut carrots into batons and keep aside. Peel and cut beetroot into similar sized batons and keep aside.
Powder yellow mustard in a blender jar and keep aside.
Now take a clean, sterilised glass or ceramic jar. Do not use metal or plastic containers.
Place carrot and beetroot batons in the jar. Add mustard powder, salt, pink salt and chilli powder or cayenne.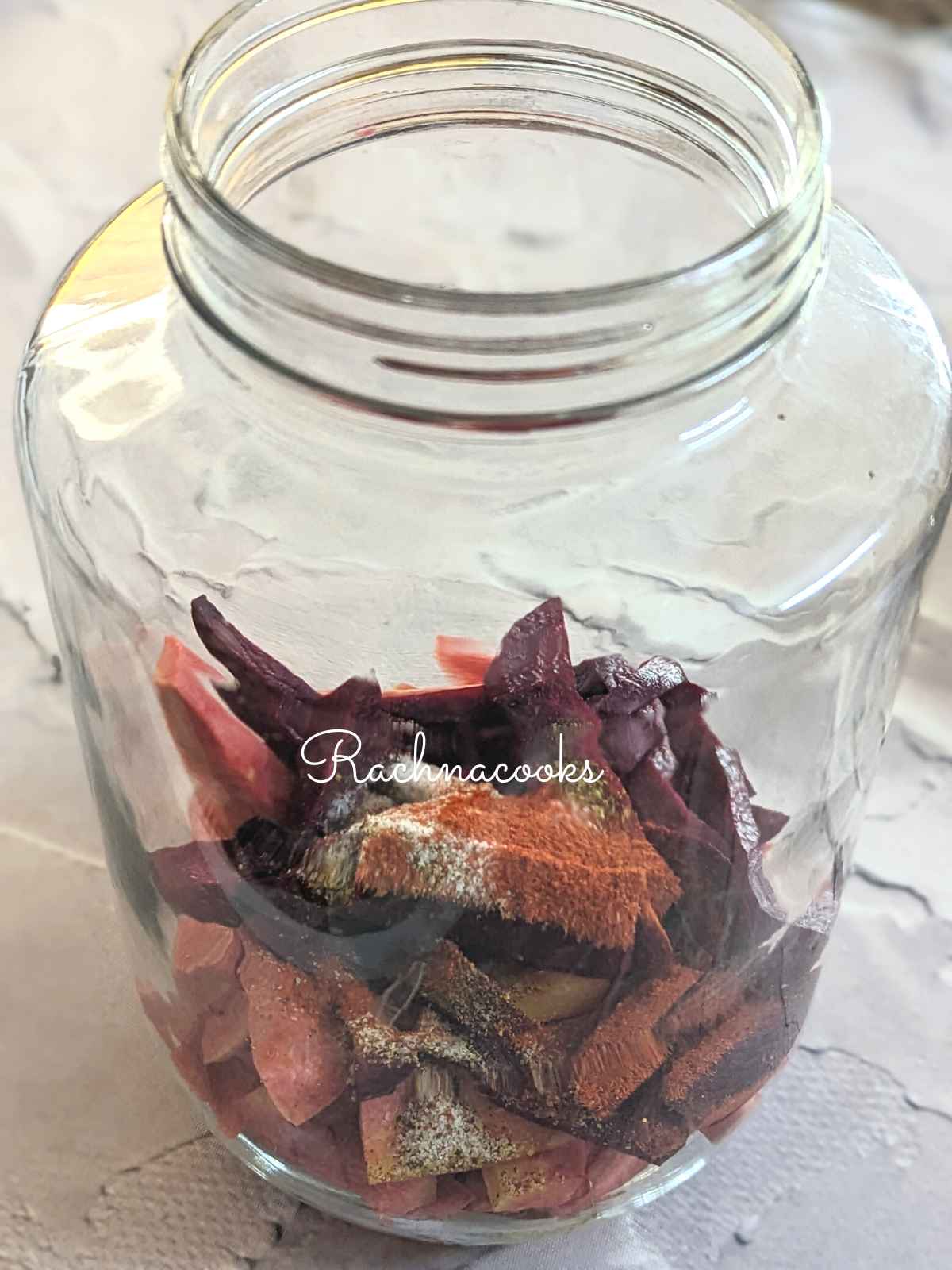 Now top up with water to the brim (about 8 cups)
Give it a mix and cover with a lid or tie a clean muslin cloth at the neck.
Place in hot sun in your balcony or patio so that it gets sunlight. Take it inside the house in the evening.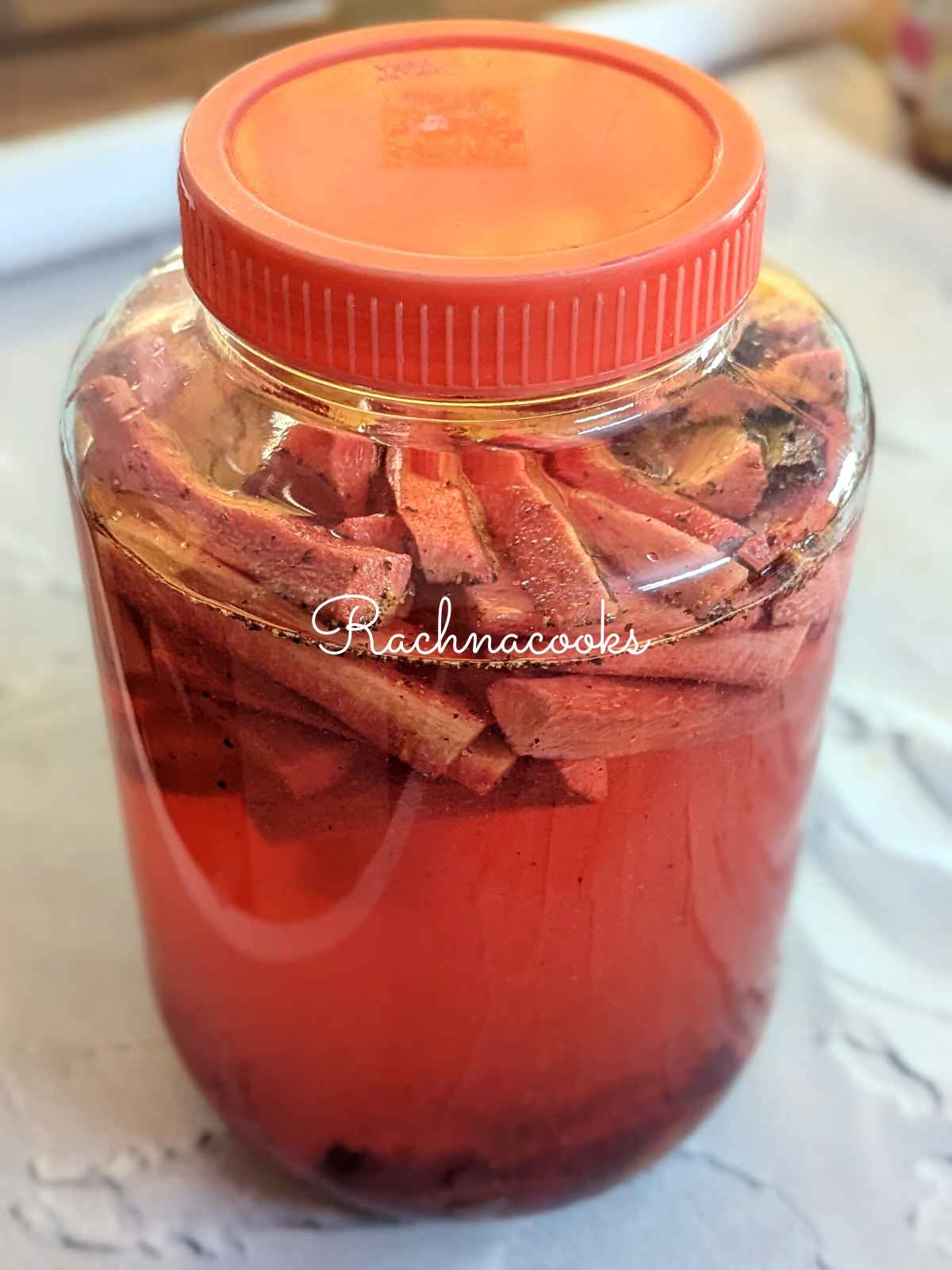 Repeat this method for 3-4 days till the liquid turns a deep ruby colour and has a tart taste to it.
Your kanji is now ready. You can start consuming it at room temperature or cool it down and have it as a fermented drink with meal or otherwise.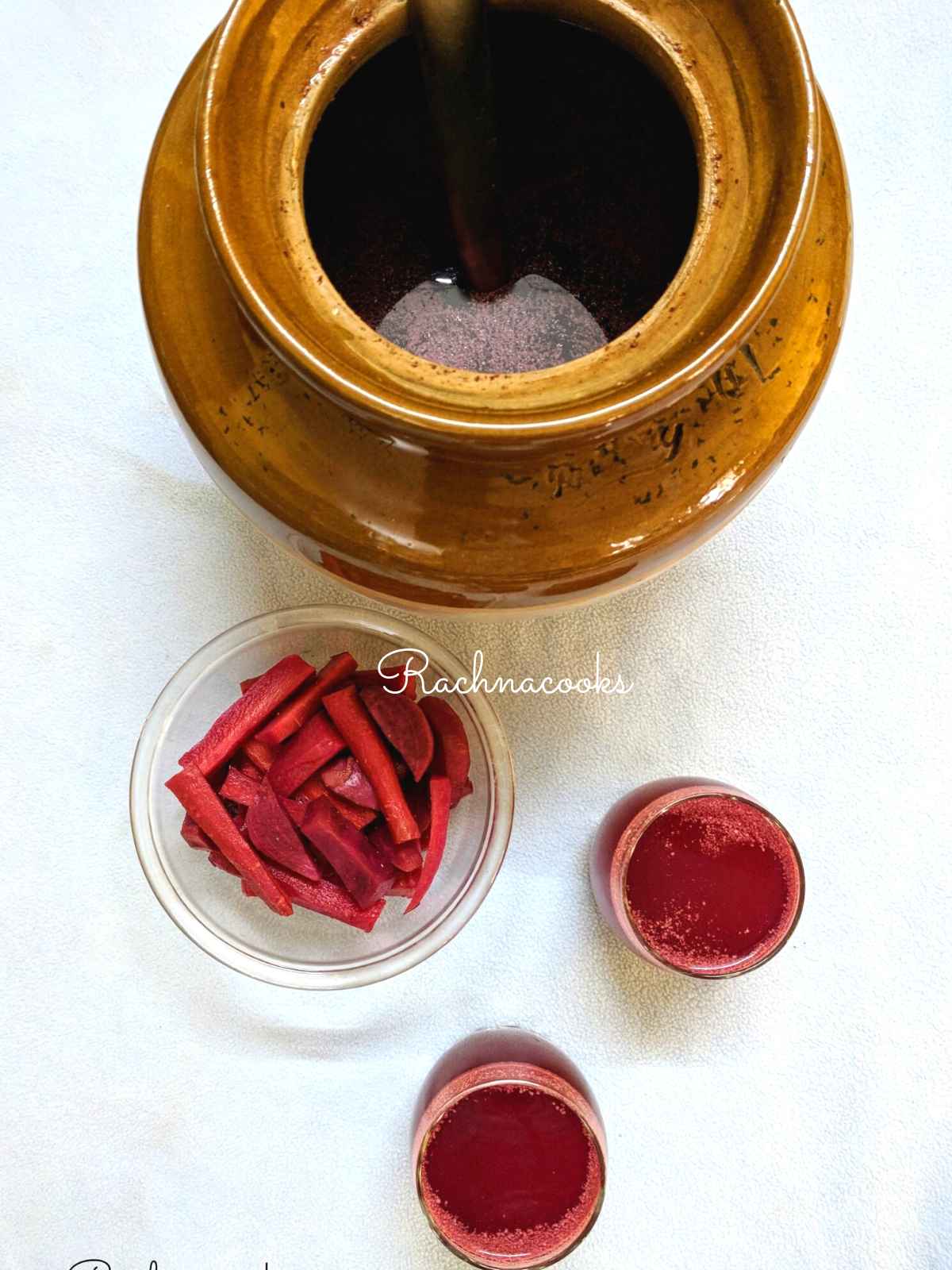 Serve the crunchy fermented vegetables as a side. Enjoy your healthy kanji!
Also taste when it is getting ready. If it has less salt, add more, same with cayenne. If salt is more or if it is too sour for your taste just add more water.
It is preferable to consume it within a week or it gets way too sour. The pickled vegetables are tasty as is or can be had as a side with your meals.
Like any fermented drinks, this one is an acquired taste. I know people who swear by it and others who swear at it. 🙂
Either way, try it. It is different and at least quite liked in my home. And seriously how easy it is to make this.
Here's the recipe card:
📖 Recipe Card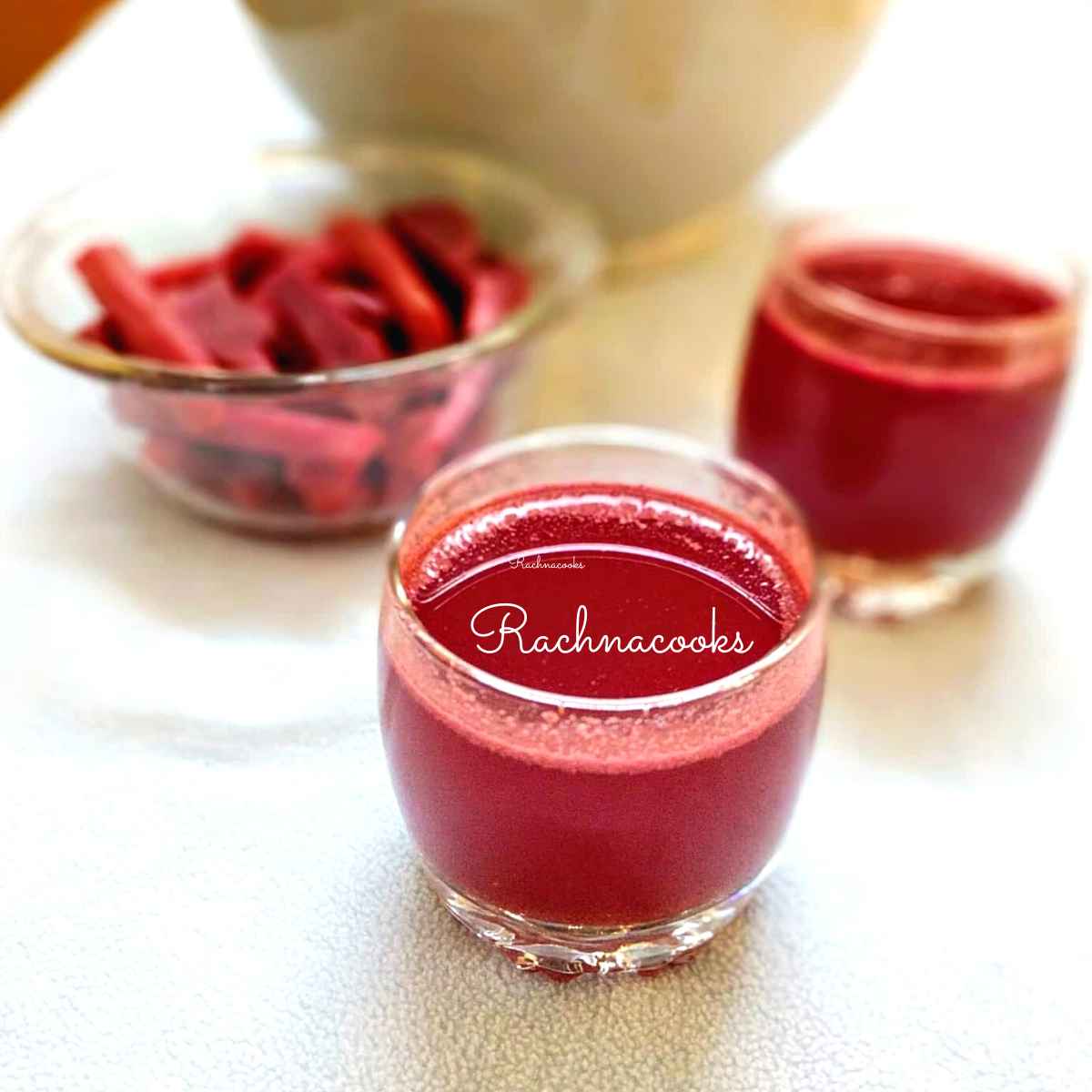 Kanji Recipe | Carrot Kanji Drink
This fermented tangy Kanji drink is great for digestion and is a probiotic. It is made by fermenting carrot and beets with spices.
Ingredients
2

carrots

peeled and chopped into batons

1

beetroot

peeled and chopped into batons

2

tbsp.

yellow mustard seeds

coarsely powdered

1

tbsp.

cayenne

1

tbsp.

salt

1

tbsp.

pink salt

8

cups

water
Instructions
You will need a clean glass or ceramic jar to ferment the kanji in.

I normally wash and dry a glass or ceramic jar and then keep it in sunlight for a few hours till completely dry to sterilize it.

Add the chopped carrot and beet batons along with the mustard powder, cayenne and both the salts in the glass or ceramic jar.

You will find that the carrot and beets float on top.

Cover it well and keep it out in the sun for a few hours for 3-4 days till it has fermented.

Always keep the bottle inside during the evening and night hours.

In 3-4 days, your kanji will have fermented enough and will be ready for consumption.

After this keep it in a cool and dry place and consume within 5-7 days.
Notes
1. The best thing about this recipe is that it is extremely versatile. If you can get black carrots, make it with black carrots. Or use beetroots like I've mentioned. You could also use radish or turnips too if you wish.
2. If you feel that the salt is less after fermentation, just add more.
3. The fermented carrot and beetroot pieces get pickled and taste delicious as a crunchy side.
4. Use yellow mustard instead of black mustard seeds for less sourness. If using. black mustard seeds, use half the quantity or 1 tbsp.
Nutrition
Calories:
35
kcal
Carbohydrates:
5
g
Protein:
1
g
Fat:
2
g
Saturated Fat:
0.1
g
Polyunsaturated Fat:
1
g
Monounsaturated Fat:
1
g
Sodium:
1464
mg
Potassium:
147
mg
Fiber:
2
g
Sugar:
2
g
Vitamin A:
3321
IU
Vitamin C:
3
mg
Calcium:
28
mg
Iron:
1
mg
Check out our Food videos
Subscribe to our Food channel for recipe videos
If you liked the recipe, I request you to give it a star * rating either in the comments or on the recipe card. Thanks.