This lemongrass tea has a lovely lemony fragrance and flavor. It is lovely for mood uplift, anxiety and cooling the body.
Lemongrass tea just the name evokes a citrusy, fresh feel, doesn't it? I only recently started making it, and I have to say that I love it immensely.
It is included in the arsenal of my tea recipes, and I make it regularly.
It helps that I grow lemongrass in pots at home hence have a steady supply of it. Else it can easily be bought at a store.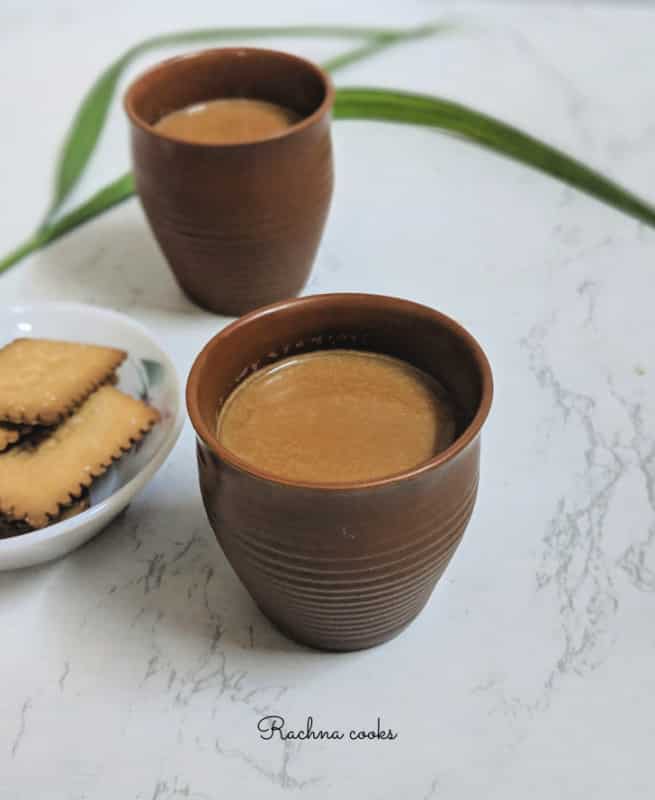 Benefits of Lemongrass Tea
Lemongrass tea has immense health benefits.
1. Brimming with antioxidants (as per this study published in the Journal of Agriculture and Food Chemistry) and cooling energy which helps in boosting immunity.
2. It is high in Vitamin A and Vitamin C making it useful during coughs and colds. It is also good for health of skin and hair.
3. It is rich in Potassium and helps in regulating blood pressure.
4. A study published in the Journal of Advanced Pharmaceutical Technology & ResearchTrusted Source showed that lemongrass oil extract helped to lower cholesterol in animals.
5. It has polyphenols which may help in burning more calories and increasing metabolism.
6. It also relieves bloating and is good to relieve premenstrual stress.
There are 3 ways in which you can make fresh lemongrass tea:
Ways to Make Lemongrass Tea
1. First and the simplest is that you take 2 cups of water. Heat it and add 1 lemongrass stalks and grass chopped in it.
Allow to steep for 10-15 minutes, and you will get a pale liquid.
Add honey and lemon juice to taste, and your lemongrass tea is ready.
2. Another way would be to add a tea bag when you will allow the lemongrass to steep.
Remove the tea bag when the liquid looks pale brown. Then continue to steep lemongrass.
Finally strain and add honey and lemon juice to taste for your fresh hot lemongrass tea.
You can also try adding this jasmine syrup to the tea in place of honey.
3. Here's my favourite Indian lemongrass tea or chai recipe: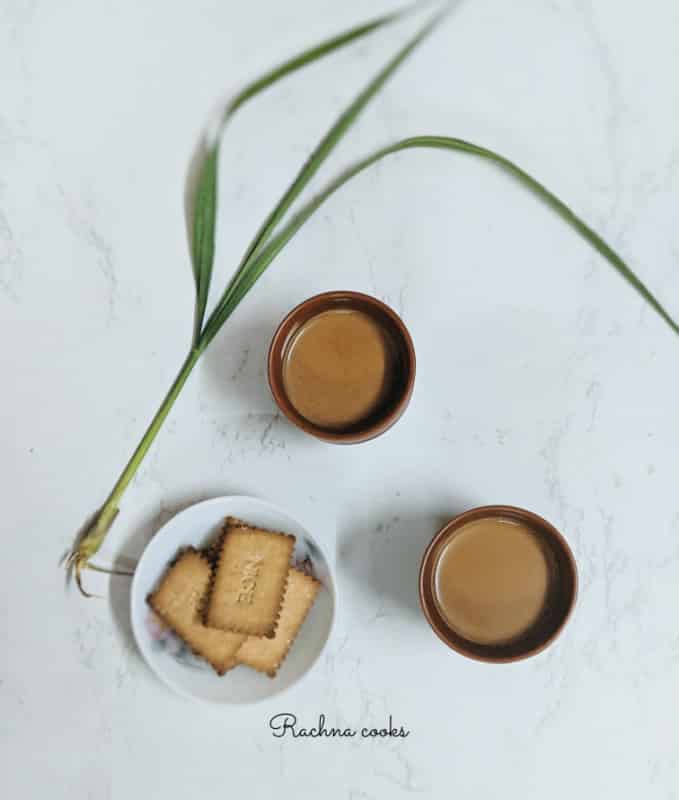 Step-by-step Pictures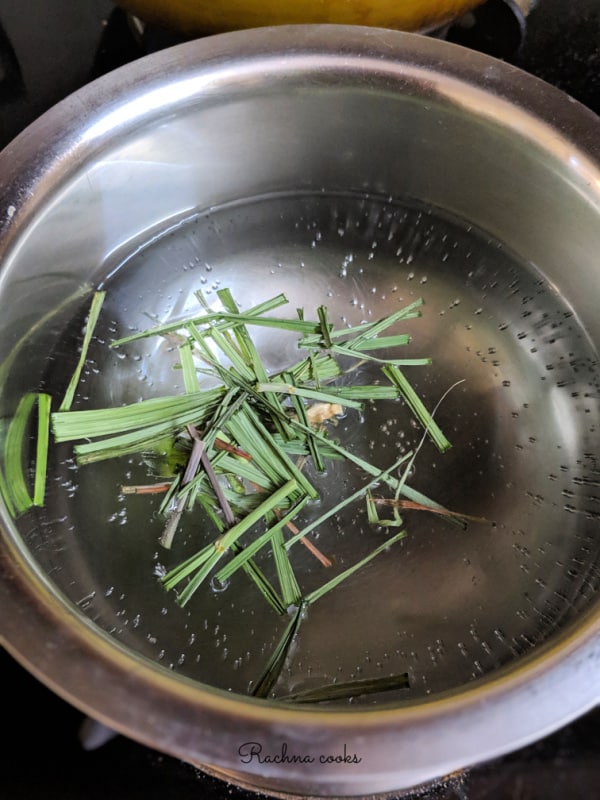 Heat lemongrass leaves and stalks along with 2 cups of water.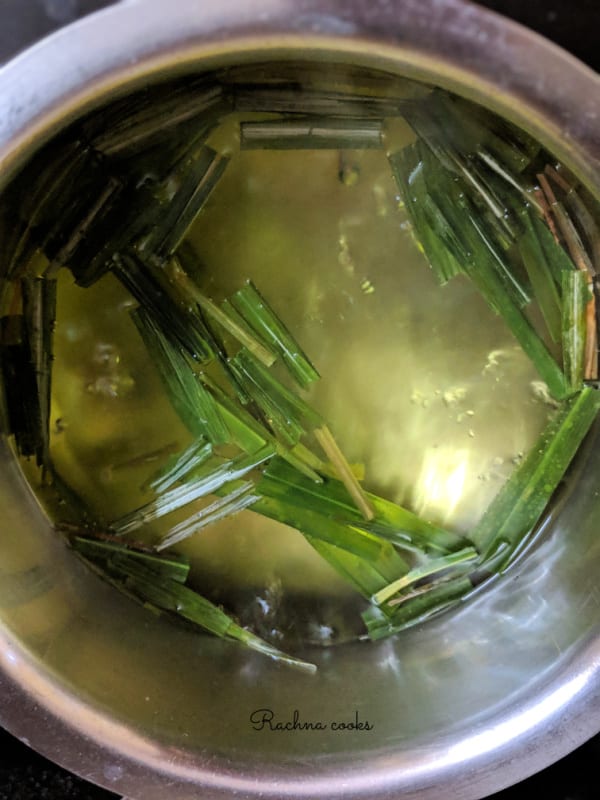 Steep for 15 minutes. Add 1.5 teaspoon tea leaves and further steep for 3 minutes.
Add ¼ cup milk and sugar/honey to taste. Strain and serve hot.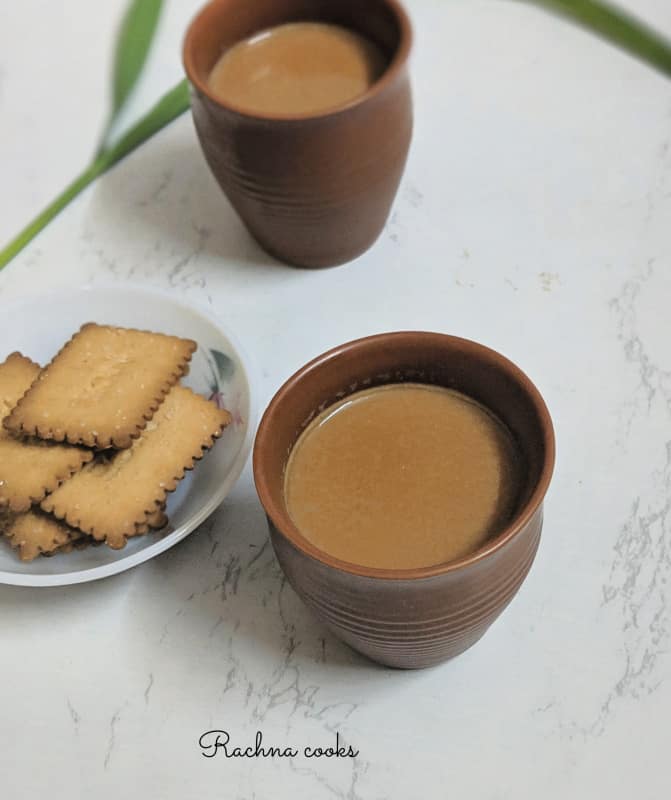 Your tea is ready to serve. Enjoy!
Hope you liked this easy recipe of lemongrass tea and will make it and serve it to your friends and family.
If you liked the recipe, I request you to give a * star rating either on the recipe or when you comment. Thank you.
Please do share with your friends.
You may also like
Here is the recipe card:
📖 Recipe Card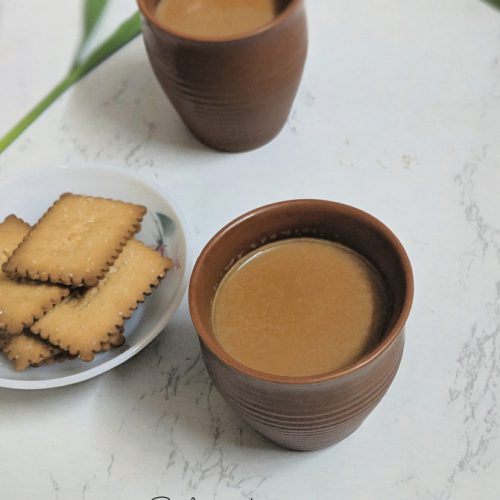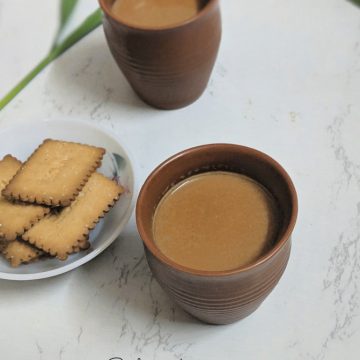 Fresh Lemongrass Tea Recipe | Lemongrass chai
This lemongrass tea or lemongrass chai is not only good for health but its fresh, citrusy taste will leave you asking for more. Do try my simple recipe.
Ingredients
2

cups

water

1.5

teaspoon

tea leaves

I use Taj Mahal tea

1

lemongrass

stalks and leaves chopped

2

tsp.

sugar/honey

¼

cup

milk
Instructions
Bring the water and lemongrass stalks and leaves to a boil. Let lemongrass steep for about 5 minutes.

Now add the tea leaves and lower the flame. Let the tea leaves brew for about 3 minutes.

Add milk and sugar. Heat for a minute more.

Strain and serve.

Your Lemongrass chai is ready.
Notes
You must add both leaves and stalk of lemongrass. I end up using one lemongrass each time.
You can skip milk but I do love this Indian way of making lemongrass tea.
You can add a dash of cinnamon powder if you like.
Nutrition
Calories:
36
kcal
Carbohydrates:
6
g
Protein:
1
g
Fat:
1
g
Cholesterol:
3
mg
Sodium:
26
mg
Potassium:
58
mg
Sugar:
5
g
Vitamin A:
50
IU
Calcium:
42
mg
Iron:
0.2
mg
Check out our Food videos
Subscribe to our Food channel for recipe videos
Pin This