This is a delicious Indian summer cooler called aam panna. It is made with raw mangoes. It is delicious and cooling.
India has some amazing varieties of mangoes. But before the ripe mangoes arrive, we get the bounty of raw mangoes.
Raw mangoes are consumed in many fabulous forms in our country. Raw mango chutney which is savory, aam ki launji or sweet and sour mango chutney or green mango rice.
Then there are the delightful mango pickles. Raw mango is also used to make sour dal that is tangy and yummy.
And of course this panna drink which is a delicious summer cooler.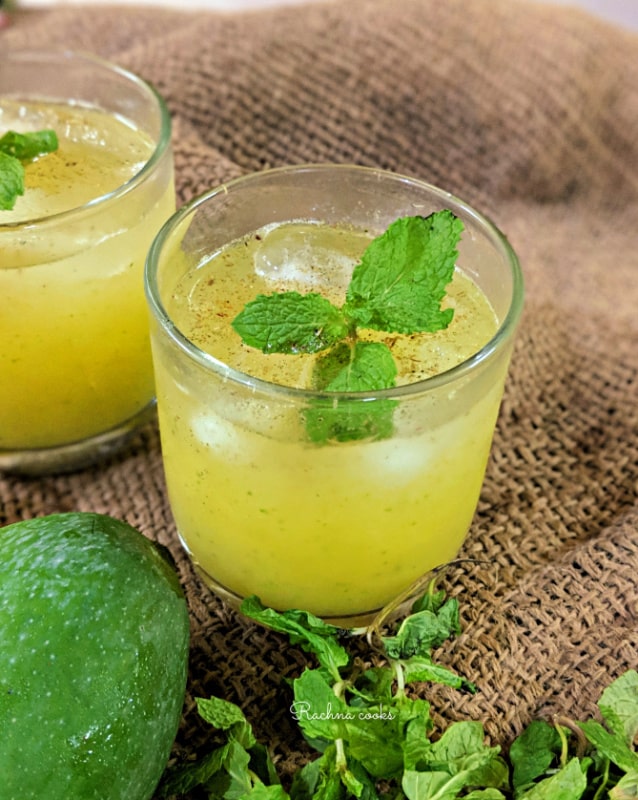 This drink is very tasty and kid friendly.
FAQs
1. Is Aam panna healthy?
Yes, aam panna is healthy. It helps in rehydrating the body by restoring the salt and sugar lost due to perspiration. It rich in vitamins A, B1, B2, B6, C, niacin, iron, and folates. Pectin from green mangoes helps with digestion and strengthening immune system.

2. What is panna drink?
It is another name for aam ka panna.

3. Does aam ka panna increase weight?
It does not unless you consume too many glasses in a day. Since it has sugar, having more glasses will cause an increase in the calories you consume.

4. Can I use jaggery in place of sugar?
Yes you can use jaggery or brown sugar. You can also use sugar substitutes that you can add at the time of preparing the drink.

It hydrates the body as well as keeps it cool.
📖 Recipe Card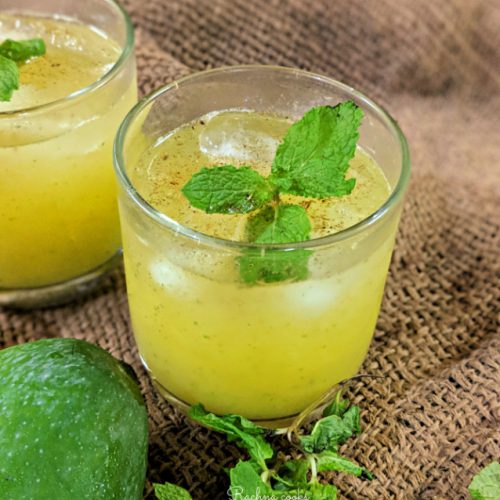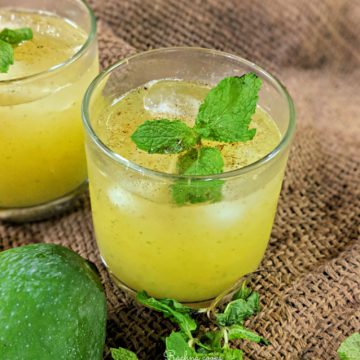 Aam Panna Recipe | Raw Mango Cooler
This delicious aam panna recipe is made with raw mangoes and is perfect for summer. It not only quenches the thirst but is really good for you. Try my easy recipe
Ingredients
2

Raw Mangoes

about ½ Kg. or 1 pound

1

cup

sugar

or jaggery

1

tsp.

black salt

1

tbsp.

cumin powder

1

tbsp.

salt

mint leaves

crushed
Instructions
Boil raw mangoes in the pressure cooker till soft. You can steam them or boil in a closed pan too. Remove the pulp and discard the peel and seed. Mash the pulp nicely. If it is very fibrous, you may sieve it.

Now add jaggery powder or sugar to the raw mango pulp. Add black salt, normal salt and cumin powder. Add a few mint leaves say about 1 tbsp. Blend together for 2 pulses.

This is your aam panna concentrate. Pour about 2-3 tbsp. of concentrate in a glass. Top with 3-4 ice cubes and water. Garnish with mint leaves and serve chilled.

Your delicious aam panna is ready to serve.
Notes
I love using jaggery as it is preferable to processed sugar. Currently I have some lovely organic jaggery at home. But you can easily use normal sugar or brown sugar. If you use brown sugar/jaggery, your aam panna will be brown in colour.
 The concentrate keeps easily for about a week in the fridge. It does not last that long though.
This sweet sour mango cooler is tasty and also keeps your body cool in summers. You may also add soda instead of the water for a frizzy natural twist. This easily beats your colas both in nutrition and taste. Try it.
Nutrition
Calories:
128
kcal
Carbohydrates:
31
g
Sodium:
958
mg
Potassium:
102
mg
Sugar:
30
g
Vitamin A:
470
IU
Vitamin C:
15.2
mg
Calcium:
22
mg
Iron:
1.3
mg
Check out our Food videos
Subscribe to our Food channel for recipe videos
If you liked this recipe, I request you to leave a star * rating. Thanks.
Do try this recipe and let me know.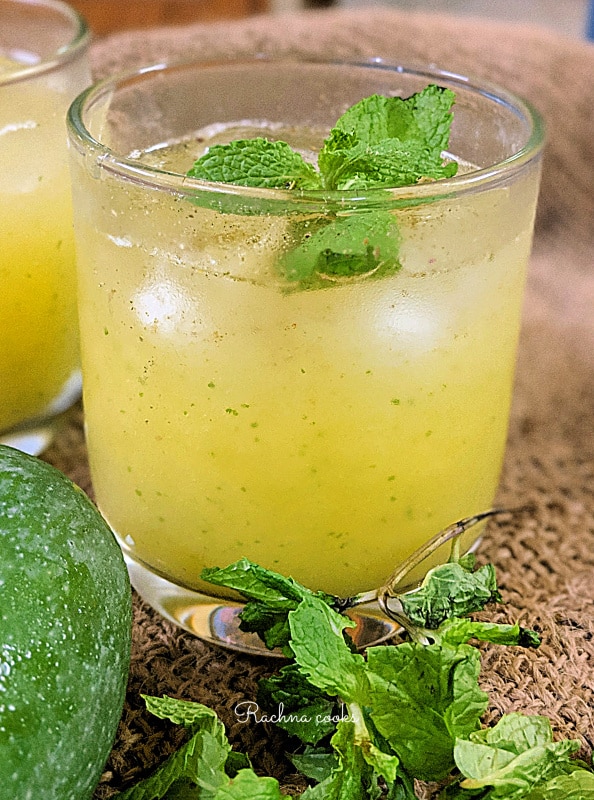 You may also like:
Yoghurt Smoothie | Sweet Lassi Recipe
Watermelon mint lemonade recipe
Please do share with your friends.
Pin This