These frozen tater tots in air fryer are done to crunchy and delicious in no time. No need to deep fry and much faster than oven baking, this is a perfect snack.
There is something very comforting about potatoes. Tater tots are my favorite and those of my kids too.
Most times I make them from scratch but once in a while I do them straight from the freezer.
It is so easy to air fry tater tots and I use no extra oil from what they already have. Really quick and easy recipe.
You may also like these delicious frozen hash browns, frozen wings in air fryer, frozen pizza rolls and frozen French fries.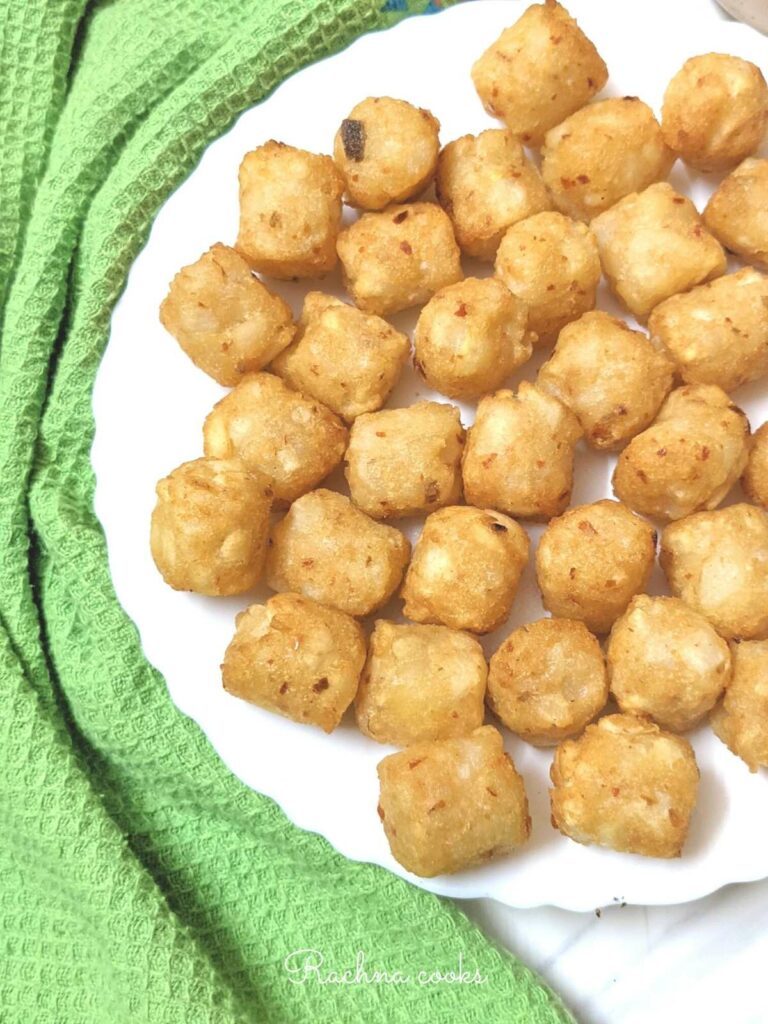 Jump to:
What are Tater Tots?
Tater tots are potato nuggets or potato bites that are crunchy and golden outside and soft inside.
They are made by grating boiled potato, mixing with seasonings of your choice like garlic powder, pepper, cayenne or paprika and salt. Mix well and form nuggets of similar size.
Then deep fry or bake in the oven.
But these days I only air fry them.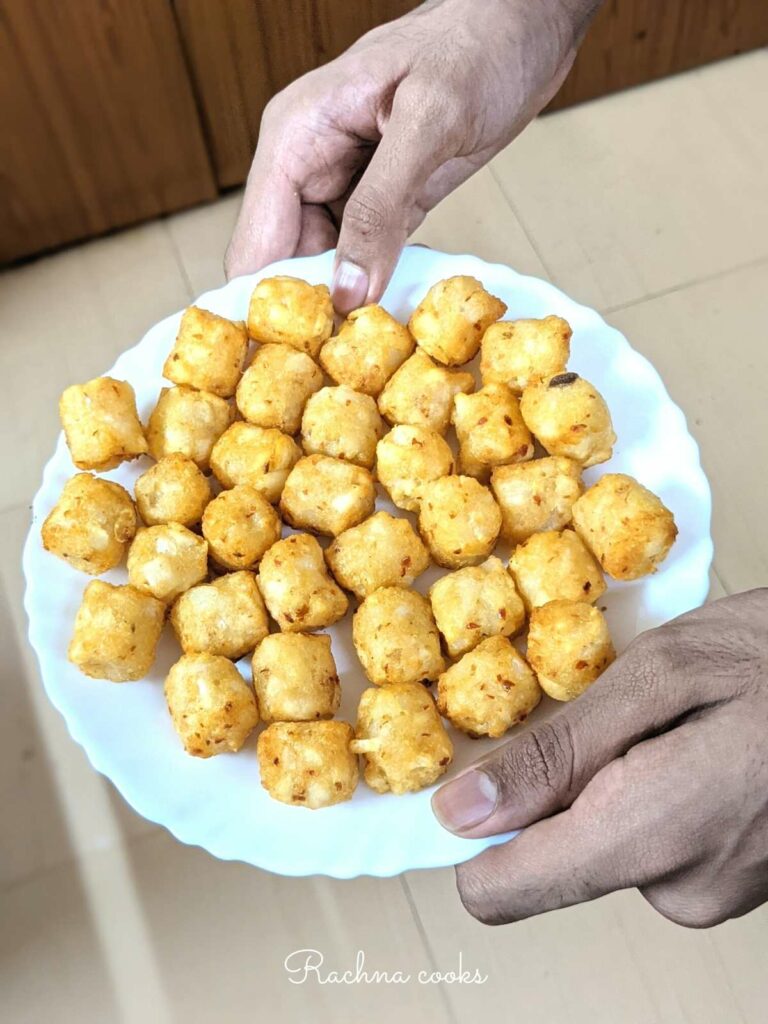 How to serve
1. We love to have them as is.
2. Make a meal by pairing with these garlic butter shrimp or spicy chicken tikka. If you are vegan or vegetarian, pair with vegetarian protein sides.
3. I love having them with ketchup but feel free to have them with any dips of choice. Also sides like corn salsa and guacamole go really well.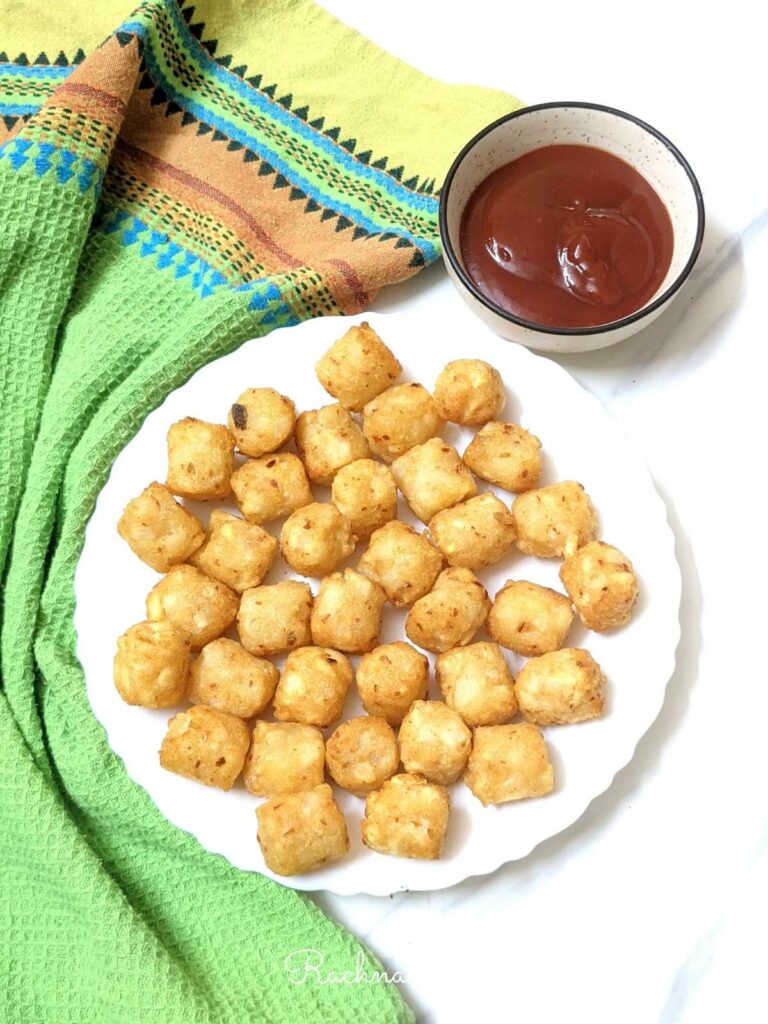 Variations
1. These frozen tater tots are naturally vegan and vegetarian.
I used spicy McCain tater tots. You can use any brand. They all come out the same. Mine already were seasoned with spices, salt and oil and hence needed no other embellishment.
Instructions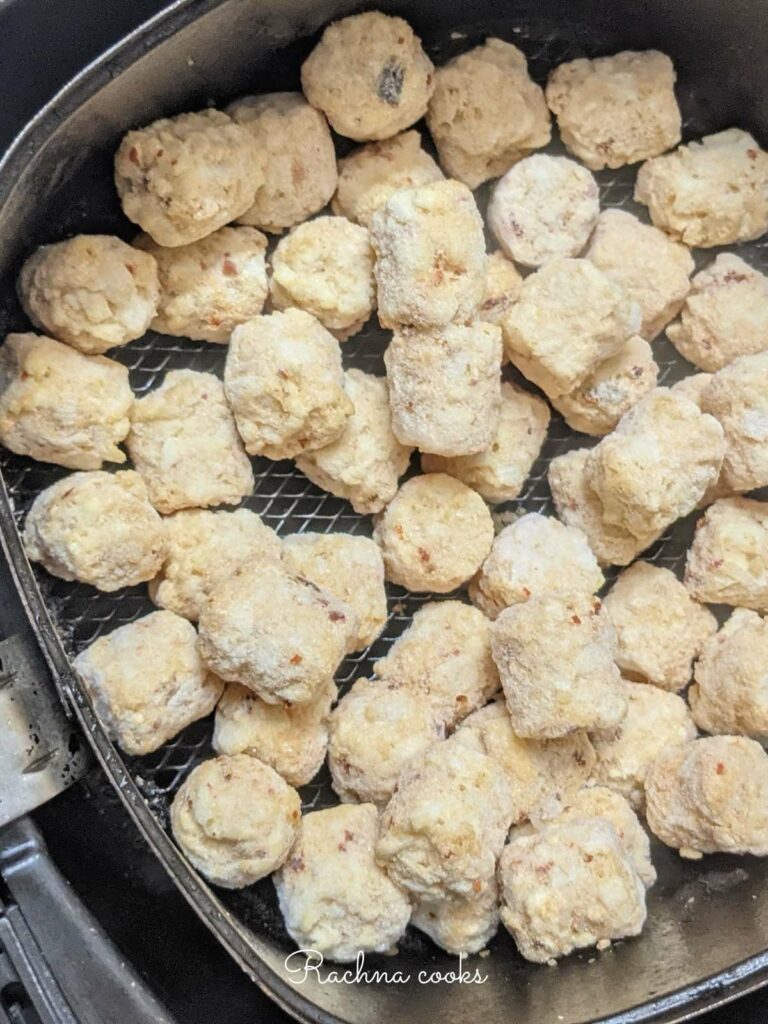 Preheat the air fryer at 390 F or 200 C for 3 minutes.
Take frozen tater tots in air fryer basket and air fry at 390 F for 10 minutes. Shake the basket a few times in the middle for even cooking.
Keep an eye to check that the tots are done to a nice golden brown that is crispy.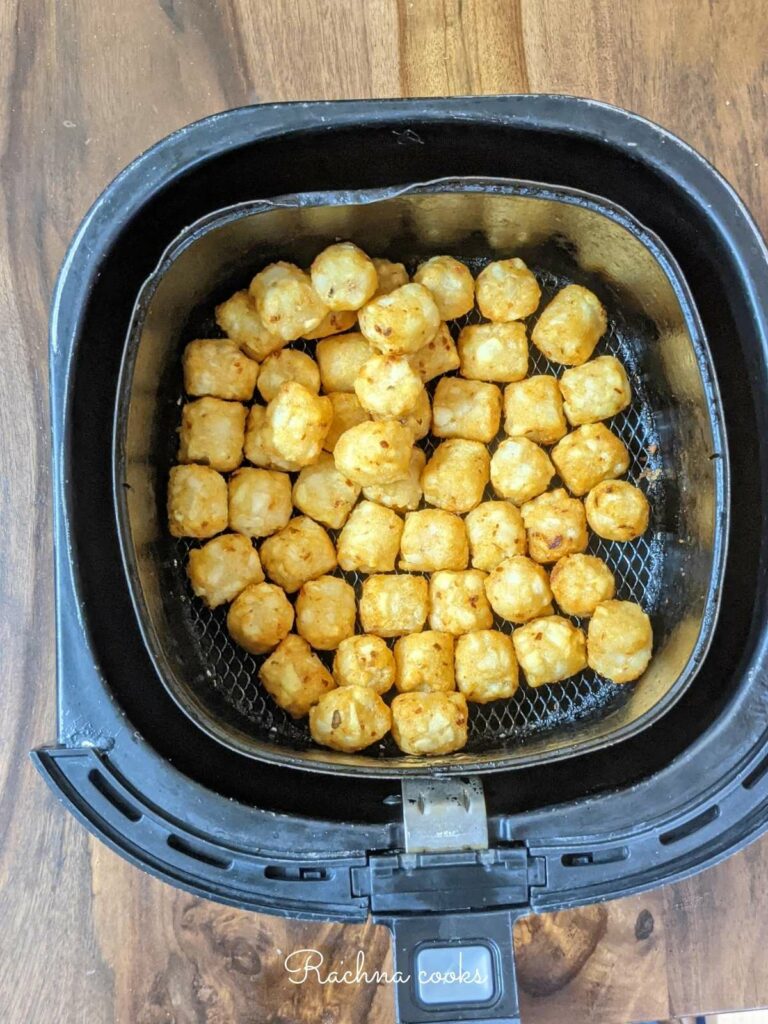 Your extra crispy tater tots in air fryer are done. Enjoy them with ketchup or a dip of choice.
Here's the recipe card:
📖 Recipe Card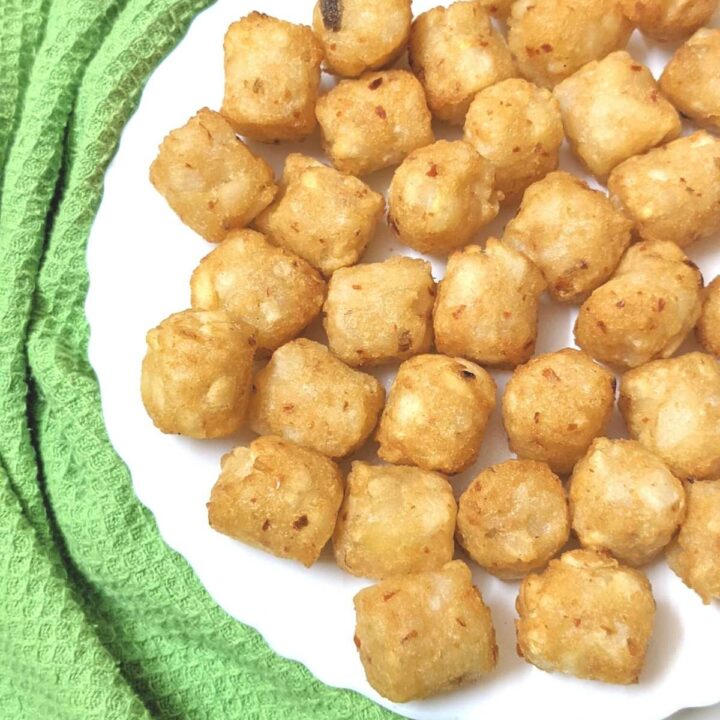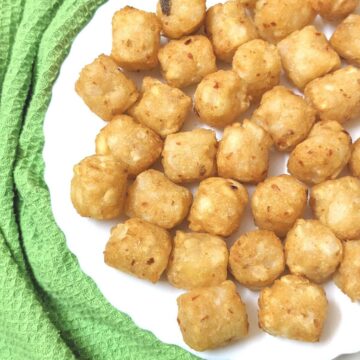 Tater Tots in Air fryer
These air fryer frozen tater tots are delightfully crunchy and done in no time. No need to thaw or deep fry yet perfect every single time. Do try.
Ingredients
16

oz.

tater tots or 450 gm.
Instructions
Air fry Frozen Tater Tots
Preheat the air fryer at 390 F or 200 C for 3 minutes.

For cooking frozen tater tots, put in the entire bag into the air fryer basket.

Air fry at 390 F for 6 minutes. Shake the basket once in the middle. Check how they are doing.

I generally need about 4 minutes more at 390 F for crunchy outside and nice golden brown color. I pick out one and check for doneness.

Keep shaking the basket at 3-4 minutes intervals to ensure even cooking.

Your tater tots are done. They taste very close to deep fried minus the oil. So good. Serve them with your favorite dips or toppings.
Notes
1. Spray with oil and add a bit of salt before serving if your tots are unseasoned. Mine did not need additions spray of oil.
2. To cook tater tots from scratch take 1 lb. boiled potatoes. Add 1 tsp. each pepper, garlic powder, onion powder and ½ tsp. cayenne or paprika (optional) with salt. Mix well. Form nugget shape and air fry after coating with oil. You can also freeze these to make later.
3. Keep an eye on your tots when air frying and shake the basket once every 3 minutes for even cooking. Mine normally take about 10 minutes at 390 F after preheating.
4. These are naturally vegan and vegetarian. They make for a delicious snack or side.
5. Have them hot straight after air frying.
6. You do not need to thaw the tots before cooking them.
Nutrition
Calories:
183
kcal
Carbohydrates:
27
g
Protein:
3
g
Fat:
6.3
g
Saturated Fat:
3.2
g
Sugar:
0.2
g
Check out our Food videos
Subscribe to our Food channel for recipe videos
If you liked the recipe, I request you to give it a star * rating. Thanks.