Jackfruit is a large fruit with a spiky green skin that is commonly eaten in South Asia especially India.
Green or raw jackfruit is very similar to meat in its texture and is used to make savory dishes.
Once it ripens, it turns into a very sweet fruit with seeds that has an intense aroma.
Jackfruit can range from small size to really giant sizes. It is a challenge to cut them properly.
Do not worry. I will show you how to cut jackfruit and also cook with it using unripe jackfruit.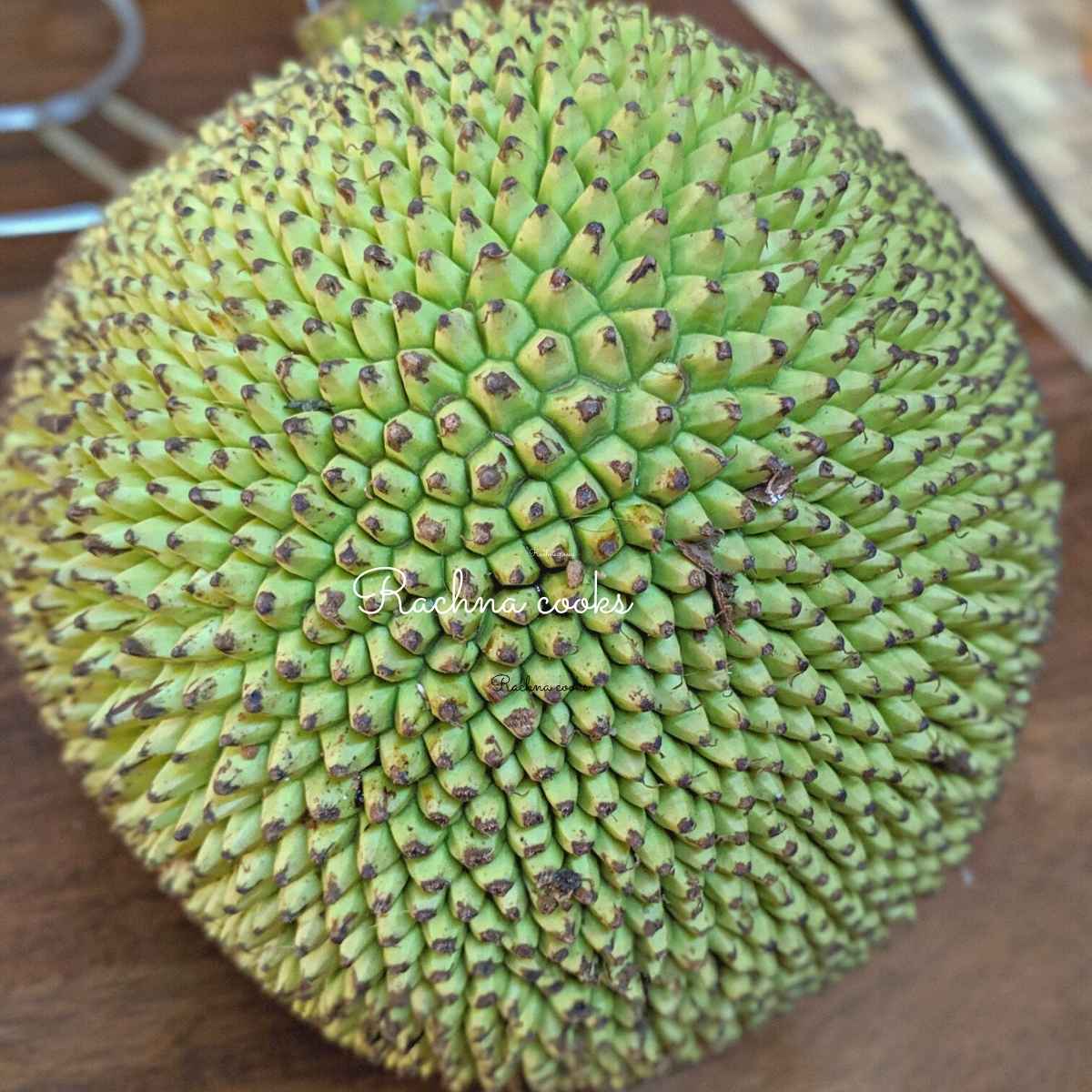 How to Choose the Right Jackfruit (Green and Ripe)
For green jackfruit: Look for firm, green fruits without excessive yellowing or browning.
The skin of green jackfruit is tougher and has no fragrance compared to ripe ones.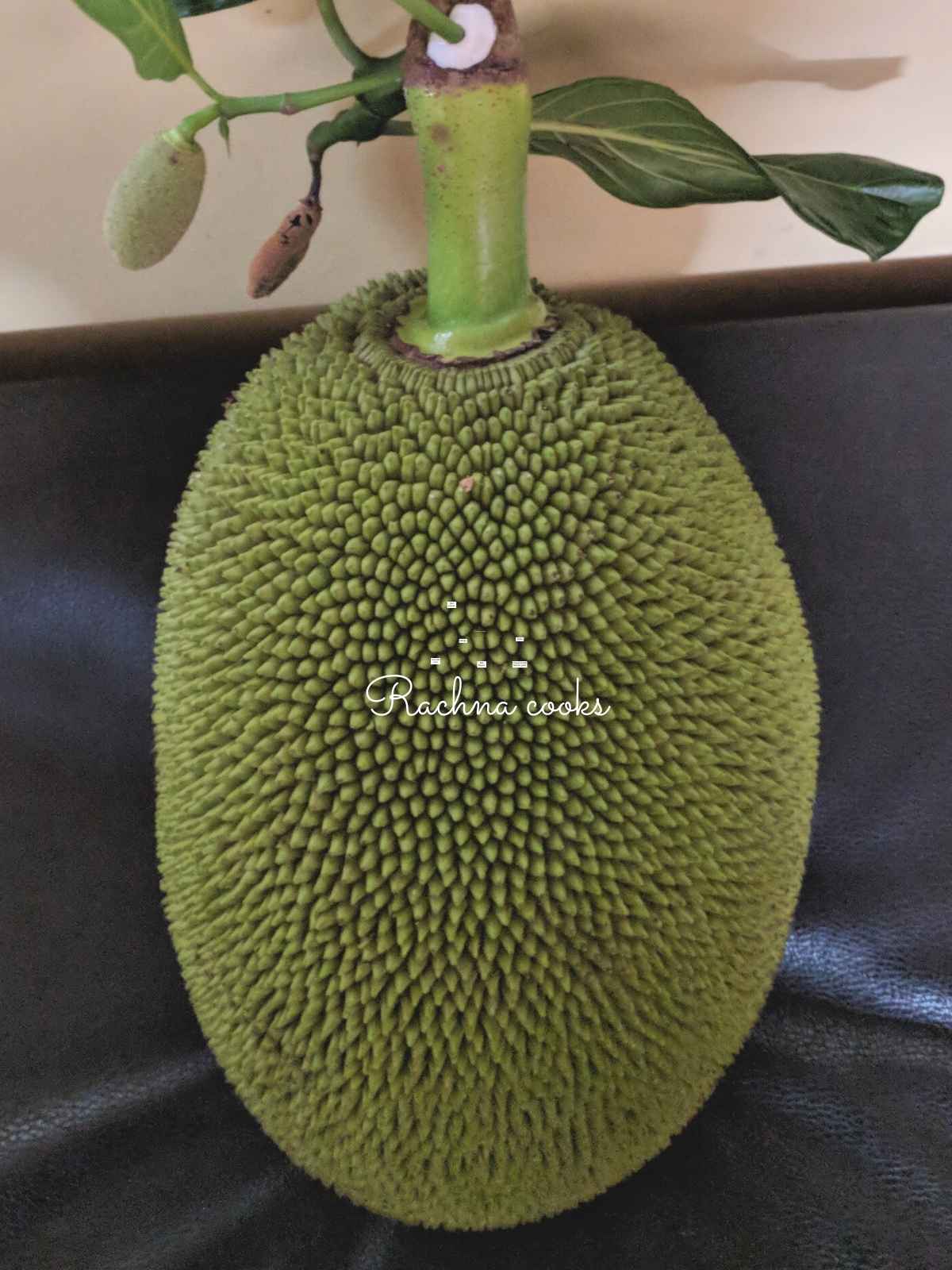 For ripe jackfruit: These fruits are often large and have yellowish skin, indicating ripeness.
A ripe jackfruit should yield slightly when pressed and emit an intense fruity aroma.
How to Cut Jackfruit
Jackfruit can range from a smaller fruit to one that is many pounds large.
It has a dark green spiky outer skin. Once cut, it releases a sticky sap that can soil your hands and knife.
Once cut it has white flesh with some fibrous parts, slightly formed pods with seeds.
Start by placing the whole jackfruit on a cutting board.
Coat your knife and hands with oil. This helps to prevent the sticky sap from coating and sticking all over.
You will need to apply more oil as you go along.
Cut off the stem and slice the jackfruit in half lengthwise.
If it is a green jackfruit, every things is edible. Slice off the thick skin.
Then cut the flesh into pieces as needed.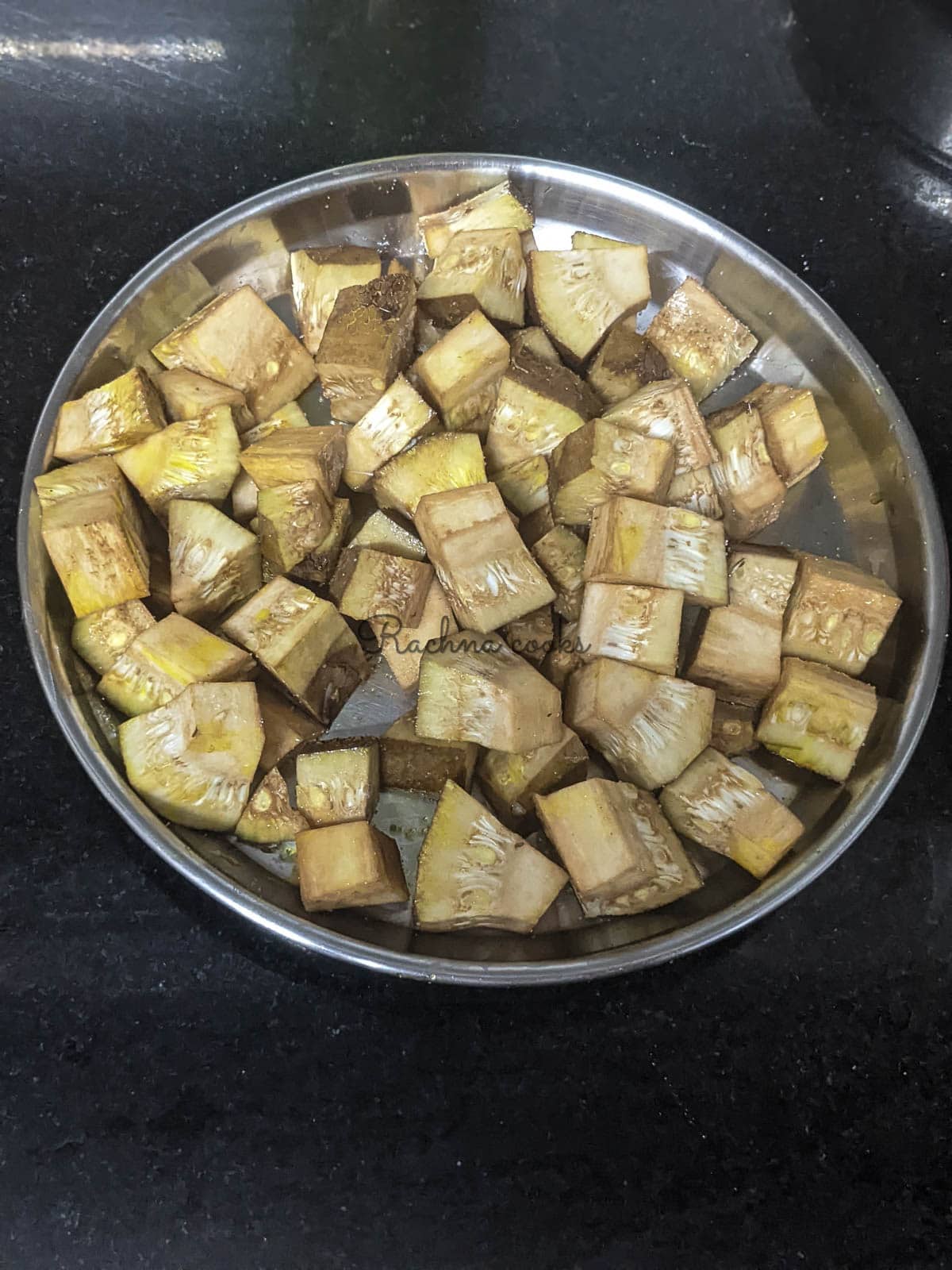 The younger the jackfruit, the more underdeveloped its fruits and seeds will be.
The older and close to ripening it is, the more fibrous will be its flesh and larger the fruits.
You can check out the video I have made.
In a ripe or yellow jackfruit, just take out the edible pods or fruits separating them from the fibrous strands, either using your fingers or a knife.
It should come out easily. Take out all the fruits, wash and consume.
You can store the leftover fruits in the fridge for upto 2-3 days.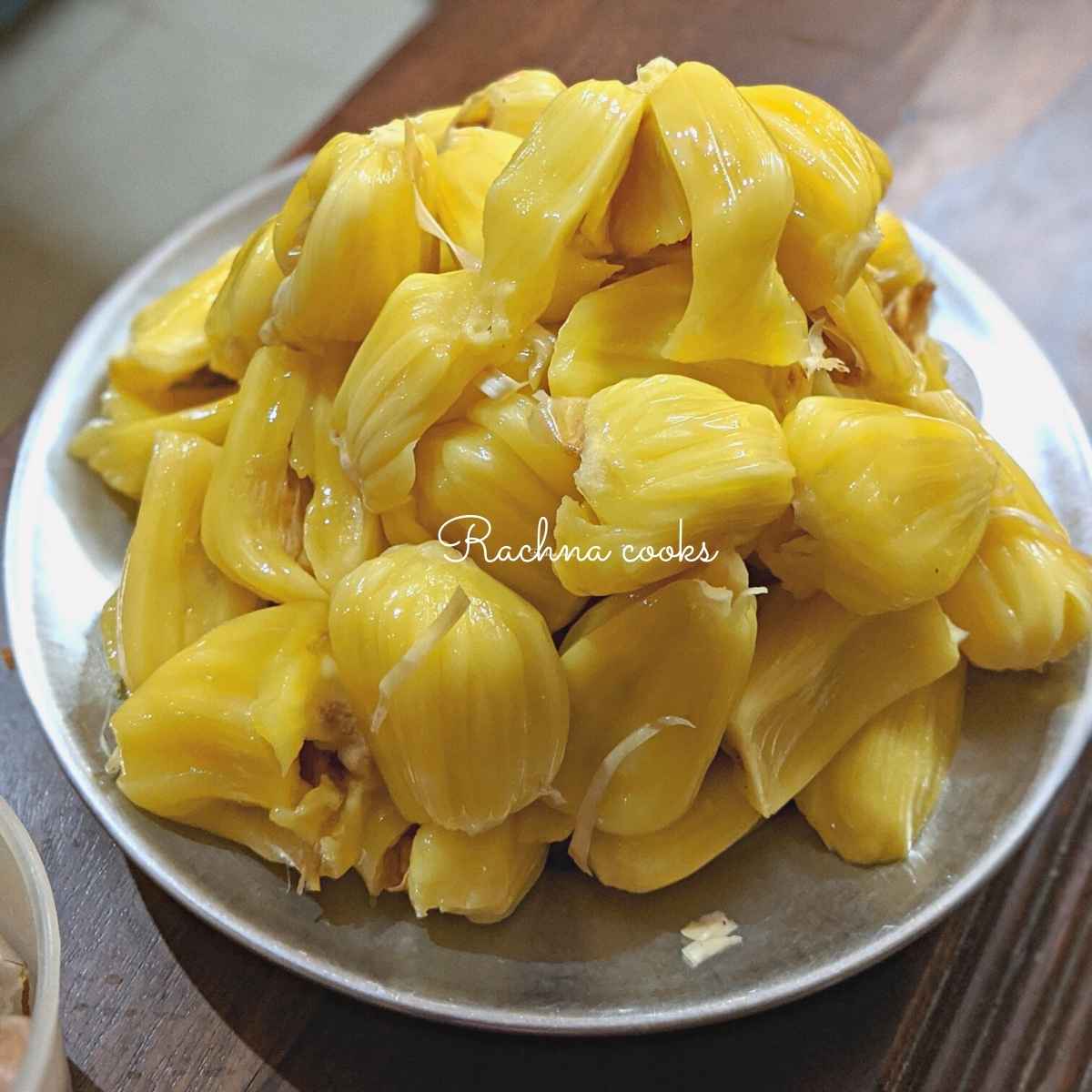 Just know that they have a very strong fragrance and can make the items in the fridge smell like them.
Here's a video on how to cut a ripe jackfruit.
How Do You Cut Jackfruit Without Sticking?
Coat your hands with oil to prevent the sticky sap from adhering to your skin.
Similarly, apply oil to your knife to reduce the stickiness as you cut through the fruit.
How Do You Cut a Jackfruit Slice?
Slice the jackfruit in half. Cut each half into smaller sections or slices, according to your preference.
You can cut the slices into bite-sized pieces or larger segments, depending on how you plan to use them.
How Do You Remove Sap from a Knife?
If the jackfruit sap sticks to your knife, apply cooking oil or vegetable oil to the affected area.
Allow the oil to cover the entire area, then gently scrape off the sap using a spatula or the back of the knife.
Clean the knife thoroughly with warm, soapy water afterward.
How to Cook with Green Jackfruit
Green jackfruit is a versatile ingredient commonly used as a meat substitute in vegan and vegetarian dishes.
Rinse the jackfruit thoroughly. You may remove the seeds but I love their nutty taste. So use as you prefer.
Cut the green jackfruit into desired cubes or slices or shred it to resemble pulled meat.
Cook the green jackfruit in various savory recipes like curry, stir fry, tacos, or sandwiches, allowing it to absorb the flavors of the spices and seasonings.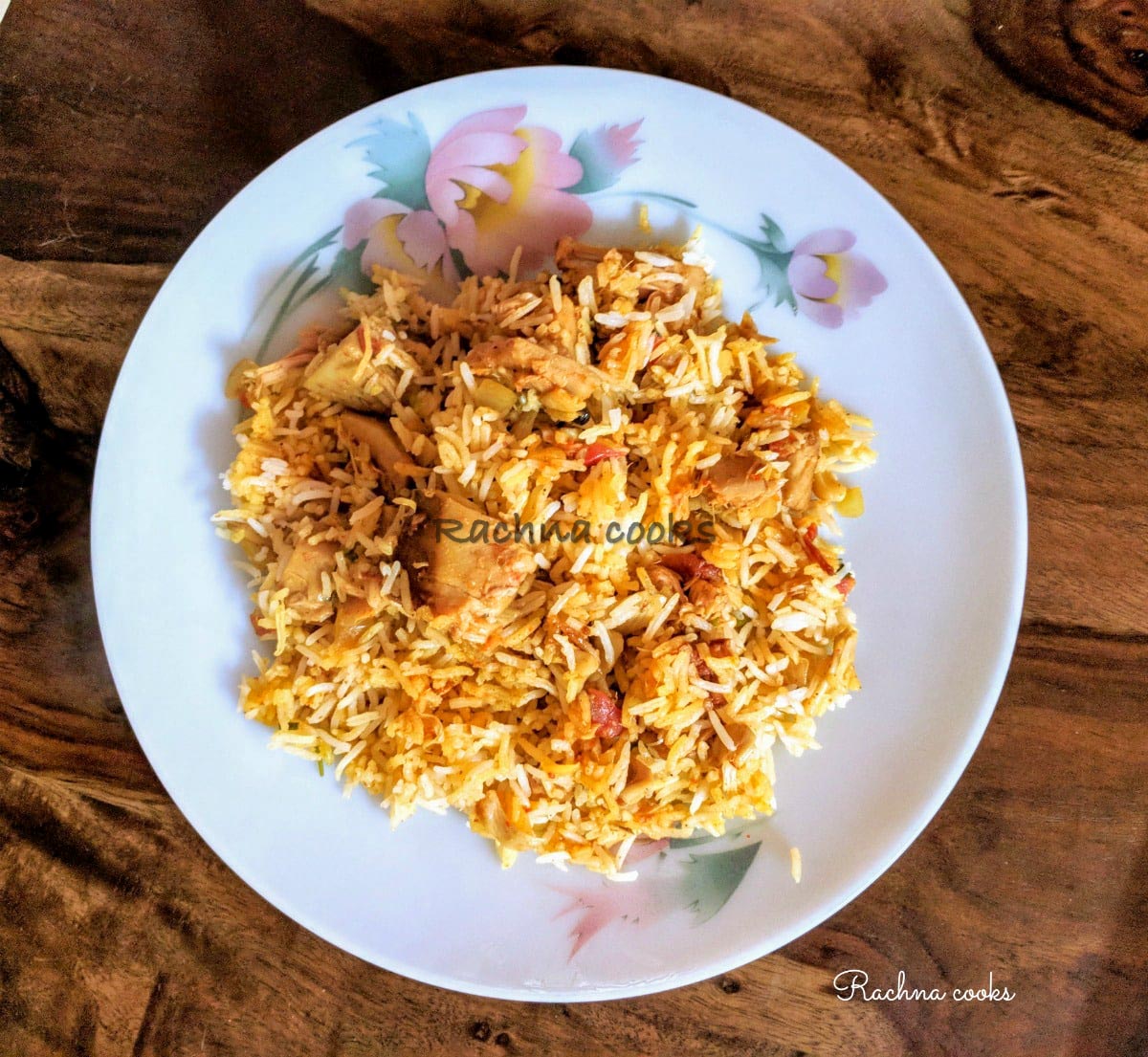 You can try this kathal ka pulao which is a favourite in my home.