Making pizza in an air fryer is a breeze. It is done in no time and is perfectly crunchy and cooked with the cheese melted to perfection. The kids are ecstatic.
It is not so difficult to make pizza at home. I have done it pretty often in the past. But with a family of four, the wait for each one to be done in our OTG was a killjoy!
With my Philips air fryer, I could do one pizza in about 6-7 minutes. Pretty awesome!
You may also like Crispy Mushrooms in Air fryer, Zucchini Fries in air fryer, Air fryer Smashed Potatoes, Air fryer cheesy Broccoli and Air fryer popcorn.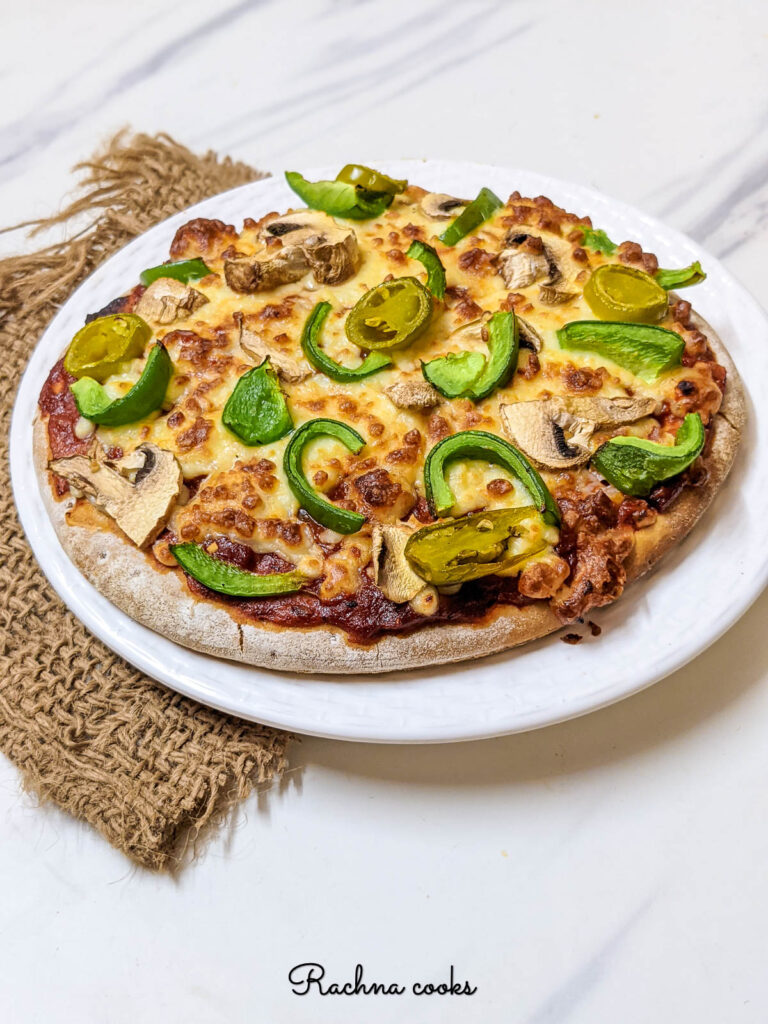 How to Assemble the Perfect Pizza
1. Tomato sauce: I make mine from scratch using tomato puree, olive oil, garlic, Italian seasoning, chilli flakes, salt and sugar. Make it thick and not runny.
You can use store bought sauce too.
2. Pizza base: I buy the store-bought one, 6" personal pizza size. This time I used whole wheat flour base. Make it from scratch if you so prefer.
3. Mozzarella cheese: Melts so well on pizza. Get the pre-grated or pre-diced one to reduce prep time. This is the vegan mozzarella cheese that I like.
4. Toppings: Pretty much what you like. You can only go with tomato sauce and mozzarella cheese for a feisty margarita pie too.
I use peppers, mushrooms, pickles, sometimes vegan sausages, pepperoni, diced cottage cheese (or paneer), corn, olives and so on. Use whatever you have available.
5. Seasonings: Some oregano and chilli flakes on top give it a nice kick.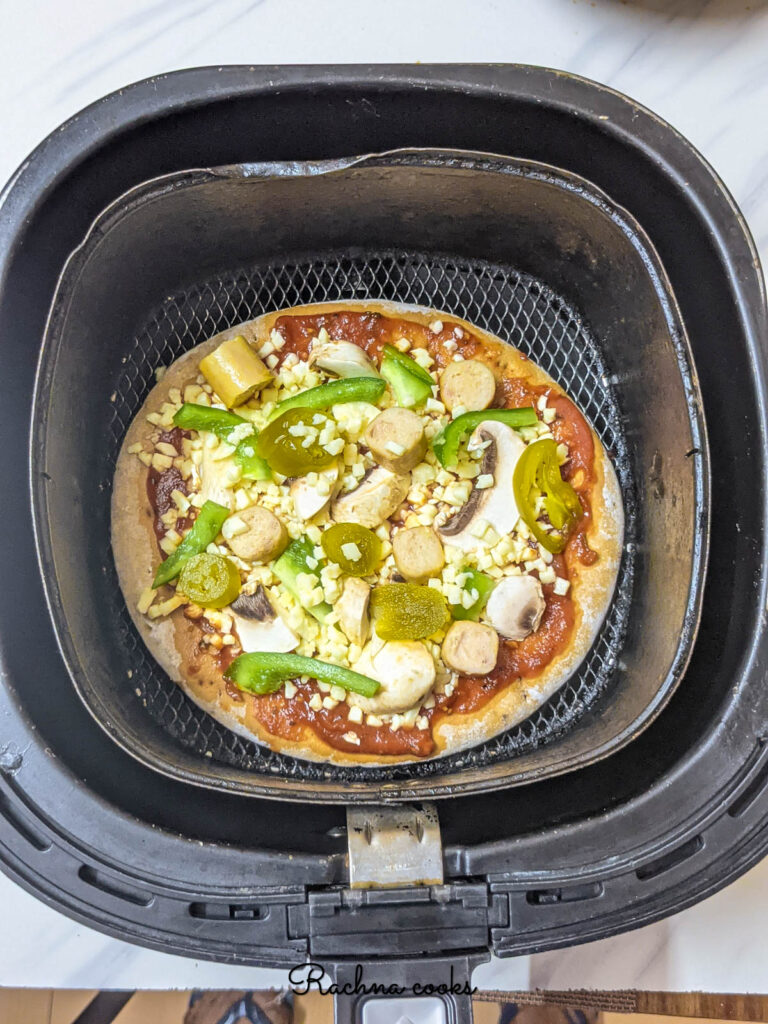 FAQs
1. How long does it take to cook pizza in an air fryer?
It will depend upon the size and thickness of your pizza base. Mine took about 6-7 minutes at 390 F for a nice brown crunch.
2. Can you cook frozen pizza in the air fryer?
Yes, you can cook frozen pizza without the need to thaw it first.
3. Can you cook pizza in an air fryer?
Yes, it is very easy to cook pizza in an air fryer. It is super quick as well.
4. Can you reheat pizza in air fryer?
Air fryer is wonderful for reheating. You can reheat precooked pizza from the fridge in the air fryer at 320 F for about 3-4 minutes or till heated through.
Stepwise Pictures
Preheat Air fryer at 390 F or 200 C for 3 minutes.
Assemble the pizza by taking the store bought 6" pizza crust.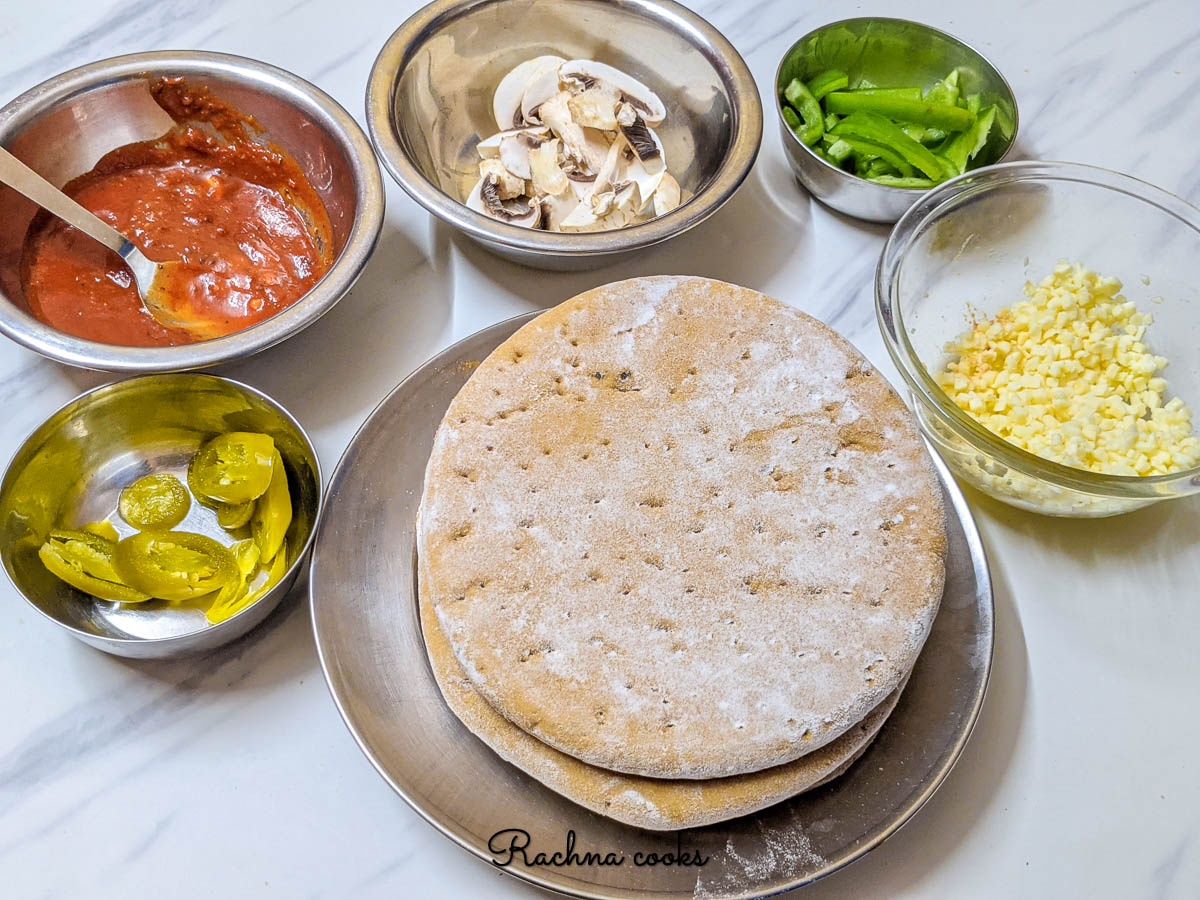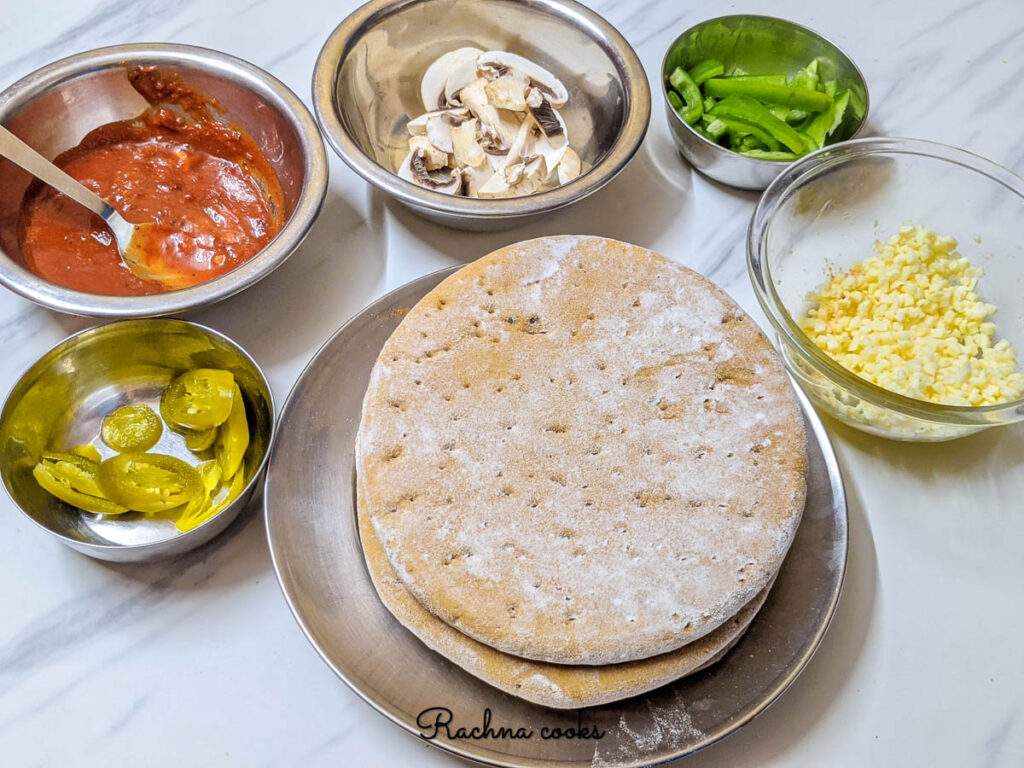 Spread out the tomato sauce on top. Spread out diced mozzarella cheese on top of it. Put the toppings of your choice.
This is the vegan mozzarella cheese that I like.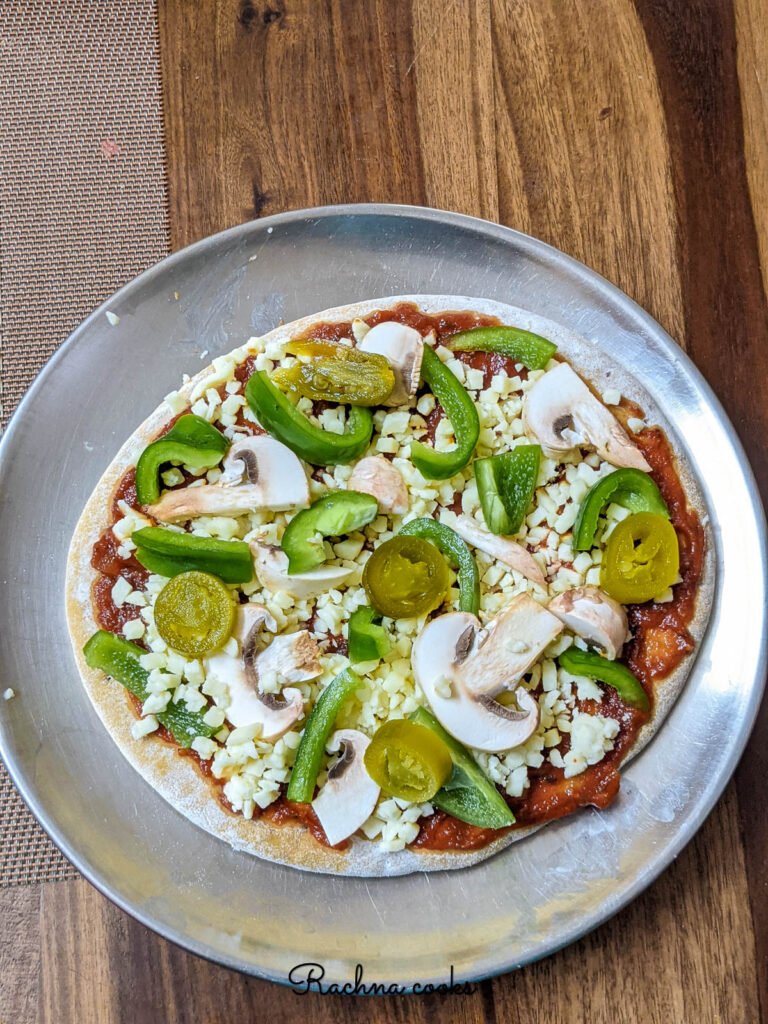 Carefully place the prepared pizza crust inside the air fryer basket after spraying it lightly with oil.
You could use a parchment paper too.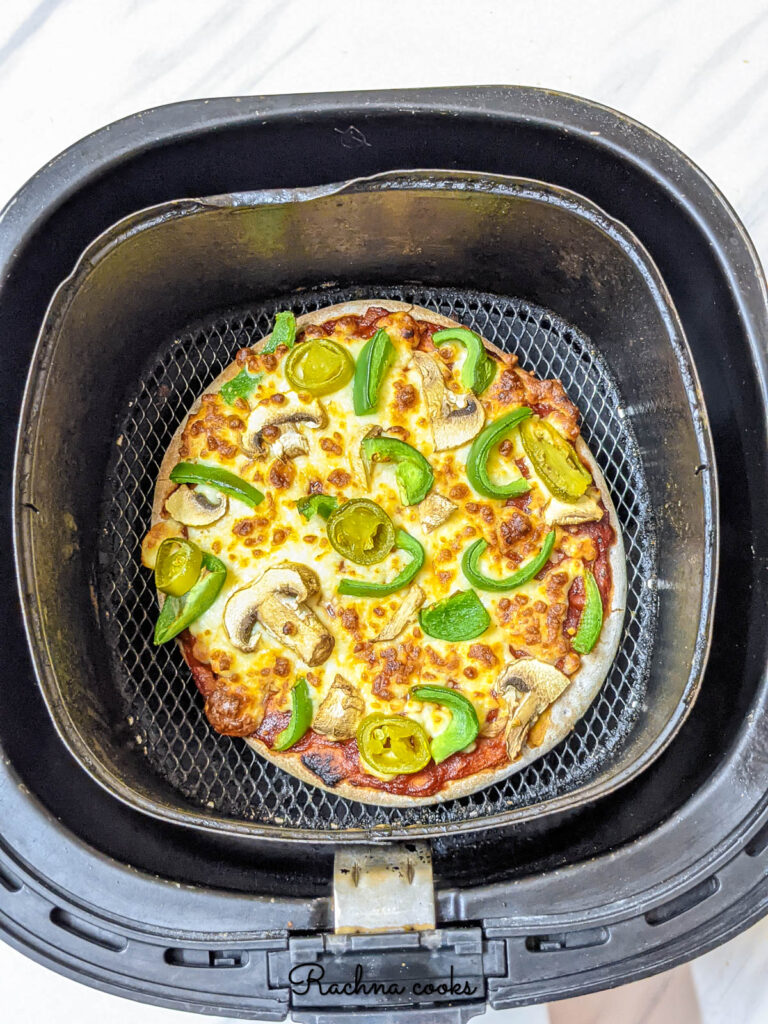 Air fry at 390 F or 200 C for 6-7 minutes till the cheese has melted and the pizza is browned. Take out and serve hot.
Delicious air fryer pizza is ready to serve.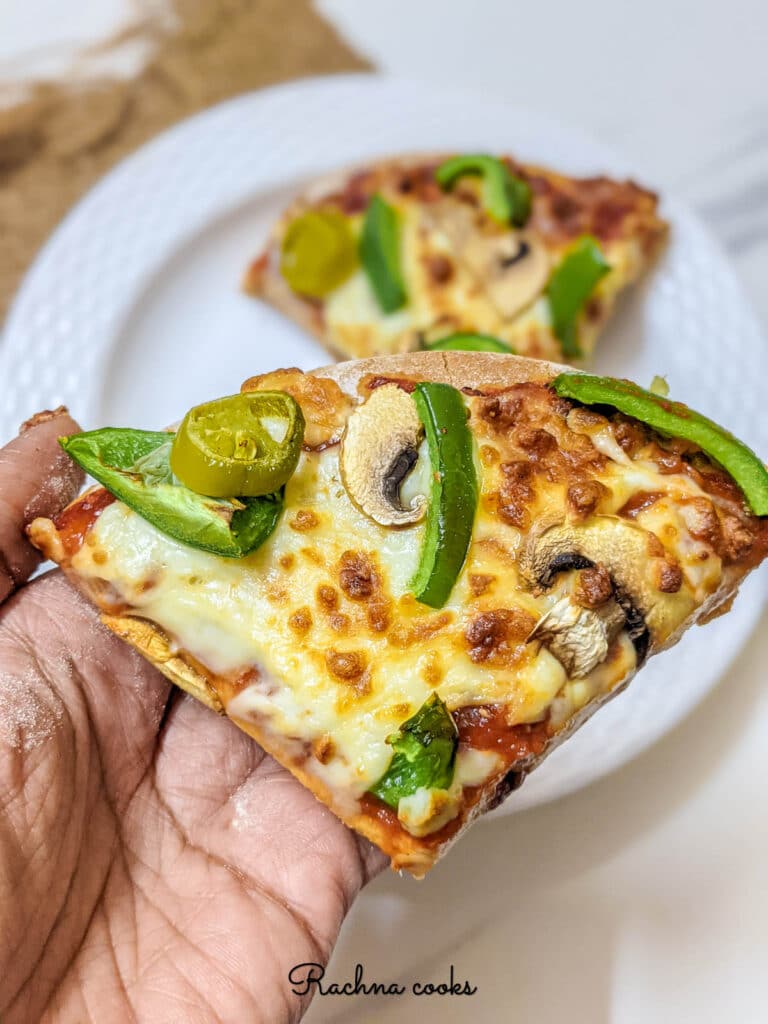 Here's the recipe card:
📖 Recipe Card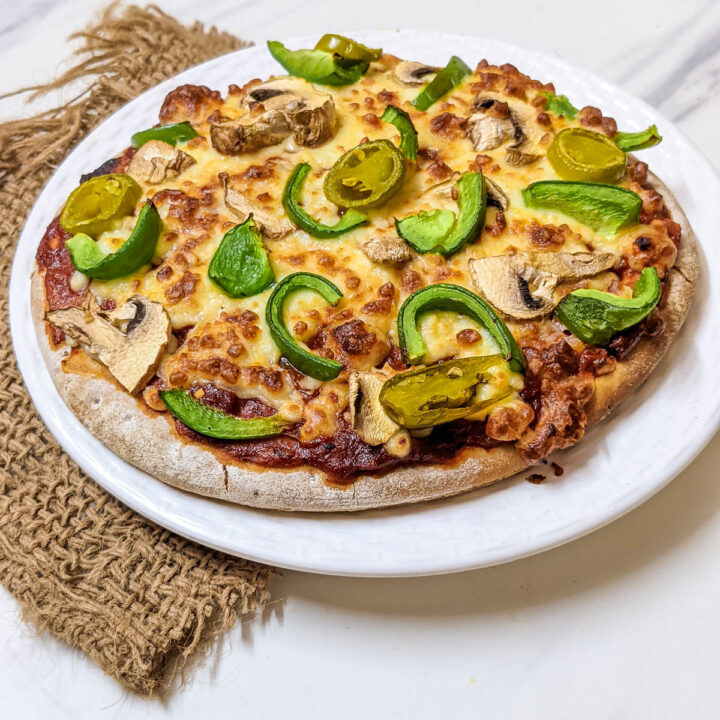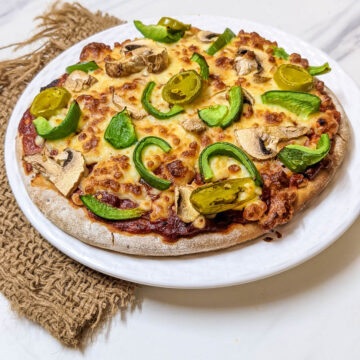 Air fryer Pizza
Delicious Pizza made in air fryer is super cheesy, toasty and really quick to make. Follow the recipe for a tasty treat.
Ingredients
1

pizza crust

6" size

¼

cup

tomato sauce

½

cup

mozzarella cheese

shredded or diced or vegan mozzarella cheese

Toppings

Basil leaves

optional

Oregano and chili flakes

for garnish optional
Instructions
Preheat the air fryer at 390 F or 200 C for 3 minutes.

Assemble your pizza. Spray the air fryer basket with some olive oil. Place the pizza crust carefully.

Spread out the tomato sauce on top. Place mozzarella cheese generously all over. Put toppings of your choice on top.

Air fry at 390 F for about 6-7 minutes till cheese has melted, base is crispy and the pizza looks nice and brown.

Take it out and serve hot after garnish (optional).
Notes
1. You can use fresh pizza crust by rolling out dough. Cook it for 2-3 minutes at 390 F before putting tomato sauce and toppings and cooking for another 3-4 minutes. 2. Use toppings of your choice like sliced mushrooms, onions, peppers, pickles, pepperoni, sausage, paneer and so on. 3. Mozzarella is the right cheese to use on pizzas as it melts uniformly. This is the vegan mozzarella cheese I like. 4. If you are making more than 1 pizza, then you will find that the subsequent pizzas will be done even faster by a minute or so. 5. You can use parchment paper if you like before placing the pizza crust. 6. Be watchful as to not burn your hands when assembling the pizza in a hot air fryer. Or you could do it outside and then place the pizza in the air fryer carefully. 7. The nutrition values are an approximation and are calculated using online calculators. The toppings are not included in the calculation.
Nutrition
Calories:
383
kcal
Carbohydrates:
51
g
Protein:
14
g
Fat:
13
g
Saturated Fat:
7
g
Polyunsaturated Fat:
1
g
Monounsaturated Fat:
4
g
Cholesterol:
44
mg
Sodium:
672
mg
Potassium:
245
mg
Fiber:
1
g
Sugar:
3
g
Vitamin A:
644
IU
Vitamin C:
4
mg
Calcium:
291
mg
Iron:
1
mg
Check out our Food videos
Subscribe to our Food channel for recipe videos
If you liked the recipe, I request you to leave a star * rating. Thanks.
You may also try smoked salmon pizza.