Popcorn in air fryer is a super healthy and easy snack that can be made with no oil. It is delicious and you can vary the seasonings a per choice.
Don't we all love popcorn, whether microwaved or in the movie theatres?
But they are often loaded with too much butter/oil and salt.
Making popcorn in my Philips air fryer is a quick and easy affair where all the control is in my hands.
You may also like these super healthy snacks in the airfryer
Air fryer chickpeas, Air fryer falafel, Air fryer Broccoli, Honey roasted almonds and Air fryer baked potatoes.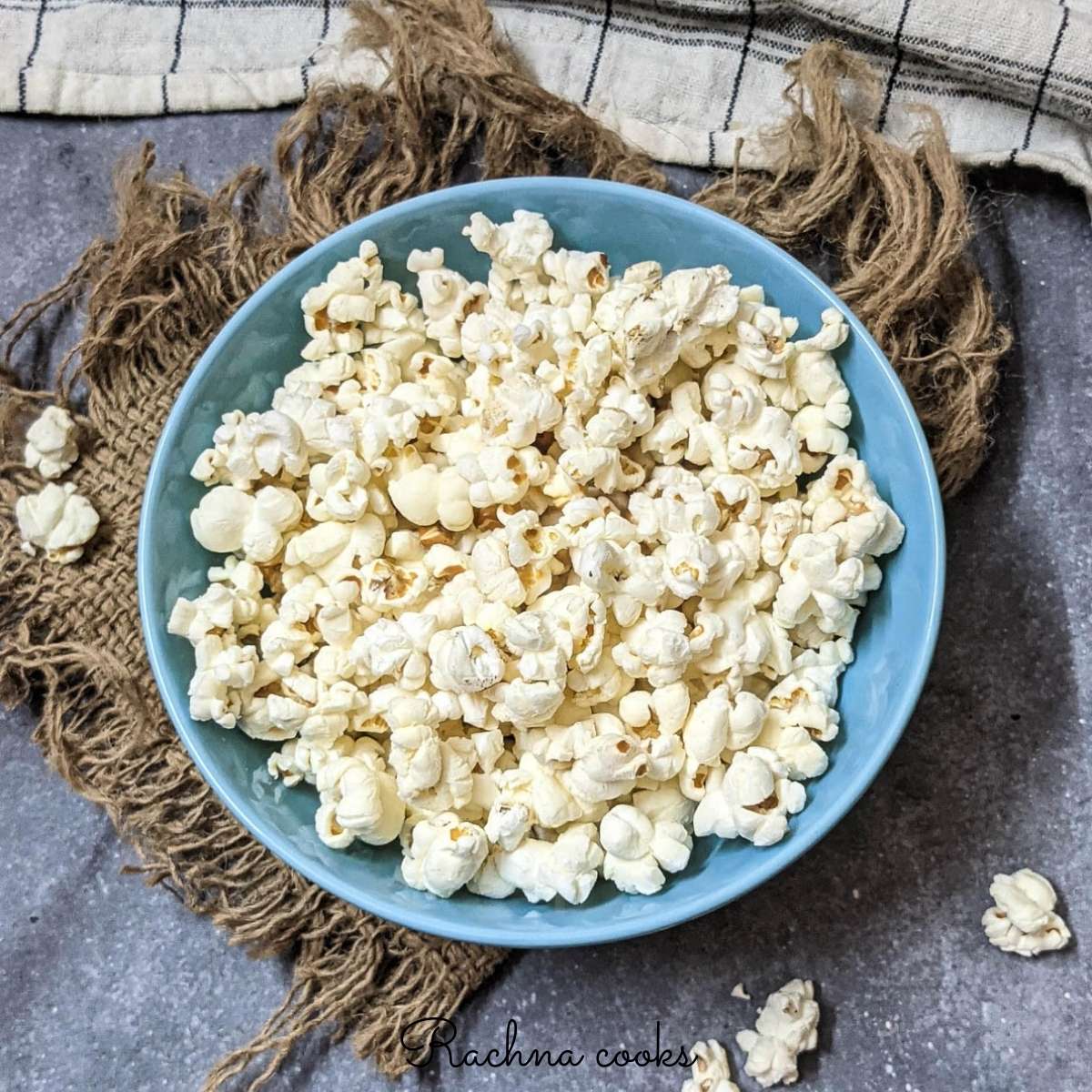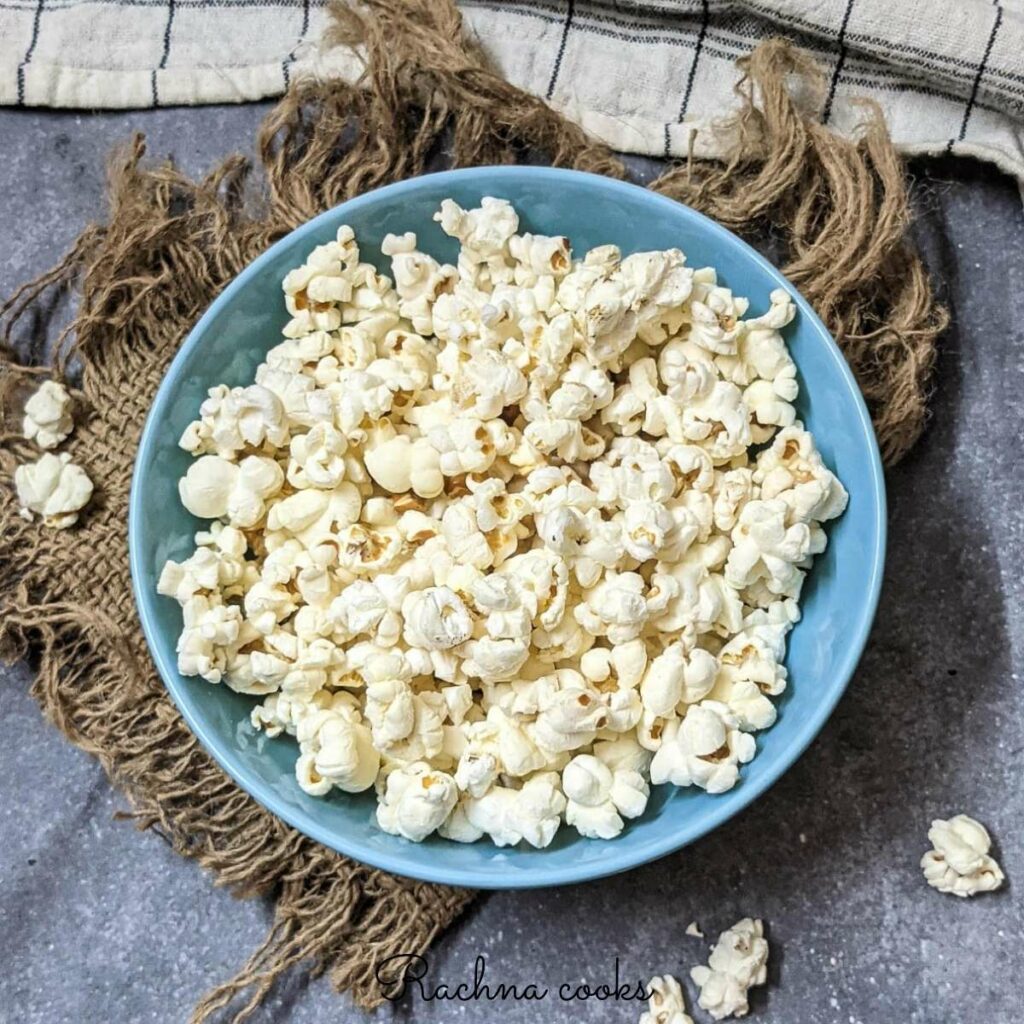 Benefits of Making Popcorn at Home
1. Low cost
2. Control the oil and salt used
3. Quick and easy
4. Healthy
What do you need for making perfect air fryer popcorn?
Just unpopped corn. And later seasonings as per your taste. Check the recipe for more details.
FAQs
1. Can you use microwave popcorn in an air popper?
I haven't done that. It is easier and simpler to use regular unpopped corn both in the microwave and in air fryer.
2. What can I use on air popped popcorn?
You can use any seasoning that you like: salt and pepper, peri peri seasoning for that kick. Italian seasoning with cayenne. You can lightly spray with olive oil and then use seasoning so that your seasoning sticks to the air popped corn.
3. How much unpopped corn should you use at one go?
I use ¼ cup unpopped corn. Any more and it flies up and starts getting burned. Adjust this to the size of the air fryer. I have a Philips basket type air fryer.
Stepwise Pictures
Take ¼ cup of unpopped corn and spread it on air fryer basket after preheating at 180 C for 4 minutes.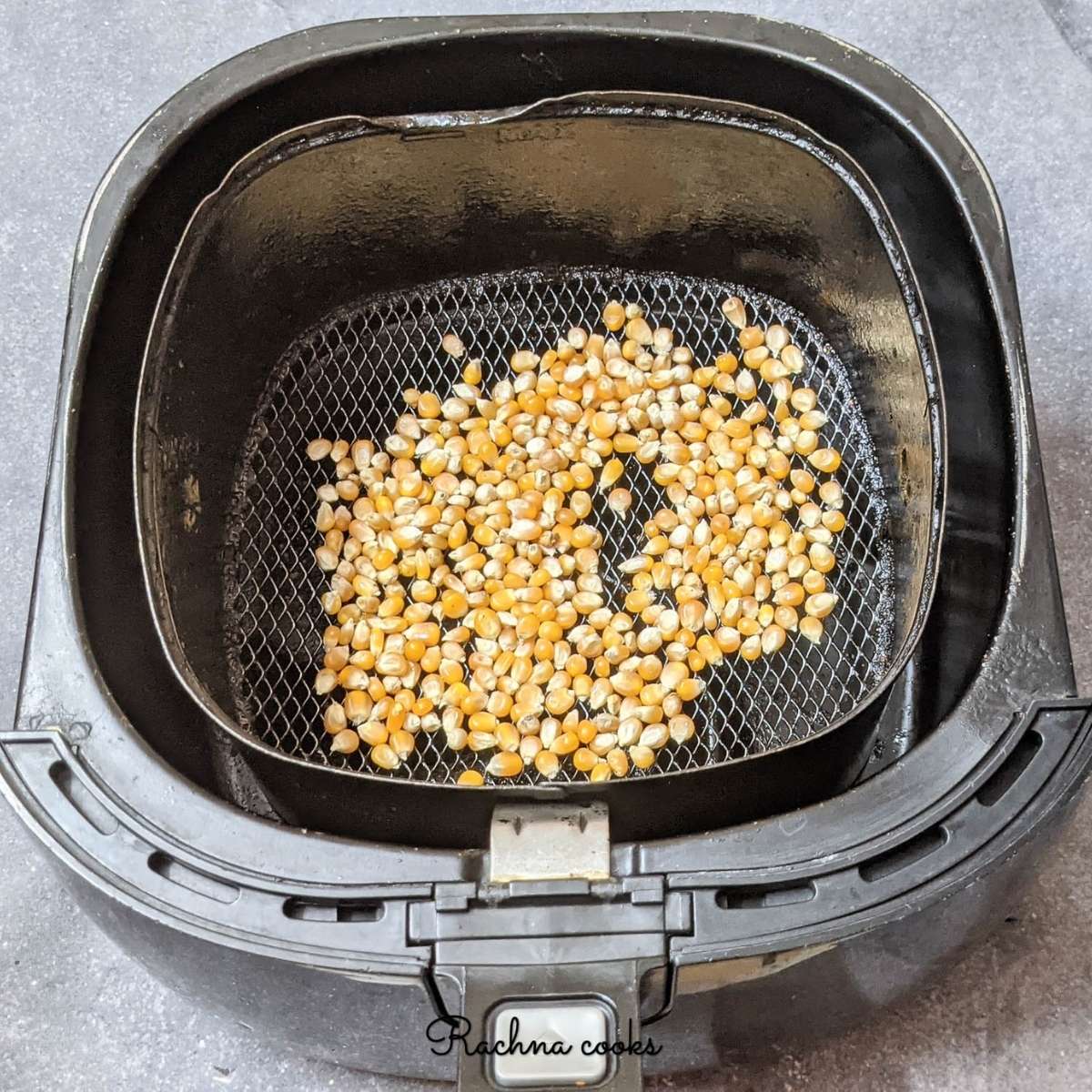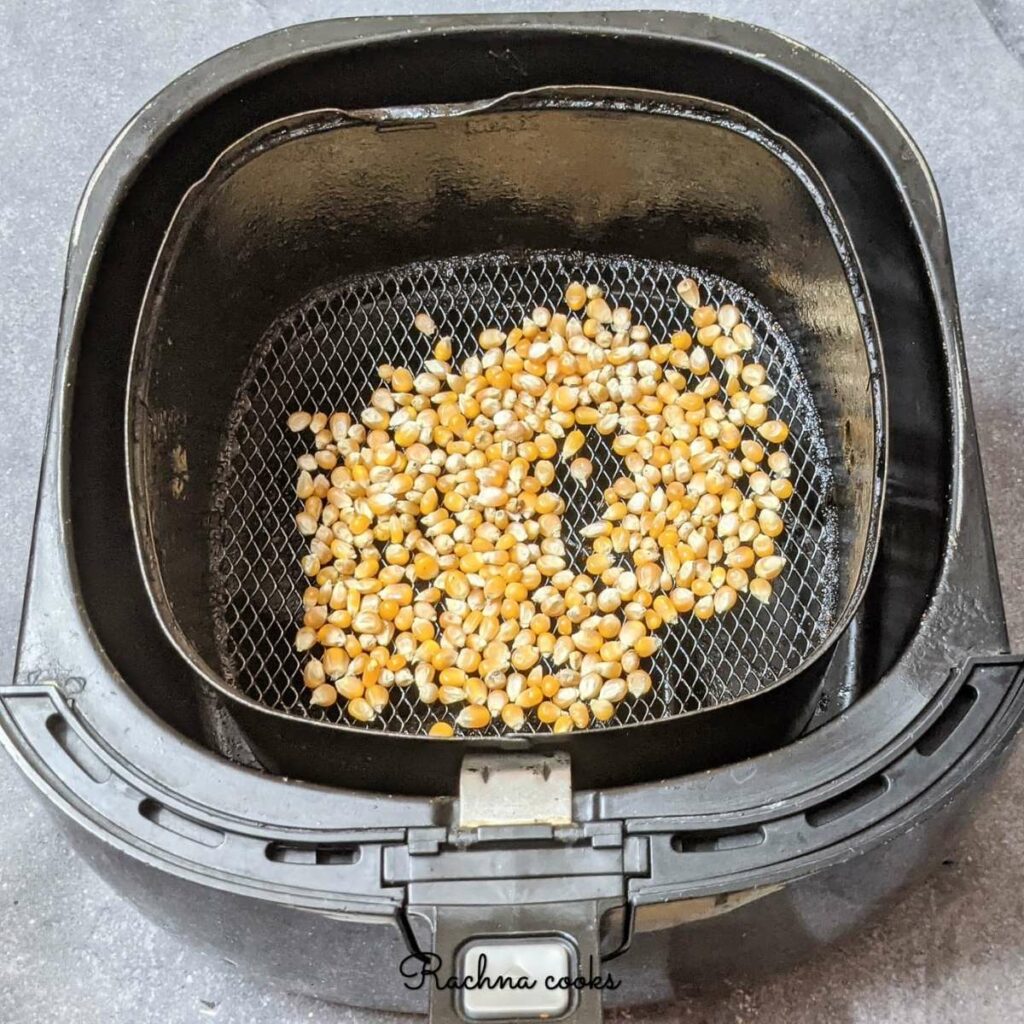 Put in the air fryer for about 6-7 minutes till popping ceases. Cover with a round mesh cover or mesh basket inverted to prevent the corn from flying.
Turn off the switch or take the plug out. Then open air fryer basket and take out the popcorn.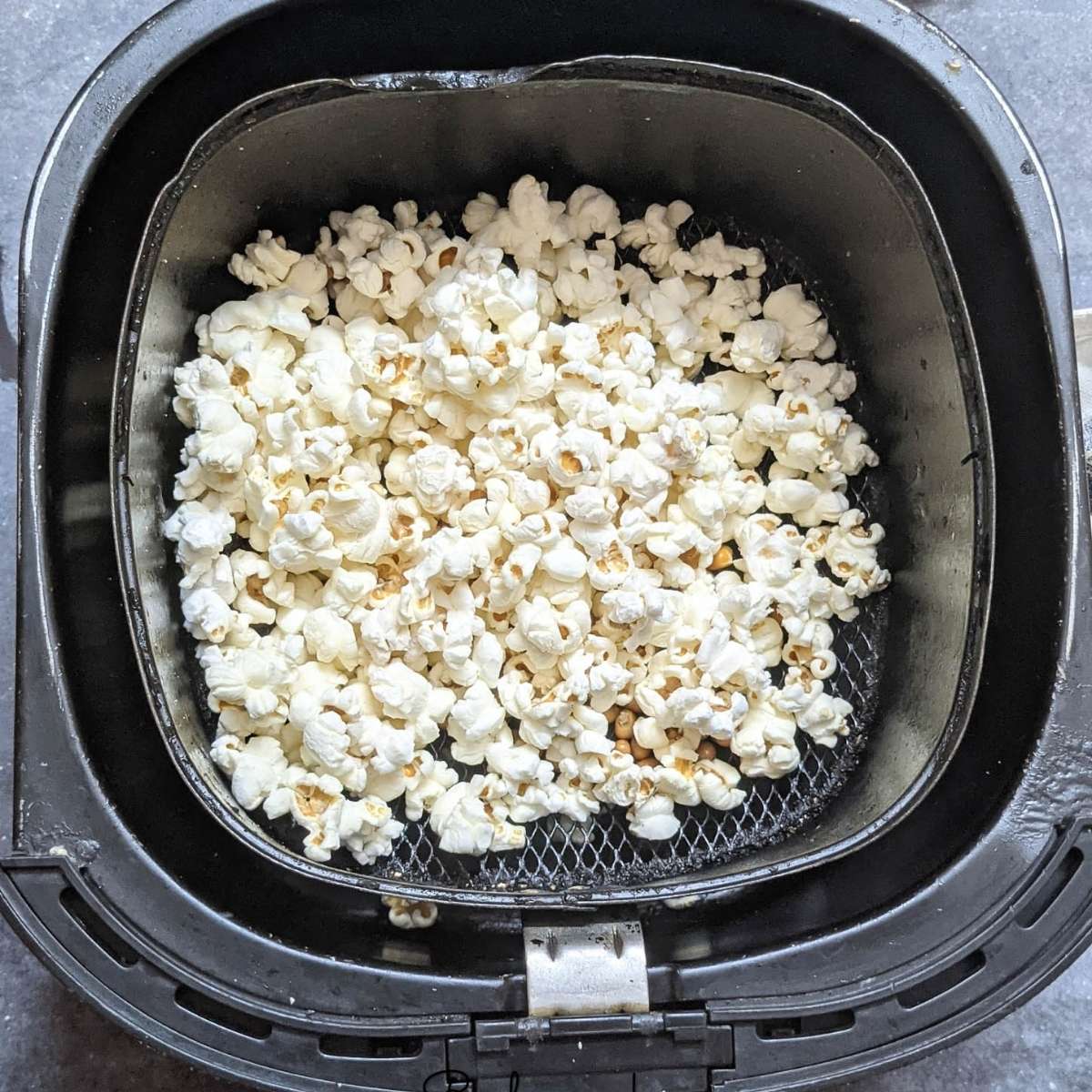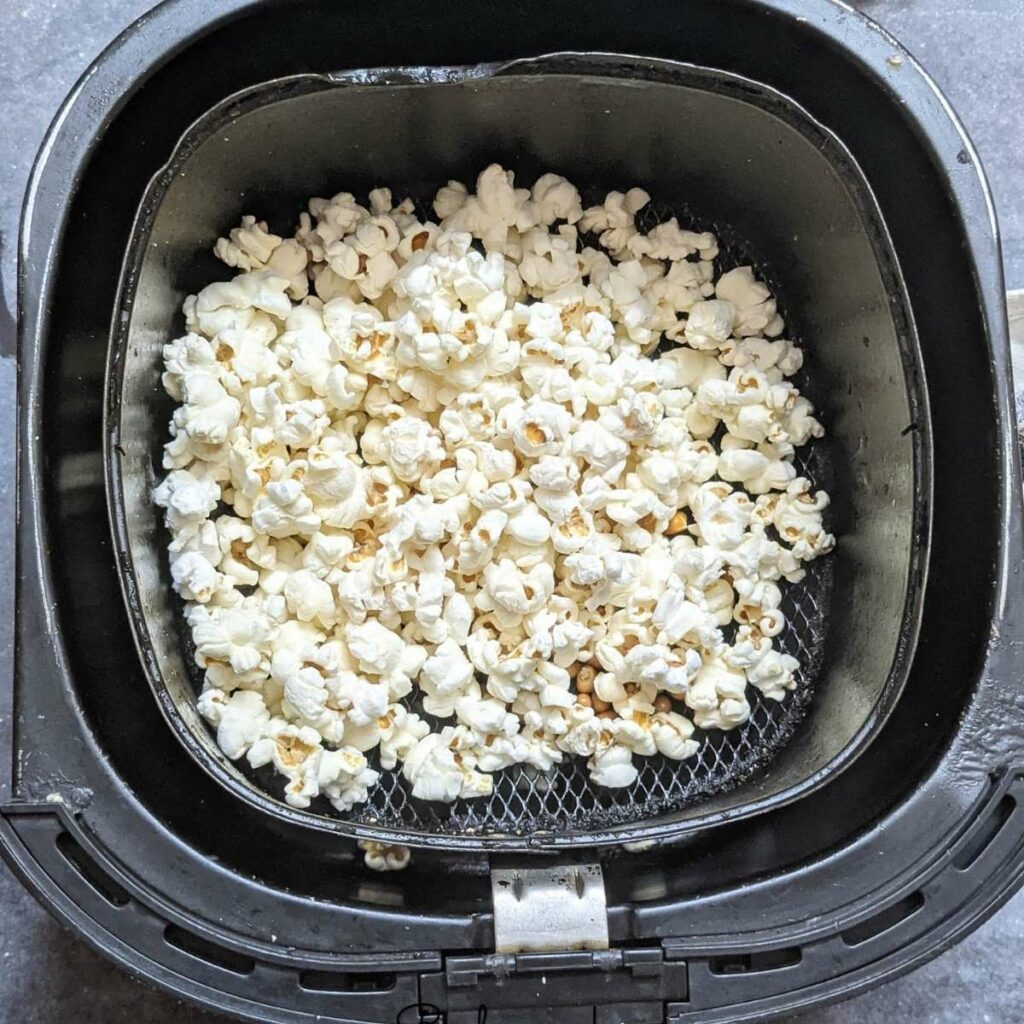 Just take them in a bowl after popping.
You can collect the unpopped kernels and pop them once again.
Garnish with seasoning of choice after brushing with oil (optional) and serve hot.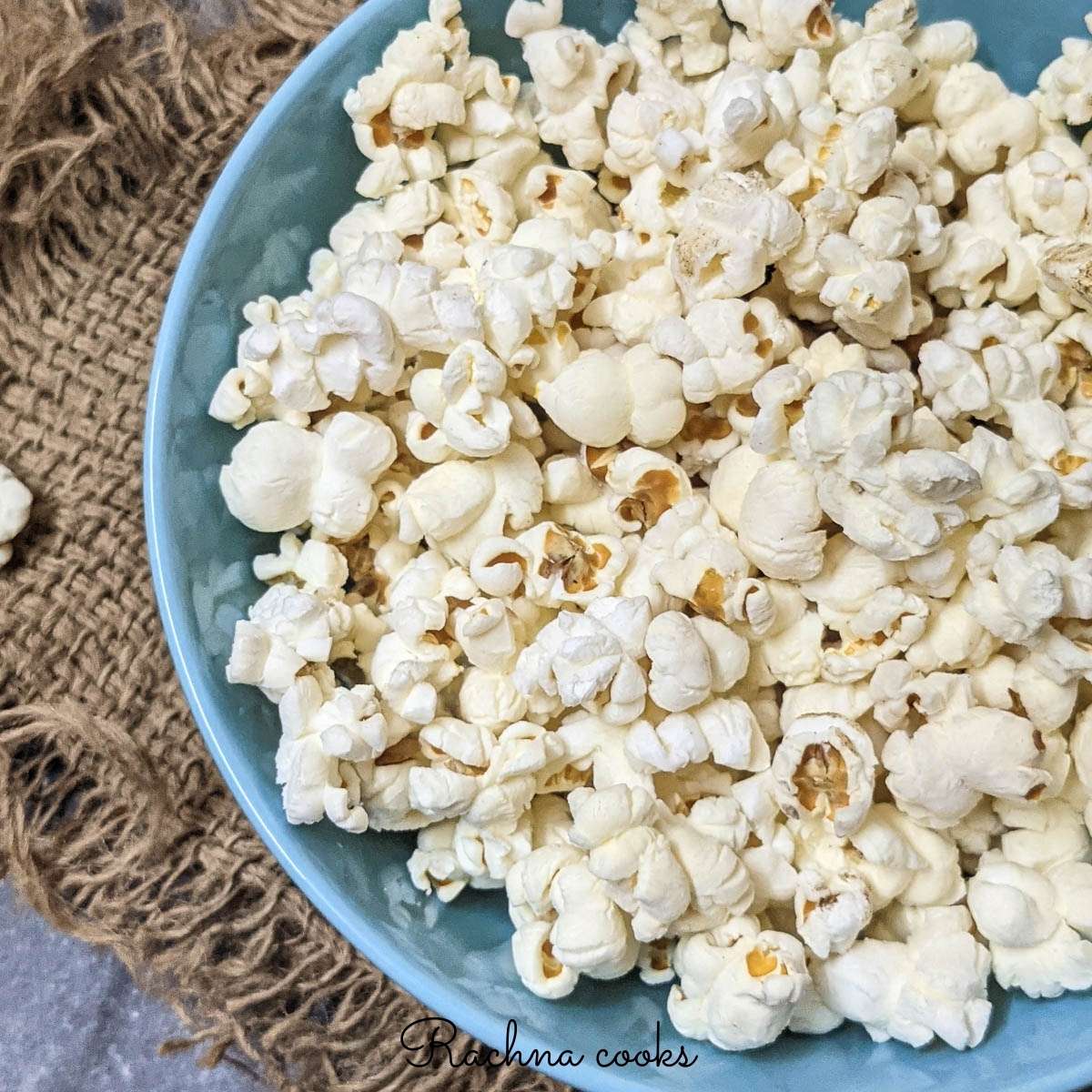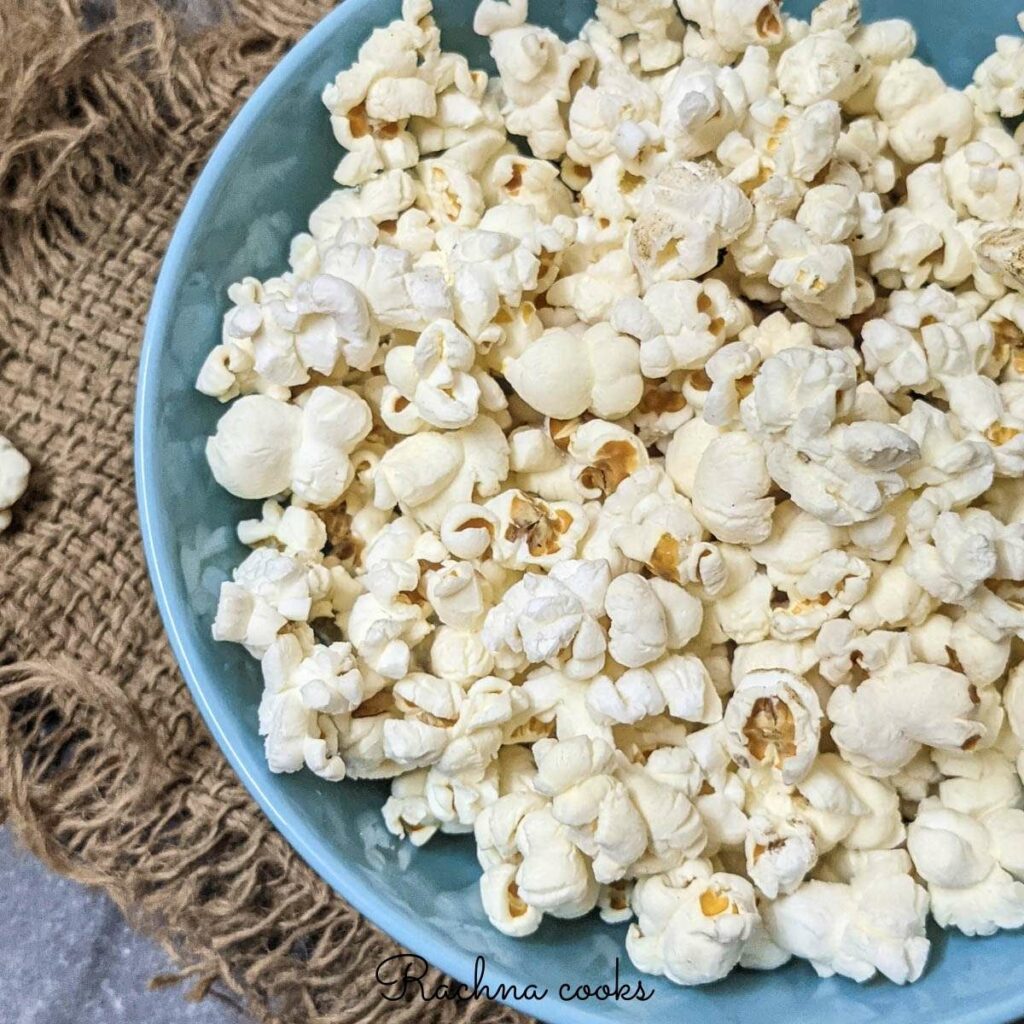 Now brush lightly with oil and mix in your regular seasoning. Enjoy your popcorn.
Here's my easy recipe:
📖 Recipe Card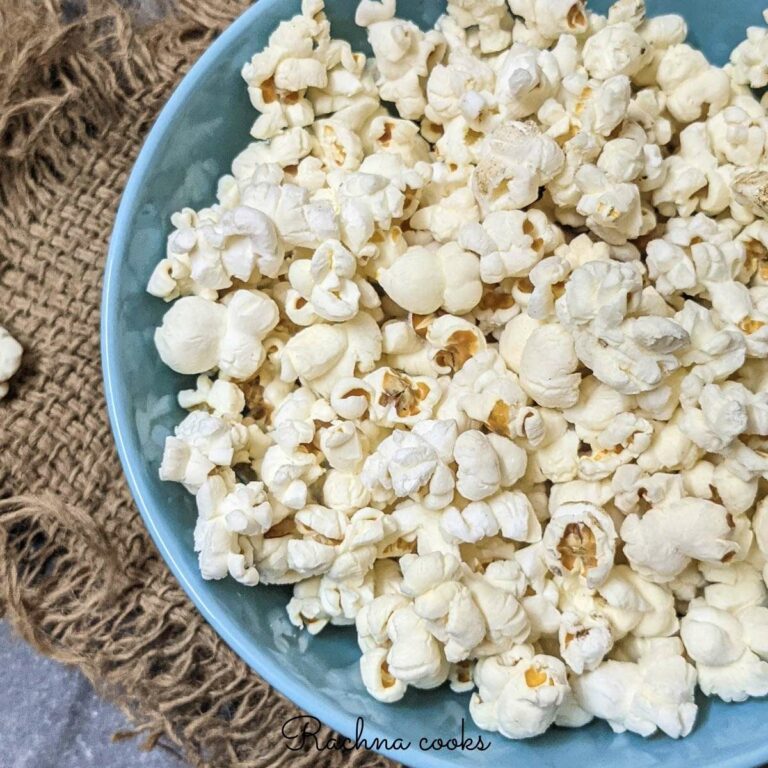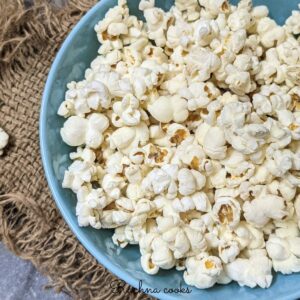 Air fryer popcorn
This easy and delicious popcorn is super healthy as you can make it with no oil and also vary the seasonings you use.
Ingredients
¼

cup

unpopped corn

Olive oil for spraying or brushing
Instructions
Preheat air fryer at 180 C or 360 F for 4 minutes.

Take ¼ cup unpopped corn and spread it out in the air fryer basket. Cover with a wire mesh basket or wire mesh cover to prevent the corn from flying. Put it back into the air fryer and air fryer for about 6-8 minutes.

I take out the plug after about 6-7 minutes when I hear that the popping sound inside the air fryer has stopped.

Take out the plug or turn off switch and then remove the basket. Most of the corn pops and turns into popcorn. If you have some unpopped corn then remove them and keep aside.

I try to repop them by putting them at 180 C for another 6 minutes.

Meanwhile, take out the popcorn in the bowl. Spray lightly with oil spray and add seasoning of choice. I love salt and pepper, peri peri seasoning, salt, cayenne and lime, garlic salt and cayenne. Have it right away.
Notes
1. Keep the air fryer on till you hear the popping sound. Then turn off the fryer before you pull the basket out. This ensures that the popped corn is not flying around when you open the basket.
2. To avoid popcorn from flying up to the coil cover the kernels with a wire mesh basket before popping.
3. If you use a foil to make a packet for your corn, then your popcorn will take much longer, about 15-18 minutes. I don't need foil because my air fryer basket mesh does not allow the corn kernels to fall through and allows easy circulation of heat for faster popping.
4. If you are left with unpopped kernels you can air fry them again later. But even then I find that only half of the unpopped ones popped. The rest I threw away.This is pretty much on the lines of what happens when I make popcorn in my pressure cooker.
5. You do not need oil for the corn to pop. I just brush a little oil for the seasoning to stick after popping corn and also for brushing the air fryer basket. Otherwise, this recipe is oil free.
6. The popcorn is fresh and healthy. I can make 2 decent serves of popcorn at one go.
7. You can use any seasoning of choice. I love salt and pepper, peri peri seasoning, salt, cayenne and lime, garlic salt and cayenne.
8. Do also watch the video for more clarity.
9.

Don't use too many unpopped corn in the fryer Give them enough room to pop.


10. The timing may vary depending upon your air fryer and the quality of your unpopped corn.
Nutrition
Calories:
77
kcal
Carbohydrates:
15
g
Protein:
2
g
Fat:
1
g
Saturated Fat:
1
g
Sodium:
1
mg
Potassium:
56
mg
Fiber:
3
g
Sugar:
1
g
Calcium:
1
mg
Iron:
1
mg
Check out our Food videos
Subscribe to our Food channel for recipe videos
If you liked the recipe, I request you to leave a star * rating. Thanks.