We love our Indo-Chinese food here. It is nothing like Chinese food. It is spicy, tangy and very satisfying with our favourite desi touch. You can easily make the veg Manchurian balls at home. And to make them healthier, I cook veg Manchurian balls in my Air fryer. In case, you wish to you can deep fry them or even cook them in an appe pan with lesser oil.
Once the vegetable balls are made, they are tossed in a thick Manchurian gravy. I love to serve these with our veg noodles, and it truly makes for such a satisfying meal.
How to Make Veg Manchurian Balls
These veg Manchurian balls are made with finely chopped vegetables. You can use any vegetables that are with you. That way, this is a versatile recipe. It is also an easy way to finish off leftover vegetables in your pantry. I generally use cabbage, green pepper or capsicum, zucchini, carrot and broccoli depending upon availability.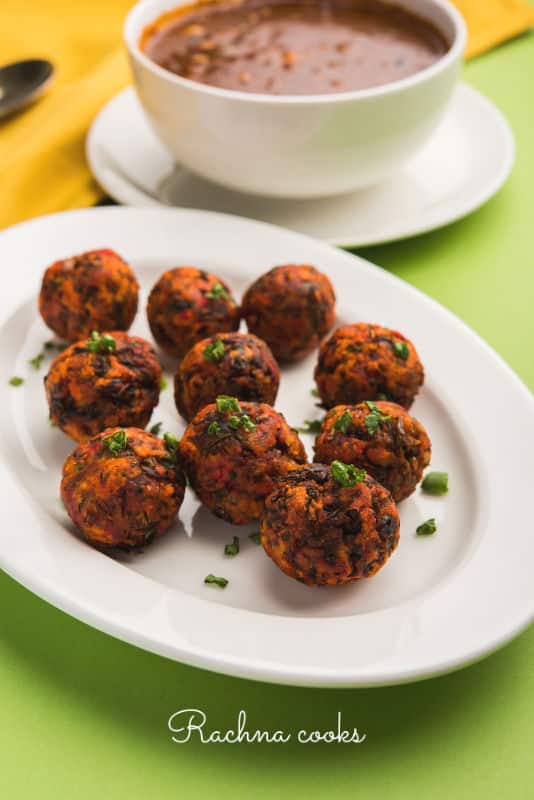 Pro-Tip: I use my vegetable chopper which is hand operated and gives me finely-chopped vegetables in a jiffy.
Add a few spices and binding agents and then you can make your veg manchurian balls. The great part is that you can have these vegetable balls as an appetizer or snack just by themselves. They are quite tasty and crunchy.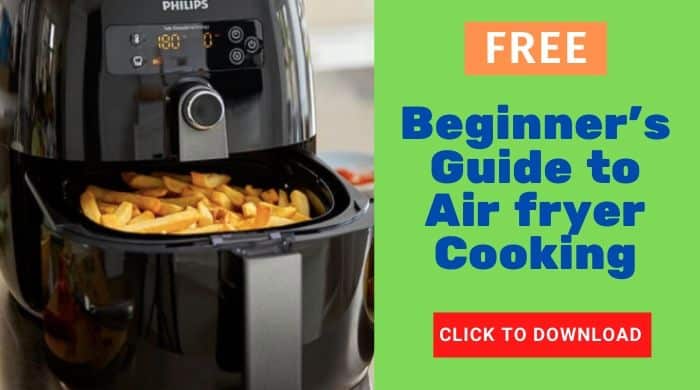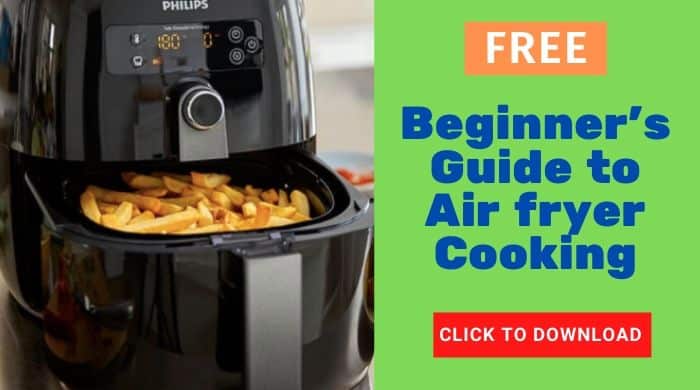 Of course, you can toss them in the spicy gravy in case you are making a full-fledged meal.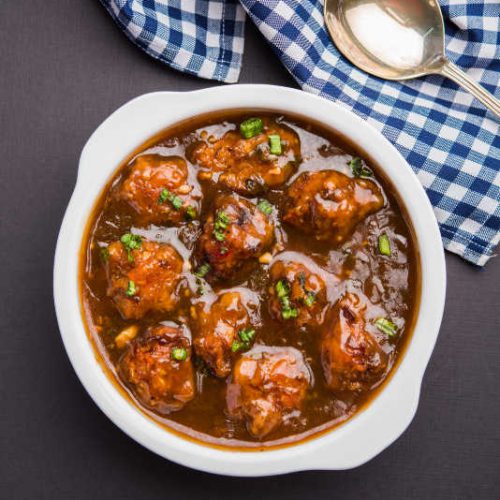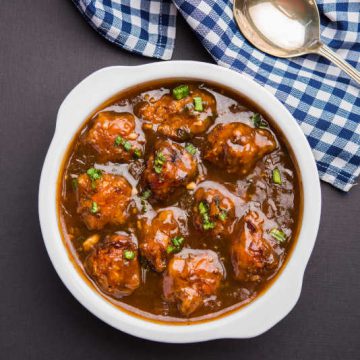 Veg Manchurian Recipe
This is an easy recipe to make veg manchurian recipe in Air fryer as well as deep frying. Try this recipe to make Indo-Chinese curry at home.
Ingredients
3

cups

mixed vegetables

finely chopped

2

tsp.

ginger and garlic

finely chopped

1

green chilli

finely chopped

2

tbsp.

rice flour

2

tbsp.

all-purpose flour

2

tbsp.

cornflour

1

tsp.

pepper powder

1

tsp.

oil

for brushing or spraying

Salt

to taste

For Manchurian Curry

1

tbsp.

ginger garlic

finely chopped

2

peppers

cut into squares

2

onions

sliced

1

tbsp.

soy sauce

1

tbsp.

garlic chilli sauce

1

spring onion

finely chopped

2

tsp.

vinegar

1

tsp.

pepper

Salt to taste

1

green onion

finely chopped

2

tsp.

cornflour

dissolved in water for a slurry

1

tbsp.

vegetable oil
Instructions
Finely chop mixed vegetables likes cabbage, peppers or capsicum, beans, broccoli, carrot along with ginger, garlic and green chillies.

Add salt and pepper powder, rice flour, cornflour and all-purpose flour. Mix well and form veg Manchurian balls.
For Air frying Manchurian Balls
Preheat Air fryer to 390 F or 200 C for 6 minutes.

Spray the basket with a little oil and spray the veg Manchurian balls with oil too. Now add the balls to the air fryer basket in one layer.

Air fry for about 18 minutes. Turn once in the middle.

You will have nice crispy, golden brown veg Manchurian balls. Make the balls in batches till all are done. I took 2 batches to do.
For Deep Frying Manchurian balls:
Heat oil in a pan. Wait for it to be medium hot.

Now deep fry 5-6 balls at one time on medium heat till golden brown. Take out on an absorbent paper.

You could also make the Manchurian balls in an appe pan. Lightly grease the rounds and put the dumplings in. Fry on each side till dark brown.
For Manchurian gravy:
Heat oil in a pan. Add sliced onions, peppers, chopped spring onions (save the greens), finely chopped ginger, garlic and green chillies and lightly fry.

Now add soya sauce and chilli sauce and mix together. Add 2-3 cups of water to form a gravy. Taste and add salt and pepper.

Make a slurry of cornflour in water.

Add it to the boiling gravy slowly. The gravy starts thickening. Add vinegar now. Mix well. Add vegetable balls and coat them with the curry. Garnish with greens of spring onion.

Serve hot with noodles or fried rice.
Notes
Air frying time may vary depending upon how big or small your Manchurian balls are. Do keep an eye when Air frying.
In case you feel that the balls are not forming because the vegetables feel a bit wet, add more rice flour or all-purpose flour.
Start preparing the curry when your Manchurian balls are getting ready.
Here is the video recipe of veg noodles https://youtu.be/2E1Y0oZxYOs
Nutrition
Calories:
245
kcal
Carbohydrates:
43
g
Protein:
7
g
Fat:
6
g
Saturated Fat:
3
g
Sodium:
494
mg
Potassium:
341
mg
Fiber:
7
g
Sugar:
1
g
Vitamin A:
7504
IU
Vitamin C:
18
mg
Calcium:
40
mg
Iron:
2
mg
Check out our Food videos
Subscribe to our Food channel for recipe videos
Disclaimer: This post may include affiliate links. In case you buy using those links I earn a little commission at no extra cost to you. I only recommend products that I use personally and like. Do read my disclosure policy for complete information.
How to Make Veg Manchurian Curry with Air fryer (Stepwise Pictures)
Finely chop mixed vegetables, ginger, garlic and green chillies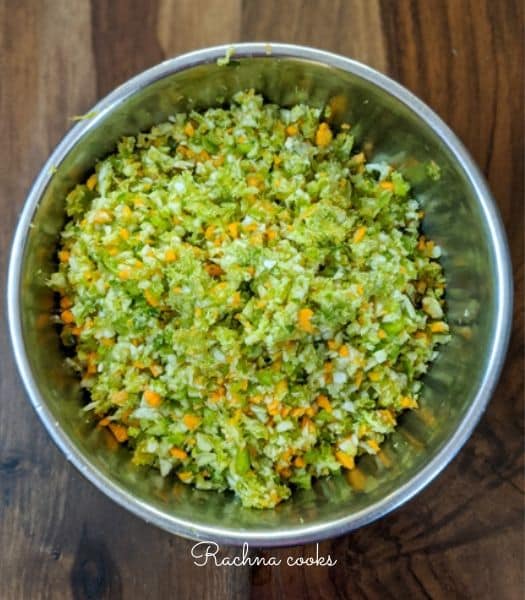 Add salt, pepper, cornflour, rice flour and all purpose flour to the chopped veggies.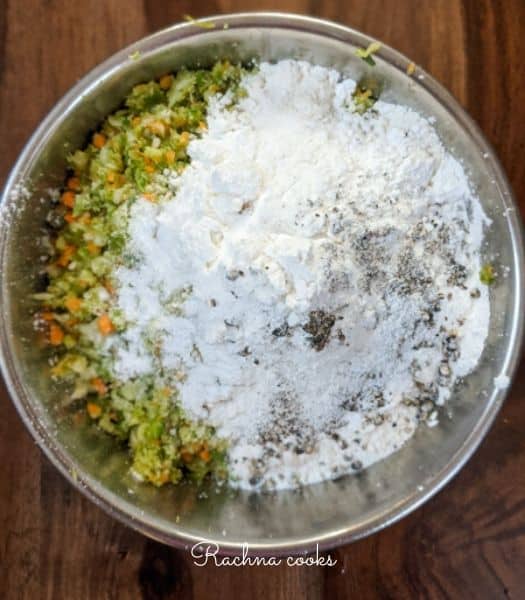 Mix well and form veg manchurian balls.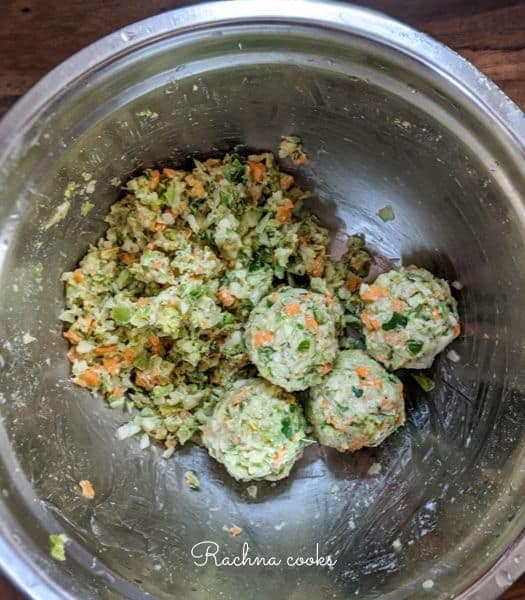 Preheat Air fryer to 390 F or 200 C for 6 minutes. Now spray oil on the air fryer basket and on the veg balls. Arrange the balls in the fryer in one layer.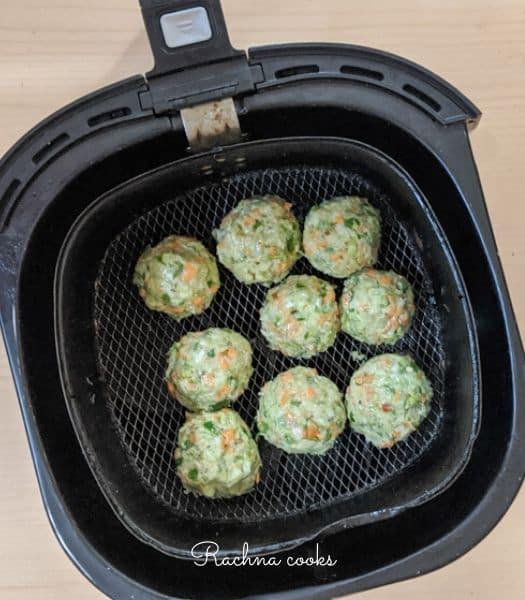 Air fry for 16-18 minutes turning once in the middle and spraying some more oil if needed.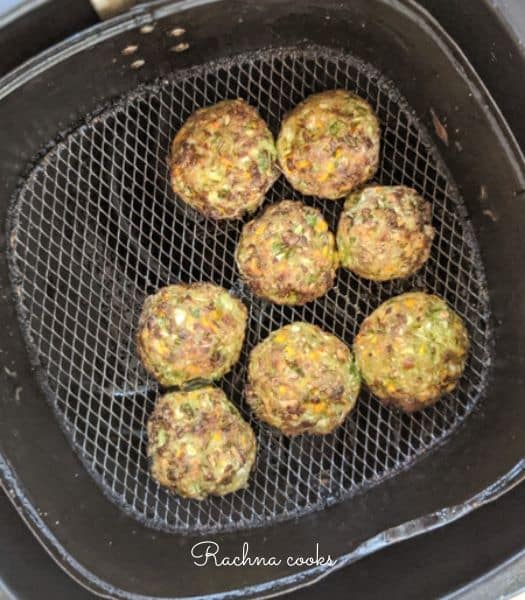 To prepare the Manchurian gravy
Chop onions, spring onion and peppers.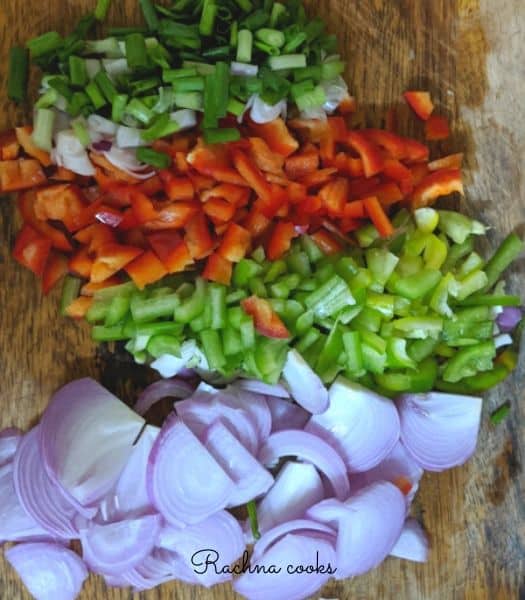 Heat oil in a pan. Fry finely chopped ginger, garlic, onion, peppers, spring onion and green chillies.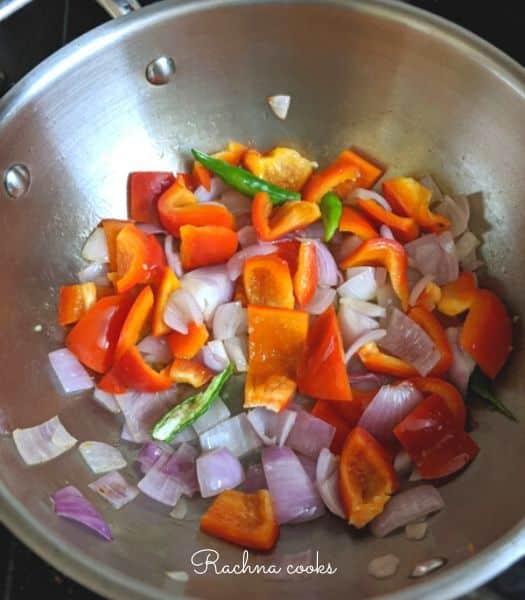 Add soy sauce and chilli sauce with water.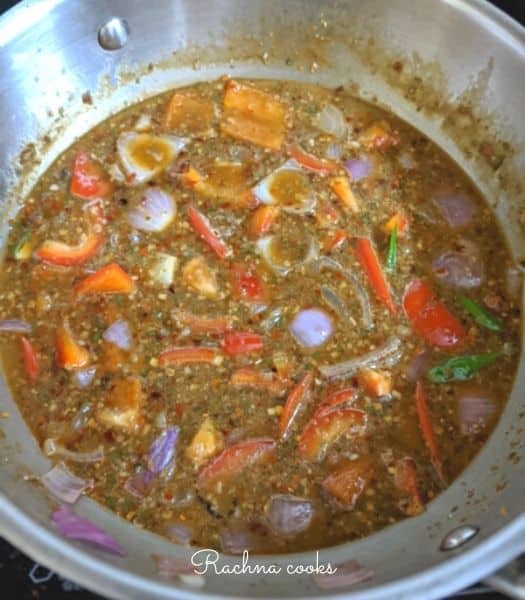 Cook for some time. Now add the cornflour slurry to thicken the sauce. Add the manchurian balls and mix them well. Add vinegar and turn off heat.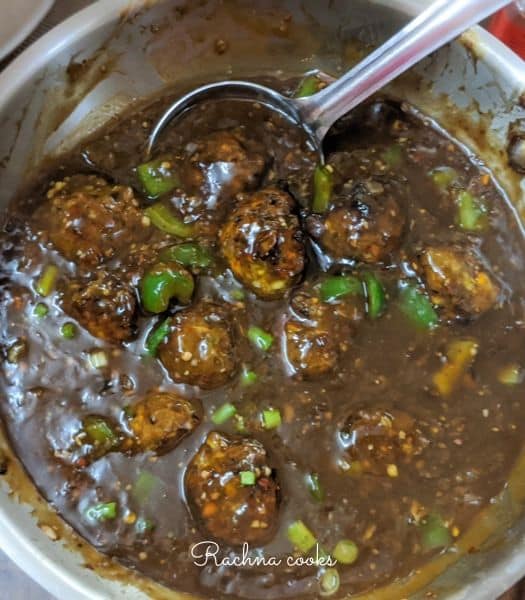 Garnish with spring onion greens and serve hot with veg hakka noodles or fried rice.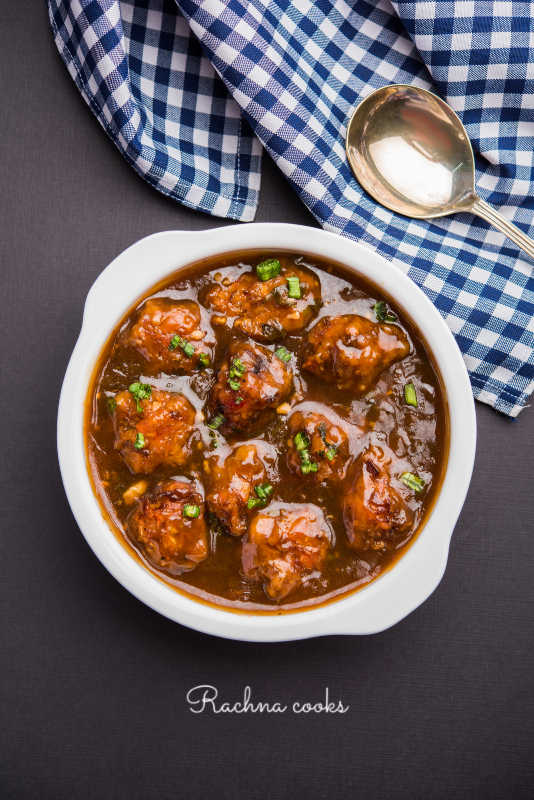 In case you liked this recipe, I request you to leave a star * rating either on the recipe card or in the comments. Thank you.
You May also like:
Kurkuri Bhindi | Crispy Okra in Airfryer
Paneer Tikka in Air fryer Recipe
Easy Homemade Nachos in Airfryer
Piri piri Airfryer French Fries
Easy Potato and Plantain Patties
Check out my other popular Air fryer recipes.
Pin This