I love fried chicken. It is crispy, crunchy, spicy and so very delicious. But it is fried and must be had once in a while. I like it both at KFC and Burger King (the grilled variety as well) but I don't like to eat chicken skin and mostly discard it. That is where most of the crunch and flavour is.
Then I tried making Air fryer fried chicken at home. It was a revelation -- unbelievably juicy and crunchy. You would not be able to tell that it is not deep fried. And now I make this regularly at home. If you are a fan of fried chicken then you have to try my recipe of KFC style crispy chicken drumsticks made in Airfryer.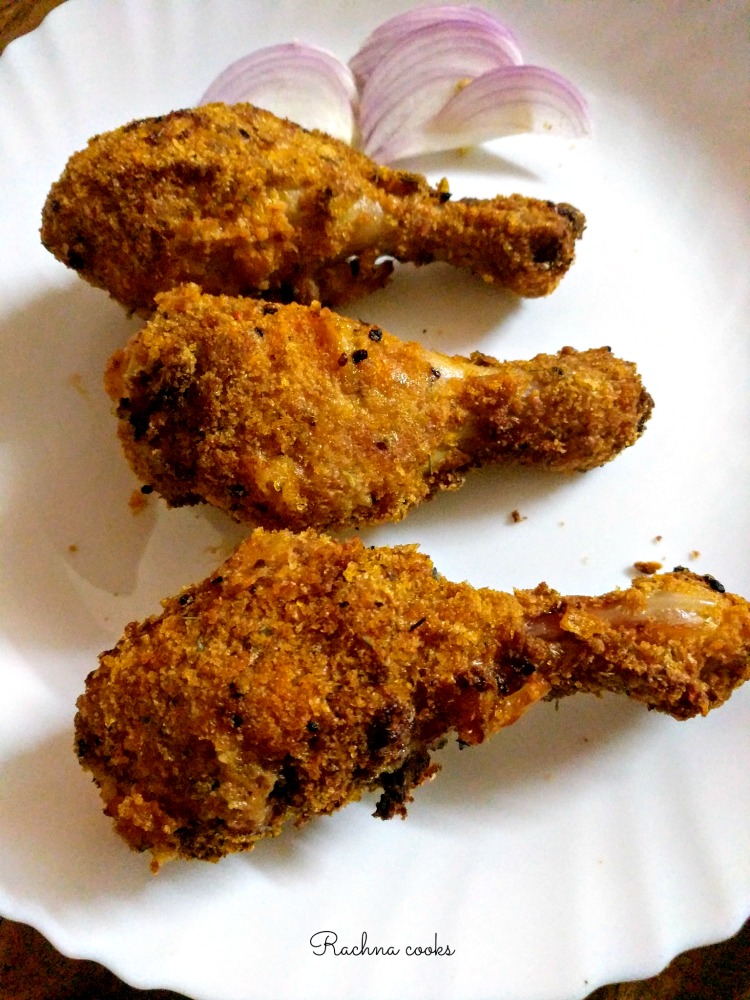 Here is the simple recipe. Do follow my tips and instructions to the T for the perfect crunch.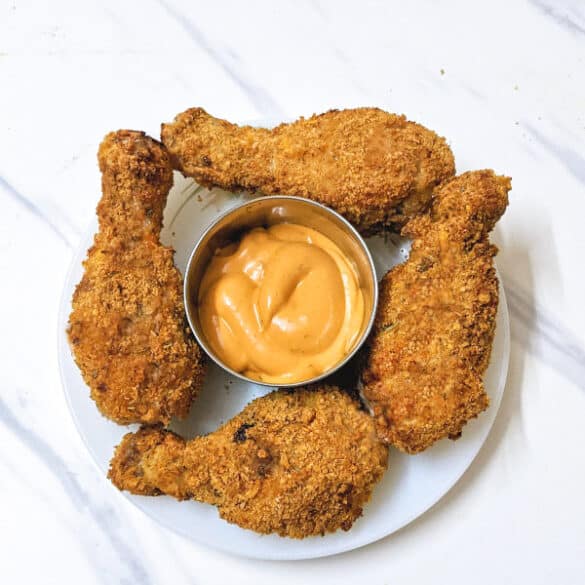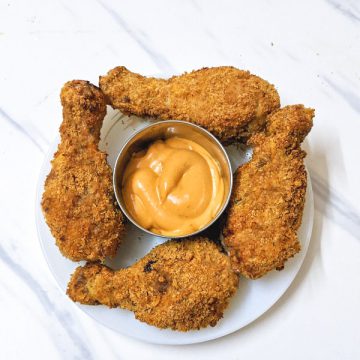 Crispy Air fryer Fried Chicken Recipe
This is a truly delicious KFC style crispy Air fryer fried chicken recipe that is perfectly juicy and tasty. Perfect indulgent snack.
Ingredients
1

lb.

chicken drumsticks without skin

or 500 gm.
For chicken marination
1

tbsp.

ginger garlic paste

or minced ginger and garlic

2

tbsp.

Greek yogurt

salt to taste

1

tsp.

cayenne or tabasco sauce as per the heat you like
For flour mixture
½

cup

wholewheat flour

with salt and 1 tsp. pepper

2

eggs beaten
For outer coating
½

cup

cornflakes

¾

cup

breadcrumbs

or powdered oats for gluten free

1

tsp.

mixed herbs

dried oregano and basil

1

tsp.

cayenne

as per taste

salt
Instructions
To make the marinade, mix all the ingredients mentioned well. The marinade must be quite thick. Taste it to check for balance.

Make some gashes in the deep parts of the drumsticks and massage them well all over with the marinade.

Marinate them for 2-4 hours.

Now take 3 shallow plates. Take seasoned flour in one shallow plate, beaten eggs in second plate.

Take cornflakes in a ziplock bag and lightly crush with a rolling pin. I used Kellogg's plain cornflakes. Mix this with breadcrumbs. I make my own breadcrumbs by toasting 2 whole wheat bread slices and then making crumbs in a blender. Mix these two with mixed herbs (dried oregano and basil), cayenne and salt in third bowl

Keep these ready.
For Air frying
Preheat your Airfryer at 320 F or 160 C for 6 minutes. Brush the sides of the basket with oil.

To coat drumsticks -- Use one hand as it tends to get dirty when dipping the chicken. Take the marinated chicken drumsticks and dunk them well in seasoned flour so that they are coated well. Now dust them lightly to remove excess flour.

Next dip them in beaten egg mix. Your hands will get sticky now.

Take them and rub them in cornflakes and breadcrumbs mix to get a nice thick coating. Keep them aside.

Repeat this method till all drumsticks are ready coated.

Put them in your airfryer basket and put it in the airfryer. My entire batch fitted at one go. Otherwise you can airfry in two batches.

Airfry at 320 F or 160 C for 15 minutes. Open Airfryer half way at 8 minutes and turn the drumsticks once. Be careful while turning so as to not break the coating.

After 10 minutes increase the temperature to 390 F or 200 C and airfry for 6 minutes more to get a nice golden brown colour.

Your crispy Air fryer fried chicken is ready to serve. Serve with onion rings, mint chutney, dip or good old ketchup. Enjoy it hot.
Notes
Serve hot with dip, ketchup or chutney.
This is a recipe I have perfected by multiple trial and errors so use it as it is. You can change the herbs/seasonings as per your taste.
If you don't have an airfryer, you could bake them in a conventional oven too.
The lower termperature - higher temperature combination while cooking helps in cooking the chicken perfectly keeping it moist inside and crunchy outside.
You could use only breadcrumbs too but using cornflakes makes it crunchier.
You can replicate the same recipe for chicken wings or chicken strips. Just modify the cooking time to adjust the kind of meat you are cooking.
Nutrition
Nutrition Facts
Crispy Air fryer Fried Chicken Recipe
Amount Per Serving
Calories 376
Calories from Fat 135
% Daily Value*
Fat 15g23%
Cholesterol 187mg62%
Sodium 329mg14%
Potassium 448mg13%
Carbohydrates 31g10%
Protein 29g58%
Vitamin A 1259IU25%
Vitamin C 3mg4%
Calcium 78mg8%
Iron 4mg22%
* Percent Daily Values are based on a 2000 calorie diet.
Check out our Food videos
Subscribe to our Food channel for recipe videos
Do try this recipe and share with me if you make it. If you like the recipe, I request you to give it a * star rating either on the recipe card or in the comments. Thanks.
You May Also Like
Airfryer Tandoori chicken recipe
Airfryer Kurkuri Bhindi recipe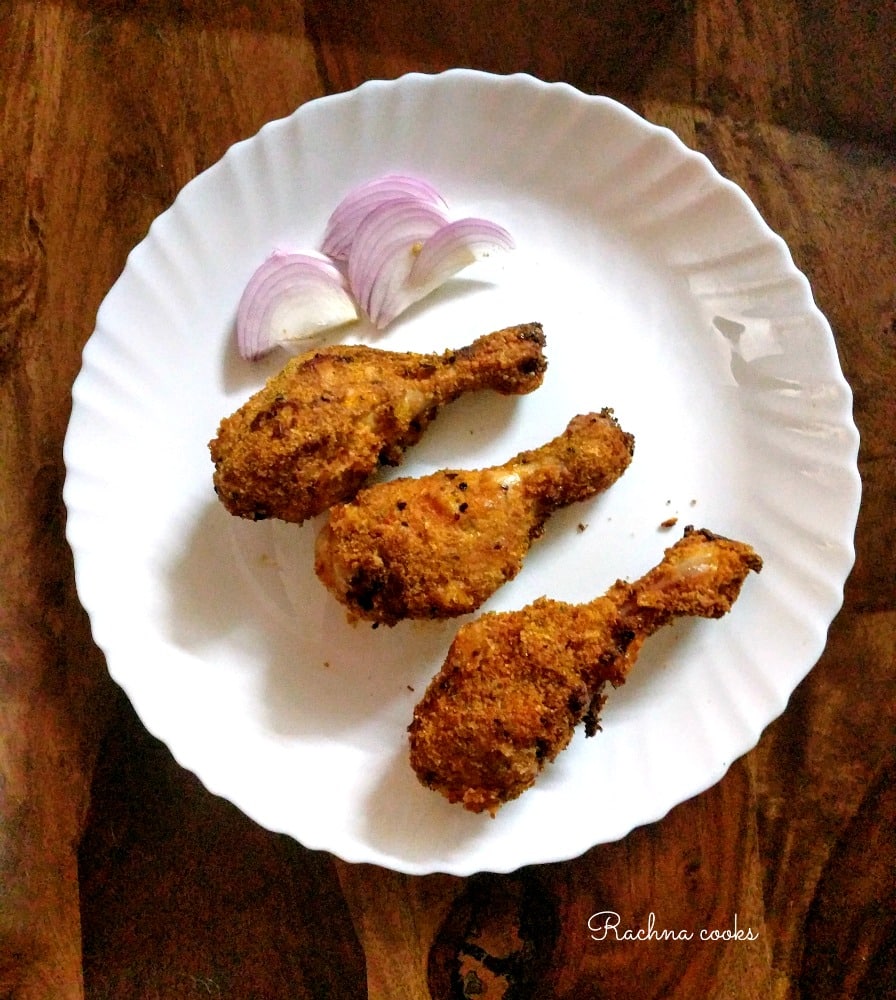 How to Make Crispy Air fryer Fried Chicken Pictures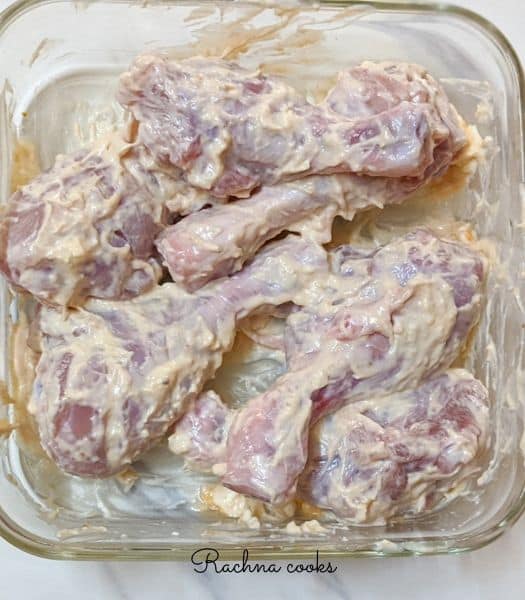 Mix all marinade ingredients and marinate chicken drumsticks for 2-4 hours.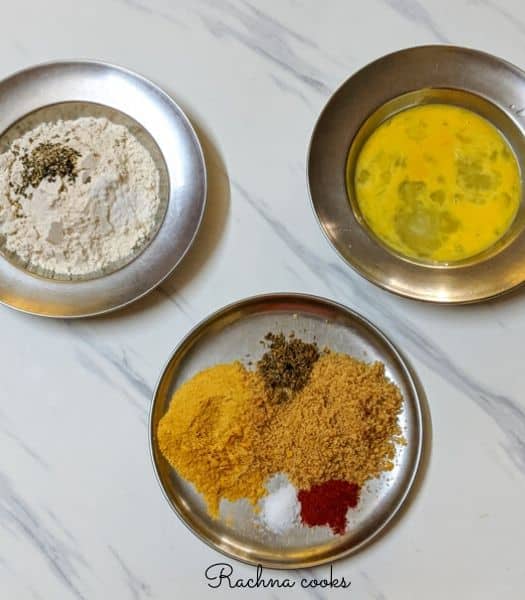 Assemble 3 shallow bowls -- 1/2 cup powdered cornflakes, 3/4 cup breadcrumbs, mixed herbs, cayenne and salt in one bowl. 2 beaten eggs in second bowl and 1/2 cup wholewheat flour with salt and pepper in 3rd bowl.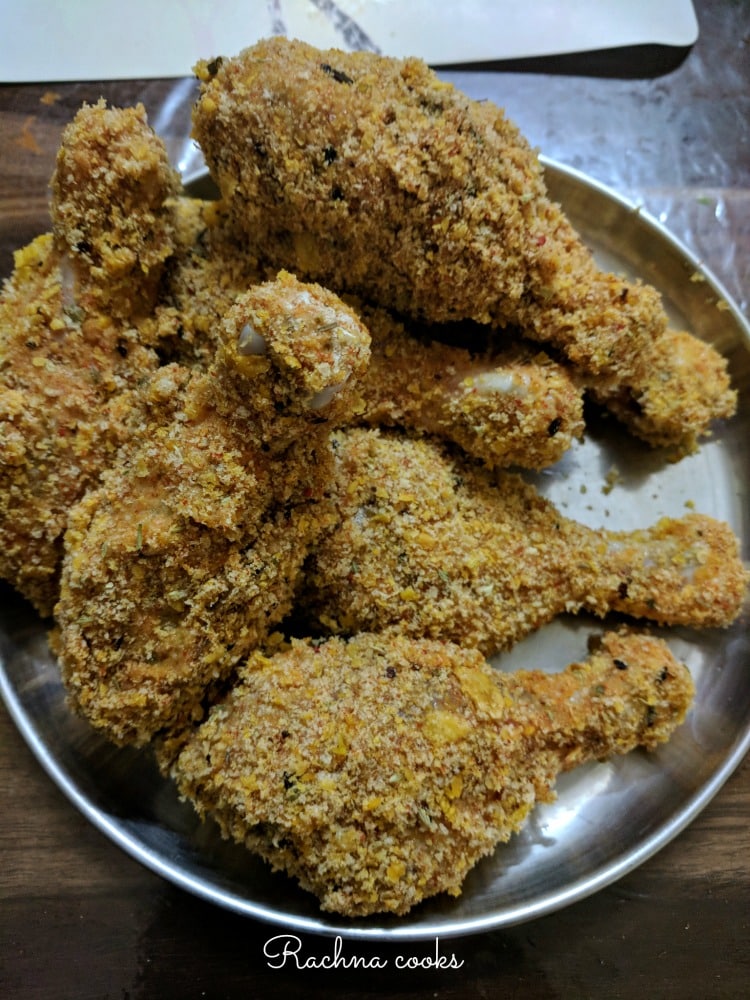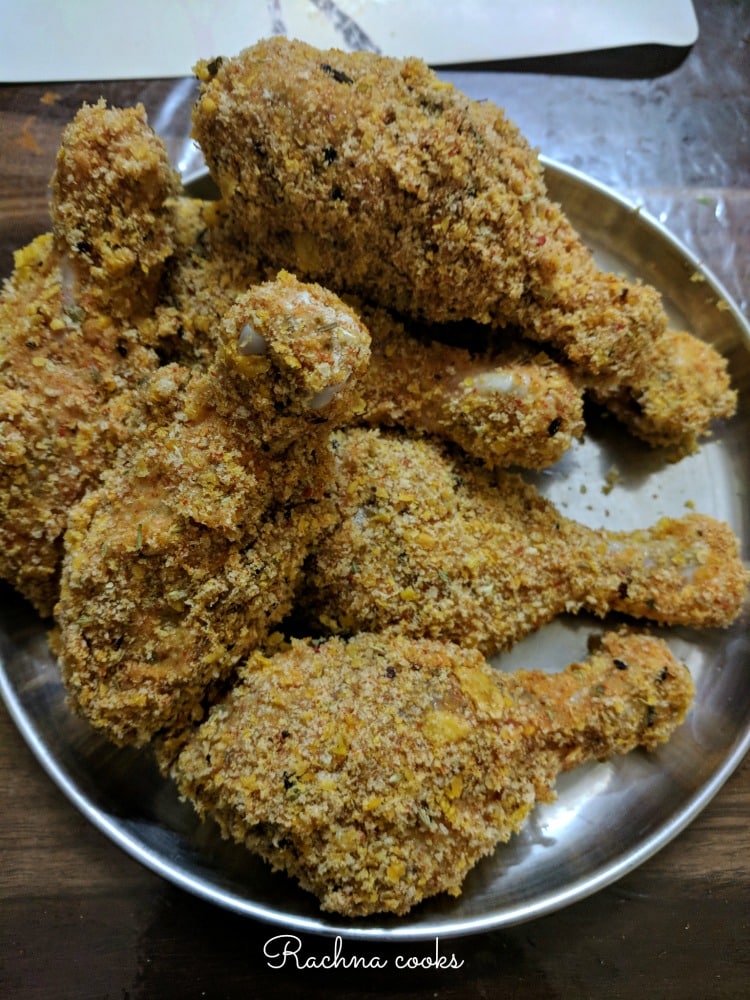 For Air Frying
Preheat Air fryer at 160 C or 320 F for 6 minutes. Dunk marinated chicken drumsticks first in flour mix. Dust off excess flour. Then dip in egg and then in the breadcrumb mixture. Repeat for all and keep aside.
Chicken drumsticks prepared and ready to go into Airfryer. Brush air fryer basket with oil. Arrange the drumsticks and air fry at 160 C or 320 F for 15 minutes minutes. Turn them midway through the cook.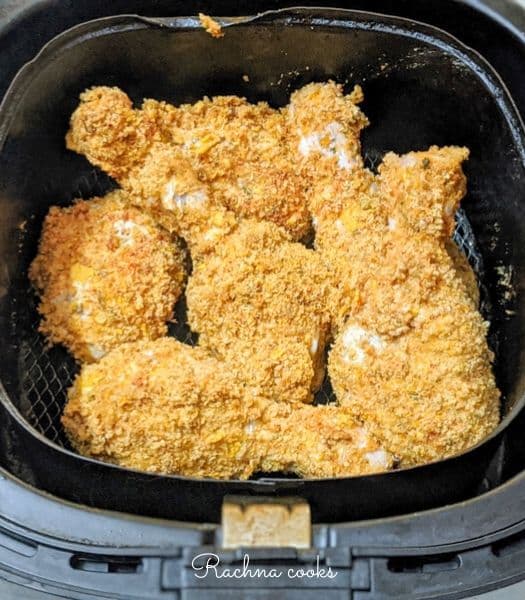 Now increase the temperature to 200 C or 390 F and cook further for 6 minutes for a golden crunch.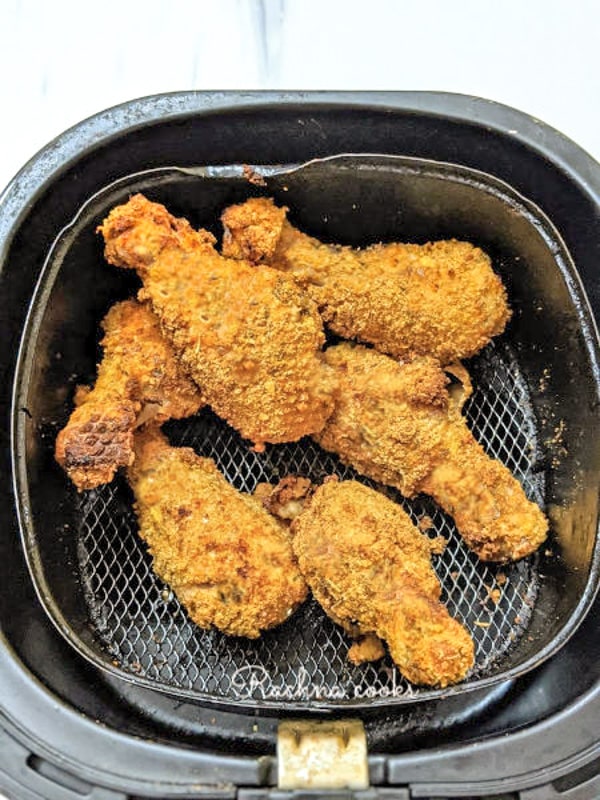 Take out and serve hot with dip or chutney.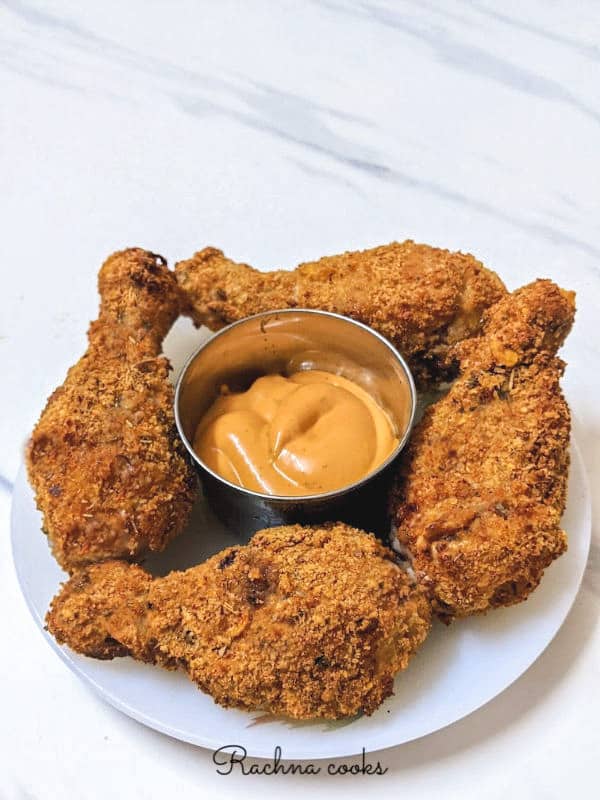 If you liked this recipe, I request you to give a star * rating either on the recipe card or in the comments.
You may also like:
Crispy Chicken Tenders in Air fryer
Do also share the post with your friends if you like the recipe. Pin it here: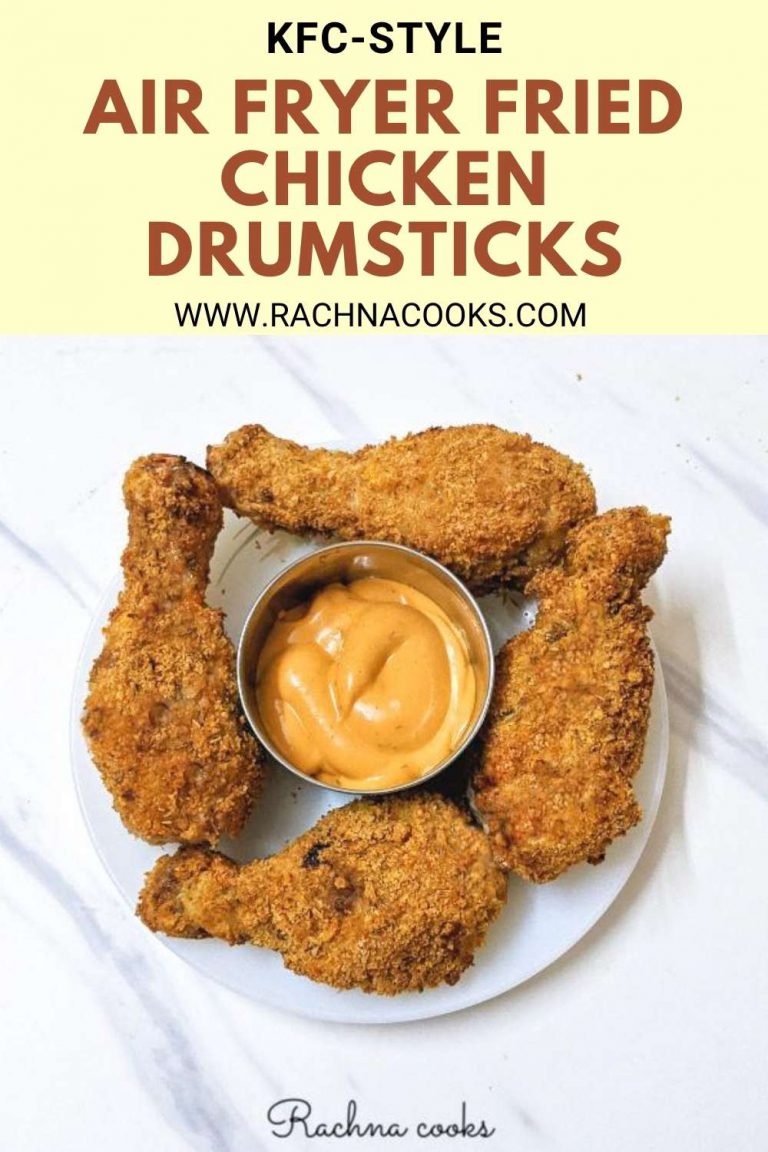 Here is my review of Airfryer (not sponsored)
Here are some delicious Airfryer recipes if you would like to try.
Get my FREE ebook Beginner's guide to Air fryer cooking here.