Shakshuka is a recent favourite in my home and a regular fixture for breakfast during weekends. I am in love with this recipe which is a one pot meal when served with toasted bread. This is a North African-style recipe that is truly versatile and can be up or down-scaled to fit your choices. You can also serve it at breakfast, lunch or dinner for a filling, hearty meal, and it is so simple to make. You'll love it. So here goes: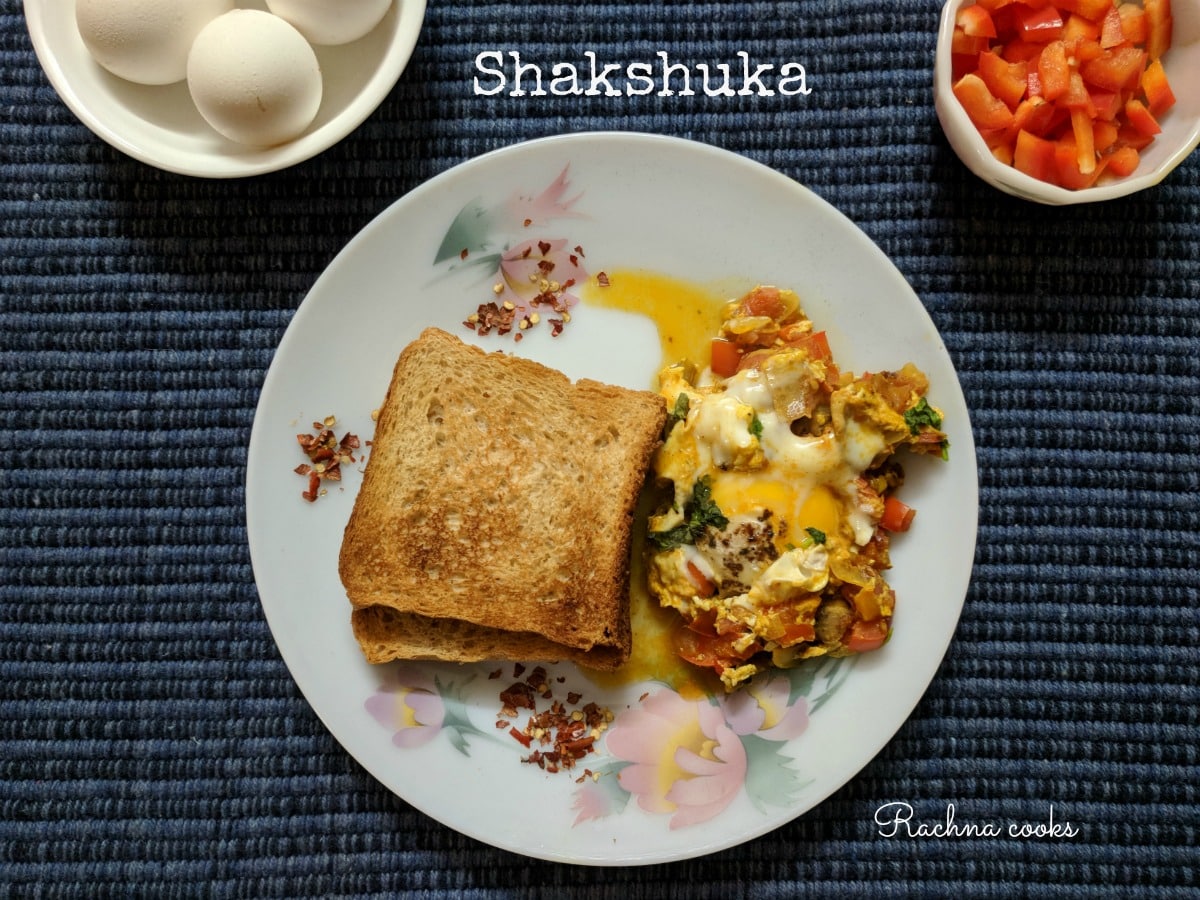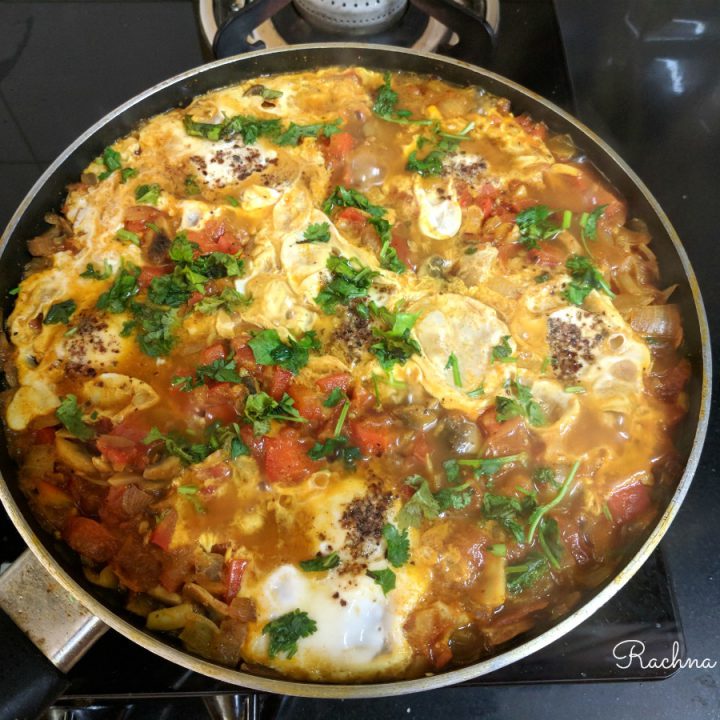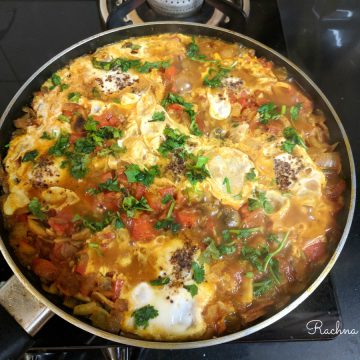 Shakshuka – Poached Eggs in Spicy Tomato Sauce
This one-pot meal made with poached eggs, peppers, veggies and spices is delicious and a complete meal for the family. It is also ready in under half an hour.
Ingredients
6

eggs

½

Kg.

ripe tomatoes

canned or fresh

1

large capsicum

green pepper or red pepper finely chopped

2-3

hot green chillies finely chopped

modify as per taste

1

medium onion chopped

8-10

button mushrooms finely sliced

optional

2-3

cloves

garlic finely minced

½

tsp.

turmeric powder

1

tbsp.

freshly ground black pepper

1

tsp.

cumin powder

1

tsp.

paprika or chilly powder

2

tbsp.

Olive oil

salt to taste

Chopped coriander leaves for garnishing
Instructions
Heat olive oil in a large deep pan/skillet. Add in the onion, garlic, pepper and mushroom. Let it cook down for about 5-6 minutes.

Now add in the black pepper (keep some for eggs), cumin, turmeric powder, paprika, salt and tomatoes. Cover and cook for about 7-8 minutes till you get a thick sauce.

Now make wells in the sauce using a spoon and break eggs into it. I break the egg in a bowl and not directly over the pan. That way the yolks stay intact. Garnish the eggs with some salt and pepper. Cover and let the eggs poach in the tomato sauce on low heat for another 5-6 minutes. Turn off the gas when the whites start to set and the yolks are still runny. You can make the whites set faster by spooning some hot tomato sauce on top. Garnish with chopped coriander leaves.

Serve hot with some toasted bread.
Notes
Don't used tomato puree just roughly chopped or crushed tomatoes. You want the sauce to be thick and not very runny.
1. I love mushroom hence I added it. It is completely optional and you can skip it.
2. Charred onions and peppers will add a depth of flavour to the recipe.
3. Don't wait for the eggs to become completely cooked before taking them off the heat. They will get overcooked by the time you eat as they continue to cook even after you take them off the fire.
4. You could use olives or feta cheese as serving suggestions if you have them available.
Check out our Food videos
Subscribe to our Food channel for recipe videos
Step-by-step Photos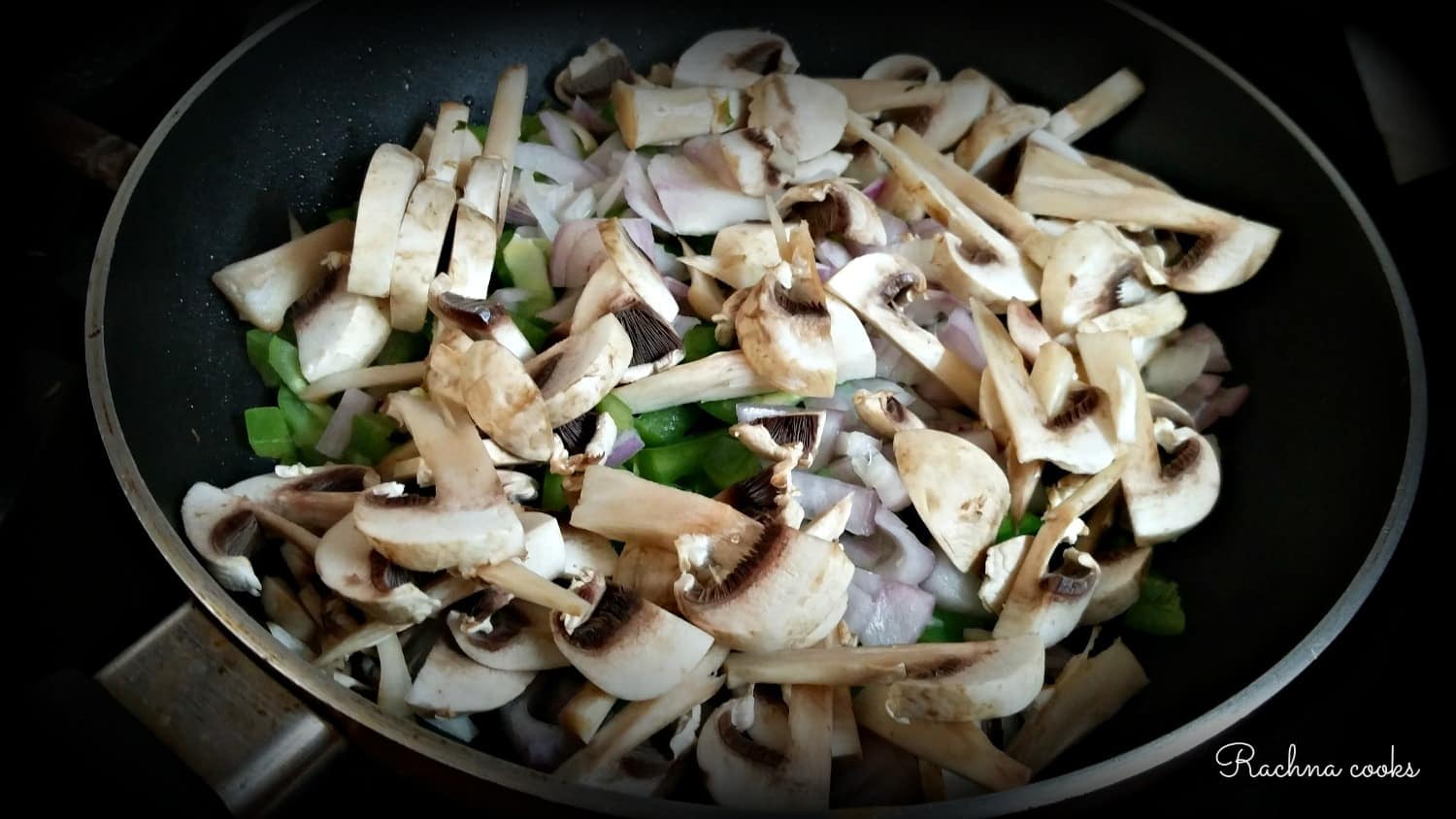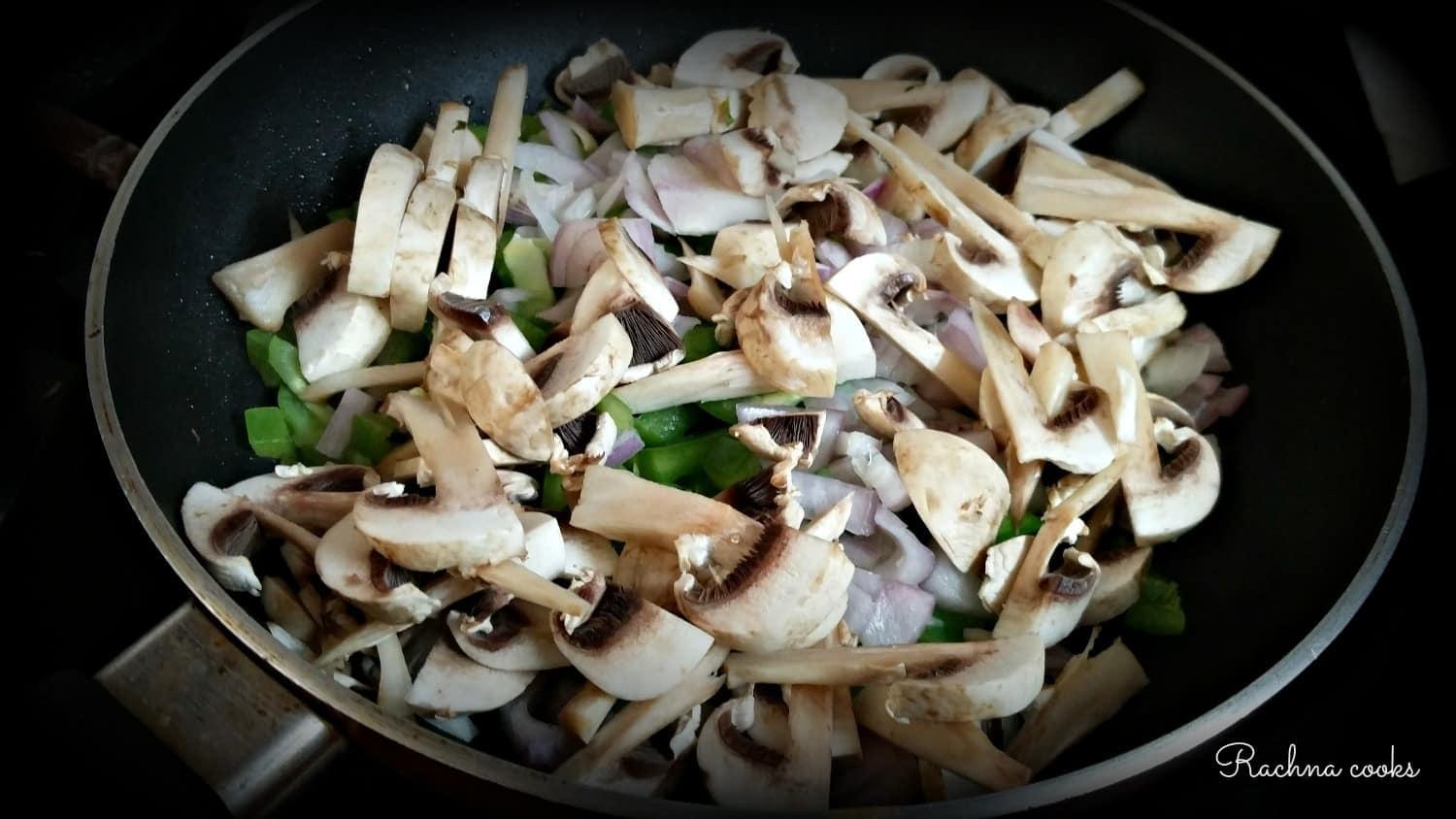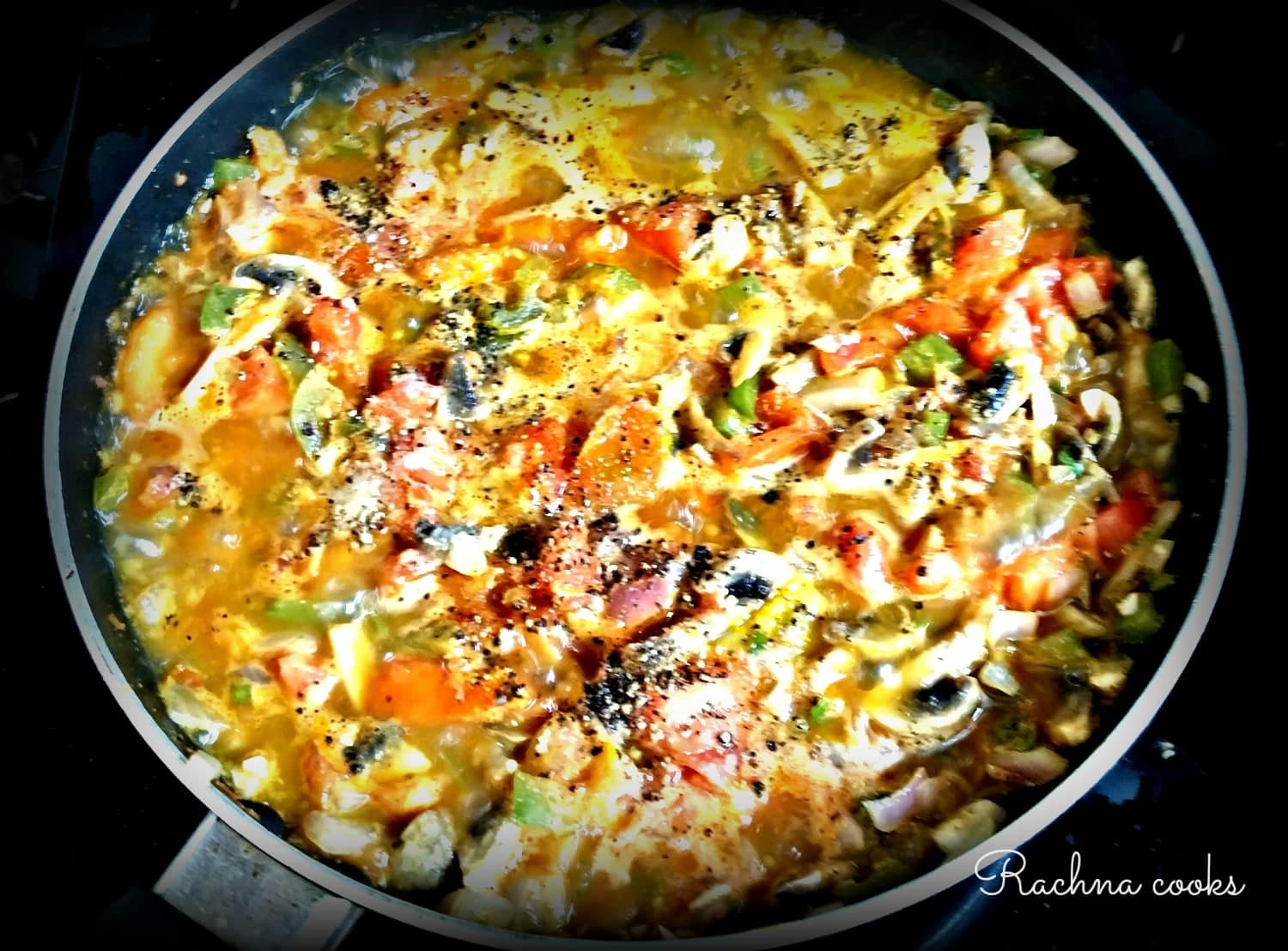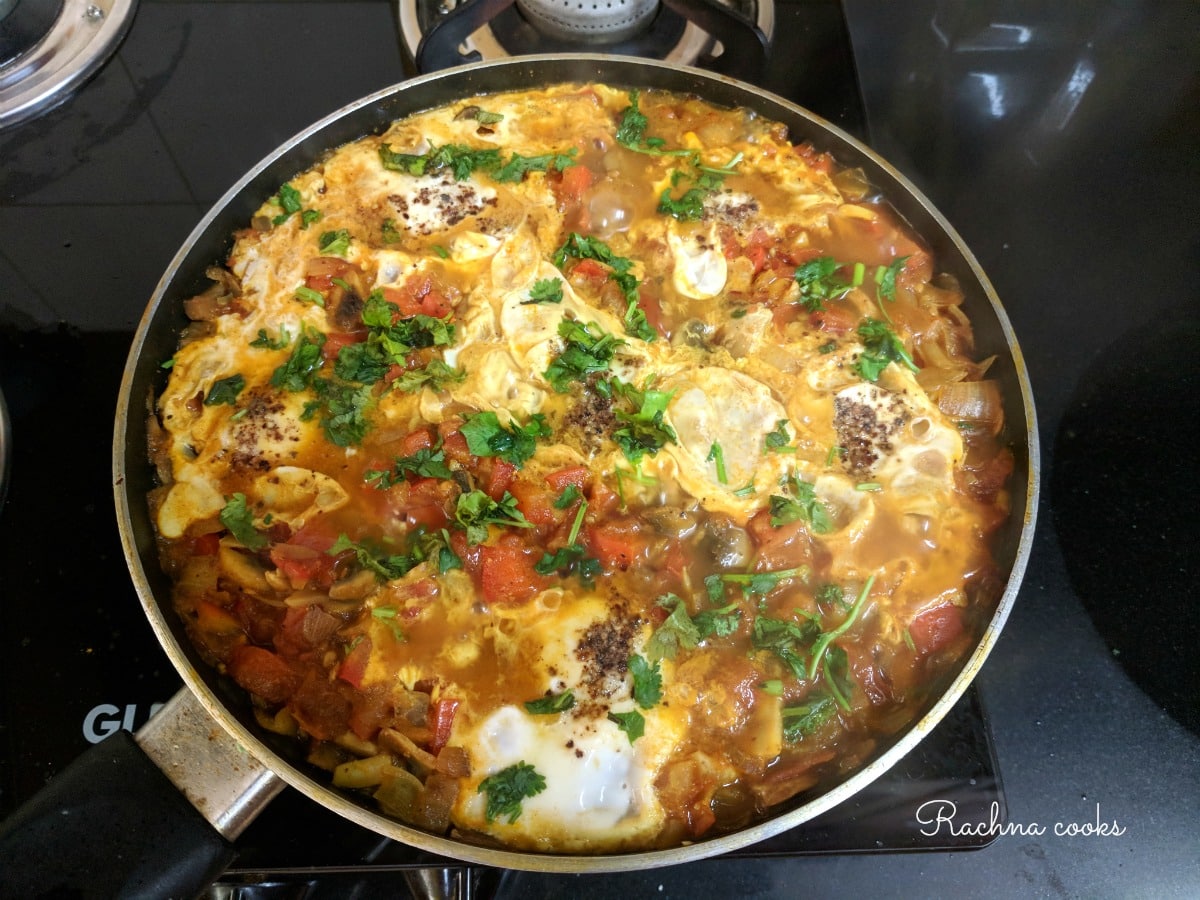 Shakshuka is ready to serve. Serve with toasted bread and enjoy.
Trust me, if you like eggs, you will love this dish. You can cook for the entire family at one go and then eat together. Use the bread to scoop the thick sauce.

Try it and let me know.