Making your own pumpkin purée at home is really easy. When pumpkin season comes, I find that roasting pumpkin in this way and then making mash or purée from it is a great way to make many wonderful pumpkin recipes in a jiffy like these pumpkin pancakes. This purée lasts for a week easily in the fridge. You can also freeze it and then it will last a few months.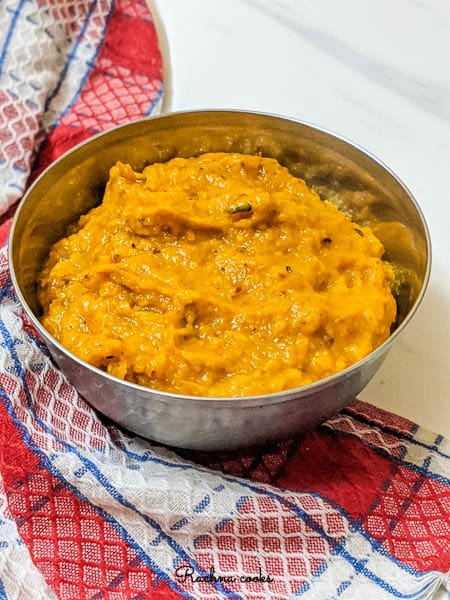 How to Make Pumpkin Purée:
There are two ways of making this purée from scratch:
1. Boiling: Cut pumpkin into bite-sized pieces. Cover with water and boil on low heat till pumpkin is well cooked. Drain and blend. You can use this purée in your dishes.
2. Roasting: Here is how you can roast pumpkin at home using oven and Air fryer. Then mash or blend the same for making your purée.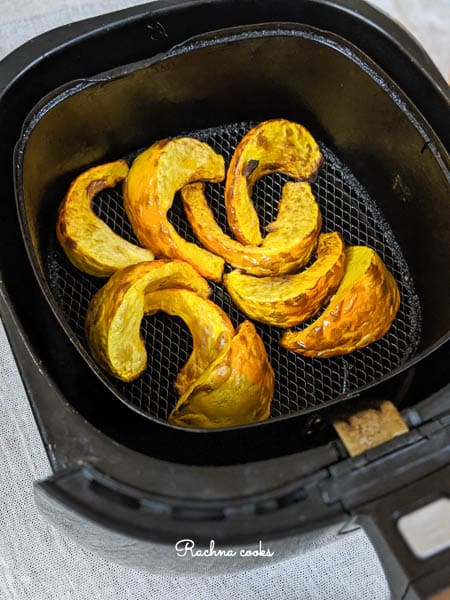 What can you make with it
This is so handy to have in the fridge. Try out my delicious Pumpkin Pancakes that you can make with it. Pumpkin is very healthy and has a very mild taste hence you can add it to a lot of savoury or sweet dishes that you prepare. I also make pumpkin spice lattes, bread and cupcakes. Will share the recipes soon for these.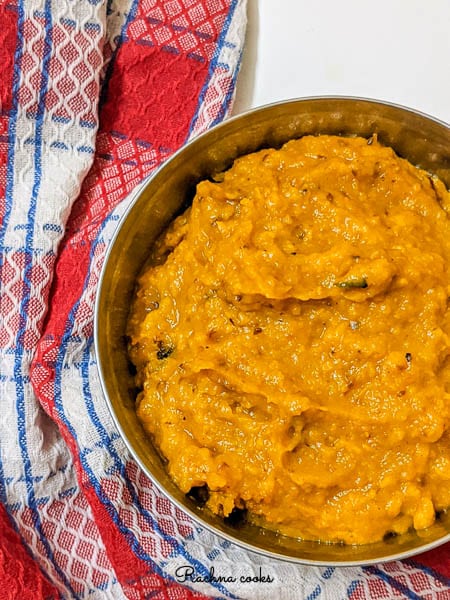 Here's my easy recipe:
📖 Recipe Card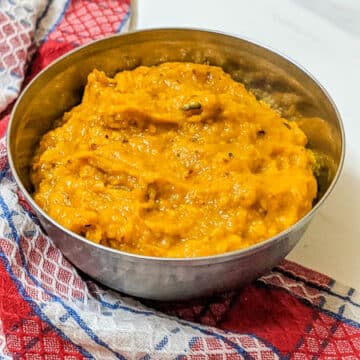 Pumpkin Purée Recipe
This easy homemade pumpkin purée recipe from scratch is very simple to make. It is also very handy to have it for a number of pumpkin recipes.
Instructions
For Boiling
Cut pumpkin into bite-sized pieces. Boil in a large pan covered with water. Once done, drain the liquid and blend the pumpkin after removing the peel. Store in a jar in the fridge or freezer.
For Air frying
In Air fryer:Just apply about 1 tbsp. of olive oil along with salt to your pumpkin wedges or pieces. Spread on a foil or baking paper on baking tray. Preheat air fryer to 390 F or 200 C for 5 minutes. Roast for about 15-20 minutes for wedges and about 10 minutes for pieces till it gets really well cooked. Take it out and serve.
Notes
1. Always use cooking pumpkins like sugar pumpkin or similar varieties for pumpkin puree.
2. You can use the same recipe to make purees of squashes.
3. You can roast without the salt as well. I use a little salt as it gives a light savoury touch to the puree.
4. Store the puree in the fridge for upto a week and in the freezer for 4-5 months and enjoy pumpkin recipes long after the pumpkin season is over.
Nutrition
Calories:
602
kcal
Carbohydrates:
118
g
Protein:
18
g
Fat:
17
g
Saturated Fat:
3
g
Sodium:
973
mg
Potassium:
6169
mg
Fiber:
9
g
Sugar:
50
g
Vitamin A:
154457
IU
Vitamin C:
163
mg
Calcium:
381
mg
Iron:
15
mg
Check out our Food videos
Subscribe to our Food channel for recipe videos
Isn't this recipe super simple? So much cheaper and better than canned puree. One tip is making the puree in a large batch at one go. That way you can prepare a lot of it and can store in the fridge or freezer depending upon the time frame that you intend to use it for. When you thaw frozen puree, you will have some extra water that you can simply mix with the puree. The taste is the same.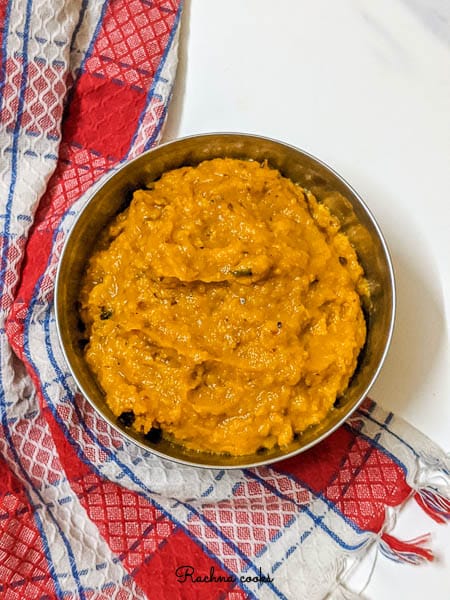 If you liked the recipe, I request you to leave a star * rating. Thanks.
You may also like
Pin This