Makki ki roti or flat bread made with coarse maize flour is delicious albeit a bit difficult to roll out. It is every bit worth the effort because it is truly flavoursome. Makki ki roti is a favourite combination with sarson ka saag (Mustard greens curry) which is a winter dish. The match is one made in heaven for sure.
But, you can have makki ki roti on a regular basis even otherwise. It is tasty and very filling. I make it often in my home. It is gluten-free and very filling.
Here is the simple recipe:
Makes about 10-12 good sized rotis
📖 Recipe Card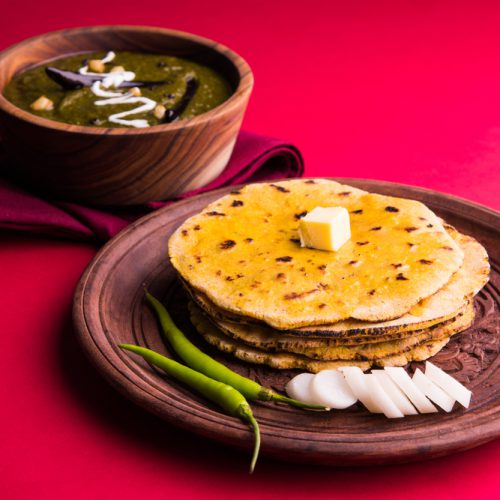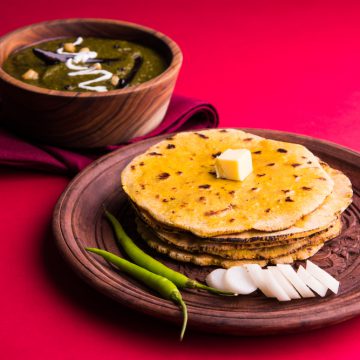 Step-by-step Makki ki Roti Recipe
This is a delicious recipe of makki ki roti made with maize flour. It is delicious with sarson ka saag or with any other curry.
Ingredients
½

Kg.

fresh makki ka atta

maize flour not corn flour

250

gm.

whole wheat flour

optional

1

tsp.

ajwain

carrom seeds

2-3

green chillies chopped finely

optional

2-3

radishes grated

optional but these really enhance the flavour

salt to taste

2-3

tsp.

oil
Instructions
Take makki ka atta along with wholewheat flour (if using).

Mix all the ingredients in it.

Now add a little warm water to make the dough.

Roll out into rotis and fry with a little ghee/oil on both sides.

Serve hot.
Notes
I use a little wholewheat flour to make the rotis easy to roll out.
Use hot water to knead if using only maize flour.
This is delicious as it is with pickle and curd or with any other curry too.
Check out our Food videos
Subscribe to our Food channel for recipe videos
Step-by-step Method: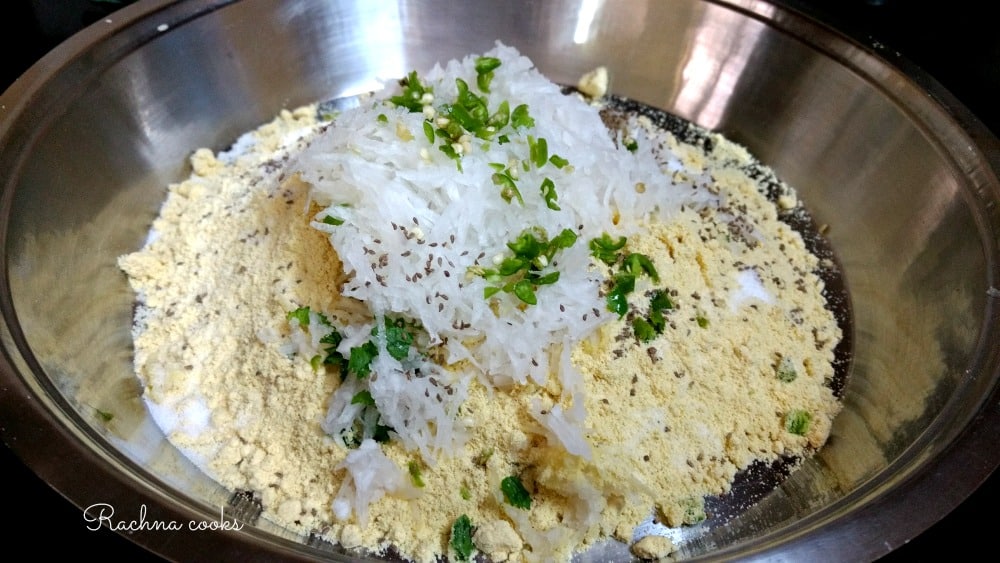 First take all the ingredients in a shallow plate to knead the dough. Use water little by little and make a dough. Remember to take out water from grated radish by squeezing it out before adding to the flour. You may use the squeezed radish water while kneading.
Make a stiff dough. Cover and keep aside for half an hour.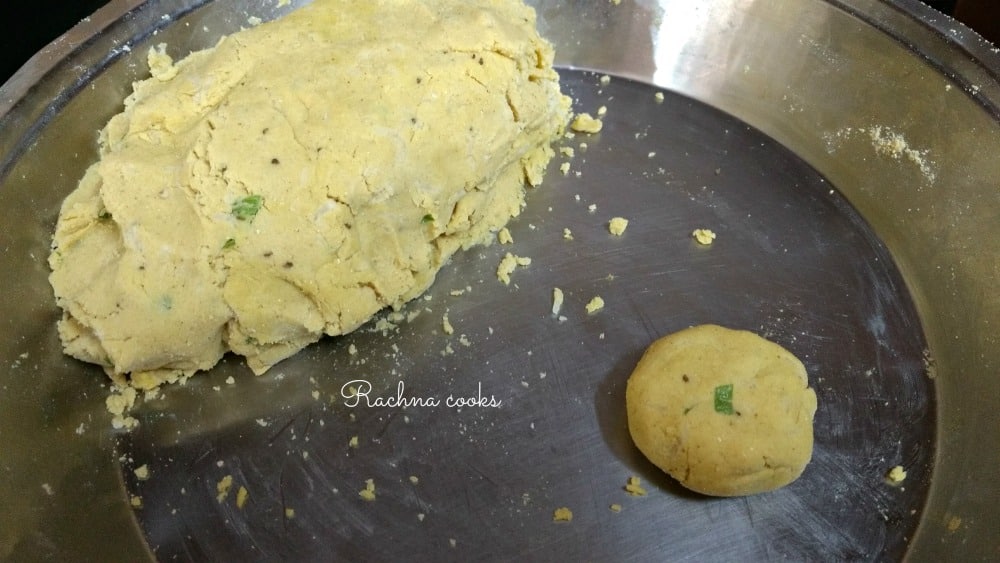 Make a large round ball of dough. To make the roti, take a large skillet/tava. Do not heat it. Some people put a little oil on the ball of dough and then start spreading it out with their hand right on the tava. They make it as thin and large in the shape of a round roti as they can. I am not so comfortable with this technique.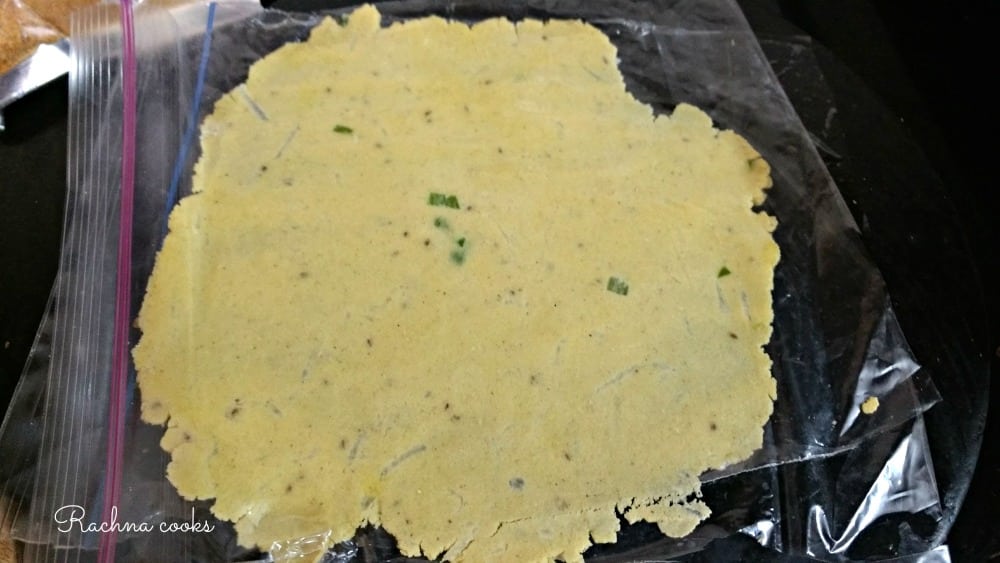 I prefer to use a ziplock bag after cutting it into two halves. Place the round ball of dough at the centre of the plastic cover. Put some oil all around it. Place the second plastic sheet on top and then roll it out using a rolling pin in the desired shape. Now peel off the top layer of plastic. Spread it dough side down on the cold tava and slowly peel off the plastic sheet. Now your roti has been transferred to the tava. Cook it on both sides by applying oil. Serve it hot with sarson ka raag or another curry. In this manner your roti stays whole and you can roll it out relatively thin.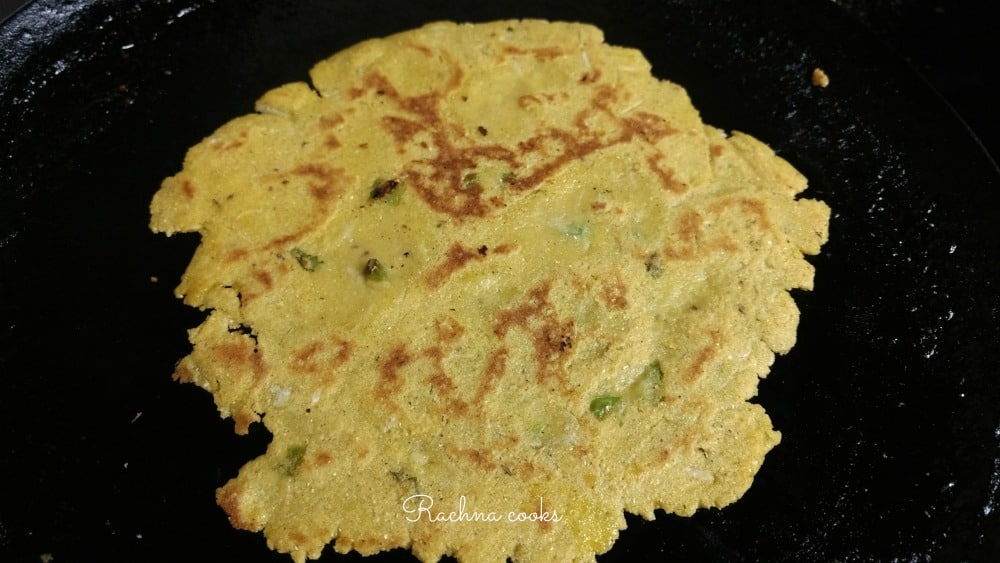 You must try to have it hot off the griddle if you can. It is quite delicious even with just pickle.
Tips:
If you find this difficult to make, use whole wheat atta with makki ka atta in the proportion 1:2. That way you can roll out the rotis like your normal rotis.
Also remember that you will have to cool down the tava before spreading out the next roti on it. You can alternatively use 2 tavas.
See the easy Video recipe here:
Do subscribe to my YouTube channel for more such recipes:
Subscribe here
Do try this with with sarson ka saag (Mustard greens curry). It is the perfect combination for this food.
You may also look these winter recipes on Rachna cooks
Pin This