This post shares how to clean air fryer so that it stays in optimum working condition.
Here I have shown how to clean basket type Philips air fryer.
My Philips air fryer is over 7 years old, and I have been using it daily for the past few years.
One important area is to clean it well after every use.
You may also like: 10 common mistakes to avoid when using air fryer
Can You Put Water in an Air fryer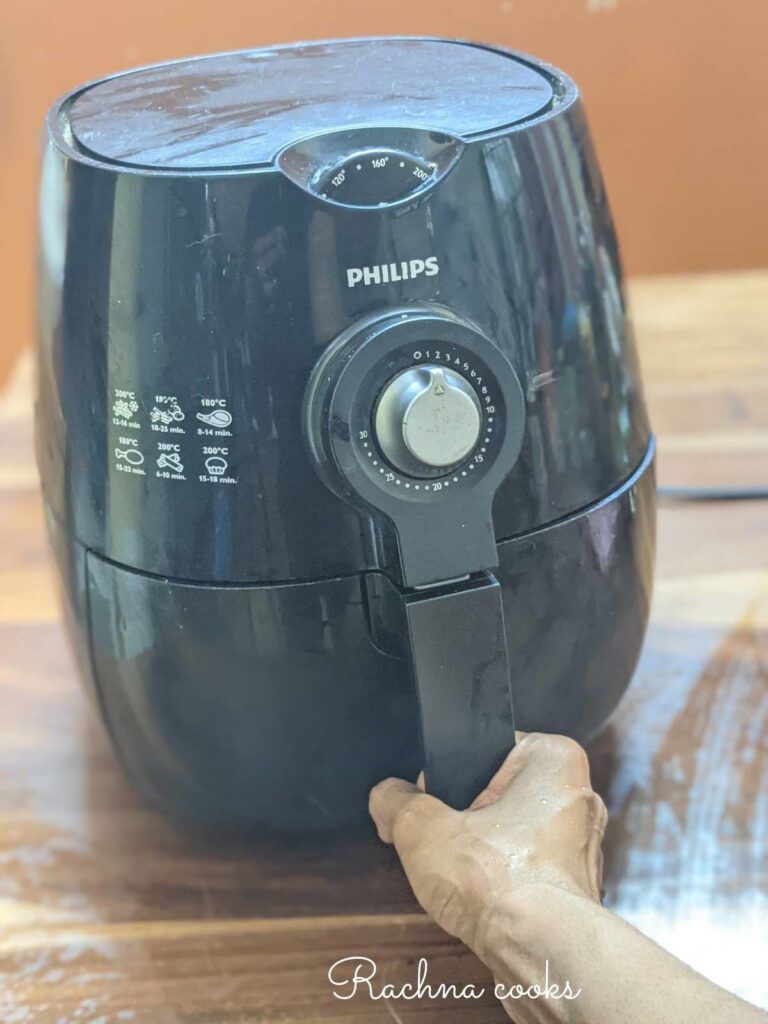 Tips for Cleaning your Air fryer
1. Clean your air fryer basket and mesh after every use.
If you are using parchment paper or foil, it reduces clean up.
But still ensure that you wipe with a damp cloth after each use.
2. Since air frying involves a lot of 'frying', you will find grease accumulating in your fryer, so clean up regularly.
3. Cleaning around the air fryer heating coil can be done once a month if you use it regularly or once in 3 months if you use it sparingly.
4. Do not use abrasive metals, sprays, sponges or brushes as they can damage the coating of your air fryer.
5. Soaking in warm water and liquid detergent for 15-30 minutes helps you to clean your air fryer basket and mesh well.
6. For more stubborn stains I use baking soda or vinegar while soaking in warm water.
Then I gently scrub with a soft scrub and wash off.
7. For foul odours soak in water with 1 tsp. of lemon juice in it.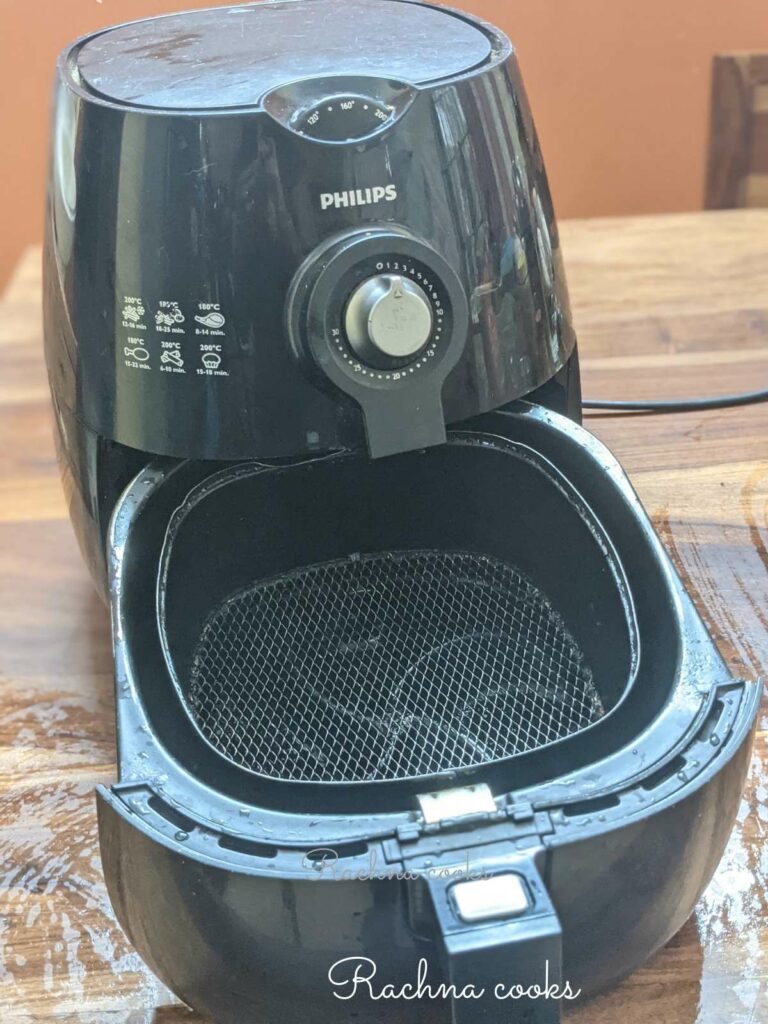 When to Clean Your Air fryer
Clean after every use
Do clean your air fryer mesh basket and outer basket after every use.
You can put them in dishwasher if they are dishwasher safe (Refer to your user manual).
Or just wash them with soap and water.
You can also wipe the heating coil, air fryer internal and external surfaces if they look dirty.
Clean after a few uses
Clean around the heating coil and the area around it by using a damp towel with some dishwash liquid.
Make sure that you remove all the grease.
How to Deep Clean your Philips Air fryer
It is important that you deep clean your air fryer once a month if you use it daily or once in 3 months if you use it infrequently.
You can check out the video.
Here's what you will need:
1. A microfiber towel/cloth and a soft sponge.
2. An old toothbrush or brush with soft bristles.
3. Dish soap
4. Vinegar/lime juice
5. Warm water
6. Clean cloth
Unplug your air fryer. Remember to keep your air fryer unplugged when not in use. Make sure that it is completely cool.
Take out the air fryer basket and mesh and wash them with soap and water.
If they are a bit soiled, then soak in dish soap and water for about 15-30 minutes, lightly scrub with a soft sponge and wash off.
If it is really soiled, you could add 2 tsp. vinegar or lime juice while soaking in dish soap and warm water.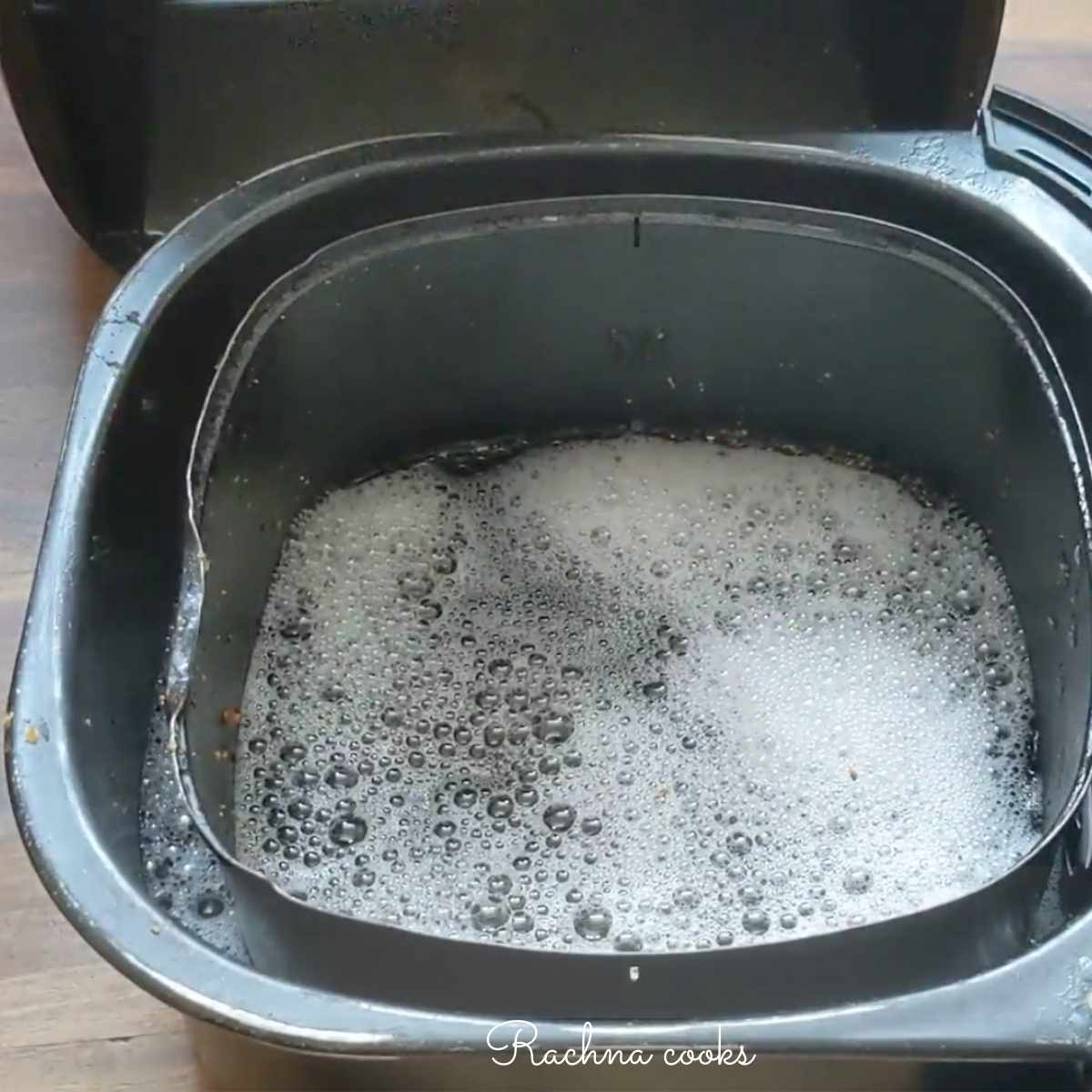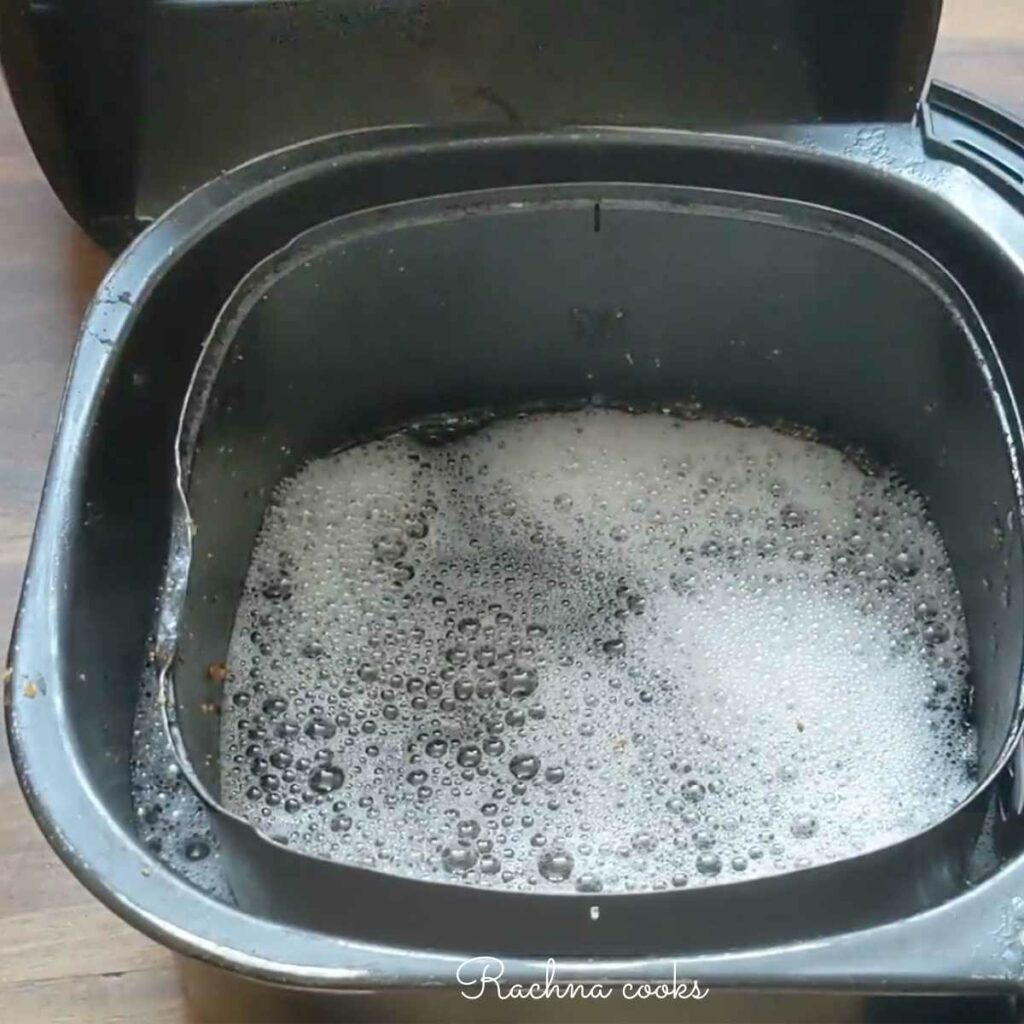 Now turn your air fryer upside down and use a damp microfiber towel to wipe around the coils.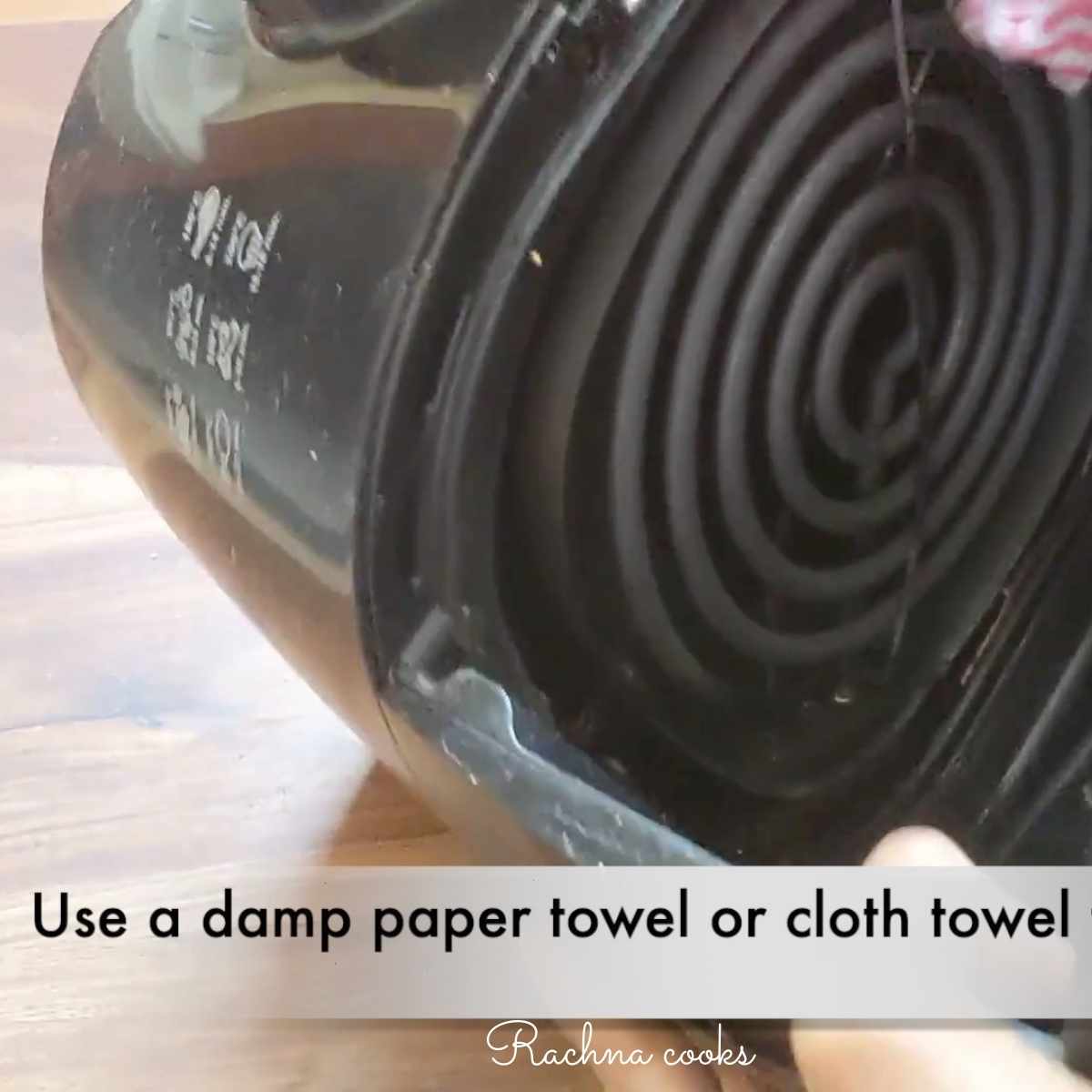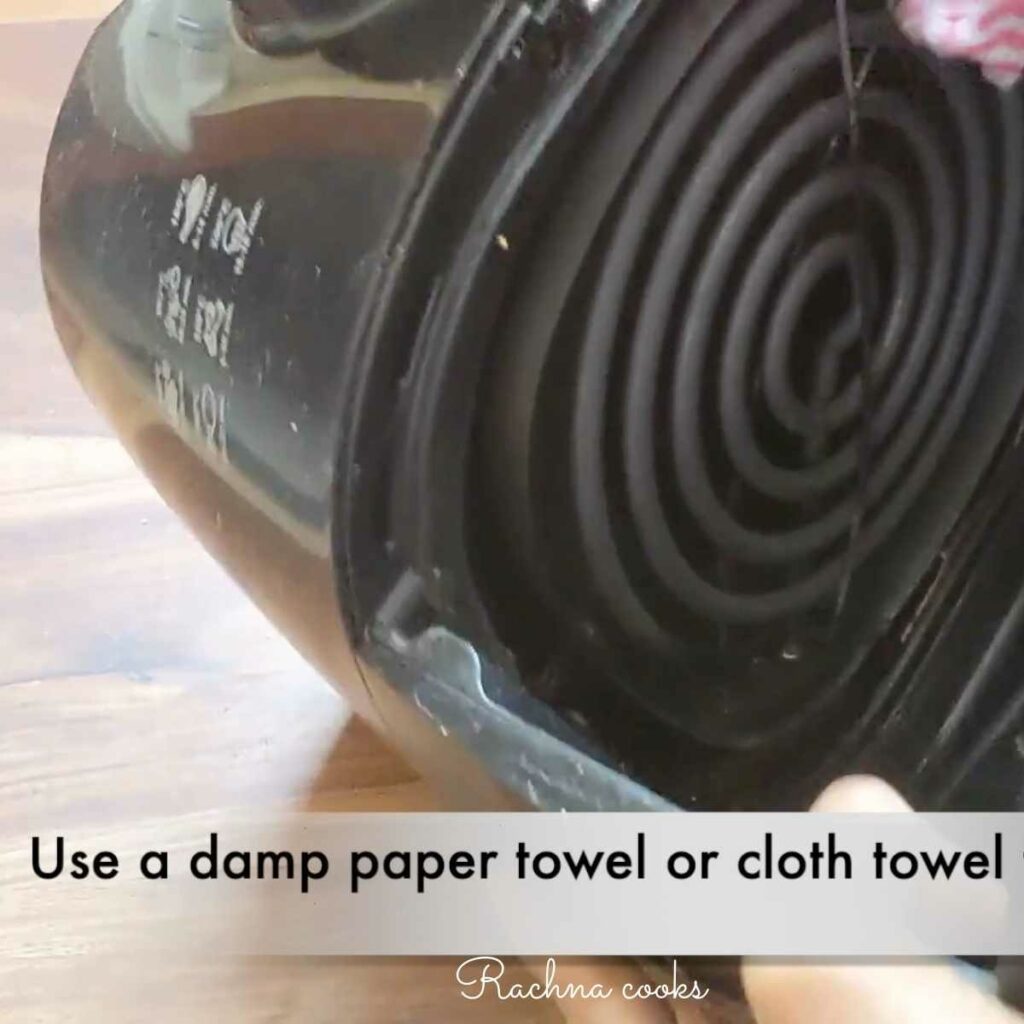 Reach into the sides and under the coil and clean out the grease.
You could use a soft toothbrush or a soft bristle brush to lightly scrub any caked grease.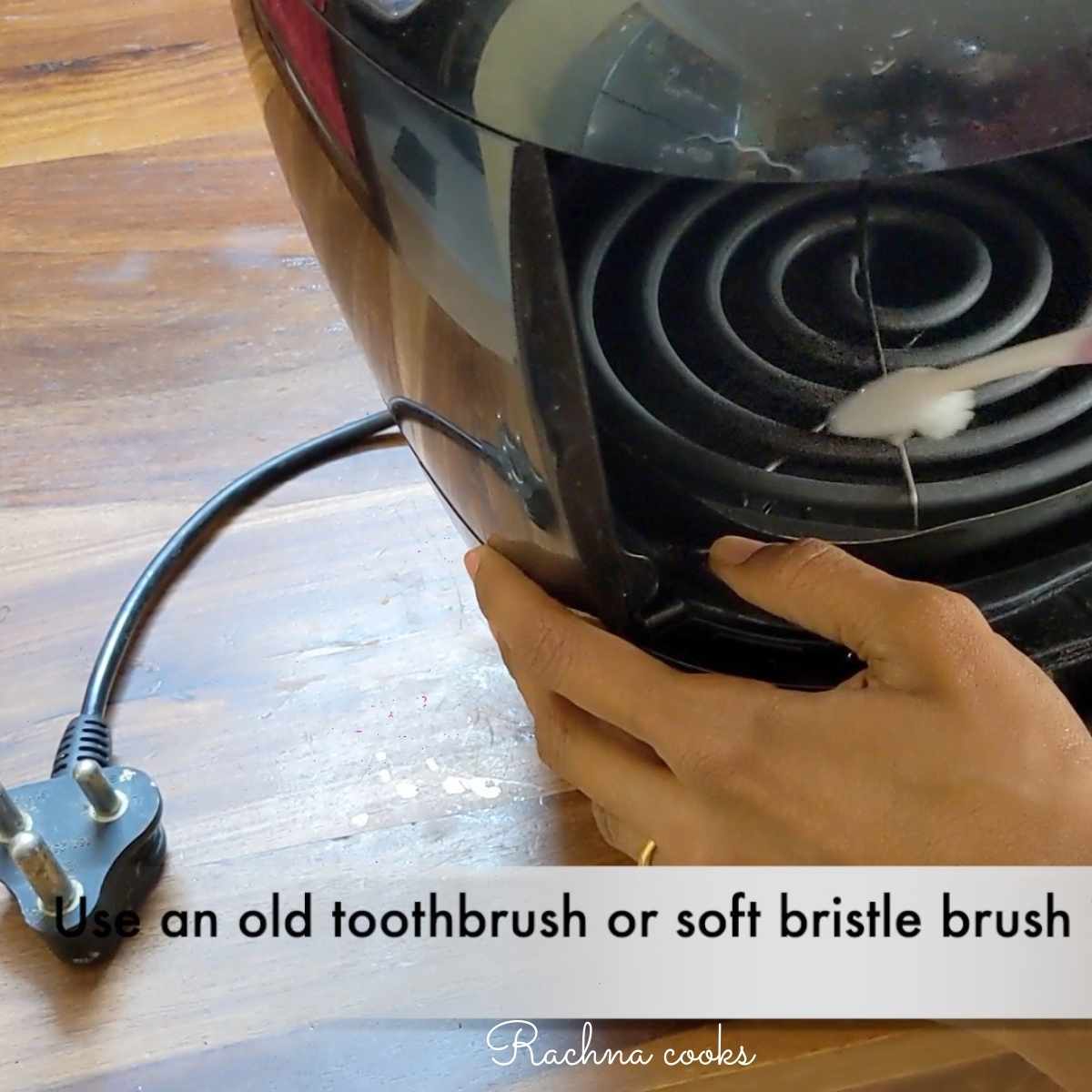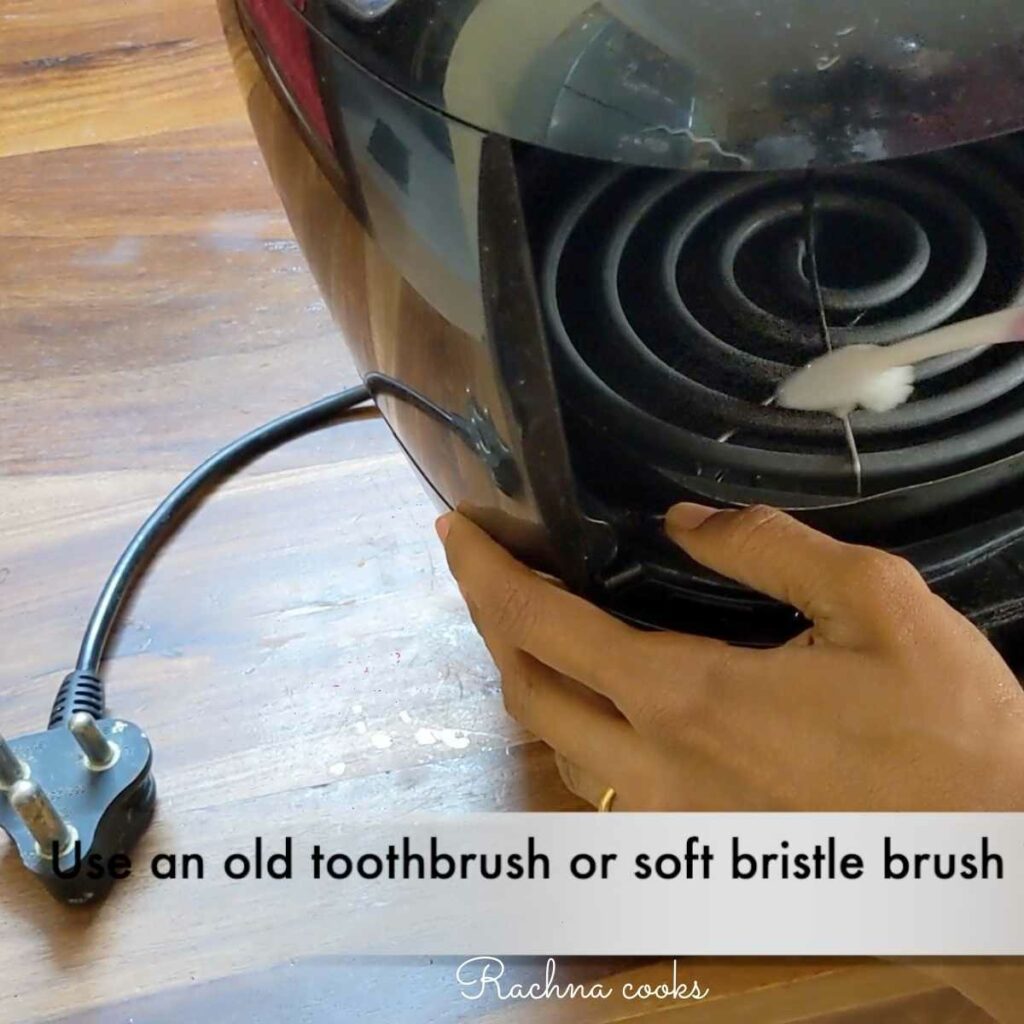 Use a soapy towel to wipe the internal and external surfaces of the air fryer. Then dry using a dry cloth.
Dry everything well before reassembling the air fryer.
You may also download my FREE Beginner's Guide to Air fryer Cooking
You can buy my Indian Air fryer Recipes Cookbook here and buy Air fryer Vegan and Vegetarian Recipes cookbook here.
Also join my Awesome Air fryer Recipes Facebook Group for more recipes, conversations and fun.