Pickled Jalapenos are a favourite at home. I love them in sandwiches, wraps or just as a side to perk up any dull meal. Its tantalizing heat along with a sharp tartness and sweetness are a delight on the palate. Buying them from the supermarket is at least 5 times more expensive than making them at home. Really! And it's so simple that you'll wonder why you were not making them till now.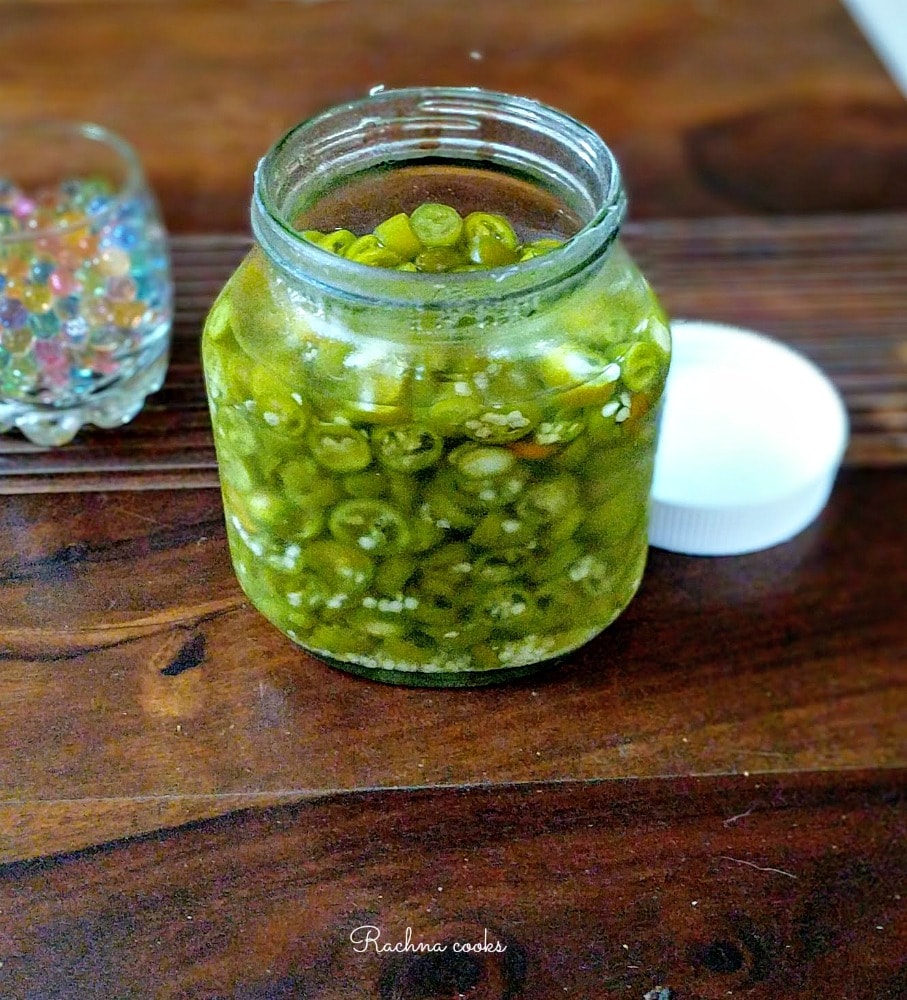 These jalapenos I picked up at the Sunday Farmer's Market in Kodaikanal. A roadside vendor was selling them and I got 250 gms. for just Rs. 20. Imagine!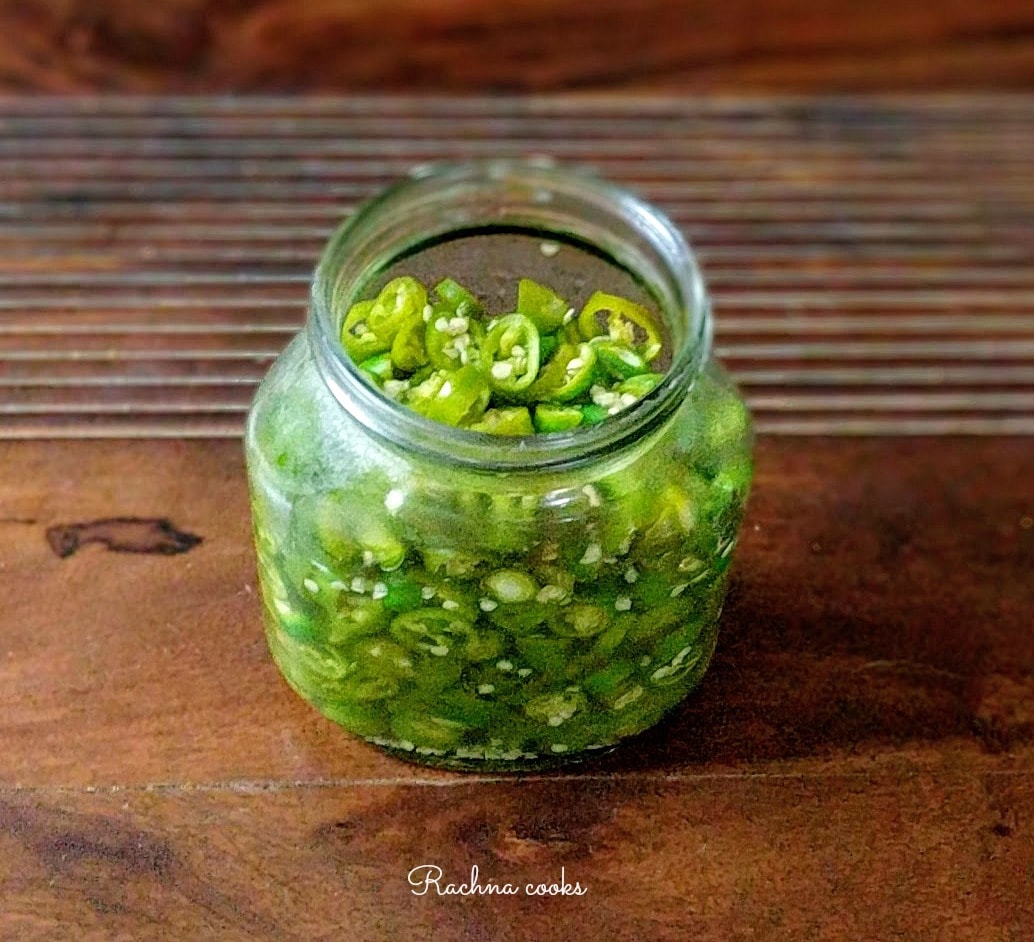 This is my easy, foolproof recipe of pickled jalapenos that you absolutely must try.
📖 Recipe Card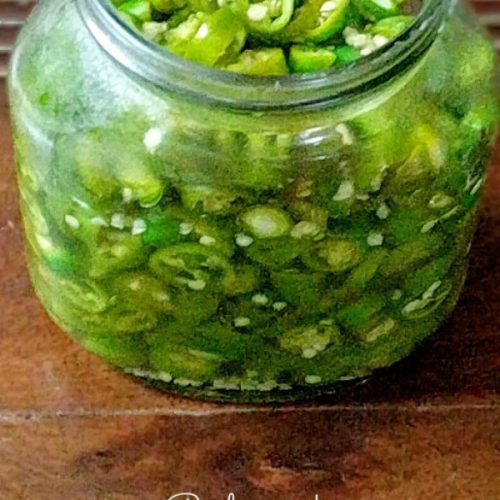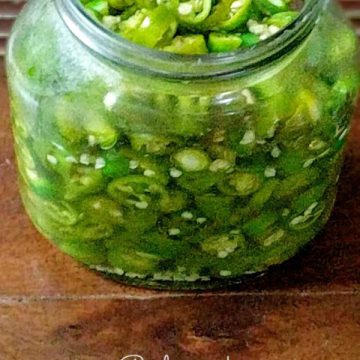 Easy Homemade Pickled Jalapenos
A tangy, hot pickled jalapenos recipe that goes so well with your sandwiches, wraps, pizzas and even as a side with your meal.
Ingredients
250

gms. fresh jalapenos chopped into roundels

150

ml.

white vinegar

150

ml.

water

3

tbsp.

sugar

1.5

tbsp.

sea salt/normal salt

3-4

cloves

garlic
Instructions
Mix the vinegar and water and put them in a pan to boil.

Add in the crushed garlic cloves, salt and sugar and heat till they are dissolved and the mix just comes to a boil.

Now switch off the gas and add the jalapeno pieces. Cover and keep for about 10 minutes. Cool it.

Take a sterilized bottle/jar and transfer the jalapeno pieces that start taking on the pea green colour from a fresh green colour. Top with all the pickling liquid. You can pop it in the fridge and use jalapenos as and when needed.

The jalapenos are ready to eat after 30 minutes of pickling time.

Easy peasy.
Notes
You can use other flavouring agents like chopped dill, peppercorns, some coriander seeds etc. as per taste.
This simple pickling recipe tastes piquant and right spicy. I love it.
You can also make gherkin/beetroot/carrot pickles in a similar manner.
Check out our Food videos
Subscribe to our Food channel for recipe videos
This is unbelievably simple and saves you a lot of money. I just wish that I had bought more jalapenos to prepare more batches. Sigh!
Pictures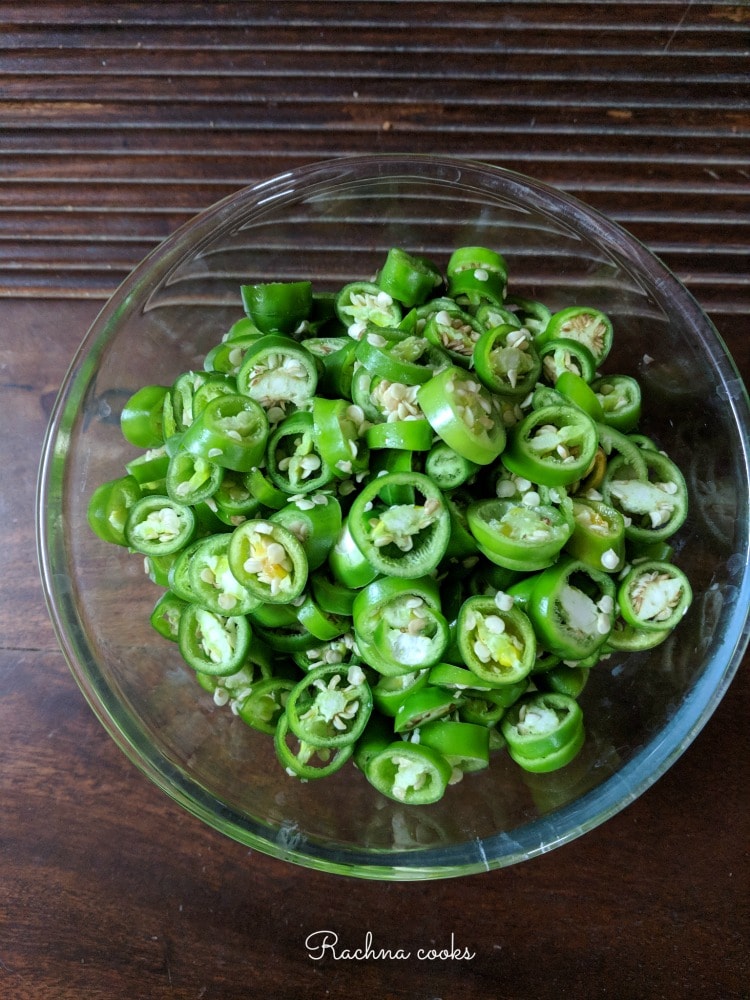 Washed, dried and chopped jalapenos cut in roundels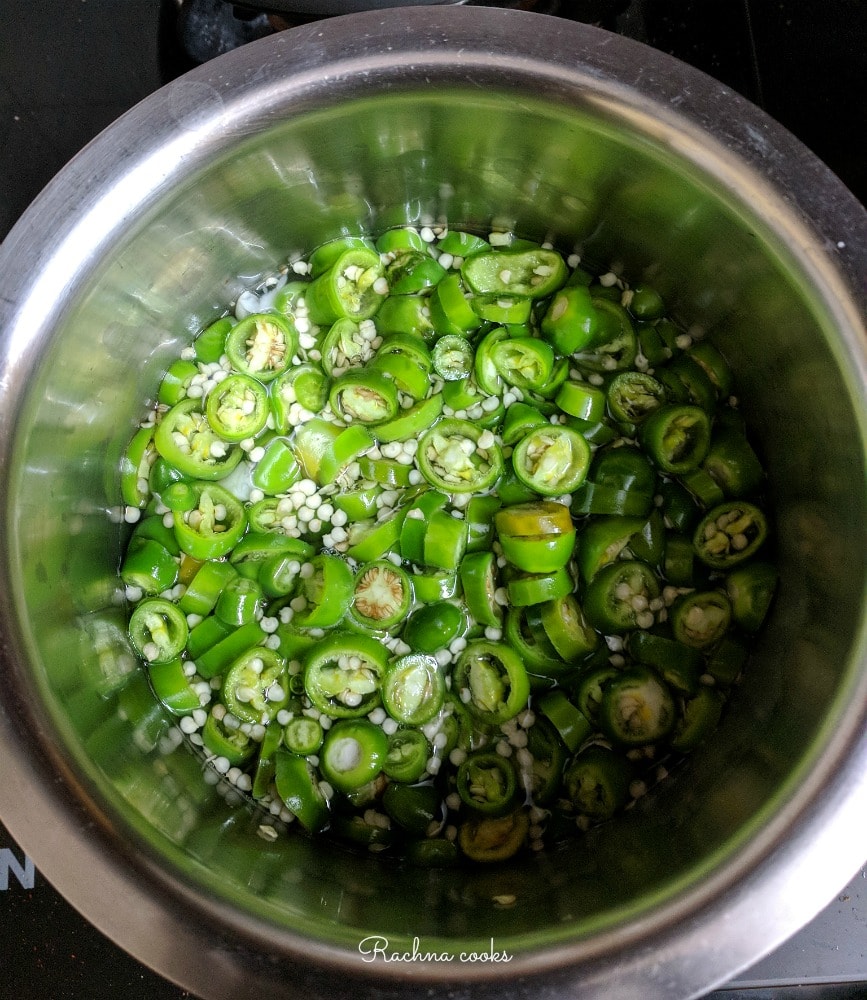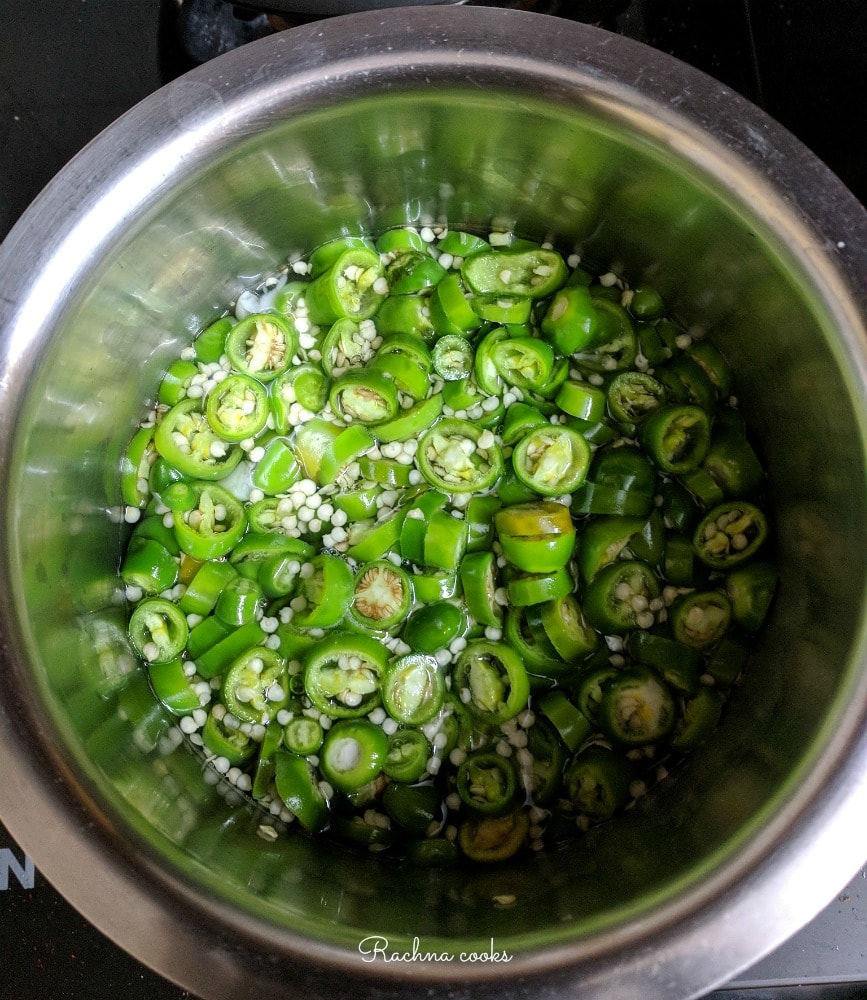 Jalapenos added to pickling liquid and immersed for about 10-15 minutes.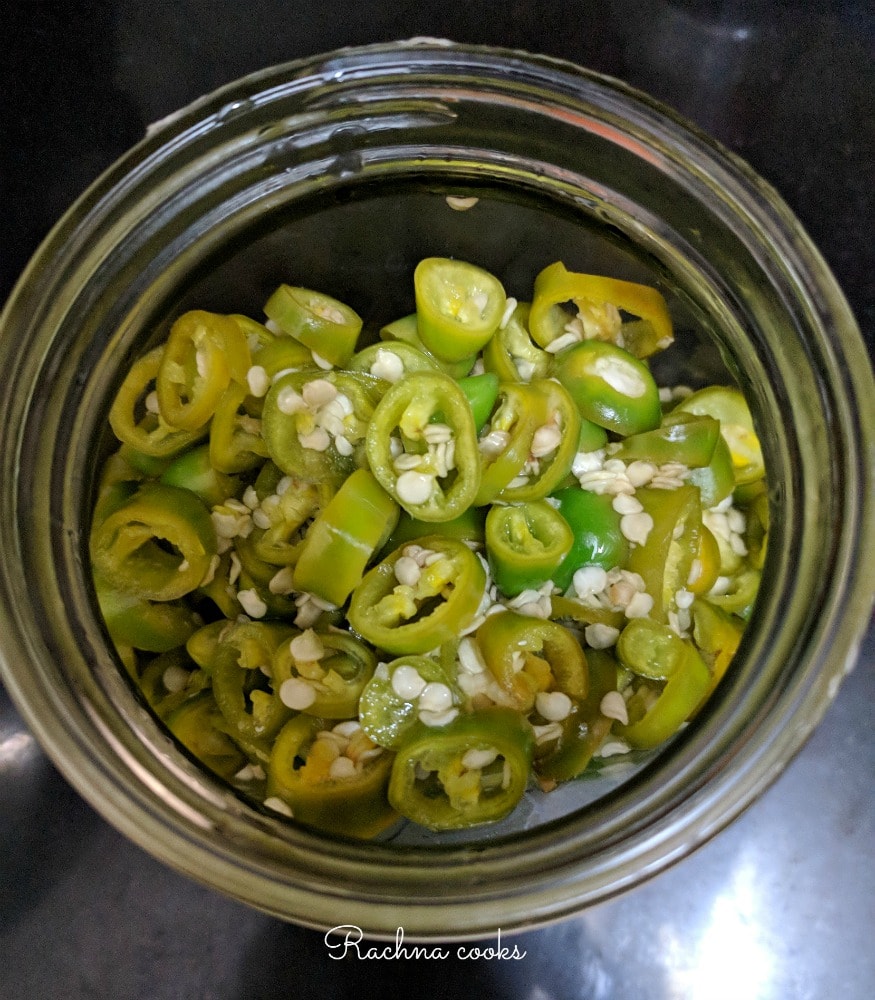 Pickled jalapenos transferred to sterilized jar. See how some of them are still changing colour to the pea green colour that we all recognize.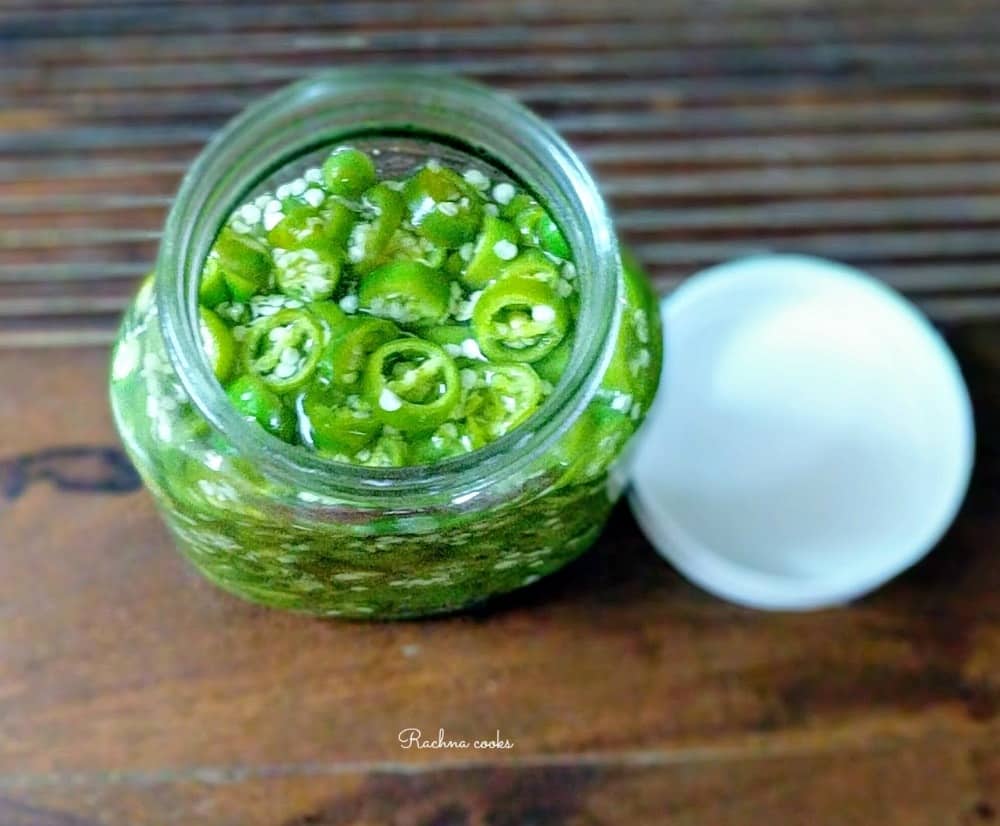 Jalapenos with pickling liquid in the jar ready to be used or stored in the fridge.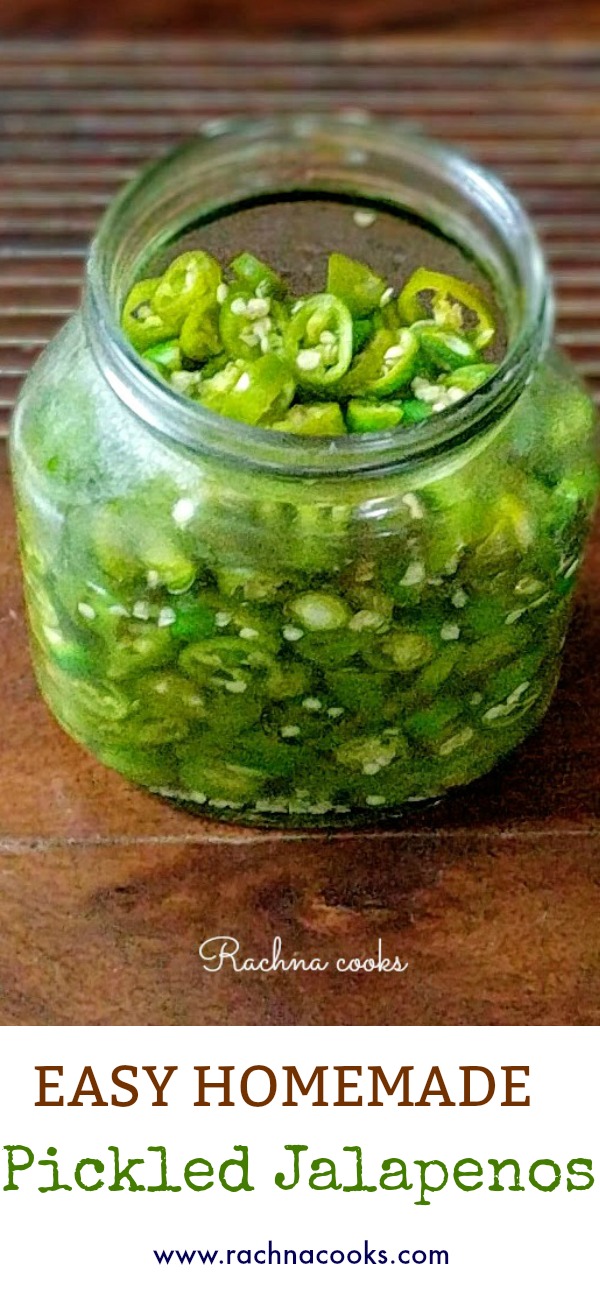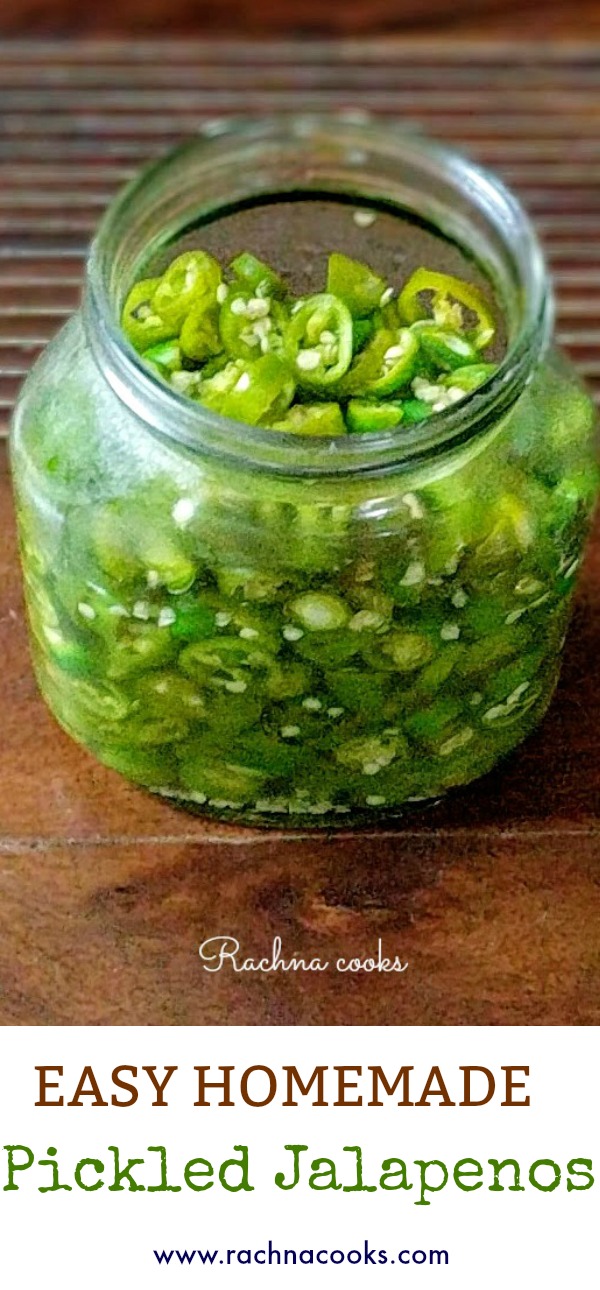 Do share if you liked the recipe and I'd love to hear if you tried it.