Pickled Jalapenos are a favourite at home. I love them in sandwiches, wraps or just as a side to perk up any dull meal.
Its tantalizing heat along with a sharp tartness and sweetness are a delight on the palate.
Buying them from the supermarket is at least 5 times more expensive than making them at home.
Really! And it's so simple that you'll wonder why you were not making them till now.
You may also try these pickled onions and tangy pickled beetroot.
These pickled radish greens are also an interesting pickle to try.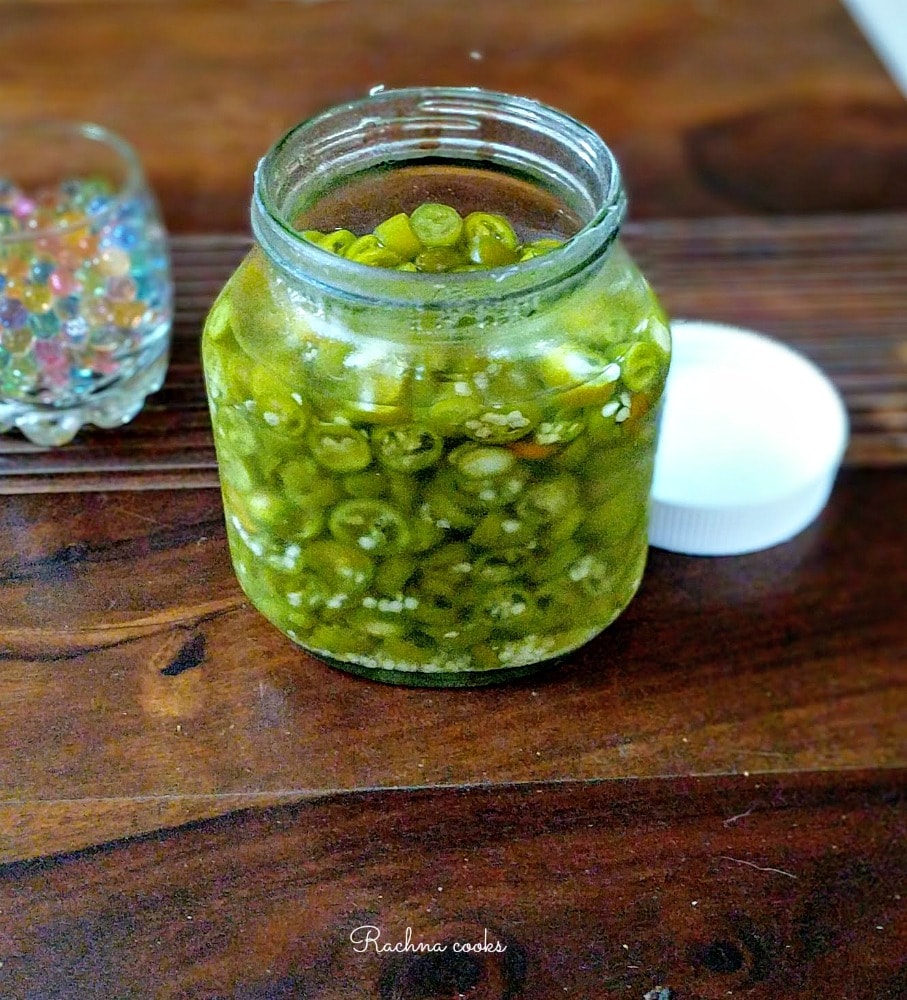 These jalapenos I picked up at the Sunday Farmer's Market at a steal.
I decided to make these gorgeous pickles using them.
Ingredients
Fresh Jalapenos: These are the main ingredient here. I used 10-12 medium-sized jalapenos. They should be firm and bright green.
White Vinegar: Vinegar is what gives pickles their tangy flavor and also acts as a preservative. You can use apple cider vinegar too.
Water: Water is mixed with the vinegar to create the pickling brine.
Sugar and salt: Sugar and salt help in pickling and also balance out the flavors.
Garlic Cloves: Garlic adds a great flavor to the pickled jalapenos. About 2-3 cloves, peeled and smashed, should do the trick.
Optional Spices: You can also add other spices like whole black peppercorns, coriander seeds, or mustard seeds.
You could also add a bay leaf or a pinch of red pepper flakes for more heat.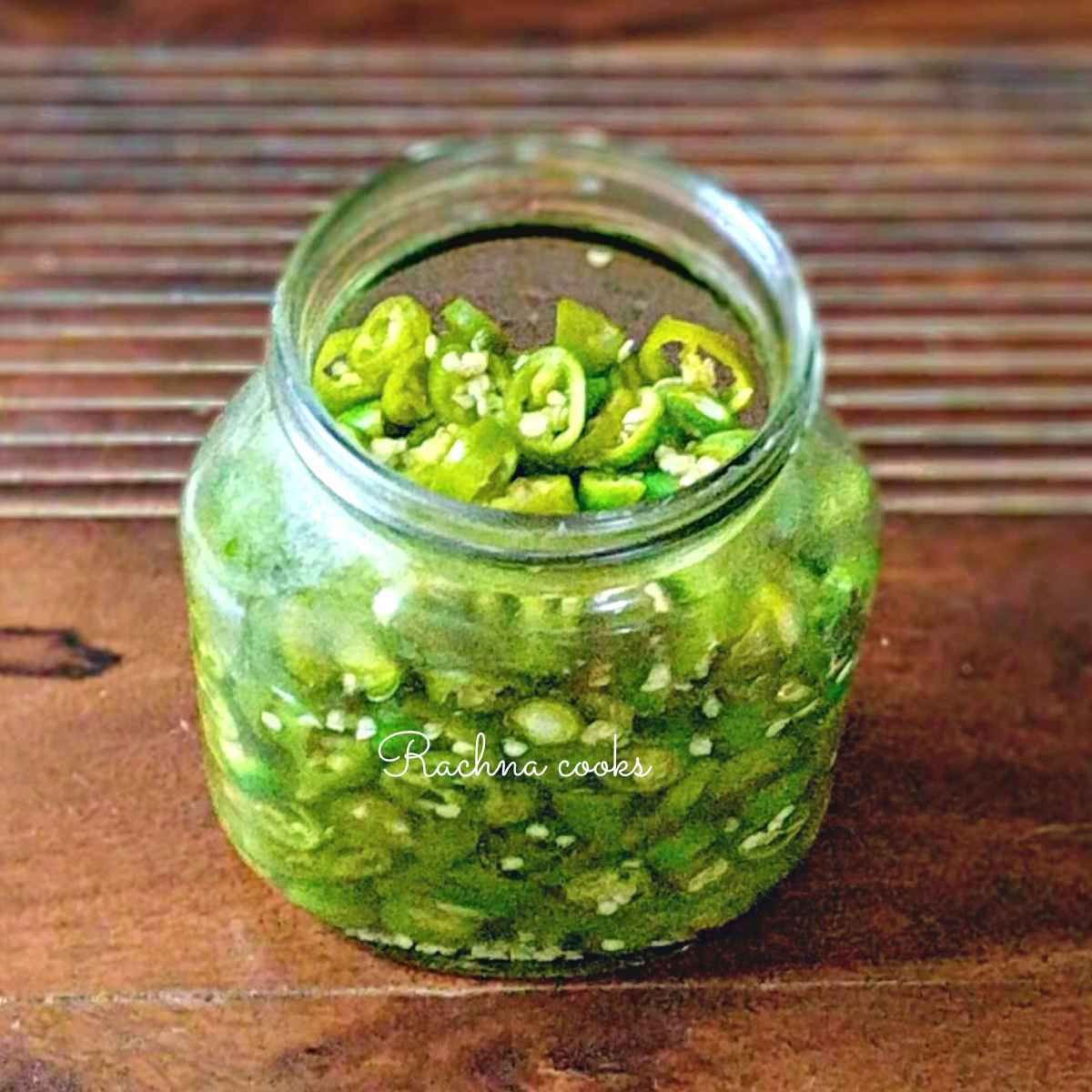 This is my easy, foolproof recipe of pickled jalapenos that you absolutely must try.
Instructions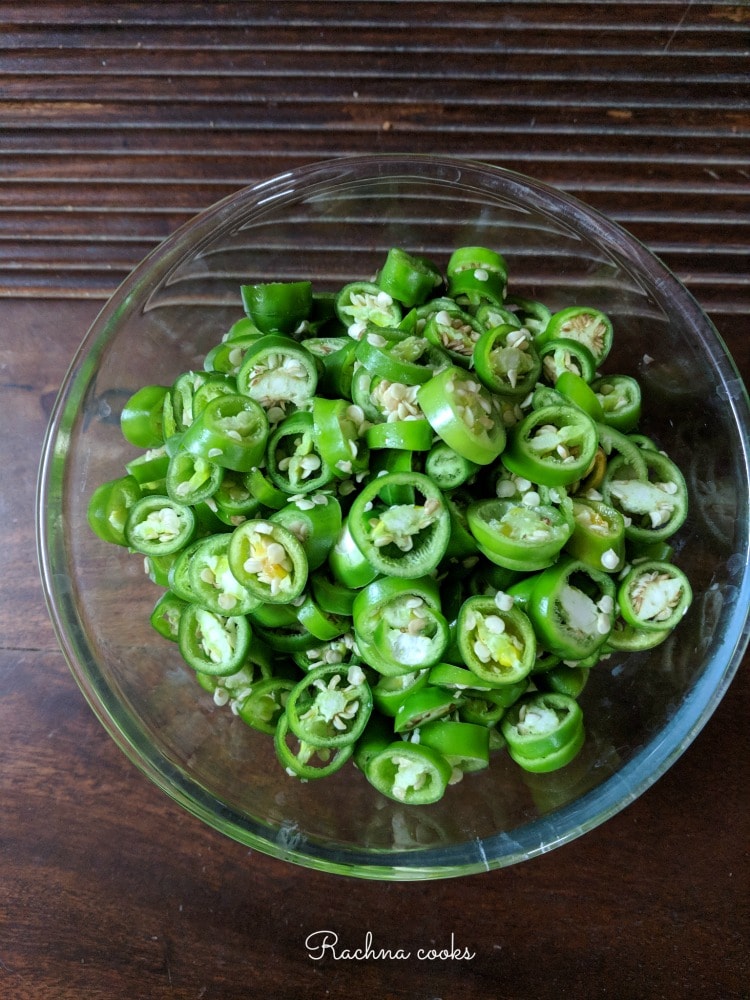 Take jalapenos. Wash and dry them.
Now cut them into similar-sized roundels.
Keep aside in a glass bowl.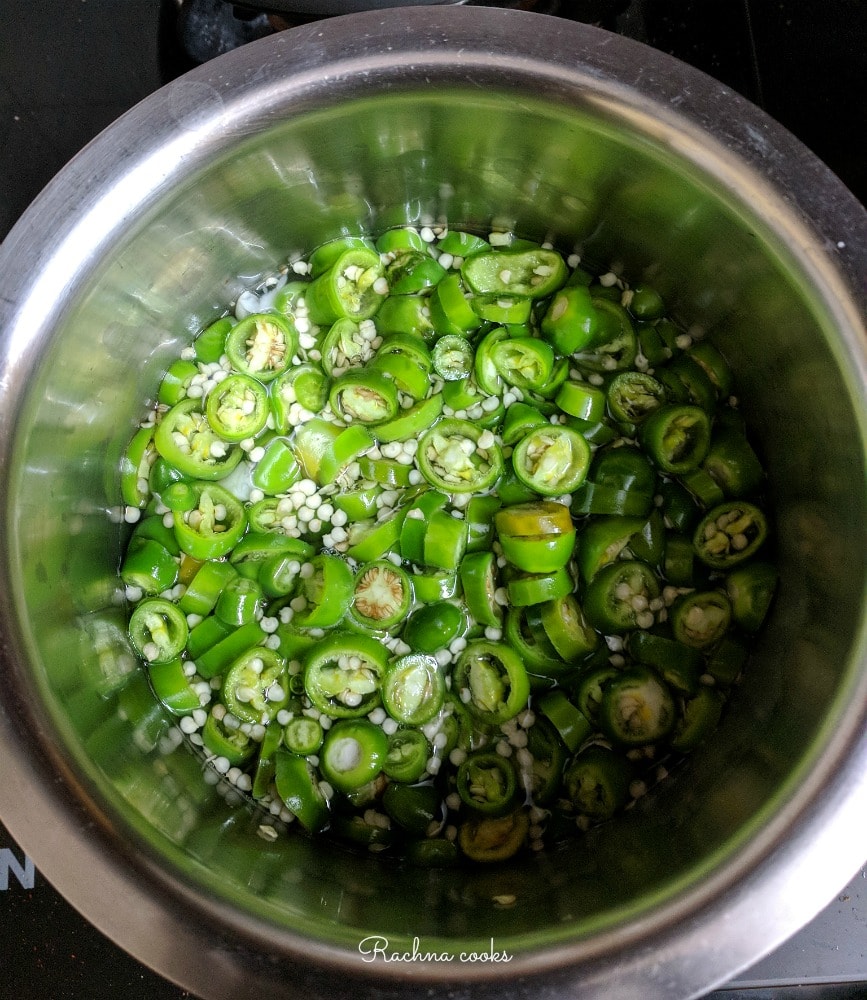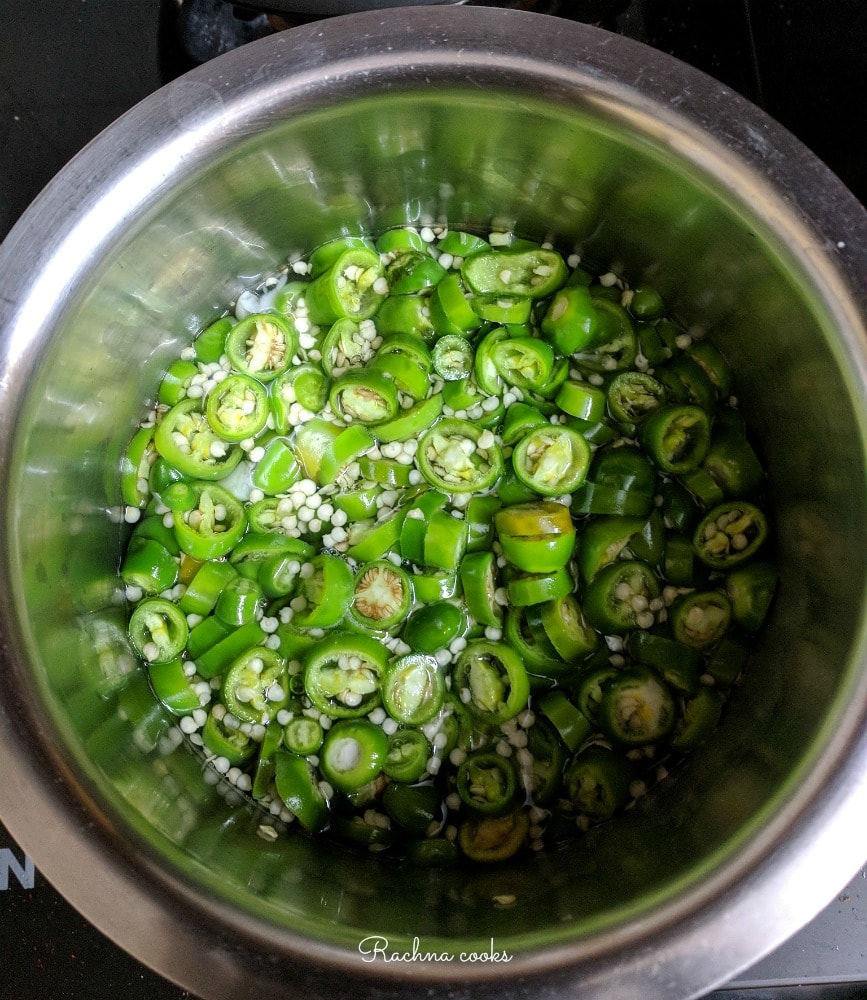 Prepare the Pickling Liquid
Mix vinegar and water and heat in a pan.
Add salt, sugar and garlic cloves.
Heat long enough for the sugar to dissolve. Take the pickling liquid off the heat.
Add sliced jalapenos to the pickling liquid.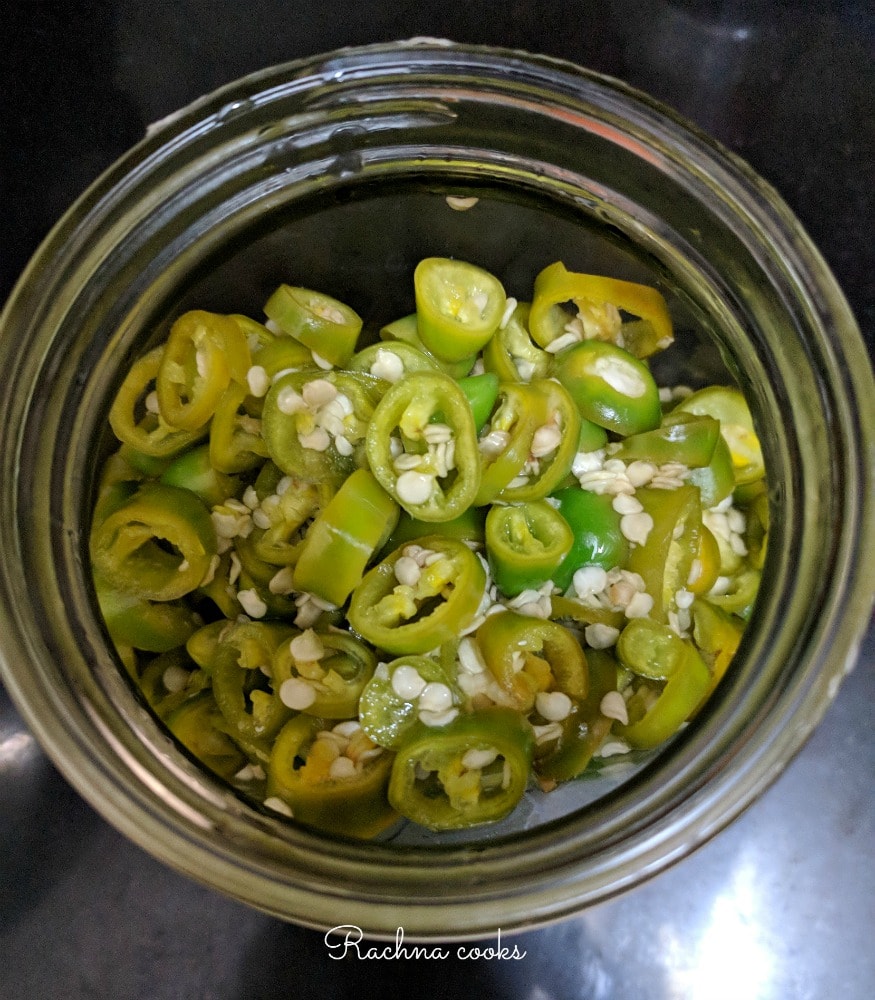 Let it immerse in the pickling brine for about 10-15 minutes.
Transfer to a clean sterilized glass jar. Make sure the pickling liquid completely cover the jalapeno slices.
Cover with a lid and store in a refrigerator.
Crunchy pickled refrigerator jalapeno are ready to consume.
See how some of them are still changing colour to the pea green colour that we all recognize.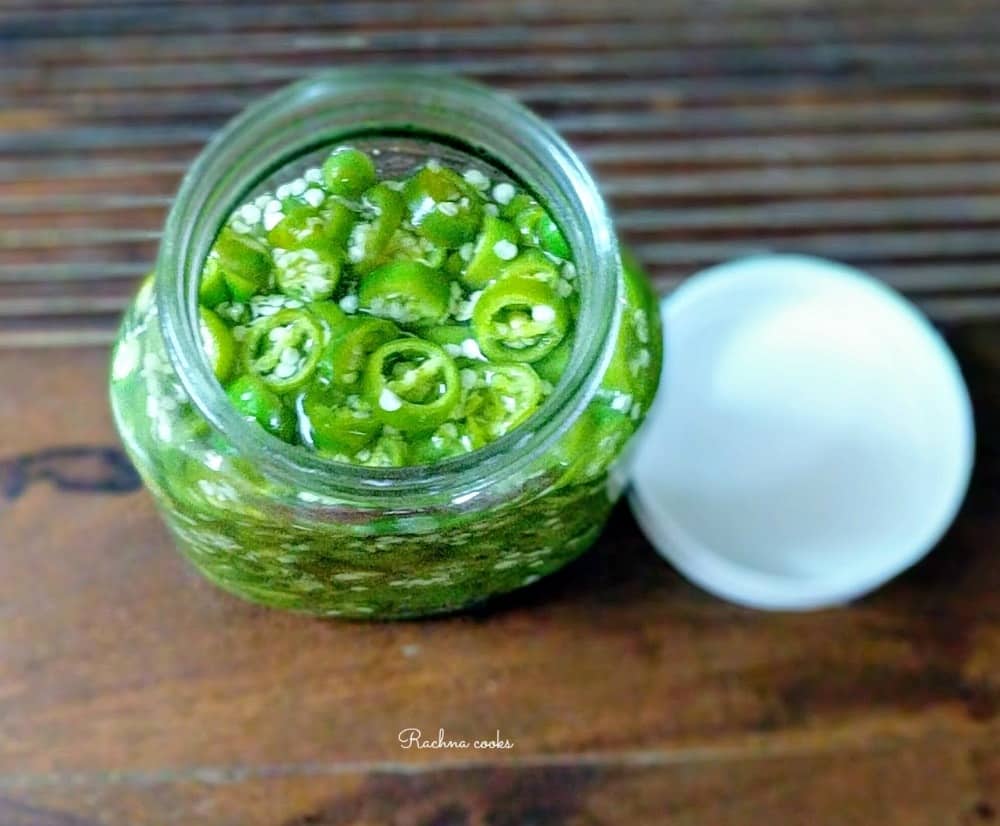 Jalapenos with pickling liquid in the jar ready to be used or stored in the fridge.
This is unbelievably simple and saves you a lot of money. I just wish that I had bought more jalapenos to prepare more batches. Sigh!
How Long Do Pickled Jalapenos Last?
The shelf life of pickled jalapenos can vary greatly. It depends upon the method of preparation, storage conditions, and whether the jar has been opened or not.
Homemade Pickled Jalapenos
1. Refrigerated: Homemade pickled jalapenos stored in the refrigerator usually last between 3 to 6 months.
Since these are not canned, one has to be cautious about any growth of mold.
Using a sterilized bottle or jar with an air tight lid and always using a clean, dry spoon helps in prolonging their shelf life.
Also the pickling liquid must submerge the pickles completely for them to not spoil.
It is a good idea to check for any spoilage or taste change when consuming.
2. Canned: If your homemade pickled jalapenos are properly canned (including sterilizing the jars and lids, and processing the filled jars in a water bath canner), they can last up to a year or more if stored in a cool, dark place.
Once the canned jar is opened, the jalapenos should be refrigerated and consumed between 3 to 6 months.
Store-bought Pickled Jalapenos
1. Unopened: Unopened commercially canned or jarred pickled jalapenos can last for up to two years or more when stored in a cool, dry place.
They are processed using methods that allow for longer shelf life.
2. Opened: Once the jar is opened, store-bought pickled jalapenos should be refrigerated in a clean jar or bottle with air tight lid.
They typically last between 3 to 6 months in the fridge.
Again, always check for spoilage before consuming.
Lastly, always trust your senses if something smells, looks, or tastes off.
Here's the recipe card:
📖 Recipe Card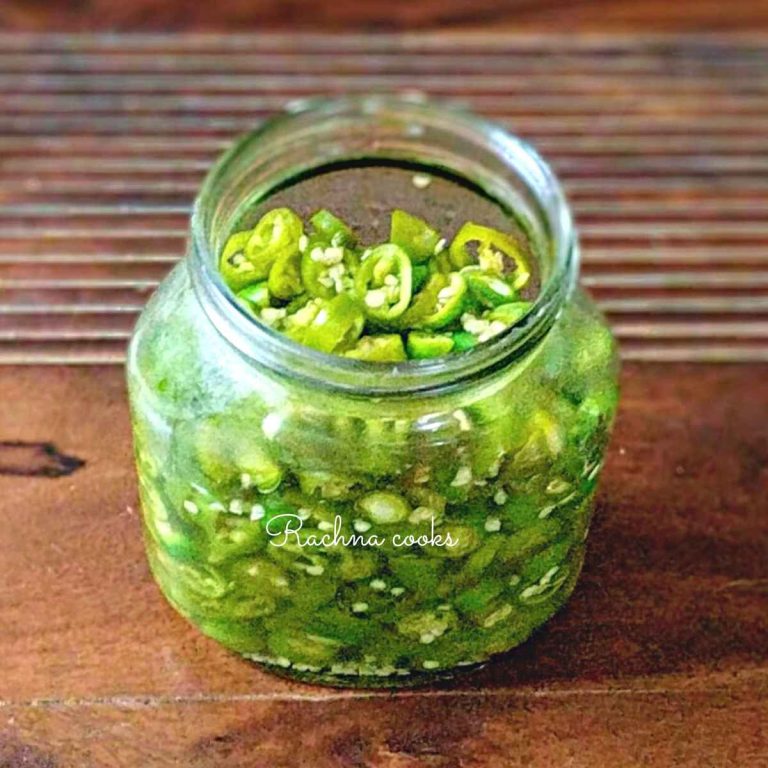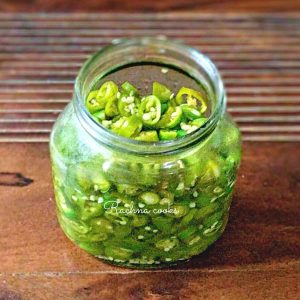 Easy Homemade Pickled Jalapenos
A tangy, hot pickled jalapenos recipe that goes so well with your sandwiches, wraps, pizzas and even as a side with your meal.
Ingredients
1

cup

jalapenos

about 250 gm.

1

cup

white vinegar

1

cup

water

2

tbsp.

sugar

1

tbsp.

sea salt

or normal salt

3

cloves

garlic
Instructions
Mix the vinegar and water and put them in a pan to boil.

Add in the crushed garlic cloves, salt and sugar and heat till they are dissolved and the mix just comes to a boil.

Now switch off the gas and add the jalapeno pieces. Cover and keep for about 10 minutes. Cool it.

Take a sterilized bottle/jar and transfer the jalapeno pieces that start taking on the pea green colour from a fresh green colour.

Top with all the pickling liquid. You can pop it in the fridge and use jalapenos as and when needed.

The jalapenos are ready to eat after 30 minutes of pickling time.

Easy peasy.

You can store them in the fridge for about 2 months.
Notes
1 You can use herbs and spices like chopped dill, peppercorns, some coriander seeds etc. as per taste.
2. This simple pickling recipe tastes piquant and right spicy. I love it.
3. You can also make gherkin/beetroot/carrot pickles in a similar manner.
Nutrition
Calories:
276
kcal
Carbohydrates:
55
g
Protein:
5
g
Fat:
1
g
Saturated Fat:
0.1
g
Polyunsaturated Fat:
1
g
Monounsaturated Fat:
0.1
g
Sodium:
5771
mg
Potassium:
848
mg
Fiber:
4
g
Sugar:
43
g
Vitamin A:
2381
IU
Vitamin C:
362
mg
Calcium:
79
mg
Iron:
3
mg
Check out our Food videos
Subscribe to our Food channel for recipe videos
Do share if you liked the recipe and I'd love to hear if you tried it.