Aloo tikki is a delicious Indian snack made with mashed potatoes that is relished both as is or made into a chaat. Try this easy delicious treat.
Aloo tikki made in Air fryer is much healthier and super easy to make.
This Indian street food is served as hot aloo tikkis served with the topping of green chutney and sweet chutney with yogurt and spices.
It is a burst of delicious flavours in the mouth. The recipe is simple but really delicious made guilt free by making the tikkis in air fryer.
You may also like samosa in air fryer, air fryer banana chips, air fryer namak pare.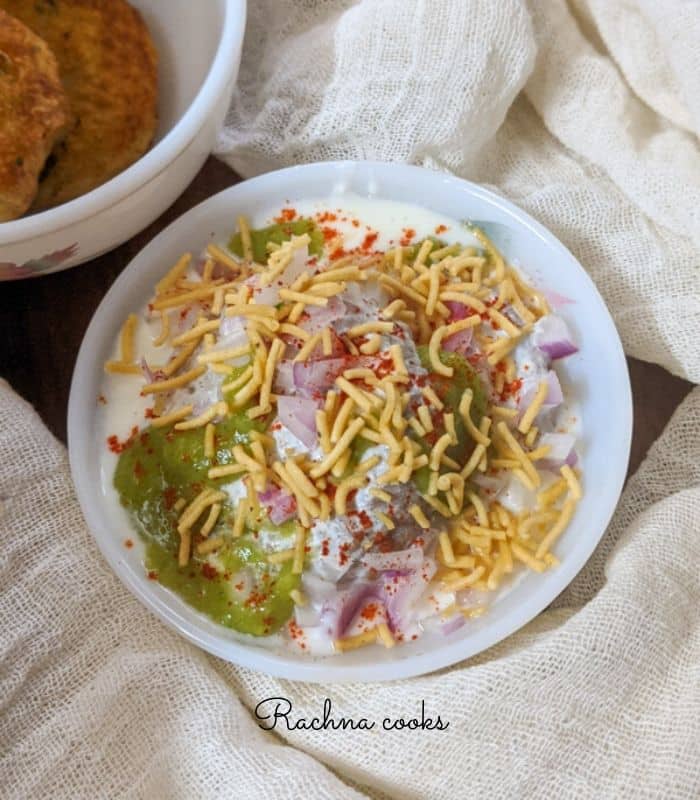 You can have fillings in your aloo tikkis from cottage cheese to peas and even nuts. But I like it simple.
You can also serve your aloo tikkis just with green chutney and garnished with onions and cilantro.
Serve with this delicious lemongrass tea.
Or you can serve them with this ragda or matar curry topped generously with chutney and chopped onions.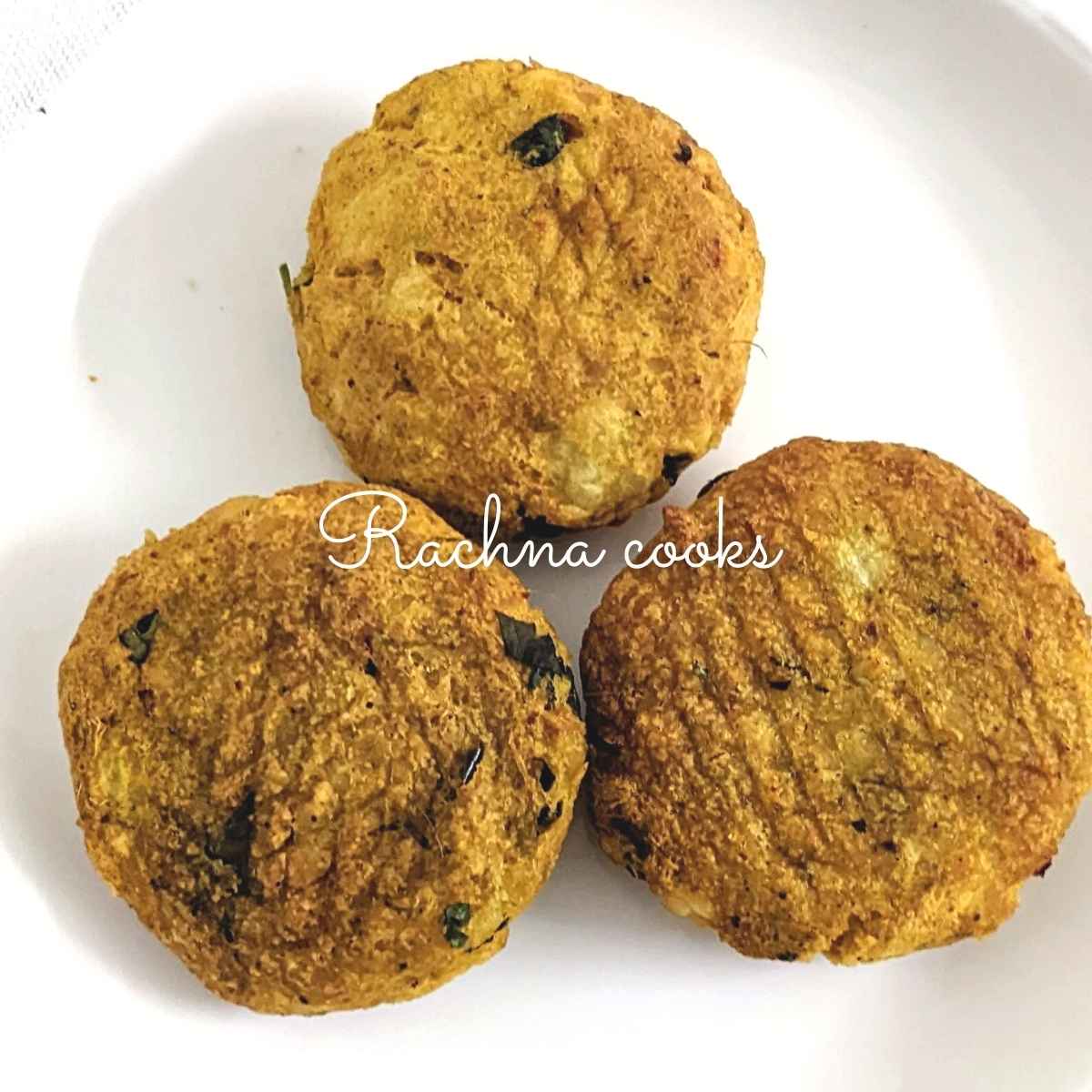 How to Make Aloo Tikki in Air fryer with Pictures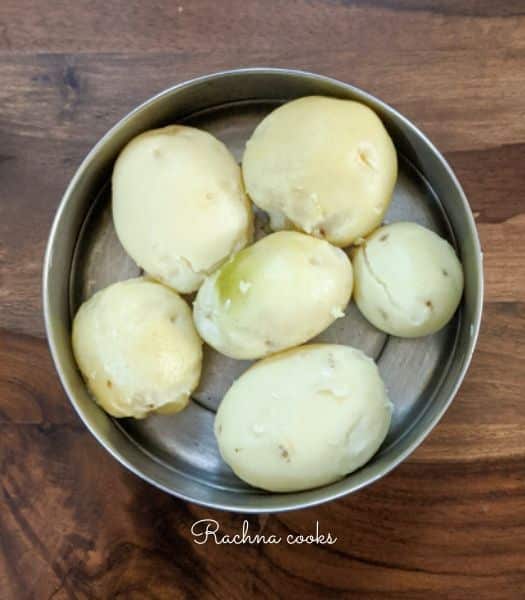 Boil and peel potatoes.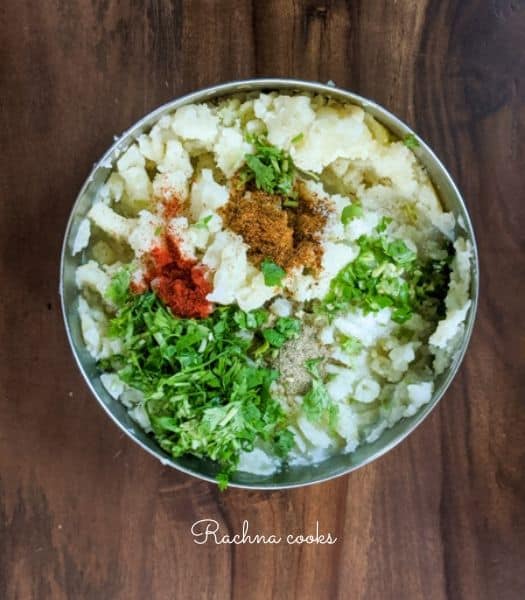 Mash potatoes well. Mix cayenne, salt, garam masala, chaat masala powder, ginger and chilli finely chopped along with chopped cilantro.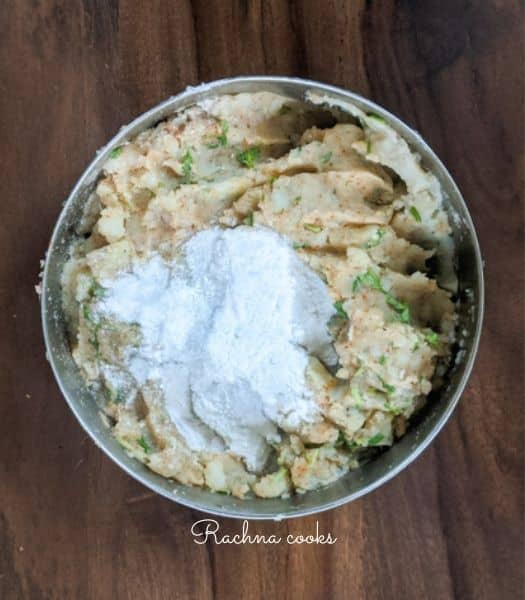 Add 3 tbsp. rice flour to the mash and mix well.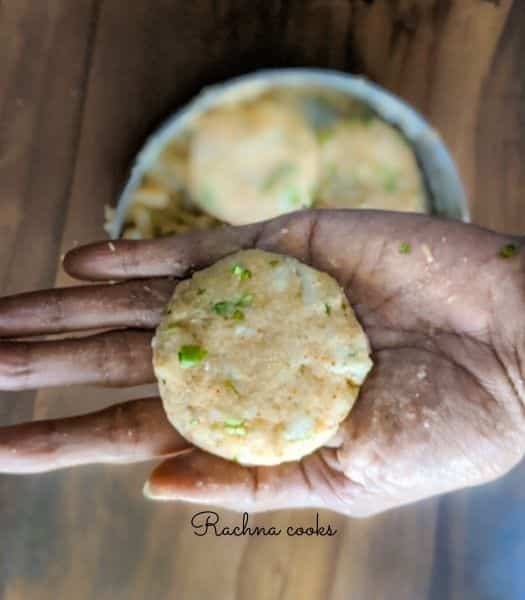 Form round patties or aloo tikkis with your hands and keep aside.
For Air frying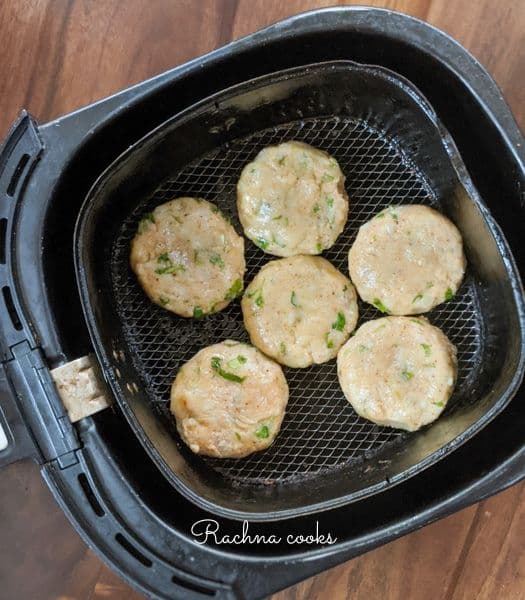 Preheat Air fryer at 390 F or 200 C for 5 minutes.
Brush the tikkis and basket with ghee and air fry for about 20 minutes till golden brown.
Flip the tikki once midway. Brush with ghee again if needed.
If still not browned, air fry for 2-5 minutes more at 200C or 390F.
If you don't eat ghee, use olive oil.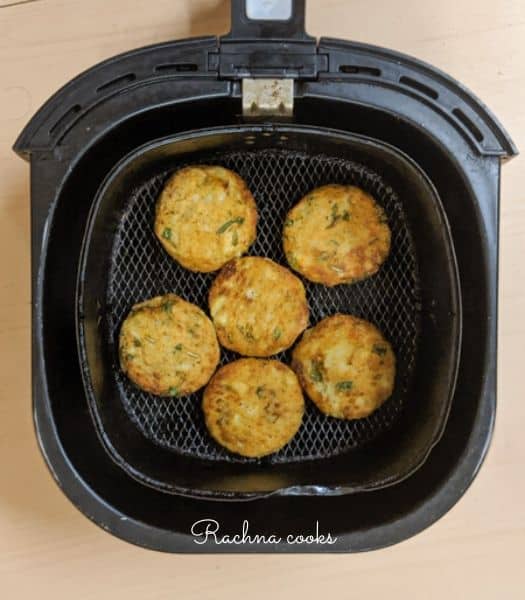 Once crispy and golden brown, tikkis are done.
Take them out and assemble for aloo tikki chaat.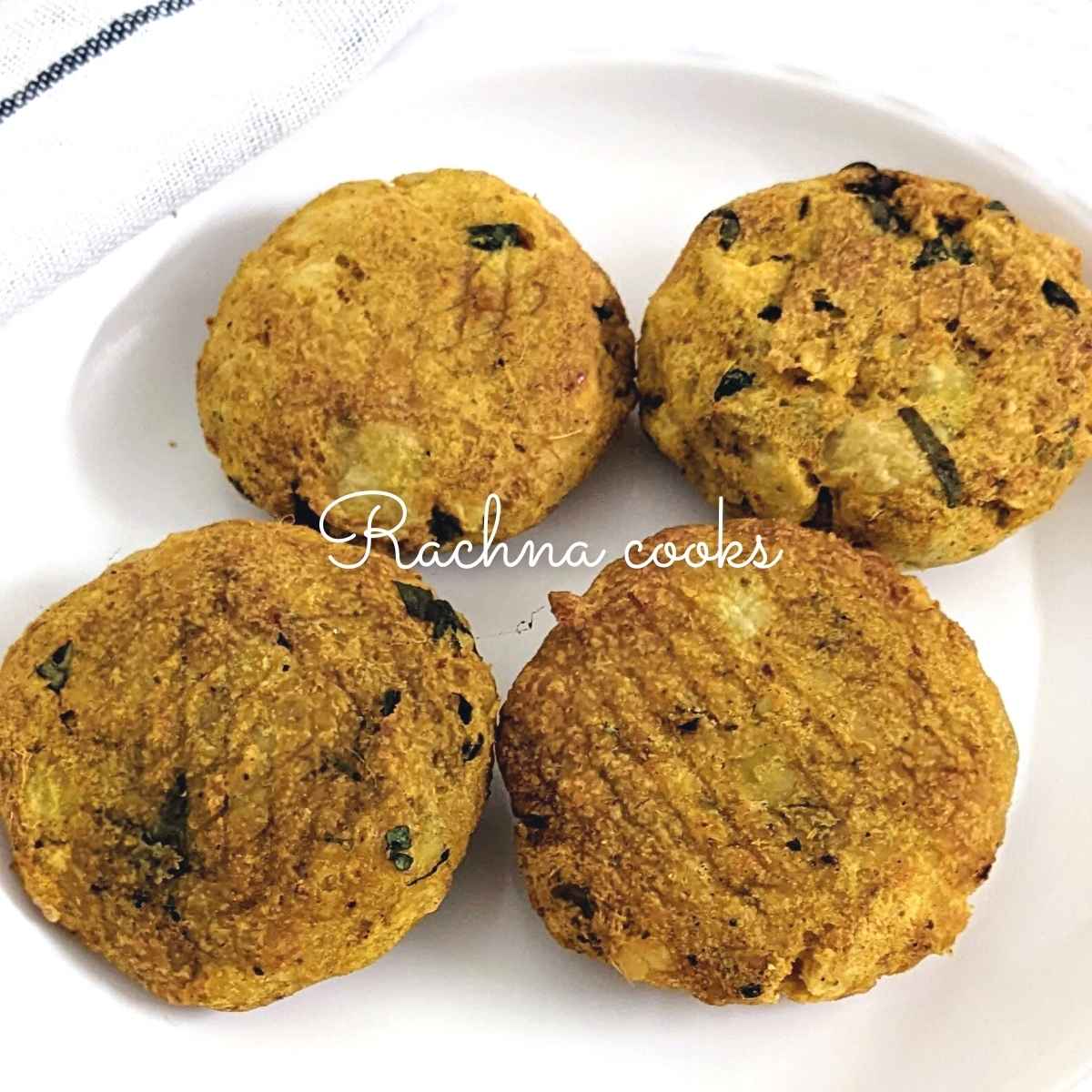 For shallow frying:
Heat 2 tbsp. oil or ghee in a skillet. Shallow fry 5-6 tikkis on both sides till golden brown.
It takes 3-4 minutes on each side to be done. Your aloo tikkis are ready.
For aloo tikki chaat:
Take 2 aloo tikkis in a bowl.
Top with curd/yogurt that has been sweetened with sugar.
Garnish with green chutney, chopped onions, roasted cumin powder, black salt powder and sev. Serve immediately.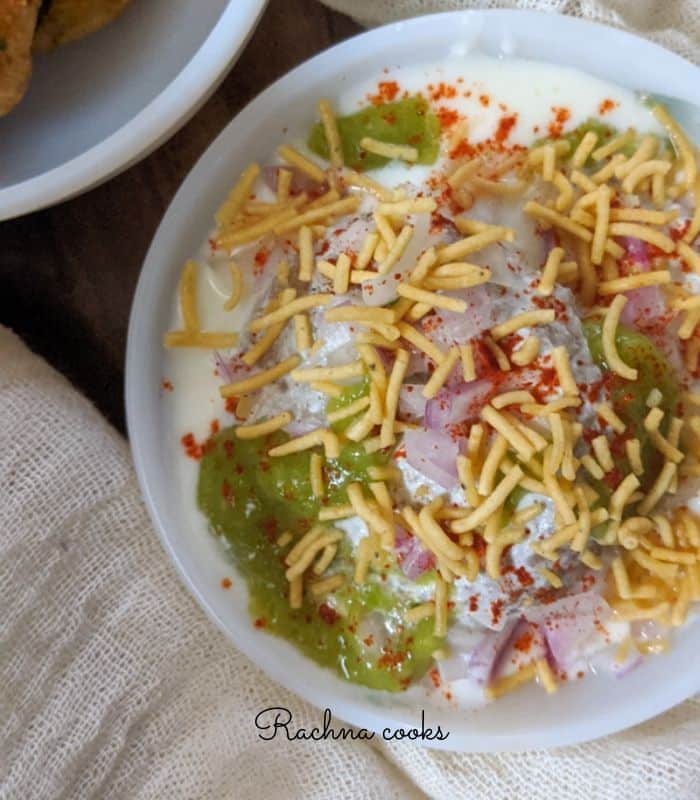 📖 Recipe Card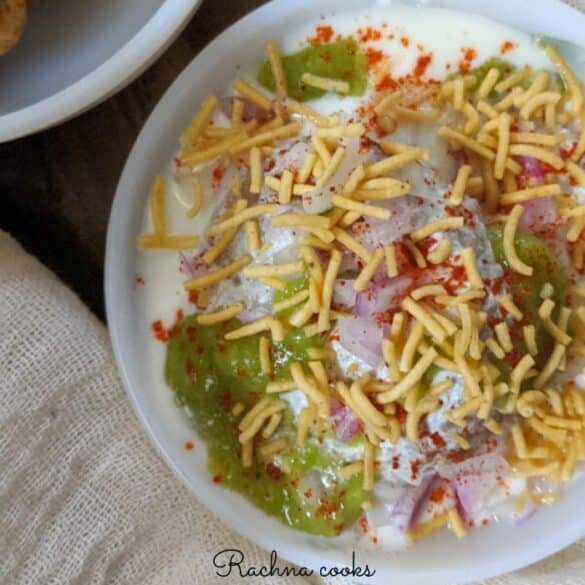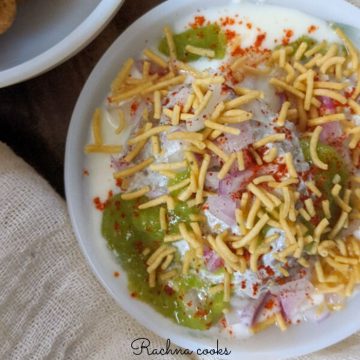 Aloo Tikki Chaat Recipe Air fryer Recipe (Step-by-step Recipe)
This delicious aloo tikki chaat recipe will take you back to the Indian street food. Tasty and healthy, try the Air fryer tikki recipe for low calorie version or the deep fried version as per your liking.
Ingredients
5

medium potatoes boiled and mashed

3

tbsp.

cilantro

chopped

½

tsp.

cayenne

½

tsp.

garam masala

1

tsp.

chaat masala

½

tsp.

ginger

finely chopped

½

tsp.

green chillies

finely chopped

Salt to taste

3

tbsp.

rice flour

2

tsp.

ghee

or olive oil
For aloo tikki chaat
1

cup

thick yogurt

2

tsp.

sugar

2

tbsp.

green chutney

1

tsp.

roast cumin powder

1

tsp.

black salt

1

tbsp.

chopped onions

1

tbsp.

fine sev or aloo bhujia
Instructions
Mash the potatoes and add chopped cilantro, cayenne, garam masala, chaat masala, ginger-chilli chopped and salt. Mix well. Taste and adjust seasoning.

Add rice flour and mix well. Now form patties or aloo tikkis using your palms. Keep aside.
Air frying instructions:
Preheat Airfryer to 390F or 200C for 5 minutes.

Lightly brush the aloo tikkis or potato patties with ghee. Also brush the air fryer basket lightly with ghee. Now place the patties so that they are put in one layer.

Air fry for about 20 minutes. Flip the tikkis once in the middle.

If still not browned, air fry for 2-5 minutes more at 200C or 390F.

You will have golden brown and crispy tikkis ready. They are really delicious and taste great with just a little ghee used.

This recipe yields about 12 tikkis which I cooked in 2 batches.
Shallow frying instructions:
Heat a skillet or tawa. Take 2 tbsps. of ghee or oil and shallow fry about 5-6 aloo tikkis on both sides. It will take you about 3-4 minutes each side. Keep turning them till they are nice and brown. Your crispy tasty aloo tikkis are ready to eat. Use the same method to cook the remaining tikkis.

You can serve these tikkis as it is with green chutney or ketchup along with a garnish of chopped onions. These go very well with lemongrass tea.
Notes
1. You can cook potatoes so that they are well boiled and can mash easily.
2. Adjust seasoning as per taste.
3. Have hot aloo tikkis. They taste the best. In case, you wish to have later, then air fry once for about 10 minutes and later reheat for 4 minutes before serving.
4. Assemble aloo tikki chaat with hot tikkis.
Nutrition
Calories:
187
kcal
Carbohydrates:
35
g
Protein:
5
g
Fat:
3
g
Saturated Fat:
2
g
Cholesterol:
10
mg
Sodium:
351
mg
Potassium:
708
mg
Fiber:
4
g
Sugar:
5
g
Vitamin A:
710
IU
Vitamin C:
30
mg
Calcium:
71
mg
Iron:
1
mg
Check out our Food videos
Subscribe to our Food channel for recipe videos
This tasty aloo tikki chaat is a total crowd pleaser. It is super easy to make when you are craving Indian chaat.
You May also like:
Kurkuri Bhindi | Crispy Okra in Airfryer
Paneer Tikka in Air fryer Recipe
Piri piri Airfryer French Fries
Easy Potato and Plantain Patties