I make these plantain chips in my Air fryer with just 1 tsp. of oil and they taste truly amazing. They are gluten free and vegan.
Plantain or raw banana is a delightful vegetable to cook with. You can make patties or kebabs with it.
You can cook it as a vegetable or you can make crispy, crunchy chips with it.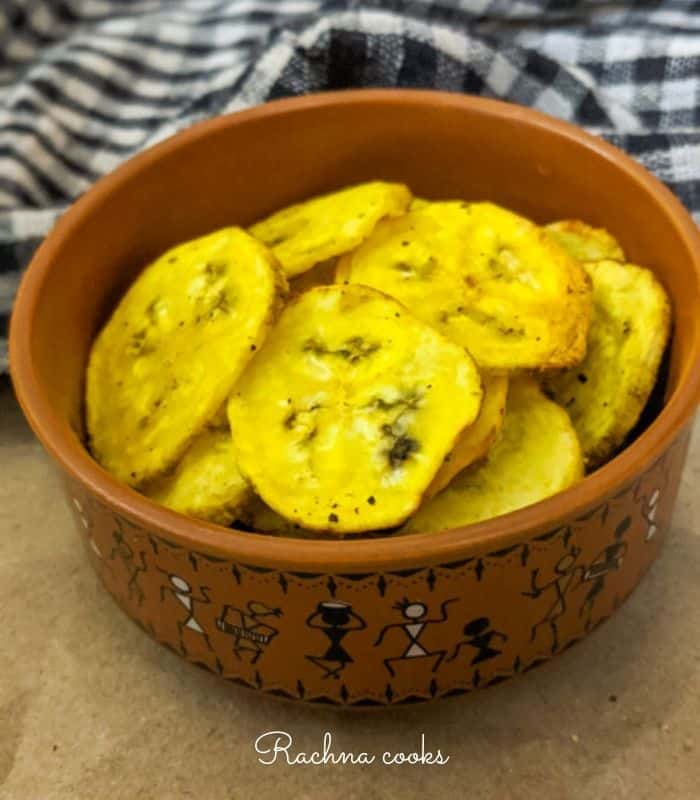 Traditionally banana chips are fried in coconut oil and taste just amazing. But with a drive to eat healthy,
How to cook with plantains
Plantains are raw bananas and are used to make savoury foods. Choose green bananas as they are tender when cooked.
Peel off the skin and immerse the banana flesh in salted water. This is done to prevent discolouration of the plantain.
Slice, chop or mince and use in your cooking as needed.
Which seasonings to use in plantain chips?
1. Turmeric and salt: This is the traditional flavour of Indian Kerala style banana chips.
They taste amazing with minimal seasoning.
2. Salt, cayenne and pepper: This gives a nice kick to the banana chips.
3. Lemon chilli: Use salt, lemon juice and cayenne for a delicious tang and spice.
4. Tangy chaat masala with cayenne: This spice mix is deliciously tangy and spicy.
5. Peri peri powder: My kids love peri peri seasoning on just about anything.
Sprinkle on your banana chips for a spice hit.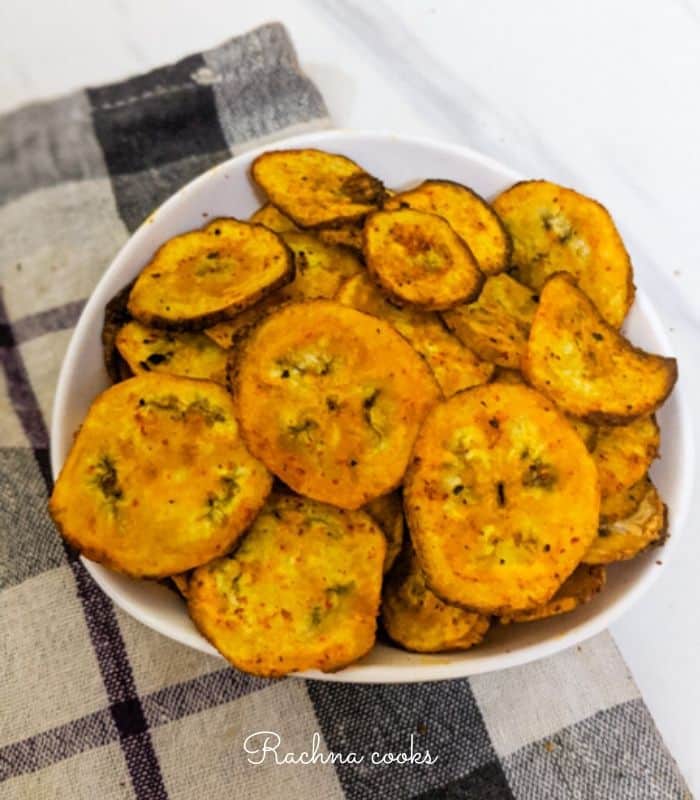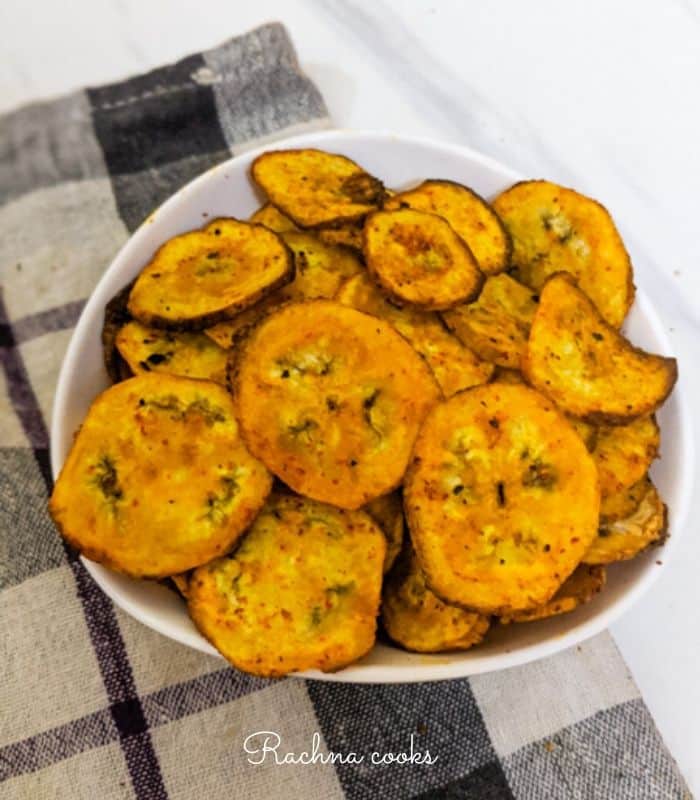 Here is my favourite Air fryer plantain chips recipe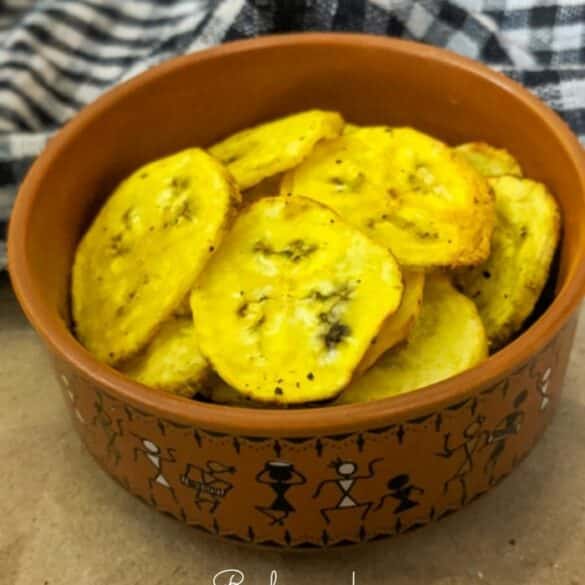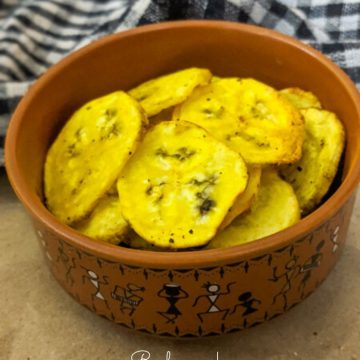 Air Fryer Plantain Chips | Banana Chips in Air Fryer
These delicious Air fryer plantain chips or banana chips are super healthy and so tasty. Made with just 2 tsp. oil, you will not go back to deep fried chips.
Ingredients
2

plantains

2

tsp.

coconut oil

1

tsp.

turmeric powder

Salt to taste

½

tsp.

cayenne or chilli powder

½

tsp.

pepper powder
Instructions
Wash and peel the plantains. Soak in ½ tsp. turmeric and salt water for 10 minutes.

Dry and using a mandolin finely slice the plantains into chips.

Take 1 tsp. coconut oil. Add ½ tsp. turmeric powder, pepper and salt to it and mix well. Brush on both sides of the chips and mix well so that all chips are covered with the oil-spice mix.

Preheat Air fryer at 200 C or 390 F for 6 minutes.

Lay the chips in the Air fryer so that the overlap is minimal. Air fry at 200 C or 390 F for about 8 minutes. Shake the basket once in the middle. If needed brush once more with oil (optional). Take out any chips which have turned brown on the sides.

Fry the remaining for a minute or 2 more only if they are not cooked. Take it out and have it hot. Your delicious and healthy plantain chips are ready to eat.
Notes
1. The air frying time will vary depending upon the thickness of your chips. For my medium thick chips, I took exact 8 minutes. For even thinner chips, you may need about 6 minutes and for thicker ones slightly more.
2. You can also use the same recipe to make plantain fries by cutting the plantain into batons. Cook it for about 15-18 minutes in Air fryer at 200 C or 390 F for crunchy fries.
3. Use any of the spice mixes mentioned above the recipe as per your preference.
4. You can store the chips in an airtight container. Before serving just Air fry for a couple of minutes to make them crispy again.
5. You can use any other vegetable oil in place of coconut oil like olive oil or sunflower oil.
6. Adding the spice mix to the oil and brushing with it helps the spices to adhere better to the chips. You could sprinkle them later as well.
7. Do check out the step-by-step pictures of the recipe below the recipe card for a better understanding.
8. You can deep fry or oven bake the same chips as well.
Nutrition
Calories:
139
kcal
Carbohydrates:
30
g
Protein:
1
g
Fat:
3
g
Saturated Fat:
2
g
Sodium:
4
mg
Potassium:
503
mg
Fiber:
3
g
Sugar:
14
g
Vitamin A:
1521
IU
Vitamin C:
18
mg
Calcium:
3
mg
Iron:
1
mg
Check out our Food videos
Subscribe to our Food channel for recipe videos
Disclaimer: This post may include affiliate links. In case you buy using those links I earn a little commission at no extra cost to you.
I only recommend products that I use personally and like. Do read my disclosure policy for complete information.
How to Make Plantain Chips (Step-by-step Pictures)
Take nice green plantains.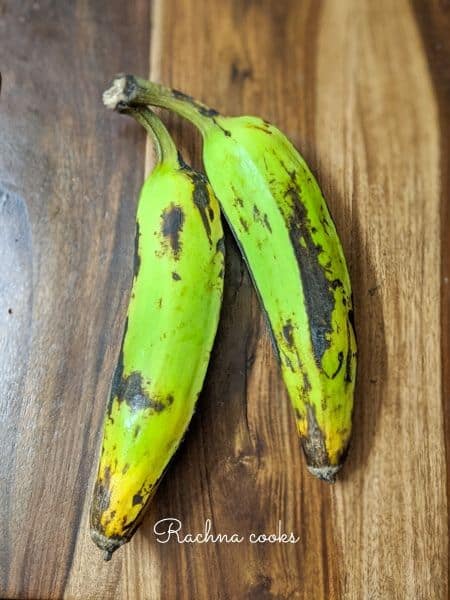 Peel them and soak them in turmeric water and salt for about 10 minutes.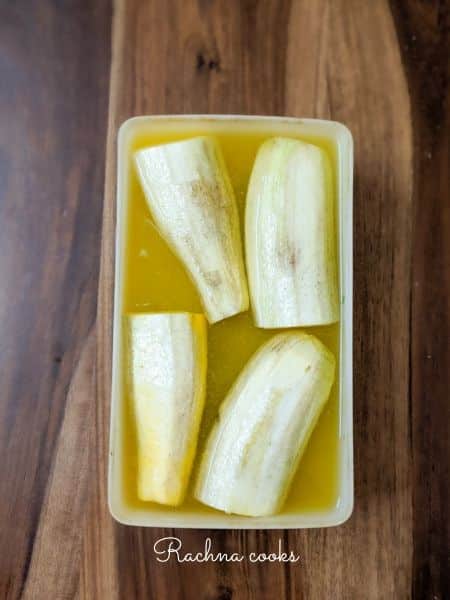 Dry the raw banana. Using a mandolin make fine chips with the plantain.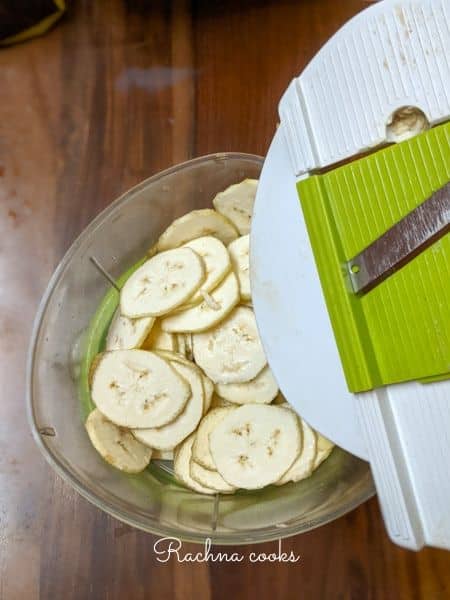 Add spices to the coconut oil and brush the chips with them.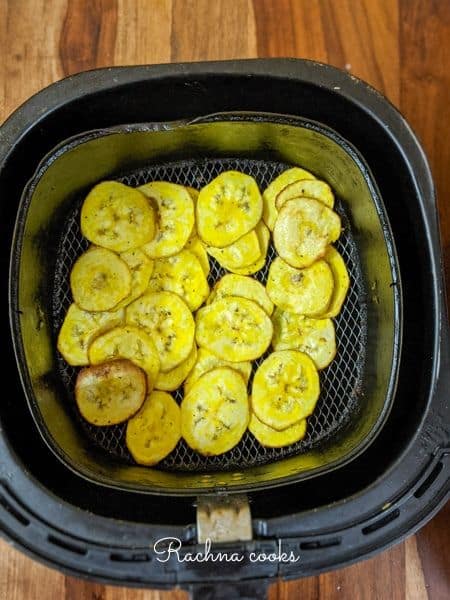 Preheat Air fryer to 200 C or 390 F for 6 minutes.
Lay down the chips so that there is minimal overlap.
Air fry for 8 minutes. Shake the basket once in the middle.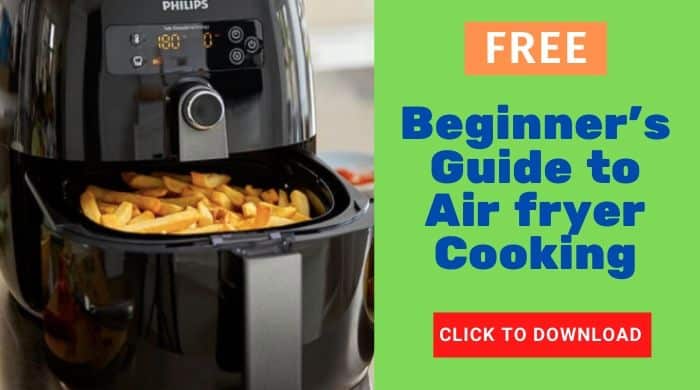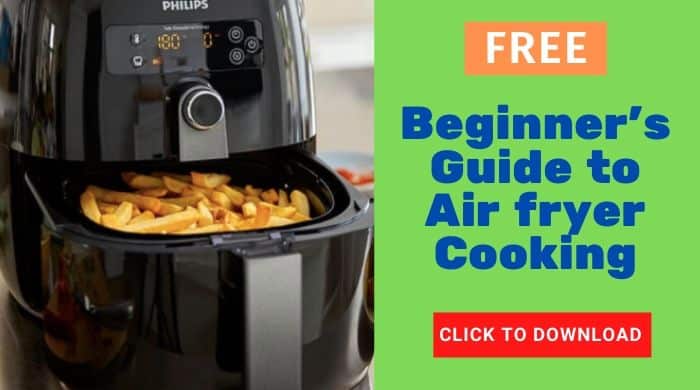 Your Air fryer banana chips are ready. Serve them hot.
This is a healthy vegan recipe that is also a wonderful snack.
If you liked the recipe, I request you to leave a star * rating either on the recipe card or in the comments. Thanks.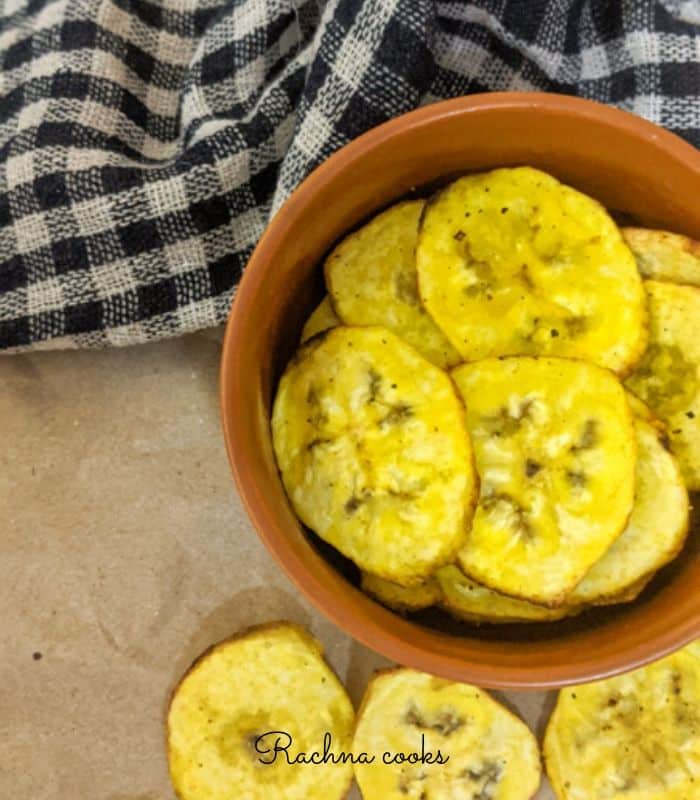 You May Also Like
Air fryer oyster mushroom (Like Air Fried Chicken)
Kurkuri Bhindi | Crispy Okra in Airfryer
Easy Homemade Nachos in Airfryer
Veg Manchurian Recipe in Air fryer
Piri piri Airfryer French Fries
Crispy Air fryer Roasted Broccoli Recipe
Easy Potato and Plantain Patties