Kosambari is a delicious and nutritious healthy vegan salad from South of India. It is incredibly fresh and easily could be a filling snack or side.
This kosambari is very popular in South Indian state of Karnataka. It is crunchy and uses no cooked ingredients.
The lentils used here is split green gram (moong dal) which is soaked for a couple of hours and drained. This lentil is consumed raw after soaking and does not require any cooking.
Freshly grated veggies and coconut is also used in the salad. Finally a tempering of oil is given to enhance the taste.
My family loves this salad. I often make a large batch and store the leftovers in the fridge to eat later.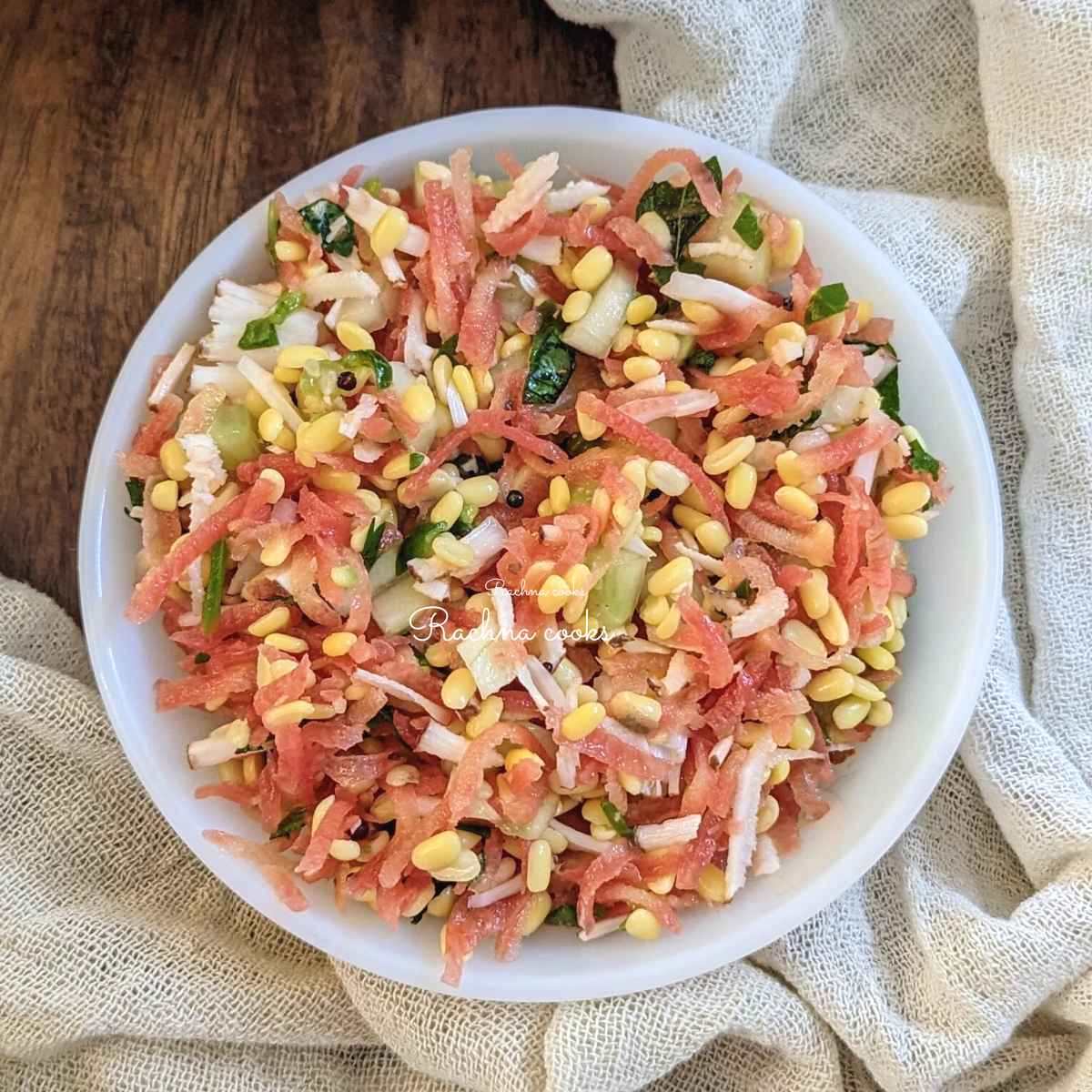 You may also like cabbage and carrot salad, Indian carrot salad, kala chana salad, cucumber and tomato salad, Avocado and cucumber salad, cucumber radish Summer salad, sprouted lentil salad, chickpea cucumber salad and cucumber radish salad.
Jump to:
Ingredients
Lentils: I use moong dal or split green gram lentils in this salad. The lentils are soaked for a couple of hours and then used. They provide a lovely crunch to the salad.
Fresh vegetables: Grated carrots, finely chopped cucumber are used in the salad along with finely chopped green chillies for a delightful crunch.
Coconut: Grated fresh coconut is used in the salad for its sweet taste as well as for providing healthy natural fats.
Cilantro: Finely chopped cilantro provides a fresh burst of flavour to the salad.
Mustard seeds and curry leaves: These are used in tempering and make the salad taste delicious.
Lemon juice: Only lemon juice is used for dressing the salad.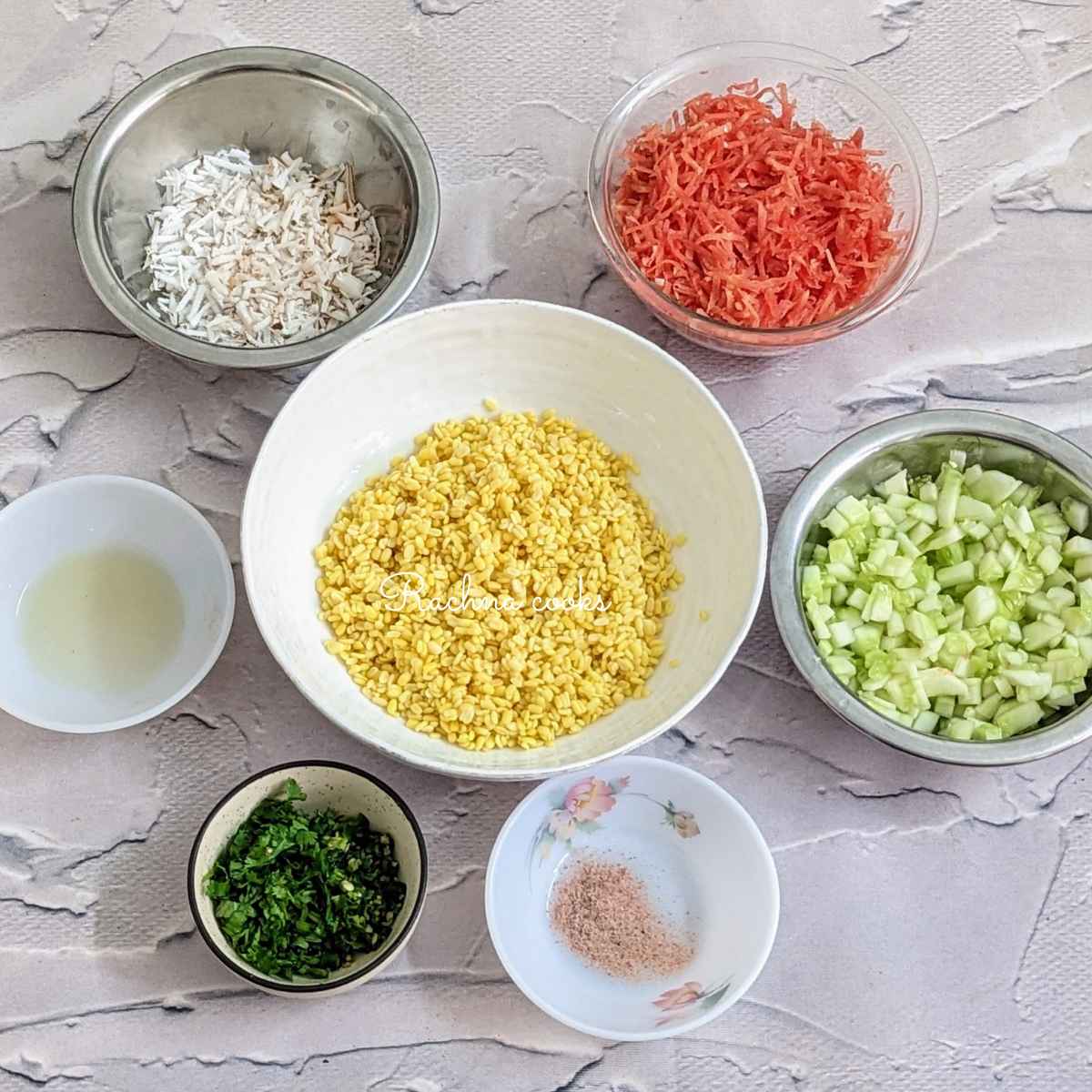 Variations
This is a vegan and gluten-free fresh salad.
You may use coconut oil for tempering to complement the fresh coconut used. In case you do not want to, you can skip the tempering. The salad tastes good even then.
Serving suggestions
Starter: Kosambari can be served as a starter before the main courses of curry, dal, rice and veggies arrive.
Snack: It is a tasty and healthy snack that is reasonably filling too.
Side or salad: Serve it with rotis, rice, dal and curry as a fresh salad. It can also be served with a protein main like grilled tofu or meat.
Potluck: This can be easily carried and assembled on the spot for potlucks and bbqs.
Meal: It doubles up as a light meal as it is filling and well balanced.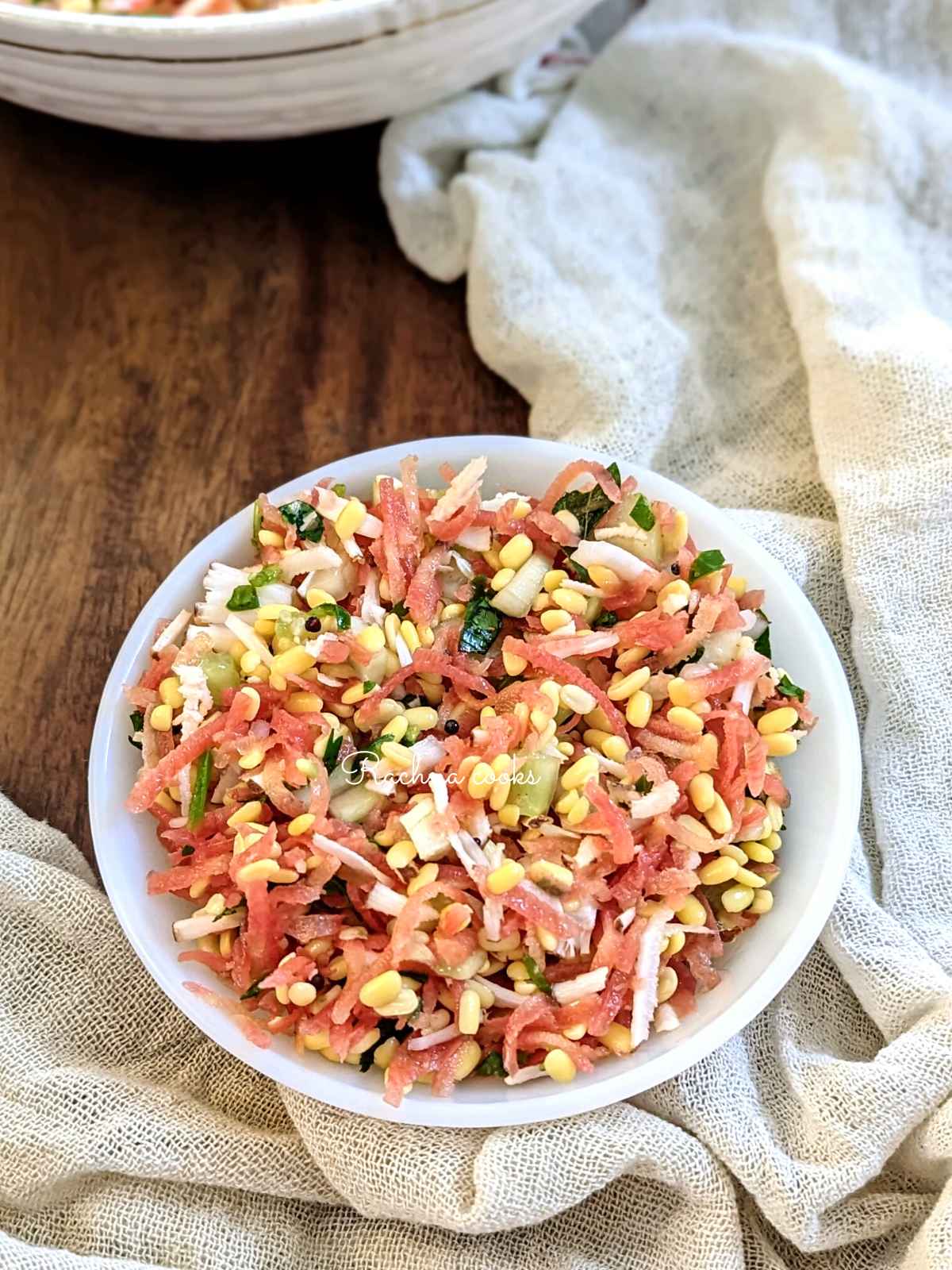 Storage
Kosambari can be easily stored in the fridge for up to two days if you have leftovers.
In case, you want to store it for longer, then do not add salt. Just mix all the ingredients and store in air tight container in the fridge for upto 5 days.
FAQs
1. What is kosambari?
It is a fresh Indian salad made with soaked lentils, fresh veggies and coconut. It is tempered with mustard seeds and curry leaves.
2. Which lentils can be used in kosambari?
Lentils that can be easily digested without cooking like split green gram or moong dal or split gram or chana dal are used in this salad.
Instructions
Take ½ cup moong dal or split green gram. Soak it in water for about 2 hours.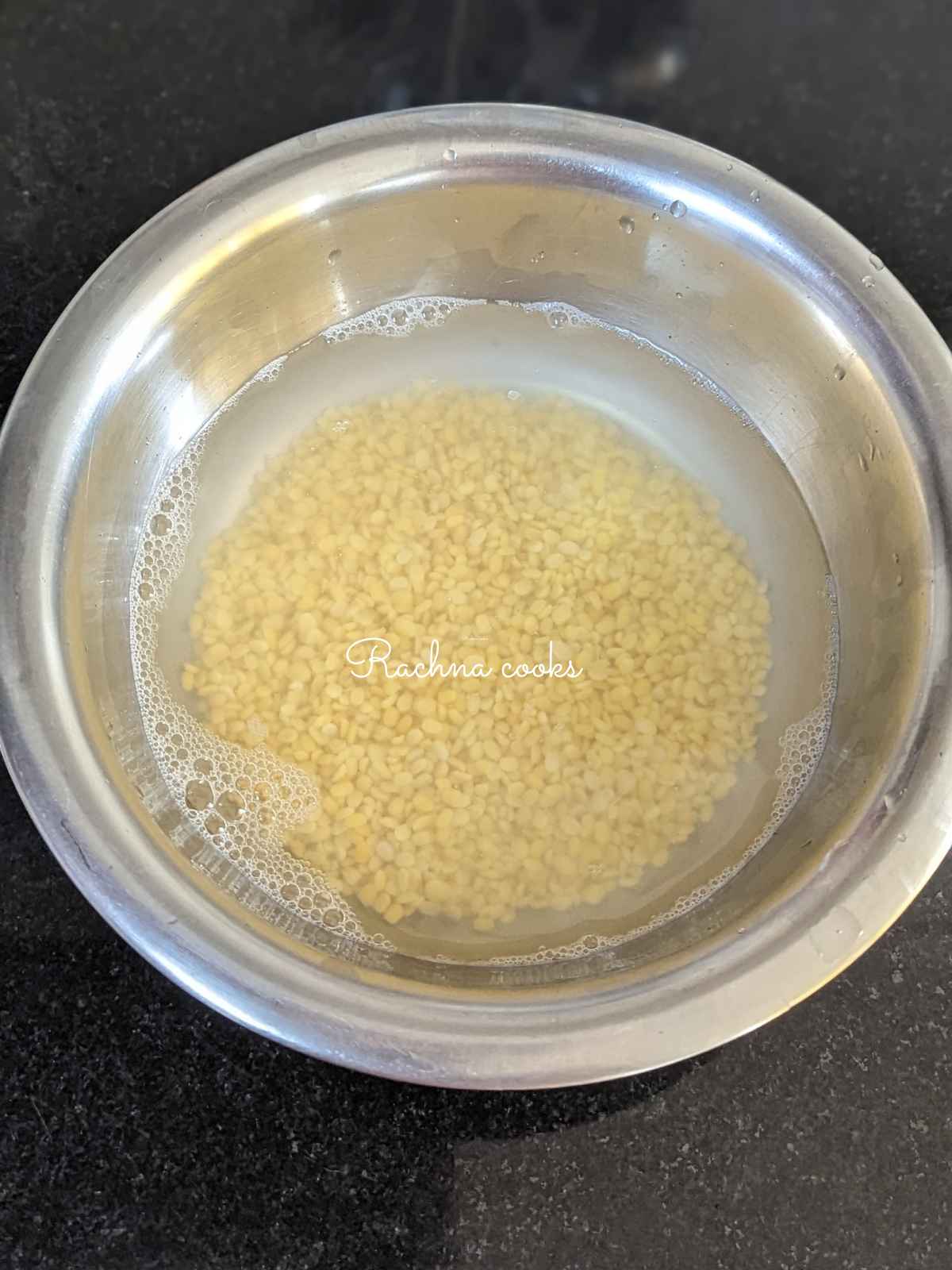 Drain and keep aside.
Finely grate carrots and coconut and keep aside. Finely chop cilantro, cucumber and green chillies (if using).
Mix the lentils with veggies and coconut and mix well.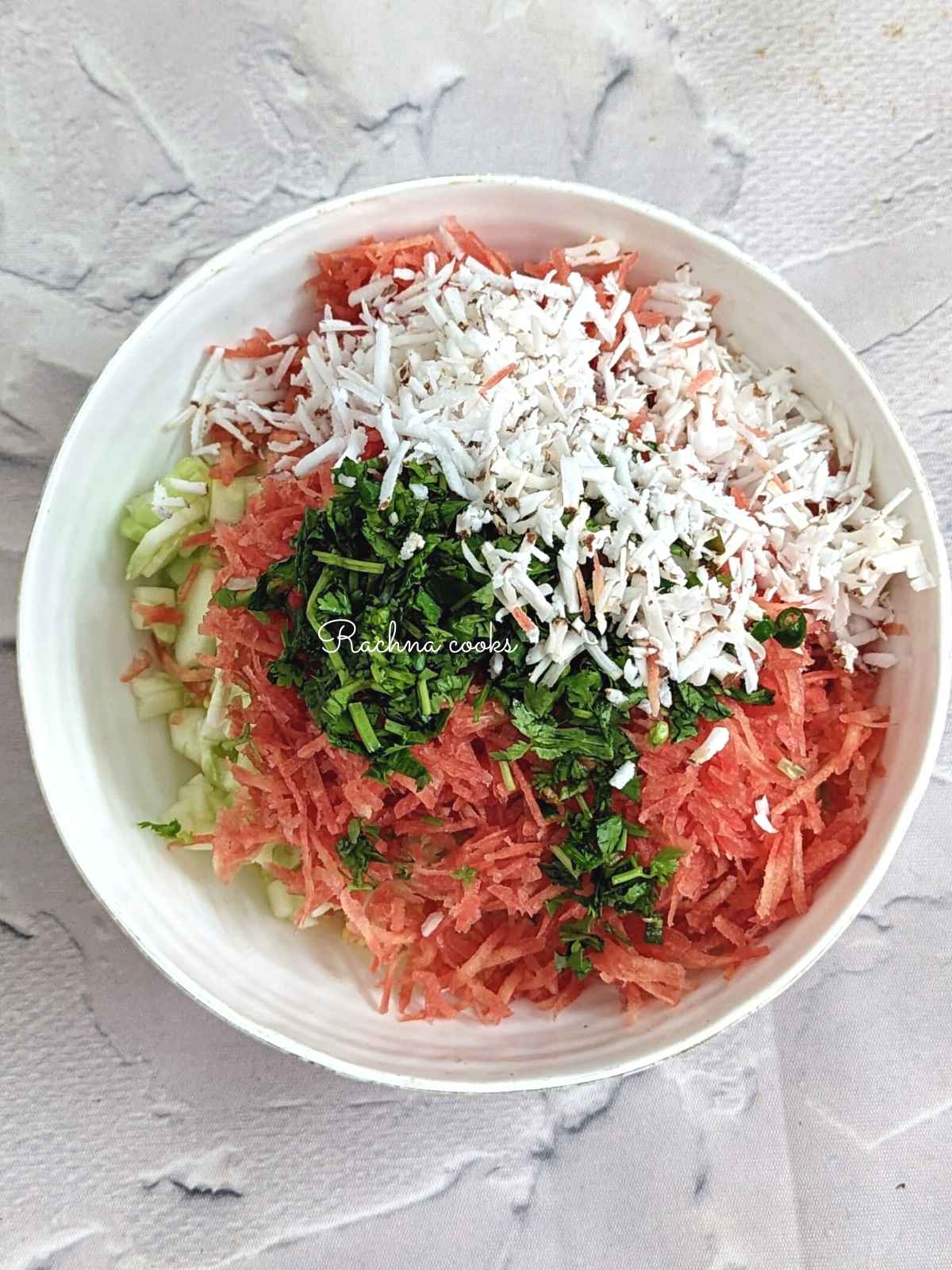 Add lemon juice and salt and mix well.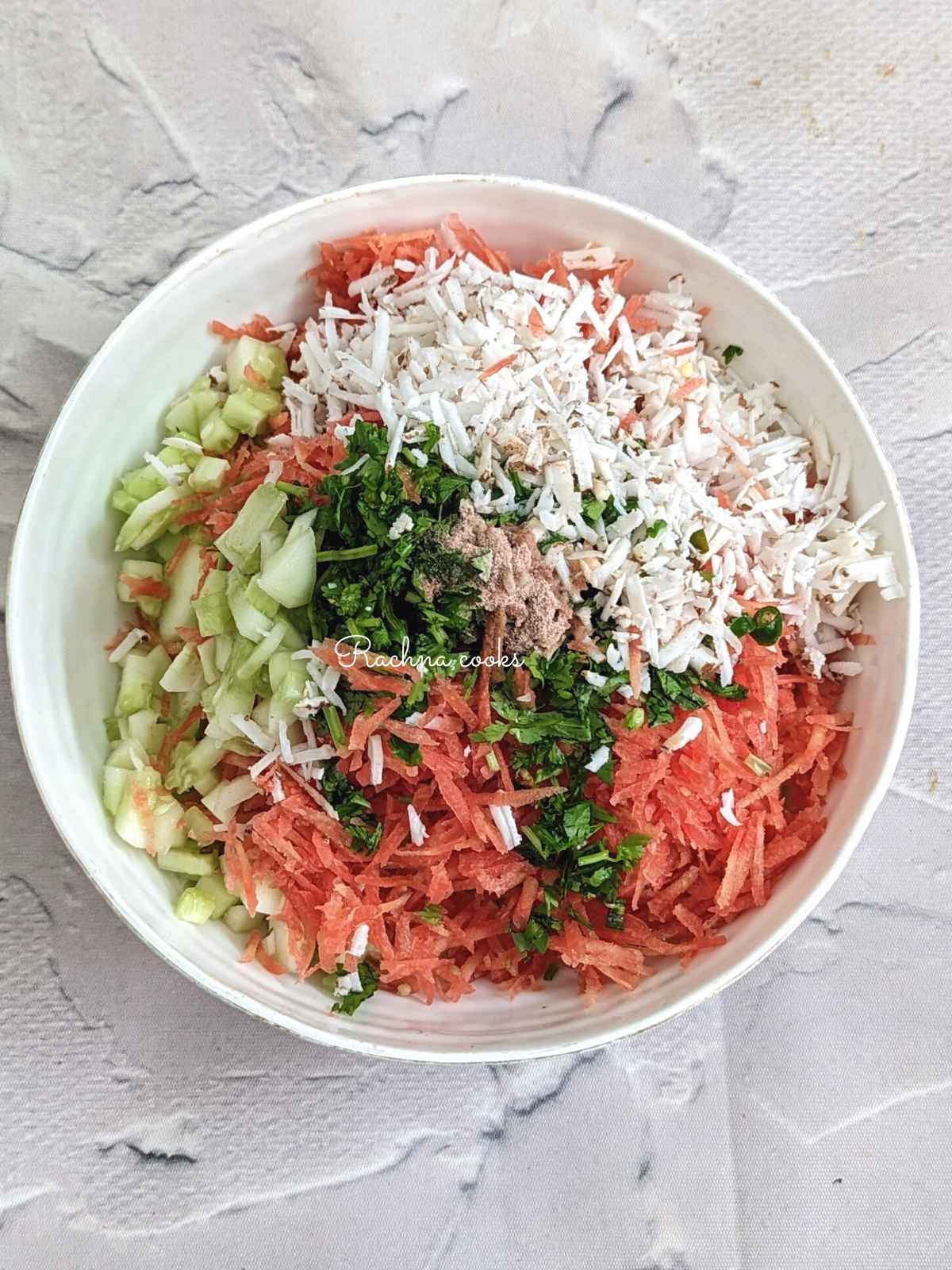 Now heat a small pan. Take 1 tsp. coconut oil. Add ½ tsp. Mustard seeds and let them sputter.
Now add a sprig of curry leaves. Turn off the gas.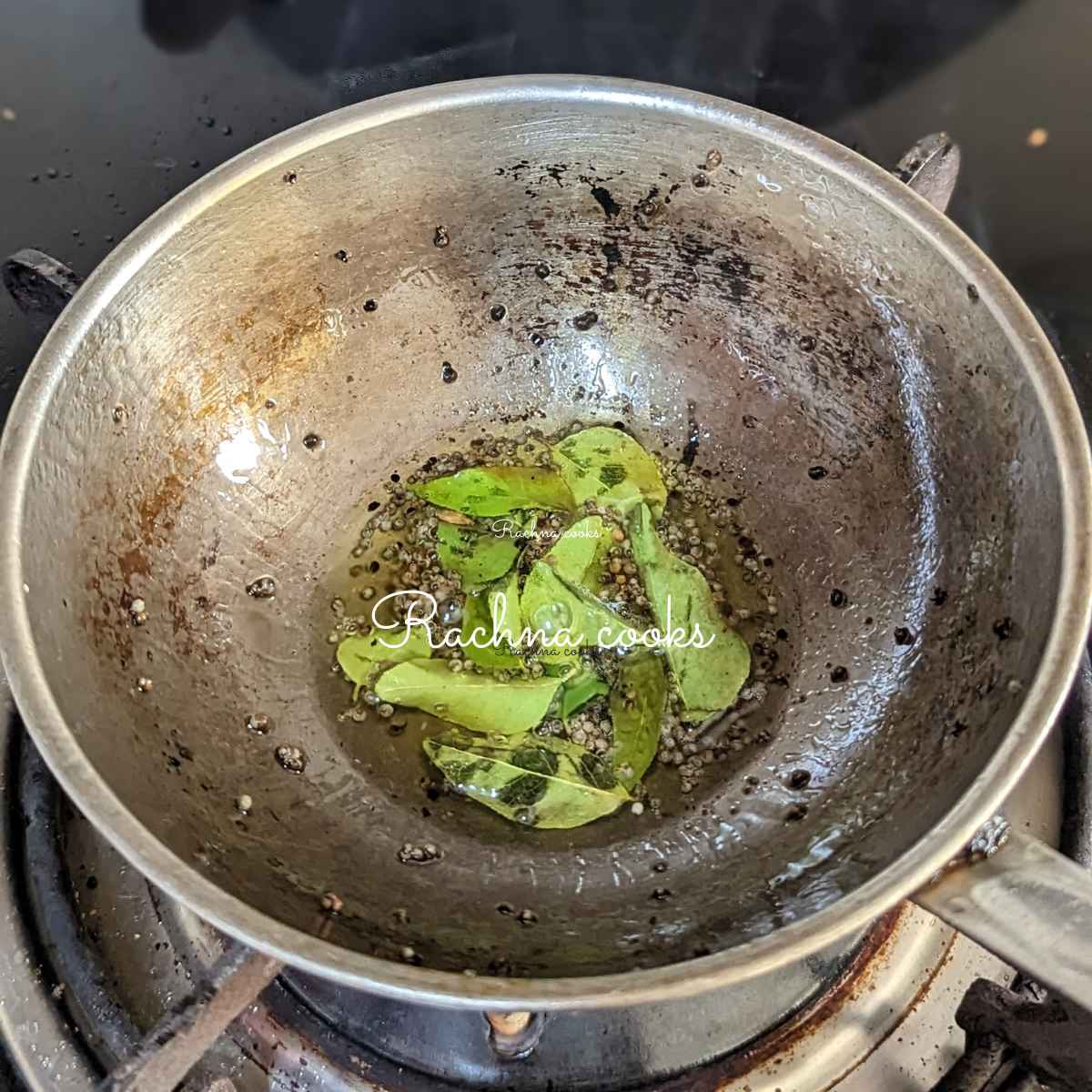 Add this to the salad.
Mix and consume it fresh right away.
It is delightful.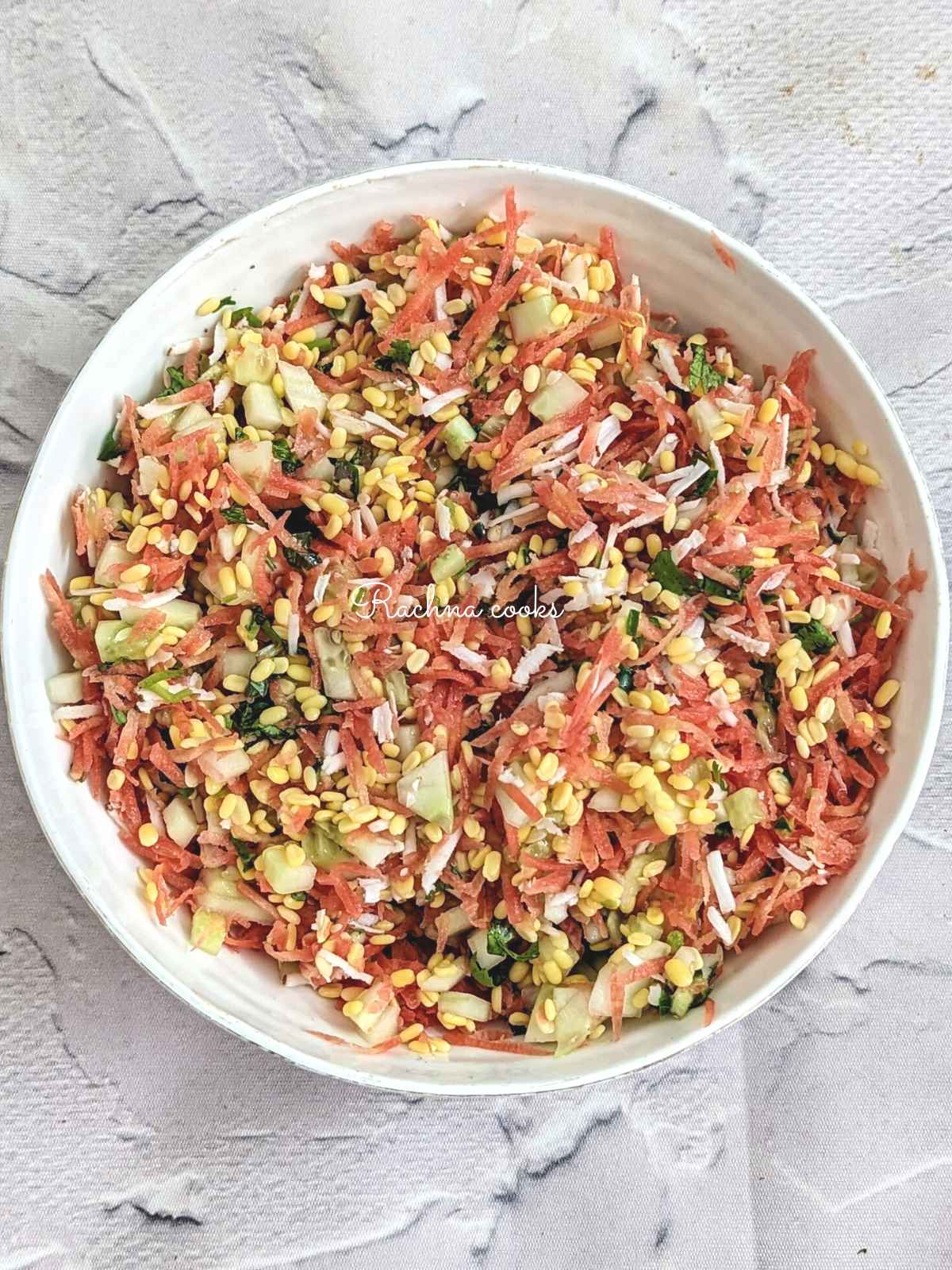 Here's the recipe card:
📖 Recipe Card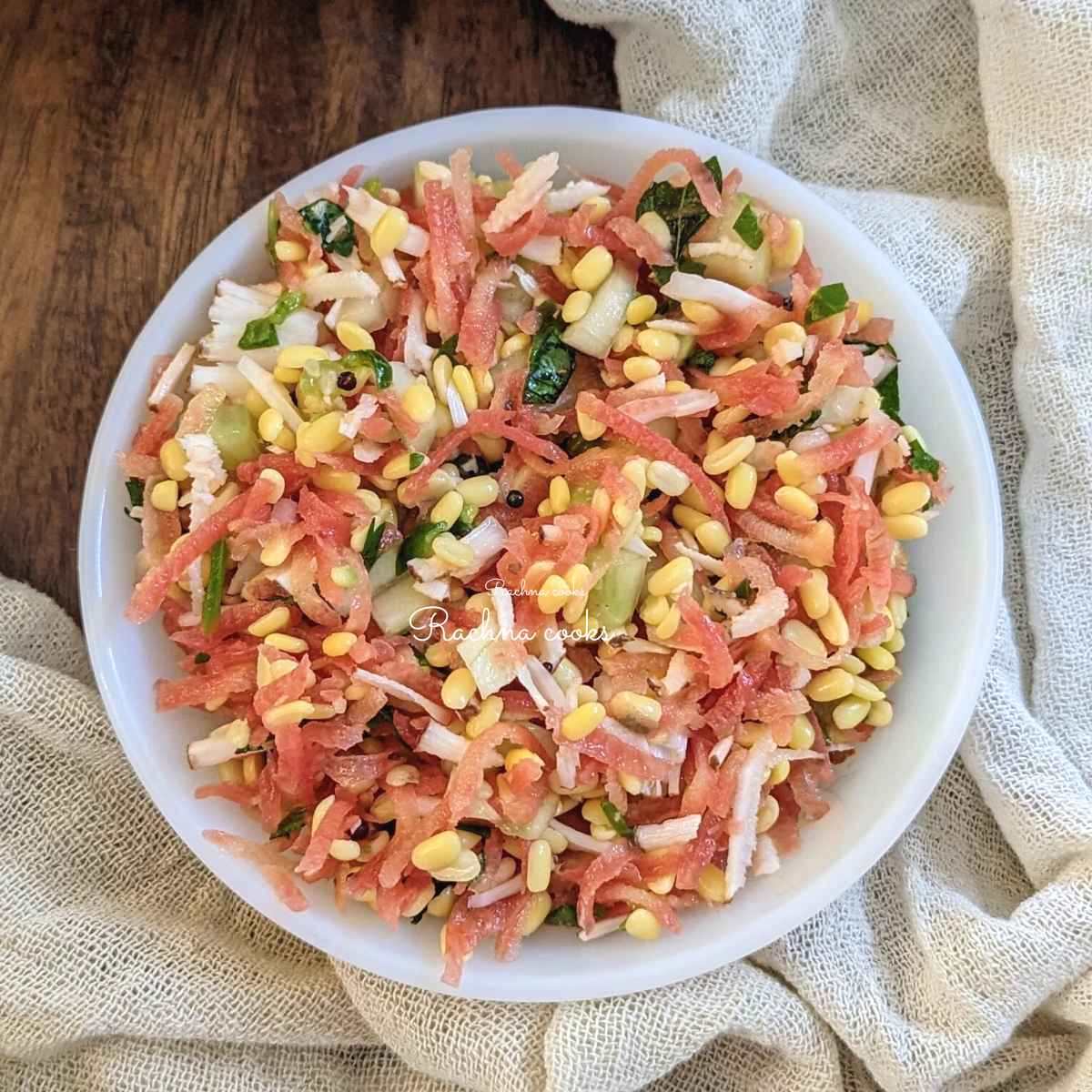 Kosambari Recipe
This is a fresh and tasty Kosambari salad made with soaked and uncooked lentils and chopped vegetables. Do try it.
Ingredients
½

cup

moong dal

split green gram soaked in water for 2 hours and drained

1

cucumber

chopped

1

carrot

grated

¼

fresh coconut

grated

1

green chilly

finely chopped

1

tbsp.

cilantro

finely chopped

1

tbsp.

lemon juice

salt

to taste
For tempering
2

tsp.

coconut oil

½

tsp.

mustard seeds

1

sprig

curry leaves
Instructions
Mix all the ingredients of the salad -- drained moong dal, chopped cucumber, grated carrot and coconut, chopped green chilli (if using) and chopped cilantro. Add lemon juice too.

If consuming right away, add salt and mix well.

For tempering, heat oil in a pan. Add mustard seeds and allow to sputter. Add curry leaves.

Add to the salad and serve immediately.

Your delicious kosambari is ready to serve.
Notes
1. You can add other veggies like boiled sweet corn too though this is the classic recipe that I've shared.
2.Do not add salt if you are planning to consume later.
Mix lentils with chopped veggies and lemon juice. Mix together and add tempering only when you are ready to eat.
3.You can have it without the tempering as well. 4. You can use sesame oil or olive oil for the tempering as well.
Nutrition
Serving:
50
g
Calories:
99
kcal
Carbohydrates:
14
g
Protein:
5
g
Fat:
3
g
Saturated Fat:
2
g
Polyunsaturated Fat:
0.1
g
Monounsaturated Fat:
0.2
g
Sodium:
40
mg
Potassium:
126
mg
Fiber:
3
g
Sugar:
2
g
Vitamin A:
1949
IU
Vitamin C:
11
mg
Calcium:
22
mg
Iron:
1
mg
Check out our Food videos
Subscribe to our Food channel for recipe videos
If you liked this recipe, I request you to leave a star * rating. Thanks.