This is a favourite dip at my home since the past few weeks. It is healthy, really delicious and can be made from start to finish in about 30 minutes. It is vegan and at my place when I make baingan ka bharta or roasted eggplant curried, I always roast a couple of eggplants and keep them aside to make this dip. This is a Mediterranean recipe and once you make it you will love to have it again and again. Baba ganoush is perfect for your parties or at home. Serve it with salad sticks of veggies. It really lifts them up or with nachos, chips or even khakras.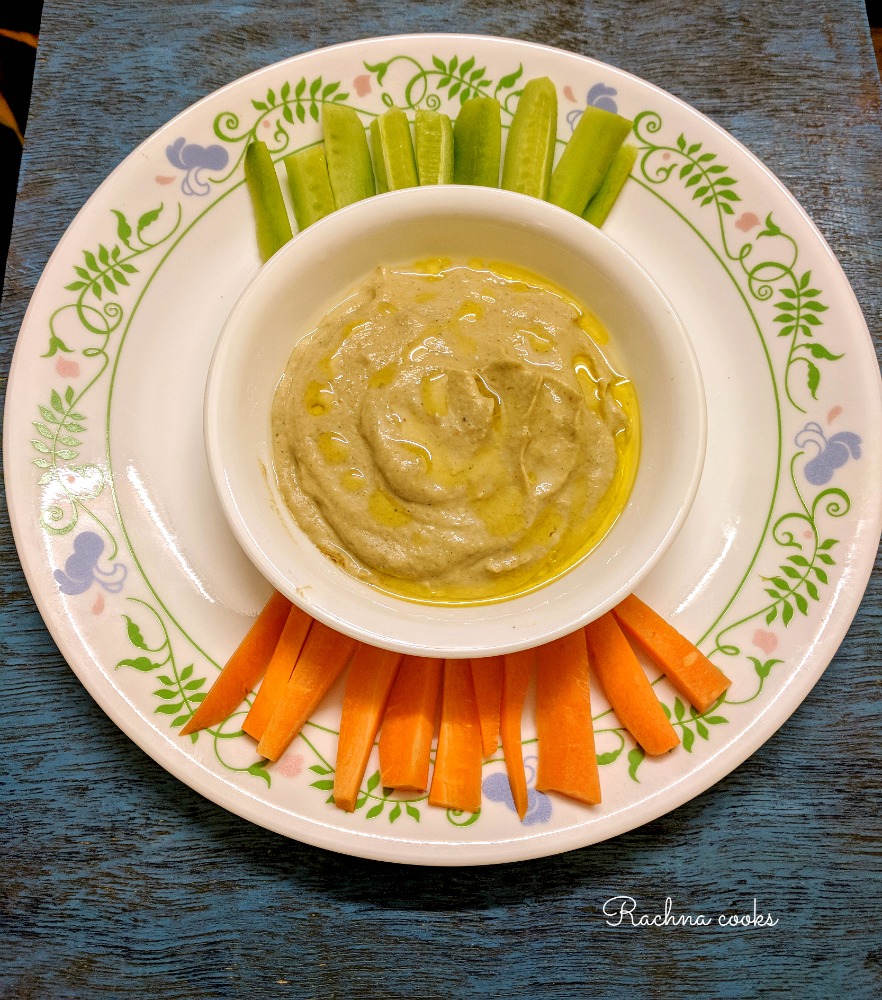 Here is the simple recipe: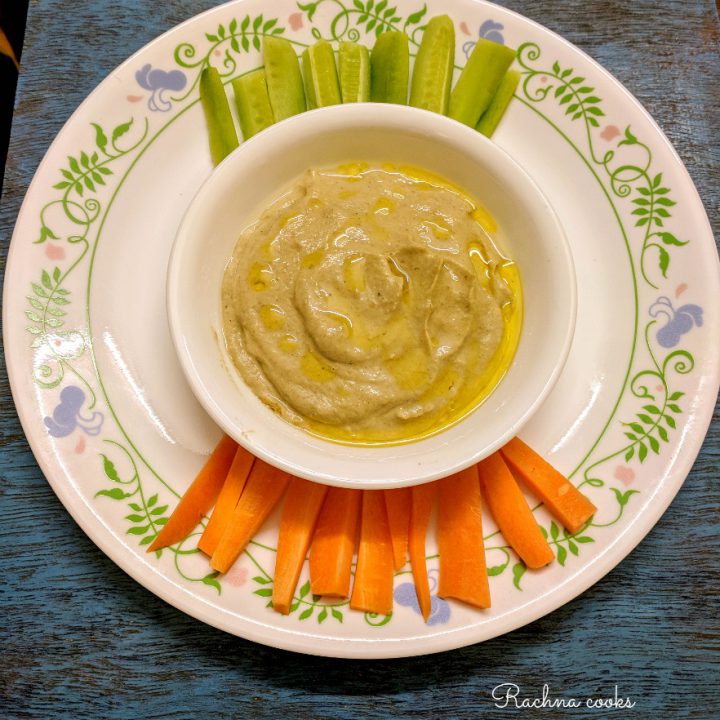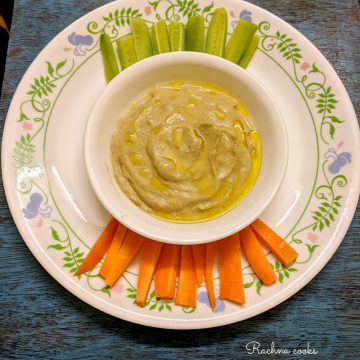 Baba Ganoush | Delicious Roasted Eggplant Dip Recipe
Baba ganoush is a delicious, creamy dip that is totally vegan and easy to make. You must try it and it will become a regular in your home.
Ingredients
1

large eggplant

charred on the gas stove till well cooked

2

large cloves garlic

Juice of 1 lemon

3

tbsp.

Tahini paste

Extra virgin olive oil few tbsp.

salt to taste
Instructions
Cool the roasted eggplant and peel it.

It will be mushy.

Blend it with garlic cloves and some salt in a blender till smooth and creamy. Don't add any water.

Now add 2-3 tbsp. of Tahini paste to it and mix well.

Add lemon juice and mix.

Drizzle with extra virgin olive oil and serve.

To make Tahini

Lightly toast 3 tbsp. of white sesame seeds till they are golden. Now blend it with 1-2 tbsp. of extra virgin olive oil till it is shiny and creamy. Use it immediately. You can make larger batches and store it in the fridge for future use too. Will keep for a week.
Notes
Use extra virgin olive oil for nutty taste
You can roast the garlic when you are roasting your eggplant by making small slits in the eggplant and inserting garlic cloves with their peel into them. They will be roasted along with the eggplant.
I prefer to roast eggplant on the stove for that smoky, charred flavour. You could use an oven, barbeque or grill as well.
You can store baba ganoush in the fridge for upto a week easily. We consume it within a day or two as it is so tasty.
Check out our Food videos
Subscribe to our Food channel for recipe videos
Wasn't that a really simple recipe of Baba Ganoush?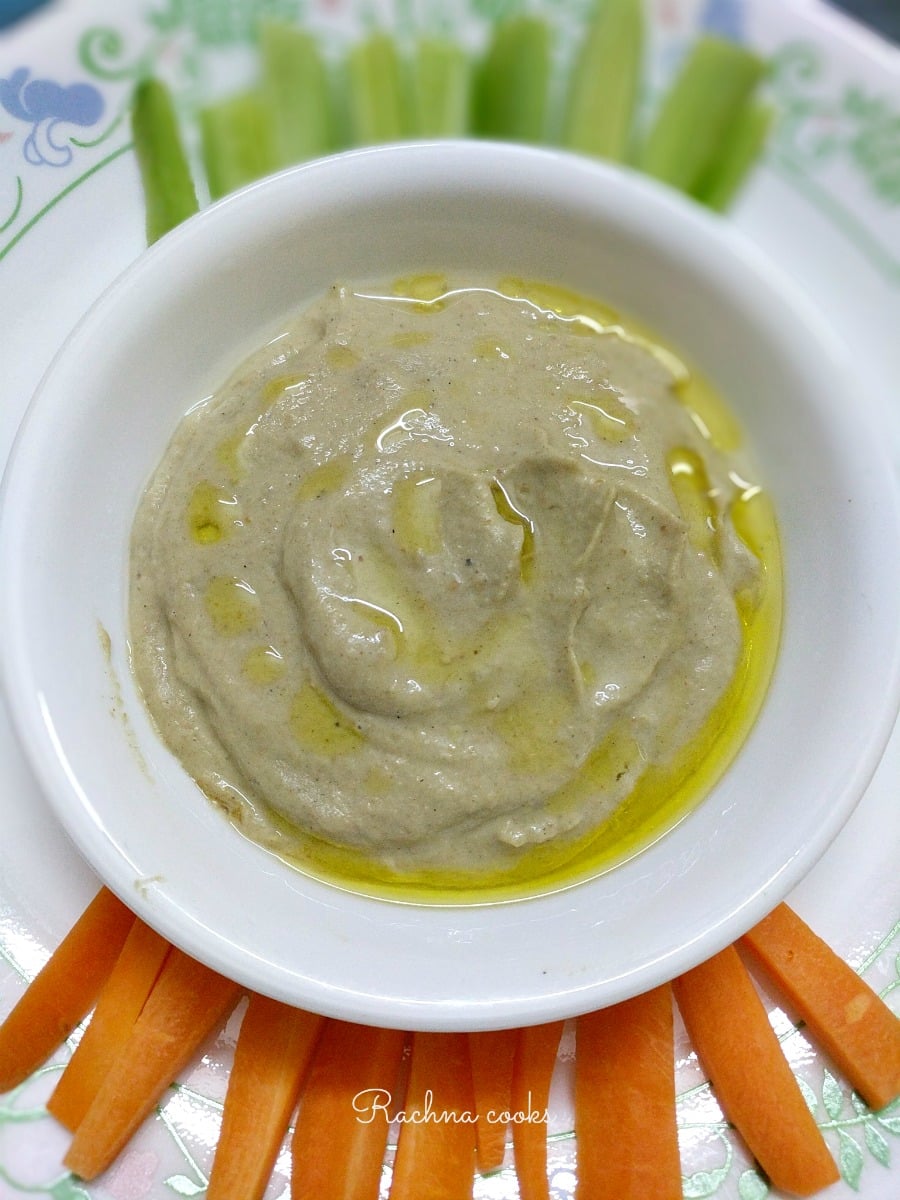 You can make it at a fraction of a cost at home from what you pay at the restaurant. So try it and let me know how you liked it.

If you enjoyed the recipe, do share it.