Sweet potatoes when made in Air fryer is the perfect side dish to make. It needs barely any effort and gives you a dish that is melting soft inside while having a deliciously crispy skin outside.
I love these sweet potato fries that we regularly make at home. But this sweet potato in Air fryer is a recent favourite that I end up making again and again. It works as a wonderfully filling snack or a side dish. Melting soft inside with crispy skin, these sweet potatoes are super delicious. I normally pair them with butter, salt and pepper.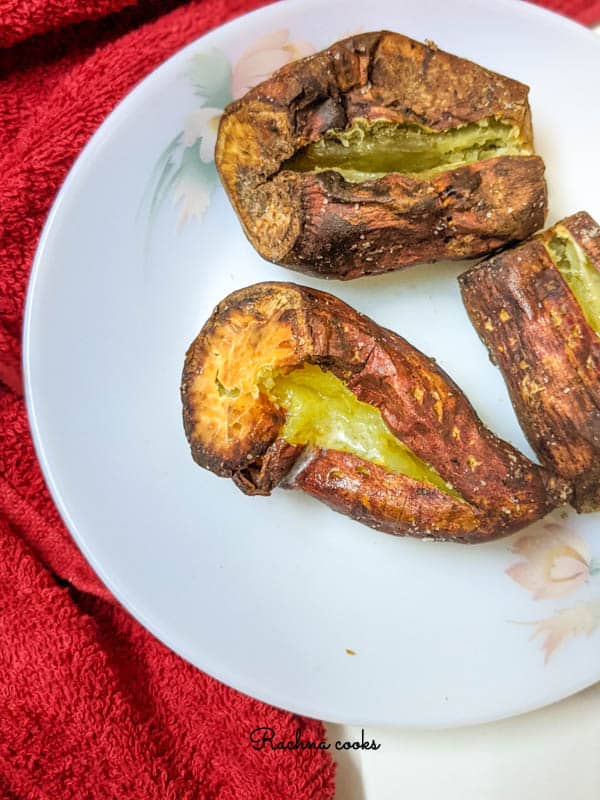 Sweet potato is loaded with nutrients and fibre. You have the option of going sweet or savoury with the baked potato which is delightfully fluffy inside. It is perfect as a side on Thanksgiving or on any other occasion.
How to Bake or Air fry Sweet Potato
The recipe is really simple. Here are the steps that you must follow:
Wash and dry the sweet potato well: As you are leaving the skin on, it is necessary that you really wash it well to remove all the grime. After all, it does grow in soil. Drying it very well is crucial too. We want the sweet potato skin to crisp up nicely and not get soggy and soft. Hence dry it completely. Yes, you can eat the skin and you must. It is loaded with nutrition and very earthy in taste.
Poke holes all over the sweet potato: I do this with the fork. You can use knife as well. This is important to ensure that the sweet potato does not burst while baking or air frying.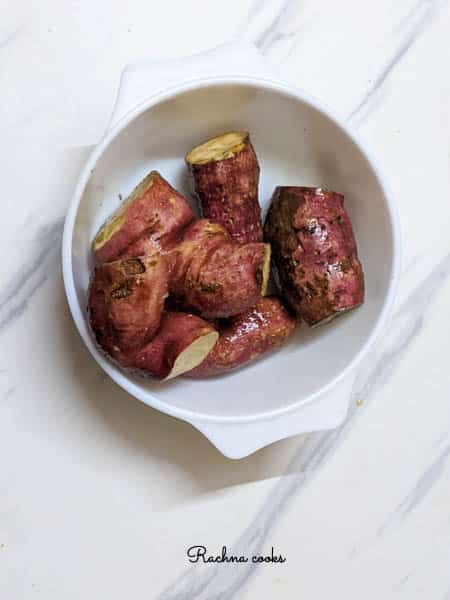 Apply oil and salt all over the sweet potato: This is as easy as it gets. I just brush it with oil mixed with salt.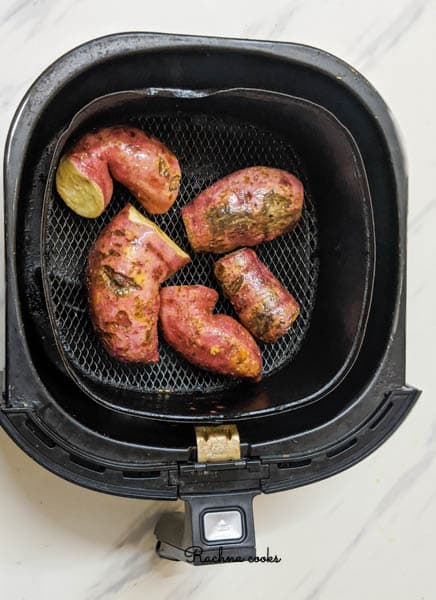 Bake or Air fry: It just goes into the oven or Air fryer and that's it. Next you see the crispy creamy baked sweet potato. Super easy.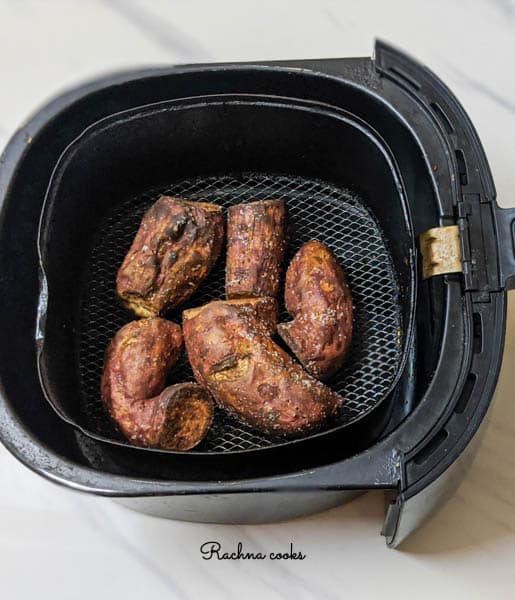 Serve: Take them out. Split through the middle and serve with butter, salt and pepper for savoury or with butter, cinnamon and brown sugar for sweet. Sour cream also goes well.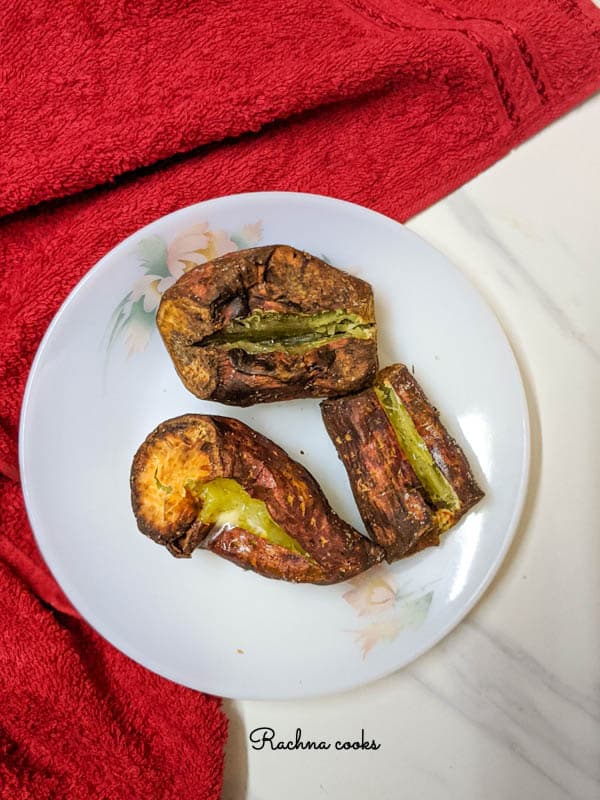 What is the Cooking Time?
In Oven: They take about 45 minutes in a 450 F oven for medium big ones. Vary the time as per the size.
In Air fryer: It took me 30 minutes at 390 F or 200 C. Again the time may vary as per size.
How to Know When they are Done
They look slightly shrunk with their skin wrinkling. You can also check with a fork or knife that goes through easily when they are done.
Here is Baked and Air Fryer Sweet Potatoes recipe: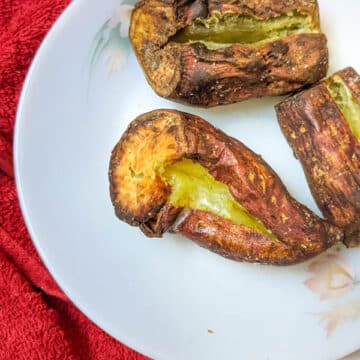 Air Fryer and Baked Sweet Potatoes
This is a super easy and tasty air fryer and baked sweet potato recipe. Perfect as a side or snack, make it for Thanksgiving or otherwise.
Ingredients
2

sweet potatoes

large

2

tsp.

olive oil

1

tsp.

salt
Instructions
Wash and pat dry the sweet potatoes. Poke holes all over each one and keep aside. Brush with olive oil mixed with salt.
For Air Fryer
Preheat Air fryer at 390 F or 200 C for 4 minutes. Put in the sweet potatoes. Air fry for about 30 minutes till done. Check with a fork or knife that should go through easily.
For Oven
Preheat oven at 450 F for 10 minutes.

Line a baking tray with parchment and put your sweet potatoes on them. Put in the oven for about 45 minutes to an hour. Check for doneness.
Notes
1. Always choose sweet potatoes that are similar in size. This ensures that they are cooked at the same time.
2. The baking or air frying time will vary slightly with your model as well as the size of your potatoes.
3. You can serve them with butter, salt and pepper or sour cream and chives if you love them savoury.
4. Butter with cinnamon and brown sugar is perfect for a sweeter treat.
5. They are a perfect healthy treat that even kids love.
Nutrition
Nutrition Facts
Air Fryer and Baked Sweet Potatoes
Amount Per Serving
Calories 119
Calories from Fat 27
% Daily Value*
Fat 3g5%
Sodium 540mg23%
Potassium 381mg11%
Carbohydrates 23g8%
Protein 2g4%
Vitamin A 16031IU321%
Vitamin C 3mg4%
Calcium 34mg3%
Iron 1mg6%
* Percent Daily Values are based on a 2000 calorie diet.
Check out our Food videos
Subscribe to our Food channel for recipe videos
If you liked the recipe, I request you to leave a * star rating either on the recipe card or in the comments. Thanks.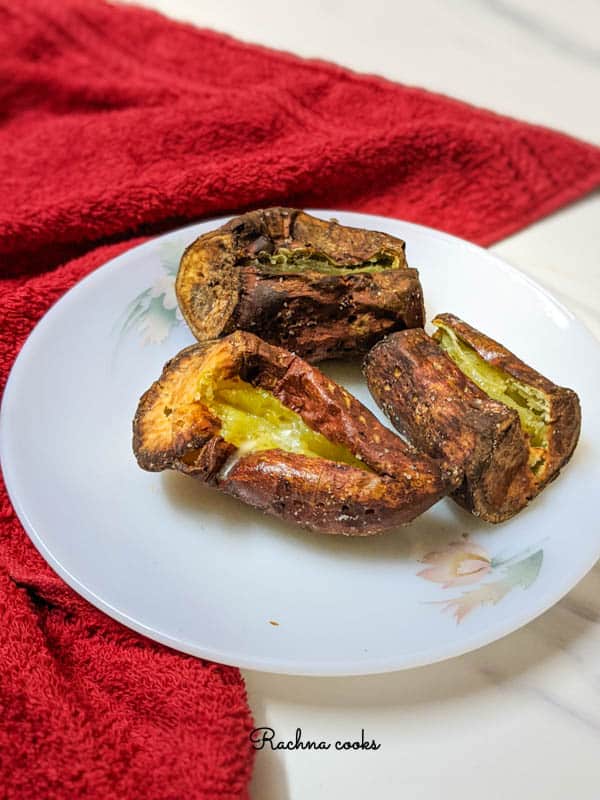 You May Also Like:
Kurkuri Bhindi | Crispy Okra in Airfryer
Pin This