I have many pasta recipes on the blog and this spaghetti with chicken meatballs is very popular with my kids. This is a delicious pasta dish with healthy chicken meatballs. I prefer to air fry my chicken meatballs or lightly saute in oil. These meatballs work as a lovely appetizer on their own as they are nicely spiced.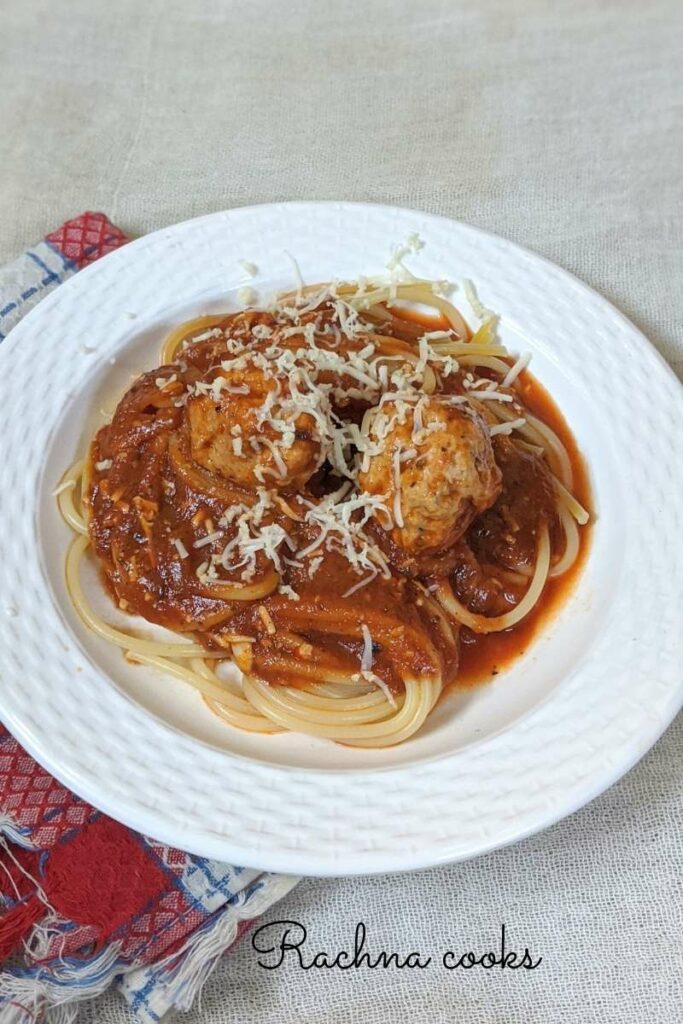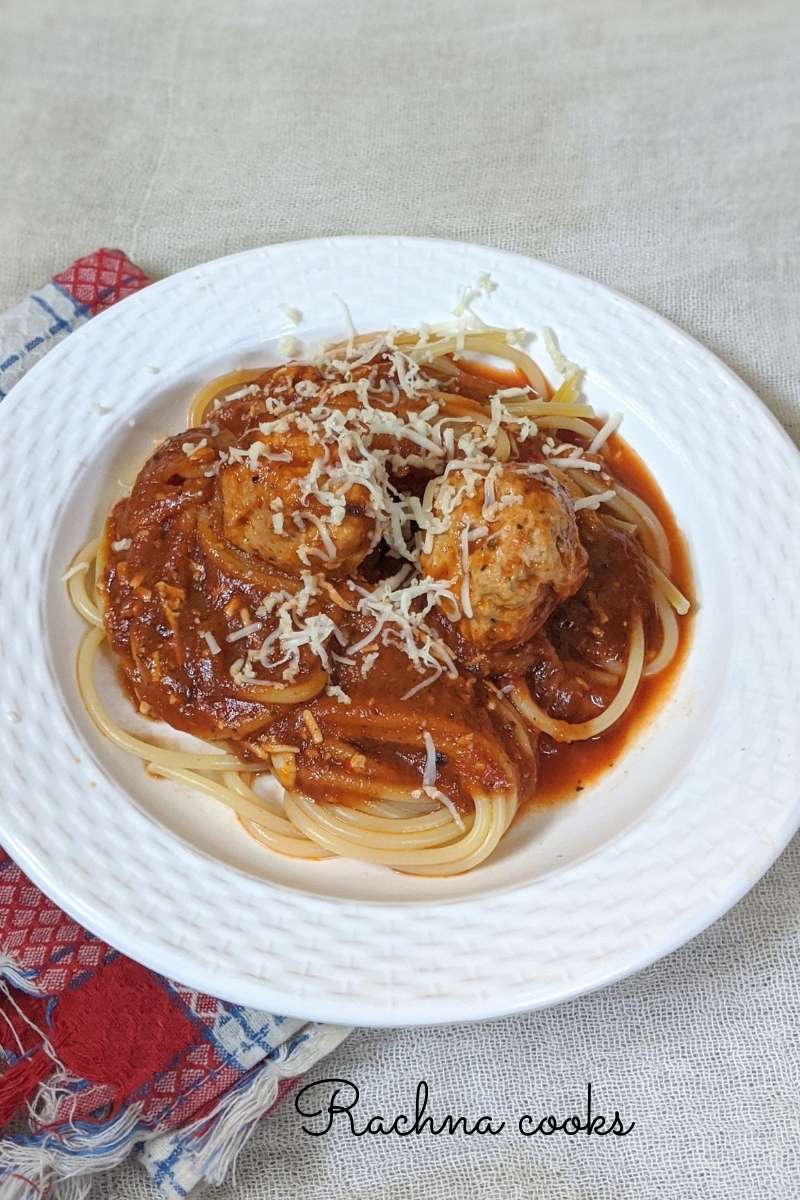 Check out my detailed recipe: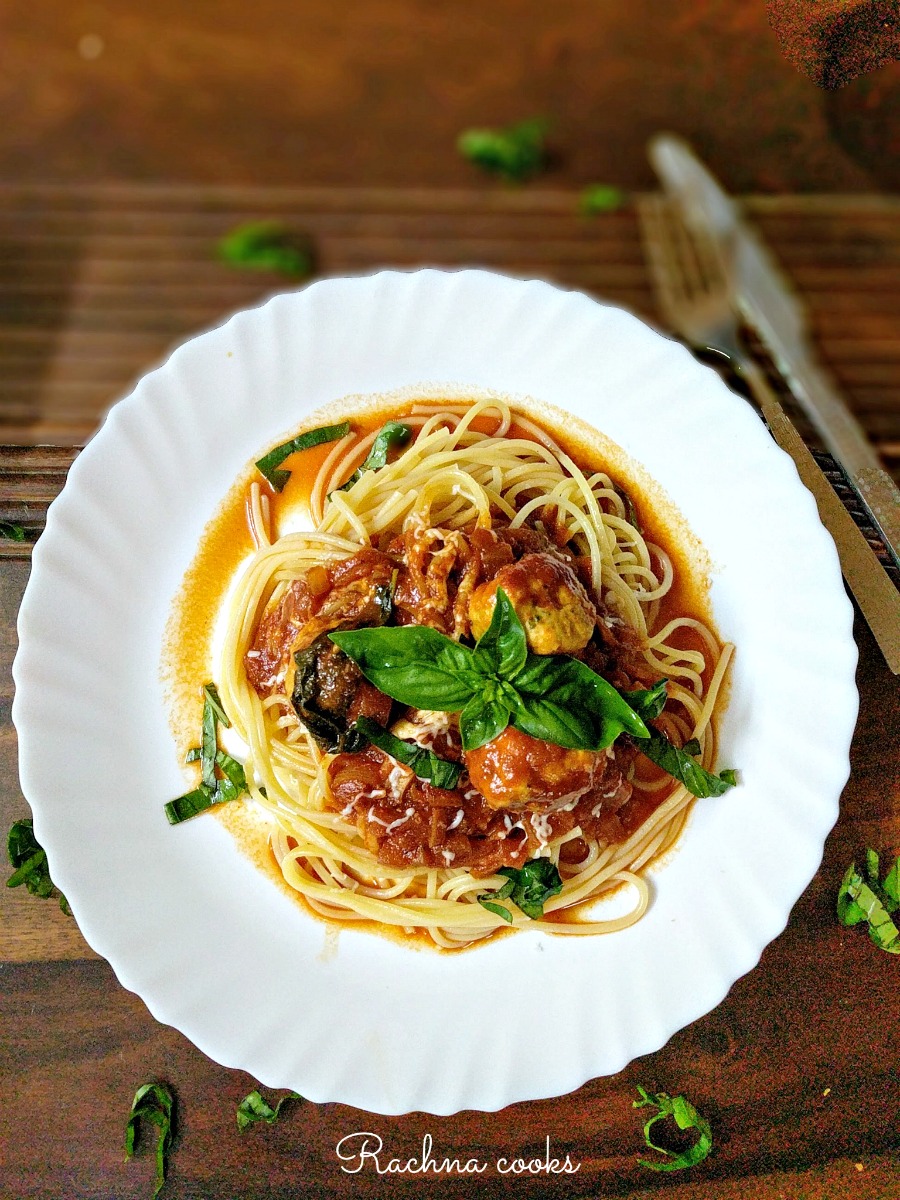 📖 Recipe Card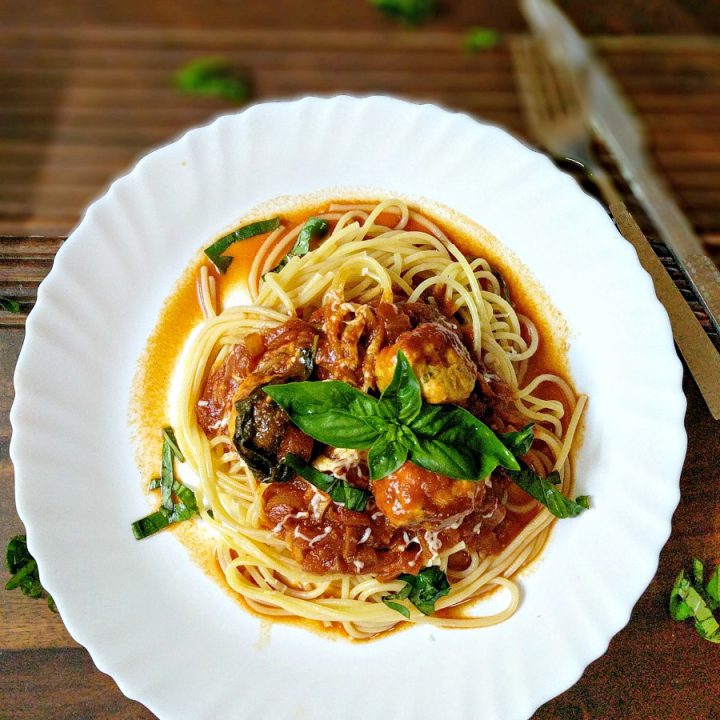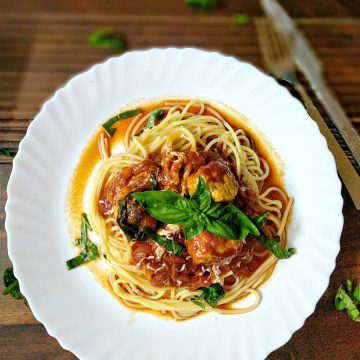 Spaghetti with chicken meatballs | Spaghetti Recipes
This is an easy homestyle spaghetti recipe with healthy chicken meatballs that is really delicious and is perfect for a weeknight dinner with friends or family.
Ingredients
For around 20 medium sized meatballs
¾

lb.

Chicken mince

3

cloves

garlic

1

tsp.

Italian seasoning

1

egg

lightly beaten

2-3

sprigs

basil

you may use rosemary or parsley too

1

tsp.

black pepper

1

egg

½

cup

breadcrumbs

made with 2 bread slices

salt to taste
For the spaghetti:
1

packet

spaghetti

or 500 gm.
For the tomato sauce:
2

cups

Tomato puree

1

onion

finely diced

3

cloves

garlic

finely diced

1

chilli

finely chopped

Basil leaves

large handful

1

tsp.

Freshly ground black pepper powder

⅓

tsp.

oregano powder

2

tbsp.

grated cheese

a pinch of sugar

salt to taste

1

tbsp.

Olive oil for cooking
Instructions
How to make healthy chicken meatballs
To make the meatballs, mince together chicken breast with chopped basil, black pepper, salt and chopped garlic.

Break the egg in a bowl and beat it lightly. Now add the egg and fresh breadcrumbs to the chicken mince mix and mix well.

Form meatballs of the desired size with your hands. 
For skillet or pan frying meatballs
Heat one tbsp. oil on the skillet and cook the meatballs by moving them around till they are browned.
For Air frying meatballs
Preheat Air fryer to 200 C or 390 F for minutes. Then Air fry for about 10-12 minutes till they are done and lightly browned. Brush/spray your meatballs and the basket with a little oil.
For Making Spaghetti
Cook your spaghetti according to instructions on the pack while you start preparing the sauce.

That takes about 8-10 minutes in salted boiling water. Now drain the spaghetti and reserve some of the water to add to the sauce if it is too dry.
For Making the sauce
This takes about 7-8 minutes. Put in the chopped basil leaves. Add salt, sugar and pepper along with oregano. Taste and check seasoning.

In a saucepan, lightly saute finely chopped onion in olive oil till transparent. Now add in the garlic and pepper and fry for a couple of minutes more. Pour in the tomato puree and cook for some time.

Now put in the cooked meatballs and cook it for a few minutes in the tomato sauce. 

Just before taking it off the heat, put in some grated cheese. Don't allow the sauce to become very thick. If needed add a little reserve water that you kept while cooking pasta. Put the cooked pasta back in pan and take some of the tomato sauce and mix well with pasta. Leave the rest of the sauce with meatballs to serve on top.


Your spaghetti with meatballs are ready to serve.
Notes
I make breadcrumbs by throwing the bread slices in the blender for a couple of minutes. 
You can shallow fry or deep fry the meatballs in vegetable oil till golden brown before adding to the sauce. I prefer sauteing or air frying.
Nutrition
Calories:
231
kcal
Carbohydrates:
30
g
Protein:
10
g
Fat:
9
g
Saturated Fat:
3
g
Cholesterol:
90
mg
Sodium:
217
mg
Potassium:
775
mg
Fiber:
5
g
Sugar:
9
g
Vitamin A:
1042
IU
Vitamin C:
33
mg
Calcium:
166
mg
Iron:
4
mg
Check out our Food videos
Subscribe to our Food channel for recipe videos
Serving suggestions:
Spaghetti with meatballs: To serve, take your prepared spaghetti in the plate and top up with the tomato sauce and meatballs. Serve hot with a sprinkling of cheese and fresh basil leaves. It is tasty and a complete balanced meal.
Chicken meatballs with tomato sauce: You can do away with the pasta and serve delicious chicken meatballs with tomato sauce. They make for wonderful appetizers or snacks.
Chicken meatballs with dip: Serve chicken meatballs with some salad and a dip for a tasty light meal.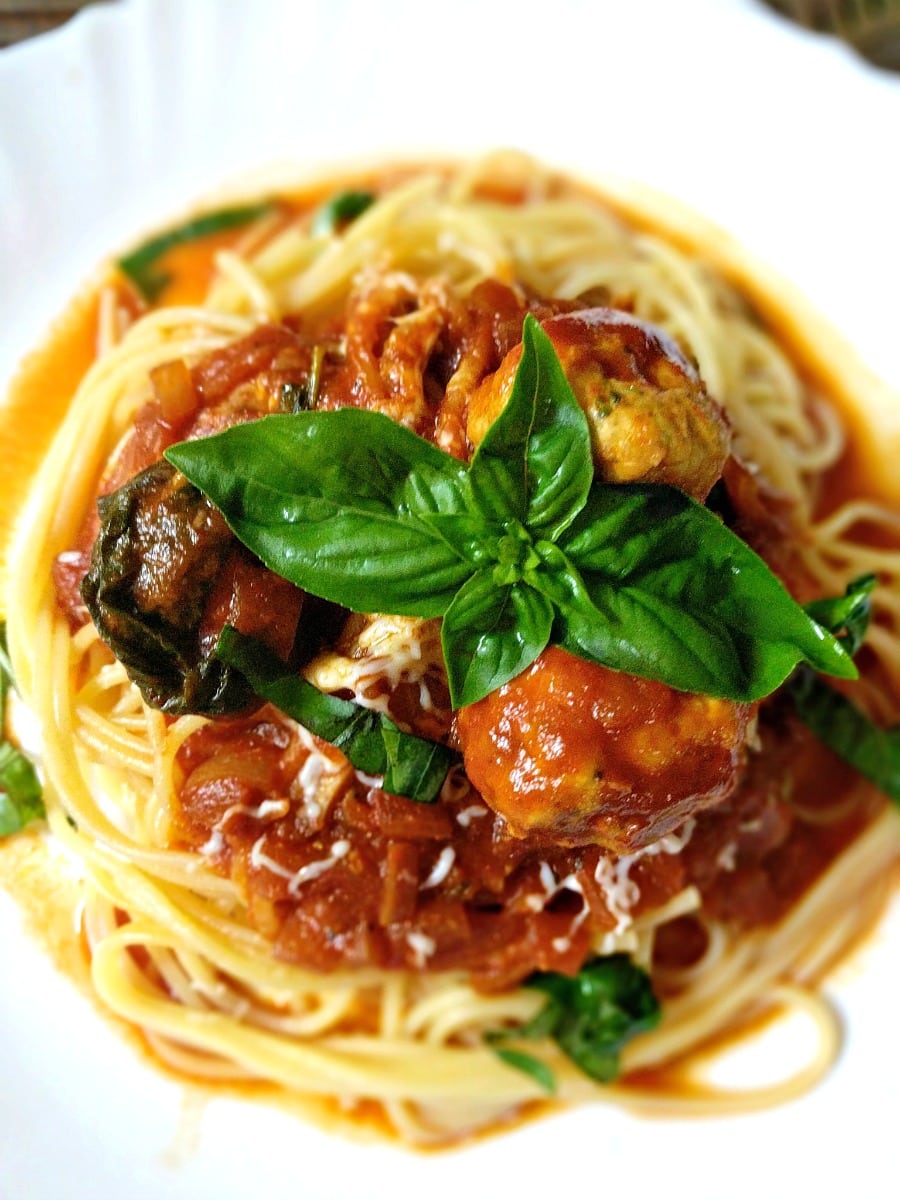 Note that I prefer a bit more spice. So you may add the pepper and chilli as per the level of heat you desire. Also, you can increase the quantity of oil and deep fry your meatballs. I prefer to use less oil in my cooking.
I request you to leave a star * rating in case you like the recipe. Thanks.
You May Also Like these other chicken Air fryer recipes:
Crispy Air fryer chicken tenders
Air fryer tandoori chicken recipe
Pin This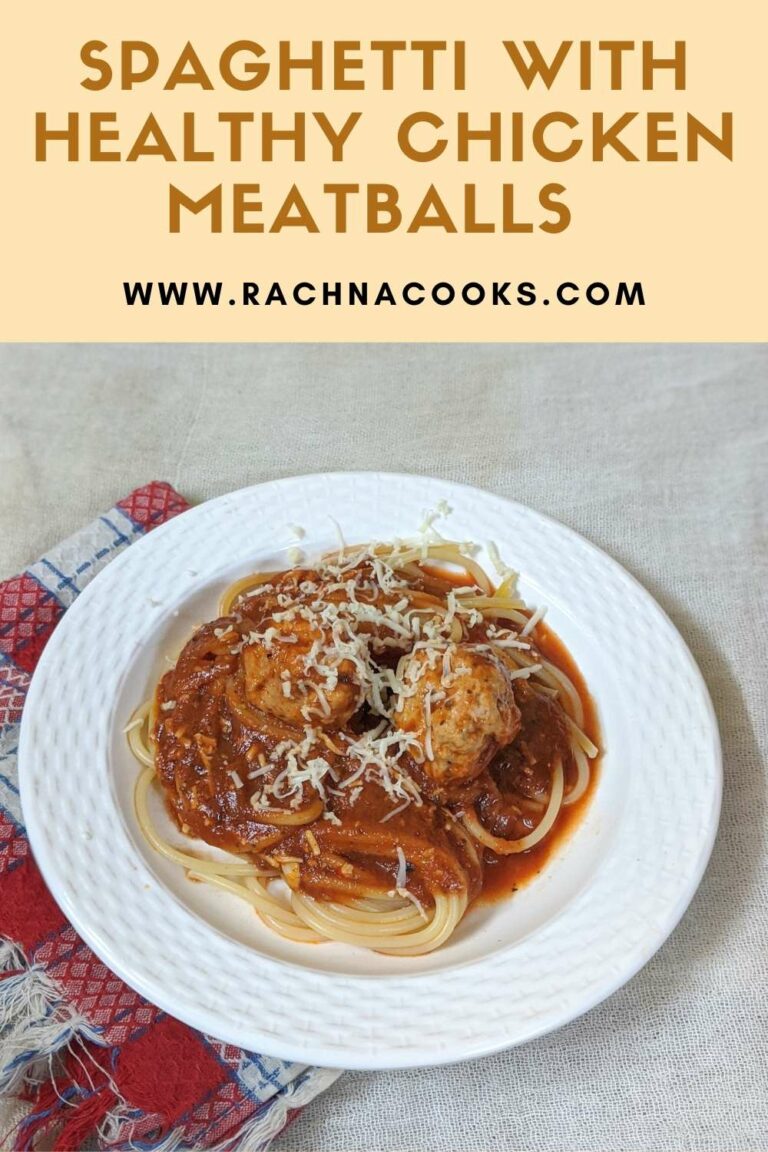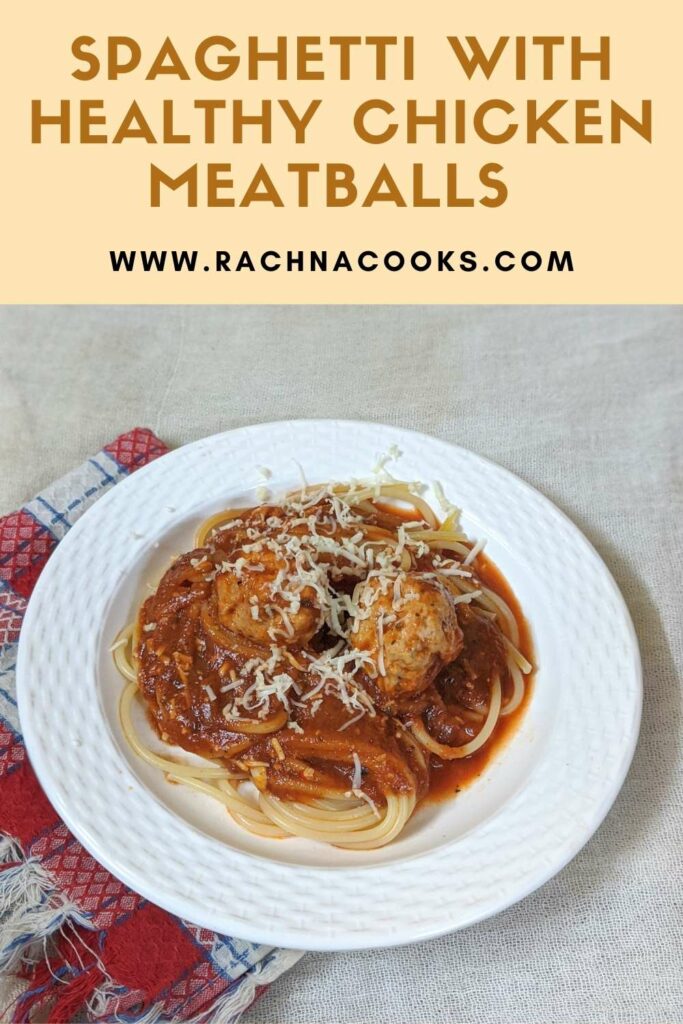 Do also try out the other pasta recipes on the blog.