Raw jackfruit has been a favourite in my home since childhood. My mum used to make the yummiest kathal ka pulav that I love to prepare and a pickle too with it that I've not yet made. The challenge ususally is to get a good raw jackfruit that is not sweet but has mature seeds because the seeds here are really delicious and nutty in flavour. Recently we managed to get a lovely one from a friend's tree.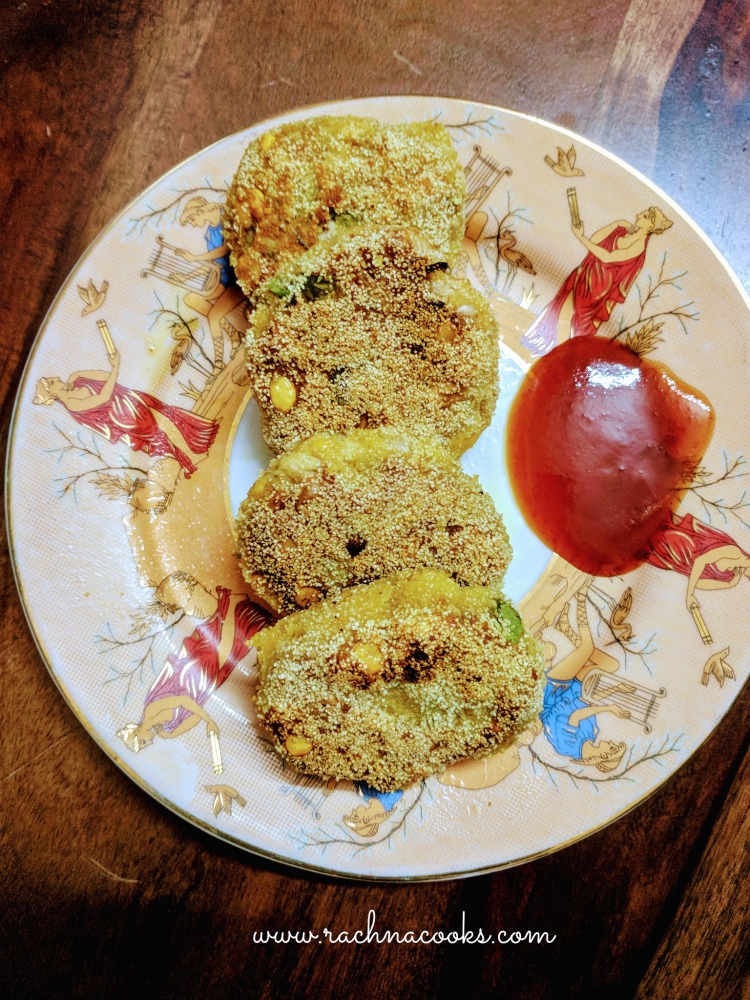 And then I tried out this recipe. It turned out really tasty and filling. Both the husband and the kids gave it a thumbs up. So here is my recipe:
📖 Recipe Card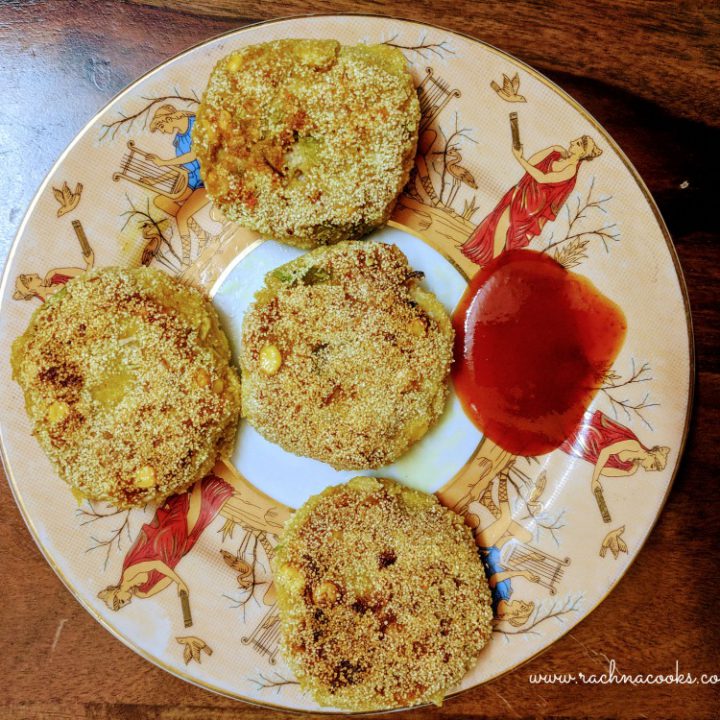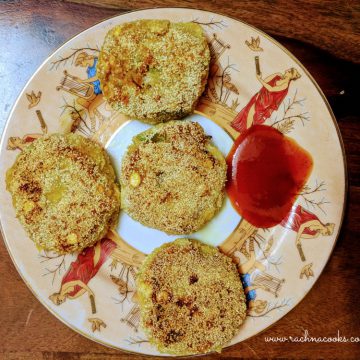 Raw Jackfruit Kebab | Kathal ke Kebab
This is a delicious snack made with raw jackfruit. You would love to make this and serve.
Ingredients
300

gm

raw jackfruit cut into pieces

½

cup

chana dal or split chickpeas

soaked for 4 hours or overnight in water and drained

1

tbsp.

chopped ginger

1

tbsp.

chopped garlic

1

green chilli

some finely chopped coriander leaves

salt to taste

½

tsp.

garam masala powder

2

tbsp.

fine rava or semolina for coating

Oil for shallow frying
Instructions
Cut raw jackfruit into small pieces.

This is slightly tricky to do if you've never done before. Apply oil to your palms and the knife. The cut the jackfruit into small pieces getting rid of the thorny skin. Jackfruit oozes a sticky sap so do make sure you apply oil or your hands will be very sticky.

Then wash the cut pieces and boil them in salted water till well cooked. Now drain them well and keep aside. I also squeeze out any moisture from the raw jackfruit pieces.

Now blend together the relatively dry pieces of cooked jackfruit. You can also mash them with your hands. Blend them with the drained chana dal or split gram, ginger, garlic, green chilli and salt till every thing is well blended. Don't add water or you will not be able to bind the kebabs. Add the chopped coriander leaves to the mix along with garam masala and mix well.

Now oil your palms and make patty shaped kebabs. Keep aside.

Take semolina in a plate and dip each kebab to coat with semolina on all sides.

Take some oil in a skillet or tawa. Heat it.

Now shallow fry the kebabs on both sides till golden brown. Does not take too long. About 3-4 minutes on each side.

Serve hot with chutney or ketchup.
Notes
Do dry grinding to avoid having any water in your mix. You can leave the mix of the kebab slightly coarse as well.
You can deep fry the kebabs or even cook them in an air fryer. Next time, I will air fry them.
Check out our Food videos
Subscribe to our Food channel for recipe videos
Hope you try the recipe. It is quite tasty and makes for a perfect snack.

If you like it, do share the post.