Pani puri or Gol gappe is a favourite street food in India. Here I share detailed recipe of air fryer pani puri with puris, filling and pani. Try this homemade treat.
While I tend to buy readymade fried puris from outside, I tried them air fried and was super pleased with the results.
No added oil is needed and one gets supremely crispy puris in no time.
You may also try aloo tikki chaat in air fryer, chhole tikki, air fryer samosa, bhel puri and pav bhaji.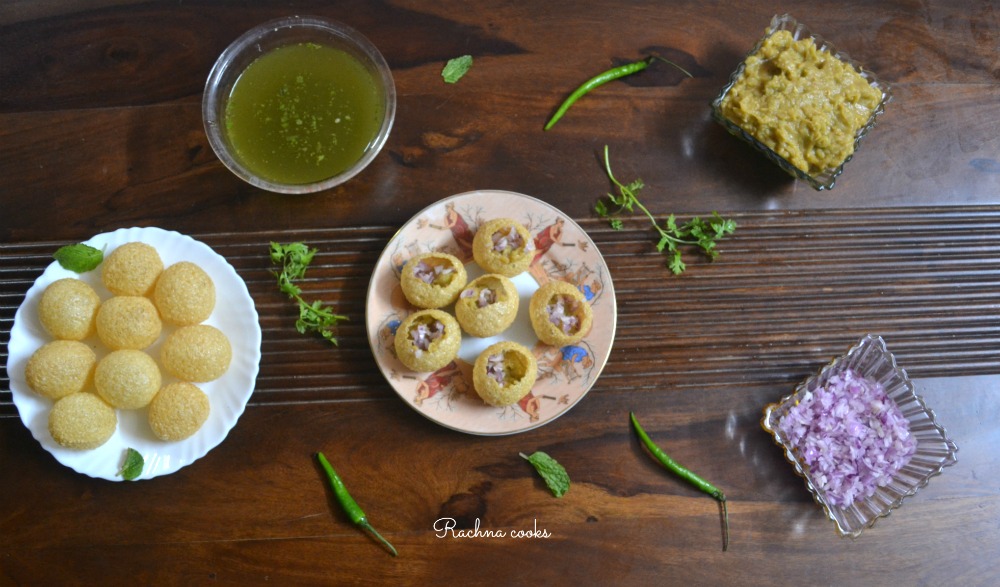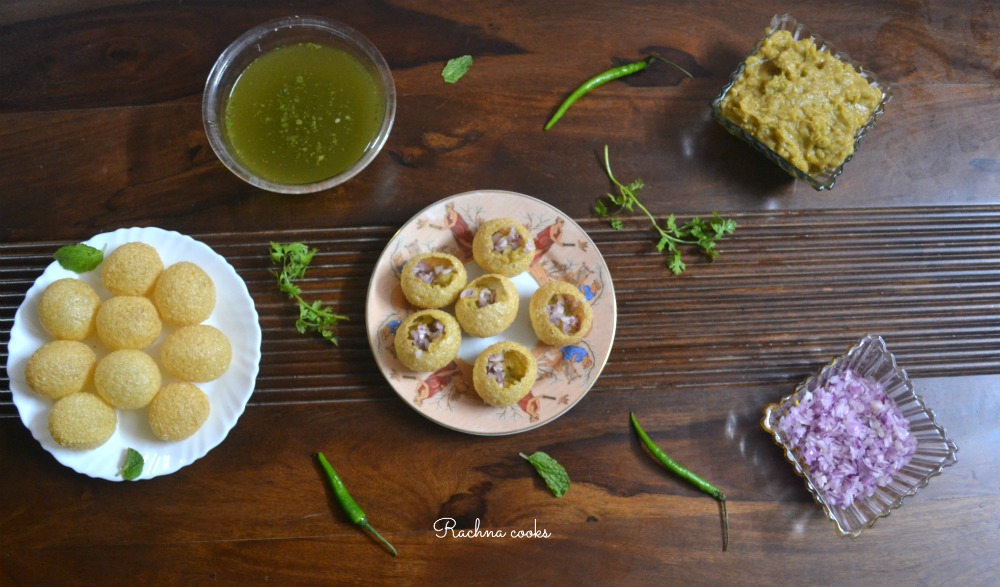 I will share with you the recipe of pani puri water or golgappe ka pani which I make two ways with raw mango in the mango season and with lemon crystals or lime juice otherwise. I will share both with you.
I also make pani puri filling in two ways, one with ragda or a spicy dry peas preparation and the other which is boiled potato and sprout mix. Again I will share both with you.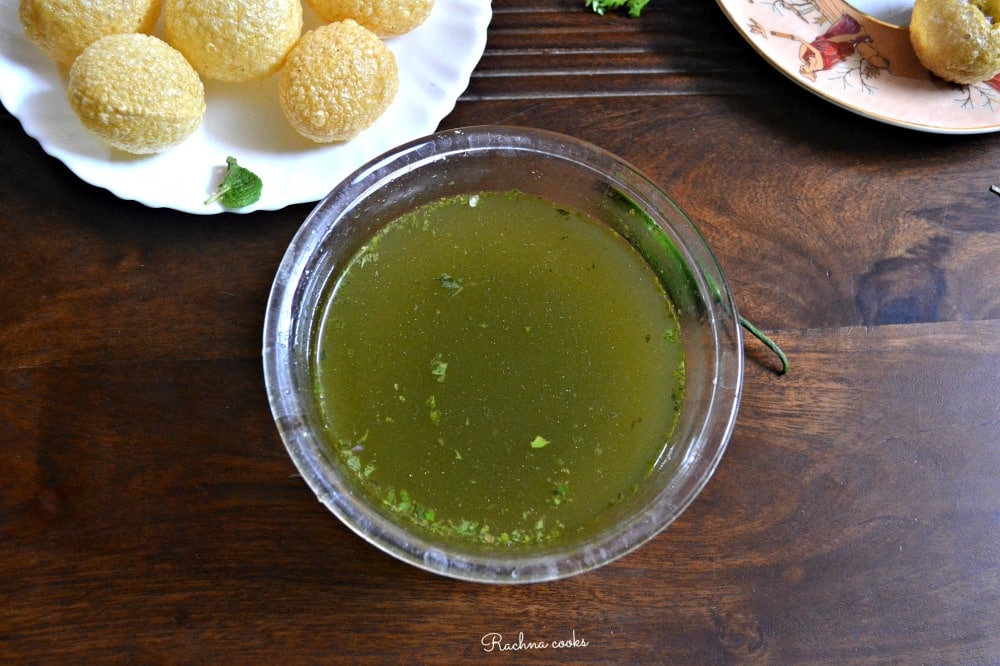 So let's dive into the magic world of pani poori that explodes in your mouth with spicy, tart goodness.
Puri Recipe
With readymade puris in air fryer
Take ready made puris in a plate. You can try these readymade puris.
Preheat air fryer at 360F or 180C for 5 minutes. Lay 9-10 puris at one go.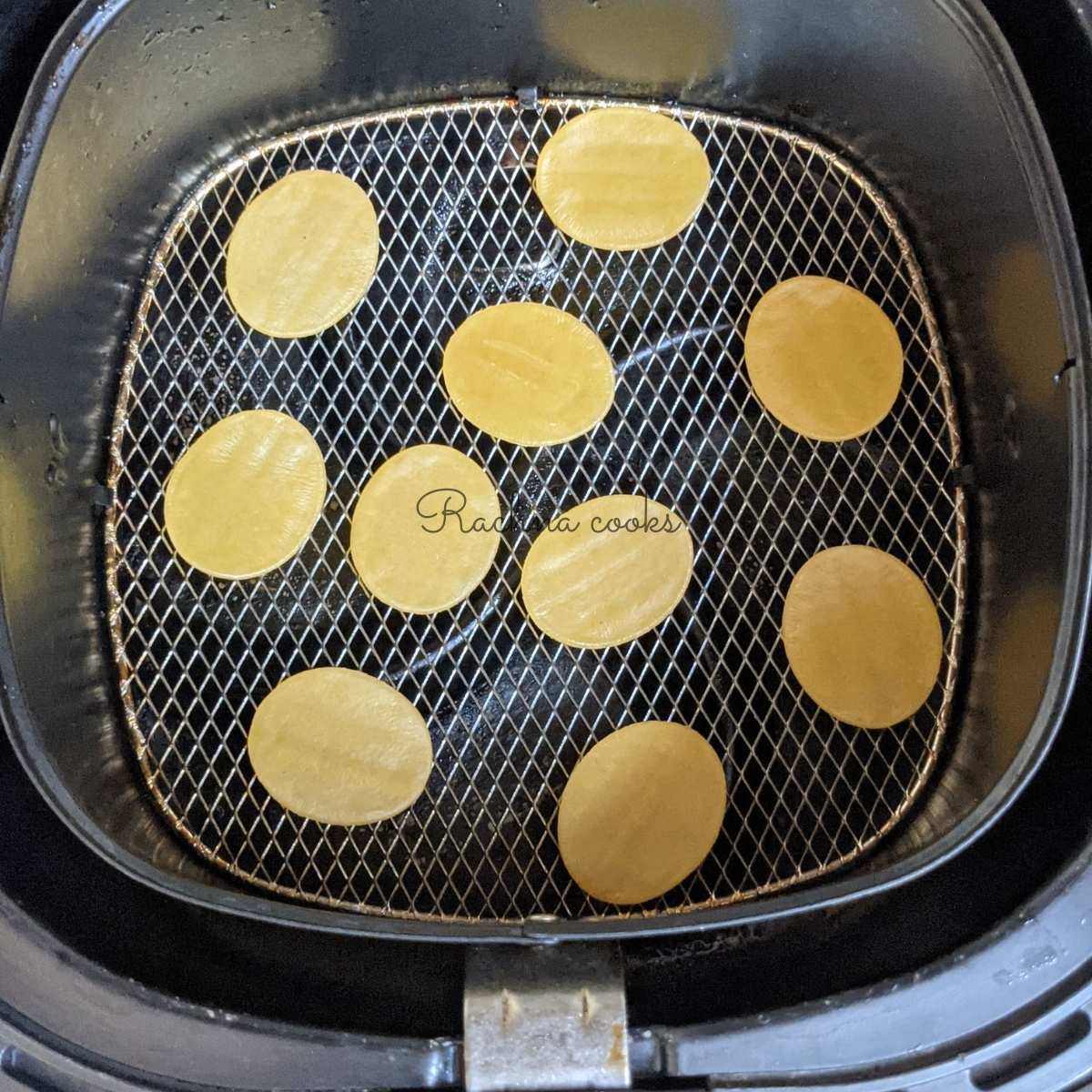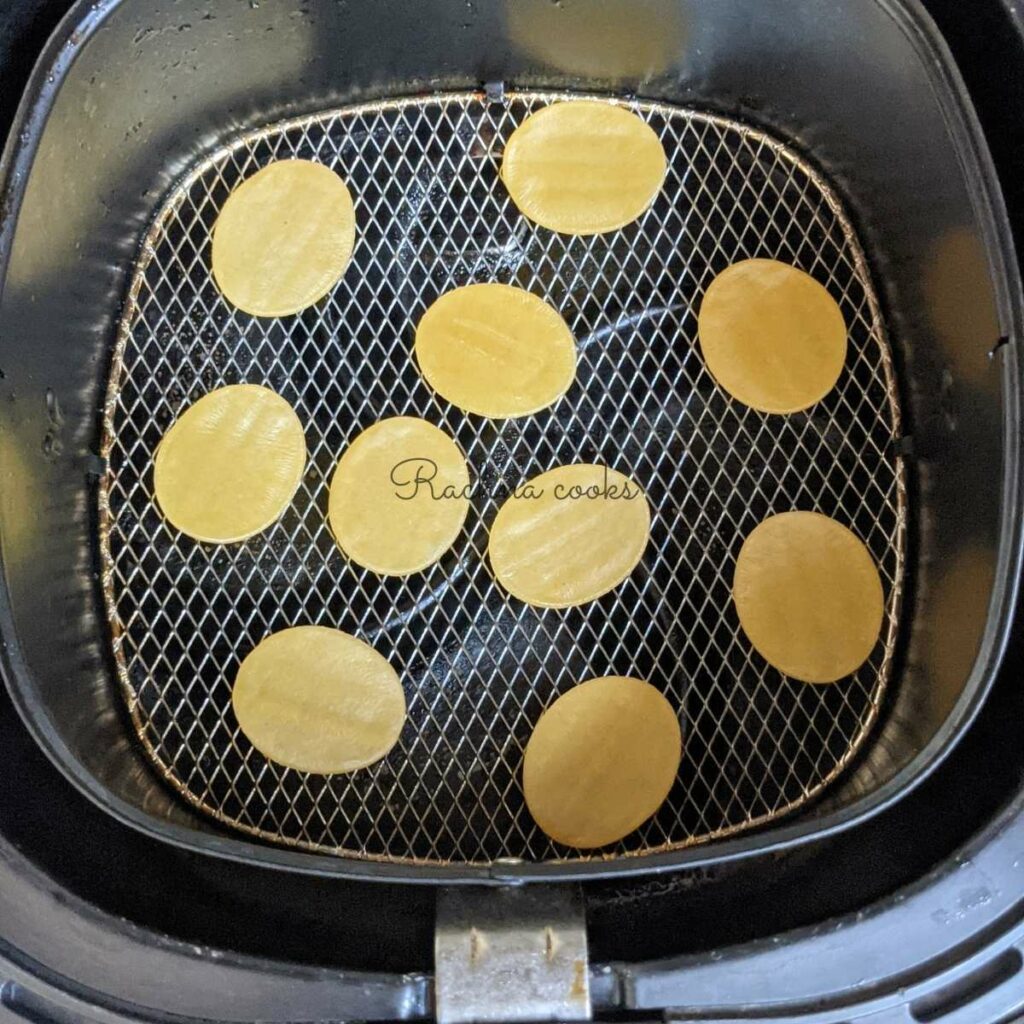 Air fry at 360F or 180C for 90 seconds or 1.5 minutes (I used a timer).
You will get perfectly puffed puris. If you fry for more time, your puris will get burnt so keep an eye.
Also the time may vary for different air fryers so do keep an eye when making for the first time.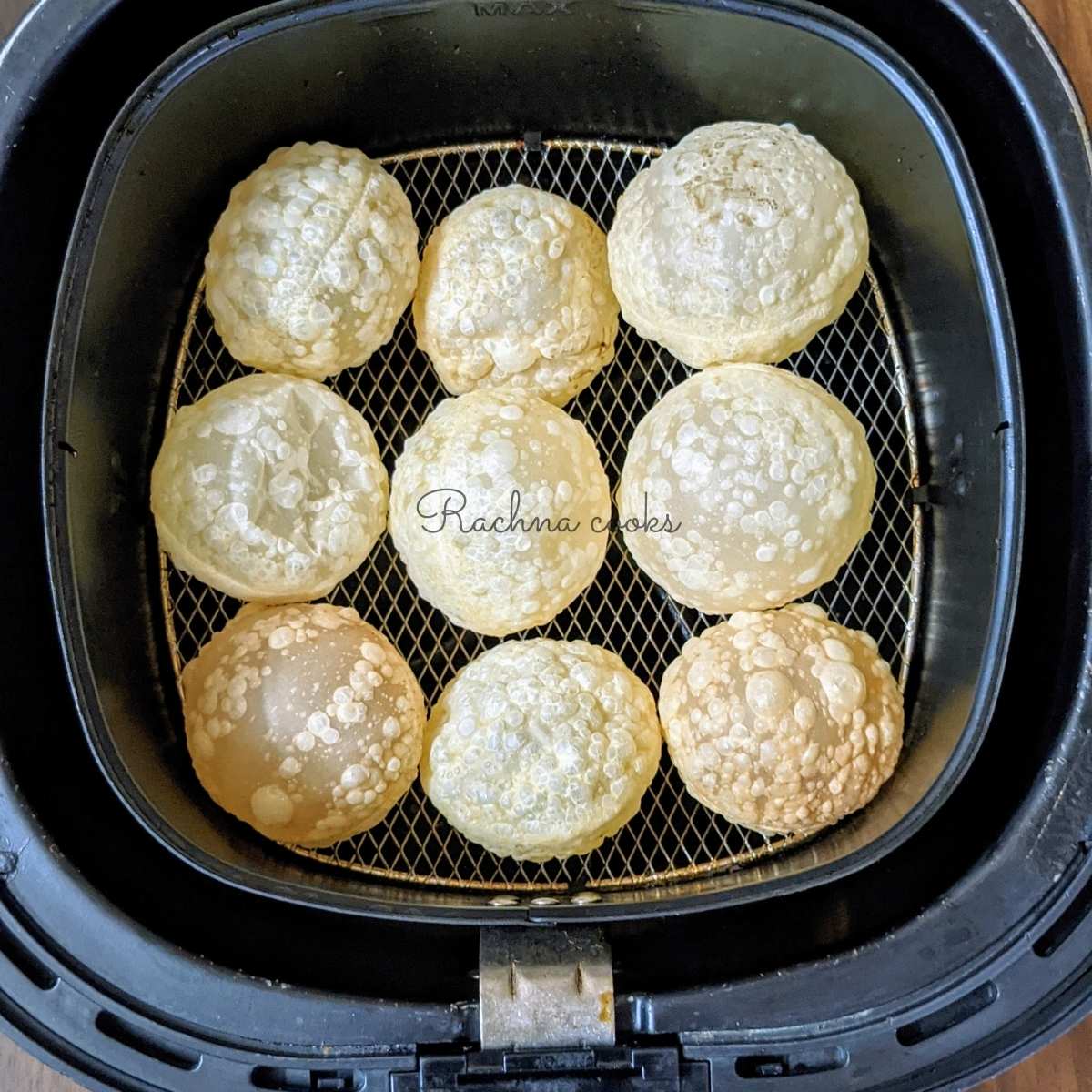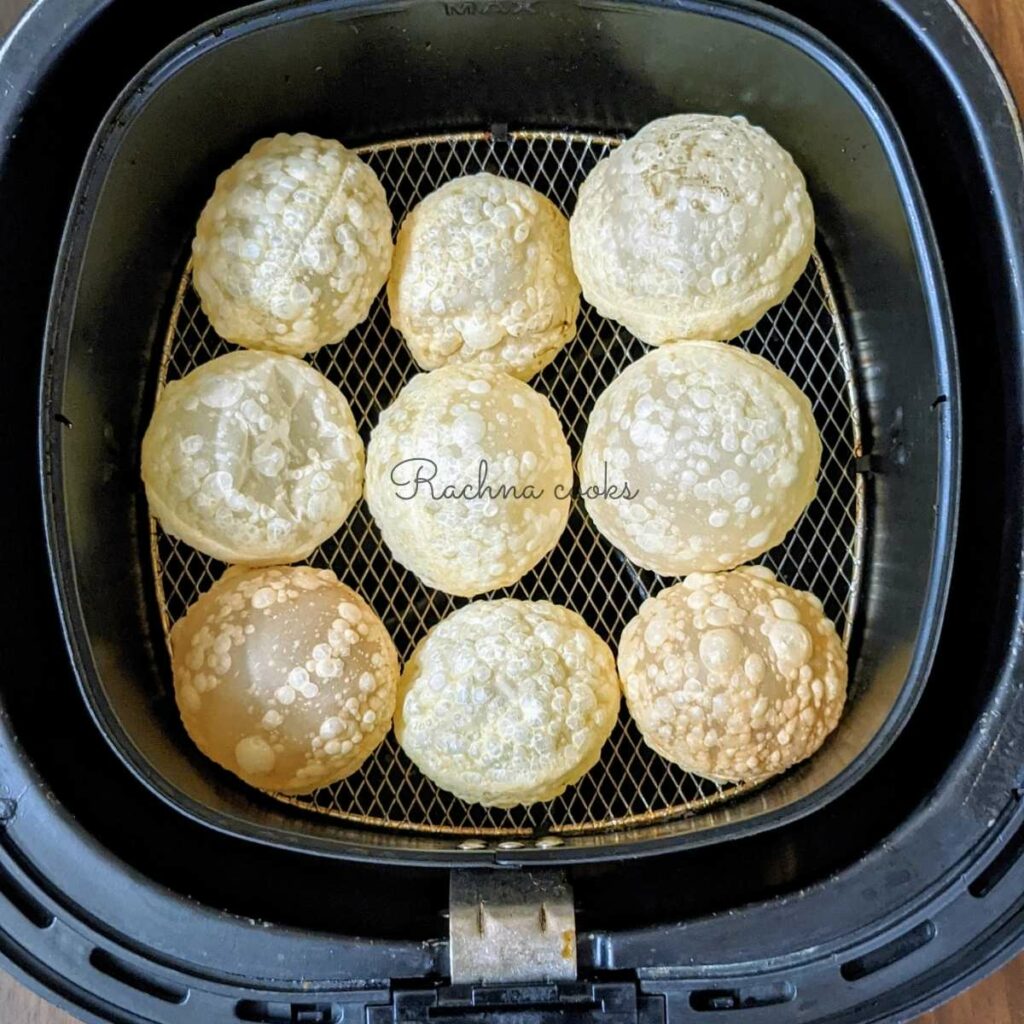 Your crispy no oil added puris are ready. Serve them with filling and puri water.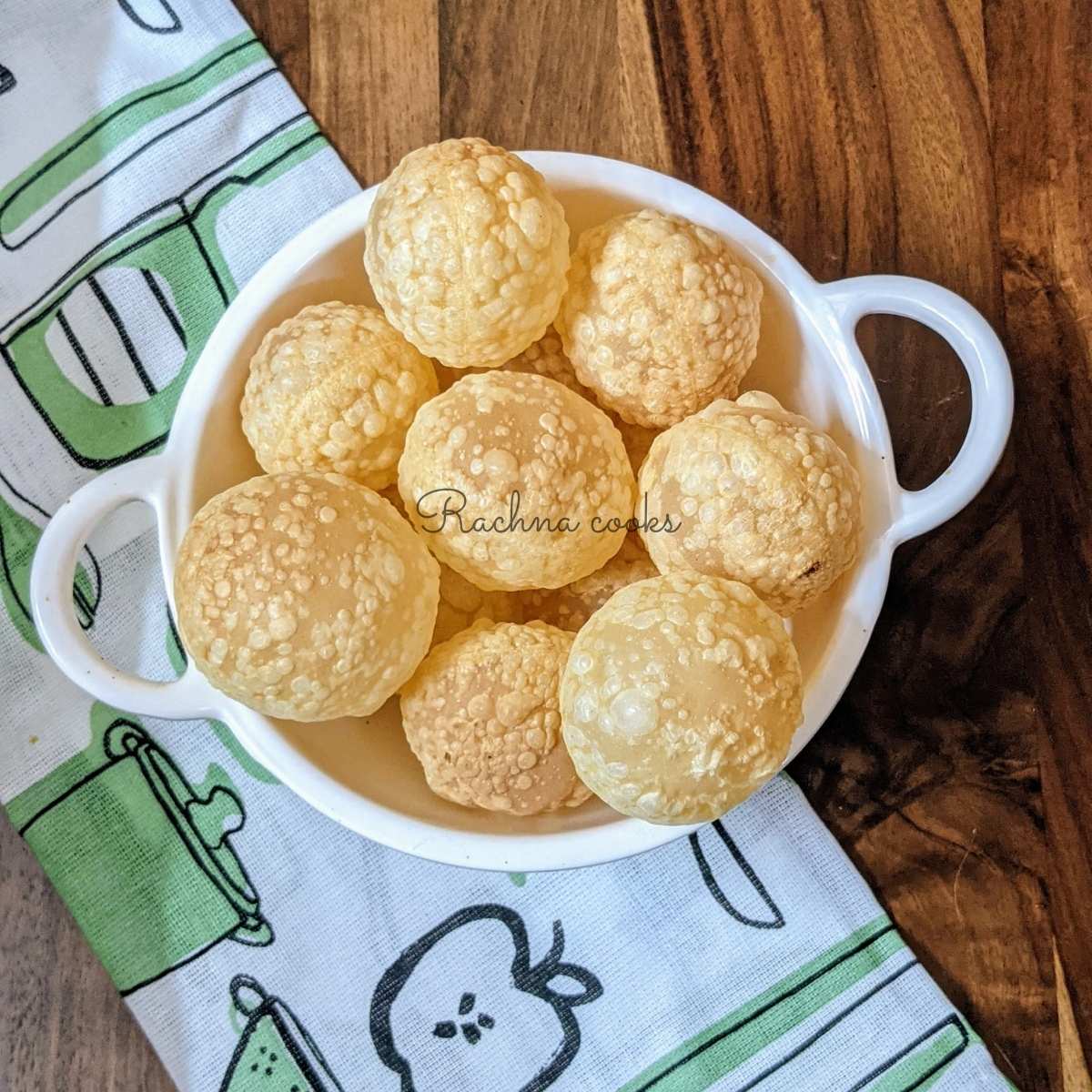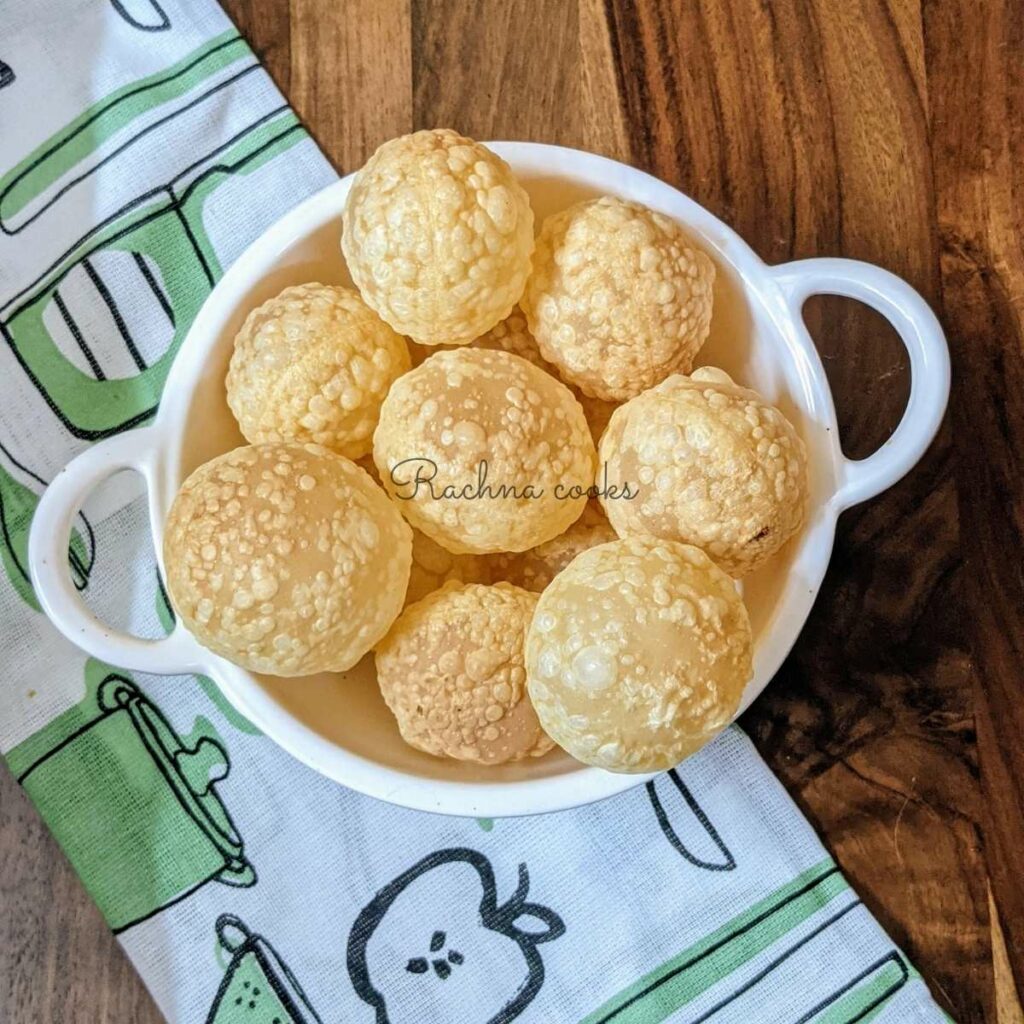 Pani puri filling recipe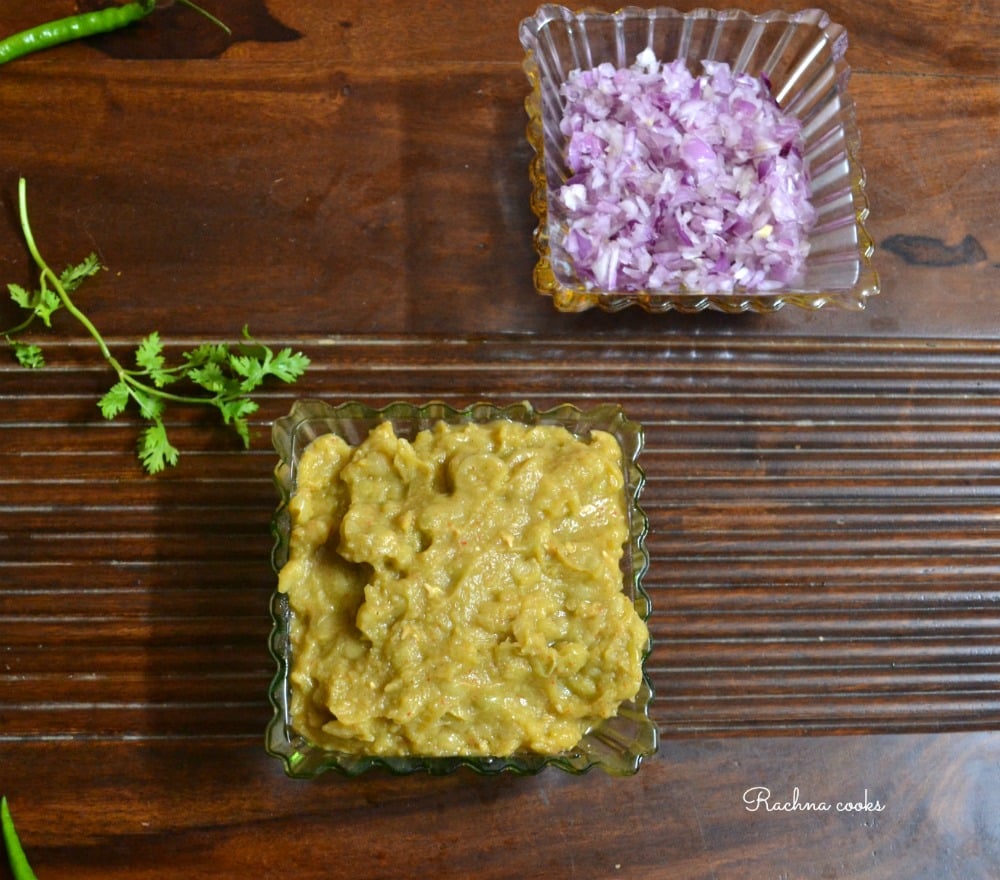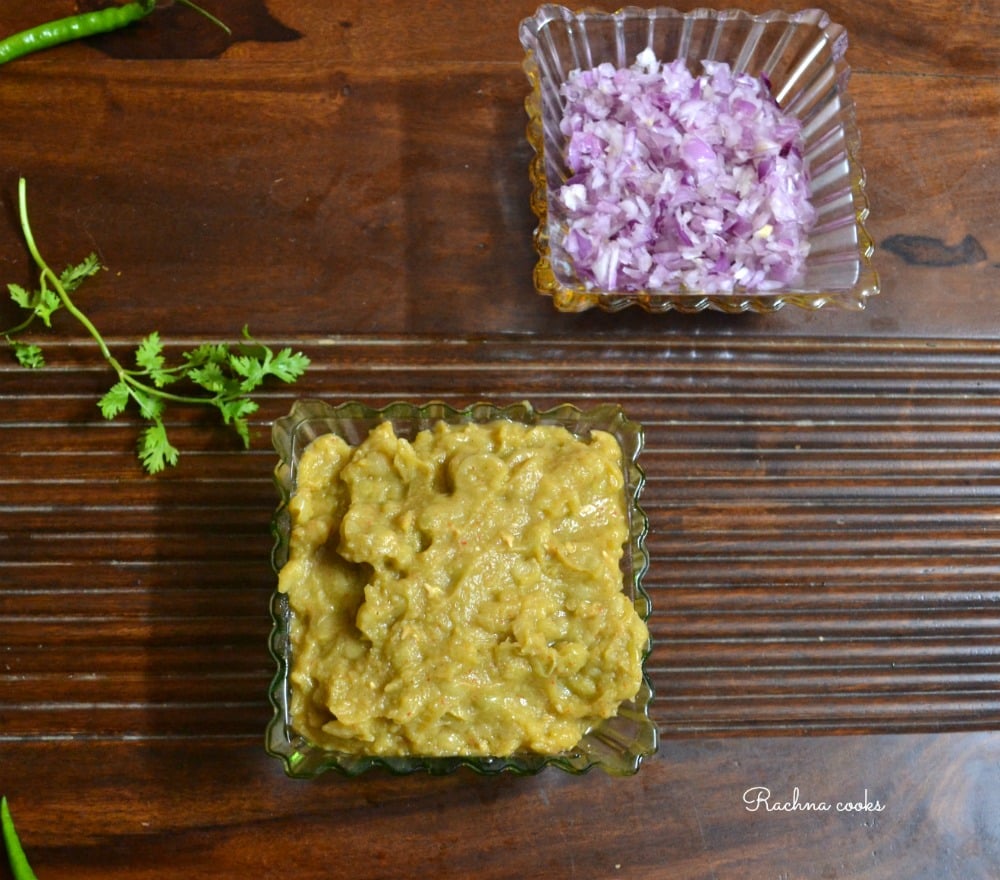 Ingredients and Recipe for pani puri filling:
With dry peas
250 gm. or 1 cup dried peas (soaked overnight)
Boil in some water and till fully cooked and mushy. It becomes thick.
Add 1 tsp. cayenne and 1 tsp. chaat masala to taste. Mix well. Taste and adjust seasoning.
Use this with finely chopped onion as a pani puri filling.
With boiled potato and sprouts filling
Boil 3 large potatoes, peel and mash them.
Take 1 cup sprouts and steam or boil them in salted water. Drain and keep aside.
Mix both of them together and add salt, cayenne and chaat masala. Use this with chopped onion for filling.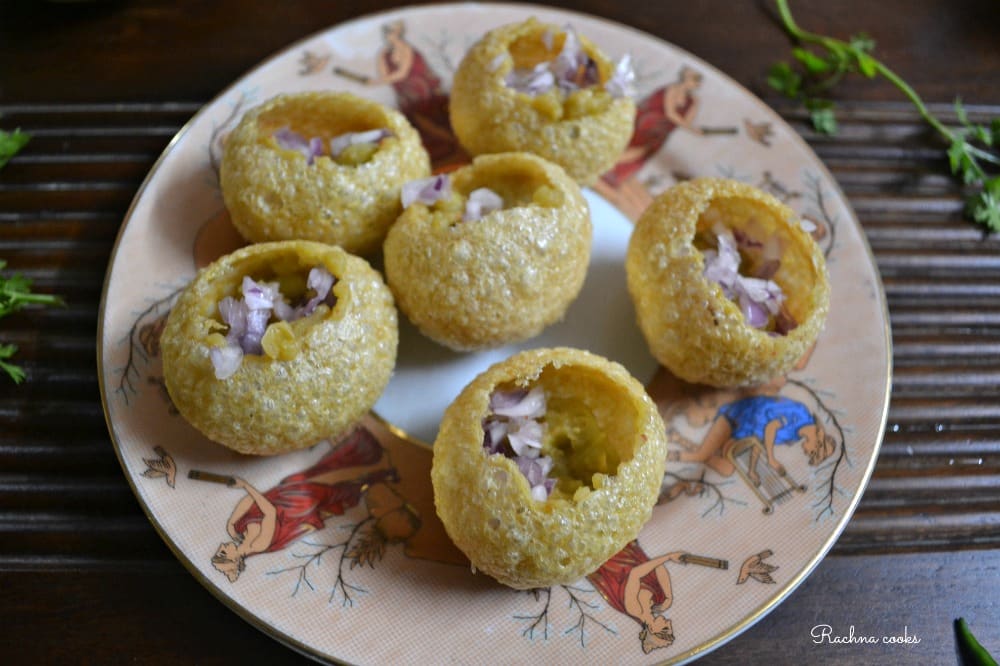 For the Pani puri water
Please go the recipe card and check out the recipe to make pani puri water.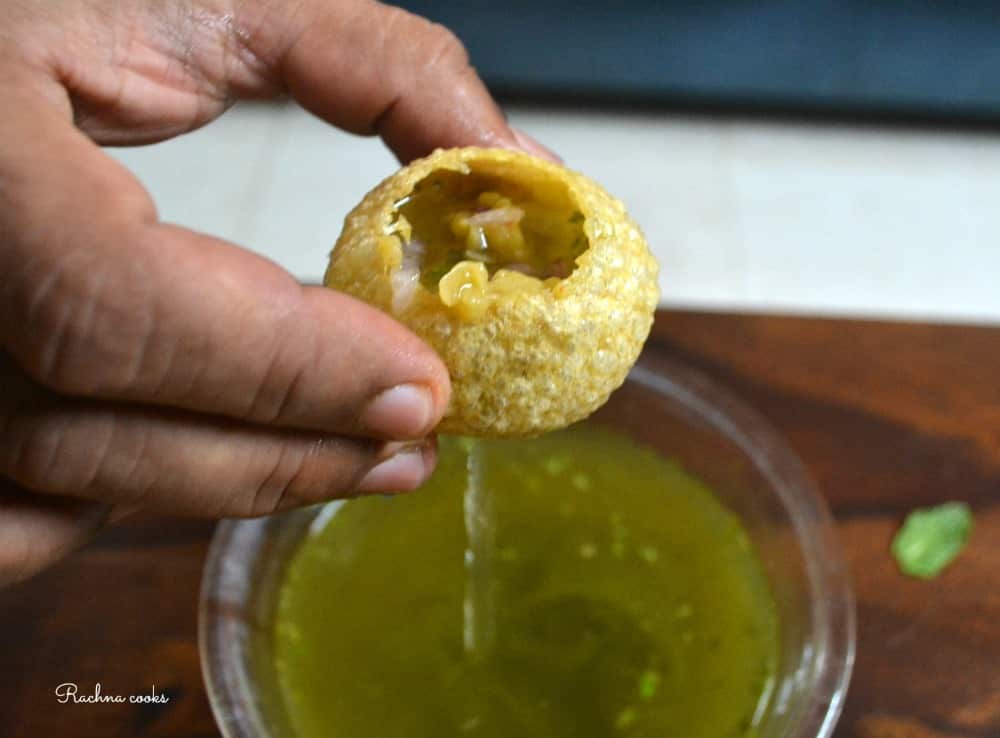 To assemble pani puris:
Keep all the ingredients together -- water, pooris, filling and chopped onions.
Now crack open a hole in the centre of a poori. Put adequate filling with crunchy onion in it.
Dip it in a bowl of spicy pani puri water and waste no time, put it in your mouth.
It's a fantastic experience that you and your family will relish over and over again. Enjoy your yummy pani puri plate. Hope you will make it often.
Here's the recipe card:
📖 Recipe Card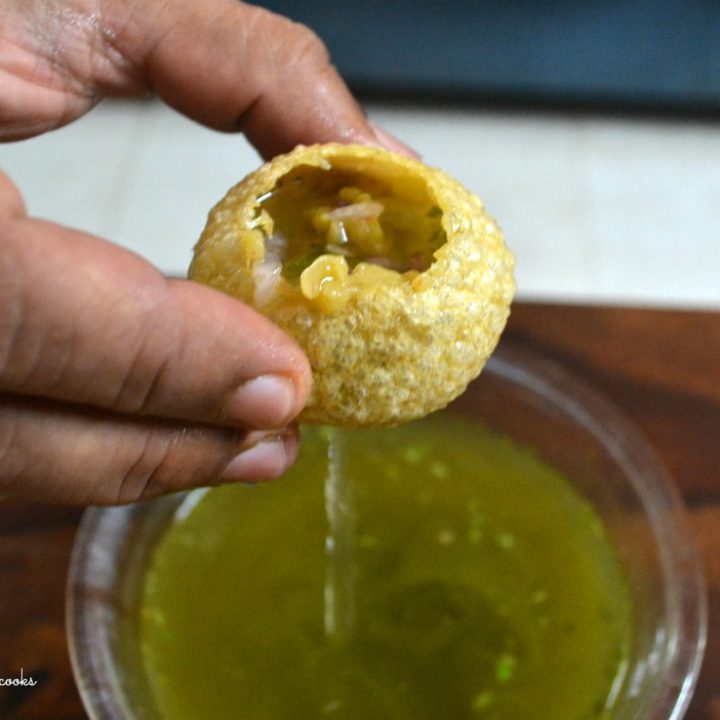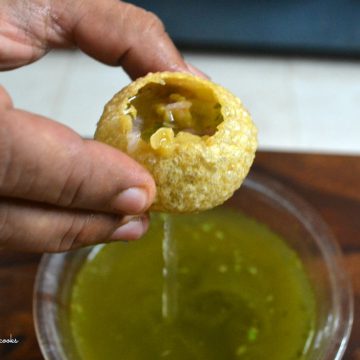 Pani Puri | Golgappa
Delightful pani puri or golgappa is a much-loved street food in India. Its tasty flavours enamour the young and old alike. Use my easy recipe to make this at home.
Ingredients
1

cup

coriander leaves with stems

2

tbsp.

mint leaves

3

green chillies

reduce or increase depending upon the heat you like

1

raw mango

cut into pieces or 2 tbsp. lemon juice

2

tbsp.

Pani puri masala

1

tsp.

black salt

1

pinch

sugar

4

cups

water

Salt to taste
Instructions
Wash and coarsely chop coriander leaves, mint leaves, green chillies and raw mango. Blend to a fine paste.

Dilute with water to get pani puri water. Now add pani puri masala. I buy the Everest one or MDH one. Both are good.

Add black salt and sugar and if needed more salt. Sugar is added to balance the flavour and to bring out the spicy and tart notes well.

It is not to make the pani sweet. Mix and taste. And add salt or pani puri masala if something is lacking.

Your lipsmacking pani is ready. Chill and serve.
Notes
If you don't have raw mango, you can use ¼th tsp. citric acid crystals dissolved in water.
You can also use juice of 2 lemons. Some people use tamarind water as well which I personally don't like. But go with what you prefer.
Slightly sweet raw mango will do as well but don't use sweet mango.
Nutrition
Calories:
47
kcal
Carbohydrates:
12
g
Protein:
1
g
Fat:
1
g
Saturated Fat:
1
g
Polyunsaturated Fat:
1
g
Monounsaturated Fat:
1
g
Sodium:
607
mg
Potassium:
151
mg
Fiber:
3
g
Sugar:
8
g
Vitamin A:
1159
IU
Vitamin C:
26
mg
Calcium:
34
mg
Iron:
1
mg
Check out our Food videos
Subscribe to our Food channel for recipe videos
If you liked this post, I request you to leave a star * rating. Thanks.