These crispy coconut shrimp are perfect for weekend meals. The recipe is so quick and easy to make that you won't believe it.
Making it in Air fryer makes it healthier and still incredibly crunchy and moist.
I was inspired to come up with this recipe after having it at a restaurant.
Juicy, sweet shrimp with sweet coconut and a spicy coating goes beautifully with a glass of beer or just with a dip.
You may also like: Air fryer Bang Bang Shrimp, Air fryer Bacon Wrapped Shrimp, lemon garlic shrimp air fryer, Air fryer Cajun Shrimp, tandoori Shrimp.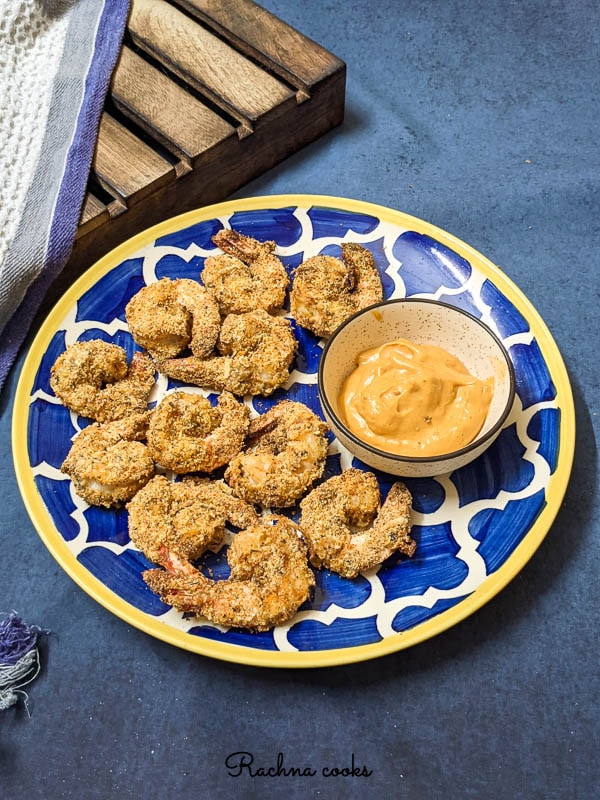 How to Make the Perfect Air fryer Coconut Shrimp
Shrimp: Use good quality large shrimp for this recipe though medium ones do just as well. If using frozen shrimp, do thaw them before using. To do this quickly put them in a colander and wash them in running water for 7-8 minutes.
Coating: Eggs help in binding the shrimp to the coating. I use a combination of bread crumbs, wholewheat flour and coconut flakes or flour for this recipe.
Seasoning: Pepper, salt, paprika and other herbs help to season the shrimp well.
Step-by-step Pictures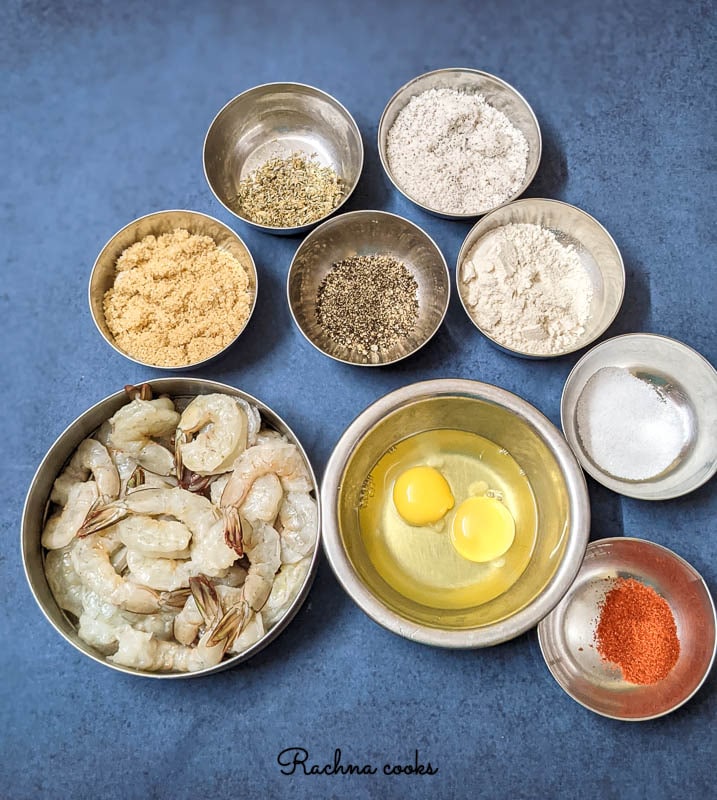 Bowls arranged with shrimp, egg mix, seasoned flour and breadcrumbs with coconut mix.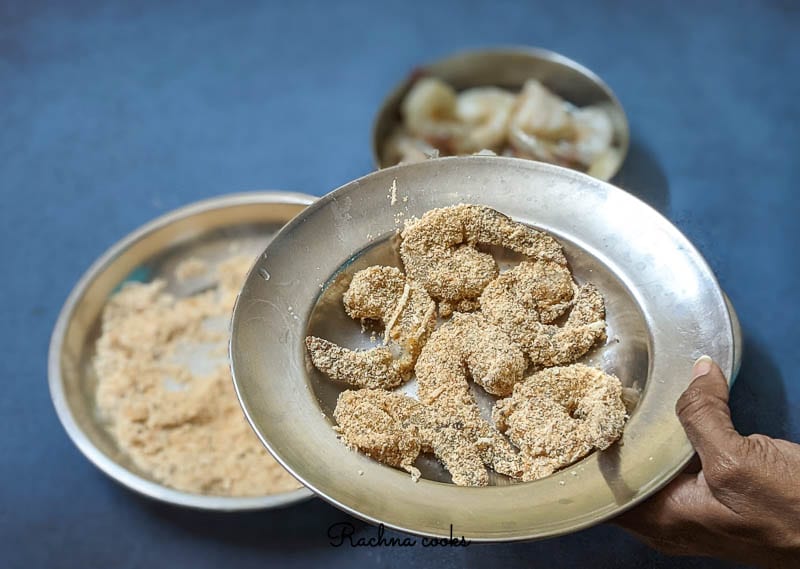 For Air frying:
Preheat the Air fryer at 390 F or 200 C for 5 minutes.
Brush the air fryer basket with oil.
Now dip the shrimp in seasoned flour, then egg and the breadcrumbs with coconut mix.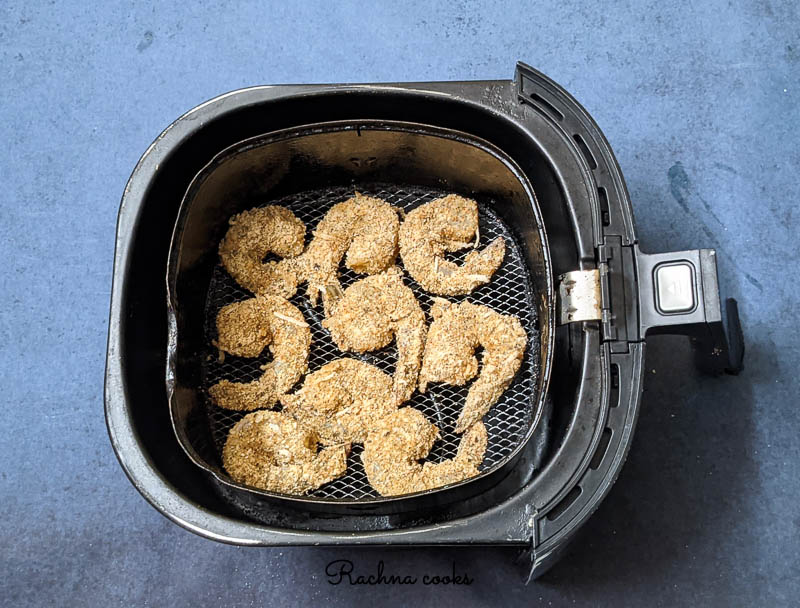 Place on the Air fryer basket and cook for 6-8 minutes at 200C or 390F till golden.
You may flip the shrimp half way through.
Your Air fryer coconut shrimp is done.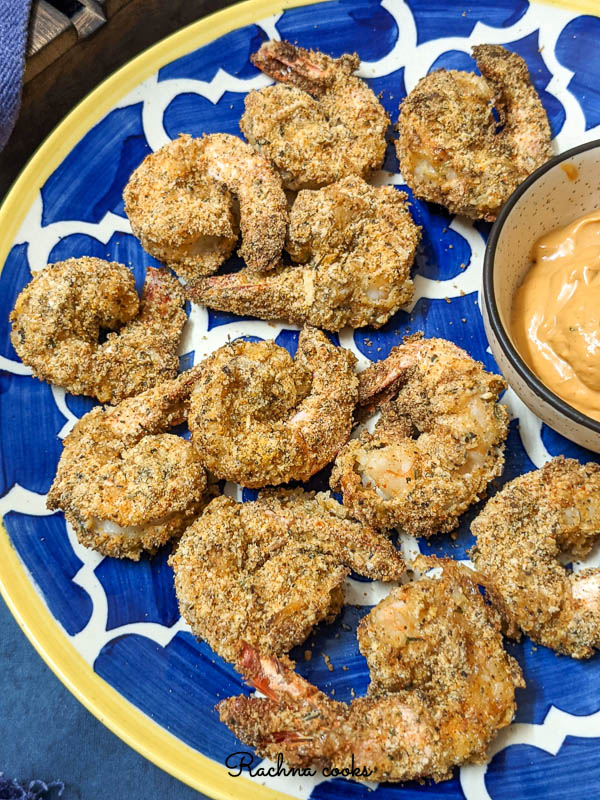 For Pan frying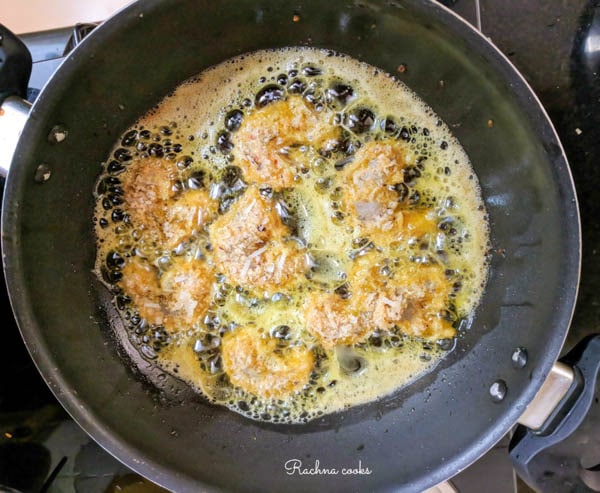 Take 2-3 tbsp. of oil in a pan.
Heat till medium hot. Now pan fry the shrimp till golden on both sides.
It takes about 3-4 minutes.
Drain them and take out on a paper napkin to absorb the excess oil.
Serve hot with a dip of your choice.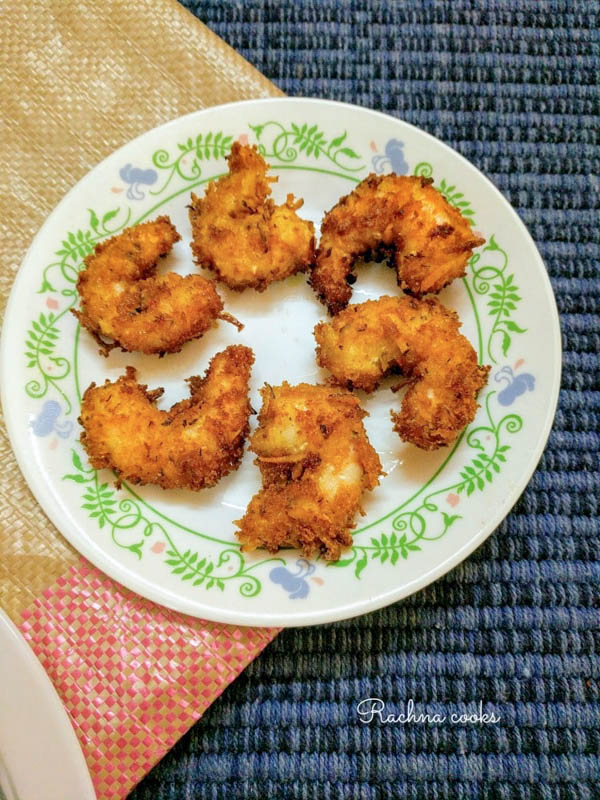 Serve your coconut shrimp with a tangy dip or chutney. Enjoy.
This is the perfect appetizer for a party or for the weekend. It is also high-protein recipe.
If you are a seafood lover, you would love these crispy shrimp with the crunch of coconut.
FAQs
1. How can I make this recipe gluten free?
You can use oat flour or nut flour in place of all purpose or wholewheat flour. You can use gluten-free breadcrumbs in place of regular breadcrumbs.
2. Can I make the recipe low carb?
You can use low carb breadcrumb alternatives that are available or nut crumbs too.
3. Can I use frozen shrimp?
Yes you can but you need to thaw them first.
4. What kind of coconut flakes should I use?
Regular unsweetened coconut flakes work best. You can also put them in blender and make them finer if you don't like very big flakes.
5. What can we serve coconut shrimp with?
I love to serve them with spicy mayo, chipotle or any other zesty dip.
6. How do I keep air fryer less messy while making this recipe?
You can put foil or parchment paper in the base to collect any dripping breading. You can also use parchment paper to line Air fryer basket in case you find that your shrimp sticks to the basket. Mine didn't.
Here's the recipe card:
📖 Recipe Card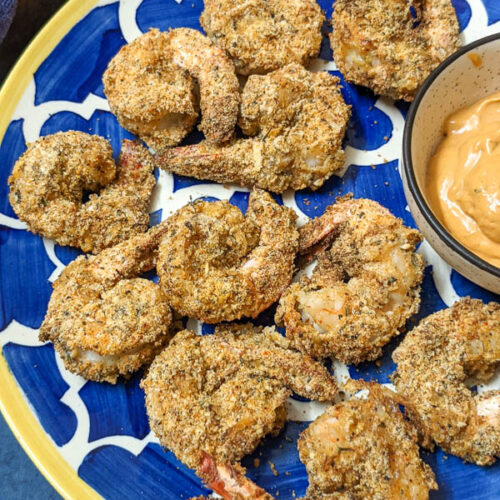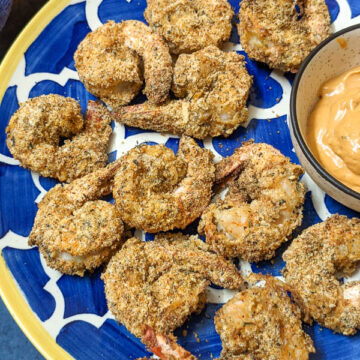 Crispy Air fryer Coconut Shrimp Recipe
Juicy shrimp coated in a delicious coconut coating and made in Air fryer or shallow fried is a delectable appetizer. Super easy recipe too.
Ingredients
1

lb.

shrimp

or 500. gm.

¾

cup

unsweetened coconut flakes

or coconut flour

½

cup

breadcrumbs

½

cup

all purpose flour

or wholewheat flour

2

eggs

1

tsp.

dry oregano and basil

1.5

tsp.

pepper powder

1

tsp.

paprika

or Kashmiri chilli powder

salt

to taste

1

tsp.

oil

For Air fryer
Instructions
Clean and devein the shrimp. Leave the tails as they help in holding the shrimp.

Pat them dry and keep aside.

Beat the eggs and keep in a shallow dish

In another shallow dish combine coconut flakes (or powder), breadcrumbs, flour, pepper, dry oregano and basil, paprika and salt.
For Air frying
Preheat the Air fryer at 390 F or 200 C for 5 minutes. Brush the air fryer basket with oil. Dunk the shrimp in egg wash followed by the breading so that they are well coated.

Place the shrimp on the Air fryer basket and cook for 6-8 minutes till golden. Make sure not to overcook them.
For deep frying
Heat 2-3 tbsp. oil in a pan.

Keep it on medium heat.

Take the shrimp dipped in egg wash followed by breading and shallow fry on each side for about 2 minutes or till golden brown.

Drain them and serve hot with a tangy sauce or dip of your choice.
Notes
The larger the shrimp, the more time they take to cook. For my medium shrimp, I took 6 minutes to cook. Remember that they continue to cook once removed and may easily be overcooked. If planning to serve later, cook for about 4 minutes and keep aside. Then just heat in the Air fryer for about 2 minutes and serve hot.
You can skip oregano and basil if you so like. Don't overseason. Let the sweet taste of shrimp shine through. 3. Air frying them cuts down the oil used and the shrimp turn out nice and crunchy without any use of oil. 4. I have used wholewheat flour instead of all-purpose flour to make the recipe healthier. You can also use ground oats in its place. 5. There is no need to flip the shrimp midway. 6. The shrimp does not stick to the basket once cooked but in case yours does, use parchment paper to line the Air fryer basket. 7. These make for the perfect appetizers or snacks. 8. Check FAQs for low carb and gluten-free options.
Nutrition
Calories:
380
kcal
Carbohydrates:
27
g
Protein:
31
g
Fat:
17
g
Saturated Fat:
10
g
Trans Fat:
1
g
Cholesterol:
368
mg
Sodium:
1019
mg
Potassium:
316
mg
Fiber:
5
g
Sugar:
2
g
Vitamin A:
1495
IU
Vitamin C:
6
mg
Calcium:
214
mg
Iron:
5
mg
Check out our Food videos
Subscribe to our Food channel for recipe videos
If you like the recipe, please give it a * star rating. Thanks.