Ground coriander seed or coriander powder is a commonly used spice in cooking. It is known as dhania powder in Indian cuisine. Its earthy toasted flavors go very well in food.
Spices and spice mixes are the heart of Indian cooking. Our curries, dry preparations and almost every dish needs a spice to liven up its flavour.
There are quintessential spices in every person's spice box in India. Some of them are made at home and others are store bought.
It has been my experience that the taste of curries and daily preparations are significantly enhanced if we prepare the spices fresh at home. Most times it requires a bit of planning and not much effort otherwise.
Coriander powder or dhania powder is one such spice powder that has a mild, earthy flavour and fragrance. It adds depth of flavour to a number of dishes and is used regularly in my home.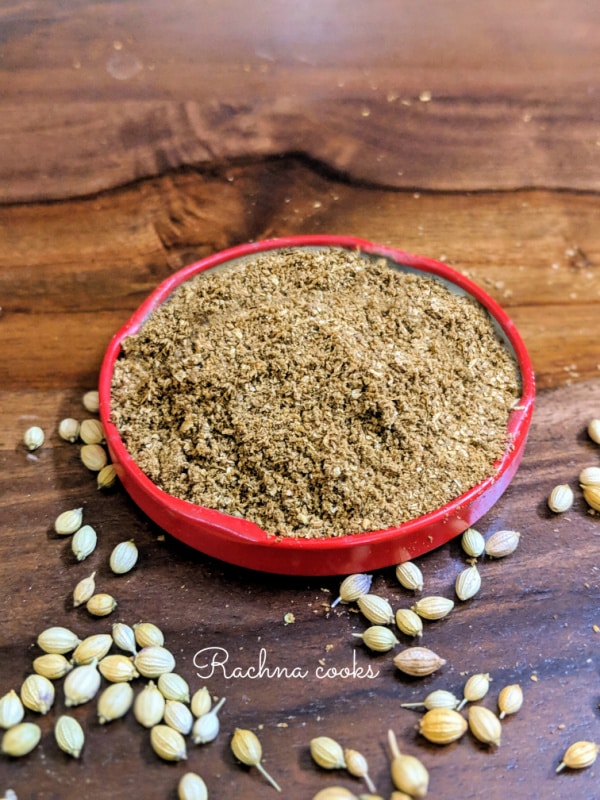 Earlier I bought it from the store but it lacked the flavour and fragrance of the coriander powder that I prepared at home.
Also I heard rumours of adulteration. Hence, I have started making my own coriander powder. It is super easy, and you are sure of the quality of the spice.
Coriander is a herb that is used as a garnish or spice. Its leaves are called cilantro or coriander leaves.
And its seed is called coriander seeds. They are earthy brown and round. Both of these are used to flavour or garnish food.
What are Ground Coriander Uses
Coriander may help in reduction of blood sugar as per this study. Thus, its consumption in small quantities is considered beneficial for diabetics.
When coriander powder is consumed with water, it helps in relieving gas and bloating.
Coriander powder helps in reducing heat and hence is popularly consumed in summer.
Coriander powder is considered good for digestion.
Coriander powder may help with heavy bleeding in women who suffer from these menstrual irregularities.
It is used to flavour curries, dry vegetable preparations, chutneys etc. It is also used as a spice in other foods.
How to Grind Coriander Pictures
Take coriander seeds in a pan. Make sure that there are no impurities.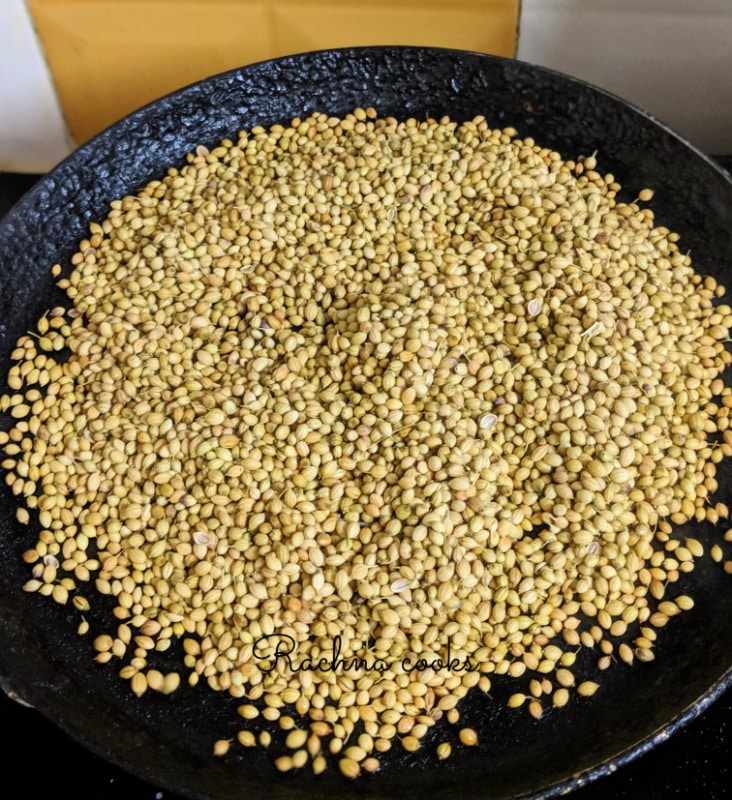 Toast gently on low flame for about 10 minutes till dark golden brown in colour.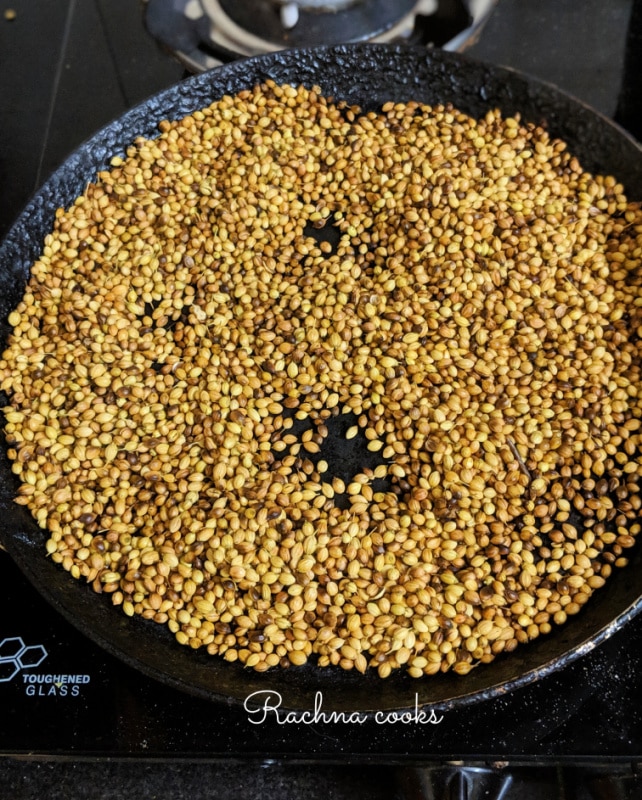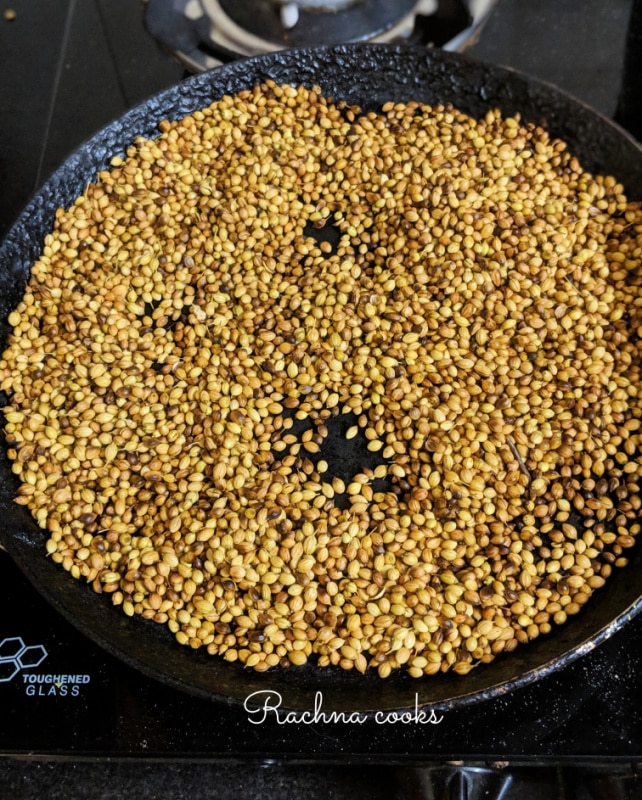 Powder in a blender when cool.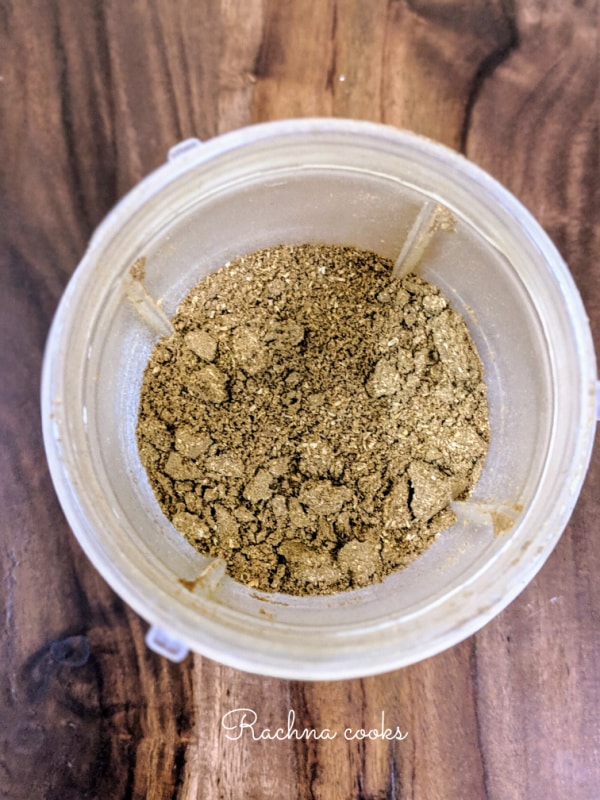 Your aromatic toasted coriander powder is ready to be used. It will stay fresh for about 2 weeks in an air tight container at room temperature.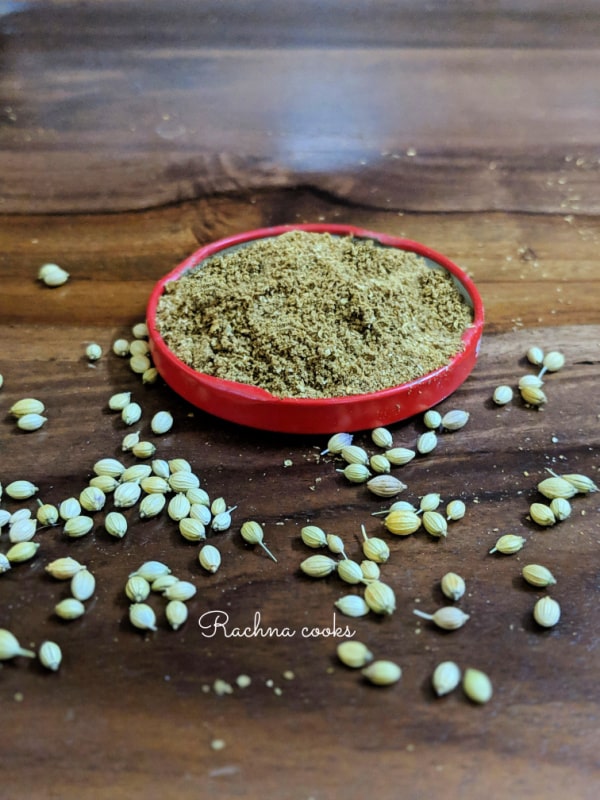 Try making your own spice powders. You will notice how the same food starts tasting better.
You can use the same method to make cumin powder or jeera powder, red chilli powder from crisp dry red chillies and haldi or turmeric powder from dried turmeric (though that is not easy to mill in home blenders).
I will be sharing more spice mixes in future posts.
You may also like Garam Masala Recipe
Here's the recipe card:
📖 Recipe Card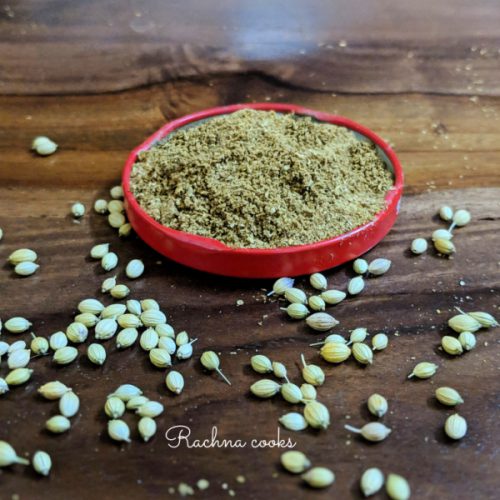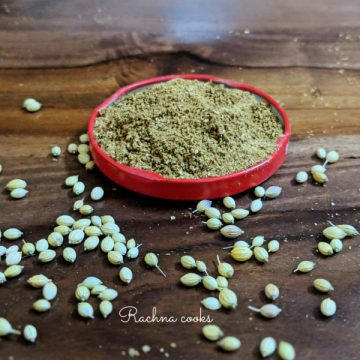 Coriander Powder | How to Make Coriander Powder
This is a simple method to make ground coriander at home. It requires barely any time and effort and the spice powder that you get is way superior than the store bought one.
Ingredients
1

cup

coriander seeds

or 100 gm.
Instructions
Take a hot pan or tava.

Roast coriander seeds on the tava till they are dark golden brown.

Cool and blend in a blender. Your coriander powder is ready. Store in an airtight jar and use.
Notes
Some people also toast a few bay leaves along with coriander seeds and powder them together.
You should always toast spices on low flame else they may burn and not cook uniformly. Toasting the spices helps release their flavour.
Instead of toasting you could also sun dry coriander seeds and use.
Always blend when cool and then store in an airtight container. This quantity of coriander powder should easily last you a month or more without spoiling while retaining its original aroma and taste.
Store coriander or dhania powder in an airtight container.
Nutrition
Calories:
29
kcal
Carbohydrates:
5
g
Protein:
1
g
Fat:
1
g
Sodium:
3
mg
Potassium:
126
mg
Fiber:
4
g
Vitamin C:
2.1
mg
Calcium:
71
mg
Iron:
1.6
mg
Check out our Food videos
Subscribe to our Food channel for recipe videos
If you liked this post, do share.
Pin This