Having grown up in North India and later Mumbai, my exposure to South Indian cuisine has been limited to the ubiquitous idli,vada, dosa trinity. But living in Bangalore since the last 15 years has exposed me to the delectable South Indian cuisines. One of the dishes from the Kerala cuisine that I just love is Avial or Aviyal. It is super healthy, delicious and an easy recipe to make. As a nutritionist, this recipe ticks all the boxes for me.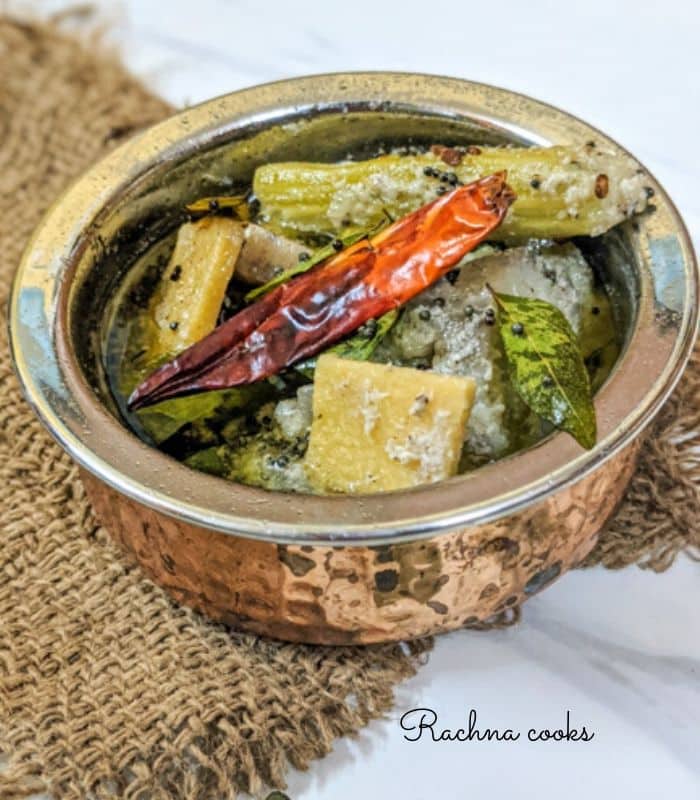 Which vegetables to use in Avial?
Traditionally, avial is made with indigenous vegetables like drumsticks, yam, plantain, pumpkin, snake gourd, ash gourd, ivy gourd etc. but you can use just about any vegetables you have in your pantry like cauliflower, beans, potatoes, carrots, broccoli etc.
Hence, aviyal is an extremely versatile dish that is also leftover vegetable friendly.
How to Make the perfect Avial
1. Choose good, fresh vegetables: Use a variety of vegetables in avial and preferably choose local vegetables.
2. Cook the vegetables properly: Avial is a dish that is made with boiling vegetables. Ensure that you cook the vegetables optimally so that they are well cooked but not mushy. Hence modify cooking times of vegetables so that they are equally cooked.
3. I find that cooking yam longer helps cook them perfectly because if they are undercooked, they leave a pins and needles feel in the mouth.
4. Traditionally, there is no tempering added to the avial. It is just coconut oil added along with curry leaves to the cooked vegetables but I have added it because I love the flavour. Purists, please ignore.
📖 Recipe Card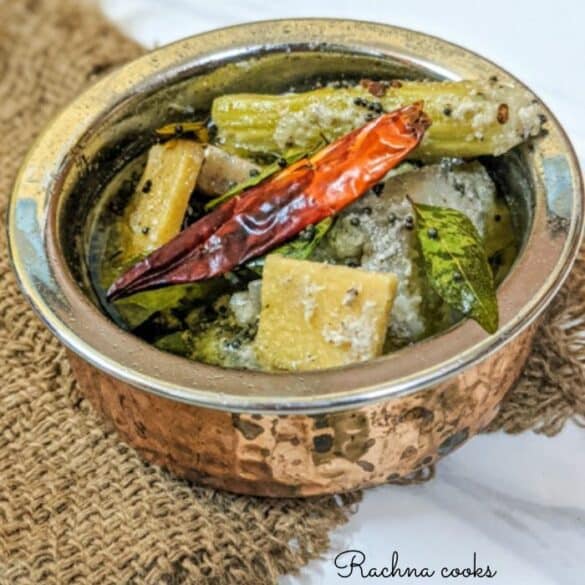 Avial Recipe | How to Cook Kerala style Aviyal
This delicious avial or aviyal is an easy, healthy South Indian Kerala vegetarian recipe. It is nutritious and super tasty. Try it.
Ingredients
2

cups

vegetables chopped

1

cup

thick yogurt beaten

½

coconut chopped

1

tsp.

cumin seeds

3-4

green chillies

1

tsp.

coconut oil

curry leaves
For tempering or tadka (optional)
1

tsp.

coconut oil

1

tsp.

mustard seeds

1

pinch

asafetida

1

sprig curry leaves
Instructions
Cut all vegetables into similar sized batons or cubes. Keep aside.

Heat 1 cup water in a pan. Add veggies that take longer to cook like yam, drumsticks and carrots to it. Add salt. Cover and cook on low heat for 5-6 minutes.

Now add the other veggies. Add more water if needed and cook for 5-6 minutes or till they are almost done.

Make a paste of coconut with cumin seeds and green chillies and add it to the boiling vegetables. Cook further for 5 minutes till the veggies are soft but not mushy.

Turn off the flame and add beaten yogurt along with 1 tsp. coconut oil. Mix well. Taste and adjust seasoning.

Traditionally there is no tempering added but I like to add it as I enjoy its flavour. Feel free to omit this step. For tempering heat 1 tsp. coconut oil in a pan. Add mustard seeds along with asafetida. Allow to sputter. Now add curry leaves and red chillies and turn off the flame.

Tip the tempering in the avial and mix well. Serve your avial with boiled rice.
Notes
1. Do not overcook the vegetables.
2. Cook the longer cooking vegetables first.
3. You can use any vegetables you have at home. Just cut them uniformly.
4. In case you don't have coconut oil, you can use any other vegetable oil.
5. If using raw plantain, immerse in water after cutting to prevent it from turning dark.
6. In case you are using yam, cook it well to avoid the pins and needles taste in the mouth.
7. You can increase or decrease green chillies depending upon how much heat you want.
8. Traditionally no tempering is added to the avial. Only coconut oil with curry leaves is added to the cooked veggies. Please note that I like the tempering and hence have used it. It is completely optional and my touch to this wonderful dish.
Nutrition
Calories:
159
kcal
Carbohydrates:
19
g
Protein:
6
g
Fat:
8
g
Saturated Fat:
5
g
Cholesterol:
8
mg
Sodium:
187
mg
Potassium:
339
mg
Fiber:
6
g
Sugar:
5
g
Vitamin A:
4763
IU
Vitamin C:
19
mg
Calcium:
112
mg
Iron:
2
mg
Check out our Food videos
Subscribe to our Food channel for recipe videos
How to Make Aviyal at Home
Take 2 cups chopped vegetables like drumsticks, yam, plantain, ash gourd, ivy gourd, snake gourd, beans etc. depending upon what you have at home. Cut them into similar sized batons or cubes. Keep cut plantain immersed in water or it turns black.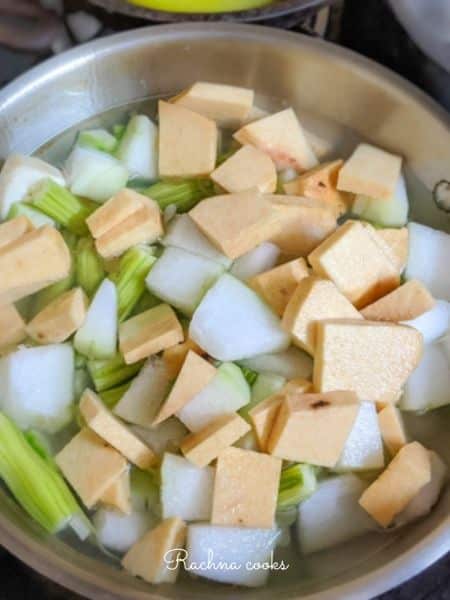 Heat 1 cup water in a pan. Add salt and add the chopped veggies like yam and drumsticks to it. Let it cook on low heat for about 5-6 minutes. Now add the remaining veggies like ash gourd, pumpkin, snake gourd, carrots that cook relatively faster to it. Add some more water and cook again for about 6-7 minutes till they are cooked but retain their shape.
Grind together half coconut along with 3-4 green chillies and 1 tsp. cumin seeds. Make a thick paste.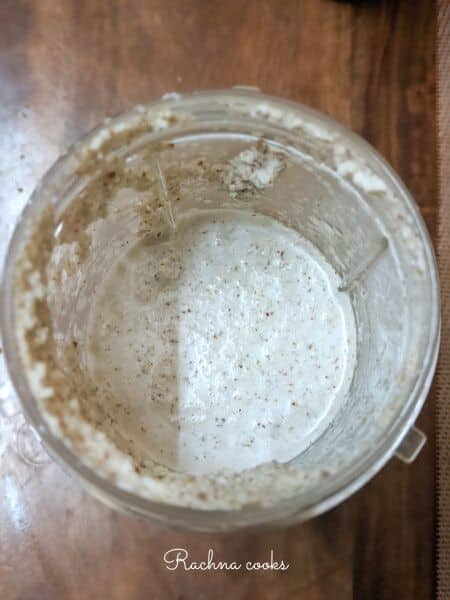 Add this paste to the cooking vegetables and cook on low flame for another 5 minutes.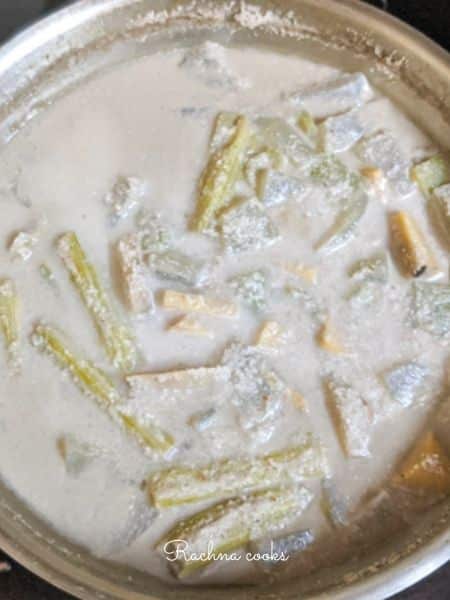 Your veggies should be cooked and flavourful. Turn off the heat and add 1 cup of beaten curd along with 1 tsp. coconut oil to the avial. Mix well.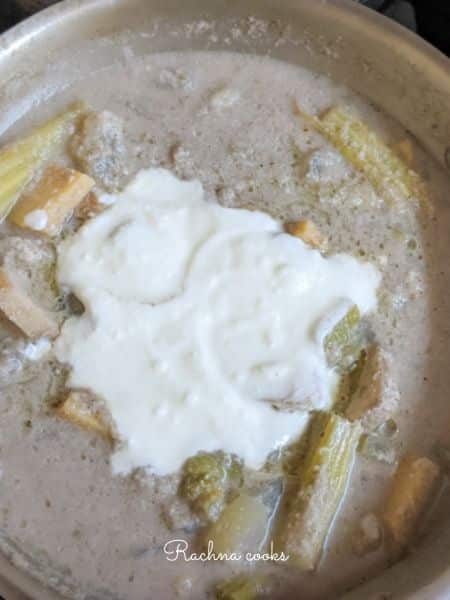 Taste and adjust salt if needed.
Now heat 1 tsp. coconut oil in a tadka pan. Add 1 tsp. mustard seeds and allow to sputter. Add 1 pinch hing or asafetida, curry leaves and dry red chillies. Turn off the flame after 15 seconds.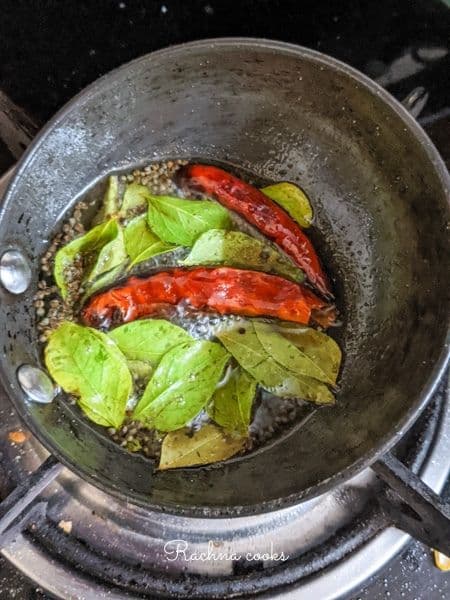 Tip the seasoning into avial. Mix well and serve hot with rice.Your delicious Kerala-style avial is ready to serve. Enjoy it piping hot.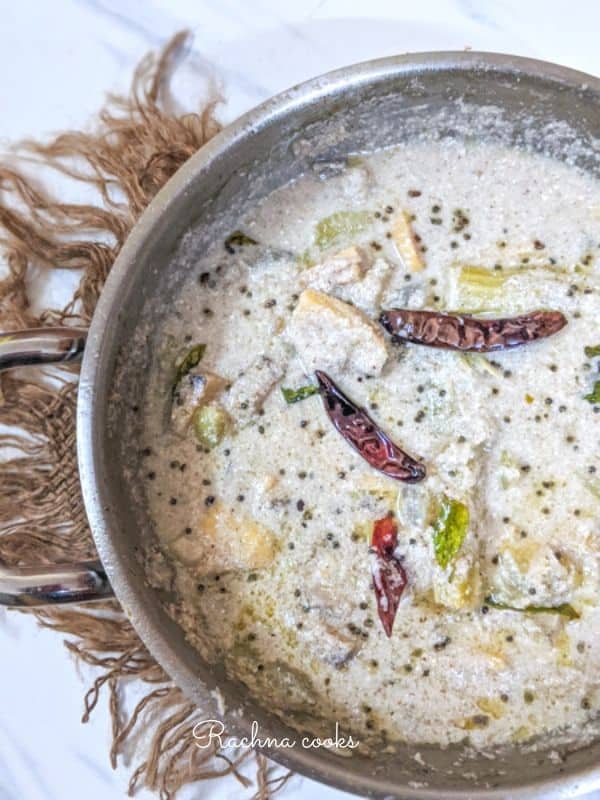 Avial is a nutritious and satisfying vegetable dish. Make it and enjoy with your family.
If you liked this avial recipe, I request you to leave a * star rating for it. Thanks.
You may also like:
Pin This