Air fryer shrimp tempura is a delicious fried shrimp recipe that is so crunchy and flavourful. Best of all, it is done in minutes and does not need any oil.
I have loved having these in restaurants, but due to deep frying, I avoid having them often.
Air fryer makes it easy to have these crunchy shrimp that taste so good.
You may also like: Air fryer Bacon Wrapped Shrimp, air fryer bang bang shrimp, Tandoori Shrimp in air fryer, Air fryer lemon pepper shrimp, Air fryer Coconut Shrimp, Air fryer Cajun Shrimp, Goan style Shrimp Curry, Mangalore style Shrimp Curry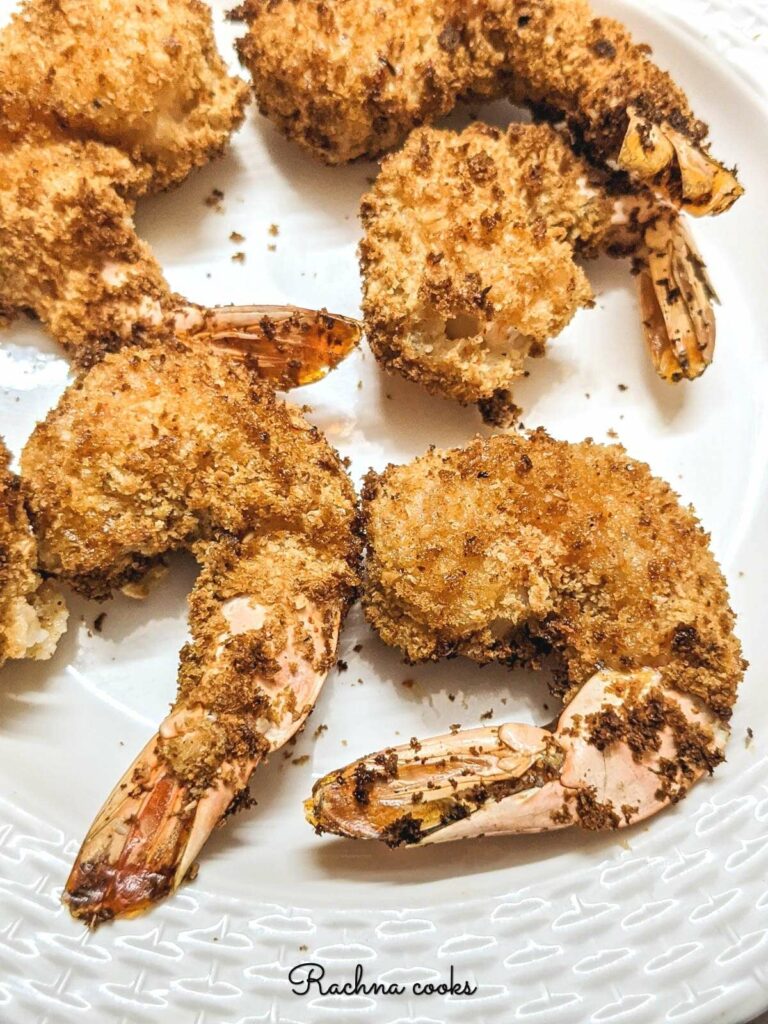 What is tempura batter?
Tempura batter is a light and airy batter for veggies or meat.
It comprises of flour, chilled water and egg. Some people use beer or soda for an even lighter batter.
This batter is super light and coats the veggies or meat with a thin delicious coating.
The tempura sauce served with it really is delicious and makes for an appetizing dish.
For the air fryer, I do use this batter but end up using breadcrumbs for the final coating.
This is not authentic but it gives me a super crispy coating and makes it possible for me to make it in the air fryer.
One can't use runny batters for air fryer cooking because they will just drip down and create a mess.
Variations:
This recipe is already dairy free.
To make the recipe gluten free, skip all purpose flour and use corn starch instead. (Do check the label of corn starch to confirm that it is gluten free. )
Also use gluten-free breadcrumbs.
You may also like
Air fryer Garlic Butter Shrimp
Air fryer Crispy Coconut Shrimp
FAQs
1. Is this an authentic tempura recipe?


This is not an authentic tempura recipe as we have used breadcrumbs for the final coating. The rest of the batter is tempura style.

2. What kind of shrimp must we use?


Medium or large shrimp work the best for this recipe.

3.How can you make frozen tempura shrimp in air fryer?


Take the frozen tempura shrimp out of the packet. No need to thaw.
Set the air fryer temperature to 400 F or about 200 C.

Then lay the shrimp in one layer so that they do not touch.

Air fry each side for about 5 minutes (flip once in the middle) and they are done. The time may vary slightly depending upon the size of the shrimp and the model of your air fryer.
Stepwise Pictures
Assemble breadcrumbs, cleaned, peeled and deveined shrimp, egg, chilled water, salt, pepper, cayenne, all purpose flour and cornstarch.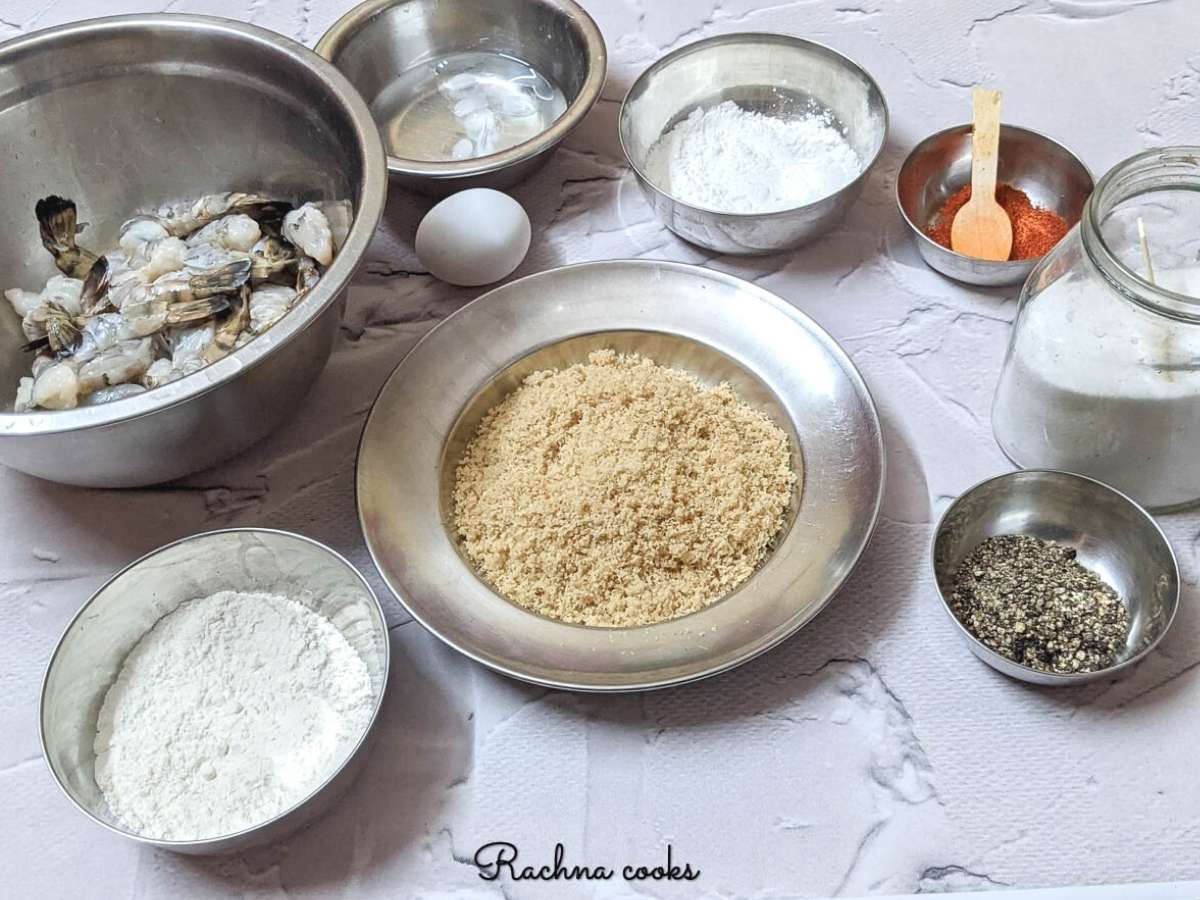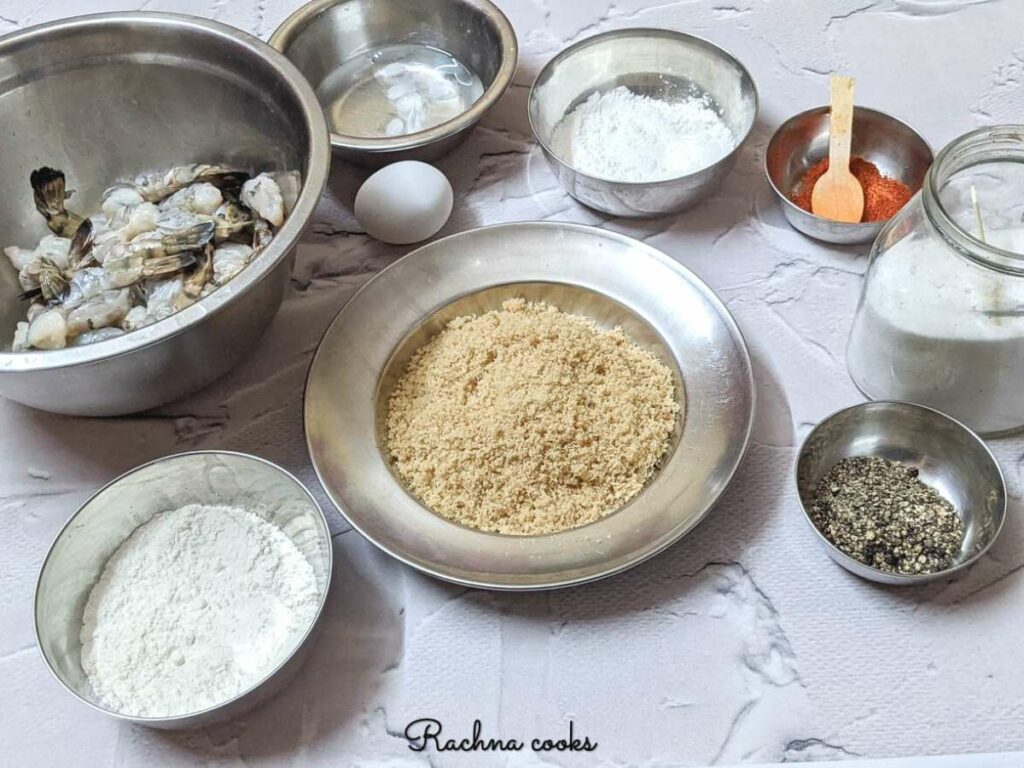 2. Mix together cornstarch and flour. Beat one egg and add to the chilled water.
Add them together and mix lightly to form tempura batter along with salt and pepper.
Take breadcrumbs in a shallow plate and season with salt and cayenne.
Dip each shrimp in the runny batter. Then into the bread crumbs.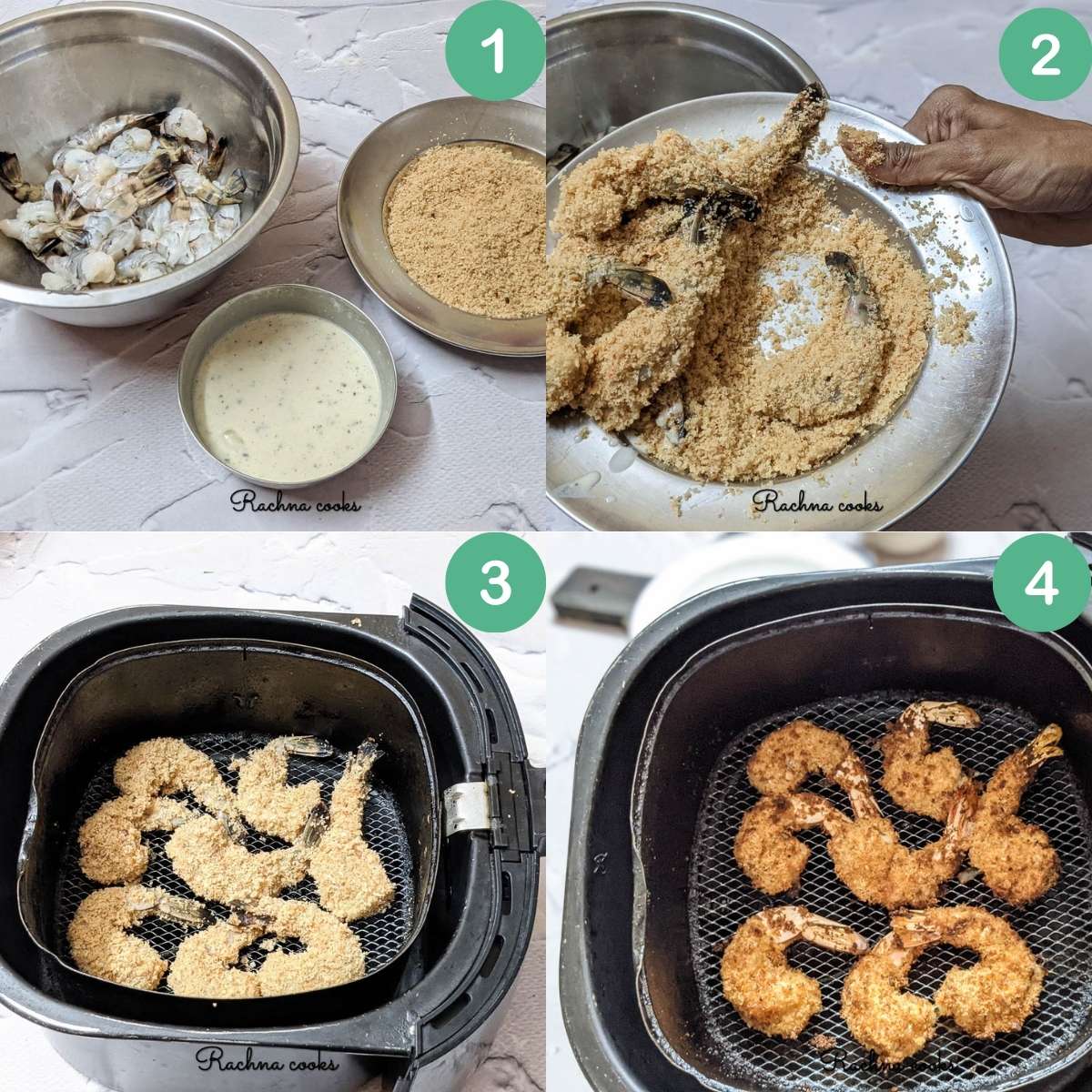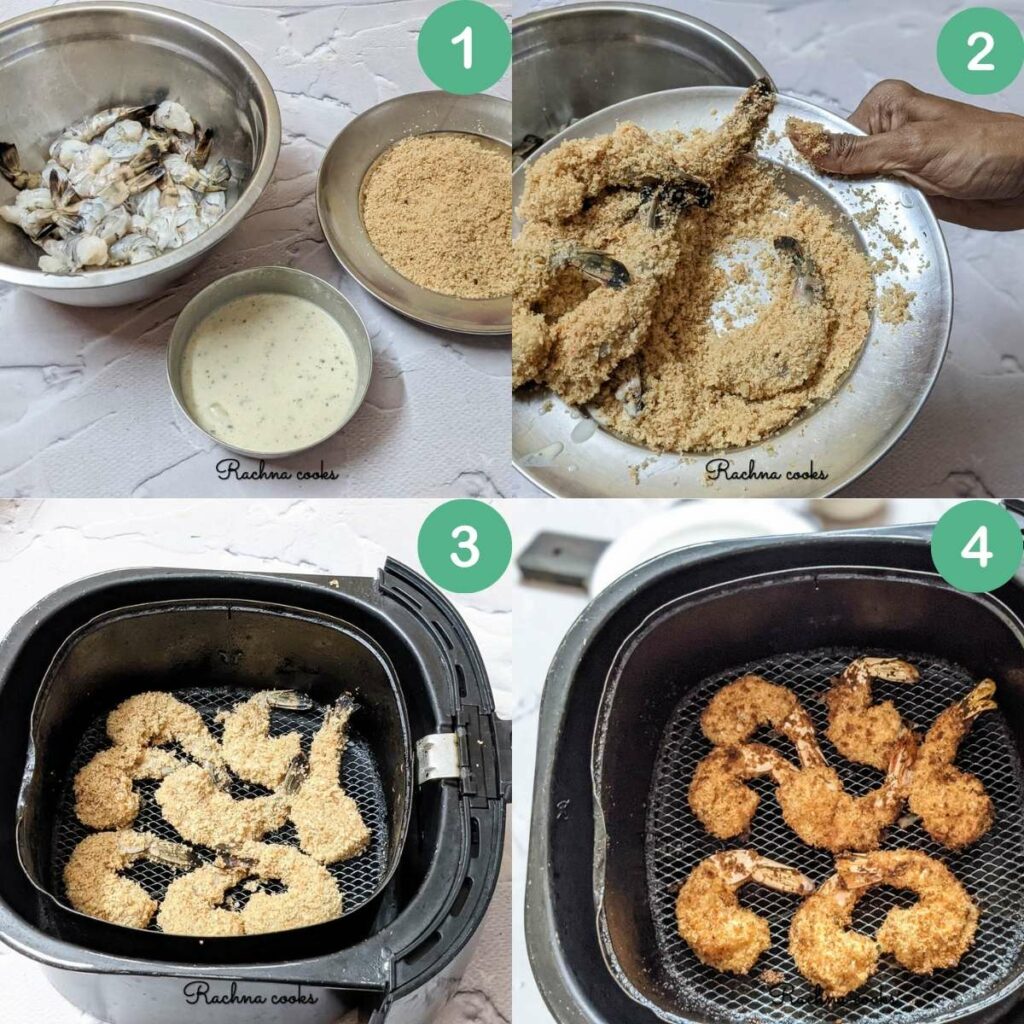 Preheat the air fryer at 350 F or 160 C for 4 minutes.
Lay shrimp in one layer without overcrowding them.
Air fry till golden brown and cooked for 6-8 minutes at 350 F or 160 C.
Serve hot with tempura dipping sauce or spicy mayo.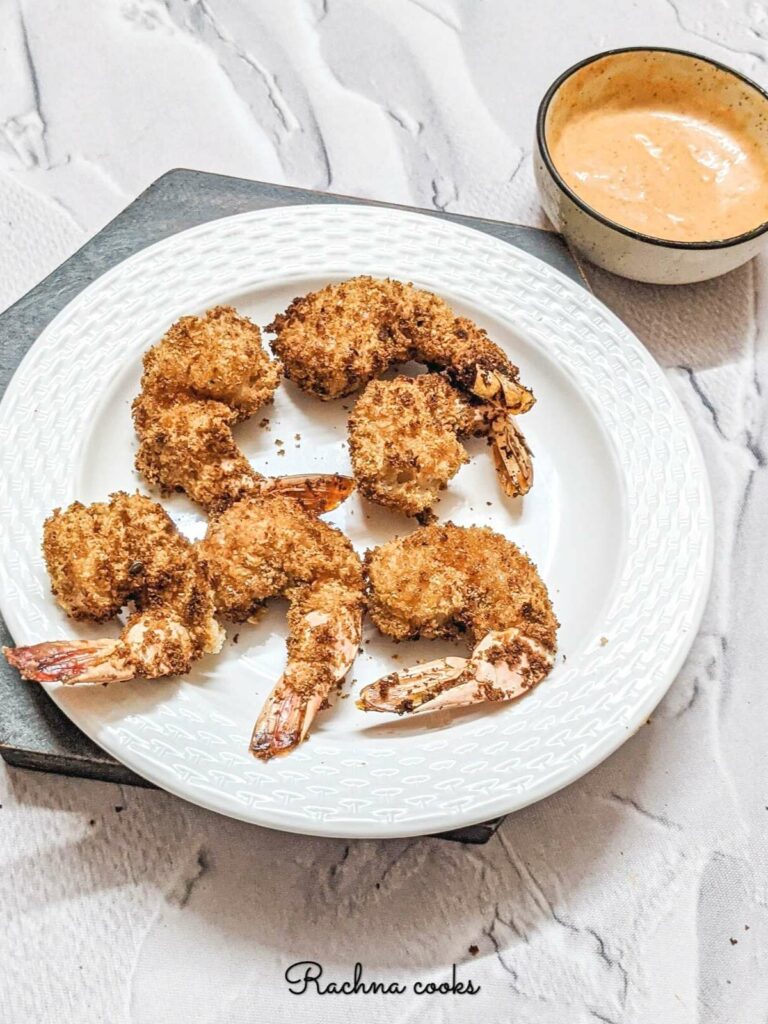 Here's the recipe card:
📖 Recipe Card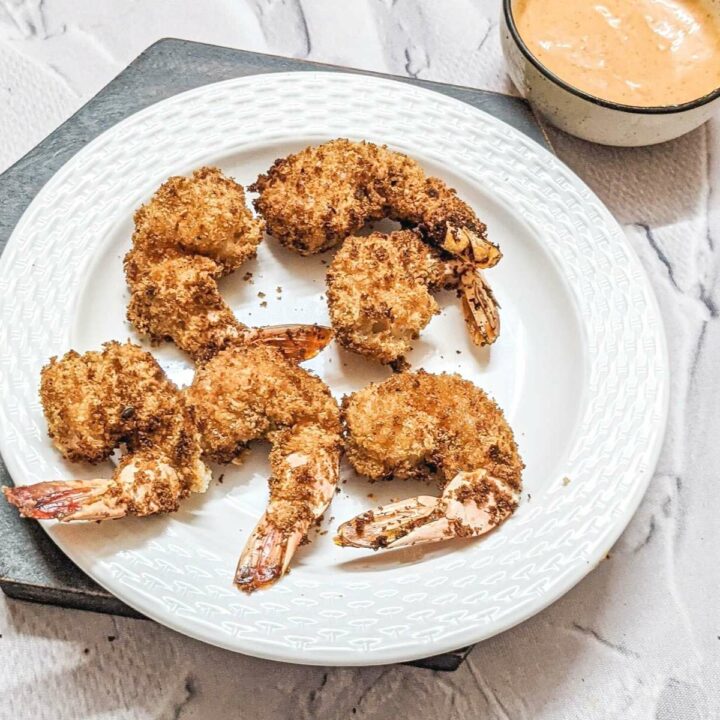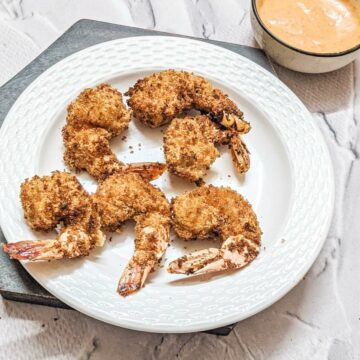 Air fryer Shrimp Tempura
These super crispy tempura shrimp are delicious and a perfect fried shrimp appetizer that are made healthier in the air fryer.
Ingredients
1

pound

Raw peeled shrimp

medium or large or 500 gm.

¼

cup

all-purpose flour

¼

cup

cornstarch

1

egg

½

cup

chilled water

1.5

cups

breadcrumbs

Salt to taste

1

tsp.

cayenne

1

tsp.

pepper

Oil for spraying the basket and brushing shrimp
Instructions
Peel, devein, wash and dry your shrimp. I leave the tails on for the ease of dipping but you can take them off too. Dry them and keep aside.

Take the breadcrumbs in a shallow plate and add cayenne and salt to season them. See notes about breadcrumbs.

Preheat the air fryer at 350 F or 160 C for 4 minutes.

Beat one egg and add it to chilled water. Meanwhile add all-purpose flour with cornflour salt and pepper. Mix well.

Add the beaten egg and water to the flour mix and mix well. Don't overdo it. You can use soda or beer in place of water for even more aeration or lighter batter.

Don't overbeat and don't keep this batter for long. A few lumps are fine.

Immediately dip your shrimp in this tempura batter and then into breadcrumbs so that the batter sticks. Do this for all the shrimp.

Brush air fryer basket that has been preheated. Place the shrimp in one layer. About 6-8 for medium shrimp. Don't overcrowd.

Cook at 350 F or about 160 C for about 6-8 minutes till golden brown and done. Don't overcook the shrimp. If using tiger shrimp or larger ones adjust the cooking time accordingly.

Enjoy with tempura sauce or even spicy mayo.
Notes
1. Use medium to large size shrimp. 2. Always make the tempura batter last. Ensure that everything is lined up when you do that. Don't overbeat or mix too much. Keep it chilled. 3. Sifting the flour and cornstarch helps in making the batter light and airy. 4. Breadcrumbs are not regularly used in tempura recipes but using them enables air frying. 5. You can skip breadcrumbs and use the tempura batter recipe for making deep fried shrimp as well as veggies, chicken strips etc. 6. You can use homemade breadcrumbs or panko crumbs. I just use 3-4 slices of slightly stale wholewheat bread and use a blender to make the breadcrumbs. 7. This recipe is dairy free. You can make it gluten free by skipping all-purpose flour and using double the corn starch. You can also use gluten free bread crumbs. 8. The nutrition values are approximate and are generated by online calculators.
Nutrition
Calories:
355
kcal
Carbohydrates:
44
g
Protein:
31
g
Fat:
5
g
Saturated Fat:
1
g
Trans Fat:
1
g
Cholesterol:
327
mg
Sodium:
1195
mg
Potassium:
235
mg
Fiber:
3
g
Sugar:
3
g
Vitamin A:
579
IU
Vitamin C:
6
mg
Calcium:
253
mg
Iron:
5
mg
Check out our Food videos
Subscribe to our Food channel for recipe videos
If you liked this fried tempura shrimp recipe then do give a star * rating to the recipe in the comments or on the recipe card.
Pin This