You know, weights and men go together. Seriously! That is what I thought growing up. All those hunky men in magazines or on movie screens lifted serious weight.
But women. Well their dainty, lighter frames needed to be treated with respect. Who wanted ugly bulging biceps or nerves? Right? Wrong.
This is a huge myth related to weight training that we build pumped up muscles. Trust me, it is not easy to build that.
You need to lift a lot of weight over a long period of time to get rippling muscles. Instead weight training gives you a lovely toned look.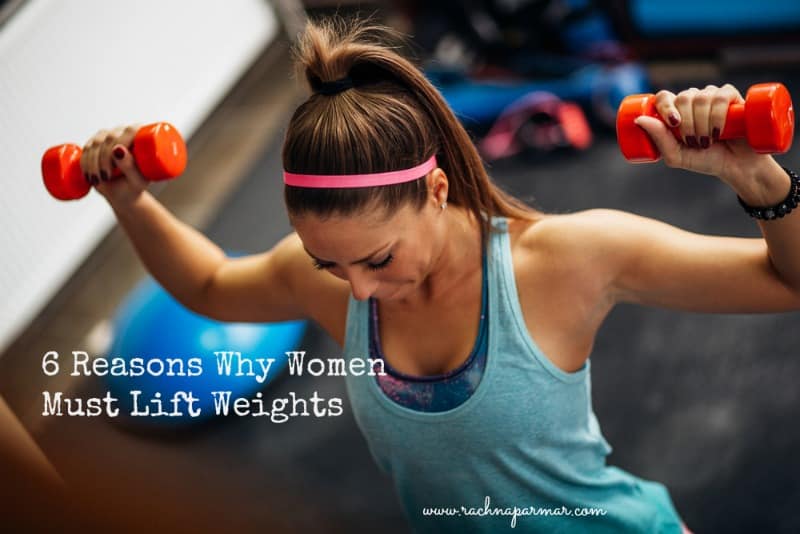 Have you wondered why you don't lose that pesky belly fat? Are you feeling that despite eating healthy and smaller meals, you weight loss goals have hit a plateau?
Or that it is difficult to shed and maintain weight as you grow older? It is because your daily walks, treadmill or even Yoga can only take you so far.
If you wish to have healthier bodies with the optimum muscle to fat mass, hourglass figures and stronger bones, you have to lift weights.
I have been strength training for the past 1.5 decades. I was perhaps the first in my family to buy dumbbells and use them.
As I have a slim bone structure and history of osteoporosis in my family, I was conscious of maintaining my bone health. And it has reaped rich dividends.
Here are 6 reasons why women must absolutely lift weight:
Bone Health:
With each passing decade, our bone mass reduces and is not replenished. As women enter their 40s, they inch closer to menopause and osteoporosis or brittle bones could catch them by surprise.
Weight bearing exercise (even against your own body weight) help maintain your body's bone mass keeping them healthy.
Since my mum had osteoporosis, I am even more conscious of this fact.
Curves:
Yes, a leaner body with curves is possible only if you strength train or lift weights.
That way you will have optimum fat to muscle ratio. Strength training or weight training help you lose both fat and muscle and not one at the cost of another giving your body a toned, balanced look and yes an hourglass figure.
Easier to maintain weight:
Most women I know work hard for a few months shedding kilos by controlling diet and rigourous workout.
They seem to gain all the weight once they slacken their strict regimen. Strength training helps create more muscle mass in your body which ups your metabolism and helps you burn more calories even at rest.
If you do only cardio, you will not have the same benefit. Of course exercise and a balanced diet is a key to a fit body.
Don't go overboard on either and it will be a comfortable part of your routine.
Better stamina:
If you exercise regularly you would have noticed this. Research has shown that you get to experience the benefits of better energy many hours after you have lifted weights.
Burn Belly Fat:
An anathema of most women is the stubborn belly fat that does not seem to go no matter how much you workout.
One of the best ways to combat this problem is resistance training. As your body burns fat and gets leaner, you will see your abdomen become leaner as well.
This has its own health benefits apart from the aesthetic value. More belly fat is considered bad from the point of view of heart disease hence losing it is something all of us must strive for.
Great for stress and brain function:
Exercise releases endorphins that make us feel happier.
But moderate weightlifting especially in older adults can help them cope with stress better as well as improve their cognitive function. It is like keeping all your muscles in good shape.

I hope these will inspire you to pick up those weights today.
As a woman who has had 2 children and has a stressful and full life, strength training helps me in keeping my weight stable and my body lean.
If you are starting out, join a gym with a personal trainer at least in the beginning so that you learn the correct way of doing the training.
Once comfortable you can do them at your neighborhood gym or home by yourself.
I highly recommend Fitness Blender as an excellent resource for videos for everyone at all levels right from beginner to advanced.
There are a number of free resources and very reasonably priced regimens that you can buy.
Do make sure that you do the exercises correctly when you are doing them at home.
So ladies what are your waiting for? Get your weights and begin lifting today. Whether it is curls, chest press, lunges, squats or deadlifts, include strength training in your fitness regimen today.
As a woman especially if you wish to stay fit, get lean, fit into those gorgeous jeans and deal with a stressful career and home, try strength training today.