In my last post on meal planning, I shared why meal planning has transformed the way I plan, prep and cook healthy meals for the family. A lot of you who know me or follow me on Instagram know that I enjoy cooking.
But you may be surprised to know that I am not the kind who cooks elaborate dishes or spends too much time in the kitchen. Also, I am health conscious hence I prefer to make homemade food with fresh produce that relies more on spices instead of butter, oil etc. to make my food healthy.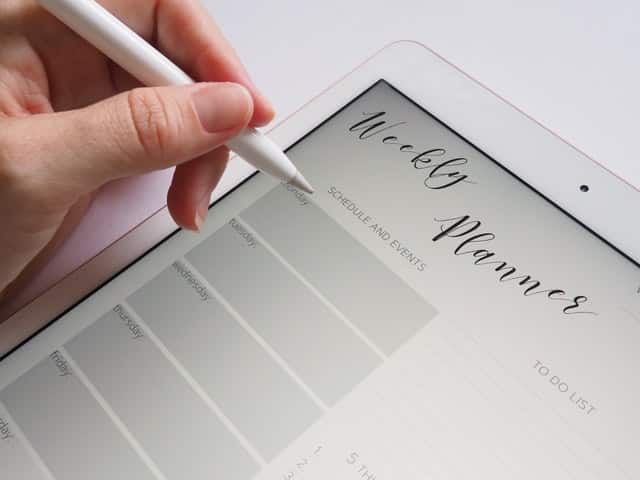 Now, it is a daunting task to cook 4 meals for the family with 2 growing boys with huge appetites. But, it gets easier since I started meal planning. My fridge and pantry wastage has reduced a lot. We get to eat healthier, more varied food, and my moods are better because I am not rushing last minute to cook a meal.
So let's dive into some pointers before you start meal planning
I can completely understand if you have never done this before and are daunted by the idea of it. Let's take baby steps towards meal planning: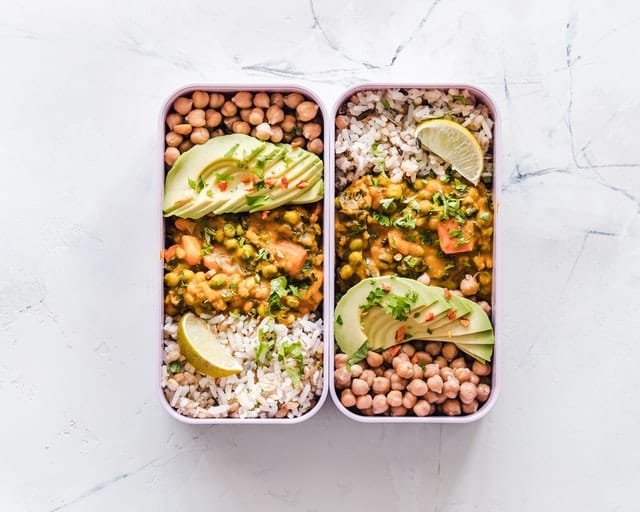 What kind of household you have: If you are single, you have to only look after your diet needs. As a couple, you have to worry about your spouse's needs and with kids, you have to take into account packed lunches, evening snacks and so on. Also, if like me you workout regularly, you must plan for pre- and post-workout snacks.
How many meals must you plan for? If you have never done this before, I would suggest taking it a bit slow. You can begin by planning for only breakfasts or breaksfasts and dinners in the first week. Once you are able to implement these, move on to the other meals.
Start with easy meals: Don't play around too much with the breakfast. NO one is in a mood to do elaborate cooking early in the morning. So if cereal is your thing, go with that on weekdays. I like having egg and toast on most weekdays.
If you are vegetarian and like cereal go with muesli and milk or a milk smoothie or breakfast oats. Ideally, 15-minute breakfasts are sustainable. Go for more elaborate breakfasts during the weekends eg. Idli, dosa, vada, parathas, shakshuka etc.
Additional Reading: 11 Breakfast Recipes Ready in Under 30 Minutes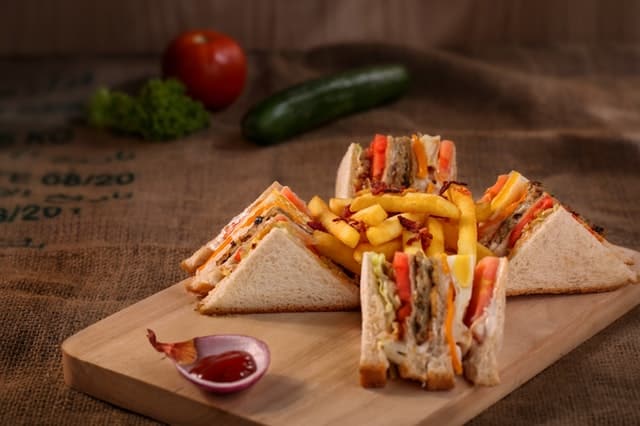 Leave a couple of meals for ordering in or eating out: We normally order in once a week, hence I leave Sunday meals blank. That gives us the flexibility to have something for change or go out if we need it. In case, we do it on a Saturday night, we just swap that meal plan with Sunday slot.
Keep it flexible: Don't fret if you don't follow the meal plan to the T. In case, I suddenly get something seasonal, I make it that day and move forward the plan to next lunch or dinner.
Plan for convenience: If you have bought greens, then plan to consume them within one or two days. The same for other fresh fruits and vegetables.
Staples like legumes, beans, lentils, cottage cheese etc. could be planned for later in the week unless you can manage your supply of fresh vegetables through the week.
Plan for all meals: Now I plan for all the 6 meals in a day that include breakfast, mid-day snack, lunch, evening snack, dinner and workout meals. Less last minute rush, more peace of mind, very low wastage.
Include seasonal food: Right from fruits, vegetables to seasonal sweet treats, meal planning helps you incorporate the best of nature's bounty into your eating.
Hang it out there: I hang my meal plan on the fridge. That way it has visibility and I am conscious of it when I plan daily.
Stick to the meal plan: It is important that you plan ahead right from shopping, prepping of meals and cooking as per the meal plan you have drawn up. A bit of deviation is fine, but mostly stay with it.
Gets easier with each week: As you meal plan regularly, you will realise that there is a pattern to the meals that you eat. Eg. In a family like mine, kids have breakfast like cereal with milk and fruit for weekdays, the husband and I have eggs and toast, veg sandwich and fruit for breakfast.
I normally have a banana pre-workout and a protein shake or a healthy salad or sandwich post-workout. Our meals are generally dal, sabzi and rotis or a curry and rotis/rice. We also eat Thai/Mexican/Chinese/Italian twice or thrice a week.
Kids eat non-veg so I plan for non-veg curries and marinated meat. When you break it down like this, it helps to plan faster and more efficiently.
Meal planning for calories: In case you are watching your diet to lose weight or just wish to eat healthier, it is better to keep your calorie intake at every meal within a given number. Also don't forget to account for indulgences. You can refer to this post I wrote on losing 9 pounds in 8 weeks to understand this part better.
7 Steps to Make a Meal Plan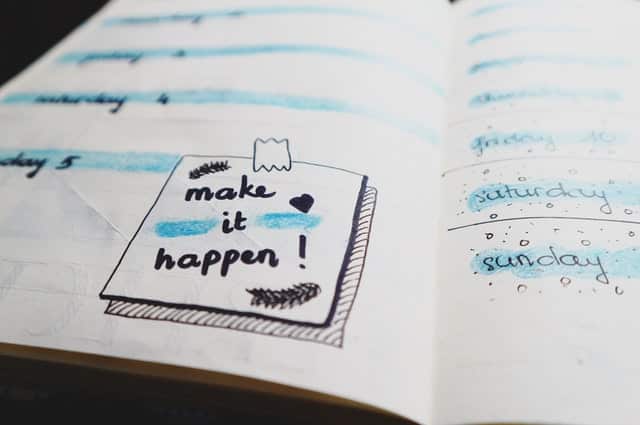 1.Plan for a Day in the Week to Meal Plan:
This could be as per your convenience. There is absolutely no right or wrong here. But stick to the same day in the week every week for consistency. As mentioned earlier, I sit on Sunday morning and make the meal plan.
The kids are asleep and I also run it past by the husband. That way he can also be party to the week's meal choices. Find a quiet place and a maximum of half an hour to do this. I sometimes listen to music and sing loudly while meal planning.
2. Use a chart:
A simple grid listing the days of the week with dates, each meal entry and spaces for the meals is all you need. I prefer to do it with pen and paper but a simple chart like the one below (you can download the PDF) is great too.
Whether you make it on your laptop or on paper, the act of writing down the meals really goes a long way. Feel free to leave space for meal prep notes if that helps you.
3. Get prior input:
Checking with all the family members is an important step in making the meal plan work. If you have kids, then do incorporate their favourite meals on one or two days.
Of course, your spouse's wishes must be addressed. Also if you have an elder, a pet etc. it helps that you plan for their meals too and add it to the meal plan.
4. Account for important events and activities:
This is very important because your meal planning will change if there is a birthday, anniversary or any other outing that will happen in the week.
If you have a school event or some other outing, you can plan for snacks to be packed along or prior meal prep done on those days. Check with everyone in the family with regards to this and plan.
5. Check your fridge and pantry:
This step is important not only when you are starting out but every week. This way you can account for veggies and other groceries that need to be used up urgently. Also clever meal planning helps you take care of veggies that are close to perishing.
I make soups and Chinese/Thai curries where I add veggies generously. Even meals like millet upmas have quite a lot of veggies. This will really reduce your food wastage by a lot. Anything that looks like it needs to be used fast must be added to meal plan on an urgent basis. So check for ingredients and use recipes which will incorporate them.
6. Account for leftovers:
I don't have a cook but I have help in the evening to chop and prep veggies. This is very helpful as I get veggies chopped for curries, salads, soups and breakfast in the evening. I tend to make large batches of dal and curries that can be had for lunch the next day. That way I cut down on all the cooking while still eating healthy, homemade food.
7. Repetition
Once you have meal planned for 2-4 weeks, you will begin to notice a pattern to the manner in which your family eats. Then all you need to do is mix and match the meals and just add the seasonal element to it.
For eg. When I say dal and sabzi, I generally mix and match the way in which the lentils are cooked. Eg. It can be tuar dal, mixed lentils, whole lentils and so on.
So these are the 7 simple steps that will help you begin meal planning and stick to it.
Attaching my meal plans for reference.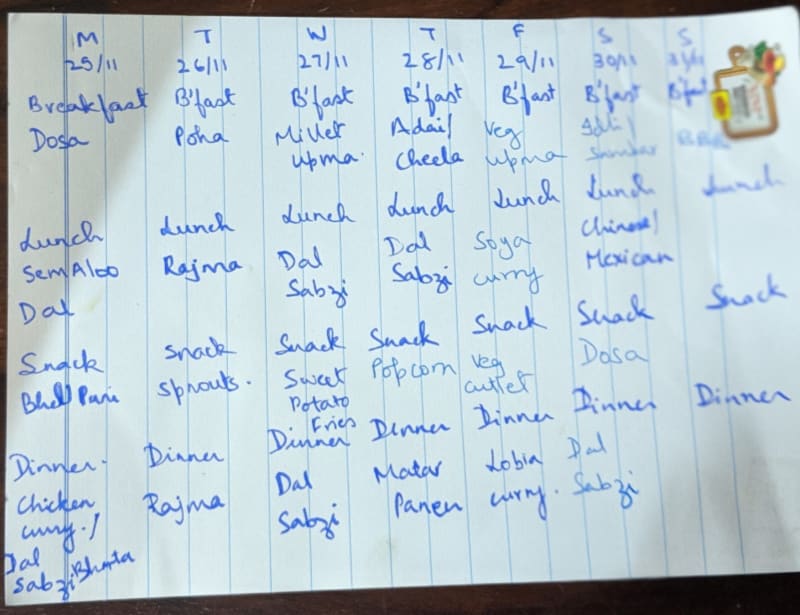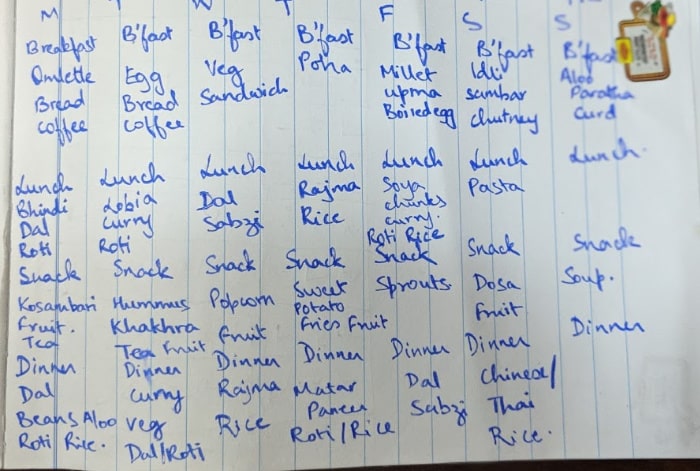 Here is a FREE Meal Planning Weekly Meal Planner template that you can download and make your meal plan with.
Pin This