Homemade ghee or Clarified butter is easy to make and adds loads of flavour to your dishes. It holds a place of pride in Indian cooking and is considered to have health benefits.
But you do need to include a few steps in your routine. The first thing is to start getting whole cow's milk.
If you boil it and keep it in the fridge overnight, you will get a thick milk cream or malai in the morning.
Just strain this and store in a container for a week to make homemade butter and then clarified butter from it.
Desi ghee is made from cow's milk. You can make it from buffalo milk as well.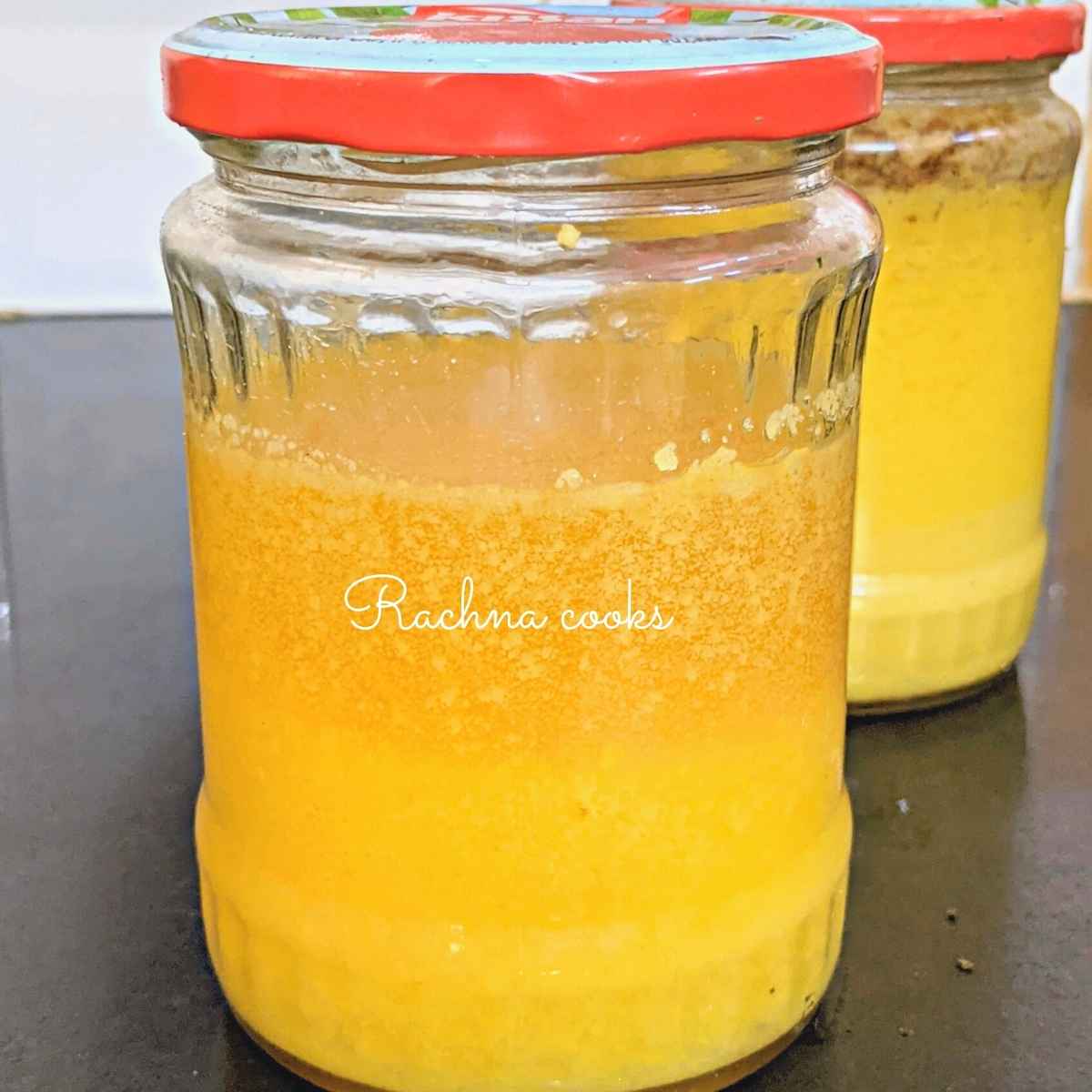 What are the benefits of homemade ghee?
Homemade ghee or clarified butter is very special in Indian cuisine. It has many health benefits according to Ayurveda.
It not only gives flavour to everyday cooking, from dals and khichdis to laddoos and halwa, but is also used in Ayurvedic medicines and preparations that enhance our health.
Here are the health benefits of homemade ghee
1. Clarified butter has fat-soluble vitamins that help in weight loss.
2. Ghee is known to maintain hormone balance and help in maintenance of healthy weight.
3. Ghee contains omega-3 fatty acids and Vitamin A which are good for our health.
Using ghee in winter helps keep the body warm.
4. It is good for skin, intestinal health, helps in preventing constipation, relieves clogged nose as per Ayurveda.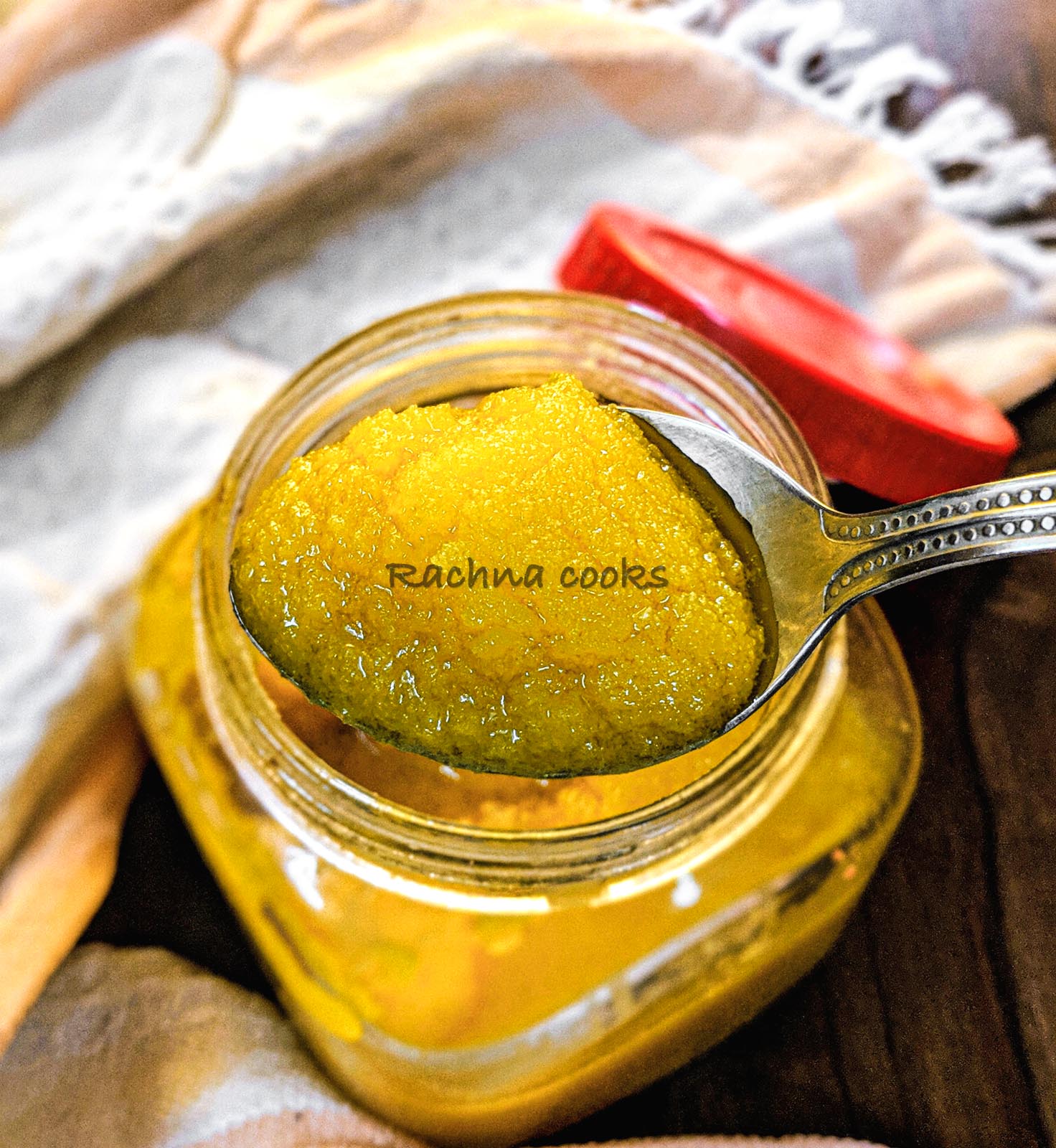 How to Make Homemade ghee or clarified butter
Here is my step-by-step method with pictures and video that shows you how to make homemade ghee:
Step-by-step Pictures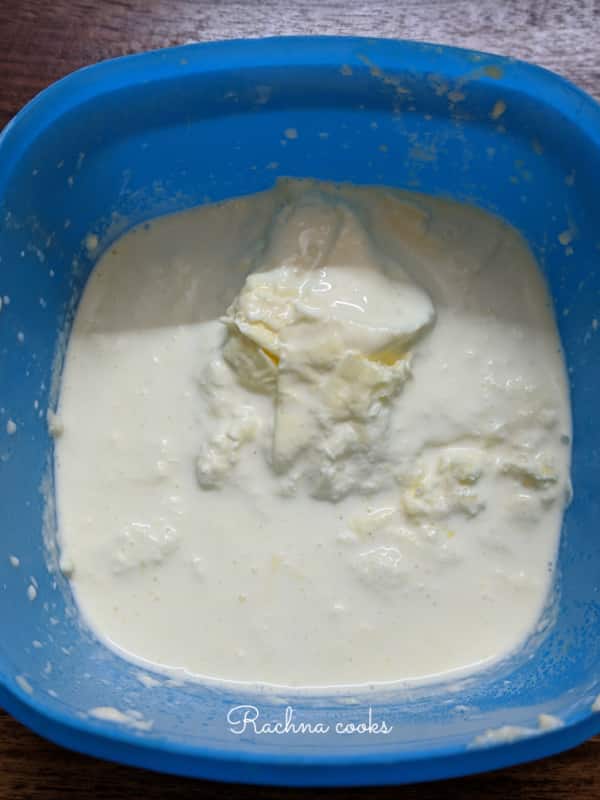 Sieve thick milk cream from boiled and chilled whole milk daily for 7-10 days.
Then add 3-4 tbsp. of curd and let it set overnight to form curd.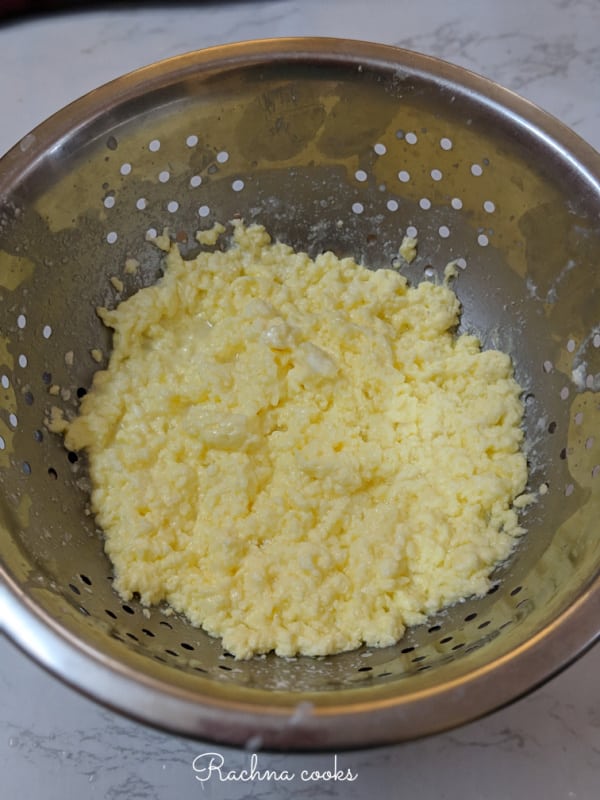 Now whisk this curd for 10-15 minutes in a blender or with a whisk. Butter will separate from whey or buttermilk.
Make sure it is chilled before whisking so that the butter separates faster.
Sieve the butter and wash it multiple times with cold water till water runs clear.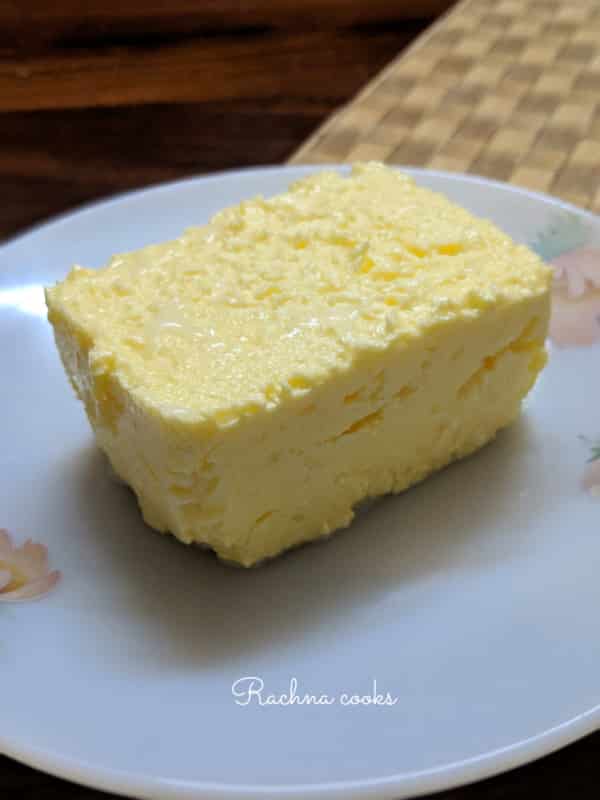 Your homemade butter is made. You can use it as is but remember to store it in fridge. Or you can heat it to make ghee or clarified butter.
Heat this butter in a pan for 10 minutes on low flame till clarified butter separates out and milk solids settle down.
Sieve it and your desi ghee or clarified butter is ready to use.
Pour into a glass bottle and use.
Hope you liked how to make homemade ghee or clarified butter and will give it a try.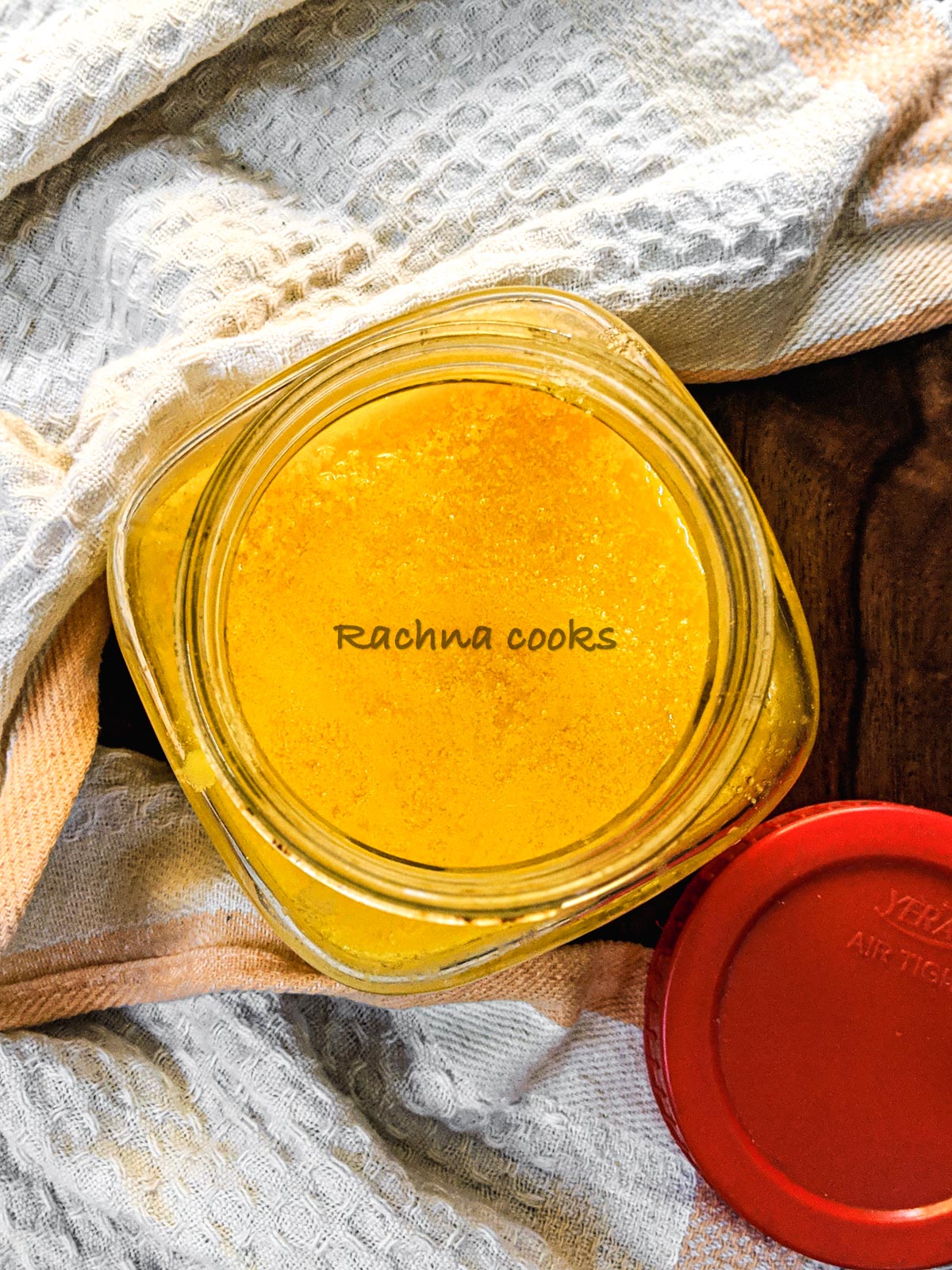 Here's the recipe card:
📖 Recipe Card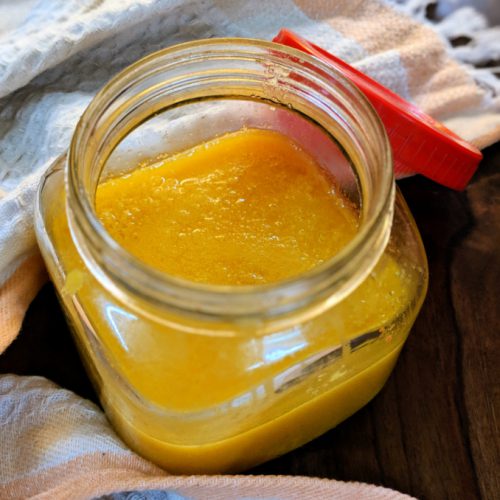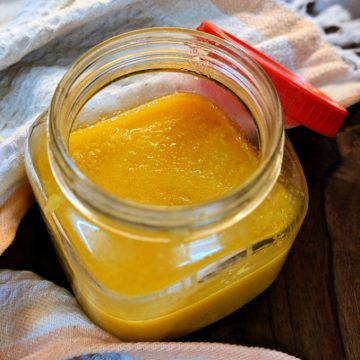 How to Make Homemade Ghee - Clarified Butter
This is a step-by-step recipe of how you can make homemade ghee at home from milk cream. Homemade ghee is not only tasty but has many health benefits. Do try this easy recipe.
Instructions
Take whole fat milk and boil it. Let it cool and leave it in the fridge overnight.

Collect milk cream in the morning in a container. Do this for 7-10 days till you have a cup of thick cream.
How to make homemade butter
Add 3-4 tbsp. of yoghurt or curd to this cream and mix well. Leave it overnight to form curd.

Once the curd is ready, you can churn it with a traditional churner, by hand, in a blender or a hand mixie.

I used a hand blender. It took me about 10 minutes for butter to separate from the whey. This whey or buttermilk is delicious. You can add a few spices and consume it. It is healthy as well.

Now wash this butter with water multiple times till the water runs clear. Your homemade butter is ready. You can use this fresh butter for your food or can heat it further to make ghee.
How to make ghee or clarified butter
Take an iron or copper pan and heat it. Now pour the butter in it. Heat it on low heat for about 10 minutes. You will see that the clarified butter or ghee will separate from the milk solids which settle down in the pan.

Once the milk solids have turned golden brown and completely separated from the ghee, turn off the flame and let it cool down.

Once cold, strain the ghee into a sterilized glass bottle.

Your homemade ghee is ready to use.
Video
Notes
Your ghee has a pale yellow colour and a very pleasant smell and taste.
It has a granular semi-solid texture at room temperature and will solidify in winter.
You can consume the milk solids left behind or add it to sweets. I sometimes eat it with a little sugar.
You can store the homemade ghee in a glass bottle and it will not spoil. If you are using homemade butter, store it in the fridge.
You can store milk cream for more than 7-10 days by storing in the freezer. Then you can make a larger monthly batch. If milk cream is stored for more time in the fridge, it may start smelling sour hence it is better to make ghee from it every 7-10 days unless you are freezing it.
Nutrition
Calories:
32
kcal
Carbohydrates:
2
g
Fat:
2
g
Sodium:
18
mg
Potassium:
45
mg
Sugar:
2
g
Calcium:
2
mg
Check out our Food videos
Subscribe to our Food channel for recipe videos
If you liked the recipe, I request you to give a * star rating either on the recipe or when you comment. Thank you.
Please do share with your friends.
Pin This