Fresh tomato salsa is one of my favourite dips. Made with a few simple ingredients, it is incredibly tasty and super fresh, not to mention so very easy to make. I serve it regularly with my homemade nachos, which are so simple to rustle. Next time try this tomato salsa with these nachos.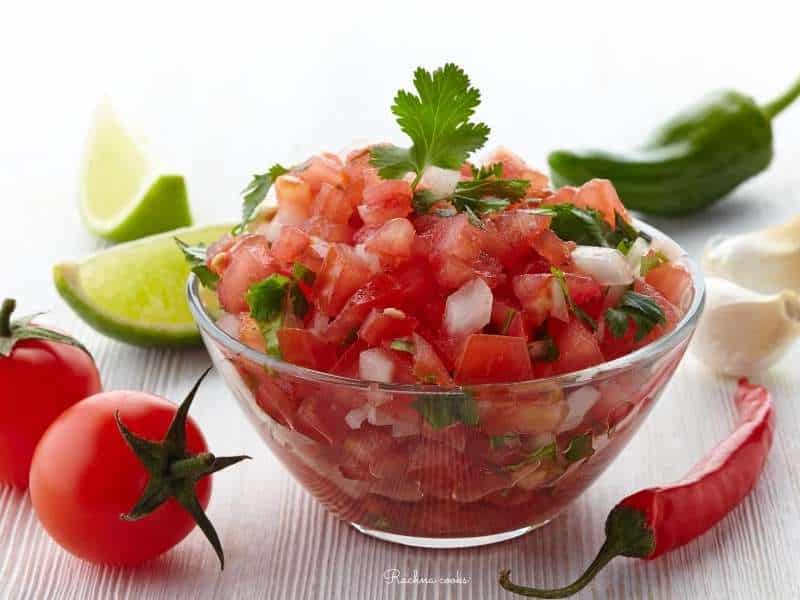 Here's how to make homemade salsa with fresh tomatoes:
📖 Recipe Card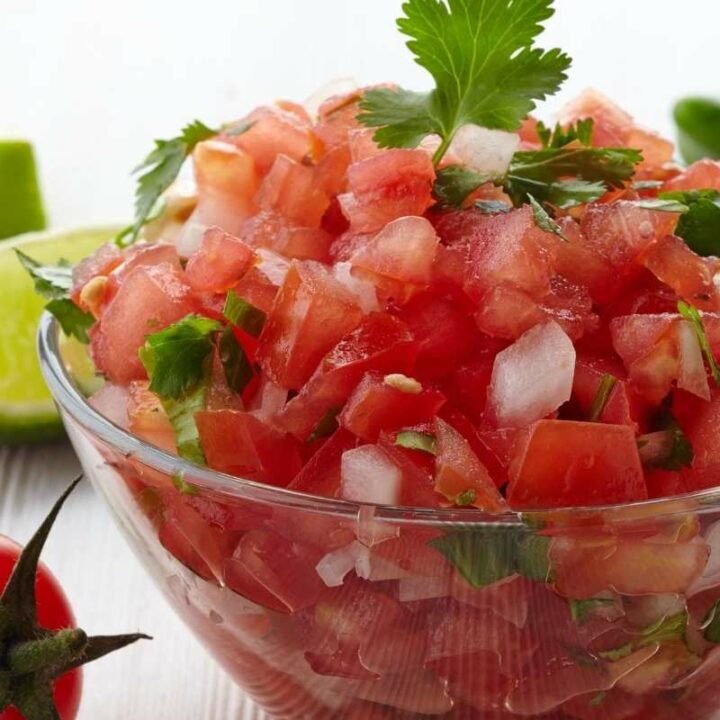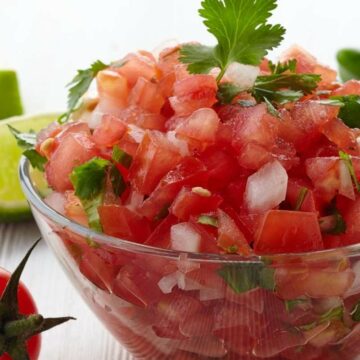 Fresh Tomato Salsa Recipe (Step-by-step)
This is my best tomato salsa recipe that tastes amazing and is so simple to make at home. You will never buy store-bought salsa again. 
Ingredients
4

Tomatoes

ripe

1-2

jalapenos

or serano chiles

1

red onion

chopped

4-5

garlic cloves

chopped

1

tbsp.

lemon juice

2

tbsp.

cilantro

or coriander leaves

salt to taste
Instructions
Use meaty, ripe tomatoes for fresh salsa. Chop it into small pieces along with onion and garlic.

Chop jalapenos. If you prefer lower heat, take out the seeds before chopping and also use just 1 or ½ jalapenos. I used spicy green chillies as I had run out of fresh jalapenos.

Chop cilantro.

Now blend together tomatoes, onion, garlic and chillies so that some chunky bits still remain. You can alternatively just chop them fine and mix well if you like your salsa chunky.

Add salt and lemon juice to taste. Taste and adjust seasoning and serve immediately.
Notes
1.Charring the tomatoes adds a nice, smoky flavour to the salsa. And on gas it hardly takes any time. You could quickly grill tomatoes or even boil them.
2. Best tomatoes for salsa are Italian ones like roma tomatoes. These have a delicious taste and a very red colour. But otherwise any ripe, red ones will do.
3. If using raw tomatoes, choose meaty ones and dice them fine. You can remove seeds if you prefer.
4. Don't completely blend the ingredients or you will end up with a tomato chutney.
5. This tomato salsa must be immediately consumed.
6. If you wish to store it for a day or two longer, then just mix the ingredients but don't add lemon juice and salt. Add those just before serving.
Nutrition
Calories:
19
kcal
Carbohydrates:
4
g
Sodium:
4
mg
Potassium:
177
mg
Fiber:
1
g
Sugar:
2
g
Vitamin A:
530
IU
Vitamin C:
13.1
mg
Calcium:
12
mg
Iron:
0.2
mg
Check out our Food videos
Subscribe to our Food channel for recipe videos
Isn't this the best salsa recipe with such an easy method?
Step-by-step Pictures
Char the tomatoes and peel them.
Cut tomatoes into large pieces. Add garlic, jalapenos, chopped onion and cilantro and blend for very little time till everything is broken into smaller pieces but not till smooth.
Add fresh lemon juice and salt. Taste and adjust seasoning.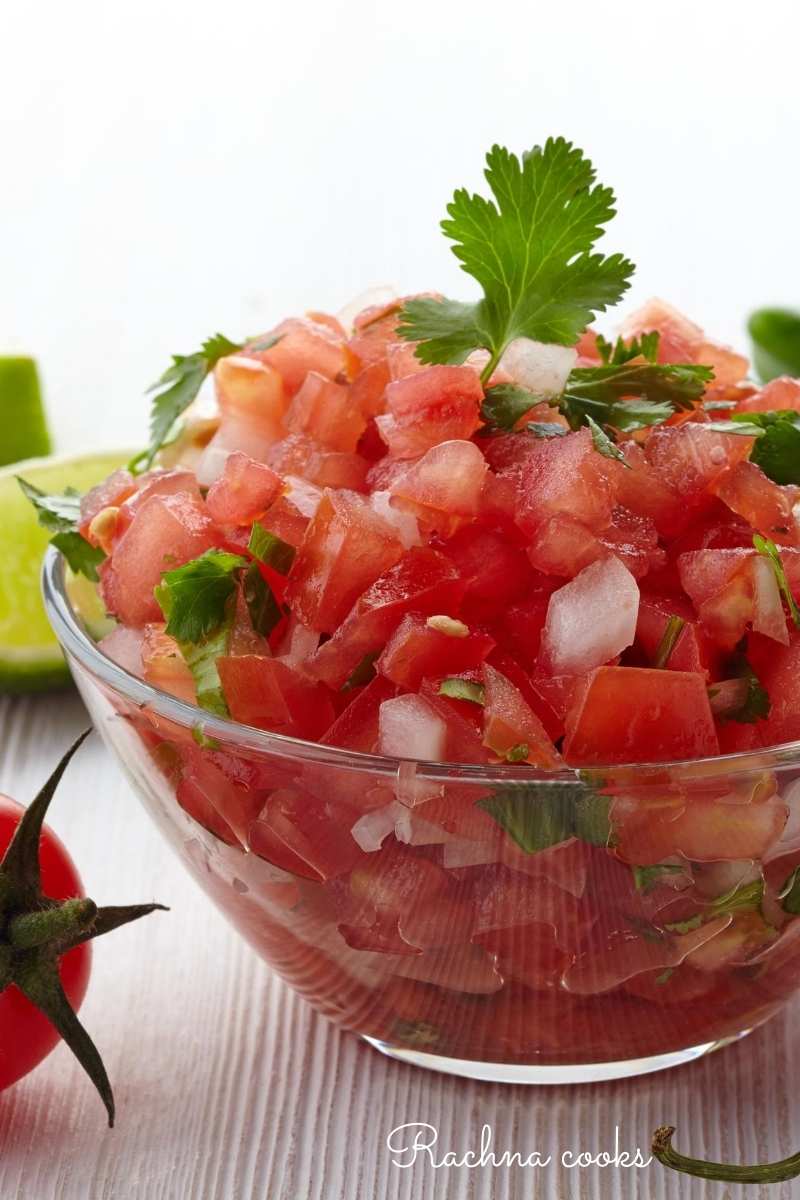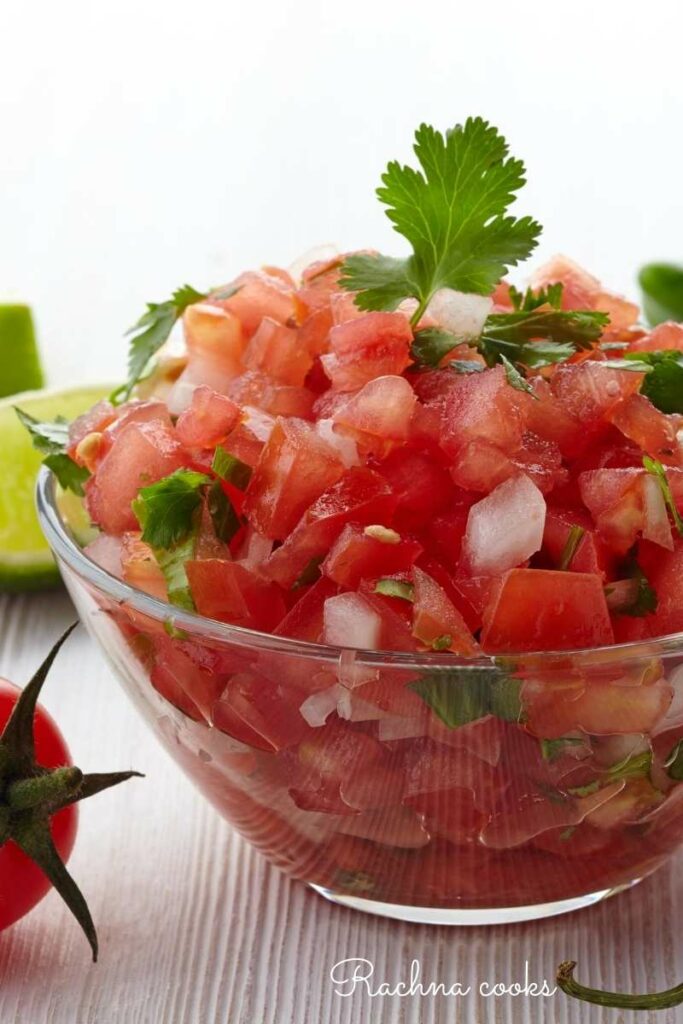 This delightful tomato salsa recipe is so much better and lower on salt than the store-bought one. It is ready in under 10 minutes and is a perfect dip for your nachos or to be used in burritos and other wraps.
Do try it out and let me know how you liked this easy salsa recipe.
If you liked this recipe I request you to give a * star rating either on the recipe or when you comment. Thank you.
Please do share with your friends.
You may also like Guacamole recipe
Pin This