This Mexican Rice is a delightful one-pot meal. It is an easy recipe and can be customized easily for individual preferences.
I love Mexican rice for its delicious spicy tomato kick. It pairs very well with any protein and guacamole.
Often, I add about any vegetable that I find in my fridge including broccoli, cauliflower, carrots, beans and so on.
This rice tastes good even when it is not hot hence making it ideal to pack in lunchboxes or make large batches of and store.
You may also like: coconut rice, lemon rice, tomato rice, vegetable tehari recipe, mint pulao.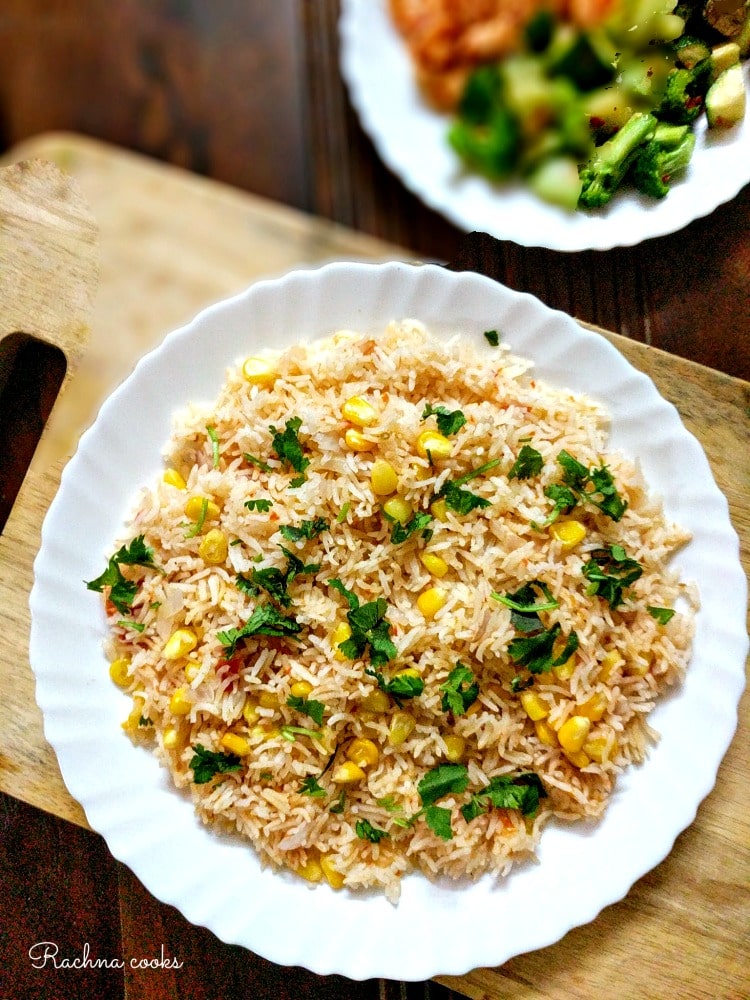 📖 Recipe Card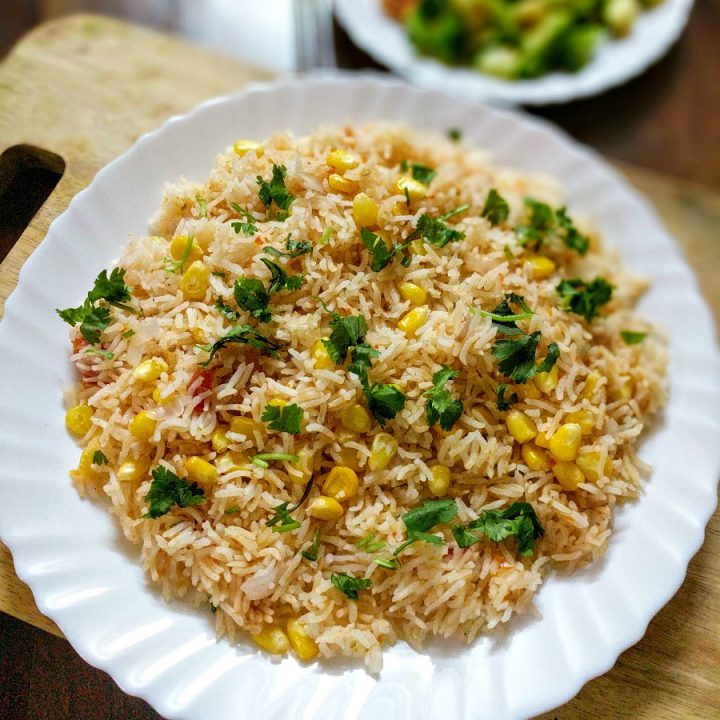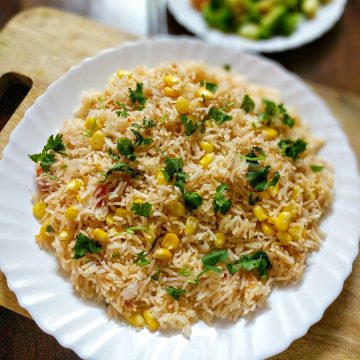 Mexican Rice Recipe
A delicious one-pot Mexican rice dish that is flavoursome and really versatile. I love to make it often for weekend lunch or dinner.
Ingredients
Instructions
Take oil in a pan and heat. Toast rice in olive oil on low flame for about 2-3 minutes till it is golden brown.

Make sure you don't do it too vigourously. This keeps the rice nice and separate once cooked.

Add chopped onion and garlic to the pan and continue to fry for 2-3 minutes.

Add tomato puree, corn, minced jalapeno and cook for about 5 minutes.

Add the stock. Add salt, cumin powder and pepper. If using any other vegetable, add here.

Lower the heat and cover. Cook for about 10-15 minutes till the rice is well cooked but not mushy.

Serve hot after garnishing with chopped cilantro and fluffing the rice a bit using a fork.

Mexican rice is ready to serve. It is so delicious on its own. Serve with a protein of choice and salad.
Notes
1. Any long grain rice works well. You can use basmati as well. 2. Other vegetables like peas, beans and carrots can be added as well. 3. I like the heat hence I use both jalapeno and pepper. Feel free to adjust to your requirements. 4. You can also add canned black beans or garbanzo beans to the recipe to up the protein. 5. This is a versatile recipe and can be really customised to suit your requirements.
Nutrition
Serving:
1
people
Calories:
260
kcal
Carbohydrates:
50
g
Protein:
5
g
Fat:
5
g
Saturated Fat:
1
g
Polyunsaturated Fat:
1
g
Monounsaturated Fat:
3
g
Sodium:
405
mg
Potassium:
301
mg
Fiber:
3
g
Sugar:
4
g
Vitamin A:
702
IU
Vitamin C:
9
mg
Calcium:
38
mg
Iron:
2
mg
Check out our Food videos
Subscribe to our Food channel for recipe videos
This simple recipe of Mexican rice will become a hit at your home. It does not take long to cook or much prep. So what are you waiting for? Do try this recipe.
Pin This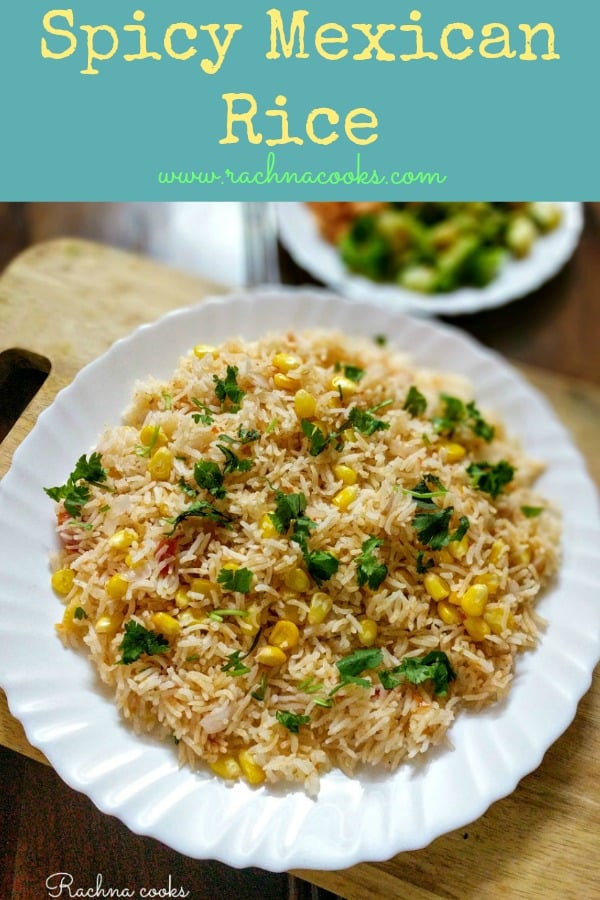 Do you want a FREE 4 week Lunchbox Planner with different daily lunch ideas along with BONUS Snack ideas, all healthy and wholesome with recipe links? Get it here.