Wraps are extremely satisfying. And, they are popular all around the world. Whether you have them as the Middle eastern shawarma, the Mexican burrito or the Mumbai Frankie, everyone loves them. I do enjoy eating them and more often than not I make them at home with chicken or paneer (cottage cheese). If you have some marinated chicken at home, then it is easy to throw together. You also get to make it with wholewheat roti instead of the maida ones that you get outside. This way they are healthier and can be had both for breakfast or for a hearty meal.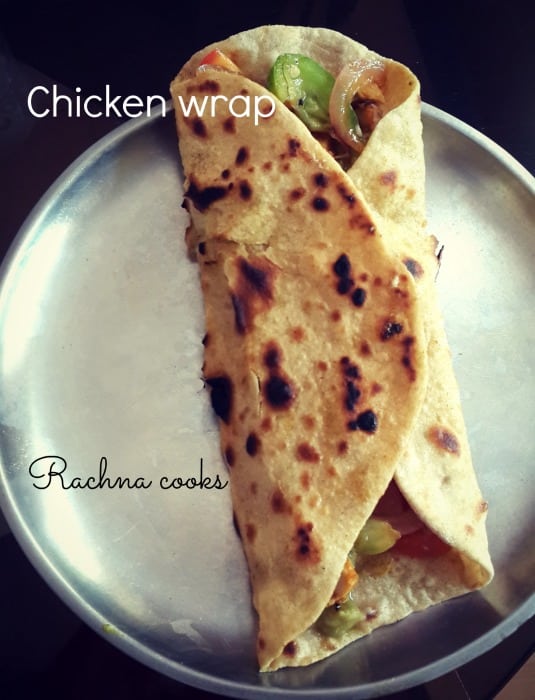 Ingredients:
(For about 6 wraps)
Marinated chicken breast
250 gm. Chicken breast cut in small pieces
2 tbsp. thick Yoghurt
1 tbsp. ginger garlic paste
1 tsp. chilly powder/fresh ground pepper
1/2 tsp. turmeric powder
1/2 garam masala powder
1 tsp. oil
salt to taste
Make a paste of the marinade. Marinate the chicken in this thick paste for at least 2 hours and even better overnight.
Sauteed vegetables:
You can use any vegetables that you like. I use capsicum, onion and tomatoes sliced and sauteed in a little oil with some salt and pepper. They must not become soggy and should retain their crunch. You may also keep them raw if you so like.
Wholewheat wrap:
I use chapati dough made with wholewheat flour and water.
Sauces:
Mayonnaise
Mustard
Recipe:
Grill/pan cook your chicken breasts till they are done and have a nice coating on top. Cool and make thin slices.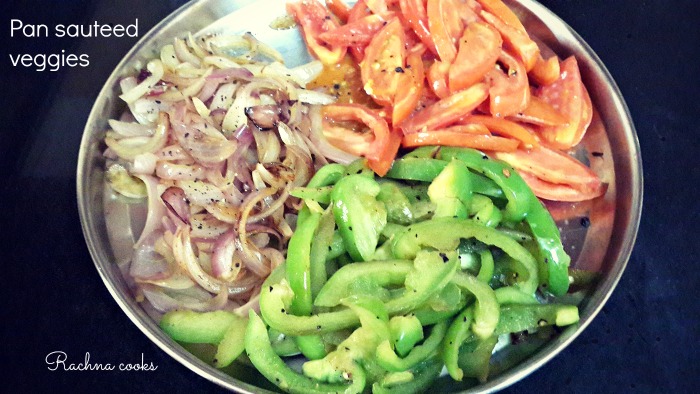 Keep the vegetables handy. Now roll out one paratha which is slightly bigger than your normal roti/paratha using a rolling pin. Cook it on the griddle by applying a tiny bit of oil on both sides. Take it off the griddle. Now to assemble the wrap, smear the paratha with mayonnaise and mustard. You may use mint chutney or any other sauces that you like.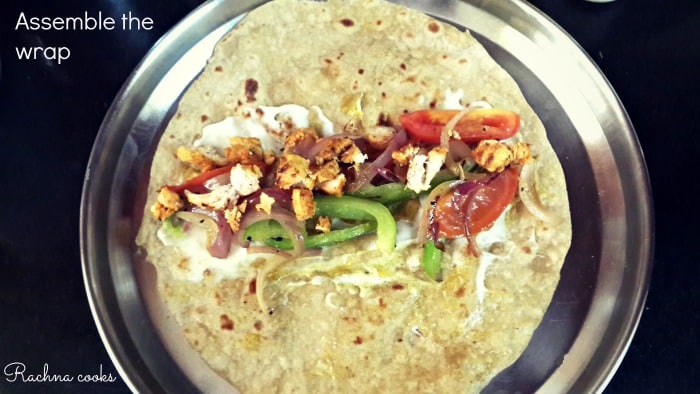 Put in the chicken and veggie filling. Now roll both the sides. Your chicken wrap is ready. Wholesome, delicious and very tasty, it makes a great meal. Your kids will love it too.
This is a very versatile wrap. You can substitute chicken with other fillings like cottage cheese, tofu etc. You can use different marinades as per your taste. You can also use mushroom, carrot, pickles in the wrap. Keep trying variations to enjoy this delicious old-world favorite.