This is the simplest raita recipe that requires just a few ingredients and some chopped veggies. It can lift your meal to several notches. I serve veggie raita with parathas, pulav, chicken biryani, khichdi, tehari and just about everything. It makes for a wholesome and delicious side dish and can be rustled in a jiffy.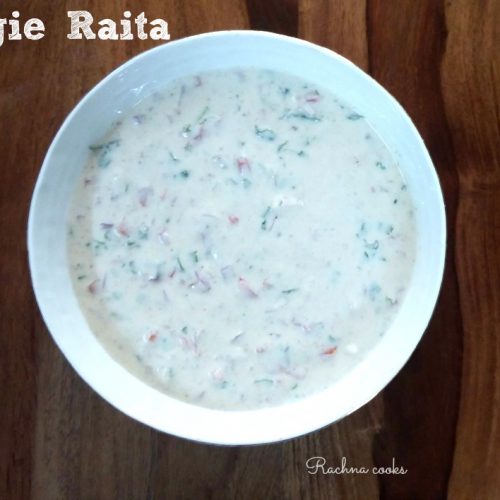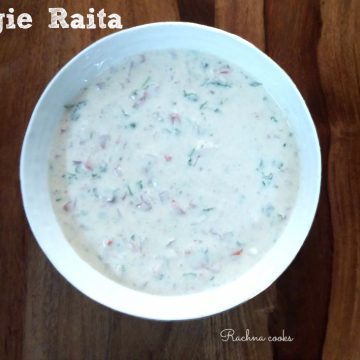 Veggie Raita | Yoghurt with Mixed Veggies
A silky smooth and cooling raita with mild spices and an overload of crunchy veggies that gives you a nutrition boost and comfort with its taste.
Ingredients
½

litre curd/yoghurt

whip it well

1

small onion finely chopped

1

small tomato finely chopped

1

medium potato boiled and finely diced

optional

1

green chilly finely chopped

optional

2

tbsp.

finely chopped mint leaves

2

tbsp.

finely chopped coriander leaves

½

tsp.

black salt powder

½

tsp.

roasted cumin powder

A pinch of sugar

Salt to taste

½

tsp.

chilly powder

optional
Instructions
Whip the curd for a couple of minutes and keep aside.

Now add in the finely chopped veggies. Mix well.

Add black salt, cumin powder, sugar and salt. Taste and adjust as per taste. I generally don't use chilly powder as I prefer using diced green chilly.

Mix well. Chill and serve.

Your delicious veggie raita is ready to serve. Team it with some khichdi and papad and it makes for a delicious, home cooked meal.
Notes
1. You can add any vegetable or herb that you like. Just make sure they are finely chopped or grated. Grated carrot is good. So is finely chopped capsicum and cucumber. Potato if used must be boiled.
2. Use either green chilly or red chilly powder. If you don't want any heat in your dish, just skip both.
3. Black salt really adds to the flavour so try to add it. If for some reason, you don't like it, you can just substitute with common salt.
4. This will stay in the fridge till evening. Best to serve and consume it fresh.
Check out our Food videos
Subscribe to our Food channel for recipe videos

Do let me know if you try this recipe. It will surely be added to your repertoire if you do.
Please share the post if you like the recipe.