When I got an invite for the launch of Vaya. I had no clue what the company was. The fact that they were launching a premium tiffin box egged my curiosity. As I headed to ITC Gardenia on a Friday evening, traffic and Sindhu's match were on my mind. Of course, meeting with blogger friends is something I always look forward to and I was curious to see what could one do with a tiffin box.
The event started an hour late as most attendees arrived late. But once it started, it was engaging.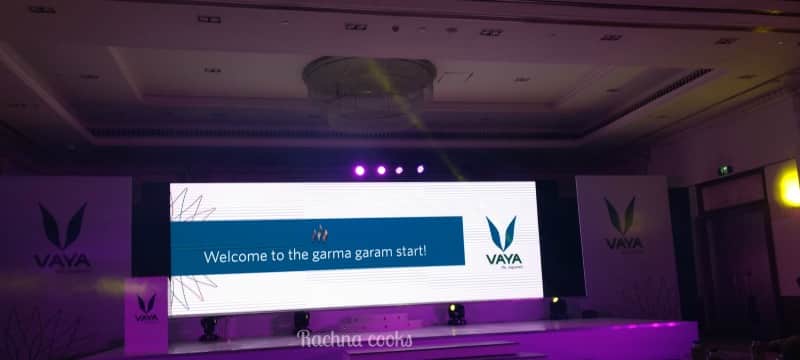 Zippy and very beautifully executed, we saw the unveiling of Vaya logo and the philosophy behind it.

A superbly choreographed dance act later, the CEO of Vaya,Vashist Vasanthakumar, unveiled the tyffyn which looked really chic and nothing like any dabba I had seen till now.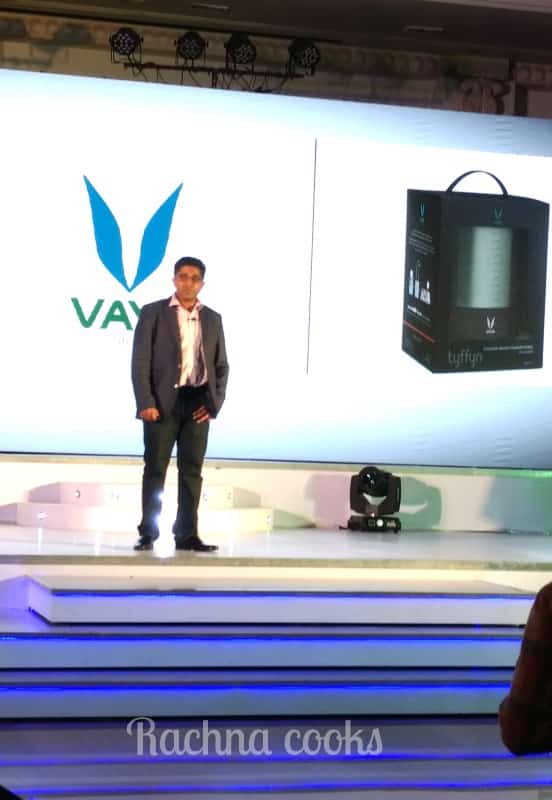 He took us through the features of tyffyn and why they have come up with this product. The product features centering around the age-old importance of homecooked food in India that can be now carried piping hot, avoiding leakages and in a slick and exciting tiffin box that you can take to work with pride.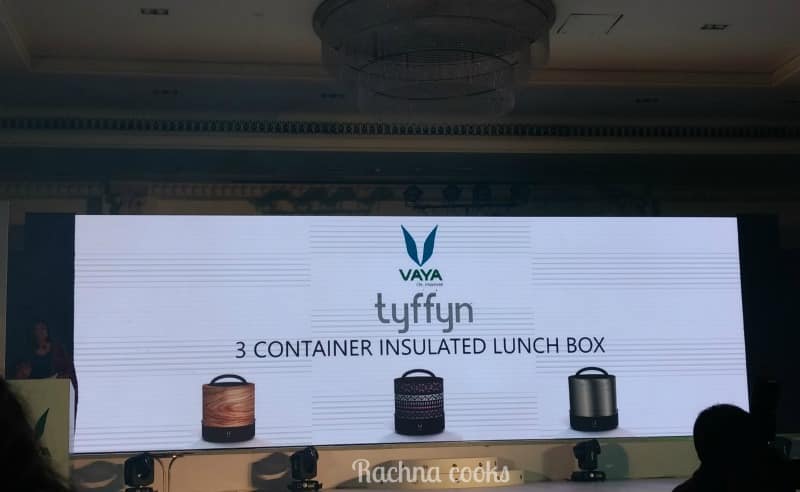 The most enjoyable act was the stand-up comedy by Karthik. He had us in splits and really lightened the proceedings.
A short session of sharing tiffin memories followed. Subsequently, the event came to an end as we were ushered for dinner.
I was impressed with how the event did not drag on and was very enjoyable. The icing on the cake, I got my own tyffyn to carry home.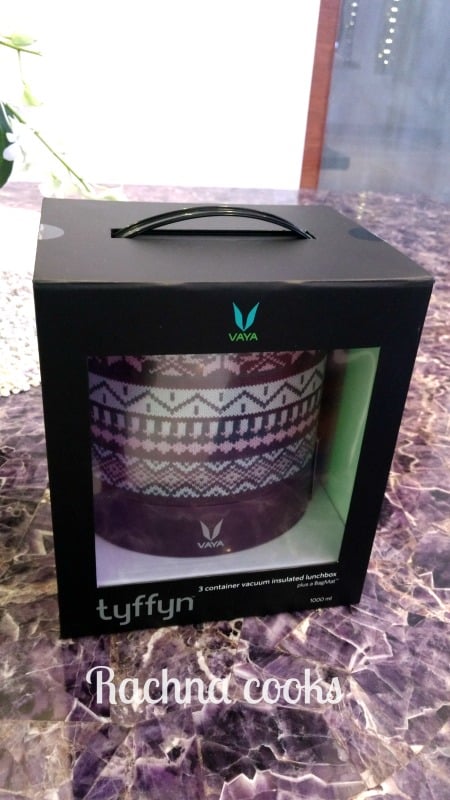 My first impressions were that it was the sleekest, most beautiful tiffin box I have seen. It also came in a really thoughtful packing which is sturdy and aesthetic. But will it deliver on its promise of keeping the home-cooked food piping hot?
Homecooked food is something I am almost obsessive about. Being mom to two kids, I prefer them to carry nutritious food from home than indulge in some junk from the canteen. My husband also takes home cooked food to his workplace as he prefers it to greasy canteen food there. Till now, I have sent food in Tupperware containers which are relatively leak proof, look decent and the food can be re-heated in the microwave at his workplace. Not so for the kids. They have to contend with food at room temperature. Hardly anything I could do about it. Not to mention how the tiffin boxes look. Rather plain and boring.
Here is a review of Vaya's Tyffyn:
What Worked: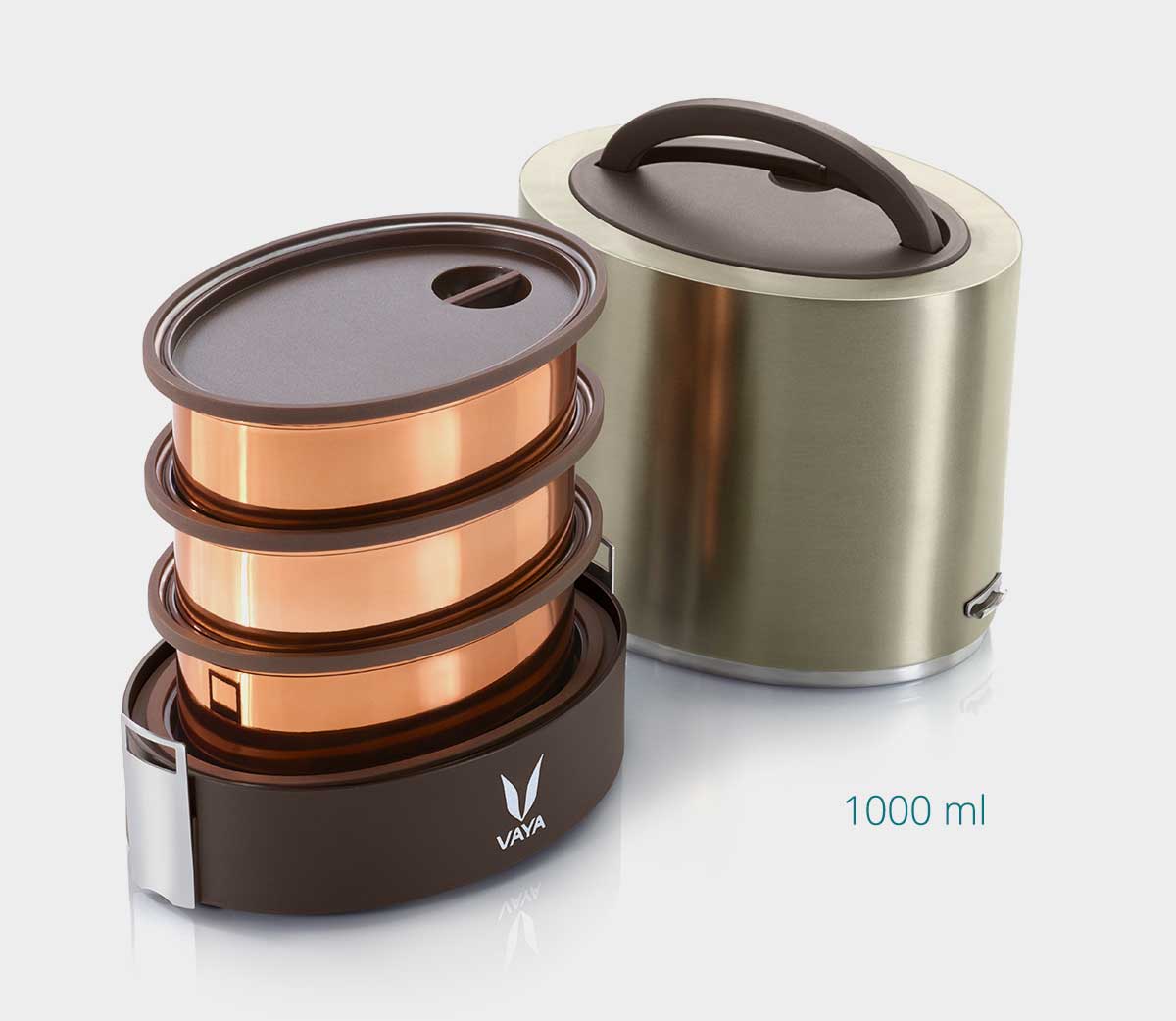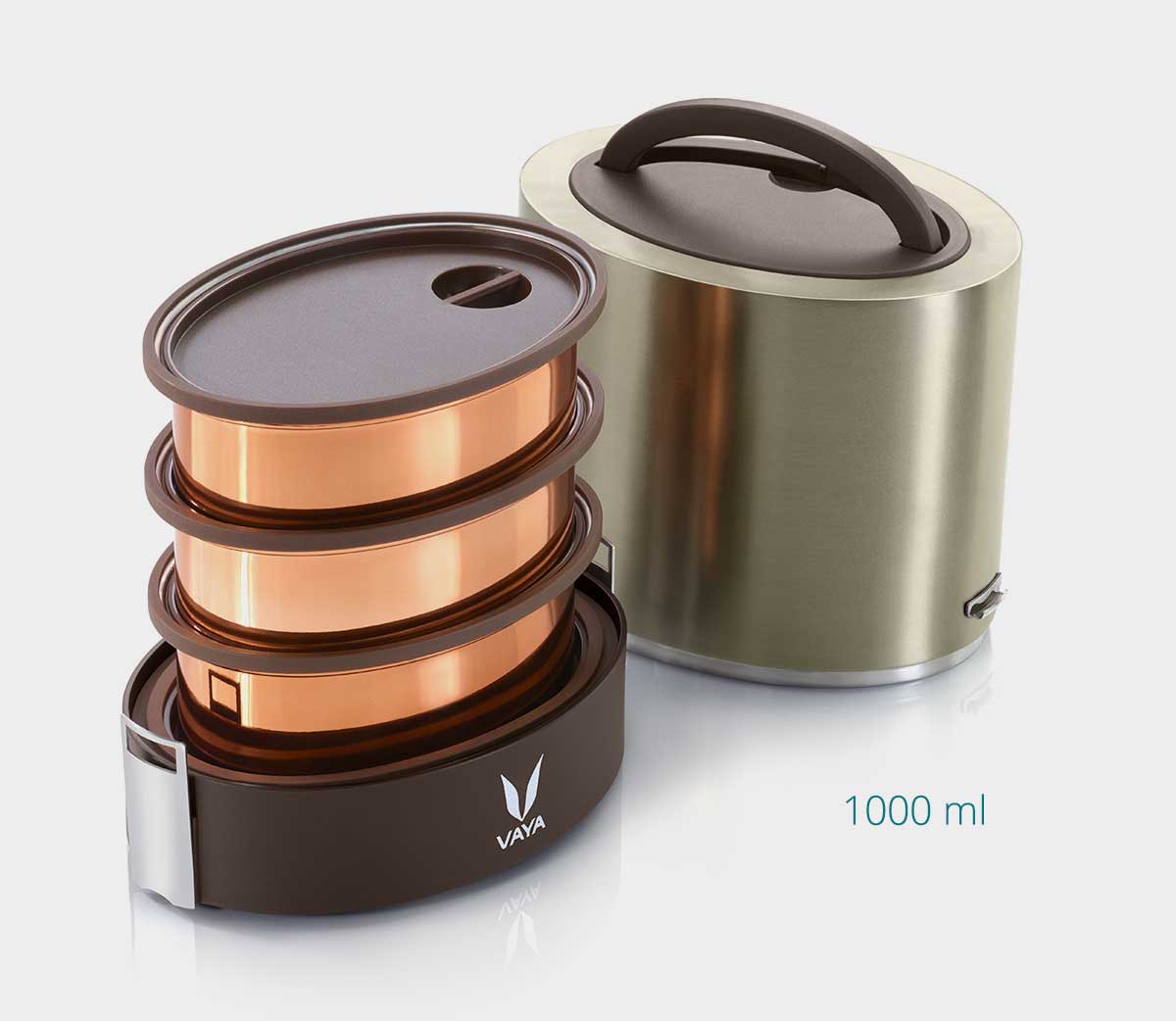 Stunning Looks: The husband carried the compact tiffin box to his workplace and it did get quite a few eyeballs. Yep, it is stylish and people came and actually asked him about it. So this baby stands out from the crowd. It almost looks like a fashion statement.
High Quality Containers: The containers are each of 300 ml. capacity and there are 3 of them in this Tyffyn. They are of stainless steel with a copper finish and spill proof plastic lids. I loved the materials they have used which are very Indian. The spill proof lids with finger grooves are a tad difficult to pull up and perhaps something to provide a better grip can be offered. The lids do prevent seepage.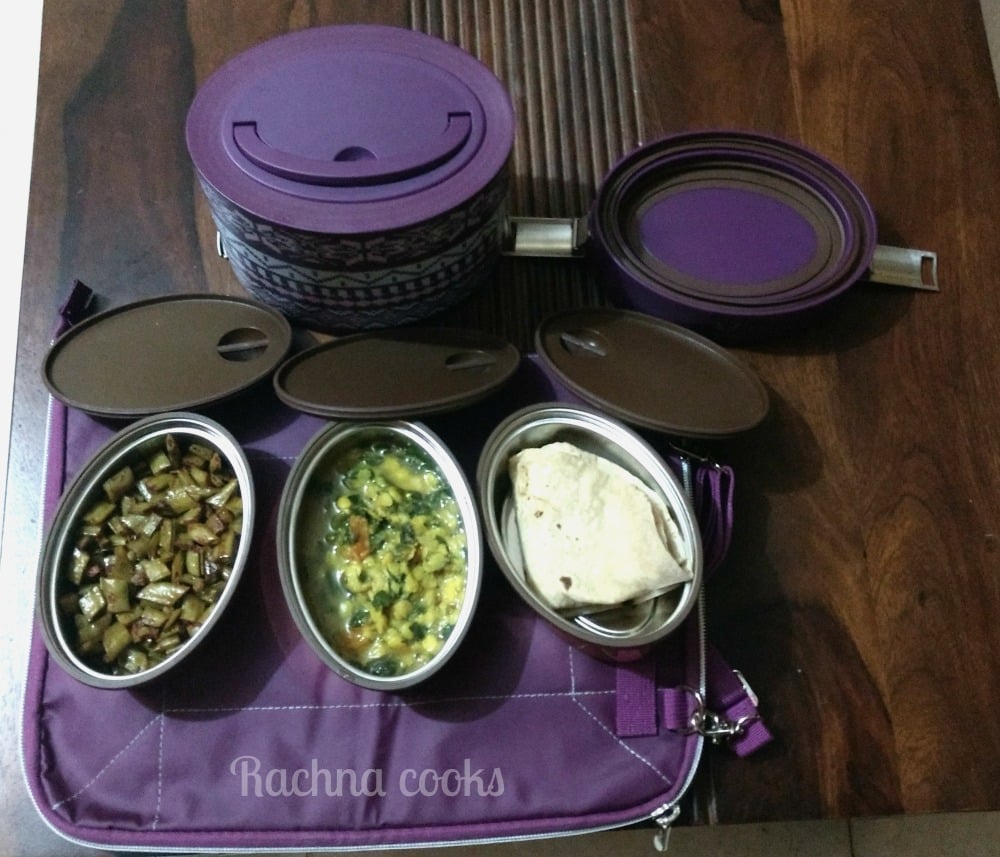 Compact: The design is impeccable. The outer case is compact and made of stainless steel. It comes in 3 finishes: Maple, Graphite and Wool. I have the Wool finish design. Also thoughtful touches like easy to use stainless steel clasps on the side and a handle that fits in cozily into the carrier enhance the experience of using this.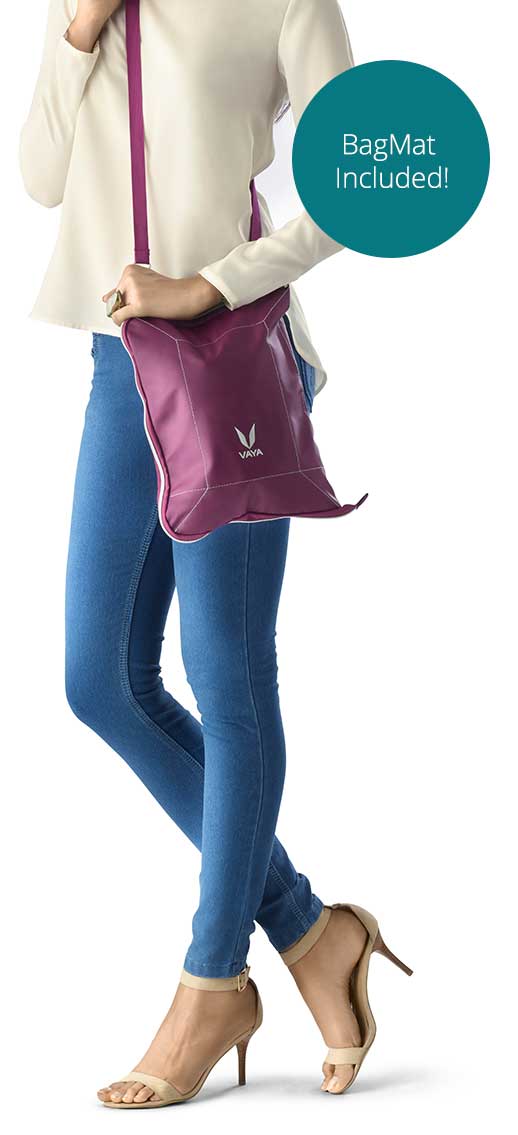 A Glamorous Carry Bag/Mat: The Tyffyn can be carried in its own carry bag that can be slung across the shoulder like a satchel. It is available in matching colours, has a cutlery pouch and opens out into a convenient mat to put your food on. Very innovative design. But the husband perhaps was not too keen on carrying a wine coloured bag and hence skipped taking it. I can certainly see it being popular among women.
What Can be Better:
Hot food: The product promised piping hot food even after 6 hours of packing. This did not deliver. The food was at best at slightly above room temperature when the husband sat down to lunch. Another hitch is that since the containers are metal, he could not even microwave the food. I think this is one area that needs to be looked into.
Weight: The tyffyn is slick but slightly heavy when filled. If I had to give it to my younger son, he may have some difficulty in carrying in.
You can buy this Tyffyn at Amazon. It is priced at Rs. 2999. It is a quality product and comes with a warranty of 1 year. Click the image below to buy.
Overall, I am sure that the husband is not going back to old dabba any time soon.
Update: My old Tyffyn was replaced by a new Tyffyn in Maple style by Vaya. This one has a few design innovations and a slightly lower weight. Apparently the initial batch had a few Tyffyns that did not heat well. This one I've got looks just as sleek, and it keeps the food warm after 6 hours of packing. Still not piping hot though.
Disclosure: I was given a complimentary Tyffyn and was invited to the launch of Vaya. All opinions in this review are honest and my own.