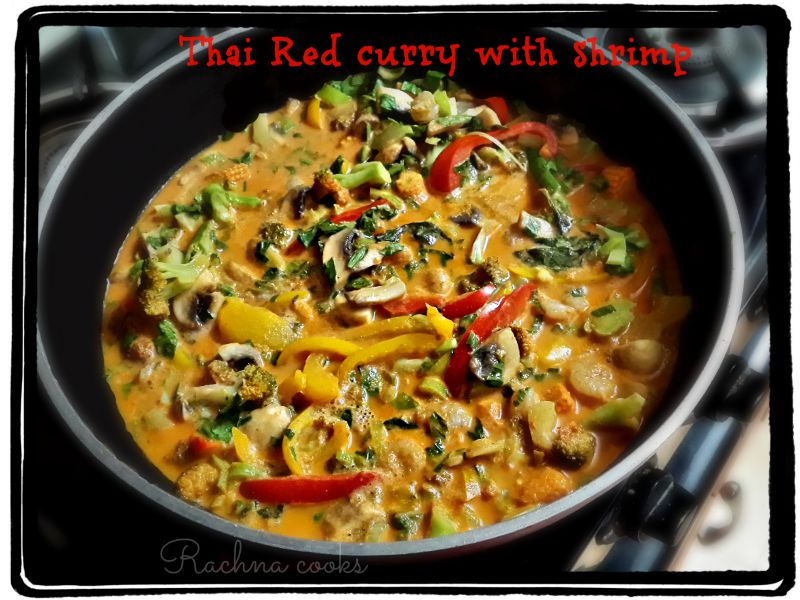 I just love Thai food. The aroma of lemon grass, the subtle taste of basil and the fire from the Thai chillies. Thai food has sweet, sour and spicy and what is not to like about that. 🙂 Since I can't source galangal and kaffir lime leaves, I prefer to buy the red curry paste. Of course, one many substitute with local ingredients. This recipe uses store-bought Thai red curry paste.
Now, this recipe is very versatile. You can vary the vegetables you use depending upon what you have at home. You can change the protein as per your preference. I have made this curry with shrimp, fish, chicken and paneer, and each time it is yummy. Of course, the vegetarians can replace the oyster sauce with soy sauce.
This really is very quick to prepare. Serve it hot with aromatic jasmine rice, basmati rice or any other good quality steamed rice.
For 4 hearty serves:
Ingredients:
100 gm. Mushroom chopped
I cup Peppers (green, red, yellow) cut long
1 Zucchini cut in rounds
4 small brinjals cut in slices
1 broccoli cut in florets
8-10 baby corn chopped
250 gm. shrimp, peeled, cleaned and deveined
Basil leaves 10-15
Fresh lemon grass 1 (use only the tender white base) chopped fine
2-3 hot thai chillies for garnish (optional)
1 tsp. Lemon juice
1 tsp. jaggery or palm sugar
Salt to taste
Thai red curry paste 3-4 tbsp.
Shrimp stock 1/2 cup or plain water
2 tbsp. Oyster sauce
400 ml. Coconut milk
2 tsp. vegetable oil
Recipe:
Clean and chop all vegetables. I prefer not to steam the veggies as I don't like them mushy. I prefer them to retain their bite. Heat oil in a wok/kadhai and fry the red curry paste for a couple of minutes. Add in the chopped lemon grass. Add in the slowest cooking veggies like broccoli, brinjal and baby corn. Saute for 2-3 minutes. Now add in the zucchini.  Saute for a minute more. Now, slowly add the coconut milk to the kadhai. Make sure that you mix well to not leave any lumps of paste in the curry. I normally make stock with prawn shells and head that I add half a cup of to this curry. You can add plain water as well.
To this curry, add in the mushrooms and peppers. Add oyster sauce and palm sugar to the curry. Add salt but after tasting. Remember oyster sauce is salty too. Let the curry come to a boil. Now add in the prawns and basil leaves. Taste and adjust seasoning. Turn off the heat after 2 minutes.
After taking it off the heat, add the lemon juice. If you do it when it is on boil, then the coconut milk may curdle. Garnish with remaining basil leaves and sliced red chillies. Your fragrant Thai red curry is ready to serve. It is really yummy. Try it.
Helpful notes:
You may steam the veggies if you like them tender and then add them to the curry as they would require no initial cooking then.
Skip the lemon grass and basil if you can't find them. Use lemon zest and coriander leaves instead.
To make shrimp stock, just boil the shells and head with lemon grass stalks and coriander stalks. Boil in water for about 10 minutes and strain the stock.
Prawns cook very fast and we don't want them overcooked. If you are using chicken, you can use boiled chicken. For paneer just tip it in after the veggies and cook for 5 minutes.