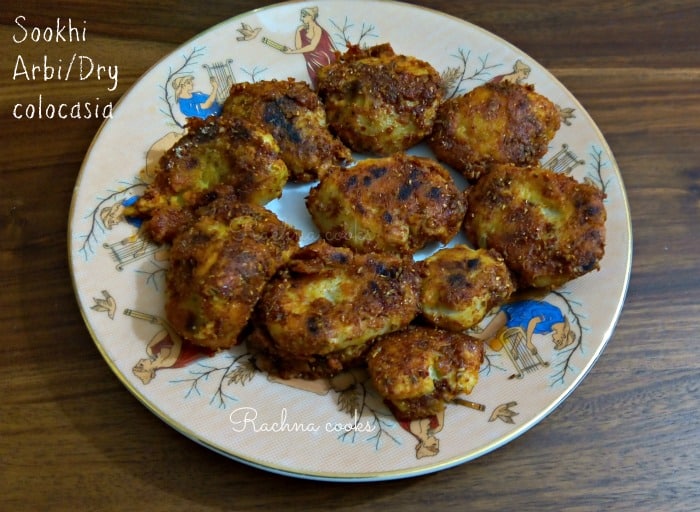 Colocasia or arbi or ghuiyan as we used to call it at home is a tricky vegetable to cook with. If you handle it raw or eat it even slightly undercooked, you will have among the most unpleasant experiences of your life with the pins and needles sensation persisting for quite some time. But, if you cook it well, it can be a tasty dry dish or even a nice curry.
This one can be rustled in a jiffy if you have boiled colocasia at hand. Here is the simple recipe:
Ingredients:
Arbi: 500 gms (boiled and peeled)
3 tbsp. oil
1 tsp. ajwain or carrom seeds
2 tsp. chilly powder (have less if you like less heat)
½ tsp. turmeric powder
1 tsp. amchur (dry mango) powder
1 tsp. roasted cumin powder
1 tsp. coriander powder
½ tsp. roasted saunf (aniseed) powder
salt to taste
Recipe:
Take the peeled colocasia and press it between the palms of your hands to flatten it. Apply oil on your palms as the boiled colocasia could be sticky. Now heat oil in a non-stick pan. Add in the carrom seeds and let them sputter. Add the flattened colocasia and let them cook a bit till they turn golden and crisp up a bit.
Make sure you turn them both ways. After they are a nice color, add in the spices one after another, stir and keep on low flame for a couple of minutes. That's it. You are done. Your hot, crispy, tangy sookhi arbi is ready. Have it with chapatis or just as a snack. It is quite yummy. Try it!