Pancakes are a favourite with the kids at home and adults like me as well. 🙂 They are actually quite easy to rustle up if you have the ingredients at home. They get done very quickly too. And the best part is that this is a very versatile recipe. You can make so many variations with this basic pancake. I will share those in the tips. Meanwhile, here is the easiest fluffy pancake recipe that is unbelievably light and delicious:
Makes 8 pancakes
Ingredients:
Dry ingredients
1 cups whole wheat flour and ½ cup maida or refined flour
2 tbsp. sugar
1 tbsp. baking powder
a pinch of salt
Wet ingredients:
1 ¼ cups milk
4 tbsp. melted butter
1 tbsp. vanilla essence
1 egg
Others
Extra butter to cook with
Serve with
Maple syrup and fresh fruit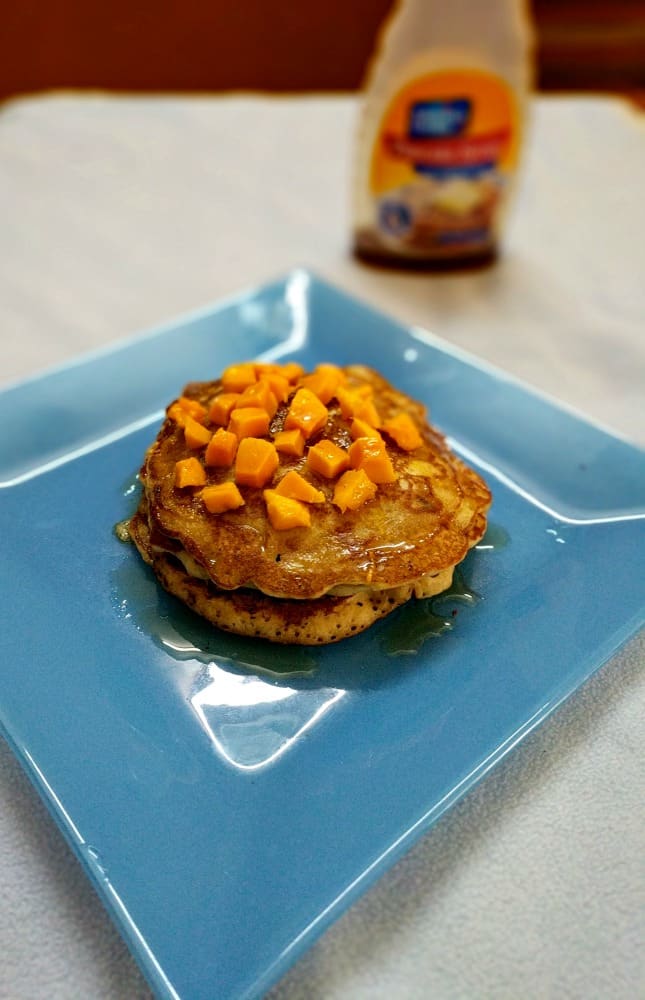 Recipe:
Mix the dry ingredients together. Then mix the wet ingredients together. Now when you wish to make the pancakes, add the wet mixture to the dry mix and gently mix with a fork. Some tiny lumps are okay. Do not overmix or the batter will lose its air and become flat. This is very important to make fluffy pancakes. Let the batter be of thick, runny consistency.
Heat a pan. Brush some butter on it. Now pour one ladle batter on the pan. Do not spread. Let it cook on one side till bubbles form. It takes about half a minute on hot pan. Now flip and cook on the other side for the same till till golden brown.
Remove and serve hot with maple syrup or honey. Isn't this the easiest pancake recipe?
Here is a video of the same recipe:
Tips:
You can add choco chips, nuts, even other ingredients like pumpkin puree to this batter. It being mango season, mango puree will be great. Accordingly adjust the sugar you add.
You may use brown sugar instead of regular sugar.
For serving, you can substitute maple syrup with honey or chocolate sauce. Also can serve fresh fruit like bananas, strawberries, kiwis etc. as per taste
This is really simple to cook. It truly is the easiest fluffy pancake recipe ever. Do make them at home. Your kids will especially love them. Let me know if you try the recipe.
Please share if you like the recipe
Pin This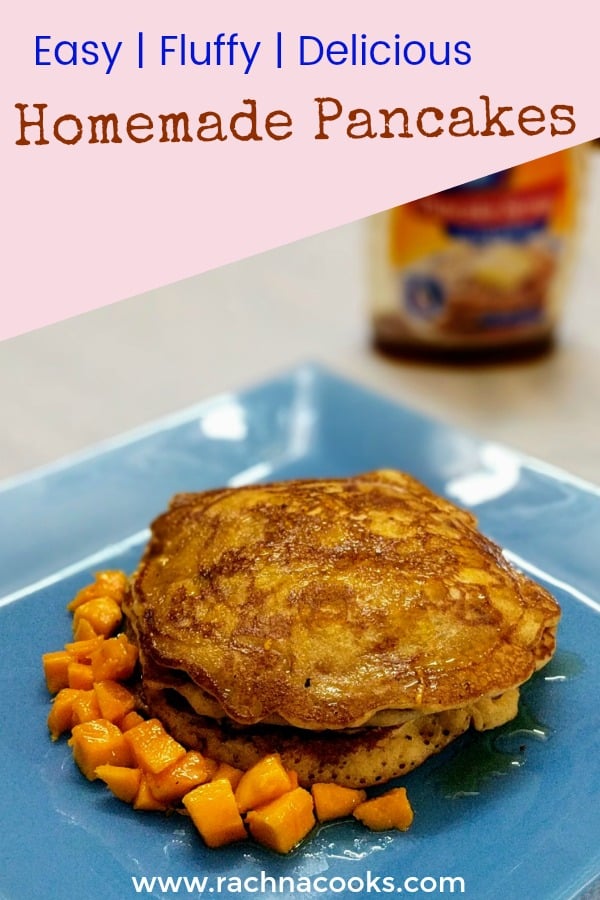 Do you want a FREE 4 week Lunchbox Planner with different daily lunch ideas along with BONUS Snack ideas, all healthy and wholesome with recipe links? Get it here.